GrowSurf is referral marketing software designed for marketing and engineering teams that want to efficiently build a customer-to-customer referral program.
What makes GrowSurf different from the many other referral marketing platforms out there is our focus on tech teams. We're not the best fit for eCommerce, retail, or service businesses. Our focus is on building a great product that streamlines time-to-implementation, optimizes demand-generation, and unlocks customer acquisition at the lowest possible cost.
Officially incorporated in June 2019, we're proudly bootstrapped with no external funding. Today, we are profitable and serve hundreds of customers across B2C, FinTech, and SaaS.
Our customers' success is our success. You may find that our reviews and testimonials reflect our dedication to customer service.
We're proud to have GrowSurf customers get results like these:
312% return on investment
30% of new leads from referrals
15% of ARR from referrals
We can't wait to take your growth to the next level.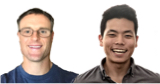 Derek Melvin, Kevin Yun
Founders