Let me guess:
After reading the word "guerrilla," your mind wandered off to Cuba, where Castro and his revolutionaries led guerrilla attacks to overthrow the dictatorship.
Although there are similarities between guerrilla warfare and guerrilla marketing, the latter involves no aggression but only creativity.
And it can be a fantastic way to promote your business and experience high growth!
Here's everything you need to know about guerrilla marketing, along with 10 real-life examples to inspire you.
What Is Guerrilla Marketing?
Guerrilla marketing is a form of unconventional advertising that focuses on word-of-mouth, personal interaction, and creativity. It's typically used by startups or small businesses that want to make an impact without spending a lot of money.
Large companies have also dipped their toes in guerrilla marketing to help them stand out from their competitors and generate buzz on social media.
Like guerrilla soldiers who use unusual military tactics like ambushes and sabotage to fight a larger traditional military, guerrilla marketers find creative ways to promote their products/service without going through traditional channels like advertising agencies, TV ads, radio stations, etc.
But you're probably thinking:
Who came up with this term?
It was a man called Jay Conrad Levinson, a business writer who was active in the 1980s. Levinson coined the term in his well-known book Guerrilla Marketing where he writes about easy and inexpensive strategies for making big profits.
Although the world of marketing looked very different back in the 1980s, guerrilla marketing is still commonly used today by companies that want to create an impression on potential customers.
Top Perks of Guerrilla Marketing
While guerilla marketing offers many benefits, there are a few key ones to keep in mind:
You're not investing money, but time, energy, and imagination.
Guerrilla marketing is perfect for startups and small businesses with very little funds. You don't need much money or manpower to make an impact – just creativity!
It's done on your own terms. Since you're using unconventional methods, you don't have to worry about adhering to any standards or rules set by the marketing industry. Guerrilla marketing is not limited in creativity like traditional advertising.
It's a great way to show customers that your brand truly understands them.
A well-thought-of guerrilla marketing campaign can take consumers by surprise and create an emotional reaction. Emotional people are more likely to spread the good word to their friends and family and take action (for example, purchase your product or service).
Unlike paid ads that aim to make a sale, guerrilla marketing campaigns aim to help your brand create a long-term relationship with people.
Types of Guerrilla Marketing
Just like there are different types of paid advertising, the same thing is true for guerrilla marketing. There are several ways how you can surprise your intended audience, including:
Ambush guerrilla marketing.
Ambush marketing is exactly what you think it is: 
Making a surprise "attack" from a concealed position.
For instance, you may take advantage of an event – like a conference or a festival – to promote your product/service in a creative way.
And yes, this usually happens without the knowledge or consent of the event's organizers.
Outdoor guerrilla marketing.
If you're like me, you're probably thinking about Banksy, the world-renowned mystery man, and his memorable art pranks.
Although not the same, outdoor guerrilla marketing follows similar concepts.
It involves doing something unusual in preexisting urban environments. For instance, you may put up temporary artwork on sidewalks or something removable onto a statue.
Indoor guerrilla marketing.
This type of guerrilla marketing is similar to outdoor guerrilla marketing. The only difference is that instead of doing something in outdoor environments, you're doing it in indoor places like subways, train stations, college campuses, etc.
Experiential guerrilla marketing.
This is another super-cool type of guerilla marketing that can help you win your audience's attention and devotion. In short, it involves creating creative marketing campaigns where customers are active participants. They're not just enjoying your stunt from afar, but they're also immersed in it. This type of marketing can help customers develop an emotional bond with your brand.
Subscribe to GrowSurf
Get our weekly newsletter for our latest referral marketing guides.
Error subscribing! Please try again.
10 Examples of Guerrilla Marketing
I know what you're all thinking:
We've learned what guerrilla marketing is, looked into its top benefits, and discussed its main types – heck, we even talked about the creator of the term.
But what does guerrilla marketing look like in real life?
We've put together some of our favorite guerrilla marketing examples to excite your imagination and help you learn a thing or two.
Atlassian - Europe, We're Coming to Steal Your Geeks
Today, Atlassian is one of the best-known tech companies in the world, used by thousands of software development teams.
But back in 2013, the company had a major issue: it lacked technical help to grow its products. It seemed like although Australia was abundant with scenic beaches and friendly locals, senior-level experts were nowhere to be found.
They needed to search for global talent.
How do you convince someone on the other side of the world to relocate long-term on this distant island with a high cost of living?
"Europe, we are coming to steal your geeks" was Atlassian's answer to their problems. This was a 15-day hiring campaign that attracted more than 1,000 applicants and helped Atlassian fill 15 programming jobs.
The team decked out a bus, conducted interviews, and organized meetups at local coffee shops and pubs in European cities – all to lure talented developers into relocating to Australia's Silicon Beach.
Lesson learned: Don't be scared to pull off something big and tackle difficult logistical scenarios.

Snap Inc. - OMG, There's a Snap Spectacles Vending Machine
Let's say you're breaking into the high-tech hardware market.
How do you promote your product to attract attention?
Snapchat's parent company Snap Inc. was faced with the same dilemma, and its solution to the problem was both simple and creative: to sell its product through vending machines.
These pop-up vending machines were called Snapbots and appeared in surprising locations around the world. People could purchase the Spectacles glasses, $130 video camera sunglasses, for one day only.
What's more, the machines let people virtually try on the sunglasses before making a purchase.
To find where the machines were going to be located, Snap created an online map that shared the location of the vending machines 24 hours in advance.
Talk about being quirky!
Lesson learned: If you have a new product, paid advertising is not the only method for spreading the good news. Guerrilla marketing can be as effective, too!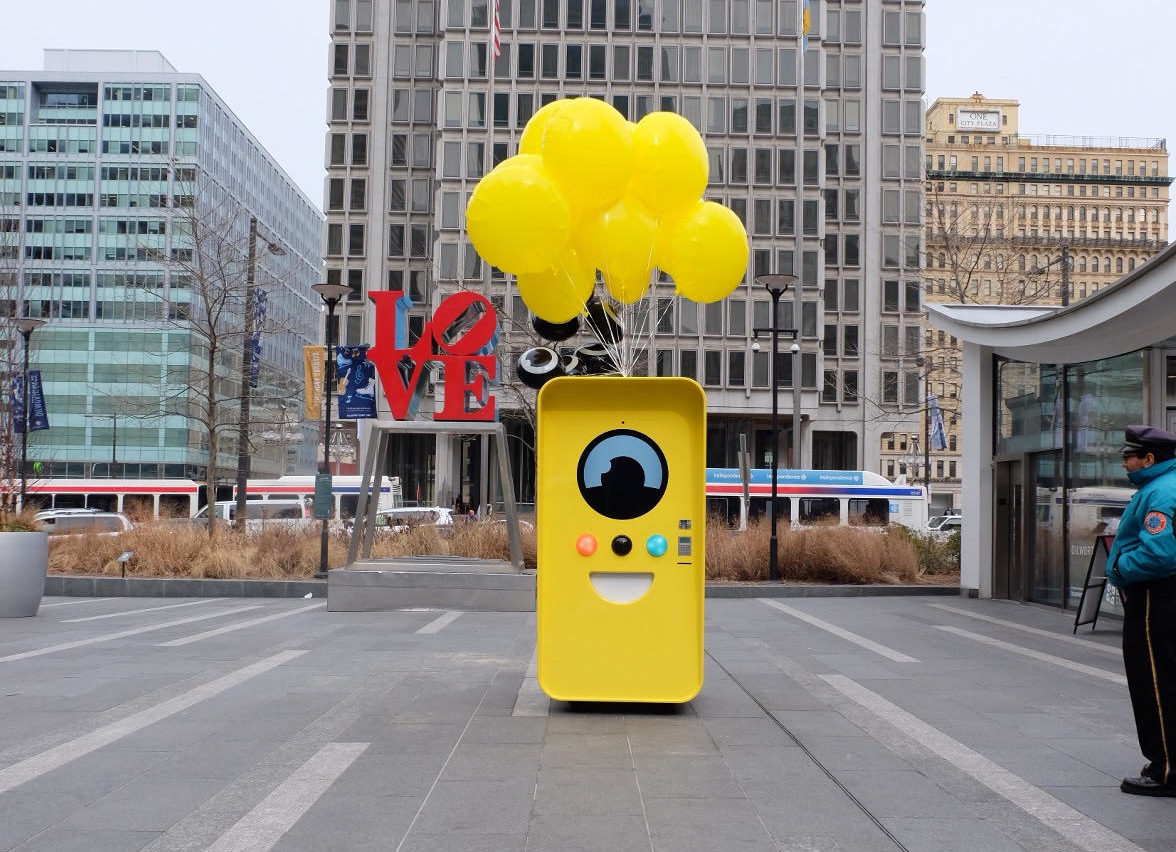 Refinery29 - Turn It Into Art
Your company is called Refinery29.
You're looking for something creative to capture your audience.
What do you do?
You create an annual event, and you name it 29Rooms.
It's witty and memorable. Not to mention that it's also on-brand.
In a nutshell, the 29Rooms event is like a funhouse for adults. There are 29 rooms of interactive art, and attendees can experience something different in each of the rooms.
For instance, one of the rooms is an art studio where visitors can create experimental art for themselves. The next room is all about self-care. Guests can relax in a crystal cave, meditate and listen to life-affirming mantras.
Oh, and there's also a tinsel-filled room that's reserved only for dance breaks.
Lesson learned: Create a memorable experience that people will want to attend and brag about later on their social media accounts.
Uber - Ice Cream Delivery
Here's a fact:
When people are asked about their guilty pleasure, they almost always say ice cream – it's great in the heat, it's sweet, and comes in a wide variety of flavors.
Here's another fact:
Uber is all about new experiences and bringing unique opportunities to people.
And what a better surprise than an ice cream truck headed your way?
And not just any kind of ice cream: free ice cream.
Here's how the campaign worked:
If you lived in one of the 10 participating cities, you could request an Uber Ice Cream Truck and get five ice cream cones and a free silicone Rubber-stamped cone.
But that's not everything!
With that reusable cone, you could go to your nearest McDonald's and get a free soft-serve refill every Friday (from Aug. 11 to Sept. 22).
So much free ice cream!
Lesson learned: Surprise people with something they really crave by promoting your brand at the same time.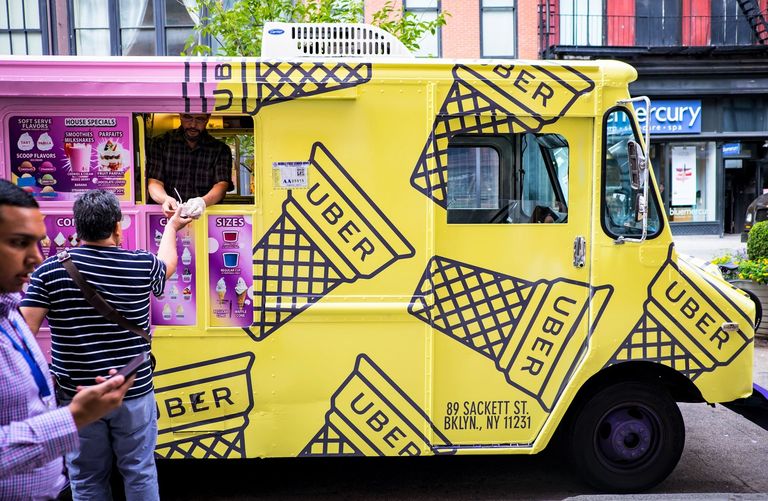 WePay - PayPal Freezes Your Accounts
In 2010, during PayPal's developer conference in San Francisco, people could spot a giant block of ice in front of the Moscone Center.
And it wasn't just a regular block of ice.
It had hundreds of dollars locked beneath the surface.
There was also a note for everyone at the conference that read:
PayPal freezes your accounts!
Who could be trolling one of the most popular online payments companies? 
It was a competitor company called WePay.
They were trolling PayPal to tell everyone who attended the conference that PayPal freezes their accounts (which was a real scandal back in the day) and that they should unfreeze their money by switching to WePay.
Cleverly done, right?
The stunt created a bit of drama that involved the co-founder, Rich Aberman, being chased down by a member of the security team.
Lesson learned: Pay attention to current scandals/rumors surrounding your competitors and use it to your advantage to create a buzz.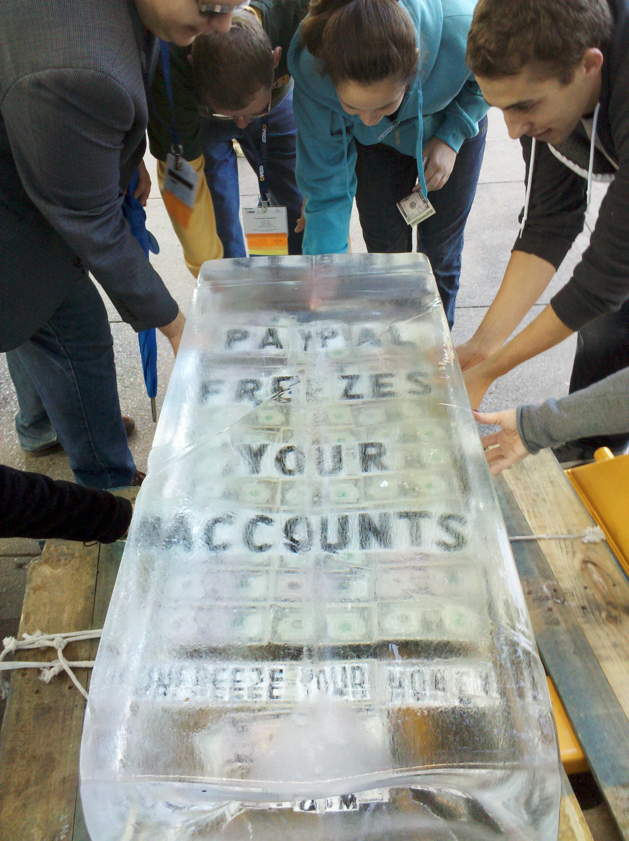 Wix - Embracing Your German Name Translation 
If you live anywhere else but in Germany, the name Wix might not be anything memorable or outrageous.
But for Germans, the name is the cause for much laughter because of its translation.
If you sprechen sie Deutsch, Wix in German means "to wank."
Being the bold brand that it is, Wix decided to take advantage of this somewhat uncomfortable situation and make it even more laughable.
First, the company highlighted the translation of its name in several online-only ads. But in 2019, it went a step further and came out with billboards that appeared all around Berlin.
People walking on the streets in Berlin could see some really interesting fun facts about "wixing" they may not have heard before.
Here are a few:
Every 74 seconds, another German is discovering the power of Wixing.
The most popular day for Wixing is Tuesday.
Most Germans like to Wix alone, but on average, 4 Wixers ask a partner for help every day.
If you want to learn more facts about how German "wix", here's a websitethe company was polite enough to create.
Lesson learned: Discover something unusual or funny about your brand's name and use it to your advantage.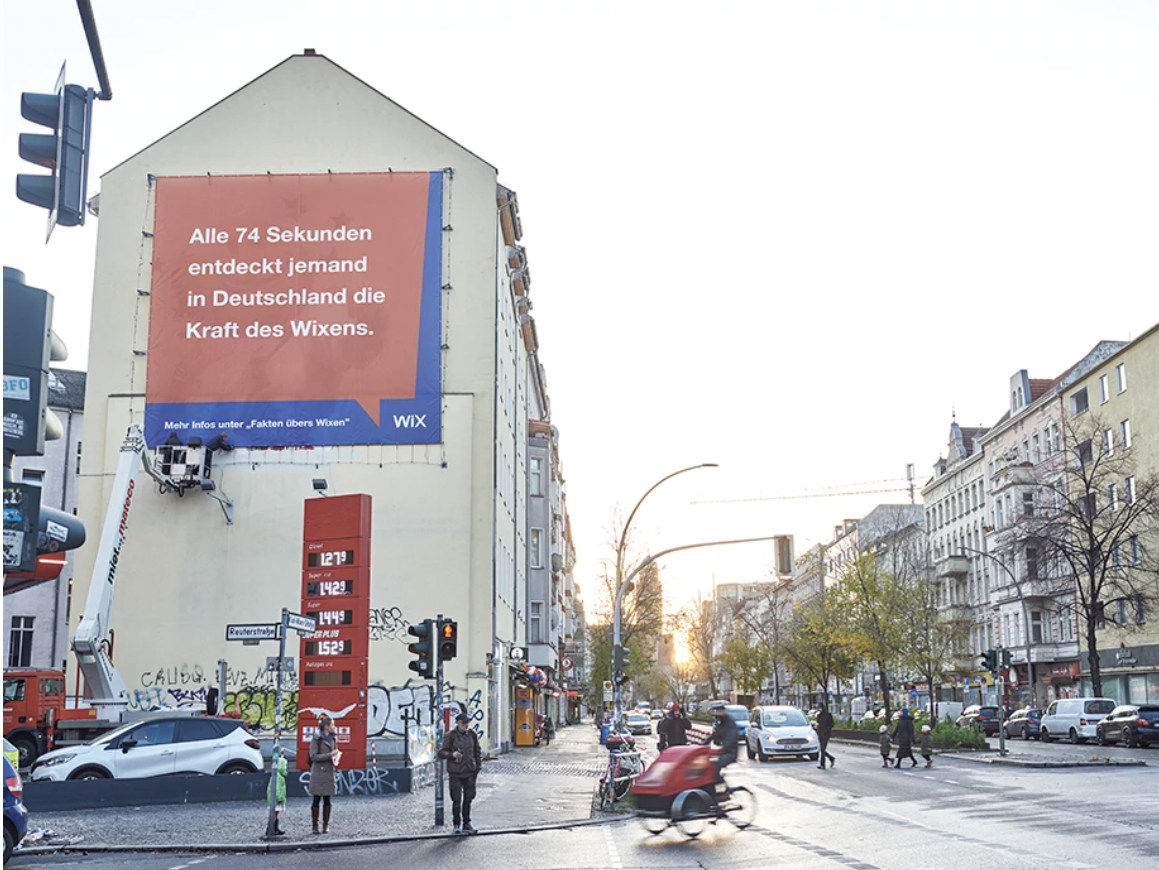 Netflix - Here in the 90's?
To promote the third season of the acclaimed TV series Narcos, Netflix launched a pretty interesting guerrilla marketing campaign.
They decided to recreate the LA drug scene back in the mid-90's when the drug market was mainly ruled by the Cali cartel.
What did the marketing guys do?
They stuck transparent stickers with images of rolled up dollar bills sprinkled with coke residue in nightclub bathrooms across Miami, Chicago, New York, and Los Angeles.
Why nightclubs?
If you watched the show, you would know that clubs were where the majority of people were doing cocaine in these cities back in the 90's.
They even took a step further and left a little note on the stickers that said:
"Here in the '90s? There's an 80% chance this powder came from the Cali Cartel".
Lesson learned: Generate a lot of buzz with non-traditional but fun advertising by thinking outside the box. Capture your target audience in a quirky way by incorporating some elements of the product/service you're promoting at a related location.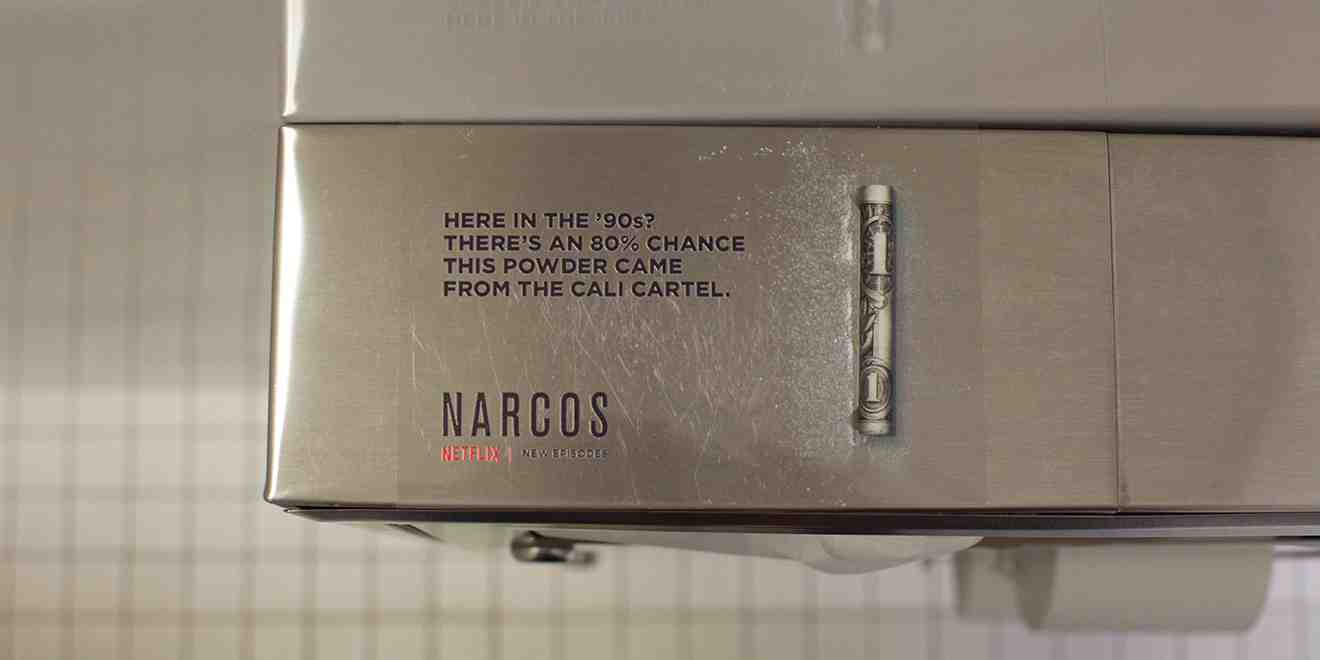 Salesforce - Crash the Party
Have you ever wondered what kick-started the growth of Salesforce? 
It was the genius marketing strategy of Marc Benioff that put Salesforce on the map.
Marc must be one of the craziest CEOs in the tech industry who uses guerrilla marketing tactics to steal the spotlight from his competitors and bring himself and his company to the center of attention.
One of his best stunts was the one that he pulled off in Cannes, France. During that time, one of their competitors, Siebel, was holding an event.
What did Benioff do?
He figured all attendees would fly into Nice and take a cab to the conference. So he rented all the airport taxis in Cannes and used the 45-minute drive to pitch Salesforce to the riders.
Benioff's tactics obviously worked. Today, Salesforce holds a 19.8% market share. Its largest competitors – Oracle, SAP, Adobe, and Microsoft – have a combined market share of 17.8%.
Lesson learned: In the guerilla marketing realm, there are no rules. You can have the most outrageous idea and bring it to life to get a competitive edge. Find out about your competitor's events and steal the spotlight by pulling off a bold stunt that will make people think of you everytime they think of your competitor.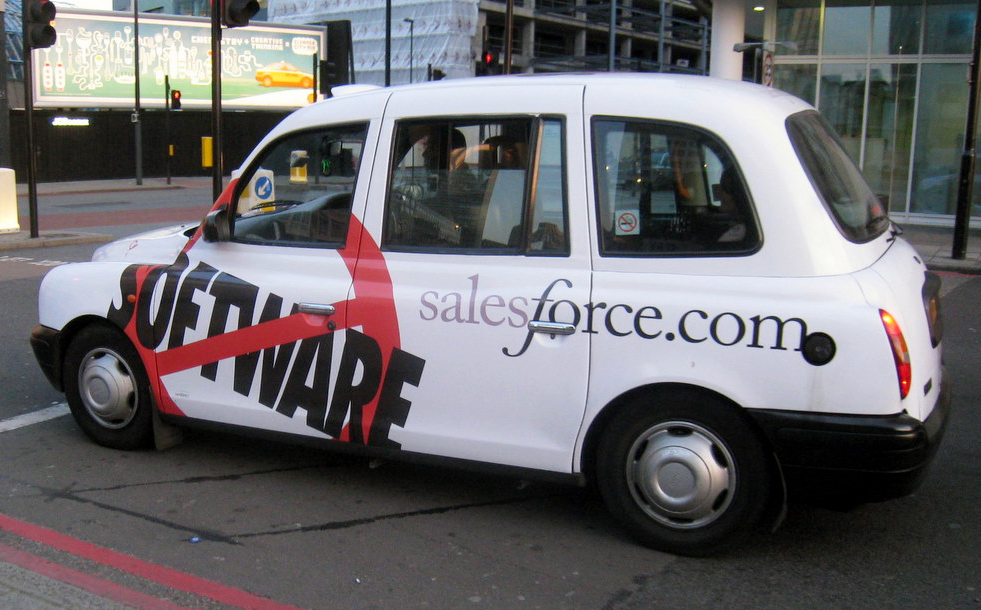 Upwork - Hey, Elon Musk
The next tactic on our list comes from Upwork, the biggest freelance marketplace today.
In its 2018 campaign called "Hey World," Upwork playfully offered help to busy celebrities and companies that are strapped with time and resources like the president, Elon Musk, George R.R. Martin, Dwayne "The Rock" Johnson, and even Nasa.
This multi-million dollar campaign aimed to attract more customers in Chicago, New York, and San Francisco.
It involved billboards that were set up in places regularly frequented by the target audience and corresponding videos, radio spots, and television takeovers.
Although NASA and Elon Musk may not have hired their talent from Upwork, this guerrilla marketing tactic surely won people's attention, including businesses that are in dire need of skilled talent.
Lesson learned: When producing your marketing content, make sure it is relevant and taps into current events that get plenty of buzz (example: George R.R. Martin and his dragged-out process of finishing the Song of Ice and Fire books or NASA and its slow approach to landing a human on Mars).
Google - Let's Build a Better Bay Area Together
You're a multi-billion company that wants to give back to the community. The latest idea your team has come up with is awarding the best nonprofits who are dedicated to building a better community for the San Francisco Bay area.
But how do you decide which cause should be placed at the forefront of this campaign?
You let the Bay area citizens decide. After all, they're the ones who live in the community.
That's what Google did with their Google Impact Challenge campaign in 2015. The company set up interactive posters around the area that acted as public voting booths. Each poster featured the 10 nonprofits who made the most impact and the cause they support.
In the end, six of the most voted nonprofits each received a $500,000 grant, and the remaining four were awarded $250,000 each.
Not only was the campaign a great way to reward those who help the community, but it also raised awareness about the most alarming issues the Bay Area community was facing.
Lesson learned: Get the public involved in your project. Those involved are more likely to help share the good word. Don't hesitate to incorporate a charitable element into your guerrilla marketing stunts.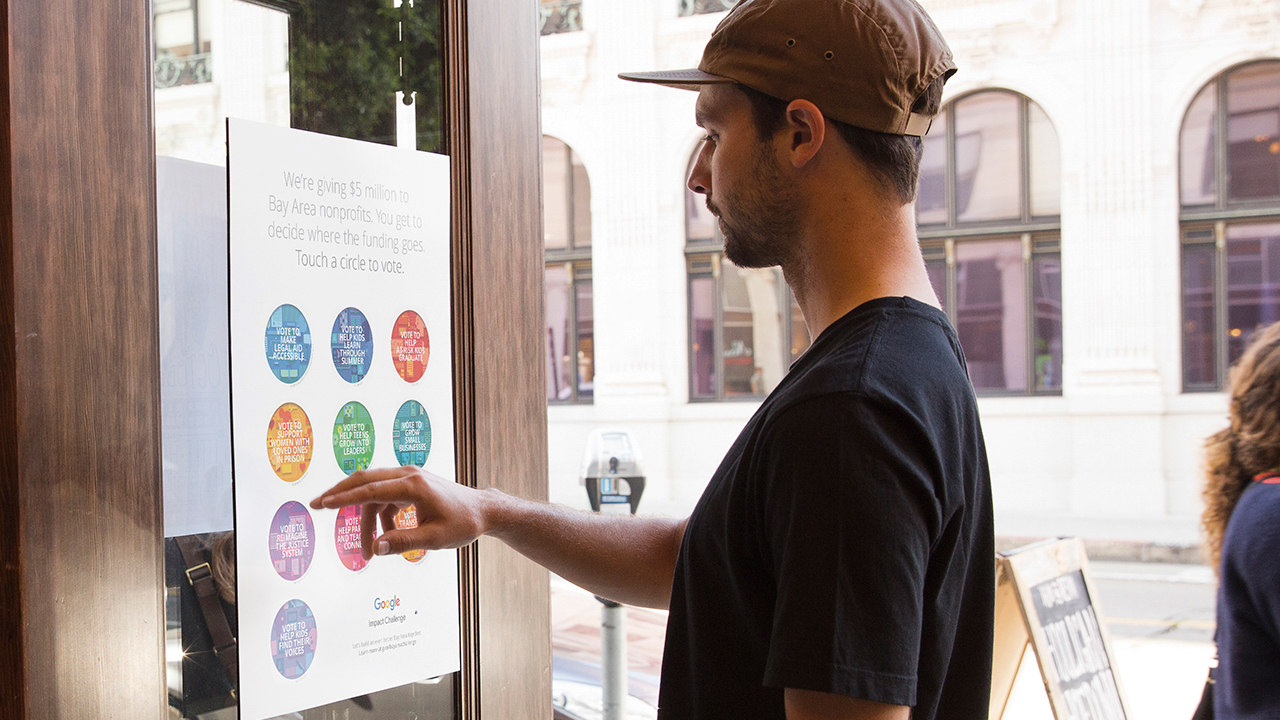 Final Word
Marketing comes in several different forms.
From social media marketing and Google ads to traditional marketing, there are hundreds of tactics for winning more customers and raising brand awareness.
But the most attention-grabbing, impactful, and memorable type of marketing must be guerrilla marketing.
Think about it:
Are you more likely to remember one of the examples we mentioned in this post or an ad you saw on your Twitter account?
I'm 100% it's the former!
In this day and age, where people are bombarded with see-and-forget information, guerrilla marketing can create a lasting impression. So the next time you're meeting with your marketing team to discuss your social media campaign, brainstorm some creative ideas for a guerrilla marketing campaign, too.
Believe me: it'll be worth it. And remember: there are no rules in this game.
Subscribe to GrowSurf
Get our weekly newsletter for our latest referral marketing guides.
Error subscribing! Please try again.