This is a complete guide to how to choose referral software in 2021.
In this guide, you'll learn:
The top benefits of referral marketing tools
The best features of referral marketing software
The best-rated referral marketing software
How to choose the best referral software for your business
Let's get started.
What Is Referral Marketing Software?
Referral marketing software is a type of software that helps businesses promote their products and services cost-effectively and creatively.
In recent years, referral software has been gaining popularity due to its power to reduce customer acquisition costs and promote brand awareness.
Let's say that Jake is your customer and he's a big fan of your service. He wants to share the good word but just needs a reminder. Referral marketing software can help you create customer referral campaigns to remind customers like Jake to share the good word. Even better, for each referral, Jake and his friend will get rewarded!
But that's not all! 
You can also customize your campaigns as you see fit and choose between different incentive models like one-sided, two-sided, or leaderboard programs.
And here's something else:
Referral software will track every step of your customer referral program, from shares and clicks to successful conversions.
The good news is there's a wide range of different referral marketing software to choose from. The best one will depend on your budget and your needs.
What Are the Benefits of Using Referral Software?
If so many successful businesses are using referral marketing tools, they must come with plenty of benefits, is that right?
Correct!
Let's take a look at some of the key benefits of referral marketing tools you should be aware of.
Lower Customer Acquisition Cost and Higher ROI
Trying to get the good word out without a proper system in place can be time-consuming, ineffective, and on top of everything, you have zero analytics insight.
Having a system in place can unlock your company's ability to scale and optimize its referral program.
You'll be able to track all of your referrals, from paid acquisition channels to newsletters. You'll get to A/B test your program and campaigns, customize them to fit your brand, and access valuable customer analytics.
All of this will help you create more compelling customer referral programs that will bring in a steady stream of new customers – all at a relatively low price.
Not to mention that effective customer referral programs lead to higher ROI. The software can enhance your programs and make them far more advanced while making them easier to manage.
Saves Engineering Resources and Time
The best thing about referral program software is that you don't have to build anything in-house.
Most tools can be easily customized to fit your needs and branding, which means there's no need for developers to build the whole thing out from scratch.
Most platforms are flexible and easy to navigate, and you don't need to be a developer to set up your referral program. You can quickly get a custom look for your referral program by simply pasting a few lines of code.
Helps You Understand Customers Better
Most referral marketing tools give you detailed analytics and insights.
For instance, you can:
Get complete visibility into how your referral program is performing.
View key metrics like referral conversion rates and how many times participants share their referral links.
Identify the most influential referrers.
With this data at hand, you can identify, target, and reward your most valuable customers.
What's more, based on purchase behavior and device-used patterns, you can discover the best time and ways to engage with your customers and establish ongoing communication.
Refine Your Customer Referral Programs
Customer referral programs are at the heart of referral marketing software. And the best part is that referral marketing tools let you make your programs fun, engaging, and visually appealing.
For instance, using this kind of software, you'll be able to up your game and:
Customize the look and feel of your campaigns to match your company branding.
Motivate customers by creating different types of programs, such as Milestone, Leaderboard, Single-sided and Double-sided rewards.
Create a dedicated landing page for your referral program and choose a referral program template that can be fully customized to your liking.
Helps With Marketing Automation
Your marketing people probably have plenty on their plate – especially if they're relying on an outdated in-house program lacking modern features.
The good news is that referral software can do the heavy lifting for your marketing team and help them with some time-consuming tasks like:
promote your campaign
automatically email new participants with their unique referral link
notify winners
send monthly reminders
and so much more
Request a demo of GrowSurf
Set up your referral marketing program with software that lowers your customer acquisition cost and saves you gobs of time.
Top Features of Referral Marketing Software 
Here's a fact:
Different software comes with different sets of features.
However, there are some common features that you're likely to get with each referral marketing tool.
They include: 
Automation
Automation is amazing. It saves you a great deal of time, energy and makes life simpler.
Email automation is one of the most common features you'll find with any referral marketing tool.
What does this feature do?
In a nutshell, it automatically:
Promotes your campaign.
Emails new participants with their unique referral link.
Notifies winners.
Sends out monthly reminders.
And more.
Analytics
Here's another great feature of referral marketing software: analytics and reports.
In short, a tool that comes with this important feature lets you:
View campaign performance.
Get insight into your conversion rates.
See channel performance to understand the effectiveness of your referral campaign.
Know your top referrers.
See how your referral program performs against industry standards.
Track your top traffic sources.
Fraud Prevention
Not all of your customers will be as sweet as a rose. Some of them might try to engage in fraudulent activities, such as hacking the process to get numerous incentives.
The best tools have an anti-fraud system that identifies suspicious participants and lets you disqualify them. Some tools offer a suite of anti-fraud tools such as blacklisting/whitelisting, bulk fraud deletion, and reCAPTCHA.
Customization 
Think about this for a moment:
Branding creates loyal customers.
It's a sure way to appeal to people's emotions and make them feel more connected to your company.
The good news is that referral marketing software can help you provide a consistent, on-brand experience for your customers.
In other words, you control the copy, design, and messaging of your referral program.  
You can choose between various referral program templates and fully customize everything to your liking. Whether you're a florist who decided to sell online or a tech startup that will release the next big product, you're likely to find a template that fits your specific needs.
Channels 
Another super awesome feature of referral marketing software is that you can promote your referral program across all marketing channels.
For instance, you can:
Invite customers through email to join your program.
Invite customers to join your program by showing them a pop-up after checkout.
Send customers an invite email after they buy your product/service.
Send customers to a landing page where they can get their referral link.
Add referral links to your newsletter to invite customers to join your program.
Referral Link Generation
Here's another cool feature: referral link generation.
This feature lets you provide each of your customers and subscribers with their own referral link. Participants can share the link through different channels, such as via email, social media, or send direct email invites.
Rewards Management System
Rewards management systems are integrated into your software and help you stay organized. You'll get access to a real-time dashboard that will reveal your campaign's overall performance. What's more, you'll be able to view your winners and stay on top of rewards. You'll always know when you need to approve or fulfill a reward.
What to Look for in a Referral Marketing Software
If you're a newbie to the world of referral marketing, all this terminology and jumble may be a little bit overwhelming.
How do you know which software is the right one for your business? 
Is there some magic ball that has all the answers to your questions? 
We're here to help!
When selecting a referral marketing software for your business, there are some things to consider when creating your pros and cons lists for each tool.
Here are six things to consider before we dive into the top referral marketing software options out there.
Integrations
Referral marketing software won't be the only tool you'll be using to grow your business. There's a range of other tools you'll need on a daily basis.
That's why it's crucial that you go with a tool that offers integration with other tools you love to use.
By integrating your referral marketing software with other systems, you can automate your referral program from end to end.
Luckily for you, many vendors offer third-party integrations, Zapier integration, and REST API to connect with your software.
For instance, by connecting your system with MailChimp, you'll manage to grow your lists and build automated emails. Or, by connecting with a third-party tool like Revue, you'll be able to add a referral program inside your newsletters.
Customer Support
Here's a fact:
Unexpected things can happen when transitioning to a referral marketing tool.
You may hit a roadblock with the integration process. You may struggle to customize the referral program to fit your branding. Perhaps you'll underestimate the complexity of integrating your system with other tools critical for the business.
Maybe everything will go swimmingly, but you know what they say: hope for the best but prepare for the worst.
That's why you need to go with a vendor that can offer a 5-star customer support experience. The support team has to be accessible at all times and responsive to give you the answers you are looking for.
To get a feeling of the customer support team, try getting in touch with a problem. See how responsive they will be in solving your issue. Another idea is to look for online reviews and see what customers say about each vendor.
Pricing
In the perfect world, money is no problem.
But in the real world, budgeting is a critical part of running any business. It ensures you are staying within your means and not going into debt with overhead costs.
On the one hand, you want to get the best referral marketing software out there, and on the other hand, you must be careful not to go over budget.
As luck would have it, there are plenty of options out there that give you the best of both worlds. In other words, you can find a solid software solution that offers powerful features at an affordable price.
If a budget constraints you, make sure you check the pricing plans for each vendor and look into the specific features each plan offers. One good idea is to go with a vendor that has a free trial so that you can give the software a go before making a monthly or yearly commitment.
Scalability
The scalability of the system is another thing to check before deciding on a software. If you're a larger enterprise or have plans to grow your company in the future, make sure you verify the maximum capacity supported by the software.
Here are some things to ask your vendor?
How many referral programs can be run at the same time?
Are there transaction limits?
Is there a limit to the number of participants?
How many integrations do you offer?
Do you offer deep analytics and customer reports? 
Referral Programs Replication 
Let's say there's a popular referral program you want to replicate. Maybe you're a fan of the Airbnb program and want to implement something similar at your company. In this case, the best option is to look for a referral marketing tool that can help you create the exact referral program that you were inspired by.
Setup Time and Complexity 
The truth is that some referral marketing tools have a long set-up time. Even worse, the software may be too complex and have a long learning curve that can make it challenging for your team to get up to speed.
With that said, if you want to say goodbye to weeks-long set-up times and get your team working in the new system fast, then make sure you go with a tool that fits these criteria.
The best thing you can do is read online reviews by previous users to get a feel of the set-up time and complexity of each software on your short list.
What Are the Best Referral Marketing Tools? 
Now that you've gone and learned about the features and benefits of referral marketing tools, it's time to check out some of the best systems around today. We give a short overview of their best features and look at the pricing.
Company

Best for

Free trial

Pricing

Website

GrowSurf

B2B SaaS, B2C Subscriptions, Financial Services,
Online Education, Online Insurance


Free trial

$775/mo

Visit

Referral Rock

eCommerce, Auto, Staffing

14-day free trial

$200/mo

Visit

Extole

Enterprise Retail, Finance

No

Not provided

Visit

Referral Candy

eCommerce stores with at 100+ transactions a month

30-day free trial

$49/mo + commission

Visit

SaaSquatch

Marketplaces, Telecom, eCommerce

No (demo upon request)

$1,750/mo

Visit

Rocket Referrals

Insurance Agencies

No (demo upon request)

$180/mo

Visit

Viral-Loops

Businesses looking for an affordable lead generation tool

14-day free trial

$34/mo billed yearly

Visit

InviteReferrals

Online Businesses

14-day free trial

$99/mo

Visit

GrowSurf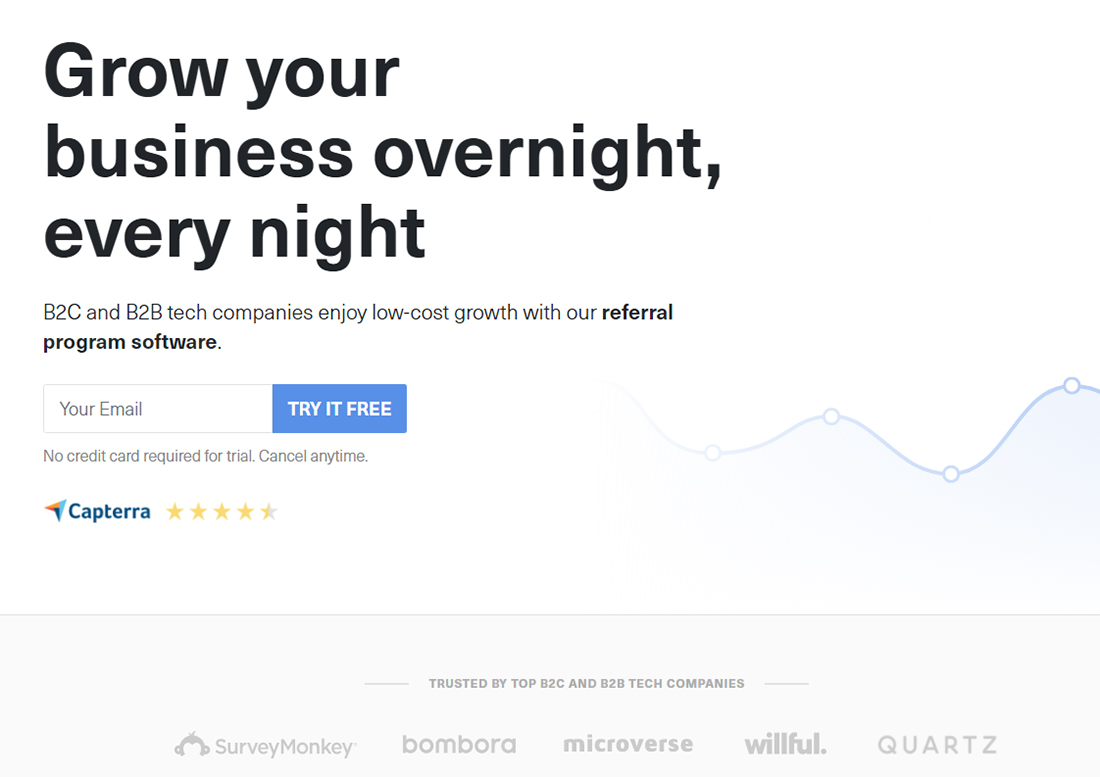 GrowSurf is a referral program software for tech companies that makes launching and running referral programs quick and simple. The software is a cost-savvy solution that can be managed and changed quickly without the help of IT/devs. Another thing you can expect with this software is quick campaign creation (you can launch in under a day!) and super fast customer support. The price is another big plus. It's suitable for businesses of all sizes.
Features 
Automagic form detection
Automated emails
Rewards management system
Track participant activity
Easy-to-use campaign editor
Analytics
Fraud protection
Pricing 
Growsurf offers three paid plans:
Startup ($775 /mo, paid annually) that supports up to 10,000 participants
Business that supports up to 25,000 participants
Elite that supports up to 75,000 participants
Request a free demo to learn more.
Have questions about GrowSurf?
Talk to a referral marketing expert today.
Referral Rock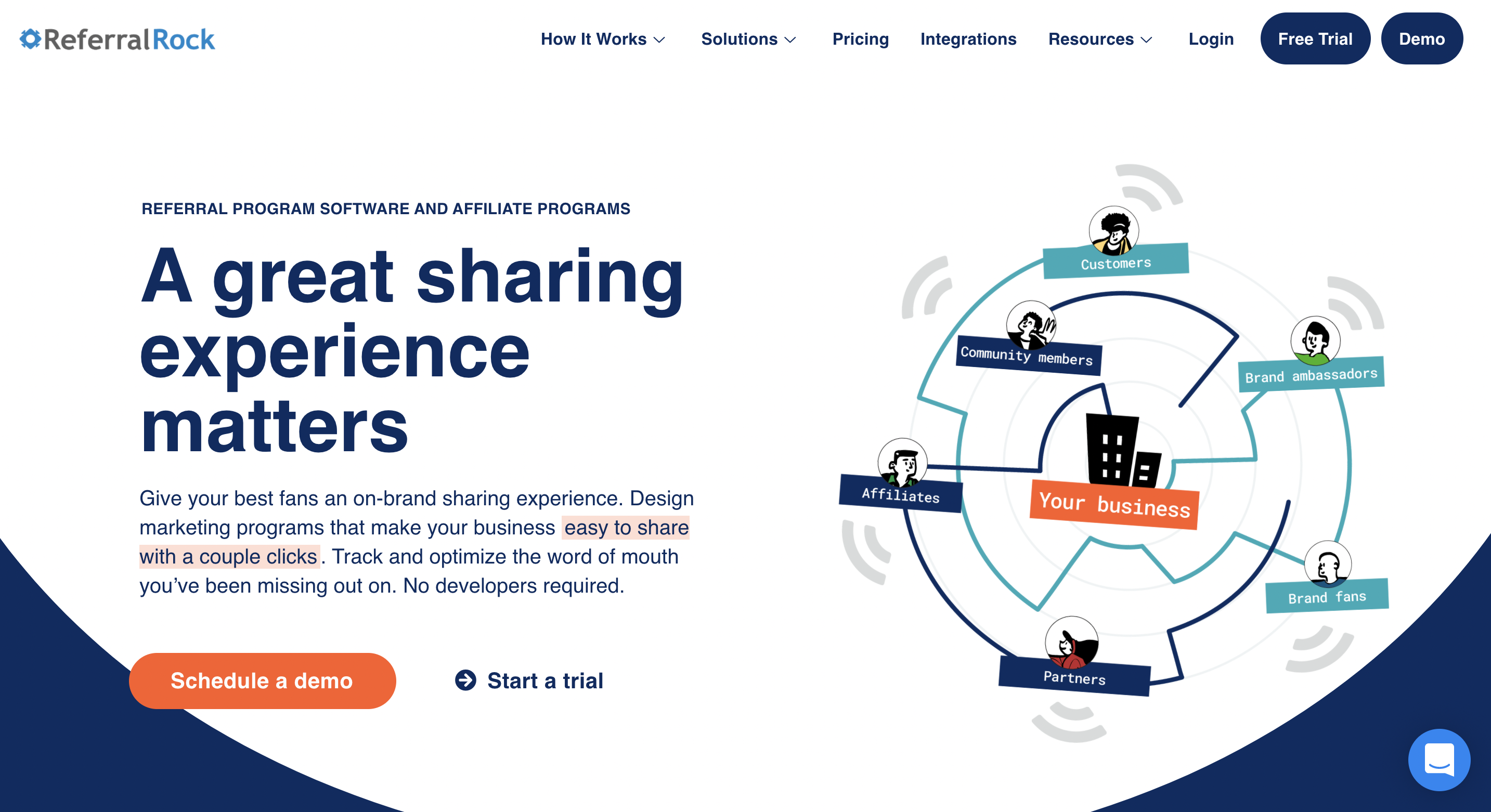 Referral Rock's referral marketing software promises to help you get more customers and increase your brand awareness. The software is easy to use and requires minimal effort to run. The customer support team is fantastic and extremely responsive. All in all, it's a great referral program software that will help you automate your campaigns in days instead of months. On the plus side, the product team is constantly coming out with new features.
Features 
Referral tracking
Analytics/ROI Tracking
Campaign Management
Fraud Detection
Gamification
Lead Engagement
Multi-Channel Marketing
Referral Templates
Pricing 
Referral Rock offers three paid plans:
Starter ($200 per month) that is limited to 500 Members and 1 Program

Growth ($400 per month) that is limited to 5,000 Members and 3 Programs

Established Business ($800 per month) that is limited to 10,000 Members and 5 Programs
There's a 14-day free trial that lets you test the live program with up to 5 members.
Extole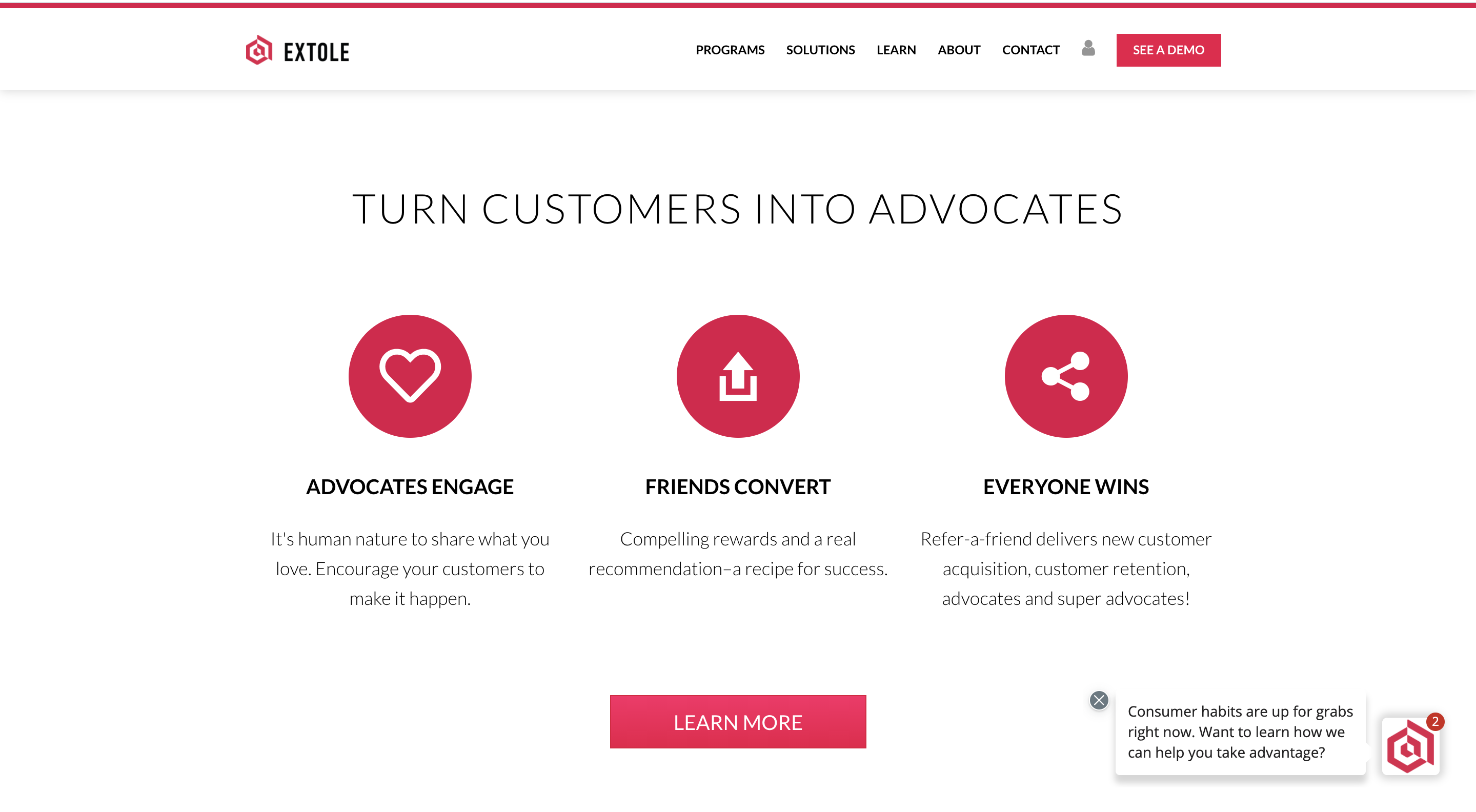 Extole is another outstanding software provider that's an expert in turning customers into advocates. The software lets you build referral programs tailored to your brand that will turn more of your customers into advocates and increase brand awareness. The software's interface is user-friendly and digestible, making the process of managing your referral programs much easier. Customers seem to be satisfied with the product, their ROI, and the efficiency of the Extole team. What's more, it comes with powerful out-of-the-box features to support all of your referral marketing needs.
Features 
Advocate Management
Analytics/ROI Tracking
Campaign Management
Employee Referral Management
Gamification
Lead Engagement
Multi-Channel Marketing
Referral Templates
Referral Tracking
Analytics
Rewards Management
Pricing 
This vendor doesn't provide pricing details.
Referral Candy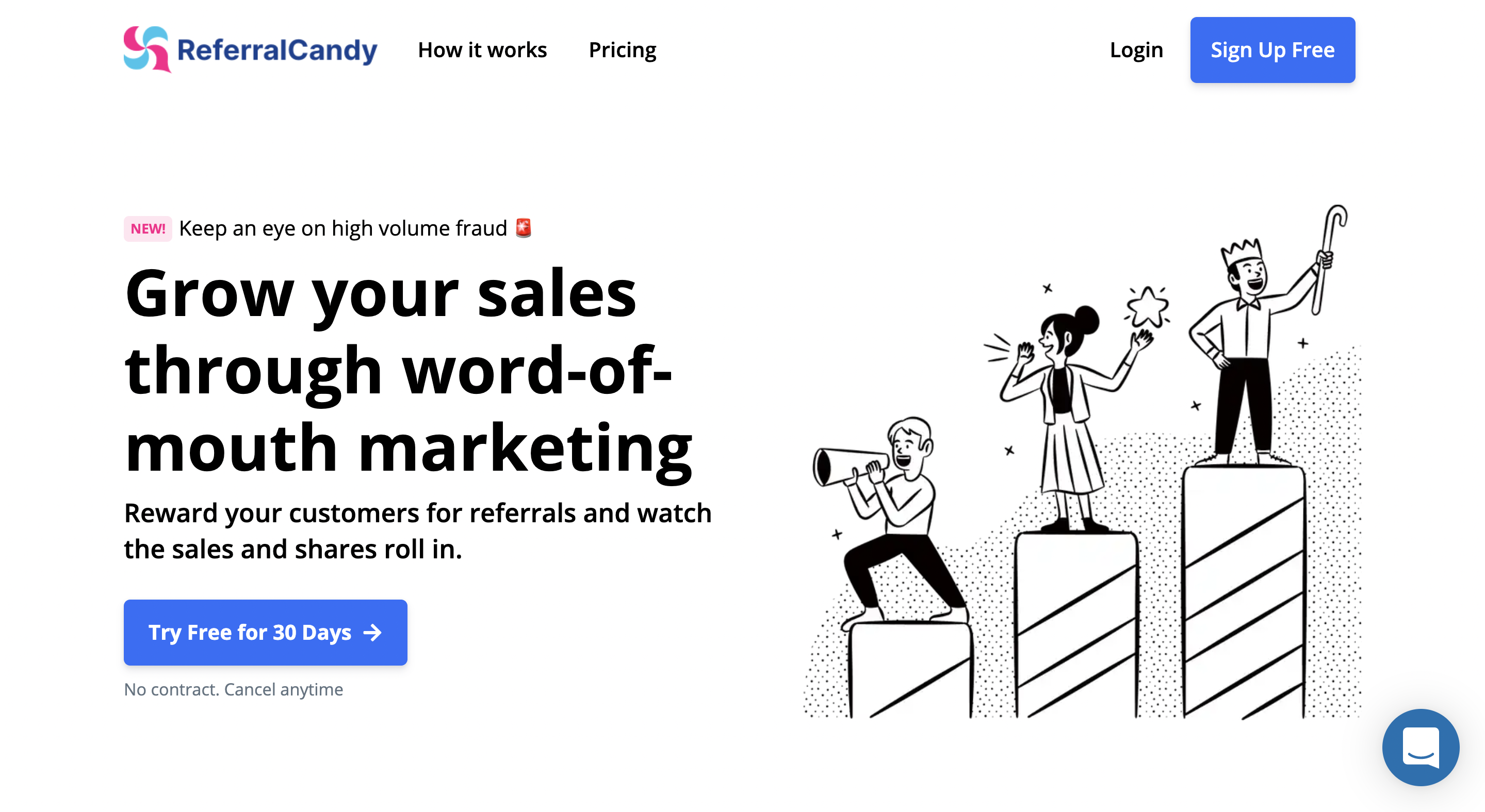 ReferralCandy is a referral marketing software that helps you grow your sales through word-of-mouth marketing. The software integrates with all the popular eCommerce platforms such as Shopify, BigCommerce, and Magento and other tools like Klaviyo, MailChimp, and Google Analytics. It's a great pick if you need a simpler referral system with a generous set of features to help you boost your customer acquisition. On the plus side, the system is fully customizable to fit your needs and relatively easy to set up.
Features 
Automatic integration
Email marketing
Sales, traffic, and customer insights 
Retargeting
Multi-Channel Marketing
Fully customizable templates 
Automated emails
Pricing 
ReferralCandy lets you choose between two paid plans:
Premium ($49/month + commission) that comes with features such as unlimited customers and automatic fraud protection

Enterprise ($3,999 /mo billed annually) that comes with features such as unlimited customers, account manager, and priority support
The vendor offers a 30-day free trial, giving your team plenty of time to test out all the features.
SaaSquatch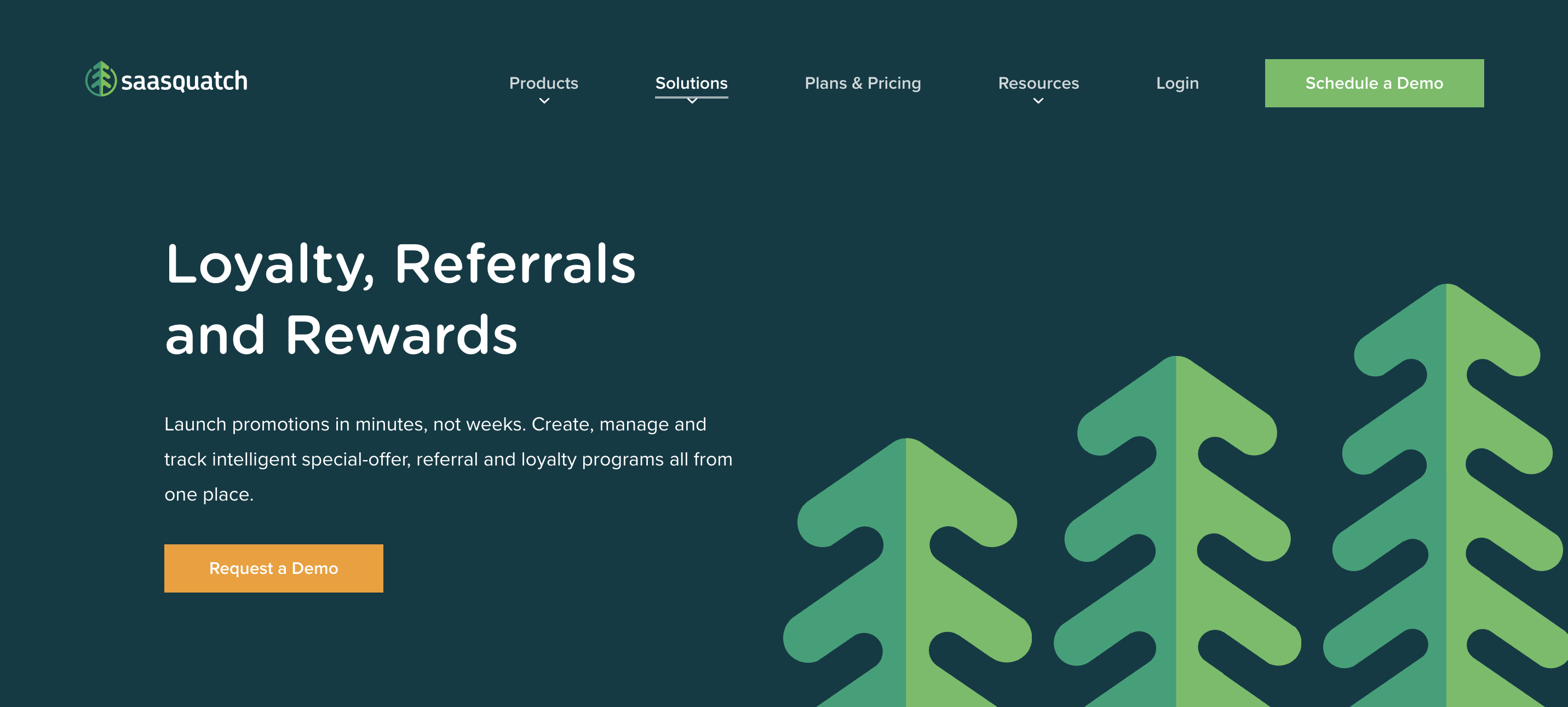 SaaSquatch is a loyalty, referral, and rewards platform geared towards B2B and B2C companies across various industries, including finance, media, and SaaS. It's a great tool if you want to create custom referral programs, build customer loyalty, and accelerate your revenue growth. The software lets you do all kinds of things. You can create multiple programs and run them simultaneously. You can configure the program to meet your needs. Heck, you can also get access to some great tracking and analytics tools.
Features 
Multi-program and multi-tier campaigns
Robust analytics and insights
Out of the box designs and templates
A library of pre-configured growth programs
End-user rewards portal
Automated reward issuing and management
Multi-language and multi-currency support
Fraud detection and management
Pricing 
SaaSquatch offers three paid plans:
Pro ($1,750/month) that includes 200k Program Members, Setup Support and Coaching, and Drag-and-Drop Widget and Email Editor

Enterprise (quote upon request) that includes 1M+ Program Members, Setup Coach and Architect, and 8 Hours of Custom Design Services

Managed (quote upon request) that includes Active Program Manager, Monthly Program Review with a Dedicated Customer Success Manager, and Unlimited Active Programs
The vendor doesn't offer a free trial, but a demo is available upon request.
Rocket Referrals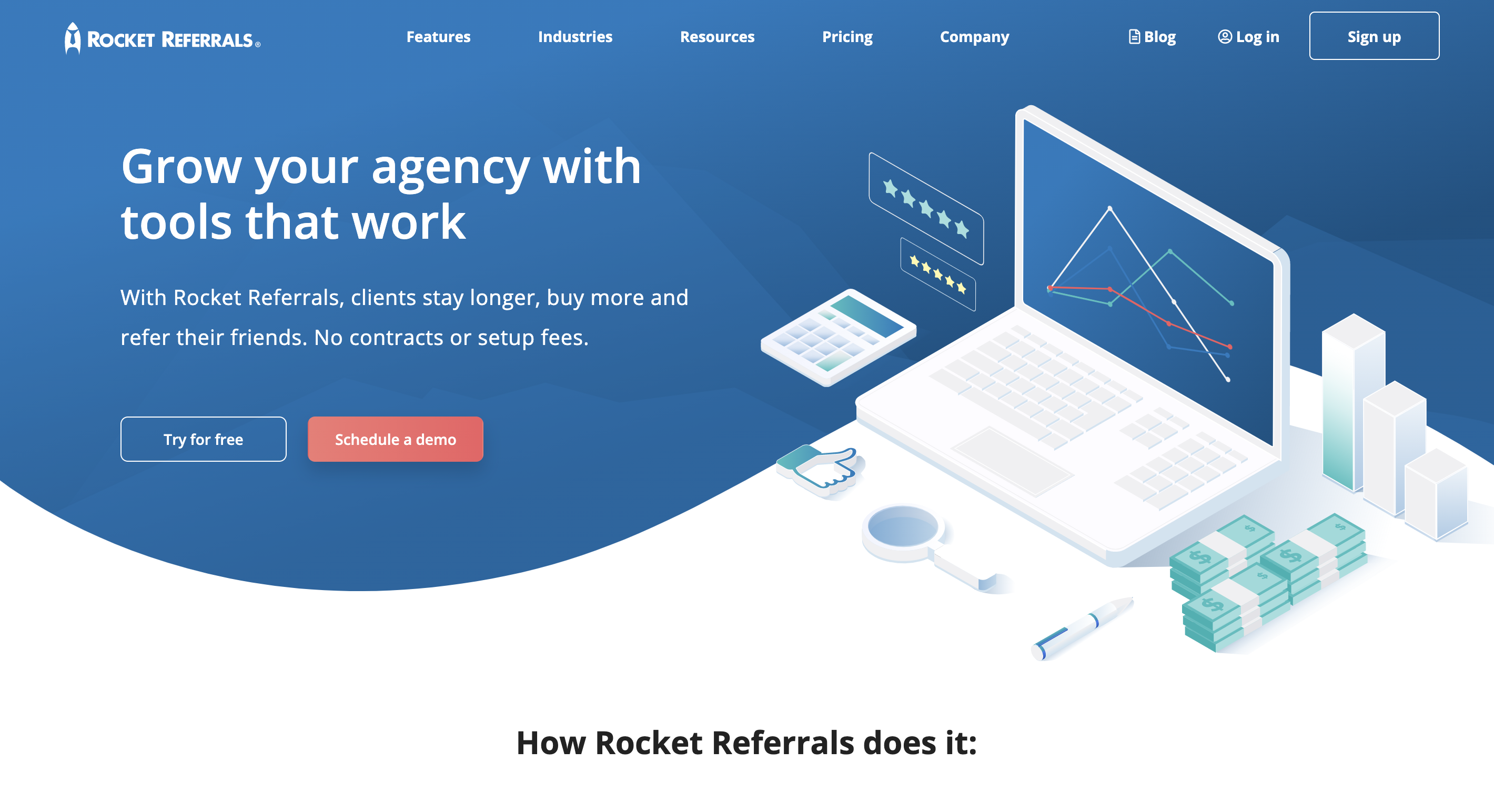 Rocket Referrals is a referral marketing software that is specialized for insurance agencies to help them automate referrals, improve customer retention, and manage online reviews. Although it's geared towards insurance companies, businesses in other industries that care about maintaining long-lasting client relationships have been using the system as well. All in all, the system is integrative, seamless, and easy to use.
Features 
Feedback surveys
Personalization
Customizable templates
Real-time dashboard
Custom campaigns
Personalized, handwritten cards
Review Generation
Negative Feedback Management
Custom performance reports
Pricing 
You get to choose between three different plans:
Pro ($180/month)

Pro + Text ($195/month)

Pro + Premium ($215/month) 
What's more, there are enterprise plans available. You can work with the Rocket Referrals team to tailor an Enterprise plan to meet your needs. The Enterprise plans come with advanced support, customized features, enhanced data analytics, and more. There's no free trial, but you can book a one-on-one demo.
Viral Loops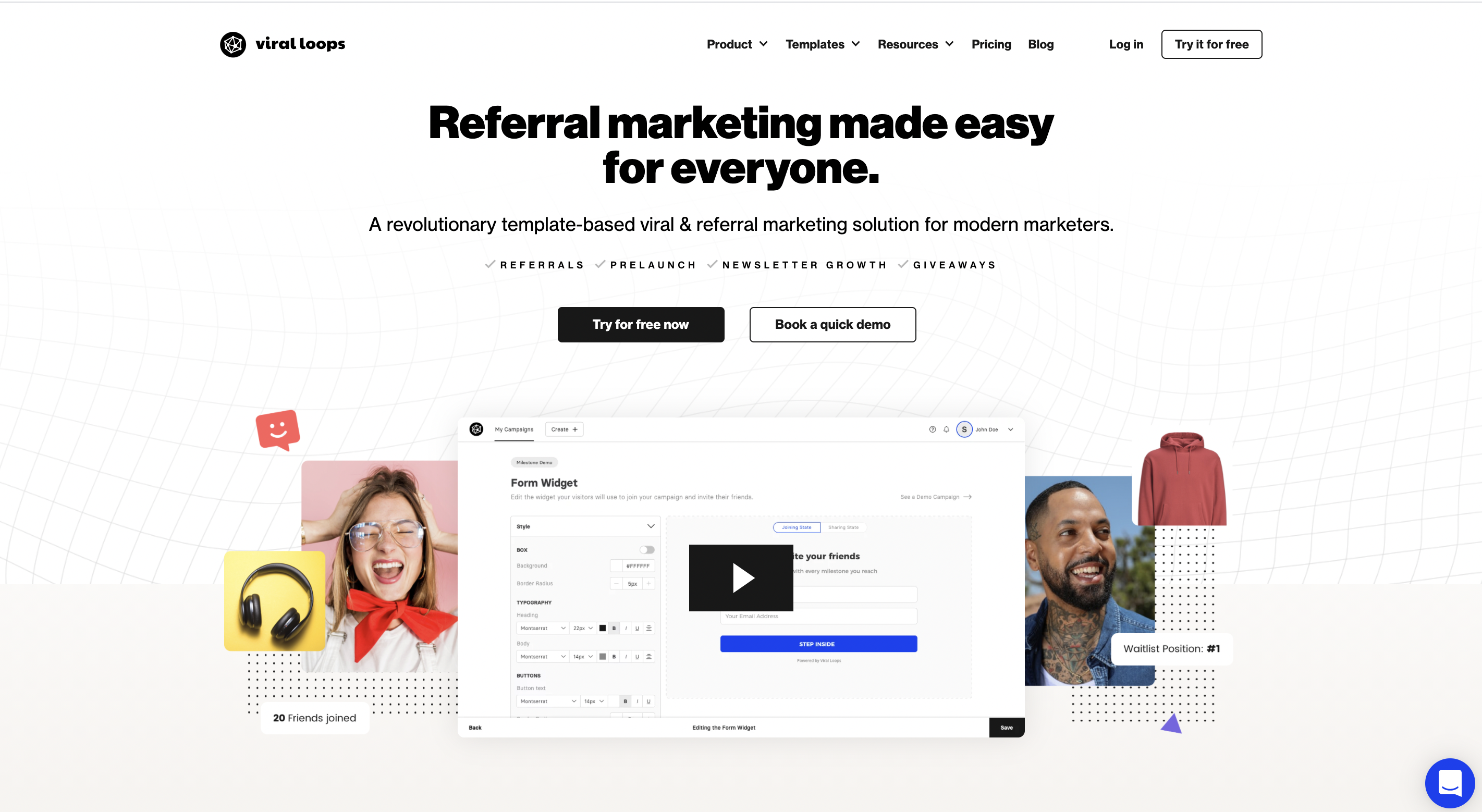 Viral Loops is a referral marketing solution that aims to make customer acquisition easy and affordable for everyone. It's best suited for businesses that need an affordable lead generation tool and agencies looking for new marketing strategies for their clients. The software is easy to use, letting you launch a full-blown campaign in a few clicks. You can even make use of pre-made templates inspired by top brands in the market, such as Airbnb and Dropbox. The tools let you perform a range of tasks, such as creating dedicated landing pages, integrating the system with the tools that you already love using, and tracking and analyzing your campaign's performance.
Features 
Campaign Wizard
Customizable templates
Landing Page Builder
Real-time Dashboard
Integrations 
Referral Tracking
Rewards Management
Pricing 
Viral Loops lets you choose one of the following three plans:
Start-up ($34/month billed yearly) that includes up to 1,000 Participants, Pre-launch Campaigns, Newsletter Referral, and Viral Giveaways

Growing ($69/month billed yearly) that includes everything from the Start-up plan + 3,000 participants and API Access

Power ($208/month billed yearly) that includes everything from the Growing plan + up to 25,000 participants and Priority Support
There's also a 14-day free trial that lets you test all of the features from the Growing plan.
InviteReferrals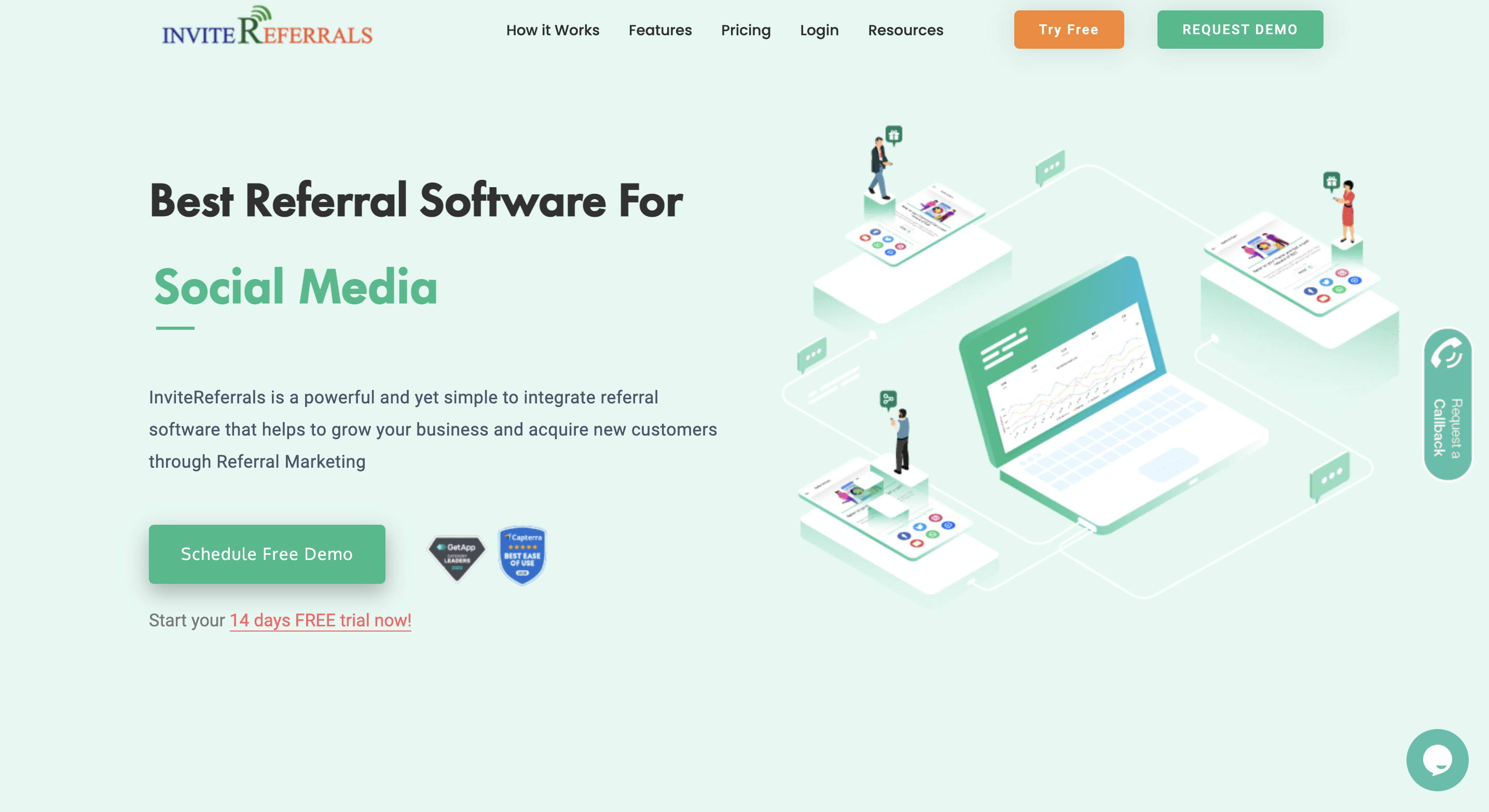 InviteReferrals is a powerful and yet easy-to-use referral marketing software that helps you acquire new customers without breaking the bank. It's the ideal solution for online businesses that can't afford to spend large bucks on paid ads to attract customers. Creating customer referral campaigns is a piece of cake, and the software will track every step of the campaign, from shares and clicks to conversions. Oh, and there's also multi-language support.
Features 
In-Depth Analytics
Fully Customizable Campaigns
Multiple referral and Social sharing options
Referral Statistics 
Full Automation 
Fraud Prevention & Security 
Multi-Language Support 
Multiple Campaign Types
Pricing 
InviteReferrals offers three paid plans:
Basic for $99 per month that includes 1,000 new referrers/month and 3 campaigns.  

Standard for $249 per month that includes 3,000 new referrers/month and 6 campaigns. 

Enterprise plan that comes at a custom price. The pricing of this plan is at a higher end.
The vendor also offers a 14-day free trial for the Basic and Standard plans.
Our Conclusion
One thing is for certain:
All businesses, including B2B, B2C, and e-commerce, have a lot to benefit from a referral marketing software.
From creating referral programs and email campaigns to tracking the performance of your campaigns, these types of tools provide real-life benefits for lowering your customer acquisition costs and growing your business.
The quickest, most risk-free way to choose the best software for your needs is to take advantage of the free trials most of these tools offer and get a feel of the system. Demos will work even better.
To sum up, each of the eight referral marketing tools we featured in this post has strong points that make them perfect for different types of companies. We hope that at least one of these suggestions has appealed to you while reading this extensive post.
Now it's time to go out there and acquire those new customers like a pro!
Request a demo of GrowSurf
Set up your referral marketing program with software that lowers your customer acquisition cost and saves you gobs of time.