Referral programs are immensely powerful. They keep customers engaged with your brand while working overtime to bring in new business—and with minimal investment to boot! What's not to love?
Sadly, some referral programs don't work as well as intended. After all, running a referral program can get complicated and overwhelming as it scales. You wing it at your own peril.
Thankfully, a referral program becomes easier to manage if you have a plan in place. And what better way to bring that plan together than by using a referral program template?
You want a template or checklist that will steer your referral program in the right direction?
We have your back.
What's in a referral program template?
To supercharge your growth through referrals, you need a referral program template that helps you deliver memorable, positive experiences to customers in their journey towards brand advocacy. You need to incorporate the following elements into your template to pull that off.
1. Referral Program Headline
Your referral program headline is likely the first thing your customers or referral prospects will see when they click on your "refer a friend" link or referral invite. Make it count by crafting a headline that grabs your audience's attention and compels them to keep reading.
Here are tips to help you pull that off.
Keep it simple. Keep it simple and get to the point! People tend to make snap judgments online. Customers are likely to click away if your headline is too vague and difficult to understand.

State the benefits. Customers clicked on that "refer a friend" page to find out what's in it for them. Tell them what's up for grabs and they're more likely to keep reading.

Make your supporting headline count. Your supporting headline works like a direct extension of your headline. Make it count by adding details that support the main headline and fuel more interest. You can also use the supporting headline to outline your offer in a clear, understandable way.

Incorporate your value proposition in your referral headline. If possible, craft a headline that reminds customers why they're buying from you in the first place. Why? Because it provides them the added motivation to share that experience with others. It's a good way to tap into customers' need for social currency, increasing the likelihood of referrals.
2. Visuals
Imagery can engage people in ways that plain text can't hope to achieve. The right visuals not only grab and hold the attention of your customers, but also give them the relevant context needed to better understand and remember your referral program.
Some tips when adding visuals to your referral messages:
Include a "hero image." An image of a real person has a way of grabbing attention as soon as a visitor lands on a page. Studies also show that featuring an image of a real person is a great trust builder.

Use icons or symbols to communicate the steps in your referral program and make it easy for customers to follow along.

Use contrasting colors to highlight options and steps
3. Overview of the referral program
You've grabbed your customers' attention and informed them about the benefits. But chances are they want to know more before they proceed. How do they earn those benefits? What are the requirements? Give them a concise step-by-step guide on how to participate in your referral program.
4. Referral code
A referral code or link is a unique identifier assigned to a customer once he or she becomes a participant in a referral program. It's usually presented as a combination of letters, numbers, and symbols.
A referral code or link has many functions, including:
Enables your customers to refer their friends on any platform they prefer
Allows you to track every activity in your referral program
Connect referrals to the people who made the referral.
Ensure that the incentives are rewarded to the right people.
Track all referrals to the business.
5. Social Proof
Some customers will hesitate to send you referrals even if they wanted to. After all, when you're sending referrals, your reputation is on the line. This is where social proof comes into play. By highlighting success stories from customers who have participated in your referral program, you're providing hesitant customers the validation they need to follow suit.
The best ways to leverage social proof in your referral program include:
Testimonials
User-generated content
Case studies
Review
[Source: FreshBooks]
6. Referral CTA
If you want customers to take the next step, do away with wimpy CTAs like "Click here" or "Submit." Be more specific and use action words like "Invite your friends" or "Refer your friends" Better yet, tell customers what they'll be getting if they click on that button (e.g., "Give $20, Get $20!."). Lastly, use contrasting colors to make your CTA button stand out from the rest of the page.
What do your customers need to do next to participate in your referral program? Tell them by crafting a clear, powerful call-to-action (CTA).
7. Low-friction form
There's no way around it: If you want to bring referrals into your sales pipeline, you need to ask customers to fill out a form.
The problem with that is that most people can't stand forms. If you want to get those referral leads, make sure your lead forms have as little friction as possible. Ask only for the information you need. You can also use single-click checkboxes and input boxes so customers can enter their information with little effort.
Subscribe to GrowSurf
Get our weekly newsletter for our latest referral marketing guides.
Error subscribing! Please try again.
Referral program template: For your website
Your website is often the first place people visit if they want to learn more about your products and services. Want to tell the world about your referral program? You can start by adding a referral program signup page on your website.
The referral program signup page on your website is like your program's front window display on the internet. In other words, this is where you pull out all the stops.
As such, your referral program signup page should have the following elements:
Referral program headline
Visuals
Referral CTA
Overview of the referral program
Referral program FAQ
Social proof
Bench Accounting knows how it's done:
[Source: Bench Accounting ]
But for your visitors and customers to view your referral program page, make sure to add a prominent link to it on your homepage. You also have the option to showcase the referral program as a banner or slider at the top of the page.
Referral program template: For customers
If you want your customers to start sending those referrals, make sure their journey towards brand advocacy is fast, easy, and pleasant.
You can start by promoting your referral program. However, you'd be smart not to spam them with referral messages. Customers don't like "pushy" messaging.
If you want your promotional efforts to make an impact, you need to time your referral messages right.
Timing your referral messages can be tricky. For our purposes let's break the journey down into the following stages:
The Initial Email Invite
One of the best times to promote your referral program is right after purchase or sign-up. By this point, the customer is excited by the purchase and is interested to get more value out of it.
Let's call this the "onboarding" stage of the referral program. During this stage, you can promote your referral program via a welcome email, a confirmation page, an invoice, or all of them.
But a word of caution: don't make it all about the referral program. Remember, the goal of onboarding is to help users learn how to use your product or service. At this point, your referral program is not the priority. Sure, it still counts as a referral invite, but more as an afterthought. The main goal at this stage is to make customers aware that you have a referral program. If they do sign up right then and there, consider it a bonus and take the win.
Boden's welcome email is a good example of how to promote a referral program during onboarding. As you'll notice, the referral program was not mentioned until the bottom of the page.
[Source: Growth Manifesto ]
If you want your referral message to be more visible, that's okay, too, as long as it doesn't draw the attention away from the main message. Tradesy pulled it off by displaying the referral CTA as a banner at the bottom of their order confirmation message.
[Source: Really Good Emails ]
Referral Program Portal
After the onboarding stage, your customers will be interested to learn more about your products and services.
As they continue to engage and interact with your brand through your website, app, email newsletter, etc, make sure you give them access to a referral program portal or hub they can go to if they so choose.
The referral portal is exactly what it sounds like. Its job is to provide your customers a dedicated page, or a headquarters if you will, for sending referrals and checking their progress. Make sure the referral hub page appears as one of the main options in the membership website, app, or eCommerce store.
A referral program portal or hub may contain the following referral elements:
Referral program headline
Overview of the referral program
Referral link
Email form
Referral CTA
Social sharing buttons 
Pre-written referral message 
Progress report (this works especially if you're using a points system and tiered rewards.
Referral program FAQ
Bench Accounting's referral program portal ticks many of the above boxes.
You can make your referral program more engaging through gamification, especially if you're using a tiered or milestone-based incentive structure.
You can gamify your referral program by:
Using a point system
Showing a progress bar or a referral counter
Using visuals to show the different rewards (and the corresponding number of required points to get them)
Morning Brew gamified their referral program hub by using the elements above, as shown below.
The Direct Email Invite
After the onboarding stage, you want to give your new customers some time and breathing room to experience the full value of your products and services. Once they've crossed that threshold, you're in the perfect position to send them a direct invite via email.
Be sure to include the following elements in your direct email invite.
Referral program headline
Referral link or code
Visuals
Overview of the referral program
Referral CTA
Coinbase gets the job done with this direct referral invite via email.
[Source: Really Good Emails ]
Customer Referral Feedback
If you want your customers to stay engaged in the referral process, show them that their efforts are amounting to something. You can send them an email or any form of notification every time one of their referrals signs up. Follow it up with an update on what they gained from the process and what they need to do next to reach the next milestone. Providing customer referral feedback is also another opportunity for you to remind them to keep sending those referrals.
WazirX tells their referring customers what's up by sending this customer referral feedback message.
[Source: Freeday.in ]
The Social Media Message
Social media is where people spend most of their time online. If you want to expand the reach of your referral program, better start promoting it on social media platforms where your customers like to hang out.
You can include the following when promoting your referral program on social media:
Referral program headline
An engaging caption
Visuals (a catchy and relevant thumbnail should do the trick)
Clear instructions on how to participate
Bombas is one example of a brand that does this well. Notice how the value proposition is baked into the caption of the post. Bombas's value proposition is simple: To create the world's greatest sock. Their penchant for superlatives extended to how awesome your friends are. Makes you want to buy them a good pair of Bombas socks, doesn't it?
[Source: Facebook/Bombas ]
Referral program template: For the friend
Let's not forget about the "friend," too.
There are two essential assets you need to put in front of referrals before they become customers:
The friend invite 
The referral landing page 
When crafting the above assets, you'd do well to leverage the connection between your customers and their referred friends. Trust, after all, is the foundation of every successful referral.
The Referral Message
The referral message is what referrals see when your customers recommend your brand to them via your referral program. A referral message typically comes in the form of an email or a social media post.
The referral message usually uses the same elements as those of a standard referral invite (referral headline, referral link, etc.), but with a few essential additions:
The referrer's first name or email address
A brief intro of who you are (as a brand) and what you do.
Morning Brew prefers their referral message short and sweet.
The Referral Landing Page
The goal of a referral landing page is the same as a typical landing page: to turn prospects into customers.
But referral landing pages have one major advantage: it has friend recommendations going for it. You can use that to your advantage by making it obvious that a "handoff" or a referral invite has been made.
You can even do better by mentioning the referrer's name, just like how FreshBooks did it.
[Source: FreshBooks ]
Below are the elements you can include in your referral landing page:
Referral program headline
Visuals
Name of the referring customer
Low-friction form
Who you are. What you do.
CTA
Over to you
We hope that this blog post has helped clarify your goals for your referral program. Because if there's one thing you need to create a successful referral program, it's clarity. As stated earlier, having a plan helps. But all that planning won't amount to anything if you don't take action.
So go ahead and dive in! Use the insights and examples from this entire blog post and fill out our referral program template checklist below!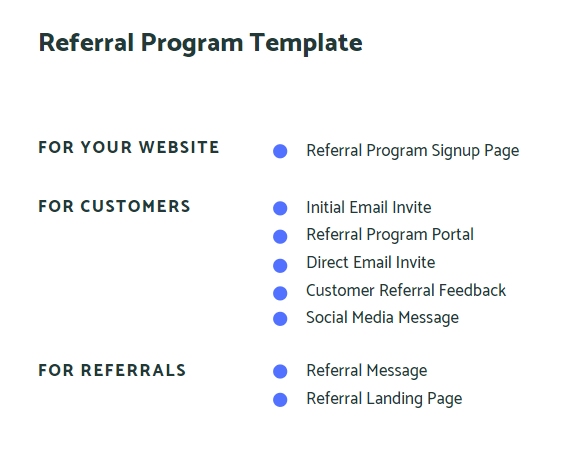 Subscribe to GrowSurf
Get our weekly newsletter for our latest referral marketing guides.
Error subscribing! Please try again.