We've all some time got to know a product or picked a brand over another one because we heard someone else's experience with it, right?
Well, that's the power of word of mouth marketing, which has existed for years.
But now we live in a tech-advanced world where our online presence grows more every single day, as well as the digitalization of many companies. That's why word of mouth marketing is managed through referral programs, which have become a go-to option for promoting products online, especially through social media.
"Invite a friend to receive a special discount on your next purchase." I bet you've seen that one somewhere or at least something similar. That's a referral program.
But how do you get to that point? How can you reward your customers? How can you incentivize them to bring you more customers? How do you actually create a referral program from scratch? 
In this post, we answer those questions for you. 
How to set up a referral program
1. Set your goals

Having a clear direction of where you want to take your referral program is the first step. Asking questions like:
Are you looking for more sign-ups? 

Do you want traffic to a certain page?

Or just increase your net promoter score in general?

Are you looking to increase revenue?

Do you want referred people to purchase a specific product?

Would you like referred people to sign up for an upgraded version of your service?
Asking your customers and yourself questions like these will help you clear out your path and what you want to do. You'll save time, money and it will help you reach the goals you set faster. 
A referral program can be seen as a workflow and as in any workflow, you have to know what needs to happen so you can get from point A to point B. 
What I mean by this is that you need to set KPIs.
KPIs are as important as the goals. They show you what's working before you make any important decision. 
These are some you can implement when creating a referral program:
Share rates 
This metric shows how many of your customers share invitations to use your product. 
It also allows you to see the effectiveness of the distribution channels you're using since you'll know where referred people are coming from.
It's very helpful to discard what's not serving you anymore.
Click-through rates
Watching your customers share invitations is cool, but it doesn't stop there. By tracking click-through numbers you'll find out how many people who received the offer are actually interacting with them.  
Conversion rates
This is the metric you'll definitely be happy to see high since it's the one that shows how many people sign up for your product or service when they're on your landing page.
2. Reach out to your existing customers
Your existing customers are the driving force of any referral program, so you want to make sure you have a clear and genuine relationship with them.
Ask what they like about your product, what else they would like to receive to boost their overall experience, as well as how they'd like to be rewarded for their loyalty. Being in constant communication with your customers will give you a clue of what they value the most and what they like to share with their friends.
They will talk from experience and that's the best advantage you have. Not only to promote your product but also to improve aspects and detail you might overlook.
Pay attention to their feedback and make sure you work towards bringing a solution to their problems. You can do this by running surveys through your social media, reaching out directly through them via email.
But another great option to do this is by taking a closer look at what's going on in all the departments of your company. 
For example, you can use a customer feedback tracking tool where you can centralize it and manage it. There are multiple ways to do this and you can select the one that adapts better to your business.
We're not going to dig too deep into customer feedback tracking. Yet, here's a recommendation you can consider:
Be curious about what your customers say.
Ask repeatedly in the customer support department what customers are demanding the most, but also be curious about what a sales rep listens to over the phone. What might be a dealbreaker for some customers? What are some of the reasons they're not purchasing from you?
You'll be surprised about what asking these simple questions can do for your business. Then you can take action and improve your offerings based on the customers' answers.  
3. Establish your offer (incentives)
This is where you set the rules of the game, so let's break it down into 2 sections.
1. Rewards
This is the opportunity you have to be creative and stand out with the offer that will grab your customers' attention. Choose rewards that align with their wants and needs. Remember they're the protagonists and making them happy is the priority.
Some of the most used referral rewards include:
Today, gift cards are one of the most used and preferred rewards. They're reliable and simple to use. You can offer gift cards of companies many people buy from like Amazon, iTunes, Netflix, Starbucks to name a few. 
Some businesses are committed to certain causes. So they might have a reward system that when their existing customers invite someone, they donate to a charity or organization.
Donations are a good way to empathize with people and attract those that are aligned to your ideal customer and share the same values
Discount coupons are still one of the most popular marketing tools 120 years after their first appearance. Now they're being used by numerous companies due to the growth of e-commerce and users' online presence. It's definitely a good way to reward your referrals.
You can offer either the referrer or referred person and even both parties some cash they can spend on your website or somewhere else.
You can allow access to an upgraded version of your product. If you don't have tiered services or multiple products, another option is to invite them to use a new feature of your existing product or give them early access.   
With a credit system, your customers earn credits or points that are added to their accounts. Then they can exchange them when they reach a certain amount.  
This type of reward is an excellent option to gamify your referral program.
You give the customers back a percentage of what they paid when purchasing from you. 
If you're looking for more incentive alternatives, you can read our post about the 12 Best Referral Program Ideas.
2. Who receives the reward 
Once you have decided what your reward is, then it's time to determine who receives it.
There are many incentive structures that businesses use for this, the most popular ones are:
The one-sided incentive means that only a person receives the reward. It can be either the existing customer for sending the invitation or the new one for accepting it and making a purchase.
With this structure, it's a win-win because both parties receive the reward. It's up to you to decide if they get the same thing or not.
Bruce Hogan, CEO of SoftwarePundit, and previously Director of Growth Marketing at Teachers Pay Teachers shared two examples of incentive structures:
"A popular example of one-way incentive is Blue Apron – existing customers can give a free week of meals to friends.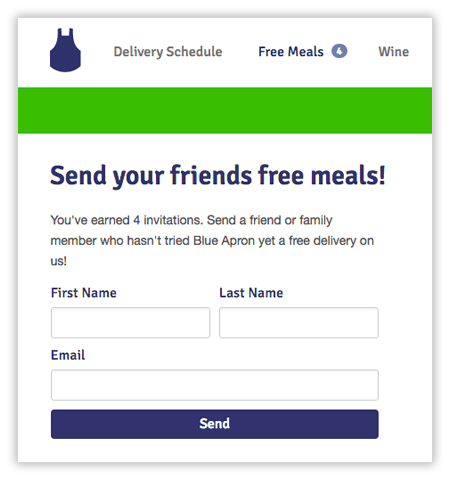 Image Source: MarketingStrategy
Another popular example of a two-way incentive is Uber, where both parties receive a few dollars to use on free rides. In general, two-way incentives are more effective. In my experience two-way incentives nearly doubled overall program performance."
Bruce also shared an interesting hack when planning your customer referral program which is:
Limit the Total Number of Referrals for Each Referrer 
Now you may be wondering, why should I set a limit if I want to reach as many people as possible? 
Well, Hogan explains:
"When launching a referral program, companies are hopeful that the program will generate a large surge in new customers.
 As a result, they typically allow existing customers to invite as many potential customers as they would like. A counter-intuitive best practice for referral programs is to limit the number of referrals that existing customers can send to friends and colleagues. 
This increases the perceived value of the referral for the existing customer and the person receiving it, which improves the probability that the program will be effective.
Blue Apron used this tactic with their Free Meals referral program. If this tactic is used, companies should encourage the existing customer to inform the person they are referring that they're using one of their few invites to encourage the new customer to join. 
Implementing this type of program can be more complicated but can have a significant impact on referral volume and customer lifetime value." 
Some companies don't offer any kind of incentive and instead, they only focus on providing outstanding overall service and experience to their customers and let word of mouth recommendation come naturally.
This strategy might not work well for some because customers don't see it's worthwhile promoting your business for free. 
However, it can bring great results for others which is the case of Abby Herman, Director of Strategy at Snap Agency, who has experience with this technique.
She says "We found that the best quality referrals we received were the ones we offered no incentive at all to either side. 
Clients just happened to refer our marketing services to other clients (either consumer or businesses) because of the results they had with our marketing campaigns, web designs, social media ads, SEO or backlinks.
When you offer a discount on either product or service to someone that could bring in more clients, they will definitely be more likely to work extra hard to do this because it's to their own benefit. However, there's also a chance that fewer people will feel that the offer is less genuine because they know the person who referred them to us is betting something in return. 
Our best strategy? To show new and potential clients our success stories with past clients by showing their ROI over time when hiring us to run their campaigns. Or even how much their newly designed and optimized website has been converting like never before."
Depending on the type of business and customers you have, the incentive structures that fit you best can vary.  
4. Evaluate your distribution channels
This step is extremely important because it's how you'll put your offer before your customers' eyes. 
So first things first — It has to be easy for the customer.
Some of the best and most used distribution channels are:
Landing pages 

Emails

Messages 

Newsletters  

Product updates

Blog post

Live chats

Chatbots
As with any marketing campaign, a referral program requires a very strategic approach. That's why you have to pick your distribution channels carefully. Take into account what communication channels are the most effective to reach your audience.
Once you have it in place, start planning it and all it involves:
Copy

Call to action

Images

Explaining videos

Infographics
And everything else that can support your offer.
Having a well-defined buyer persona can be a helpful tool. The more specific you address their problems and needs with the rewards you offer, the easier they'll feel tempted to try your amazing product.
Remember that it has to be clear and simple.
For example: a well-crafted email copy with a strong call to action where you show what the user gets and how can be enough to capture the possible future customer.
Not only that but also make it easy to share. Plug-ins or app integration tools can help you with it. 
Don't put all the eggs in one basket.
Evaluate where you get the most traffic from, what methods your existing customers are the most happy with and forget about the others that don't work. 
Now you know what distribution channels work for you and your audience. What's next is to automate as much as you can. This will help you save time and money, as well as avoid mistakes that can happen when human resources are handling it.
Another option can be to look at the results of any previous campaign you ran successfully and try using the same distribution channels. Note that you might want to look for a campaign with similar goals to the ones you're setting with the customer referral program.
One reason to document your content distribution is that you can also take the best-performing content you already have and find a way to integrate your referral program offer on it. 
Look for content your audience had a reasonable engagement rate with and repurpose it with the referral program update.
Since you're already investing in the rewards you're offering to your customers, you want to consider distribution channels that are cost-effective and stick to them.
5. Use a referral software
To manage everything with more ease, a referral program software is key.
It's true that some companies go the internal tool route and build their own referral system. 
However, this approach can have many downsides, like not having the budget and all the resources to make it safe enough, a really long development time and it can be challenging to integrate with other tools which can limit the options your existing customers may have to share with their friends.
You already set your goals, decided what your reward is and who receives it, as well as how you plan to let your users know about the referral program and how they can promote it. 
Your next step should be to take all the rules you created and automate them with the help of a referral software.
Request a demo of GrowSurf
Set up your referral marketing program with software that lowers your customer acquisition cost and saves you gobs of time.
Customize and gamify
A referral software can give you plenty of options to make your customer referral program as personalized as possible. This is the case of Hosea Chang, Chief Operating Officer of Hayden Girls.
They have a fun way to present the points that customers earn, which is "hearts". A simple example of how you can take a different tactic and gamify the program. 
In her company, they have a tiered system. She says:
Our referral program plays into our rewards program. There are various ways to earn 'hearts' (points) through signing up, purchasing, and specific social media actions. Once someone has earned 1,000 hearts, they earn a $10 gift card, and there are higher tiers that have a slightly nicer ratio than the 100:1.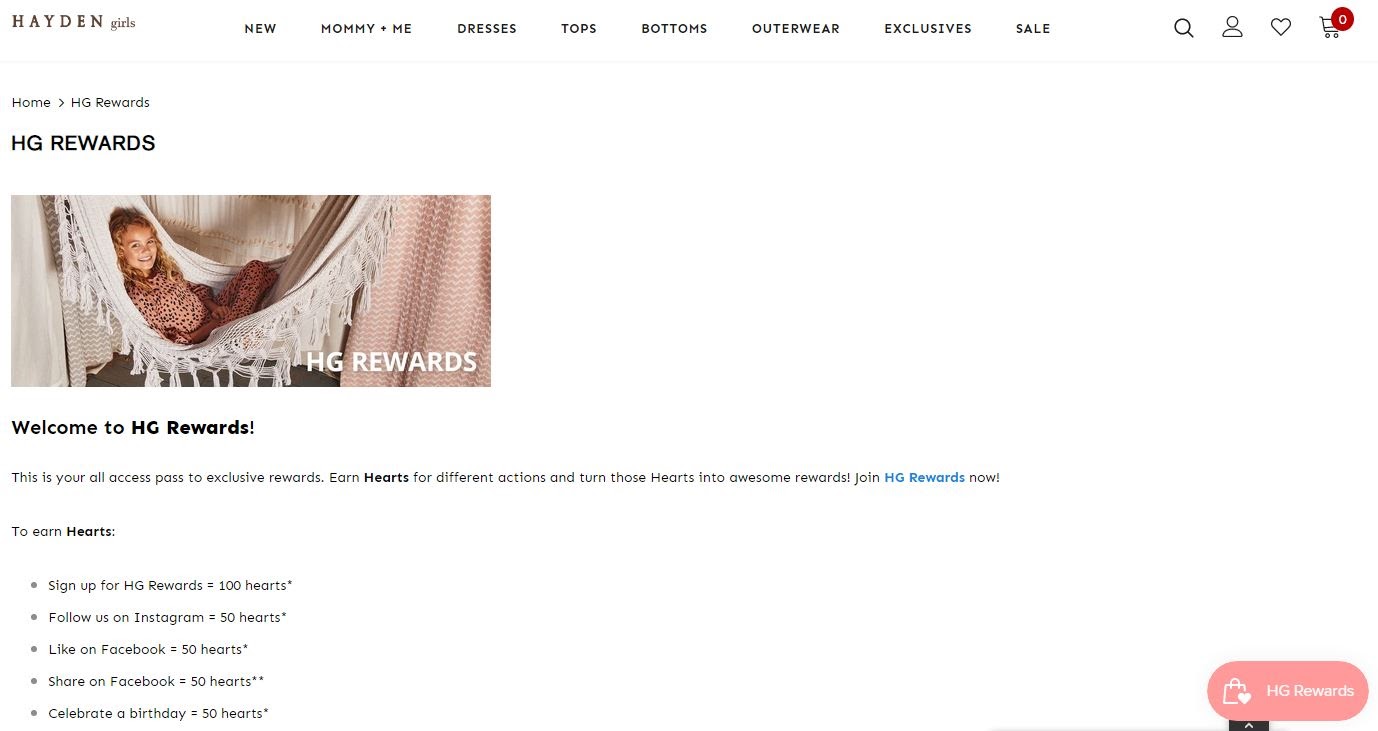 Once a customer has earned their $10, $25, or $50 coupon, they have the option to redeem it or gift it. If they choose to give it to a friend, they will receive one themselves once the friend uses their coupon.
I love this portion of the rewards program because it goes beyond incentivizing our customers to spend money, but to refer it to their friends, as well, who will hopefully keep the chain going. 
The only disadvantage of this compared to using other referral programs like codes shared on Instagram, for example, is it takes time for customers to build their points until they are able to share it with one friend. 
And that's another thing, it's one friend. However, I look at it as building a loyal customer base who won't purchase one thing one time because of access to a code. Instead, they are consistently returning and referring friends who will consistently return and reward their friends"
Track analytics
To see what's working, you'll want to track analytics. This is also why it is important to use a referral software because you can track metrics like engagement and conversion rates.
David Mausolf of Customer Acquisition has wide experience with tracking referral programs.
During a 4-year timeframe, he was in the Growth Marketing department at Lyft and ran referral programs that spanned more than 100 markets across drivers, passengers, ambassadors, and affiliates.
He says "I've historically looked at programs such as Lyft, Doordash, and Postmates. By the nature of marketplace businesses, you have to measure the incrementality of each of your referral programs. 
This is something a consumer doesn't see but lets a company identify whether a program is driving conversions (whether they were exposed to referrals or not)."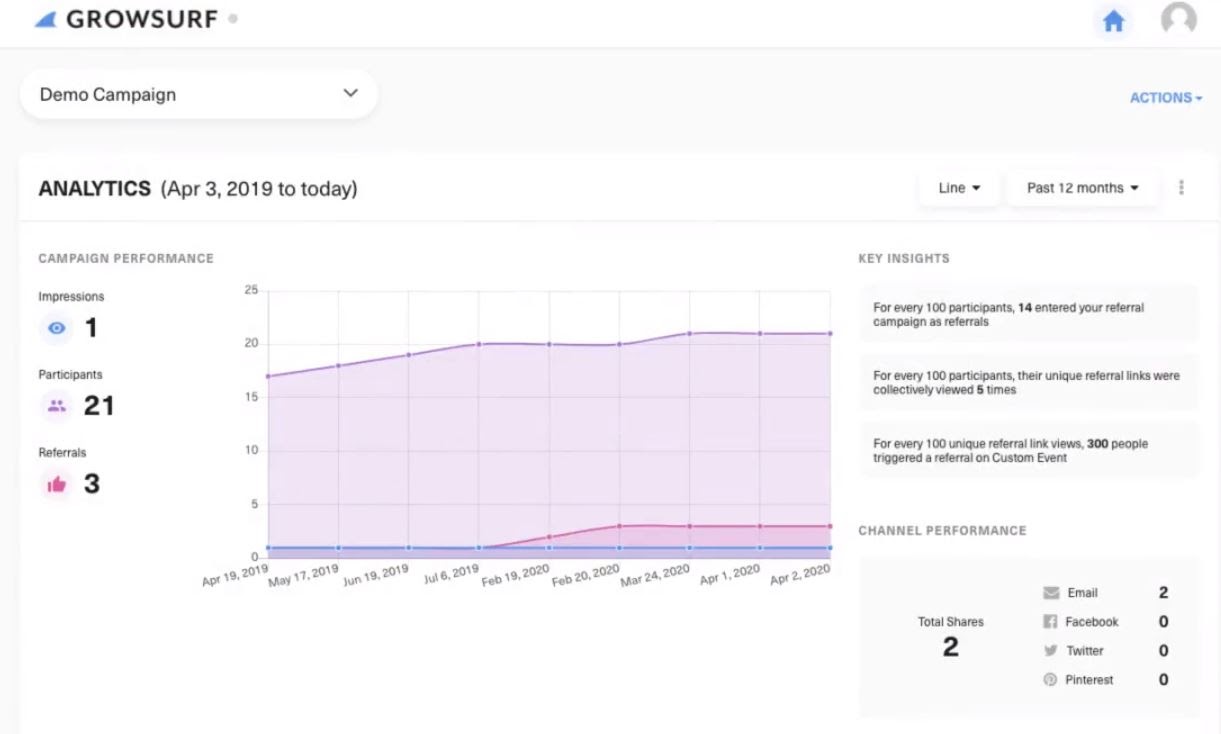 David considers that every referral program should have a holdout group. He explains " You need to know how much cannibalism your program is driving (how many organic users are being misattributed to referrals).
I'd suggest starting small. For example, for marketplace businesses identify which city or side of the market is the most constrained and add an incentive there. Critically, I'd suggest using a small referral value to start and increasing it over time." 
Remember that numbers speak louder than words. Tracking your referral program efforts gives you the chance to document results you get from them. So if anytime in the future you want to share them, you have it all backed up. 
Benefits of referral programs
Even though a referral program can have multiple benefits, we listed 4 that are relevant for any business that looks for growth.
Increase customer's trust
Customers are more likely to trust you because they have a more organic approach when they're referred by people they know who already use the service or product. 
This will also lead to an increase in customer loyalty. Recent research made by eMarketer found that 57% of companies say building stronger emotional connections is the main driver for loyalty investments.
And what better way to connect organically with people than inviting them to know your business through someone they know?
Automation
Once you already have your customer referral system up and running, automation is crucial because you don't have to do anything else but track results. This way you can lower data entry errors while you save a ton of time.
Even though you have to be checking in constantly, the best part of automation is that you can rest assured the software you use will take care of everything. 
And in this case, with a referral program, customers will take some weight off your shoulders by running the process themselves.
Reduce Customer Acquisition Costs 
Another great benefit you get from referral programs is a significant decrease in customer acquisition cost. But why?
Because if you use a referral software, you pay a fixed rate instead of a certain amount based on the number of clicks or impressions 
Another reason you save money is because you can integrate your referral program with your other existing marketing efforts, which is also a way to get the most ROI.
At the same time you reduce your CAC, you increase your customer's lifetime value because you're giving them more reasons to keep using your product by rewarding them.
Increase engagement rates
Whether it's by sharing, clicking, subscribing to a newsletter or getting more organic traffic to your website, a referral program will definitely help you increase your engagement rates. Not only with your existing customers but also with the new ones that are to come. 
This gives you the opportunity to measure the effectiveness of your converting process. What content new customers interact most with, what are their immediate next steps after saying yes to your offer and purchasing are some of the aspects you can focus on.
What to avoid in referral programs
We explained how you can set up a customer referral program and listed some benefits you can earn from them, but there are some actions that you have to pay attention to since they might be harming your efforts instead of helping them.
Not many people talk about the mistakes that are commonly made in the process of setting up referral programs and how you can avoid them.
But Marcin Kolago of Coinerro explains it very well since he has experienced the referral world from many perspectives:
1. As a consumer
2. As founder of Coinerro.com, a startup that uses referral links from crypto exchanges
3. As an advisor for Student Coin, a new crypto startup project which uses referrals to get customers
Marcin agrees with the fact that if used the right way, referrals can be a powerful tool.
Yet, there are the 4 main issues he sees when implementing these programs. Here's what he says about them:
1. Under Communication
I used the Booking.com referral link once. While using the link was easy, I had a few questions which were hard to answer, but that is typical for Booking.com.

I see this in other startup projects as well - while referrals attract people, it's not so great to have to assign staff to answer things you might have included in a FAQ.
This is most acute in terms of payment modalities, as this is understandably a sensitive topic. I have seen a program that books your revenue on the 10th day of the next month, then validates it on the 15th of the next month and it is available for payout 10 days later. I had to write three emails to actually understand this process.
2. Overcommunication
I have seen a crypto startup recently, which claimed to have developed a new crypto trading bot. In their slide deck instead of explaining why their idea is great, they devoted more than 50% of the deck to explain the referral program for people, who participate in their crowdfunding. 
As a result, the whole thing gave another impression and felt more like a Ponzi scheme than a real business idea.
3. International differences
While marketing segmentation is a useful thing, it is annoying to see brands offer vastly different referral rewards in different markets. Many referral programs now offer bonuses to both the referring and referred users.
It makes sense to search for such links online. But when you find them it is annoying to see different links promise vastly different rewards. E.g. a British company may offer 5 pounds, and a German one 10 Euros. If someone is looking for a good deal this creates just a mechanism to waste time.
4. Unclear acceptance processes
Some companies allow everyone to generate a referral link. Others are quite picky. For example, crypto exchanges .
Some use a simple process and provide the easiest registration method of all.
Some have their own processes and requirements. It is ok when these requirements are communicated clearly, e.g. regarding a certain social media following, etc. 
Sometimes these requirements are just kept secret, with the possibility to apply for a referral partnership but no details or feedback given. This is not really great service.
On this same topic, Charles Edge who is CTO of Bootstrappers.mn also shared some insights that we added to this list.
From his experience, he says there are three things to be careful of when using referral programs. Here's how he explains them:
5 - Have a backup plan
The first is that referral programs can certainly drive traffic and transactions, but they don't always. When they don't work out, rather than abandon the idea, we need to pivot and find the right implementation. 
For example, rather than cash referrers out, Dropbox gave additional space as a growth hack and that's probably the textbook example written about in a number of books. 
6- Don't make it your only priority
On the other side, when programs are successful, we can start to rely on referral programs too much and offer incentives that slim down our margins to keep the growth train moving.
7- Keep the laws in mind
The last one is to be careful not to accidentally break a law —some parties are not allowed to take these types of benefits, so know the customer and what you're able to do for a given cohort. 
For example, don't try to incentivize a school administrator or government official and make sure to understand tax reporting requirements.
These are all helpful tips to keep in mind when designing your customer referral program.
Difference between referral programs and affiliate programs
Have you asked yourself some time if they're the same thing? Well, this is something that can be confusing. 
The main difference is that affiliate programs most of the time just offer cash to the partners that bring in customers. In these cases, the partners are marketers or influencers who don't have to be actual customers. 
And they're paid a commission percentage of the purchases made through their affiliate links.
Referral programs instead, give existing customers incentives or rewards every time they bring in someone. 
Note that in this case, the customer is the one who decides whether to share and promote your product. Unlike affiliate programs where the company sometimes is the one that gets in touch with people to join the program. 
Companies that run affiliate programs, usually select who they partner with using a  similar approach to the one for choosing brand ambassadors.
Examples of customer referral programs
Now that we went over setting up a customer referral program, here's an organized by industry list of some good examples from companies that already have their programs up and running.
B2C
T-Mobile
T-Mobile's referral program allows customers to earn up to $500 a year for inviting their friends. Each time one of them purchases any time, they get $50 and rewards are paid via Virtual Express Prepaid MasterCard card.
On their terms, they clear that rewards are granted on a per-account basis, regardless of the number of lines on the holder's account.
Image Source: T-Mobile
When referred people click on their friend's link, they're taken to a landing page where the referrer's mobile number or email so both can be rewarded. 
Payoneer
They incentivize their customers by giving them and their referred friends $25.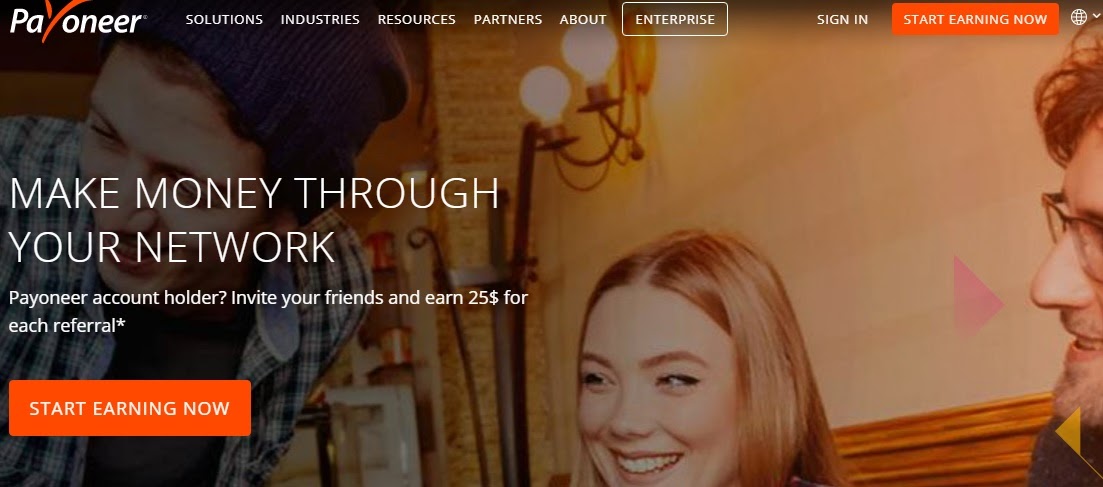 Image Source: Payoneer
At first sight, it seems like all it takes to do is to sign up through your friend's link. But then at the bottom of the page, they specify that it's only after your referred friend signs up and receives a total of $1000 that both get the reward.
Remember Marcin's advice from above about under communication? Here we can see the importance of having a simple system but also a clear explanation of how it works.
ExpressVPN
This SaaS company has a good referral program where customers can invite friends and both receive 30 free days.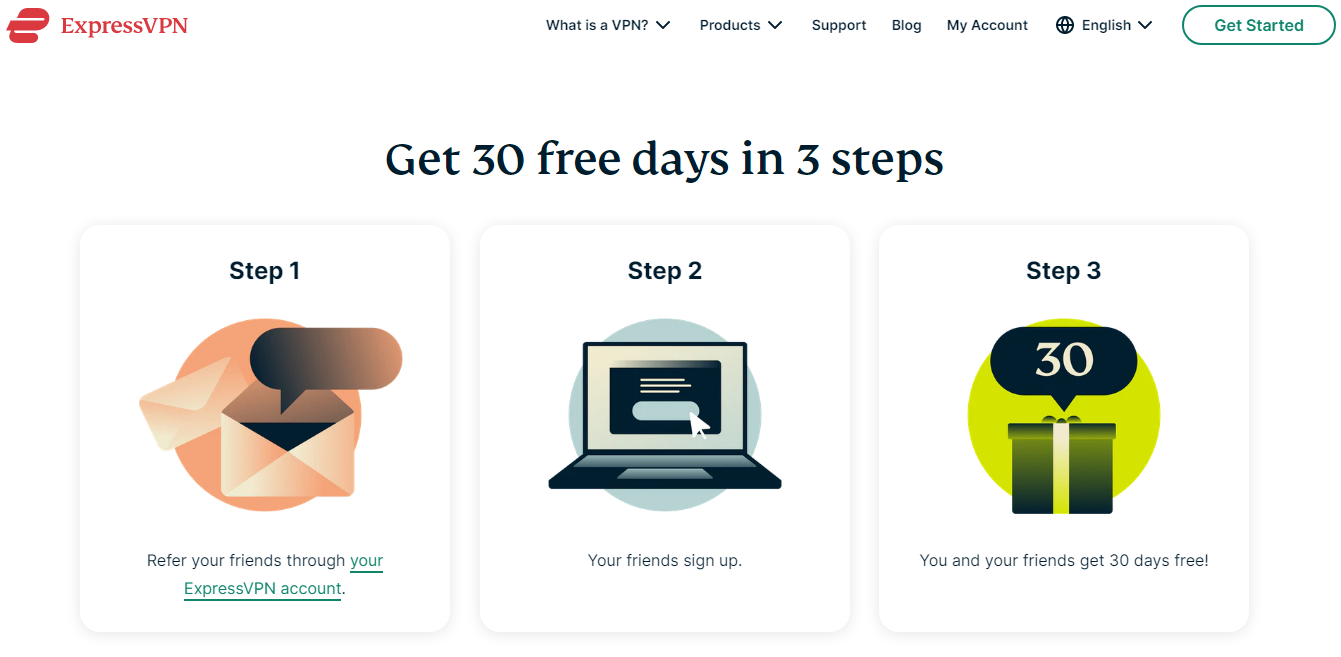 Image Source: ExpressVPN
The best part is there's no limit and the more friends you refer, the more free days you get. This provides a good saving alternative for existing customers and an opportunity to provide them with a great customer experience and keep them engaged.
Discover
Like many banking solutions, Discover offers statement credits through their refer-a-friend program.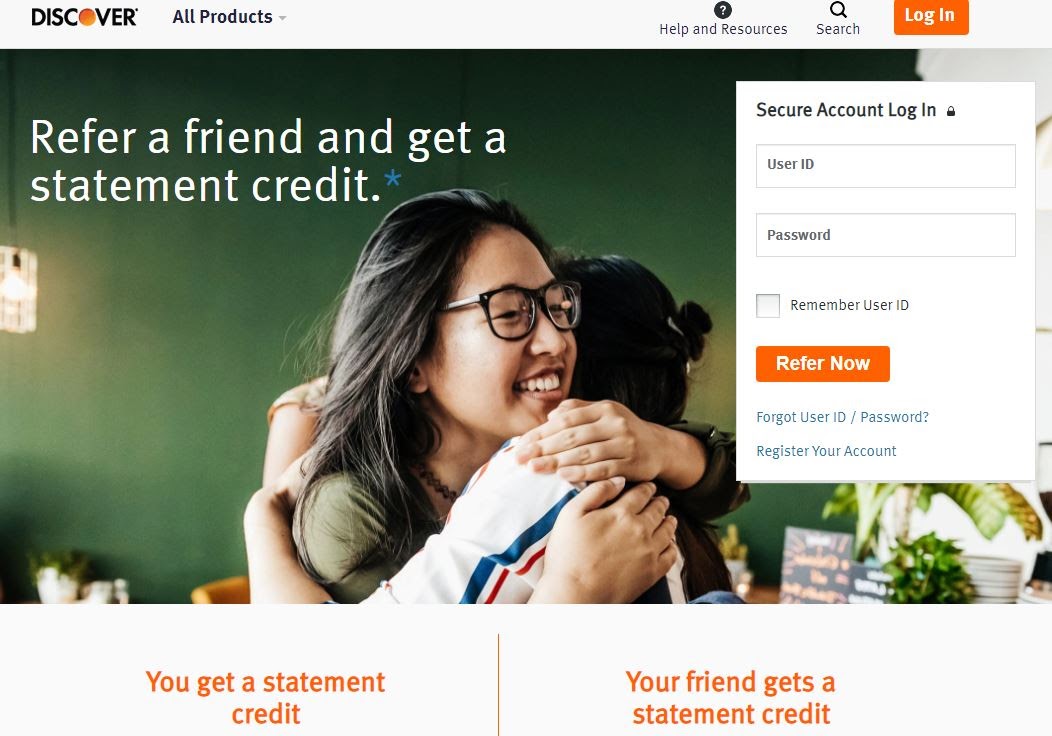 Image Source: Discover
The amounts range from $50 to $100 and referred friends earn them after the first purchase made in the first three months as a new customer.
Vodafone UK
Vodafone UK gives their customers the chance to choose what plan they want to refer their friends to. They can choose between the Vodafone Pay monthly mobile or the Vodafone Home Broadband plan.
Every time someone uses the referral link to sign up, both parties receive a £25 Amazon.co.uk gift card.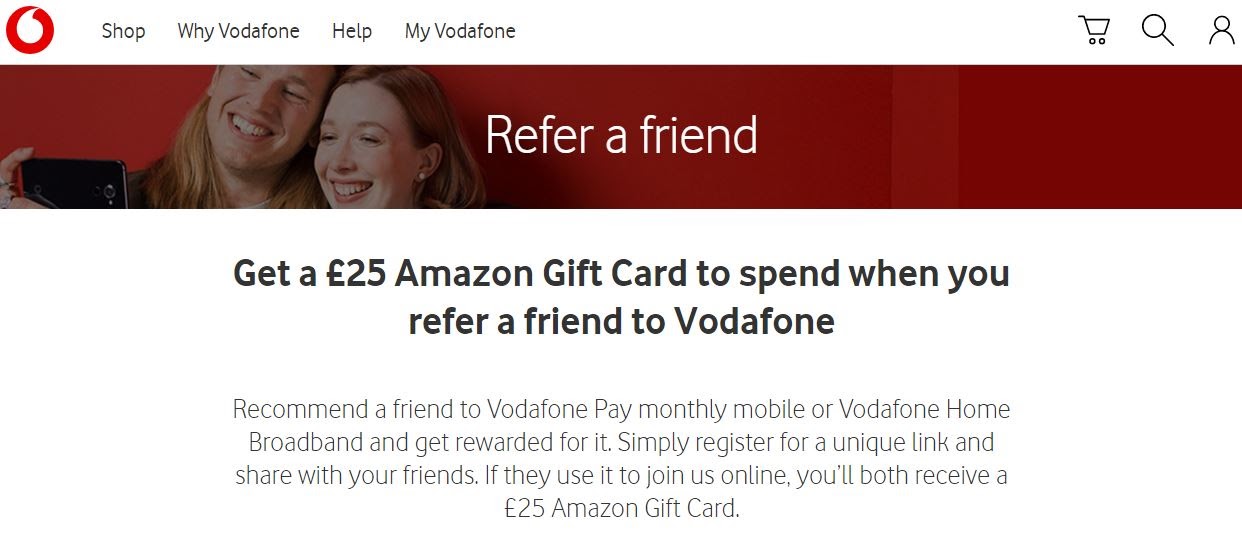 Image Source: Vodafone UK
And their terms say that For Vodafone Home Broadband customers, the rewards will be received 30 days after a friend has activated their broadband.
For Pay monthly customers, they'll receive it within 90 days of their friend's purchase.
DTC
Clinique
Clinique has a credit-based referral program where you earn points each time you refer a friend.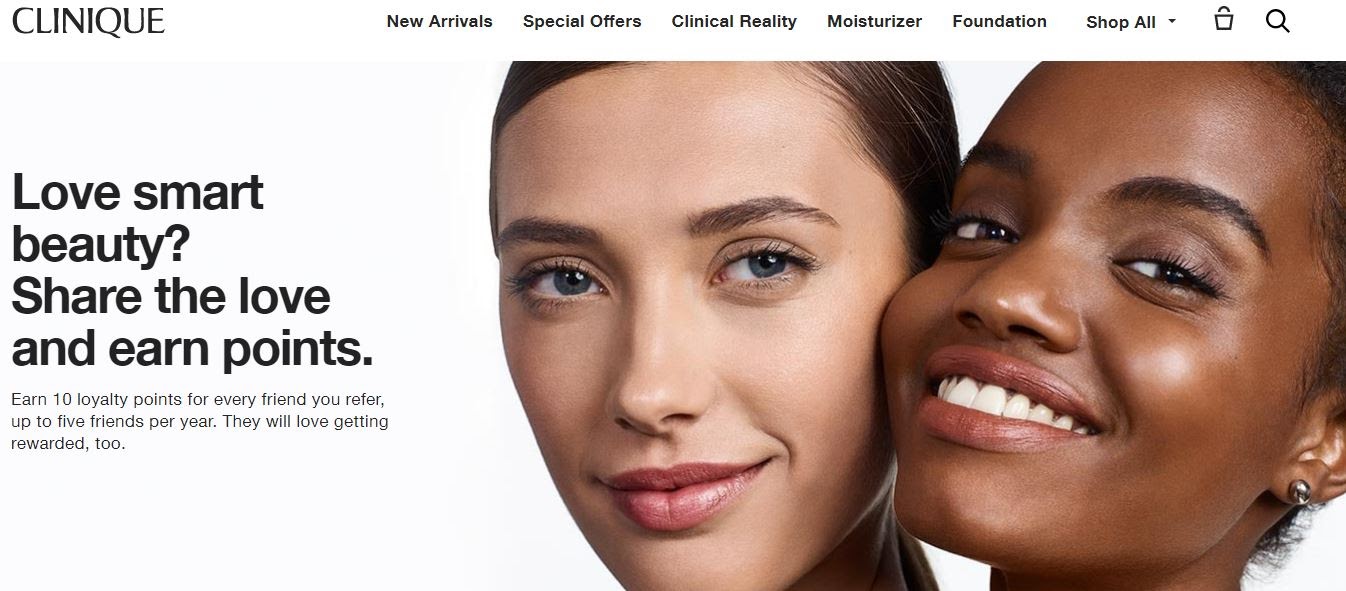 Image Source: Clinique
This is available to customers who are part of their Smart Rewards membership, where they can redeem the points they've earned and choose the products they like.
Casper
You don't necessarily have to reward your customers the same way. Referral programs can combine rewards and can be set for specific products, Casper is a great example of it. 
Currently, they offer two options to their existing customers:
The first one, they give the referrer a $75 Amazon gift card and 20% off to the referred people when they purchase a mattress with their friend's link.
They also have a second option with a lower amount where you can earn a $10 Amazon Gift Card if you refer friends to buy a Casper pillow. They'll get a 10% off the pillow.
Image Source: Casper
All of these examples are easy to understand and have a simple working system. That's what you should aim for when creating your referral program.
Looking for more customer referral program inspiration? Don't worry, we created a list with 41 examples.
Summary
Before putting in action these steps to set up a customer referral program, you want to make sure you're providing the best customer experience to your users. This is where your main focus should be at first.
Try your best to deliver an outstanding product that your customers love so they can share it with the people they know. That way, rewards will be just a complement and not the only driving force that pushes your customers to tell everyone about your business.
Once you have this, then you can create your referral program and the sky's the limit. People love to share what's good, that's for sure and you can have massive growth if you use the right strategies. 
Give your customers the chance to spread the word about your business and do it easily by using a dedicated referral software tool like Growsurf that has everything in place to run it smoothly.
Request a demo of GrowSurf
Set up your referral marketing program with software that lowers your customer acquisition cost and saves you gobs of time.