Driving sales is a critical part of any marketing strategy. But are people familiar enough with your brand? Do they feel that "spark" of connection every time they see your logo or hear your name?
If not, you have some work to do. You need to build brand awareness. And fast.
Why? Because if you're not generating enough buzz around your brand, you're not planting the "seeds" you need for your company to grow.
Your customers may love your product, but it's your brand that keeps them coming back.
And in an overcrowded market, your brand is the differentiator that allows you to cut through the noise.
So, how do you create a successful brand awareness campaign? This blog post lays it all down for you.
What is brand awareness?
Brand awareness is a marketing term that describes how well your target audience recognizes or remembers your business.
Pretty straightforward, right? But here's the funny thing about brand awareness: too many people get it wrong.
First off, while brand awareness (or "branding" for that matter) is a marketing term, it's not a job for marketers alone. All people across your company—from customer service personnel to chief executives—have a role to play in your organization's brand building efforts.
Truth is, brand building extends outside your organization's ranks. Your stakeholders, partners, and most importantly, your customers, are a part of it, too.
After all, as Amazon founder Jeff Bezos famously said, "A brand is what people say about you when you're not in the room."
What this tells us, of course, is that branding or the act of building brand awareness is not something you have full control over.
But that doesn't mean you can't take ownership of your brand. You have to. Because if you don't, others will do it for you. The problem with that is you might not like the results.
Why Brand Awareness Matters
In a media landscape that's getting more cluttered by the day, your brand is only as good as the amount of attention it's able to generate.
But grabbing your audience's attention is not enough. You need to be able to keep it. After all, your competitors won't stop competing for your audience's attention. If you don't spread the word about your brand in ways that stick in the minds of your customers, don't be surprised if they move over to your competitors.
Still not convinced why increasing brand awareness matters? The following stats make a great case:
How to Build Brand Awareness
No two ways about it—increasing brand awareness should be a top priority in your marketing efforts. But how do you go about it in ways that will pay dividends for your business? Let's count the ways.
1. Get clear with your brand purpose
A brand is much bigger than using an online logo maker and showing off a logo to the world.
If you want your brand to be top of mind among your audience, give them something to care about.
Get clear with your brand purpose. Show them what you're about.
Why? Because why you do what you do matters to them a great deal.
Customers (millennials especially) don't buy out of self-interest alone. Their purchasing behavior is motivated by something bigger than themselves.
In fact, a global study shows that customers are 4 to 6 times more likely to purchase, protect, and champion purpose-driven brands.
Besides, having a clear brand purpose not only helps you connect with your audience on a deeper level, but it also helps to differentiate your brand from your competitors.
Ever wonder how Walgreens became one of the top pharmacy store chains in America? They didn't do it by telling the world they are the best. Walgreens did it by showing the world their dedication to "help people across the world lead healthier and happier lives."

[Image source: Walgreens Boots Alliance]
To gain clarity with your brand purpose, start by asking yourself (and partners) the following questions:
When you started your business, what positive change did you want to make in the world?
How can your company contribute to making that change?
Who are the people who will benefit from that change?
How can you articulate your purpose in ways that will inspire and motivate your audience?
What do you want your brand to be known for?
Once you've arrived at your answers, use them to create and document your brand mission, vision, values, and goals.
2. Give your brand a personality
Once you've established your brand purpose, you need to think about how you want to present your brand to the world, and in particular, your target audience.
Remember, the goal here is to stand out and make a lasting impression. And the only way to do that is to give your brand a personality.
What is brand personality anyway? 99 Designs has the best definition:
Brand personality is a set of characteristics attributed to a brand in the eyes of a customer. A brand's personality is what shapes the public perception of a brand based on how it acts, what it says and what it looks like.
In other words, your brand personality is what makes your brand unique. It is what will help your brand "find the right parking space inside your consumer's mind," as brand content strategist Laura Busche puts it.
That said, your brand personality, no matter how remarkable, won't get your prospects to convert during their first encounter with your brand. If you want your brand to become memorable to your audience, you need to present it to them consistently.
Remember that in our cluttered digital environment, the customer journey isn't always a straight path. In fact, it typically takes around 7 touchpoints with a brand before a customer finally decides to make a purchase.
If you want those touchpoints to count and build up to a sale, your brand personality needs to be consistent. You don't want your brand to sound sophisticated and then rugged the next. If you confuse your customers, you're not going to build a strong enough impression that will make your brand indelible in their minds.
So, how do you pull off this brand consistency? The key is to use your brand purpose as your North Star. Thankfully, you already have that part done, so this is a good time to re-examine your brand mission, vision, and values.
Now ask yourself: How do you present your brand in ways that will help your audience connect with your brand purpose and evoke the emotions that align with your values?
This is where a brand style guide comes in. 99 Designs defines brand style guide as "a rule book that explains how an organization presents itself to the world through its logo, font and color selections, photography and much more."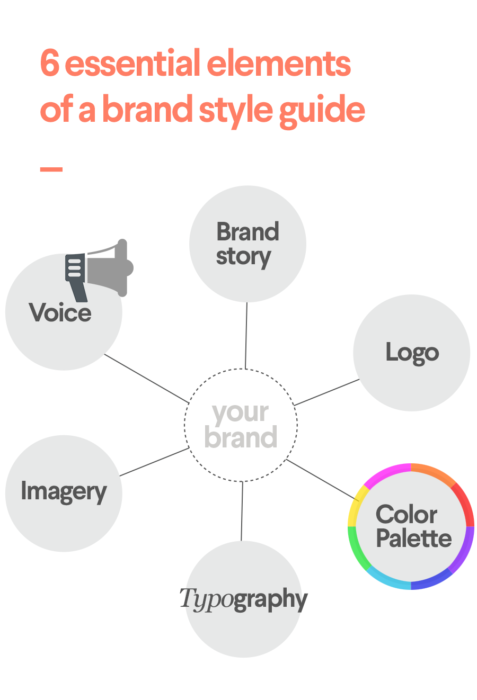 A brand style guide requires six elements, which are:
Brand story
Voice
Logo
Imagery
Typography
Color palette
3. Turn your employees into brand ambassadors
Increasing brand awareness is a team effort. If you want your brand to create a lasting impression in your audience's mind, make sure all employees across your organization are staying on-brand.
It goes without saying: your employees represent your company. And if they wow your customers in ways that are representative of your brand, you can bet your bottom dollar it's going to spark conversations, building not only brand awareness but trust as well.
Trader Joe's stood out in the ultra competitive retail grocery industry through exceptional employee engagement . How did they do it? Simple: everything they do is informed by a strong brand purpose: to make customers' shopping experience "rewarding, eventful, and fun." Trader Joe's employees embodied that culture, making the grocer well known for their energetic, accommodating employees.
So, how do you get your employees invested in your brand building efforts?
This involves three stages:
Hiring
Onboarding
Advocacy.
Hiring stage
Don't qualify employees based on competence or accomplishments alone. The key is to make sure you choose employees who are fit for your brand. Make sure they share your brand's core values. You can use pre-employment personality assessments to spot applicants who are the right fit for your brand. Asking value-based interview questions and conducting pulse surveys also helps.
Onboarding stage
Introduce your brand culture to new hires by using an onboarding program that lets them know what your brand stands for, what you hope to accomplish with your products and services, and how you want your brand to be represented to the world. They must feel during the onboarding process that they're part of the team. This is also a good time to introduce your organization's culture, mission, and vision.
Subscribe to GrowSurf
Get our weekly newsletter for our latest referral marketing guides.
Error subscribing! Please try again.
Advocacy stage
Make sure to reward your employees. Give them recognition for not just hitting their targets, but also for how they provided value to customers and made their lives better. Offer value-based incentives. Showcase inspiring customer stories. Let them know how much they're contributing to your overall mission and make them feel good about it.
4. Use storytelling to your advantage
We see everything through the lens of story. Stories are how we make sense of the world around us. They teach us how to navigate the world in which we live.
Customers navigate the marketing landscape in the same way. They choose brands that tell the best stories. Everything else is just noise. So if you want to cut through the noise and make yourself seen, use brand storytelling to your advantage.
Brand storytelling is not only a great way to capture and hold your audience's attention, but it also helps in getting them to where you want them to go.
Kaitlin Loyal, VP at Scribewise, offers a great definition of brand storytelling:
Brand storytelling is using a narrative to connect your brand to customers, with a focus on linking what you stand for to the values you share with your customers.
To create a narrative your audience can get invested in, use elements that make stories compelling in the first place.
Donald Miller, the CEO of Storybrand, framed those elements in a way that's easy to remember and understand. The 7 steps to his Storybrand Framework include:
The Hero . Your audience is the hero of your story, not your brand. Why? Because they don't care about you as much as they care about themselves. It's their story, not yours.

The Problem. To get your audience invested in your brand story, understand their problem and define it for them.

The Guide. Once you've shown them that you understand their struggles, show them you have what it takes to solve them. Be the Yoda to their Luke Skywalker, as Miller himself puts it.

The Plan. Don't just tell them you can solve their problems. Show them you have a plan to pull it off.

The Call to Action. Tell them what they need to do to solve those problems (and be clear about it!).

The Failure Avoidance. Compel them to action by showing them what's at stake.

The Success. Tell them there's a happy ending. And give them a taste of what the happy ending will mean for them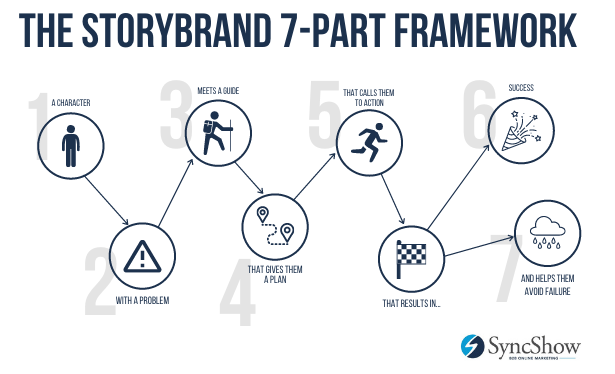 By understanding your target audience's struggles, reflecting it back to them, and then giving them the guidance and help they need to solve those struggles, you're giving them a narrative they can latch on to. And because you're a part of that narrative (you're Yoda, remember?), they will want to make sure you're with them every step of the way.
5. Create shareable content
They say that "content is king."
I beg to differ. Shareable content is king.
Think about it. In a world where social media and smartphones continue to dominate our lives, we're more connected than ever. Why not use that connectedness to create buzz around your brand?
Here are some stats to prove this point:
Creating shareable content not only increases brand awareness, but it also boosts site traffic, increases engagement, generates more leads, and boosts sales.
Besides, social shares also serve as social proof. If your audience enjoys your blog post and they see that many others are sharing it, they're more likely to follow suit. This not only sparks word of mouth, but it also creates a community of brand ambassadors who will want to keep spreading the word about your brand.
Here are some tips on how to craft shareable content:
Add share buttons
Create emotional content
Craft a good headline (make it simple, creative. Include numbers if you can)
Create engaging content (address their pain points and make it useful to your target audience)
Capitalize on trending topics
Use storytelling (refer to section 4)
6. Use a referral program
Referral marketing is the most impactful form of marketing. Why? Because it's a marketing strategy that leverages the most powerful brand differentiator of all: consumer trust.
Makes sense. After all, consumers trust each other more than they trust companies. And by giving customers a platform to send referrals via a referral program, you can inspire them to become brand advocates. And when customers talk, people listen.
Here are a few stats proving that referral marketing works:
Here are some tips to help you create a referral program that will supercharge your growth and create buzz around your brand:
Craft a powerful and compelling referral program headline
Use referral codes or links
Gamify your referral program
You can read our guide if you need help on how to set up a customer referral program. You can also use our referral program template to make sure you have all the important pieces to set up one.
Final word
Follow these brand awareness strategies to the letter and you'll be giving your audience many good reasons to keep your brand top of mind. Remember, your brand is your strongest asset. It not only generates sales, but also keeps customers coming back. Build your brand the right way and your business is set for sustainable growth.
Confident in your ability to build brand awareness? Maybe it's time to start thinking about brand affinity strategy then!
#Branding is the single most important investment you can make in your business.

82% of consumers searching online prefer brands that they know!

Here's how you can build #BrandAwareness in 6 important stages 👇

— Chris Tweten 🍁 (@ctwtn) June 22, 2021
Request a demo of GrowSurf
Set up your referral marketing program with software that lowers your customer acquisition cost and saves you gobs of time.