What Is Brand Affinity?
Brand infinity is a term used to describe an emotional decision making process. In our everyday lives, we use a complex formula of values to make decisions. The balance of rationality and practicality varies between individuals when making emotional decisions but it's something we all do in our daily lives.
Brand infinity is a decision that is made primarily on an emotional foundation leaving rationality for later when choosing a brand.
Brand affinity is a predisposition to a product based on an emotional connection. When people have an emotional connection to a product they are more likely to choose the product exclusively, when other options are readily available.
Building brand awareness is the first step in developing brand loyalty and affinity.
This means the brand is being made visible to the right people. Identifying your target market early on will stimulate brand awareness and convert it into brand loyalty.
What's The Difference Between Brand Affinity And Brand Loyalty?
Brand loyalty develops when a consumer believes the value of the product is superior to others and selects that product exclusively. Brand loyalty is a decision made habitually.
Brand affinity happens when a customer feels they have a relationship with a brand and people develop a preference in a product rooted in a deeper emotional connection.
4 Ways for Startups to Build Brand Affinity on a Shoestring Budget
1. Focus On A Niche That Bigger Brands Have Neglected
Larger brands tend to homogenize in order to appeal to a wider audience. The result of this is a market saturated with similar products and companies competing directly with one another. Identifying a niche market that other companies have neglected can open up opportunities to lead your brand in a direction that targets a specific audience.
Customers with unique needs are often overlooked by larger, more established brands. When a product becomes available that feels custom tailored to them, the perception of personalization creates a sense of loyalty.
It also differentiates your brand from others in a crowded space.
Take NomadLease for example of successful niche selection.

The platform was designed for expatriates and operates as a property management service. Say you were looking to relocate and needed to rent out your home. Nomad offers a guaranteed worry-free alternative to other property management services, for a predetermined period of time. The service lists your property and screens tenants on an on-going basis, ensuring your property will always be tended to. Nomad also offers built-in property and vacancy protection meaning if your home isn't being occupied, you still get paid.
By only targeting expats as renters, Nomad is able to shine in the extremely crowded real estate space. NomadLease has identified the specific needs of expatriates and people who travel extensively, understanding how hard it can be to manage a property from abroad, their hands-off product is a high-value alternative to traditional property management companies.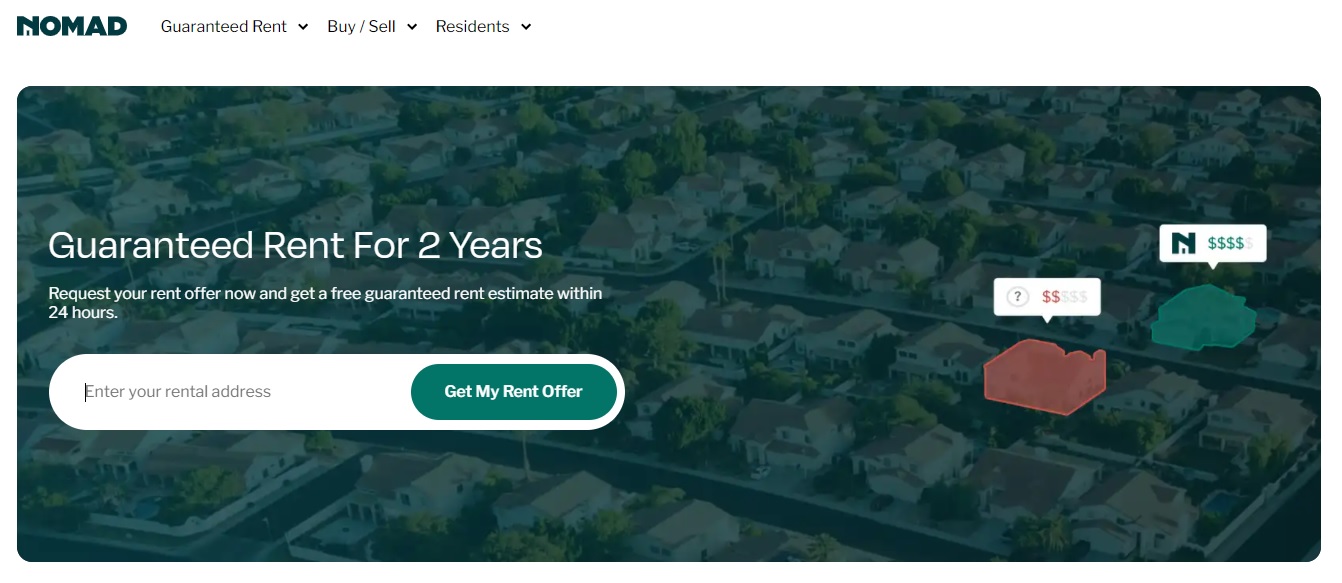 2. Offer World-Class Customer Service
Amazing customer service makes customers feel cared for by a company. If customers feel prioritized by a company they develop loyalty at a much (much) higher rate. Creating an opportunity for business with a rapid response to get ahead of their slower competition.
How fast is fast enough?
Extremely fast.
According to SproutSocial, 40% of consumers expect a response within the first hour of inquiry, while the patient portion of the population 79%, expect a reply within 24 hours. With 44% of consumers reporting customer service excellence as setting a brand apart from its competitors, it's important to make sure your brand can keep up.
Such high-maintenance expectations already sound like a lot to manage, but wait there's more.
Startups need to focus on response quality in addition to speed.
Social media automation is a practical solution to response speed. Chat bots facilitate instant engagement with customers and are effective when addressing basic and frequently asked questions, however, they lack quality personalization. Startups should aim for balance between speed and a customer service supply that doesn't feel robotic or worse, becomes frustrating with unhelpful automations.
Subscribe to GrowSurf
Get our weekly newsletter for our latest referral marketing guides.
Error subscribing! Please try again.
One company has managed to hit all the high notes in regard to response speed and quality.
Basecamp is a project management platform that employs a service team to handle consumer inquiries and offer support.
Before their customer inquiries are forwarded to a human customer support representative, they are funneled through an automated series of mediation questions. If the automated system is unable to offer the information required by the customer, a service representative will be made available. This system cuts down stress on human resources by filtering out any FAQ with the automated response system, leaving complex problem solving for the pros.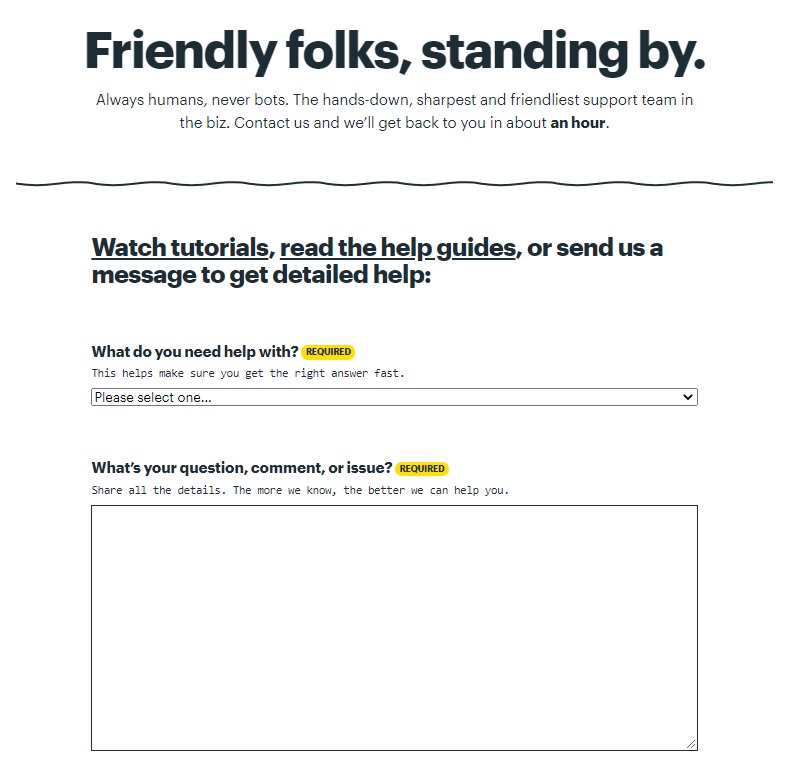 3. Personalize Your Brand Messaging
Bigger, more established brands often have trouble adjusting their messaging and tone quickly. You can take advantage of the flexibility you have as a smaller company by showing personality in your communications.  
Brands can engage consumers directly by finding a way to express brand personality across all brand touch points. Taking time to craft an off-beat tone and voice provides a brand with the opportunity to break through with personalized and targeted messaging. Looking for ways to have fun with brand communication gives you a chance to show your brand's personality and helps consumers feel more connected.
And guess what? Loyal brand aficionados will often overlook a lack of brand consistency. While some brand advocates may get upset if you change your logo or colors, and others might not be thrilled with big sweeping brand changes, slight tweaks to brand voice or tone typically fly under the radar.
For an excellent example of personalized messaging, look no further than Ramli John, Managing Director of ProductLed. He uses custom GIF reactions on Twitter to personalize responses to others. The GIFs feature Ramli himself in the flesh reacting to user comments; this is a creative way to personalize the experience of customers by mimicking real-life human reactions.
40-60% of users leave an app forever after signing in once.

Because the onboarding sucks.

That's why I wrote my new book "Product-Led Onboarding," which drops on Tue, June 8th! 🔥

Here's what you need to know. pic.twitter.com/DnHyir16Zw

— Ramli John 🇨🇦 (@RamliJohn) May 25, 2021
4. Network With Influencers
Influencer marketing is one of the most effective ways to build brand affinity. But it's important to take a strategic approach in order to set yourself up for success.
It's best to leverage influencers who have already been established as brand advocates and are willing to exchange brand messaging for something of value. This approach is much more cost-efficient than the typical hunting down of new brand ambassadors and asking them to do the same.
Seek out brand ambassadors who have a lot of sway with your target audience, but don't be afraid if you can only afford one or two brand ambassadors; there are still social currency benefits involved. When brand ambassadors do step up, make sure they feel appreciated and validated through promotional campaigns on social media.
It isn't necessary that brand ambassadors be corporate brand advocates, so long as they can communicate brand messaging to their audience. Some of the best brand ambassadors are brand advocates that interact with products and services on a more personal level.
For example, brand ambassadors could be Instagram influencers who use the brand in their photos or videos. Or brand advocates could be Twitter users that retweet brand messaging (on a regular basis). It's ideal if brand ambassadors are true brand fans, but as long as brand ambassadors share brand messaging and appear to show some level of care towards your brand, then you have a valuable advantage over less savvy brands who aren't dipping their toes into influencer marketing.
One of the best strategies we've seen for influencer marketing is to meticulously build relationships with influencers in preparation for a campaign launch. Check out this Twitter thread by Taylor Lagace for an inside look at how it's done!
How we scaled Animal House Fitness from 0 to $1M in 4 months through the use of INFLUENCERS (THREAD) pic.twitter.com/2BPNfb8Qoj

— Taylor Lagace (@TaylorLagace) February 3, 2021
5. Seek Out Micro Influencers
Micro influencers are smaller than most internet personalities, and they often drive better results for affordable prices because they tend to be more engaged with their following.
Micro influencers may only have several thousand followers on social media networks like Instagram or Twitter, but research shows that they can drive brand affinity and brand awareness en masse. In fact, most consumers actually prefer to follow brand ambassadors with smaller social media followings.
Micro influencers are early adopters who are constantly engaged in brand messaging, whether that brand is their own or someone else's. And despite having small audiences, micro influencers sometimes have better conversion rates when it comes to brand advocacy activities like sharing brand sponsored content on Instagram. This is likely because they tend to post more authentic images that portray real moments in everyday life (instead of only posting promotional photos).
The best way to select which brand ambassador will fit a company's needs is to look past follower counts and determine if the person consistently promotes brands through brand messaging. Micro influencers typically share brand messaging on a more regular basis than (e)celebrities and may very well be successful brand advocates for many brands.
Some business owners are hesitant to hire micro influencers because they believe only celebrity brand ambassadors will drive brand awareness, but it's possible to establish brand affinity without having an A-list brand ambassador.
How to Measure Brand Affinity
Brand affinity is hard to quantify, but it can be tracked systematically. First, identify the actions a highly engaged customer would take—sharing from your business on social media, for example. Then track those actions over time.
Even if you're a fledgling startup, monitoring these 5 metrics can help you measure your brand affinity:
Percentage of visitors that come to your website multiple times
Time spent viewing content on your website
Number of people who signed up for email newsletter
How often customers mention they were satisfied or unhappy with your product
Volume of positive reviews or NPS survey scores
Another way startups can build brand affinity is by analyzing their LTV over time, because a higher value often means a stronger brand affinity.
Brand Affinity for Startups
Brand affinity is important for startups because brand affinity = brand equity. A brand with a large brand equity (for example Morning Brew) is very valuable because it allows the startup to charge more, grow faster and have greater control over its brand image.
For most startups, brand affinity will be important before they even launch their product or service to the public. The early adopters are often not looking for utility; they want your brand and your story. They might not care if your product is better than the existing solution, they want a brand that excites them (or at least one that doesn't bore them).
The creative possibilities for startups are endless.
If you can come up with a product or service that people want and nobody else has, then it's game on. After all, the best marketing is word-of-mouth these days!
You'll need to focus on some key things to stand out from bigger brands who have been in your niche longer than you have though. Make sure your customer service is world class because this will make customers feel valued and appreciated which leads them back again and again. Personalize your messaging so each person feels like they're getting something special just for them instead of being #2 in line behind everyone else online.
Key Takeaways
Building brand affinity on a budget doesn't have to be difficult. Keep these points in mind to develop a personalized relationship with your audience that works.
Identify your niche and focus on the needs of customers larger brands have neglected.
Offer exceptional service, make it speedy but not generic.
Find a way to stand out from the crowd, what gives your brand messaging an edge?

Target brand ambassadors that have a genuine influence on your target audience. 
Request a demo of GrowSurf
Set up your referral marketing program with software that lowers your customer acquisition cost and saves you gobs of time.