Morning Brew founders Alex Lieberman (left) and Austin Rief. Image via Morning Brew.
Referral marketing is a gift that keeps on giving (no pun intended). What better way to keep bringing in new subscribers than to let your loyal subscribers do the selling for you?
That doesn't mean all referral programs lead to sustainable growth. If you've been doing this long enough, you already know there are so many things that go into creating a successful referral program. Some questions to consider include:
• What incentives should I offer?
• How do I incentivize effectively while keeping costs low?
• How do I introduce the referral program without compromising the experience of my subscriber base?
• What should my referral copy say?
• What is the right software for me?
• And so on.
One good way to create referral programs that bring in the best results is to look at how other people did it successfully.
Case in point: Morning Brew.
In case you didn't know it yet, Morning Brew is a big deal in the referral marketing arena.

What is Morning Brew?
Morning Brew is a daily newsletter that provides business-minded millennials with the latest news surrounding the business world.
So, it just delivers business news?
Well, yes. But this isn't your grandpa's business news. Compared to the traditional business newspaper, Morning Brew's content is more engaging and fun. If you want to stay on top of the latest news from Wall Street to Silicon Valley without the business jargon and flat commentary, Morning Brew delivers the goods.
Morning Brew is also free, with subscribers receiving a fresh newsletter entry each morning (before 6 am EST) six days a week (Monday to Saturday).
The "secret sauce" that led to Morning Brew's success
Founded in 2015 by Alex Lieberman and Austin Rief, Morning Brew now has 2.5 million subscribers to its free newsletter, and is set to earn $20 million this year.
Morning Brew's rise in popularity over the last five years was so fast it convinced Insider Inc. to buy a majority stake in the media publisher in an all-cash deal amounting to $75 million, as reported by Axios. So it's looking like things are going to get even better for Morning Brew and their ever-growing number of subscribers.
But what led to Morning Brew's success?
According to a popular Medium blog post by Morning Brew's Product Lead Tyler Denk, the media company's referral program accounts for 30% of their total subscribers and is the "secret sauce" that accelerated their growth flywheel.
So, how did they do it? In this blog post, I break it down for you.
A smooth onboarding experience
One thing all successful referral programs share is they create a seamless transition from a potential subscriber to a loyal one. In other words, they need to provide prospects with a seamless onboarding experience.

In the case of building a newsletter audience, the initial touchpoint is typically a welcome mail. But for that welcome email to be opened in the first place, you need an enticing subject line. And as far as subject lines go? Morning Brew delivers every time.

Here's Morning Brew's welcome email's subject line:


The above subject line works because it uses words that make people sit up and notice. Not only does it bring a sense of playful urgency, but it also showcases the brand's fun and quirky personality, resulting in a more engaging reading experience.
Morning Brew's subject lines in the succeeding emails are just as good, if not better.

Make no mistake, Morning Brew's subject lines are a fine study in email copywriting. And there's no doubt that they are instrumental to the company's success. In fact, the newsletter has a daily unique open rate of around 45% (as a point of comparison, a 15-25% open rate is considered "good" in most industries).
The secret to their success? They test their subject lines every morning (for more info on how they go about this, check out this Twitter thread from Morning Brew writer, Toby Howell).
Let's talk about Morning Brew's welcome mail.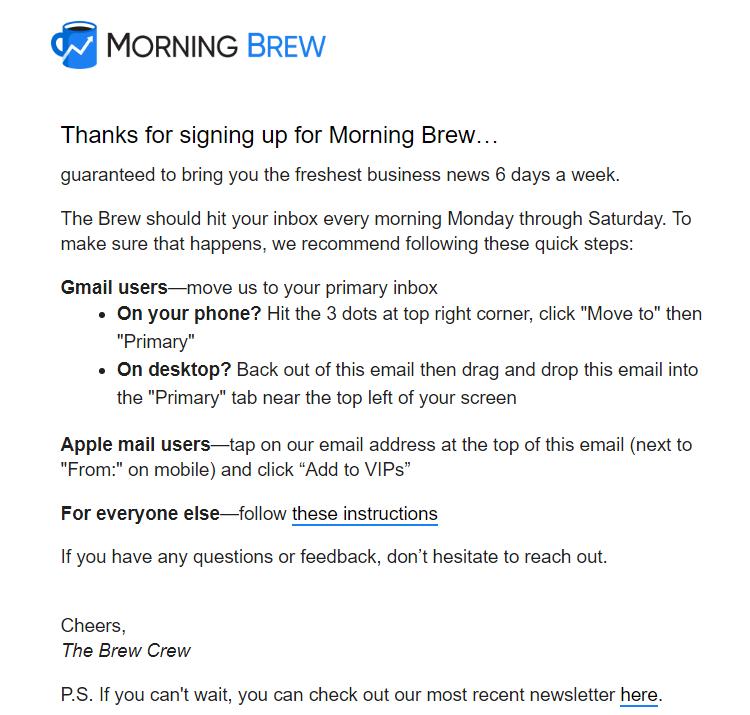 I like Morning Brew's welcome email because it gets straight to the point without being overly formal. It also tells you in as few words as possible what to expect from their content. The recommendations for each type of email user (Gmail vs Apple vs everyone else) might throw off some subscribers, but they are necessary to ensure the emails are being delivered to the right place.
Lastly, the way the email encouraged readers to ask questions or provide feedback was a nice touch. If you're going to empower subscribers as brand advocates, you have to let them know that their opinions matter.
Morning Brew: The Content
Referrals don't occur in a vacuum. When it comes to creating a viral loop that guarantees sustainable growth, even the best incentives can only take you so far.
For your referral program to work, you need a product your subscribers will love and feel they can't live without.
Morning Brew nailed that part down. The content was so good people were already sharing the newsletter with their friends and colleagues even before they had a referral program.
"Up until that point, all of our growth had come from word-of-mouth and the non-stop hustle of the Brew's 2 co-founders, Alex Lieberman and Austin Rief," Trent points out in a blog post.
When people are sharing your product with others without expecting something in return, that's a sign it's ready for a referral program. Otherwise, don't expect your referral "flywheel" to keep turning for long.
So, is Morning Brew's content any good?
Hell yes.
Don't get me wrong. Morning Brew's not exactly groundbreaking. They won't deliver you news you can't find anywhere else. But in terms of how they give you a rundown of what's happening in the business world in as little time as possible, Morning Brew is killing it.
First off, you have to love the conversational writing style. Let's face it: We're all tired of business jargon. I think you'll agree that business news is much more palatable if it reads like you're talking to a friend.
The content is also broken down into bite-sized chunks so that you're able to continue reading without feeling like you're always gasping for air.
Each section is clearly labeled. If a specific section doesn't interest you, you can scroll down and move on to the next. The clever subheaders not only add to the reading experience, but they also provide readers with contextual handrails to hold on to. Combined with the minimalist design and the relevant images, readers will never feel lost and can navigate their way through the content with little effort.
Native ads
Morning Brew has sponsored content interspersed throughout each newsletter entry, and while most people (me included) are more likely to ignore ads, you can't help give them at least a cursory read.
Why? For one, these ads are written in the same voice as the rest of the newsletter. Don't get me wrong—they are clearly ads, but they feel native to the entire reading experience that you won't mind giving them a read (at least most of the time).
Is it any wonder that Morning Brew earns most of its revenue through sponsored content? According to a January 2020 article by Media Post, the company grew its revenue from $3 million to $13 million since 2019, mostly via native advertising and branded content campaigns.
"From an advertising perspective, we are offering our partners custom, content-first experiences on-brand for Morning Brew that bring value to our subscribers and lead to real results for our brand and agency partners, Morning Brew COO Austin Rief told Publishers Daily." This focus has largely created long-term relationships and partnerships with our clients vs. one-off deals."
Share the Brew
So, where does the referral part come in?
Morning Brew has a dedicated share section called "Share the Brew" in every newsletter. What it does is introduce the reader to the referral program. Clicking on it will take you to Morning Brew's referral hub (more on this later).
Morning Brew won't ask you to "Share the Brew" until you reach the end of the newsletter entry. This is a good decision for two reasons:
You don't want the referral program to interrupt or compromise the reading experience (especially if the reader is a new subscriber).
New subscribers aren't likely to recommend the newsletter to their friends if they haven't experienced it enough to form a positive impression.
As a CTA, the "Share the Brew" section works on many levels.
• It shows you how many referrals you need to earn the next milestone or reward (showing readers what's up for grabs will motivate them to take the desired action)
• It shows you what's up for grabs (Morning Brew's premium Sunday newsletter, Light Roast).
• It highlights the benefits (who doesn't want a dose of adrenaline boost every Sunday morning?)
But what if a Sunday newsletter doesn't do it for some subscribers? Morning Brew has that one covered as well.
"To ensure this section doesn't get too stale, we are constantly changing what a reader sees on any given day based on their referral count. We'll rotate between animated gifs and showcasing specific rewards," Tyler points out.
"For example, if you have 0 referrals: on Monday you'll see a plug about Light Roast, Tuesday you'll see something about stickers, Wednesday a t-shirt, Thursday a coffee mug, etc. Different people are motivated by different rewards, so we try to switch it up as much as possible. It's also an opportunity to educate readers about our rewards as much as it is an opportunity to encourage them to take action."
I tested it myself and now want those pint glasses so bad.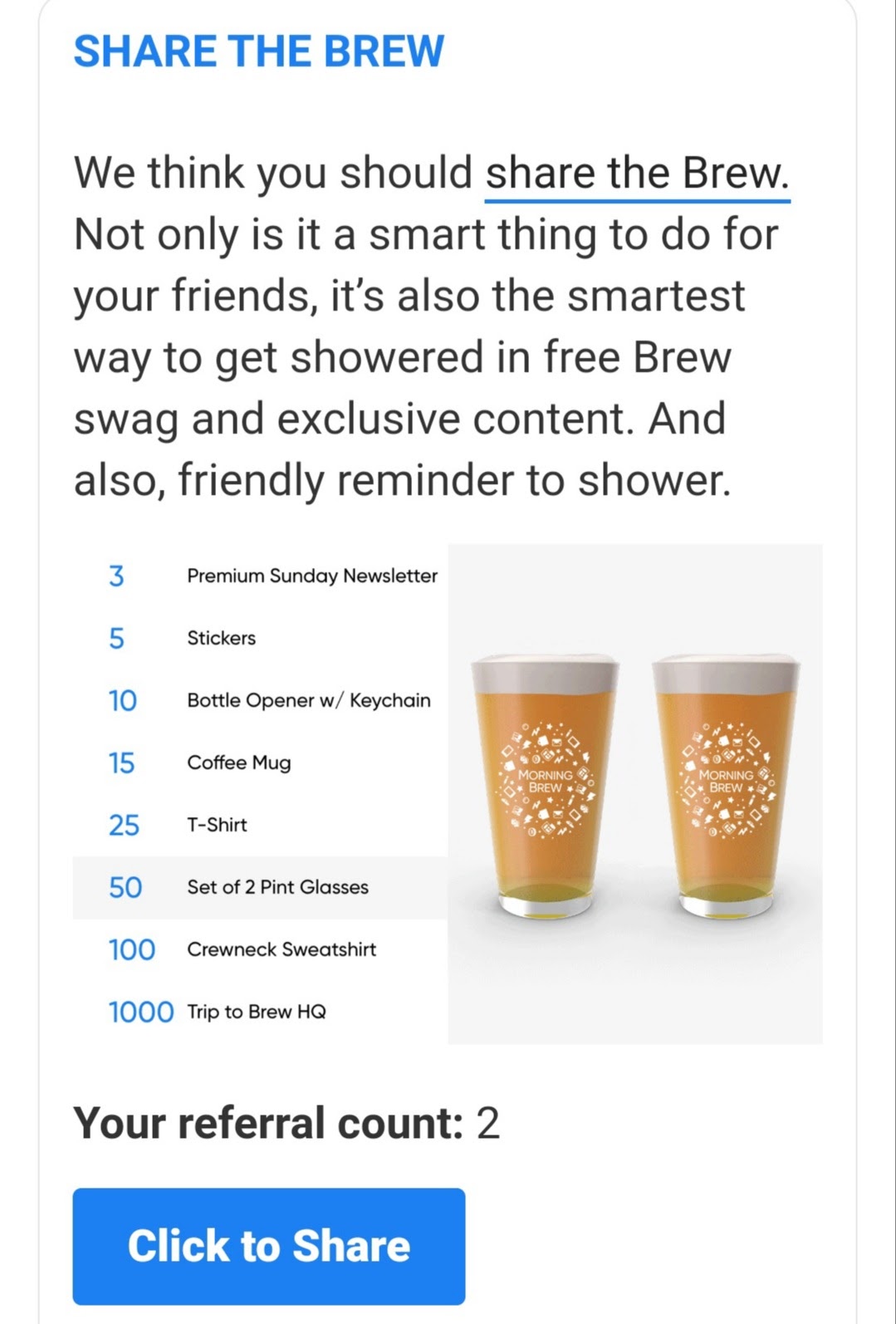 You'll also notice that the newsletter is personalized for each subscriber. This is critical because it ensures they're providing their subscribers with relevant offers. Considering that 82% of marketers have reported a significant increase in open rates through email personalization, it's again no wonder why Morning Brew's open rates are always stellar.
Speaking of email personalization, GrowSurf lets you personalize your referral program emails with minimal effort.
Every newsletter entry also includes your unique referral link which you can share with your friends using the platform of your choice (you can even print your link on a shirt!).

The great thing about unique referral codes is that each one becomes forever associated with a single subscriber's account. It not only gives them a sense of ownership, but it also gives them the confidence that the right reward is being given to the correct person. It's for this reason why GrowSurf automatically provides new participants with a unique referral link and sends monthly reminders that they have one.
Subscribe to GrowSurf
Get our weekly newsletter for our latest referral marketing guides.
Error subscribing! Please try again.
The Rewards
Hitting the 'Click to Share' button will take you to a page Morning Brew calls the "Referral Hub."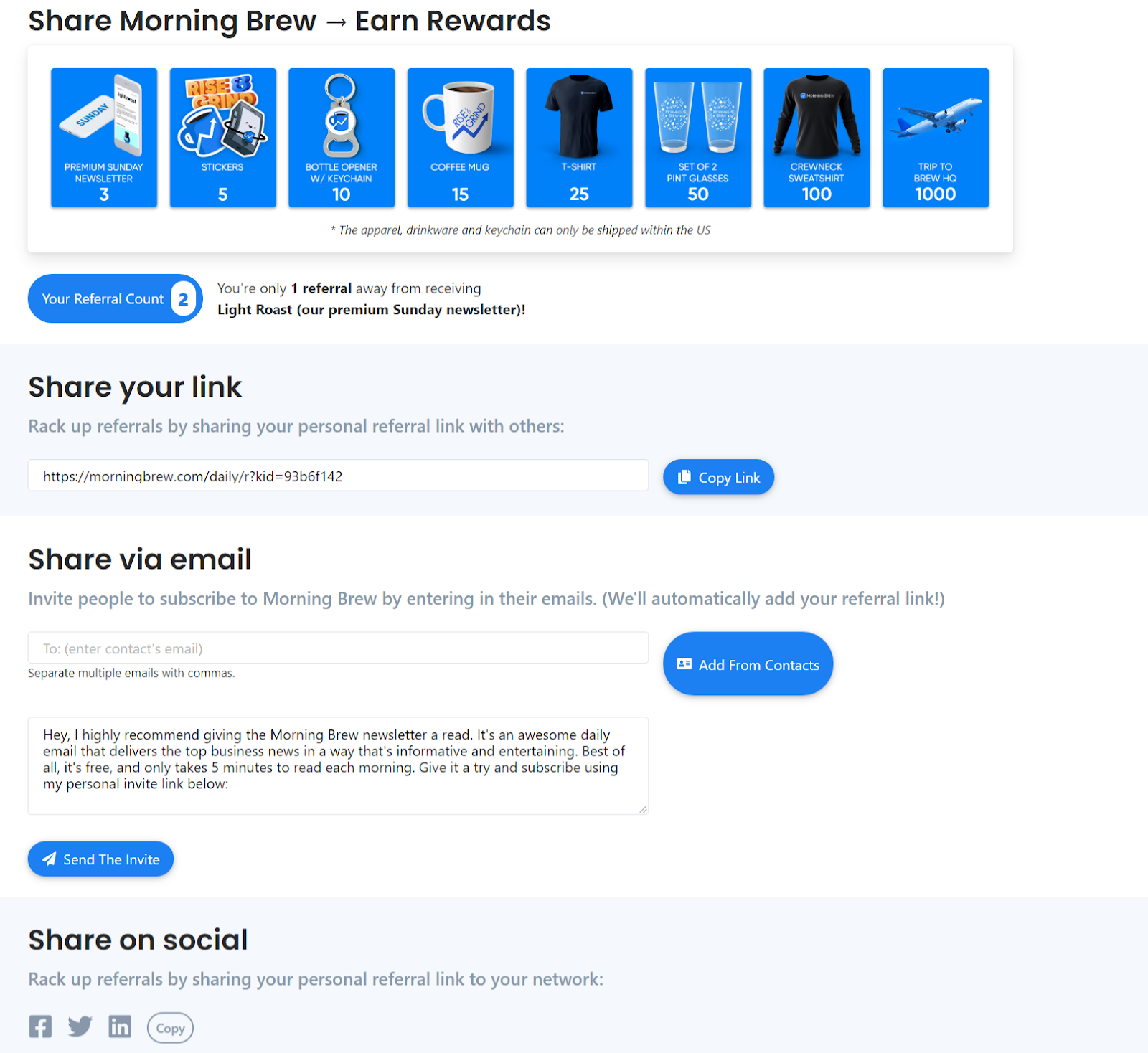 I love the "Hub" because it answers every question each subscriber may have about the referral program. It shows you:
• Morning Brew's different rewards
• How to track your progress
• How to 'Share the Brew' using different platforms (via referral link, email, social media, etc.)
Here's Morning Brew's referral program's full list of rewards:
3 — Access to Light Roast (Morning Brew's Sunday newsletter edition)
5 — Die cut stickers
10 — Bottle opener with keychain
15 — Morning Brew mug
25 — Morning Brew tri-blend t-shirt
50 — Set of 2-pint glasses
100 — Trip to Brew HQ
Got to love the part where it shows all the rewards (as well as the required number of referrals for each) above the fold and in plain view. The Morning Brew crew probably figured out that not all rewards will appeal to every subscriber!
For example, I'm not big on stickers, but I'd cut off my pinkie finger to get that "Rise and Grind" coffee mug.
If Morning Brew didn't show all the rewards in one visually palatable image, I might never bother getting more referrals just because stickers ain't my jam. Moreover, being able to see higher-level rewards at a glance gives me the motivation I need to keep the referrals coming (an all-expenses-paid trip to Brew HQ? Yes, please!).
Pro-tip: Keeping track of referral counts and rewards is one of the toughest obstacles in running a referral program. To keep track, make sure you use a referral software that comes with a reward management system. Growsurf, for instance, comes with a dashboard that shows you when a reward needs approved or fulfilled.
Why the milestones work
• Light Roast as a first reward. It makes sense to give new subscribers more of what they asked for because you're 100% sure it's aligned with their interests. Plus it doesn't cost the business a thing!
• Bulk-buying to reduce CPA (cost per acquisition). Morning Brew gets a massive discount by bulk-ordering 10,000 die-cut stickers from Sticker Mule. The result? A low CPA of $0.25 (as a point for comparison, Morning Brew's CPA for Facebook and Instagram ads is typically between $3 and $5).
• The SWAG. Morning Brew's subscribers bring in referrals not just because they love stickers, coffee mugs, and cool T-shirts. They hop on the referral train because they love to feel they're a part of a community or movement. Now that's a loyalty hack for you.
Pro-tip: As a referral marketer, you want to make sure you're rewarding the people (your referrers) who are helping you spread the word about your newsletter. Not an easy thing to do considering all the tracking, the bulk-buying, the depositing of funds, and many other activities that go into reward fulfillment. By using GrowSurf, you can automate the fulfillment of physical rewards and ensure your referrers are being rewarded without wasting your time and resources doing activities that don't move the needle for your business.
Morning Brew's finessed UX
Morning Brew is a masterclass of referral program implementation. To put this in perspective, check out their carefully crafted user flows below.
When a subscriber invites their friend to Morning Brew, this is the first page that the referred friend lands on. Notice the copy specifically worded for referrals. Additionally, the page is clean and minimal, intended to optimize for email signup conversions.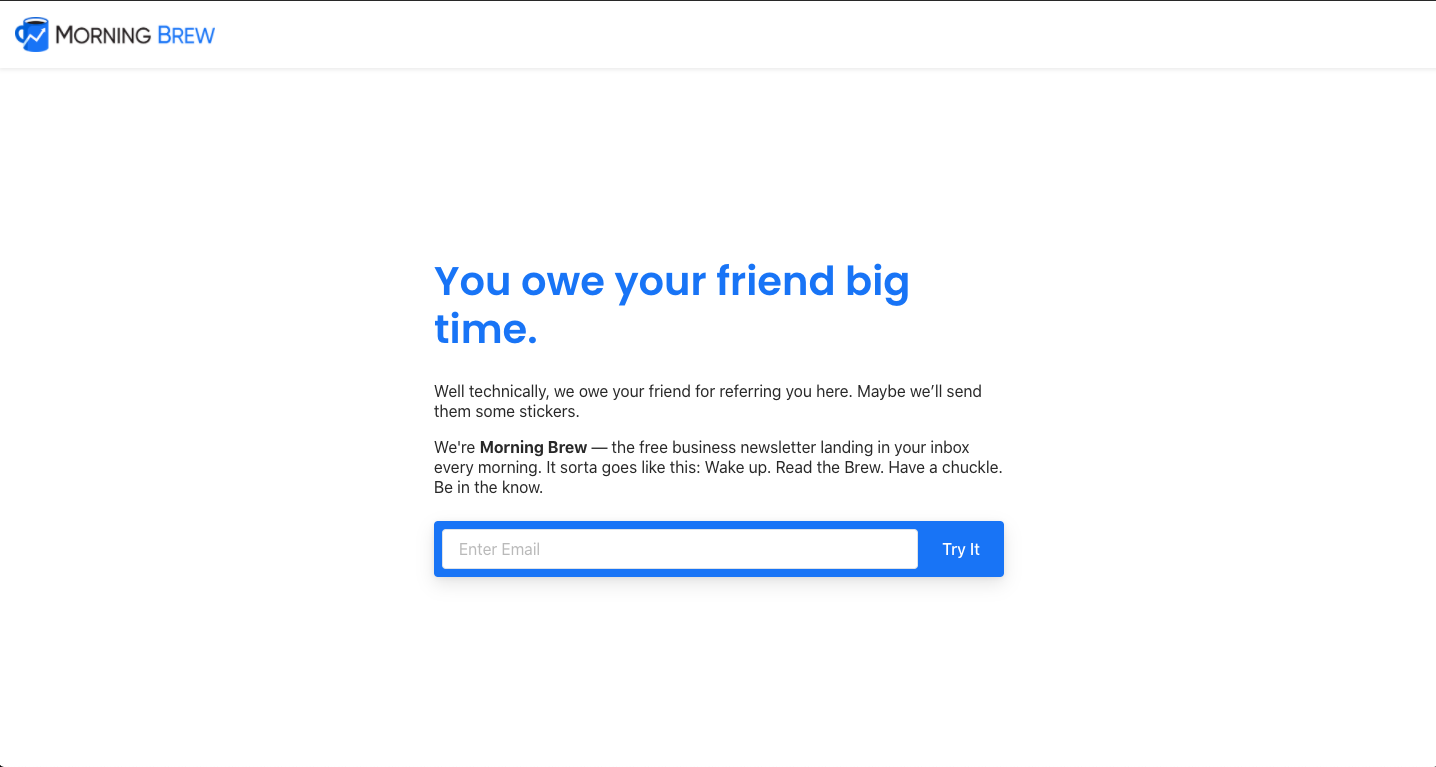 Once the referred friend signs up, this is the email that Morning Brew sends to the referrer to congratulate them. This email is designed to provoke more referrals by reminding the referrer about their reward progress.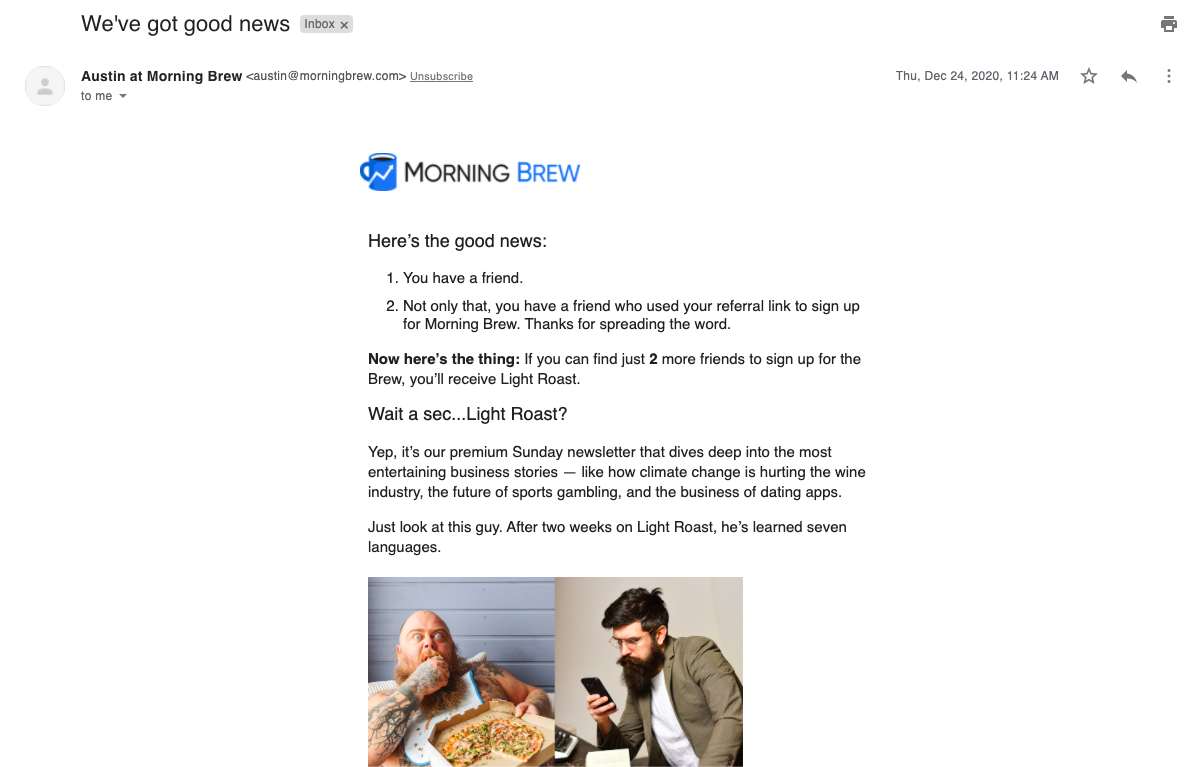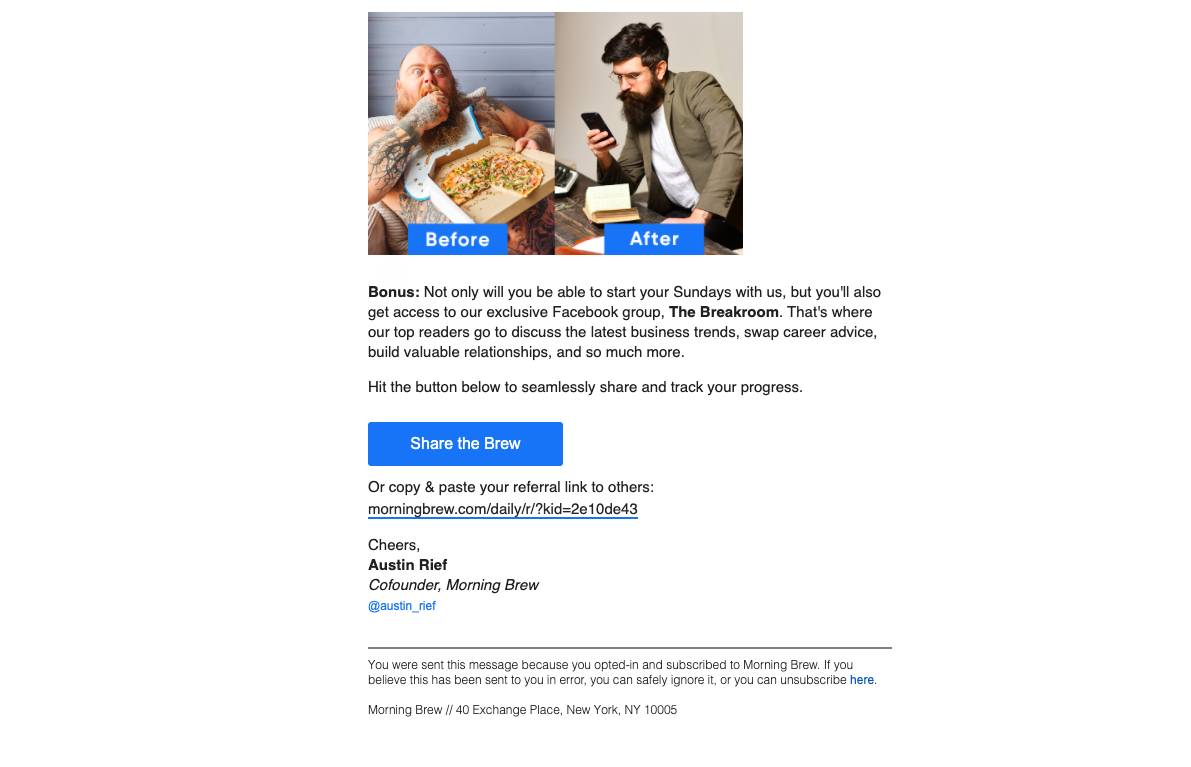 Then after two weeks, Morning Brew sends this personalized follow-up email to the referrer. The milestone reward image is a GIF that rotates rewards. It pops out to grab the reader's attention. And by providing a direct unique referral link that the reader can copy/paste, Morning Brew makes the sharing experience more convenient.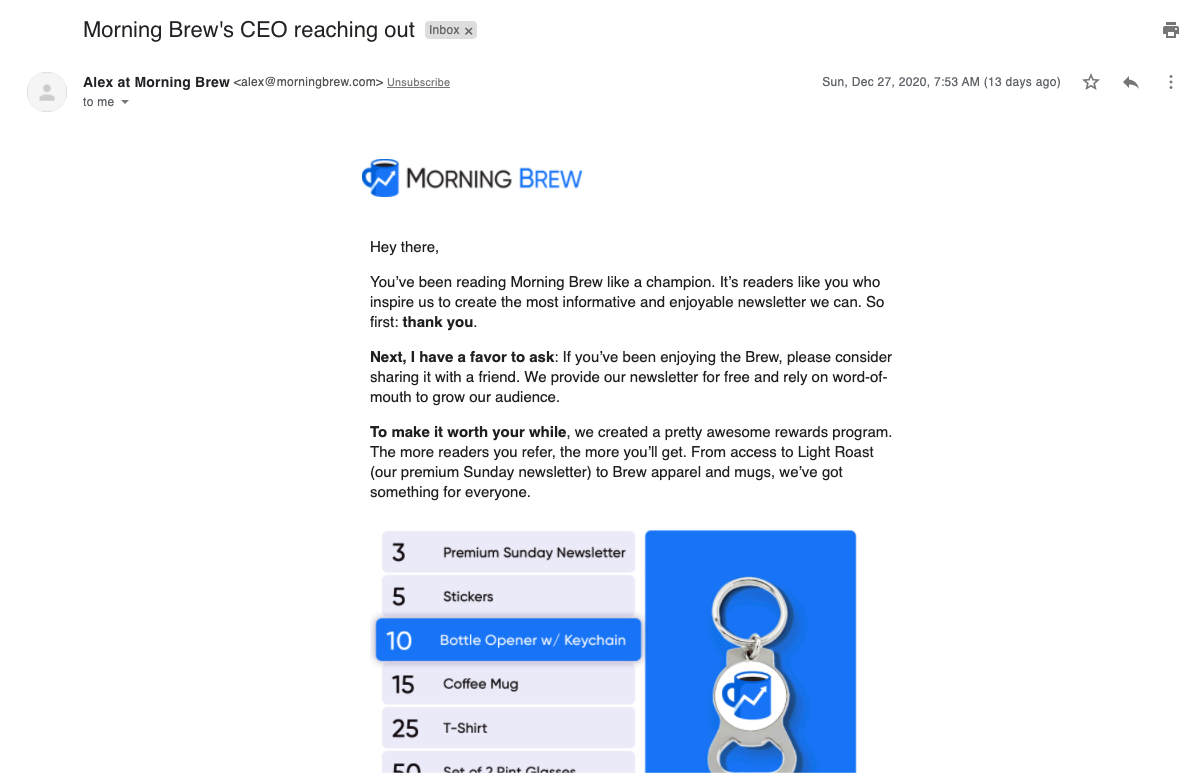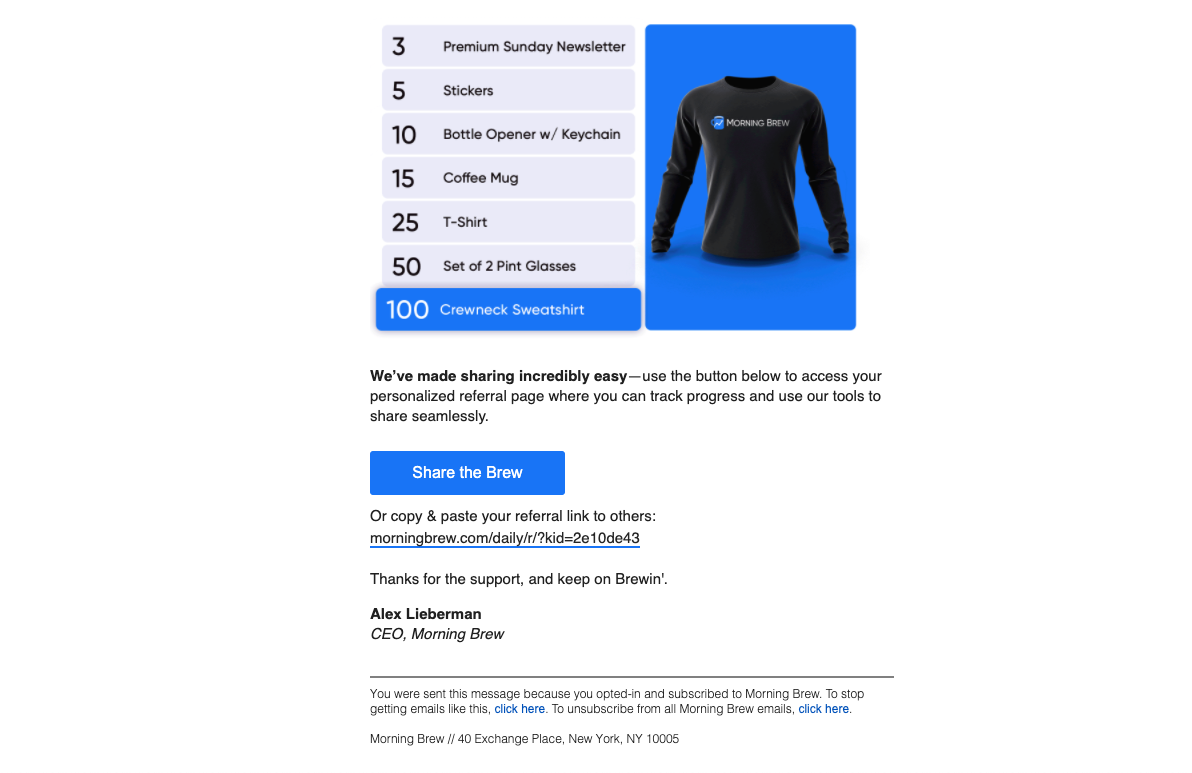 Final Word
So there you have it—a comprehensive breakdown of how Morning Brew's referral program built an audience of 2.5 million subscribers!
As you already know, it all starts with great content. And if you combine that with a consistent, authentic voice, then you've got the makings of a real winner.
With that said, great content can only take you so far. If you want your incentives to pay dividends in the long run, you've got to give out rewards that make your subscribers feel as if they're part of a community or a movement.
If you're struggling to think of where to start, check out 12 of the best referral program ideas we found to get growing faster.
Lastly, you've got to make it easy for your subscribers to spread the word about your product. No matter how engaged your subscribers are with your content, they won't be able to help you sell your brand to others if you don't provide them with the tools to do so.
Do you need a referral system that helps you turn your subscribers into the best brand advocates for your newsletter? Create a free account with GrowSurf in minutes and we can help you make it happen!
Subscribe to GrowSurf
Get our weekly newsletter for our latest referral marketing guides.
Error subscribing! Please try again.