The most successful startups have three things in common:
they're built around users and their under-served needs,
they solve real-world problems,
they gain traction through word of mouth and referral programs
It may sound overly simplified, but if we look at statistics, we see that the lack of market need and poor marketing are two of the most common reasons for startup failure.
On the other hand, we know that finding a gap in the market and coming up with a solution that solves it isn't enough to become an unicorn. So what separates companies valued at billion dollars from those who don't gain enough traction to disrupt their market?
A lot of starters think they must position themselves as the cool kid on the block to earn referrals, but this is not what helped the most successful startups turn into unicorns.
As you'll see in the stories below, what made these products grow and scale so fast was their built-in shareability.
Companies like PayPal, Stripe, Discord, Birchbox and Revolut owe part of their early traction to word of mouth and referral marketing.
Stripe's unicorn story: growing fast through word-of-mouth and developer love
Founded by the two of the world's youngest self-made billionaires to date, Patrick and John Collision, Stripe was born in a small village in Ireland.
The two entrepreneurs wanted to help micro, small and medium-sized businesses from emerging markets have easier access to finance and manage their payments in a simple manner.
In a market dominated by PayPal and Authorize, they wanted to offer an alternative that was easier and less frustrating to implement. So they built Stripe around this idea: give small online companies and bootstrapped startups a simple payment API that doesn't change and that's much friendlier to a key segment: developers.
Now valued at $20 billion, Stripe handles payments for the biggest online players, from Facebook and Amazon to Booking.com, Salesforce and Shopify.
The payment platform owes its initial growth and traction to three levers:
identifying a gap in the market and having a validated business model
obsessing with user experience
targeting the developers first and building a strong network of product advocates through word of mouth
This last lever was by far the most powerful in fueling Stripe's fast growth and traction. The platform didn't target the end users; instead, they focused on developers, because they understood the frustration of not being able to easily implement a payment solution in an online product.
The two entrepreneurs faced the problem themselves: while working on several side projects, John and Patrick experienced how difficult it was to accept payments on the web as a small business. So they decided to solve the problem themselves and for six months they iterated on their initial solution.
Two weeks after launching their prototype, the founders presented their product to YCombinator, and the rest is history. In 2019, 65% or UK internet users and 80% of US users bought something from a Stripe-powered business.
Stripe's decision to go after developers first was brilliant: their payment solution could be implemented with just 7 lines of code and was easy to scale, so it comes as no surprise that the dev community embraced Stripe that fast.
However, the founders didn't expect their product to become so popular so fast. In an interview with TechZing (2012), Patrick explained:
"Initially [Stripe] very much spread through a word of mouth process. That was surprising to us because it's a payment system not a social network so it's not something you'd think would have any virality whatsoever. But it became clear that everything else was so bad and so painful to work with that people actually were selling this to their friends."
This network of dev champions has proved to be self-sustaining and to help power Stripe's growth among end users as well. But the team behind Stripe didn't take their product advocates for granted: they seized upon the love they received, and invested in their referral channel.
Devs launching live instances of Stripe received "care packages", including Stripe swag. These were not only proudly worn, but also shared on social media, building even more awareness and helping to create a real community around the platform.
With developers loving the product and telling everyone about it, Stripe quickly became the obvious solution for any online business or website that wanted to accept money online.
So after conquering the developers through word-of-mouth, the business took another major step in 2018, when they launched the API that enables companies to issue virtual and physical credit cards.
Key takeaways from Stripe's growth story
Although Stripe's go-to-market approach doesn't apply to all niches, you can still learn from it. Here are our main takeaways:
Focus on building a product that's easy to use and offers an amazing experience.
Target the decision makers or the decision influencers instead of going after the end users.
Launch a referral program from the beginning, to encourage word-of-mouth and create a network of champions.
Reward users who refer their friends with brand swag to spread the word faster.
Make your product the obvious solution for one market segment at a time.
How to replicate Stripe's referral success using GrowSurf
GrowSurf enables you to build and incorporate a referral program right into your product or newsletter. Our customers see 300-1000% returns and 9-40% monthly growth - all on autopilot!
GrowSurf makes it easy to set up a referral program to reward your loyal users and turn them into brand advocates. So if you're looking to replicate Stripe's success and want to target mainly the dev community, here are two tips on how to do this with GrowSurf.
Tip no. 1: Offer brand swag for every referred friend
Our platform allows you to create milestone rewards and automate fulfillment, so every user who refers a friend can receive branded products. You can see an example video here, and a live demo here.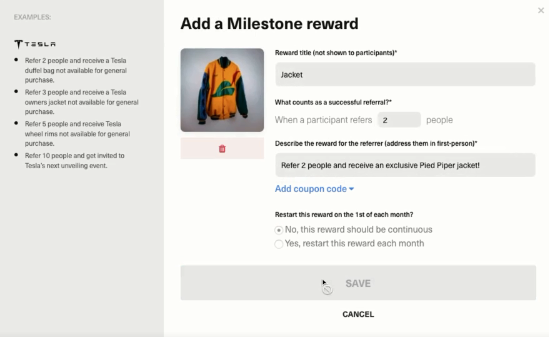 Tip no. 2: Offer free access to an event you organize, in exchange for a referral
Organize industry or product-related events and promote them in dev communities. Offer free access to every person who brings in another attendee or a fixed number of referrals.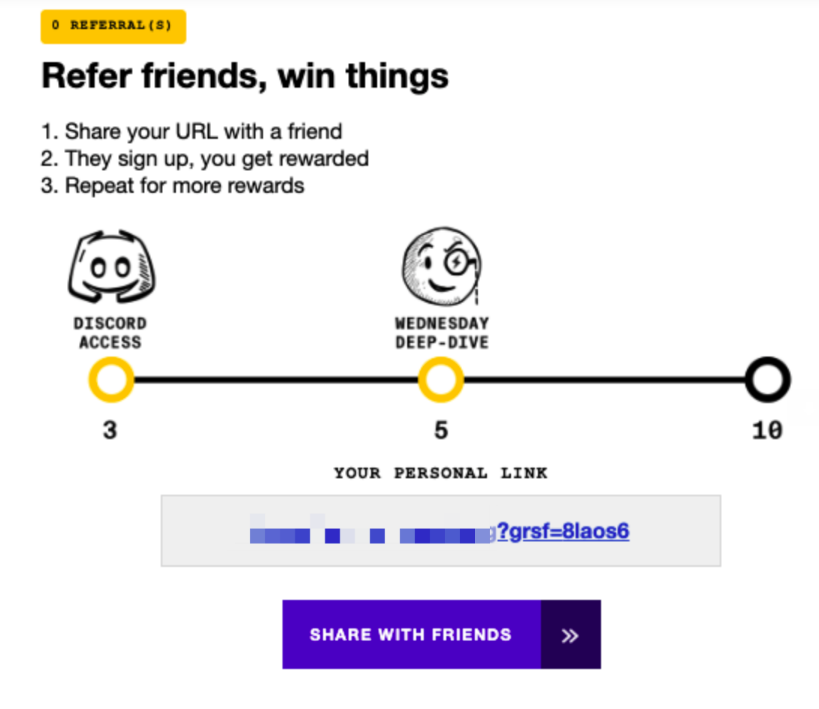 PayPal's growth story: paying early adopters for every referral
Before Stripe, the obvious choice was PayPal, and the interesting part is that this unicorn also owes part of its growth to a referral system!
However, PayPal took a different approach: they literally paid their first users for every referred friend, spending no less than $60 million on referral incentives. Early adopters were rewarded with $20 in their PayPal account for signing up and with a bounty of another $20 for every new user they referred.
Eventually, the bonus was lowered to $10 per referral and then to $5, until being completely phased out.
The company was founded in 1998 but was officially launched in October 2000. By then, it had already acquired 5 million users, of which 4 million came between March and the end of the summer.
In their early days, PayPal saw an impressive daily growth, but this came with a huge cost for the company. As PayPal's CEO explained:
Initially users just had to sign up, confirm their email address, and add a (unique, authorized) credit card. The money was simply added to their account. This was real money. Users could send it to someone else or withdraw it. So it was a real cost to PayPal.
PayPal's referral program worked mostly through e-mail, instant messaging, word of mouth and blogs, as social media wasn't yet a big thing. The acquisition by eBay in 2002 helped propel the company's growth, as the payment solution became the de-facto choice for money transfers online.
Key takeaways from PayPal's referral-powered growth
PayPal's strategy isn't for everyone.
While paying for early adopters can help you gain initial traction, for long-term growth you need to solve a real problem and to provide a solution that sells itself. So here are our takeaways from this referral-powered growth story:
Build a product that users would gladly recommend to friends even without incentives
Set up a referral program that offers substantial bonuses as a short-term strategy to gain traction
How to ask for referrals like PayPal, using GrowSurf
PayPal used a costly but extremely effective strategy to boost their initial growth and gain traction: they offered cash rewards to users and to the the friends they referred.
The bad news is that not everyone has $60 million to pay referrals. The good news is that you can replicate their reward system with our referral program software, without writing any code.
Request a demo of GrowSurf
Set up your referral marketing program with software that lowers your customer acquisition cost and saves you gobs of time.
Tip no. 1: Offer cash or credit rewards to a limited number of early adopters
GrowSurf makes it easy to create a referral program where all or a limited number of referrers receive cash or credit prizes for friends they bring in. Use this strategy to get the ball rolling and encourage word of mouth.
See a live example of this referral system here.
Tip no. 2: Set up a double-reward referral system for a limited number of users
This system is very simple and very effective: when a new user signs up for your product, they win a reward. For every referred friend, they get another, smaller reward. When the referred friend signs up, they receive the initial sign-up prize.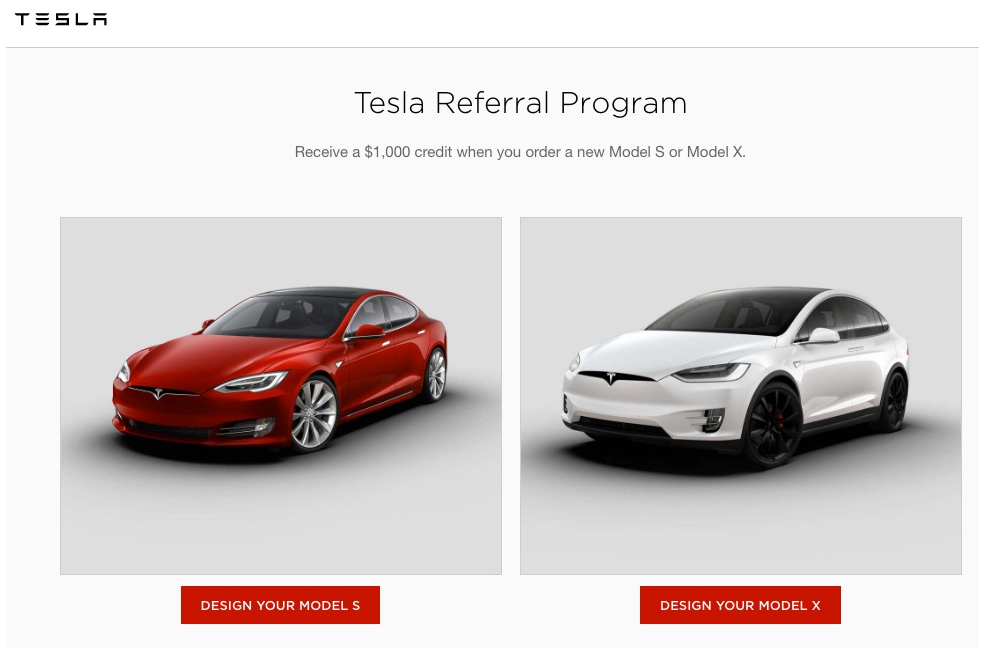 Discord grew its user base through exclusive invites and a partnership program
Discord's growth story is another example of referral marketing done right. The invite-only communication platform makes it easy for people to connect and hang out online and targets mostly gaming groups, school clubs and art communities.
The platform was born in 2015 and started as a voice and text chat app for gamers, acquiring no less than 25 million users in its first year after launch. Within 3 years, Discord grew its user base to 250 million, with over 100 million monthly active users.
Valuated at $3.5 billion in 2020, Discord has earned its spot among the most impressive unicorns who grew through word of mouth and referral marketing. But let's take a closer look to their incredible story and see what you can learn from them.
When the platform was launched, there's wasn't a shortage of chatting or social apps. Whatsapp, Reddit, Slack, Twitter, Facebook - they were all big already and offered messaging functionalities.
Yet, all these platforms were failing to solve a very specific problem of the gaming community: voice calling your buddies in the middle of a team-based game.
Discord started as a solution for coordinating with your team without leaving the game, and it quickly evolved into a community. Today, the platform is a mix of chat app, live-streaming platform and social network, all with a twist: it's a private, invite-only product.
But how did it gain traction so fast? Word of mouth was their first acquisition channel, but in the first 3 weeks after launching the product, Discord had no users. Only after starting to spread the word on Reddit, the founders started to see some traction.
However, what really made the difference for them was the integration with Twitch, a game streaming platform. This allowed Discord to reach their target segment much easier and faster, and because the product was so easy to use compared to alternatives, it was quickly embraced by the gaming community.
Twitch streamers started using the app and recommending it to their followers, so the referral program of Discord took off. The exclusive nature of Discord's invites helped to build virality into the product, with most users being acquired through referral links.
Gamers used it first and loved it, so they stared sharing referral links with their networks. That's how the platform became a place to hang out with colleagues, friends and like-minded users.
Key takeaways from Discord's growth story
Just like PayPal and Stripe, Discord focused on a gap in the market and used referrals to grow their product. So here are the key takeaways:
Focus on an underserved segment and come up with a solution that integrates smoothly with the tools or services they already use.
Launch in a distribution channel that makes it easy to scale through word of mouth.
Set up an invite-only referral program to add a touch of exclusivity to your product and make it go viral.
Choose a partner program or platform that can help you boost referral traffic, like Discord did with Twitch.
Use influencers to spread the word and hack the growth of your referral program.
How to ask for referrals like Discord, using GrowSurf
Discord saw a rapid growth thanks to the gaming community, who adopted the product and spread the word. It became THE place to hang out with friends, and they used an invite-only system with exclusive referral links to let new people in.
Tip no. 1: Set up a leaderboard reward system and offer free access or cash to top referrers
If your product is in a niche where adding a gamification element makes sense, use this strategy when you create your referral program. Set up a leaderboard system and give free access, cash or swag to users who are in the top 5 positions every month. With GrowSurf, you can always show a leaderboard to engage your users and you can automate rewards on a monthly basis. Simply create a reward with a monthly limit, and rewards will be automatically fulfilled when the month ends.
Tip no. 2: Partner with companies and offer reward cards as part of your referral system
GrowSurf's direct Tango Card integration enables you to offer gift cards to winners of your referral campaign. You can see a demo video here. The best part? Tango Card handles all gift card fulfillment and customer support – all you have to do is connect to Tango Card within GrowSurf.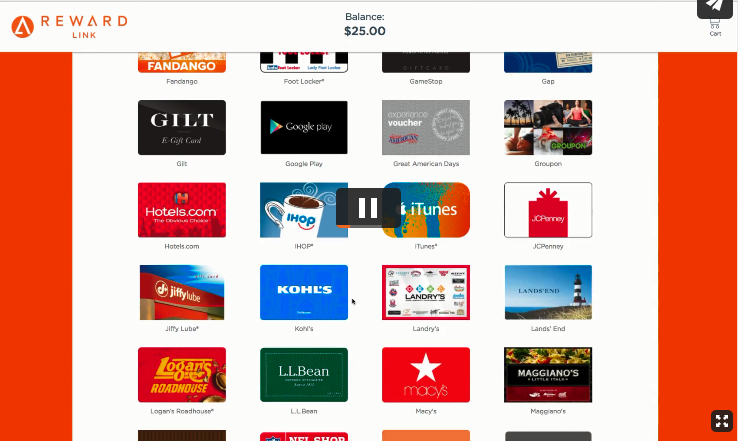 Birchbox's referral strategy: a waitlist and a product that users loved to talk about
Launched in September 2010, Birchbox is another unicorn who mastered the art of asking for referrals.
To test the beta version of their product, the founders - Katia Beauchamp and Hayley Barna - emailed 40 of their friends, asking for feedback.
That was enough to generate a waiting list of 3000 subscribers and to launch the company with a user base of 660 members!
As Katia mentioned in an interview, one of their early goals was to test if the concept resonated with their target users. It turned out that their subscriber-based platform was exactly what the beauty scene was missing.
People could sign up for a small fee and receive beauty product samples, based on their preferences. This was much better than the experience of live shopping, where the amount of samples was limited and each shop offered only a few brands.
Birchbox was a dream come true: fashionistas and beauty product lovers could receive the sample products at home to try them before investing more in a brand.
The monthly fee was only $10, making the platform extremely attractive for both the end users and the brands, who could now reach their market much easier and in a more targeted way.
Birchbox's strategy to rely on word of mouth proved to be successful: users loved their product and loved talking about it as well, so the site visitors became brand promoters and virtual sales reps.
To make their platform even more attractive, Birchbox offered cash rewards based on the amount customers spent. Moreover, for every friend that uses the referrer's link to subscribe, Birchbox users receive 50 points, which are worth $5 in platform credit.
How to replicate Birchbox's referral success using GrowSurf
For Birchbox, what worked wonderfully well was to create an exclusive community and give users access to it through a waitlist.
While this doesn't apply to all niches or types or products, it can be a winning strategy if you're building a community around a SaaS product. So here are our two tips for replicating the success of Birchbox using referral marketing.
Tip no.1: Offer early access to top referrers with a waitlist
This strategy has two advantages: it makes your product feel exclusive, as users need to join a waitlist to get access to it, and it also stimulates them to invite more friends if they want in faster.
You can see a live example here.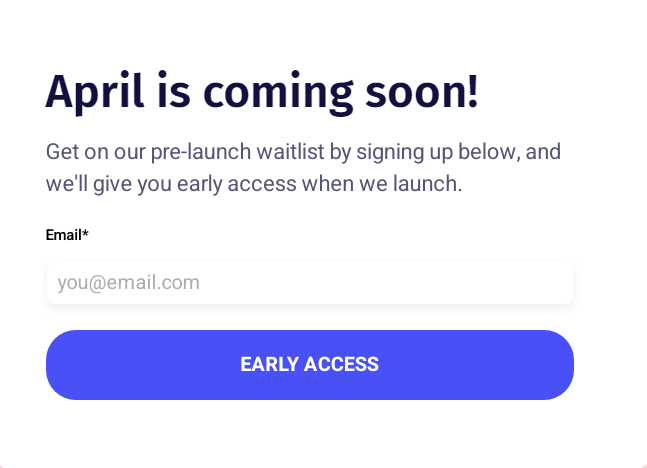 Tip 2: Remind users who sign up about your referral program at every touchpoint
Once a user signs up for your waitlist, they'll receive a confirmation e-mail with a thank you message or account details. Use that opportunity to remind them about the rewards available if they refer a friend.
Here's an example from Charlie Finance, who uses GrowSurf to encourage word of mouth.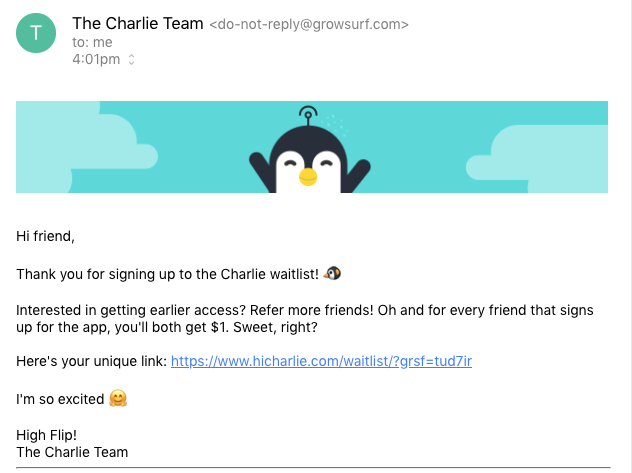 Revolut grew its user base through a double-sided referral system
One of the youngest FinTech unicorns in Europe, Revolut was founded in 2015, the initial offering of the company being a pre-paid card and an app that allowed users to spend money abroad without having to pay foreign exchange fees.
How did Revolut manage to reach a $10 billion valuation in less than 5 years?
Just like other unicorns, this company was born to fulfill an unmet need, as the CEO explains:
I needed this service myself, so I created it. I didn't need a social network so I wouldn't have made one (Nikolay Storonsky, co-founder and CEO of Revolut).
Revolut started as an app-based alternative to traditional banking. It offered multi-currency cards and was extremely easy to adopt: in just 60 seconds, a user could open an account and transfer money in 23 currencies to any bank in the world.
Moreover, the product allowed users to spend fee-free in 120 currencies with a contactless MasterCard, eliminating the exchange fees that traditional banks charge as well as the hidden fees coupled with international transactions.
Today, the company has more than 250K daily active users and generates $2 billion per month in transaction volume.
Revolut's referral program uses the give-and-get model: when you refer a friend, both of you receive money in your Revolut account.
However, to spice things up a bit, not everyone is eligible to become a referrer. So Revolut encourages its users to look out for in-app notifications to know when they become eligible to get and give rewards.
Moreover, every referrer can only invite 100 friends per campaign. This makes the referral program feel even more exclusive and gives users a benchmark to exceed!
How to use GrowSurf to create a referral program similar to Revolut's reward system
Revolut's recipe for success definitely has a referral ingredient in it. Their reward system is attractive for both the user who signs up and the friend who's referred to the product.
Tip no.1: Create a double-sided reward system that benefits both the referrer and the referred friend
You can create a similar referral system by creating a GrowSurf campaign in 15-60 minutes. Check out a live example here, and take a look at our demo video to see how your referral program can look to your participants.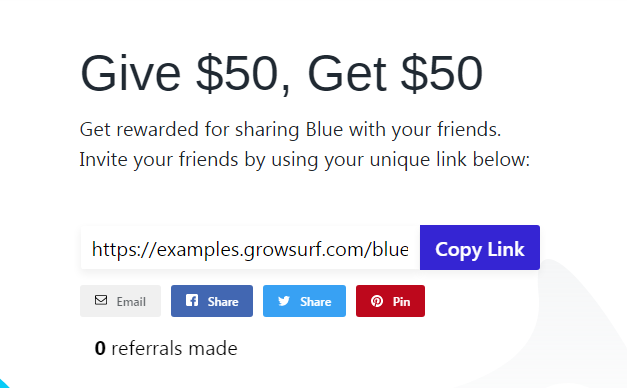 Key takeaway: when asking for referrals, don't make it about your product
PayPal offered monetary rewards to the early adopters. Their product was revolutionary, as when they came into the scene, sending money online was more than challenging.
However, it wasn't just the solution that attracted the early majority. PayPal's referral system played a huge role in the company's initial traction.
In similar fashion, Discord put all its eggs in one basket - a smartly chosen one: a thriving online community with an unmet need.
They had a product that was solving a problem, but what really helped it grow into a unicorn was word of mouth and the invite-only access to the tool.
So our key takeaway for you is this: if you're building a referral program, don't make it about your product. Make it rewarding enough for people to want to spread the word!
Curious to see GrowSurf in action? Create a free account here and set up your first referral system with GrowSurf in minutes!
---
Cover image source: Evening Standard
Have questions about GrowSurf?
Talk to a referral marketing expert today.