Need I say it? Referral marketing is the best form of marketing there is.
What better way to spread the word about your brand than to let your biggest fans do the marketing for you?
However, many businesses are still using stale and outdated tactics in their referral marketing campaigns. They don't go the extra mile, thinking that a great product or service alone can fuel viral word of mouth.
Referral marketing, despite its merits and huge potential as a customer acquisition channel, still needs new and creative ideas to thrive. That's even more true in the current digital landscape. It's too crowded out there and you need fresh, unique, or proven ideas to cut through the noise.
Want to give your referral marketing efforts the kick in the pants it needs to make your customers sit up and take notice and keep sending referrals like all get-out?
Here are 12 super effective referral program ideas to get you started.
1. Offer Mystery Gifts as Rewards
Curiosity is a powerful motivator. If you want to entice your customers to send referrals, create a curiosity gap by offering mystery gifts as a reward 
People love a good mystery, and they will take the necessary action (like sending referrals) if that's what it will take to obtain the missing information.
That said, make sure that you choose rewards that will make the effort to unlock the mystery worth it for your customers.
It also helps if the box that came in with the "mystery box" comes in a neat package.
CompanyCam offered referring customers a "hand-curated Mystery Box full of assorted swag," which may include loads of free stuff such as shirts, bottle openers, Yeti tumblers, and more.

Image source: CompanyCam
Pro-tip:  If you're selling clothing items, it might be a good idea to fill out a form where they can provide their size and color/style preferences.
2. Run a social gifting campaign
We all love to give gifts as much as we love receiving them. Not only does gift-giving give us that pleasant warm, fuzzy feeling, but it also strengthens our ties with family and friends. And even if we refuse to admit it, we sometimes give gifts because we expect to get something in return.
As Psychology instructor Dr. Darlene Silvernaol puts it, "Gift-giving feels good internally, and there are extrinsic benefits also."
So, here's an idea: Tap into your customers' innate desire to give gifts by launching a social gifting referral campaign.
Try social gifting.
Social gifting is a referral marketing campaign where referral rewards are only given to the referred friend.
Yes, you read that right. The customer who sends the referrals won't get something in return.
Sounds crazy? Risky? It may actually work.
The idea behind social gifting is this: For your customers, the opportunity to share your brand with others (and the great experiences that await them) is reward enough (intrinsic rewards, remember?).
Social gifting also makes the act of referring less awkward. After all, sending gifts feels more genuine and meaningful when you're not expecting something in return. Not many people would pass up the opportunity to show their friends that they care.
Not fully bought in on social gifting? Learn about other ways professionals leverage psychology in their referral programs.
3. Donate to a charity on their behalf
People will step up to help those in need if you give them the opportunity.
Want to ramp up your customer acquisition and contribute to the community at the same time?  
You can tap into people's need to help others by launching a community or charity referral program.
In this type of referral campaign, instead of offering rewards to customers, you make contributions to the community or a charitable organization on their behalf.
While being able to help out is rewarding enough, launching a community referral program can do wonders for your brand. After all, studies show that people are more likely to support brands that give back. Customers will want to support your referral program for that same reason (also, you want to do this simply because it's the right thing to do).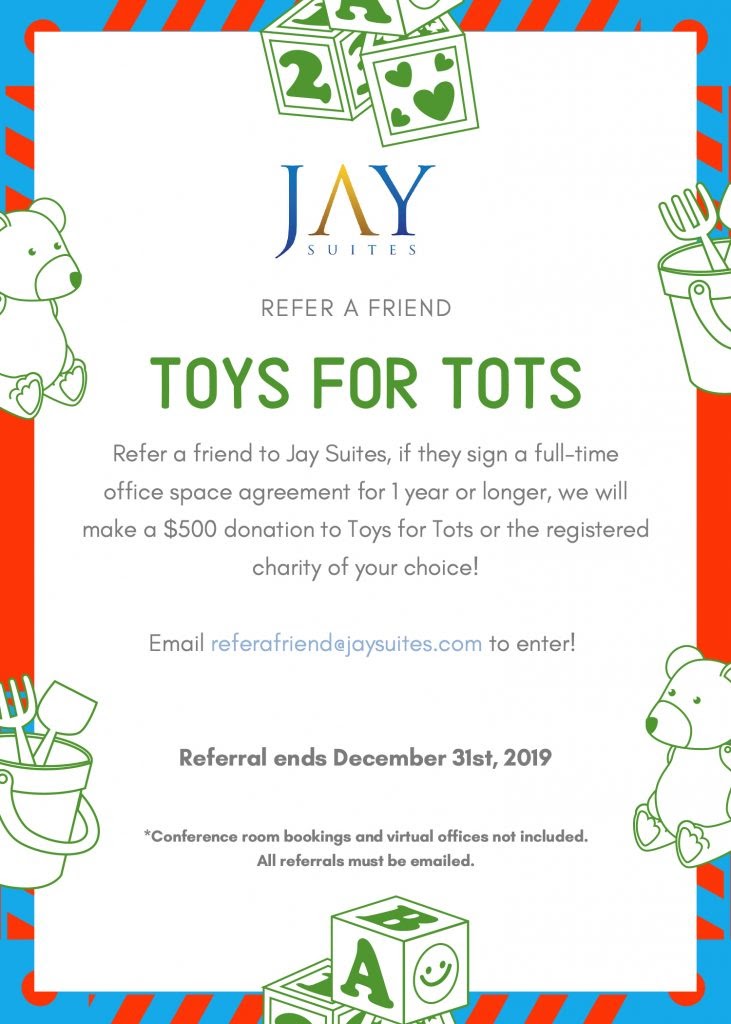 Image source: Jay Suites
Make sure the charity you choose aligns with your core brand values — and by extension the values of your customers.
By helping in ways your customers care about, the more likely they will want to contribute to your cause and, in turn, be a part of your brand story, thus turning them into loyal brand ambassadors.
4. Make it easy to send referrals
If you have a must-have product or service, your customers will rave about it to their friends — even if you don't ask them to and even without getting something in return.
People, by their nature, love to share positive experiences with others. What more if you offer them some form of reward for their trouble?
Despite this, some customer referral programs still fail. Why is that? 
One word: Friction.
In this brave new world of digital noise and clutter, customers crave smooth and fuss-free experiences more than ever.
In fact, 88% of online shoppers say they wouldn't return to a website after a bad user experience. Research also shows that a well-designed user interface increases a website's conversion rate by 200%.
You want your customers to keep those referrals coming? Then make the referral process easy and fun for them.
How? By giving them a clear path towards sending those referrals. The fewer steps it takes to get there, the better.
To eliminate friction in your referral marketing program, you can:
Keep your referral emails short and simple. Not many people like to read long emails. Get to the point!
Give customers a unique referral link. So customers can send referral invites easily and in a variety of ways.
Include a pre-written message in your share buttons. Most customers or users don't have the time or the inclination to write a referral invitation message themselves. Create one for them so they can refer right away!
Add email and social sharing buttons. Give them a lot of sharing options regardless of their preferences (though it's a good idea to make the option that yields more conversions more prominent).
Provide them with short, clear steps on how to participate. How does it work? What do they need to do to join? Also, throw in a powerful call-to-action while you're at it!
Provide auto-fill forms wherever possible. Filling out long-forms is boring. And don't ask for information you won't need.
Subscribe to GrowSurf
Get our weekly newsletter for our latest referral marketing guides.
Error subscribing! Please try again.
5. Gamify your referral program
Everyone loves games, right?
What if you design your referral program in a way that makes customers feel like they're playing one?
It makes the referral process more fun and engaging for your customers.
You can pull this off by gamifying your referral program.
Gamify.com defines gamification as the "application of game-design elements and game principles in non-game contexts."
Gamification works. According to Gigya Information, gamifying programs increases customer activity online by 68%. The same study also shows that it increases social sharing by 22%.
To gamify your referral program, you must incorporate elements of play, feedback, and a relevant reward structure to keep customers (or "players") engaged.
Here are more specific ways to gamify your referral program:
Use a point system. People love a good challenge, especially when there's a point system that allows them to evaluate their performance. Users are more likely to keep "playing" if it means racking up more points.
Show the rewards. Visuals aren't just for show; they are integral to the mechanics of a game. Show customers what's up for grabs (via static images or GIFs) to give them an immersive experience.
Add progress bars. Progress bars help them track where they are in relation to the next milestone, motivating them to keep sending referrals to reach it.
Add digital badges. Badges give users a sense of achievement and allow them to track their progress in your referral program.
Create a leaderboard. To show participants who made the most referrals or earned the most or best rewards. People love competition, after all.
Morning Brew is a brand that nailed gamification. You can see it from their referral hub alone (as shown below).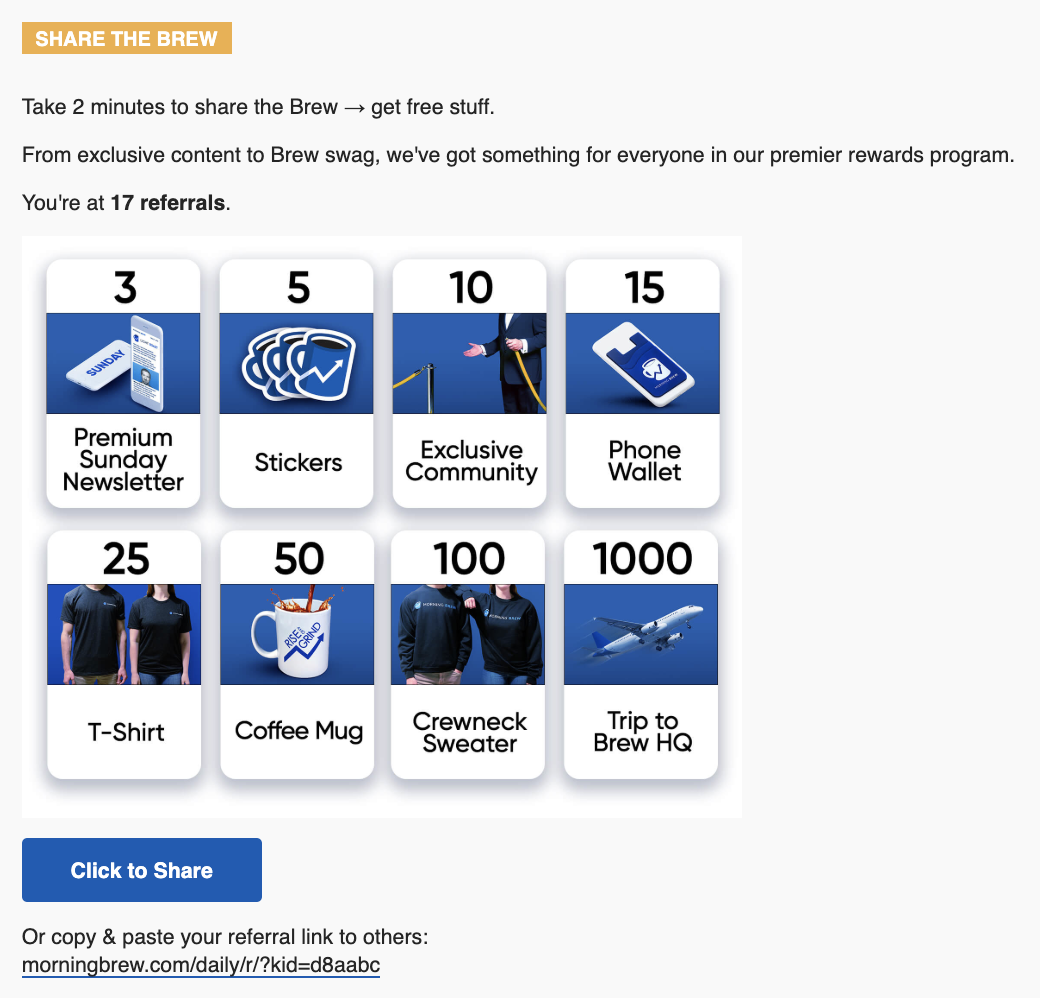 Image source: Medium
6. Run a referral contest
People love contests. With an irresistible prize, launching a referral contest is a great way to generate more referrals and create buzz around your brand.
And with social media at your disposal, referral contests have a viral potential you'd do well to tap into.
How does a referral contest work? Obviously, refer-a-friend contests require users to make referrals to join. But that doesn't have to be the only requirement. Depending on your referral program goals, you can also ask users to follow your social media accounts, join your newsletter, or many others.
That's what Sportmob did in their PS5 giveaway referral contest.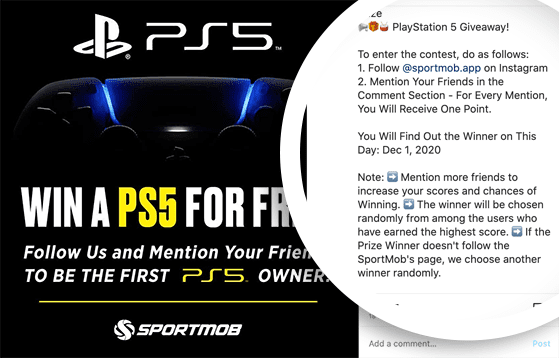 Image source: Rafflepress
A pro-tip: To get more participants for your referral contest, you'd do well to leverage urgency and scarcity. Here's how:
Only have one grand prize (or a few) available. People place more value on things that are in limited supply.
Make the contest available for a limited time only. This creates a sense of urgency among your customers, urging them to send referrals immediately.
7. Make your referral program visible
The biggest culprit why referral programs fail? Lack of promotion. Many businesses assume that their customers already know about their referral program, causing them to lose out on many great opportunities to gain new customers.
Don't make that same mistake. If you want your referral program to keep bringing new referrals,, tell your customers about it.
When it comes to making your referral program visible, placement is everything. Here are the best places to mention or promote your referral program:
High-traffic pages. Showcase your program in pages that attract the most clicks (e.g., the home page, the About page, blog posts, or your checkout or landing pages). Make sure they are prominent enough to attract your visitors' attention.
Email signature. A great email signature is a smart and subtle way to spread the word about your referral program.
S ocial media bios. People read your social media bio because they're interested in what you have to offer. Chances are they'll be interested in a referral program, too.
Pinned Facebook posts or tweets. They're one of the first things people see when they check out your social media accounts, after all.
Your emails. Messaging can't get any more personalized and more intimate than emails. Offering customers the opportunity to become evangelists for your brand (and rewarding them for the effort) is a great way to nurture that relationship.
8. Ask for referrals at the right time
When you say something is just as important as how you say it. Especially when it comes to asking for referrals.
As already mentioned, if you want your referral program to succeed, you need to tell your customers about it.
But don't mention it every chance you get. You don't want to sound like a pushy salesman.
According to a Hubspot Sales Perception survey, 61% of buyers say pushy advertising negatively impacts the sales experience.
If your referral promotion efforts are too intrusive, too in-your-face, your customers are going to tune you out.
When it comes to asking for referrals, timing is everything.
The best times to send a referral invite or mention your referral program to your customers are when they are most engaged with your brand, product, or service. Asking an unhappy customer for a referral can backfire--it might make them think you're just in it for the money and will sour the relationship as a result.
The best time to ask for a referral is right after a purchase, a successful transaction, or a successful customer support experience. Why? Post-purchase messages rarely get ignored. They get opened. They get clicked. And they get results.
Bench Accounting, for instance, doesn't mention their referral program until right after a client has signed up for the service.
It's also a good idea to use a post-purchase pop-up to automatically invite customers to participate in your referral program.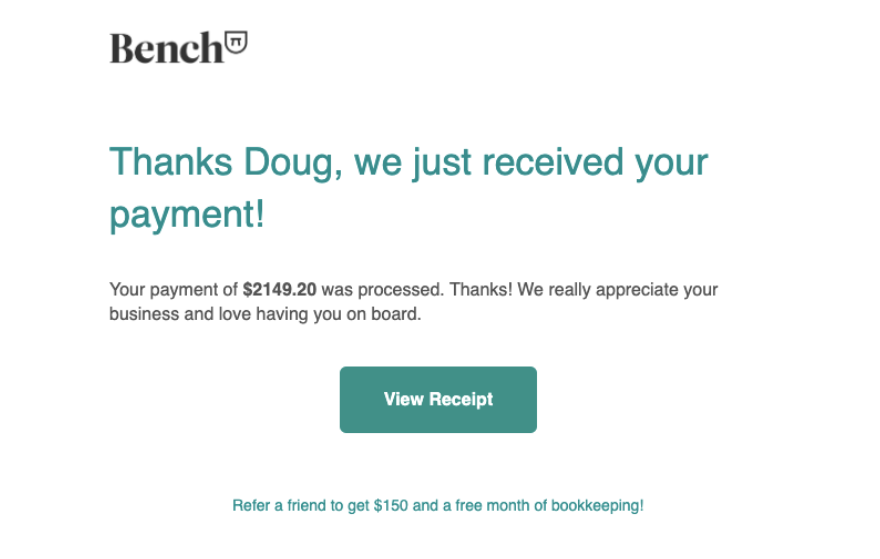 Kickbooster shows the following pop-up message to customers after they complete their order at the store.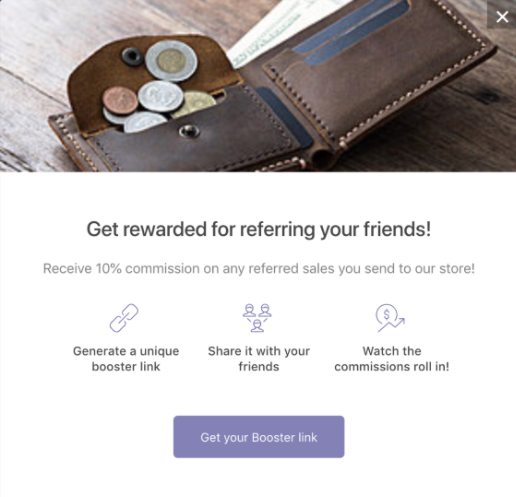 Image source: Kickbooster
9. Launch a seasonal referral program
People love to engage with seasonal content and are always looking to brands for special offers and promotions during the holidays (yes, even despite the pandemic).
If you know what's good for your business, you must use seasonal marketing to your advantage.
You can launch a seasonal referral program , for starters. Not only can it fuel your customer acquisition efforts throughout the year, but it also provides many opportunities to remind potential and existing customers why your products and services are a must-have.
Even better, you can run seasonal referral campaigns via referral contests (see section 5 in this blog post).
Huawei, for instance, ran a refer-a-friend contest on Valentine's Day.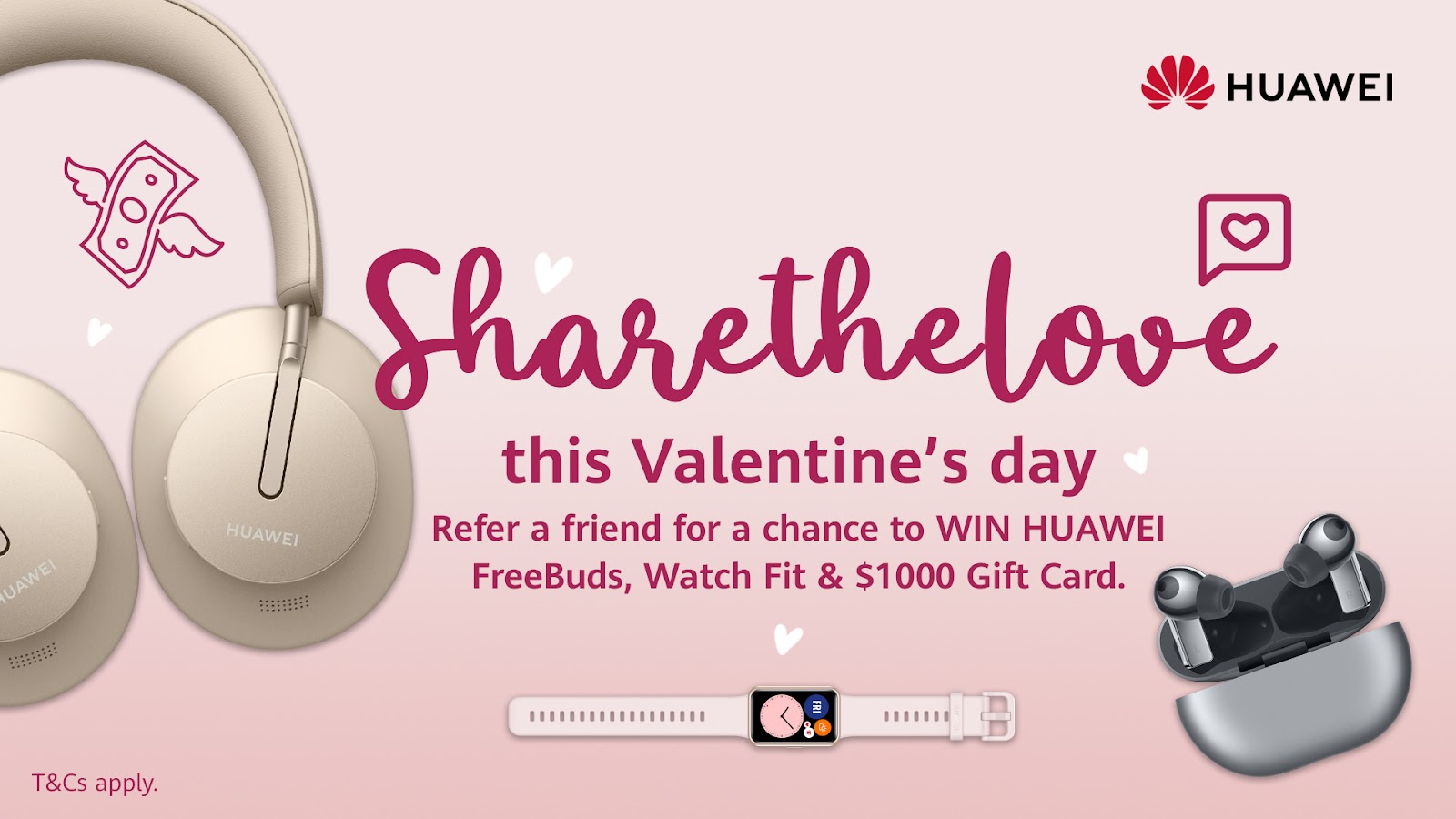 As already mentioned, the best times to ask for referrals are when your customers are most engaged with your brand. What better time to ask them than when they're in a festive mood on account of the holidays?
10. Keep testing your referral messages
If you want your referral marketing efforts to yield results, get your referral messaging right.
You might have the most enticing incentives in the world, but if you don't communicate your unique value proposition clearly, concisely, and in a way that speaks to the needs of your audience, your referral marketing efforts are going to fail.
However, implementing best practices to your referral copy can only take you so far. Converting customers can be an inexact science. If you want your referral messaging to have the most impact, you must test it out on real customers.
This is where split testing (or A/B testing) can help.
The idea behind split testing (or A/B testing) your referral messages is to send multiple versions of a referral copy (whether an email headline, landing page copy, an ad copy—you name it) to different segments of your customer or user base.
Sounds like a lot of work? Don't worry, it's worth the effort.
Split testing has become much easier over the last decade thanks to a ton of amazing A/B testing tools on the market. You can use tools like Optimizely or Qubit to display different versions of your copy to visitors and then compare and measure their responses.
You can test your email copy as well. Email marketing platforms like ActiveCampaign, for instance, make it easy to test different pieces of your email copy (e.g. subject line, CTA, email body, and more).
Split testing can sound daunting if you haven't done it before. But it's worth the effort. As Eli Pariser once said, "a good headline can be the difference between 1,000 people and 1,000,000 people reading something." 
11. Retarget customers who have shown initial interest
Chances are, many of your customers want to take part in your referral program but don't follow through because they're not ready to commit yet.
So they hold it off at a later date, which is fine. The problem? They are likely to forget about it the next day.
So why not send them a reminder?
This is where retargeting can help.
Retargeting is a marketing strategy that lets you show marketing content or ads to people who have already visited your website without purchasing anything.
How does it apply to referrals? Simply, the goal is to remind customers who have shown initial interest in your referral program to finally send referrals.
Retargeting works by dropping a "cookie" on the visitor's browser when they visit your referral page. From that point on, these "cookies" allow you to automatically serve referral ads to these visitors while they're browsing the web.
Here's a visual by Retargeter that sums up nicely how retargeting works (it's for sales, sure, but the same procedures apply for referrals).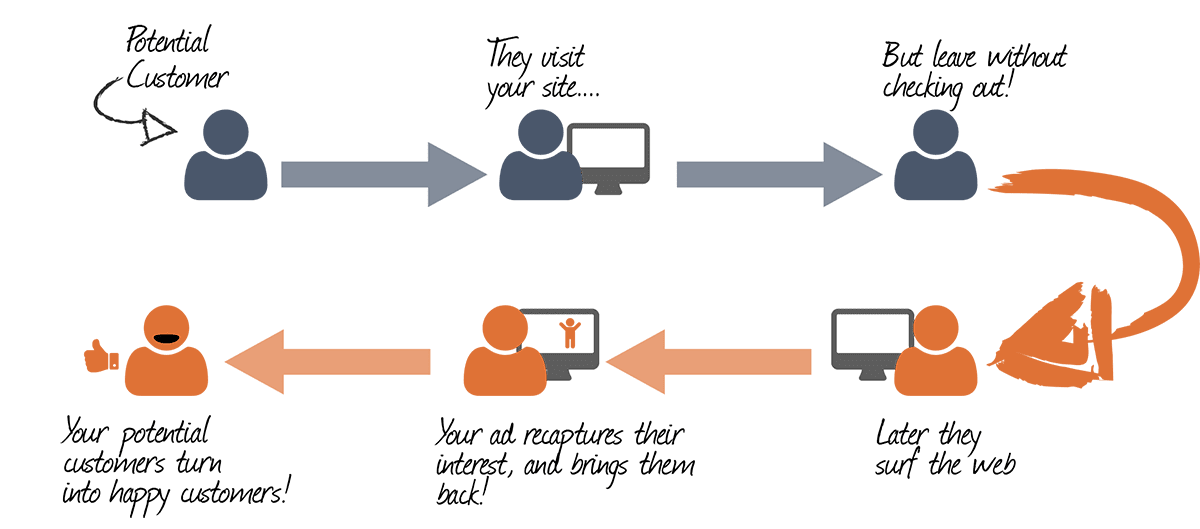 Image source: Retargeter
There are many retargeting channels to choose from, but two channels I would deem essential are Facebook Ads and Google AdWords. For a more comprehensive guide on how to run retargeting campaigns, check out Instapage's Retargeting 101 article.
12. Offer a product or service upgrade
Many SaaS companies and app vendors have relied on the "freemium" business model to generate a steady stream of income. What better way to attract and monetize your user/customer base than to offer basic features for free and give them the option to upgrade for a fee?
Despite its advantages, there are a few ways the freemium model can go wrong. For one thing, many of your users may decide to settle with the free version.
And you're thinking, "how easier lives would be if they gave our premium features a try!"
Well, how about offering your premium features for FREE in exchange for referrals?
If your users or customers are already enjoying the free version of your product or service, I'm sure they won't mind recommending it to their friends or family — especially if that means they get to try your premium features.
The upshot? If they liked the experience, they might just sign up for the paid version once their trial has expired. By this point, customers are getting so much value out of your premium service they can't imagine being without it.
The best part? You did it at no cost to your business. And you get new leads and new customers/users in the bargain.
Todoist's referral program used this tactic to get a steady stream of referrals. When you refer your friends to Todoist, they get two free months of Todoist premium. And you get two free months of Premium too for each friend who goes on to purchase a Premium subscription.

Image source: Todoist
Over to you
So there you have it! I bet you're itching to implement some of the referral marketing ideas that we just discussed. As you should be! Done right, referral marketing can help you get more leads and sales, not to mention strengthen your relationship with your customers.
If you want your referral program to be a resounding success, design your referral campaigns in ways that help you serve your customers better. Do that and they'll be more than happy to share your brand with others. And with the right referral marketing ideas, you're well on your way to referral success.
Need help implementing your referral marketing ideas and putting your referral program on auto-pilot? A dedicated referral software like GrowSurf can help you. Start your 14-day free trial!
Subscribe to GrowSurf
Get our weekly newsletter for our latest referral marketing guides.
Error subscribing! Please try again.