Word of Mouth Marketing for Startups
No marketing strategy is more impactful than word of mouth. But are you making the most out of it?
Whether you're just starting out with your business or you've been at it for a while, it never hurts to re-examine your word of mouth marketing strategy (if you have one to begin with). Does it truly inspire chatter among your customers?
If not, it's high time you use a word of mouth marketing strategy that really works. After all, if your strategy isn't hacking it, your potential and existing customers will  likely end up raving about your competitors instead of you.
In this blog post, I'll go over what word of mouth marketing is and why it's so effective as a customer acquisition channel. I'll also walk you through the steps on how to develop a word of mouth marketing strategy that'll turn your customers into brand ambassadors.
What is Word of Mouth Marketing?
I'm sure you already have a good idea what word of mouth marketing is. But to be sure we're on the same page, here's a little refresher.
Word of mouth marketing is a form of marketing focused on encouraging and motivating happy customers to spread the word about your business.
Word of mouth could be an offline recommendation, a social media post, an online review, a testimonial, and many others.
It's all about creating a buzz around your brand. And when it snowballs, word of mouth is the most powerful marketing tool you can have in your arsenal.
A few considerations on word of mouth marketing
Word of mouth marketing is not the same as referral marketing. Unlike referrals, word of mouth is a more passive way to get more followers, leads, and sales (although you can use referral marketing to kickstart word of mouth, as you'll soon find out).
Traditionally, word of mouth marketing happens organically from one person to another. But thanks to the internet, marketers can now launch targeted WOM campaigns across a wide range of channels, allowing them to generate word of mouth on a much larger scale.
That's not to say social media chatter trumps "traditional" word of mouth. But if you want to expand and amplify your reach, you must use any available digital resources and tools to create the triggers that will fuel your word of mouth marketing campaign.
Why Word of Mouth Marketing Works
There are two main reasons why word of mouth marketing works:
It's more credible
Word of mouth marketing works because it's built on a strong foundation: trust.
In fact, a Nielsen study shows that 92% of people trust recommendations from friends and family over any other type of advertising.
Simply put, we trust our friends more than we trust companies. When you see a banner ad on a website, there's always that thought in the back of your mind saying, "You're just after my damn money."
But when a friend recommends a product, we give more credence to the recommendation because we know he's doing it without expecting something in return.
It's more targeted
Word of mouth is a highly-targeted form of marketing. When you love a certain product, you don't go out of your way recommending it to everyone you know (if you do, stop doing that). You will talk about it with someone who will find it interesting or useful. Would you recommend a windshield cover to someone who doesn't own a car? Exactly.
7 Steps to Create a Word of Mouth Marketing Strategy That Works
While word of mouth marketing is the most powerful way to grow your business, you're not going to yield real results if there's no sound strategy in place. Here are 7 steps to develop a word of mouth marketing strategy that works.
1. Determine your brand purpose
You can get clear with your brand purpose, for starters.
So, why does your 'why' matter in your word of mouth marketing strategy? 
Because having a reason for what you do helps your brand form a stronger emotional connection with your customers.
As Simon Sinek writes in his seminal book Start with Why , "people don't buy what you do, they buy why you do it."
Our core values drive what we do. If your customers share those core values, they're not only going to love your brand, but they're also going to tell their friends and family about it.
In fact, studies show that customers are 4.5 times more likely to recommend or champion purpose-driven companies to friends and family.
Have you ever wondered why Chipotle is so popular? It's not only because the food tastes great. That's part of it, sure. But deep down? They dine at Chipotle because they serve food that is ethically and naturally produced.

To define your brand purpose, start asking the following questions:
Why did you start your business in the first place?
How can your business change the world for the better?
What are your core strengths?
What makes you different from other businesses?
What do you want to be known for?
Once you've written down your answers, use those answers to build a brand strategy.
2. Make your product talk worthy
Your product or solution is still your best sales tool. After all, if your product is not improving the lives of people in some way, what's the point? If people are going to talk about you, there has to be one.
Having a product that solves a problem gives your audience a good reason to care about your service, product, or company. It helps position your company in a way that inspires a compelling meaning in your audience's mind, which not only influences them to buy your product, but also compels them to talk about their experience with others.
Is your product talk-worthy? Here are ways to find out:
Conduct online surveys
Conduct User/consumer interviews
Check reviews of your product

B2C - Amazon, Angi, TrustPilot, Yelp
B2B - Finances Online, Capterra, G2 Crowd, Trust Radius
If you feel that your product needs improvement, start by asking the following questions:
What problem are you solving?
Is the problem worth solving?
Who is experiencing this problem?
How are you improving the lives of your customers by solving this problem?
By asking the above questions, you're getting a frame of reference that will help you understand your audience's needs and find the best solutions to meet those needs. Examine how your customers are using your products and keep testing. This way, you can identify areas of improvement that will positively impact how your target customers perceive and use your product.
3. Improve customer support
You may have a product or solution worth talking about. But if your customer service is subpar, don't expect your brand to be included in any "most recommended" list.
Imagine having the best halal meal in your entire life and then having to wait around 40 minutes to receive your check. To top it off, the waiter doesn't even say "thank you." Kinda sours the overall experience, doesn't it?
Will you be willing to eat at that restaurant again? Probably not. And there's absolutely zero chance you'll recommend it to others.
If that waiter were only friendly enough, professional enough, attentive enough. Chances are you won't shut up about it.
And you won't be alone in that. According to a Qualtrics study, consumers who rate a company's customer service as "good" are 38% more likely to recommend that company.
Exceptional customer service not only provides additional value to your product, but also gives your customers triggers to talk about your brand.
Besides, in an era where empathy is in such a short supply, great customer service is a good way to differentiate yourself.
So, what makes a customer support team good? Being available 24/7 helps. So does being accessible via relevant marketing channels. Delivering fast customer service? Absolutely.
However, doing all of the above can only do so much. If you want people to really talk about you, lead with empathy. Go the extra mile.
SouthWest Air created online buzz by doing just that. When a bridesmaid forgot her dress for her sister's wedding, they flew all the way from Houston to Costa Rica to bring back the dress and save the day. Now that's how you go above and beyond (literally) for your customers.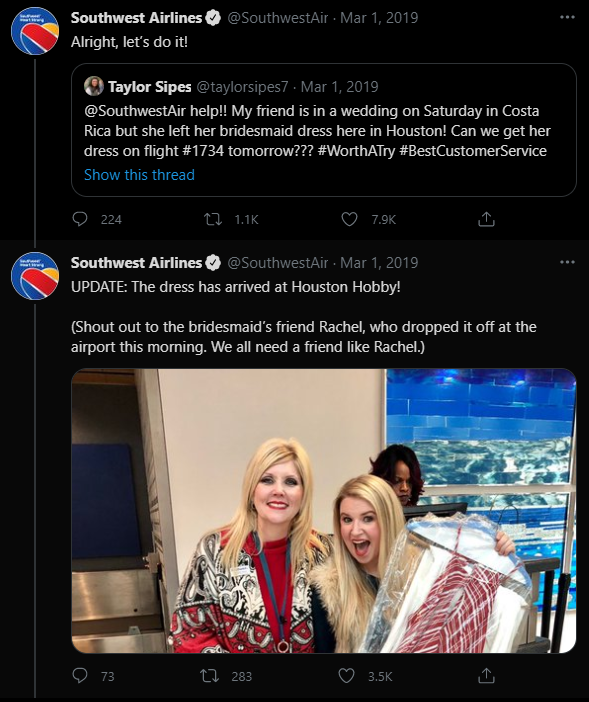 4. Invest in Customer Experience
With so many platforms, channels, and tools taking hold of people's attention, you'll be hard-pressed to grab the attention of your audience, much less make them talk about your brand with their peers.
Actually, making your prospects notice you is the easy part. Holding their attention and making your brand top of mind is where it gets difficult.
This is where CX (Customer Experience) can help.
James Winter, VP of Marketing at Brandfolder, defines Customer Experience as "the overall impression your brand makes on your target audience throughout their relationship lifecycle with your business—across multiple channels, platforms, and devices."
In other words, customer experience offers a holistic view of how your customers perceive and experience your brand. It helps you understand the customer's experience across multiple touchpoints throughout their interaction with your company, allowing you to deliver relevant experiences that resonate with them.
And the best part? If those interactions are positive, your customers will be more than happy to talk about it, whether they're a new customer or a repeat customer many times over.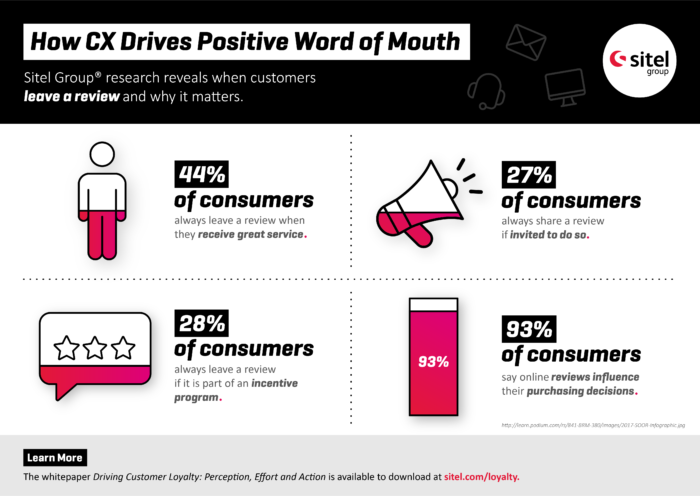 [Source: SITEL ]
To make CX work for you, you need to gain a deep understanding of how and why your customers use your products. Customer experience mapping can help in this regard.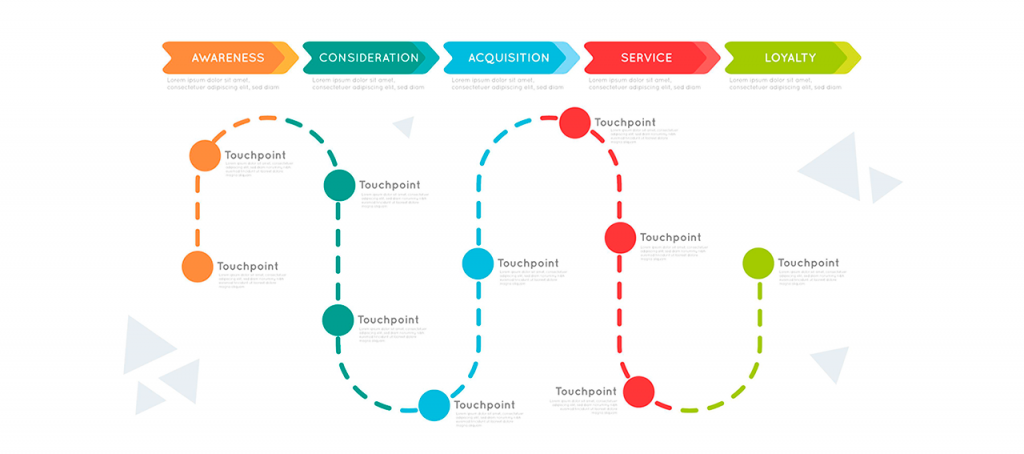 [Source: User Response ]
Nichole Elizabeth DeMeré, CMO of Reeview, brings that point home with the following statement:
"More companies are getting better at the functional basics of customer experience, like responding in a timely manner to questions, streamlining the purchase process, and smoothing out onboarding (not to mention creating a decent product) – which means they need something unique to offer that separates them from their competition. What is the most unique, even unforgettable thing you can offer? The way you make your customers feel.
Emotion not only carries the ability to define your company in a sea of competitors, it can also inspire viral word of mouth marketing from people who love you and want to express that to a large audience, whether because they're influencers with their own followers, or reviewers."
Subscribe to GrowSurf
Get our weekly newsletter for our latest referral marketing guides.
Error subscribing! Please try again.
5. Use the power of user-generated content
User-generated content, or UGC for short, is any content that is created, published and/or submitted by users of a brand (who are not associated with that brand).
There's plenty of good reasons why UGC is often called the 'new WOM': It's word of mouth with all the benefits the internet (particularly social media) has to offer.
UGC can take many forms, including:
Social media content
Reviews
Forums
Video content
Blog post
Testimonials
Encouraging UGC is a powerful way to generate more buzz for a brand—especially considering that most people are now on social media. It can also significantly impact purchasing behavior. It's free marketing or promotion in a nutshell. And spreading it is as fun as spreading peanut butter on your piece of bread.
Allow me to drop some UGC stats:
Millennials trust UGC 50% more than other media and Social Media Today found that 85% of users find visual UGC more persuasive than brand visuals. (Crowdtap)
More than 86% of companies today use user-generated content as part of their marketing strategy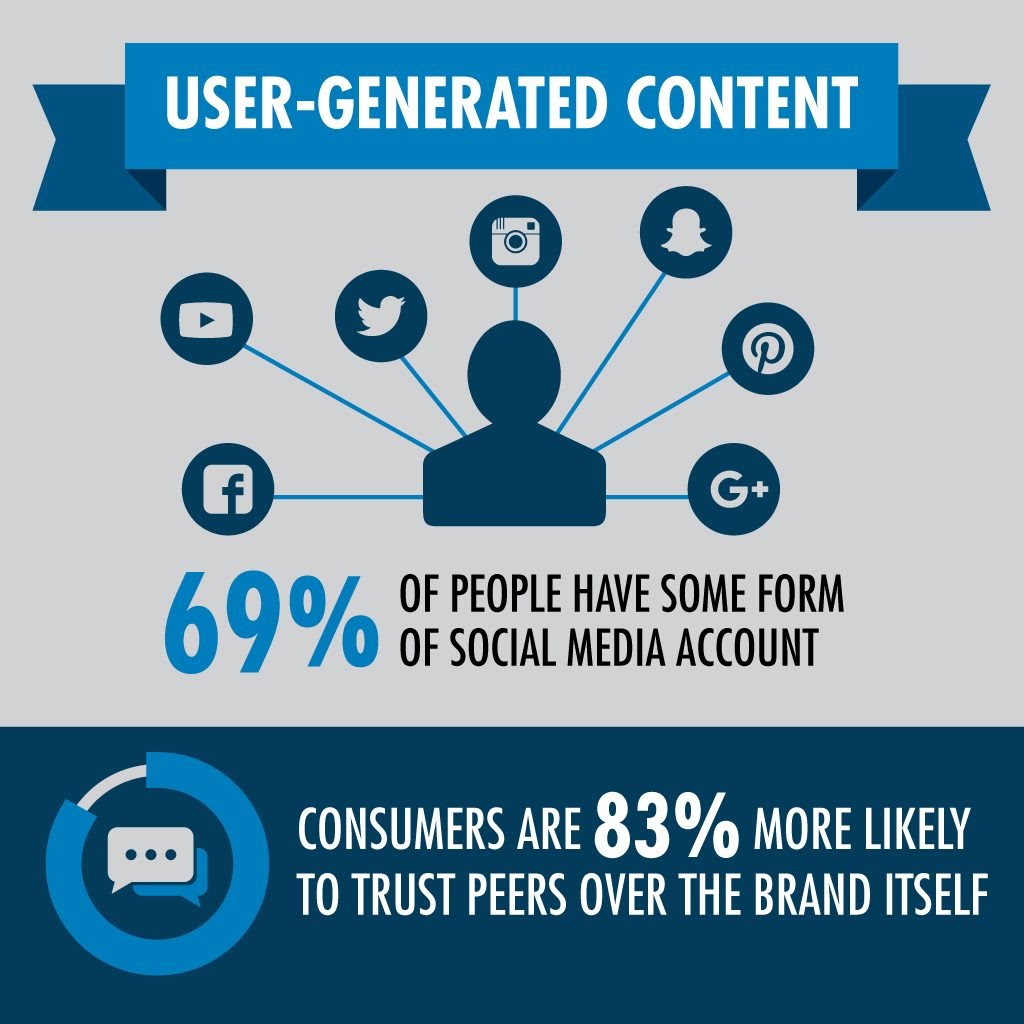 [Source: Business 2 Community]
As already stated earlier, people don't trust your brand as much as they trust other people.
While some of your happiest customers will sing praises about your brand even if you don't ask them to, most of them will not.
Giving them a sweet little nudge often does the trick.
Here are some effective and proven ways to encourage your satisfied customers and users to post user generated content:
Customers love to compete, and they will be happy to participate if you throw in prizes they can't resist. A good rule of thumb when hosting contests is to make your customers showcase how or why they use your product or interact with your brand.
Pro-tip: Using hashtags is a good way to boost the reach of your UGC campaigns. Make sure that you use unique, targeted, and memorable hashtags that align with your brand's message and core values.
Mint, a money management app, used this tactic to great effect via the #MyMintMoment Instagram contest. They invited customers to share a moment in their lives they saved money for. The customer with the best entry wins a $1,000 Visa gift card.
Here's the lucky winner.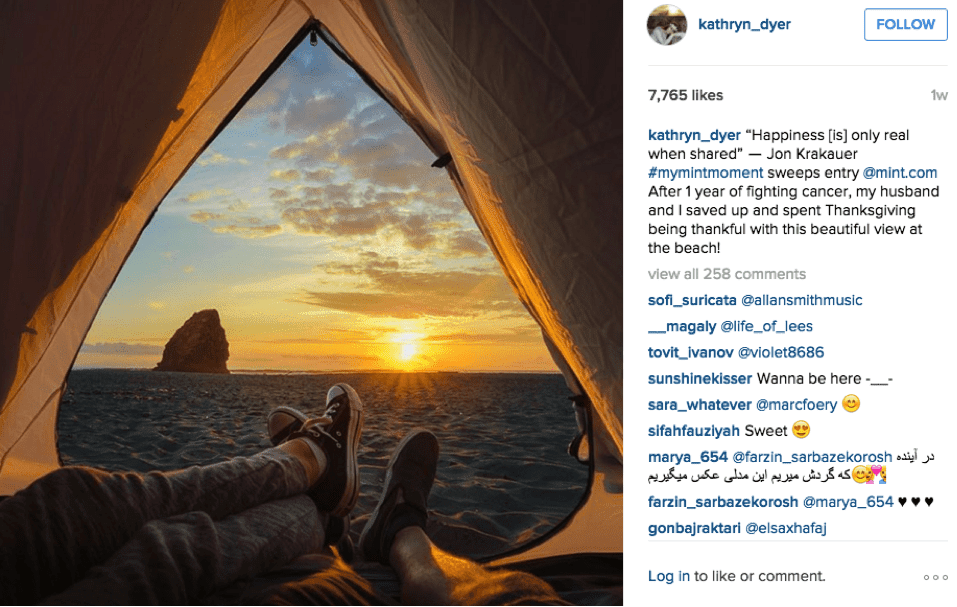 Customer reviews make people buy stuff.
Stats will back me up on this:
88% of consumers trust online reviews as much as personal recommendations (Invespro)
About 95% of customers read reviews before making a purchase. (Spiegel)
92% of B2B buyers are more likely to purchase after reading a trusted review. (G2 and Heinz Marketing)
It's simple math. The more positive reviews you receive, the more sales you'll make.
Not getting as many reviews as you like? Simply ask!
There are many ways to do it:
In-person
Over email (probably through an after-sale email)
Through your website's reviews page
Via social media
Via invoices/receipts
Through your blog
On receipts
You can also do wonders for your online reputation by making it easy for customers to leave a review. You can:
Implement a review system in your order confirmation pages.
Make your company profile more visible on review sites such as Yelp, G2 Crowd, Trust Radius, and more.
Make the review tab visible on your social media profiles.
Verify your business on Google so it will appear on Maps, Listings, Search, and other Google services.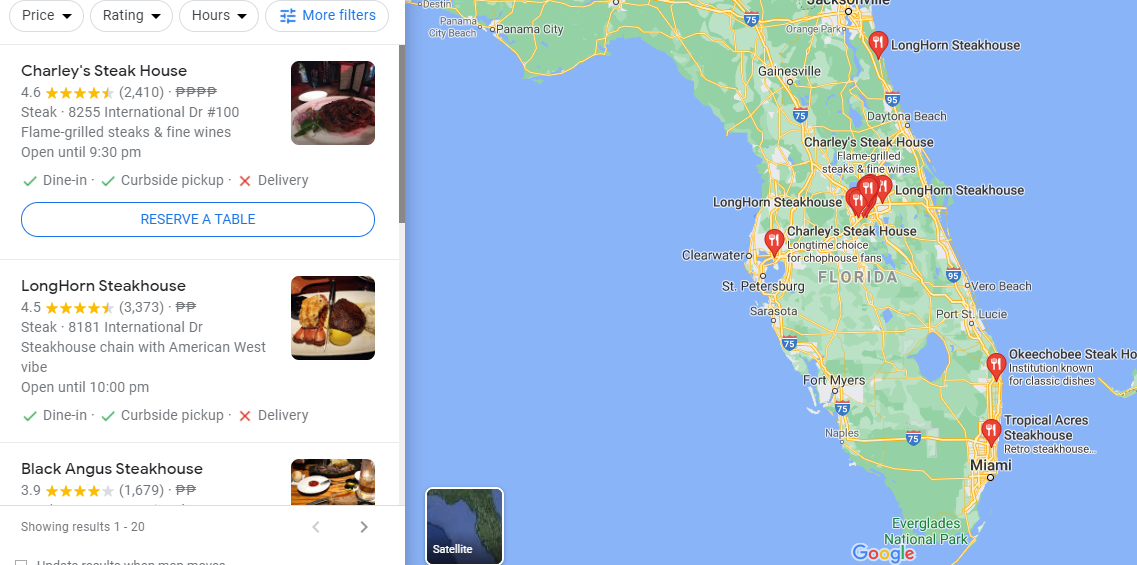 If you feel a little awkward asking for reviews, think of it this way: asking for feedback empowers your customers because it shows them you care about their experience. Just don't forget to say 'thank you' after they leave a review (whether it's good or bad)!
6. Create a "talk trigger"
If  you want to get people talking, and I mean really talking, create a "talk trigger."
"Talk trigger" is a term coined by best-selling author and renowned keynote speaker Jay Baer. He even wrote an entire book about it, entitled Talk Triggers (it's good stuff, read it).
Baer defines a talk trigger as "a built-in differentiator that creates customer conversations."
A talk trigger is not a one-off marketing gimmick. It's not your USP.  It's not a grand gesture.
A talk trigger has to meet the following requirements:
Be remarkable
Be relevant
Be reasonable
Be repeatable
In other words, a talk trigger has to be something worthy of remark (remarkable). It needs to be tied to your core business (relevant) so the chatter that ensues will keep your product top of mind. It needs to be realistic (reasonable). After all, doubt can set in and fester if something is too good to be true. Lastly, the talk trigger should apply to all customers (repeatable). If a talk trigger is a one-time deal, why would people keep talking about it?
DoubleTree's chocolate chip cookies are a great example of a talk trigger. For over 30 years, the American hotel chain has been giving each guest a warm chocolate chip cookie upon check-in. The cookies made such a huge impression on guests (and non-guests) that they can't stop talking about them. So much so that even the mere mention of "cookie" is enough to remind people of DoubleTree.  

Stumped for ideas on how to create a talk trigger that works for your company? You can start by going over significant customer touchpoints (check your customer experience map) and then identifying potential triggers. Don't be shy to ask your customers for feedback and ideas on how you can serve them better in each of those touchpoints. Once you've gathered those ideas, it will be much easier to think of something that will knock your customers' socks off.
You can learn more about talk triggers at TalkTriggers.com.
7. Launch a referral program
Much of this blog post has already talked about how word of mouth marketing is so much better than other forms of advertising.
But let's get one thing straight: It's not always the case.
For all the advantages word of mouth marketing has over other marketing channels, it is rather slow. Not to mention that you don't have full control over the process. If you're a small or medium-sized business, you might not be able to afford waiting that long.
So, how's this for a solution: Instead of waiting around for customers to generate prospects for  you, why not take matters into your own hands by launching a referral program?
A referral program, after all, is a more direct or deliberate way to encourage customers to advocate for your brand.
Referrals are not just recommendations that happen in casual conversations. They are direct endorsements that facilitate a potential transaction between a business and a friend.
So, how powerful are referrals? Consider these stats:
Customers are 4 times more likely to buy when referred by a friend (Nielsen).
Referred customers can increase profit margin by 25% (Wharton).
Referral leads convert 30% better than leads generated via other channels (R&G Technologies)
But there's a problem: the simple truth is that most customers won't send you referrals.
They might be thinking:
"What if I send you referrals and you mess up?"
"What's in it for me?"
" I want to send referrals, but it's too damn awkward."
So, how do you convince your customers to send referrals?
ncentivize the act of sending referrals (and choose the perfect rewards)
Offer rewards not just to referrers but also to their friends (via dual-sided incentives).
Make the act of sending referrals engaging and fun.
With the right systems and incentives in place, a referral program can help you turn your best customers into brand ambassadors. It's a  fantastic way to make customers feel more engaged about the referral experience. Best of all, it's a great way to acquire more customers without spending too much of your marketing budget.
In a digitized world where customers are everywhere, running a referral program can get overwhelming fast. Thankfully, you can use a referral program software like GrowSurf to run your referral program on auto-pilot, allowing you to focus on the needs of your customers and on things that move the needle for your business.
Final word
Word of mouth doesn't just happen. It's not something you can do ad hoc. If you want your word of mouth marketing to take off, you better start treating it like a science. Like any strategy, word of mouth marketing needs a strong foundation to stand on. It needs to be implemented in a way that encompasses the entire customer experience.
Finally, you can launch a referral program to give your word of mouth marketing strategy the kick in the pants it needs to supercharge your growth.
🌎 Social currency is the quantifiable impact of #WordOfMouth marketing

Yesterday I published a🧵 on how to build social capital

Today, I explain the 6 social behaviors that drive social currency (w/ examples)! 👇

— Chris Tweten 🍁 (@ctwtn) June 6, 2021
Request a demo of GrowSurf
Set up your referral marketing program with software that lowers your customer acquisition cost and saves you gobs of time.