Customers have trust issues, at least when it comes to brands.
If you want to earn their trust, let your existing customers do the talking for you and step out of the way.
After all, your happiest customers are the best marketers you could ask for.
They create the type of content that will truly move the needle for your business.
People call it User-Generated Content (or UGC).
Why is UGC such a big deal?
Because in an age where brands are pumping out content faster than you can blink, user-generated content is just the thing that will make you trustworthy enough to cut through the noise.
What is UGC or User-Generated Content?
User-generated content is any form of content about your brand that is created and published by users who are not employed or affiliated with your business. It could be a social media post, a video, a podcast, a review, or many others.
User-generated content is critical in marketing campaigns for one simple reason: customers trust it. In fact, 86% of Millennials trust user-generated content marketing more than traditional ads.
4 Reasons Why UGC Marketing Is Effective
But why exactly are UGC campaigns so effective? Allow me to share the 4 reasons why.
1. UGC provides social proof
Customers' purchasing behavior is greatly influenced by what other people buy. They can't help it. With so many choices out there, they don't have the time and patience to analyze which products or services would serve them best.  
They need social proof to make a decision.
Dr. Robert Cialdini, who coined the term, explains the principle behind "social proof" as follows:
"The greater the number of people who find any idea correct, the more the idea will be correct."
Social proof is a powerful motivator (since time immemorial) because humans hate uncertainty. And in a world that's moving faster than ever, customers need to rely on social cues to make quick decisions and move on with their lives without being left behind.
And in a world where content can go viral in no time, UGC is the best kind of social proof there is.
Whether it's a customer review, a social media update, or an unboxing video, UGC reinforces the idea that a brand is credible and legit. If a customer loves your SaaS tool and tweets how it has boosted her productivity, people within her network are more likely to believe that your solution is worth checking out (at the least).
2.
Customers trust each other more than they trust brands
We touched on this before but it's worth emphasizing: In the eyes of most customers, UGC is trustworthy content.
Put another way, customers trust each other more than they trust brands.
In fact, nearly half (47%) of Millennials and 36% of baby boomers trust UGC while only 25% of both demographics trust branded content. It's no wonder why two-thirds (72%) of customers are influenced by Instagram photos of other customers and that user-generated YouTube videos get 10 times more views than branded content.
This tells us two things. First, the pushy used car salesman stereotype is very much alive (and can you really blame customers?). Second, fellow customers are more trustworthy for the simple fact that they're recommending products without expecting something in return.
This is what you look like if you tell prospects how awesome your products or services are: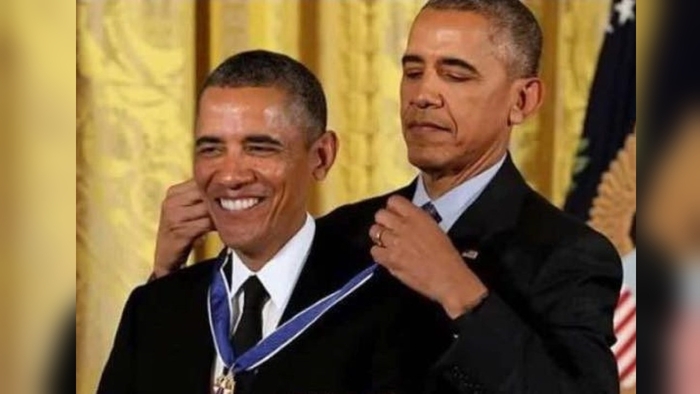 If you want to earn your target audience's trust, leverage the trust they have for your existing customers. Use UGC in your content marketing strategy.
3. UGC helps with community building
Growing a business is ultimately about community building. If you're not instilling a sense of community among your audience, you're not giving them a good reason to stay loyal to your brand.
As the great Seth Godin once said, "People don't buy goods and services. They buy relations, stories, and magic."
Think about it. As a customer, every purchase you make reinforces a narrative about yourself. But when you make a purchase based on a recommendation? You're also sharing that identity-forming narrative with somebody else.
UGC not only gives your audience the platform to share their stories and ideas, but it also helps the community find each other and connect to itself.
The human need to belong is strong. Use UGC to your advantage and that need will fuel your business to new heights.
4. UGC yields high ROI
Want to give your ROI a much-needed boost? A well-executed UGC campaign can help you pull it off.
According to a ComScore study, brand engagements increase by 28% when marketing campaigns are fueled by user-generated content.
No surprise there. After all, customers are more likely to engage with content that they trust and like.
If you've been at the marketing game long enough, you're probably aware that when you get engagement right, everything else follows. 50 followers who engage with your brand will do more for your ROI than 5,000 followers who don't.
Besides, when customers create UGC, they're virtually marketing your brand for free. And while you can do a little spending to encourage more customers to create user-generated content, you don't have to spend much on capital, labor, and time to pull it off.
The bottom line? An effective UGC campaign can give you more bang for your buck. While ROI attribution with UGC can be tricky, there are effective ways to measure the success of your UGC campaign.
Subscribe to GrowSurf
Get our weekly newsletter for our latest referral marketing guides.
Error subscribing! Please try again.
7 User-Generated Content Examples
Stumped for UGC campaign ideas? These 7 user-generated content examples will help spark some and serve as an inspiration as you build or refine your UGC campaign.
As a meeting and event planning platform, Bizzabo is competing in a crowded niche. But even with brands like Svent, Hopin, and Zoom around, Bizzabo was able to stand out from the crowd.
.So, what made Bizzabo successful despite the tough competition? 
It's their customer-centric approach.
Some of their customers were so happy with the product that they were all too happy to shower the brand with praises in the form of testimonials.
Did you know 95% of customers read reviews before making a purchase? This is why client or customer testimonials on your homepage are a big deal. Bizzabo made the most out of the testimonials they received, as seen below.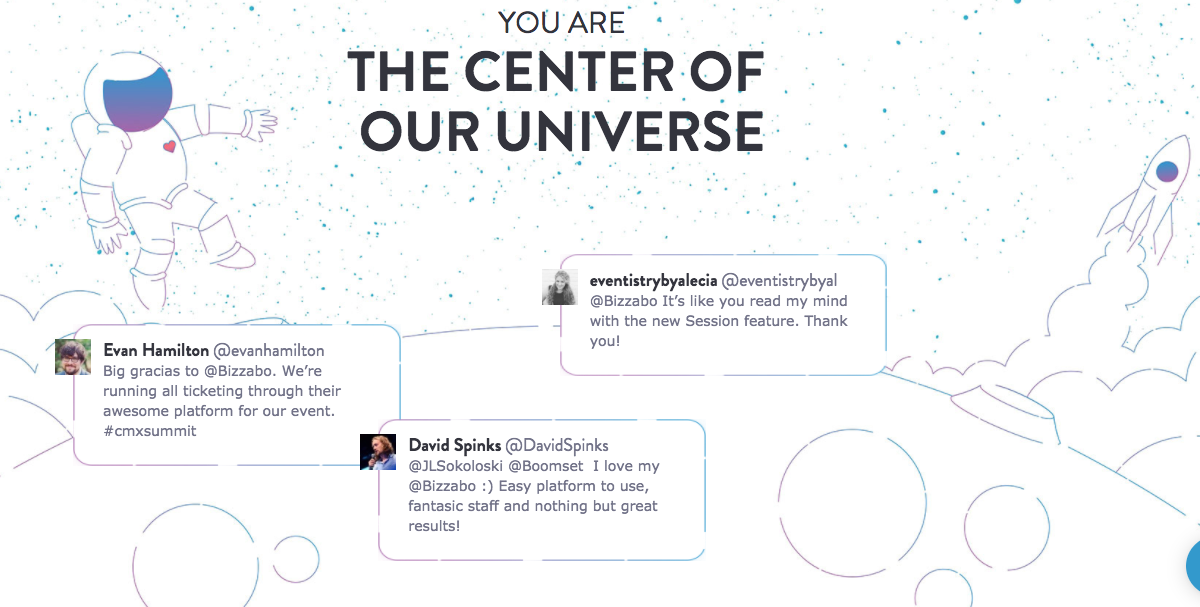 Customer reviews are powerful not only because they are more trustworthy and unbiased, but also because they speak the language of your potential customers.
Protip: Make sure to include a headshot and a link (to a website or social media account) for each client/customer testimonial. This is important so that visitors will know they're reading real reviews from REAL people.
Hubspot's reputation as one of the biggest names in the marketing world is already cemented. It's amazing how many Hubspot reviews there are on the web. How did the company do it? By using word of mouth to their advantage.
But the company didn't pull it off just by putting out a great CRM tool. The company did it by creating a movement that introduced the concept of inbound marketing to the world, virtually making traditional, interruptive marketing obsolete.
Hubspot didn't just become an inbound marketing thought leader, they gave people the exact tool they needed to do it.
Hubspot showed that when it comes to B2B sales, empathy is what wins clients.
Hubspot's clients can get behind that idea. And they love talking about how the company embodies that idea in their socials.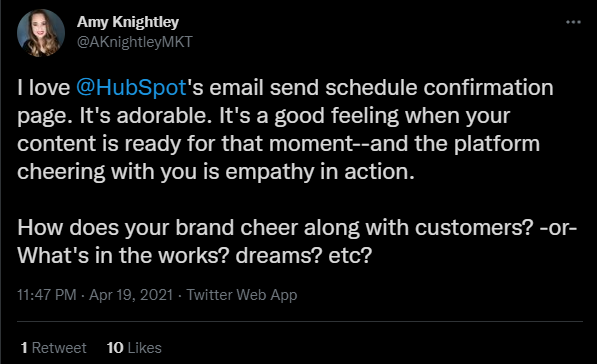 Hubspot forever changed the way we market, and the marketing world is all the better for it. This was made possible thanks to Hubspot's compelling story and the user-generated content that helped spread it.
Valdo Prosecco is one of the most popular wines in Europe. But in the United States? Not so much.
To boost brand awareness among the US population, Taub Family Selections launched an Instagram photo contest.
And why not? When it comes to boosting user engagement, running an Instagram photo contest is the ticket. By encouraging users to create and share content on your behalf, you can boost your visibility and get people talking about your brand.  
What's in it for US customers if they join? A chance to win a trip to one of the most beautiful countries in Europe—Italy.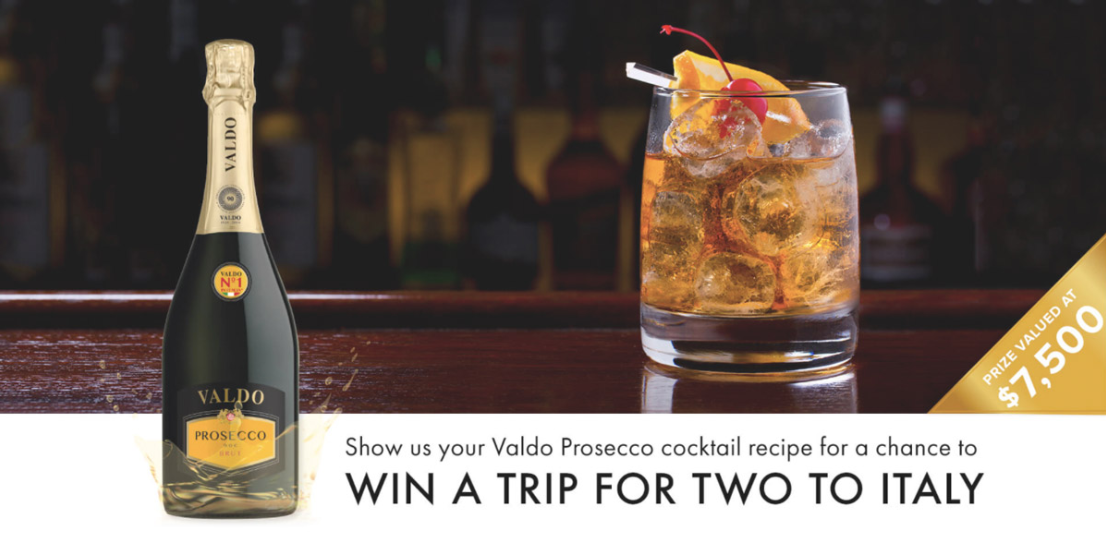 To participate, all customers had to do was take a photograph of a cocktail they made with Valdo Prosecco and then write a caption sharing their secret recipe along with the hashtag #whatsinyourvaldo
Taub Family Selections picked a winner out of 25 top-voted photo entries.
TheSkimm is a daily email newsletter that gives millennial women the "information they need to live their smartest lives." 
Thanks to the company's brand ambassador program Skimmbassadors, TheSkimm is one of the fastest-growing newsletters on the market.
Hiring brand ambassadors is another cost-effective way to market a brand. Brand ambassadors not only encourage your best customers to keep spreading the word about your brand, but they also help you take control of your brand story. Moreover, research shows that content created by brand ambassadors generates more engagement than content created by brands themselves.
Here's Skimmbassador @organizedadventure showing us how it's done. As with most brand ambassador programs, Skimmbassadors are encouraged to use the brand hashtags #Skimmbassadors and #TheSkimmLife to generate conversation and boost brand visibility.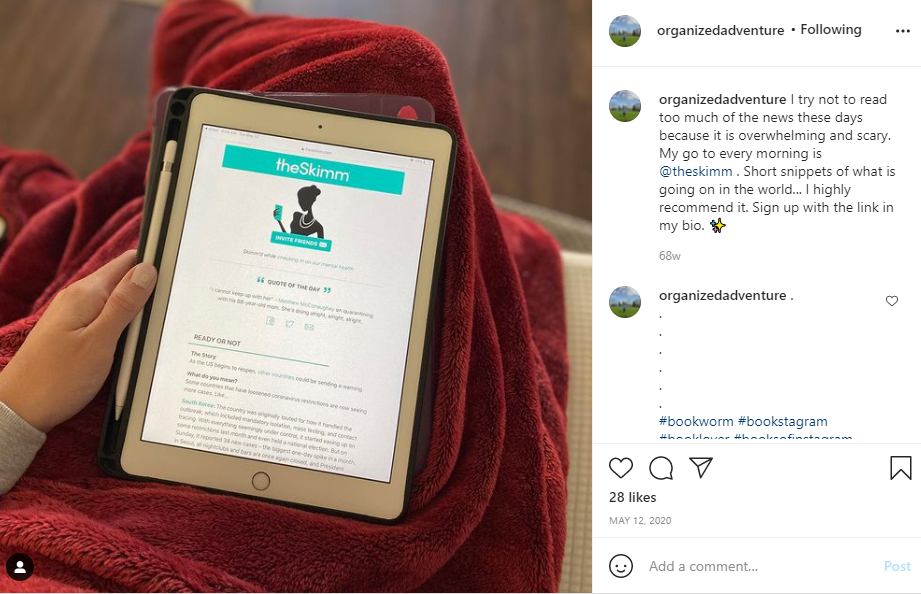 It's a tough economy out there, and millennials (and Gen Z-ers) need to take control of their finances to achieve financial freedom down the line.
The only problem is most millennials can't be bothered to trust banks or any other financial institution.
This is why Bank of America is focusing on catering to the millennial generation. If they can convince millennials to become clients and help them take control of their finances, the word will spread, perhaps in the form of user-generated content.
The convincing is the tough part. But Bank of America had something up its sleeves: influencer marketing.
Here's an Instagram post by fashion blogger Whitney Leigh Morris who partnered with Bank of America to tell their respective audiences about the value of saving and cultivating better money habits.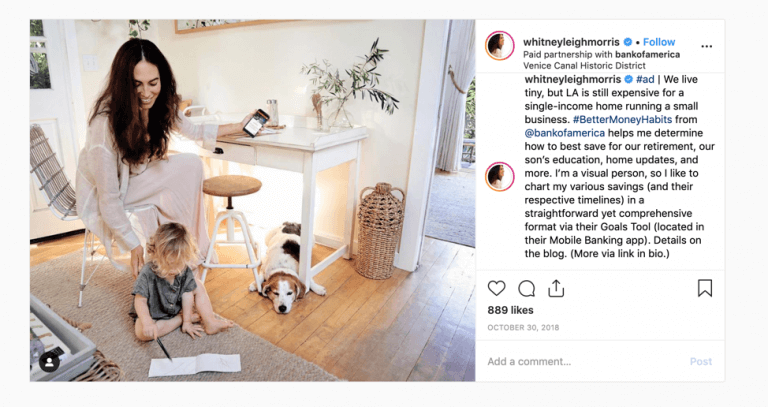 Millennials love influencers. If there's a person a millennial will pay attention to, it's an influencer they admire and adore.
More importantly, when an influencer posts about your brand, the audiences who follow them are likely to share their experiences as well in the form of user-generated content.
Skillshare is an online learning community that offers thousands of courses to help people learn and master real-world skills.
To give their online enrollment a boost, Skillshare launched a referral program with a double-sided incentive. For every successful referral, each new student gets 14 free days of premium classes while the referrer gets $10 in return.
Not a bad move. After all, referral marketing not only encourages your customers to send referrals, but will also create content to earn those referrals.
Simply put, referral programs are UGC-generating machines.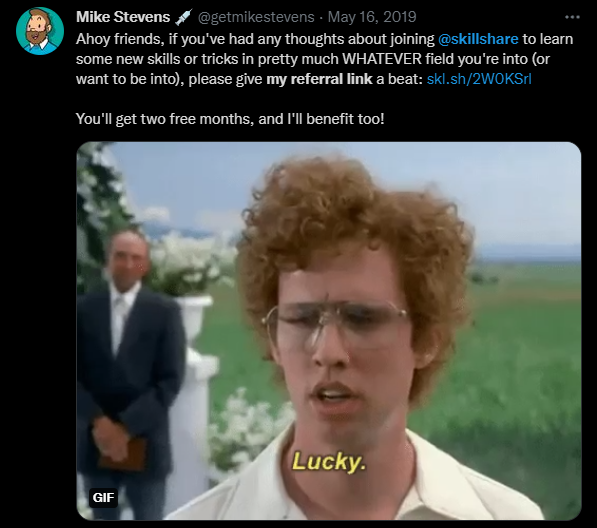 As you can see, it's even better if you're offering a double-sided incentive. Offering additional rewards for each successful referral provides referrers the added motivation to put their best foot forward when recommending your brand.
Does the modern customer still care about getting life insurance?
According to industry data, millennials are buying smaller and fewer term-life policies. Many refer to lack of resources and dependents and the main reason.
If you're a life insurance company, how do you convince millennials that buying life insurance coverage is worth it? 
Gerber Life Insurance did it by collecting individual customer reviews and then producing them all in one video.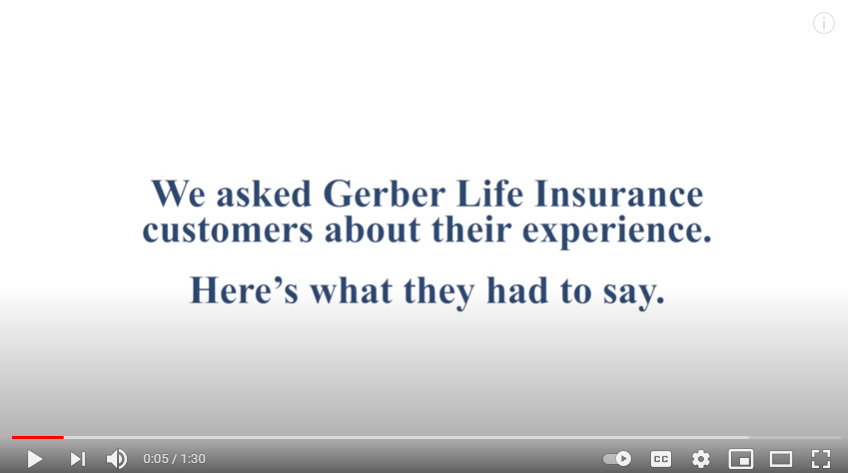 This is a great move on Gerber Life Insurance's part. Out of all forms of UGC, UGC video has the best potential for shareability.
Final Word
User-generated content marketing is the best way to foster trust among your audience and build credibility around your brand. By encouraging your satisfied customers to keep vouching for your brand via UGC, you're giving yourself an advantage over your competitors.
Knowing the 4 reasons why UGC marketing effective is key to creating effective UGC campaigns.

UGC provides social proof (use social cues to your advantage).
Customers trust each other more than they trust you (leverage that trust so prospects trust you more).
UGC fosters community building (stoke your audience's sense of community to encourage UGC creation)
UGC yields high ROI (make customer engagement the main driver of your ROI).
Lastly, I hope that the 7 UGC examples provided here will give you the insights and the inspiration you need to create an effective UGC campaign that will turn your customers into brand ambassadors.
Request a demo of GrowSurf
Set up your referral marketing program with software that lowers your customer acquisition cost and saves you gobs of time.