Referral marketing programs are an excellent way for companies to increase customer acquisition and revenue.
But what happens when you scale your referral program? If you're not careful, the process of running a referral program can become time-consuming and expensive.
That's why it's crucial to build a scalable, automated referral program that scales with your business needs.
By automating the entire process, you'll save yourself time and be able to focus on other aspects of your business.
This guide will help you learn how to automate your referral marketing program and make it easier to manage.
Perks of Automating Your Customer Referral Program
No more tiresome manual work. Managing a referral program with a few hundred participants may be done manually – if you have a super productive sales team. But what happens when your program grows to a few thousand participants? This will involve plenty of manual work, from writing individual emails to issuing rewards. You'll need one hell of a team to make this happen without the help of automation.
Saves your team valuable time. Referral management software automates many processes to make it easy for your team to set up campaigns efficiently. Automation will automate emails to promote your campaign, give new participants their unique referral link, notify winners, and send monthly reminders.
Boost business revenue. Automation is built into platforms like GrowSurf. The automation tools will take care of running a referral campaign, from email link tracking to reward fulfillment. You'll finally have that time to focus on more crucial matters, like improving your ROI.
Reduced costs. With automation, you don't need a big team to manage your referral program. You only need a few good people to keep an eye on the process and several tools like GrowSurf and MailChimp to do the hard work. You don't need additional sales team members to send out emails or promote the program. Even better, marketing automation doesn't require exceptional tech skills. Even marketers with a bit of tech knowledge can manage workflows.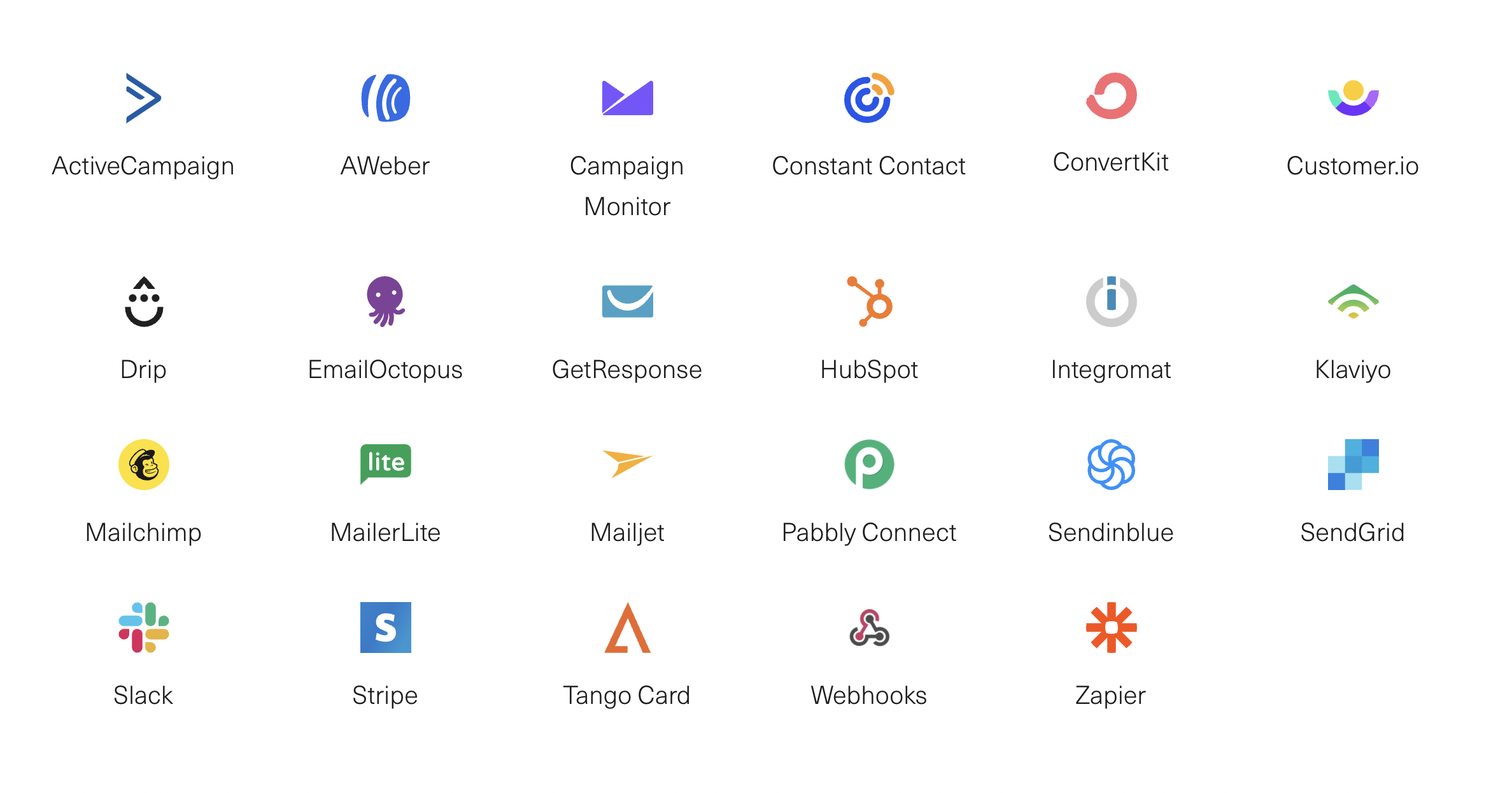 Automating Your Referral Program 
The good news is that there are plenty of tools you can use to automate the entire referral program from start to finish. These tools can include a referral marketing software like Growsurf, a CRM like Hubspot, and an email marketing platform like MailChimp. Even better, most referral marketing software let you connect with your CRM, email marketing system, or other important tools like Stripe so that the entire process is automated from end to end.
Capturing New Leads
When someone visits your site (directly or via referral link), the customer referral software you have in place can be set to capture the new visitors' emails and automatically add them to your campaign as new participants. If they were referred, the system would associate them with their referrer.
For example, GrowSurf's automagic form detection works with any form you already have on your website to add new participants and track referrals automatically. This allows for proper referral tracking and association to happen.
If you choose that completing a sign-up form counts as a successful referral, this action will automatically count as a successful referral. If you choose a custom event as your referral trigger (e.g., subscribing to a paid account), the sign-up will not count as a successful referral until the new lead performs the custom event.
All participants will be automatically added to your dashboard, where you can track their status. If they were referred, their referrer would be tied to them.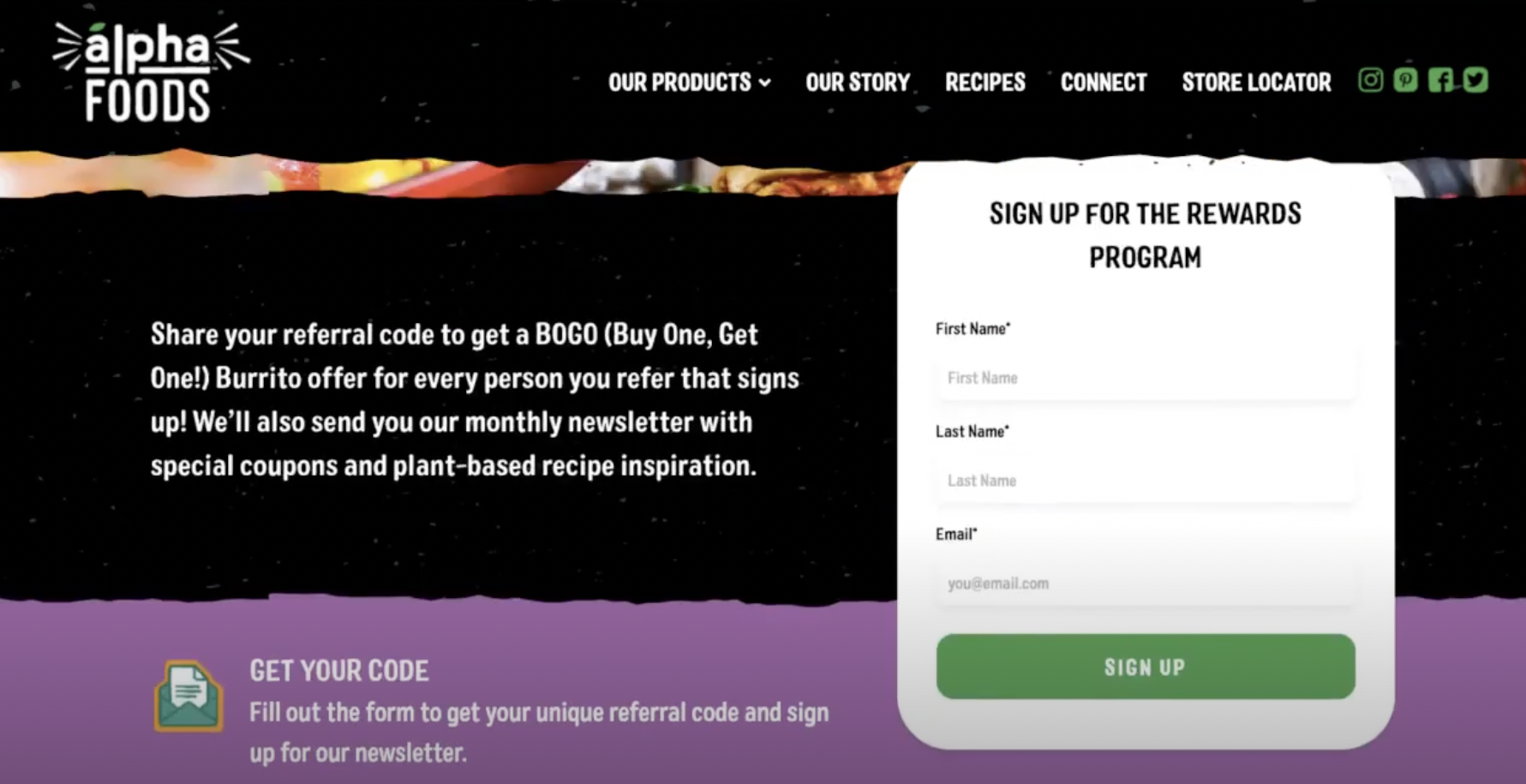 Emailing Newly Referred Participants
You can easily set specific emails to be sent when certain referral events happen within your campaign.
For example, let's say the referrer invites their friends to join the custom referral program. With an email automation tool like Drip, you can automatically send the newly invited participant an email – that can be fully customized by you – informing them they have been added to the referral campaign.
Additionally, consider sending automated emails to non-referred participants that were added/imported manually.
Promoting the Program
The best thing you can do to ensure your program gets the popularity it deserves is to tell your customers about it.
Luckily, there are many tools you can use to automate the entire promotion process in a matter of a few hours – MailChimp and GetResponse are only some of them.
For example, you can choose to promote your referral program via newsletters you'll send out on a weekly, monthly, or bi-monthly basis, depending on your preferences.
Additionally, you can automatically promote your program in your email signature. Adding a link to your referral program into your email signature will make it very visible and easy for customers to get all the details about the program. On the plus side, it's incredibly easy to do – simply set it and forget it. Even better, it's subtle and not as obvious as other tactics.
You can even automate to promote your program after a customer performs a certain action, such as making a purchase.
The best thing is that most email marketing tools come with pre-made email templates that you can customize to fit your brand voice and look.
What's more, you can also use social media to promote your program. By using a tool like Buffer, you can automate social media promotion to happen on a daily, weekly, bi-weekly basis, depending on your preferences.
Even better, you can promote your program in user accounts.
Think about it: your customers may be spending a great deal of their time here. They'll see your referral program every time they log into their account.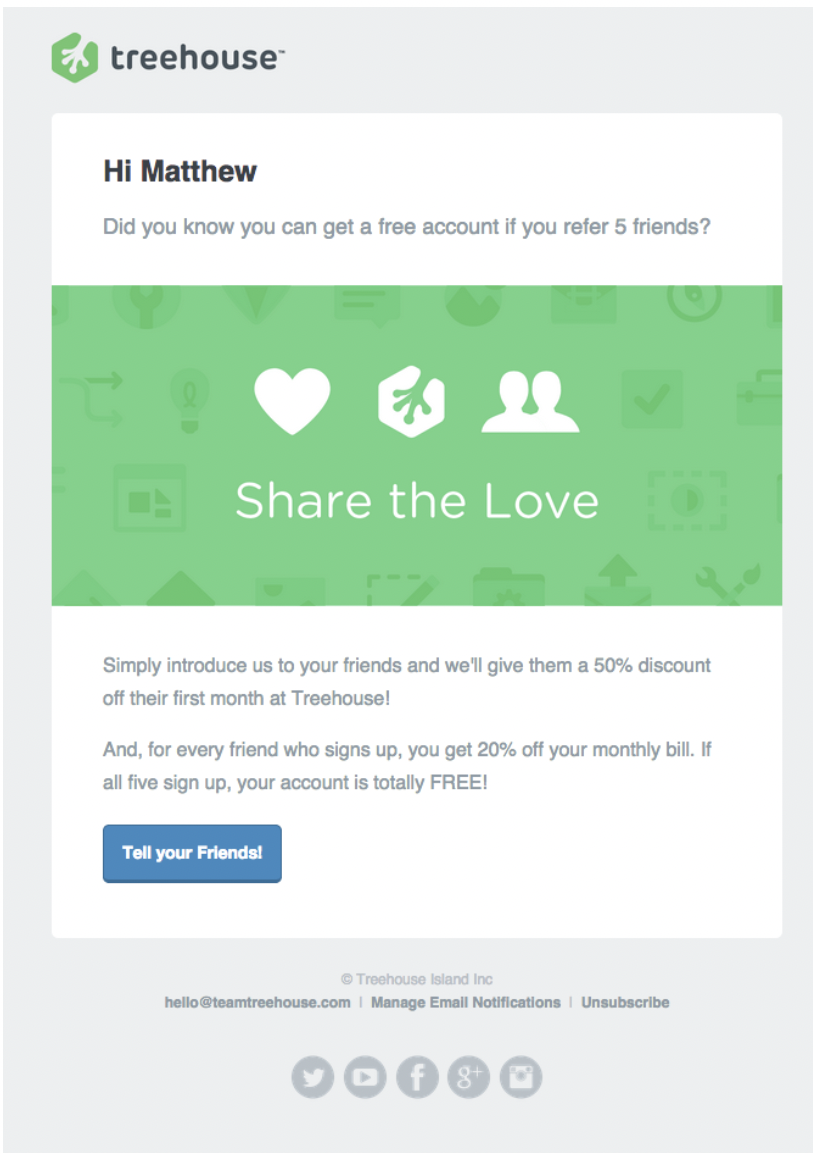 Managing Rewards
When creating a customer referral program, you get to choose the type of rewards you want to give out to your customers – one-sided, two-sided, milestone rewards, etc.
For example, you can set up for both the referrer and their friends to get rewarded when a referral happens. This will apply to every person who refers your brand and the friend who takes action through that link.
What's more, you can choose how many referrals a person needs to unlock their reward and the expiration period of the referral link. For instance, if the referred person doesn't perform the desired action within the given time period, they will be tagged with an "action expired" label on your dashboard.
Even if you have a custom reward that's very specific to your business, tools like GrowSurf let you automate it through integration with Zapier and Webhooks.
Zapier is a code-free way of connecting to 2,000+ apps. For example, you can connect to a third-party service to automatically ship out branded merchandise when a person unlocks a reward.
Webhooks can come in handy when your reward is something very specific to your business. Webhooks are automated messages sent from apps when something happens. Let's take Dropbox, for example. When a successful referral event happens, the server will receive a webhook payload that they would then use to determine who the referrer was to apply cloud credits to their account.
Additionally, some referral systems let you:
Manually approve rewards 
Automatically approve all rewards but manually mark them as fulfilled
Automatically approve and mark as fulfilled 
Let's say you choose to manually approve rewards. In this case, an email will be sent to you every time you need to approve a reward in order to get unlocked for the winner. But if you want to avoid the manual work, you can always choose to automatically approve and mark as fulfilled. In this case, every process will be automated and you won't receive any notifications.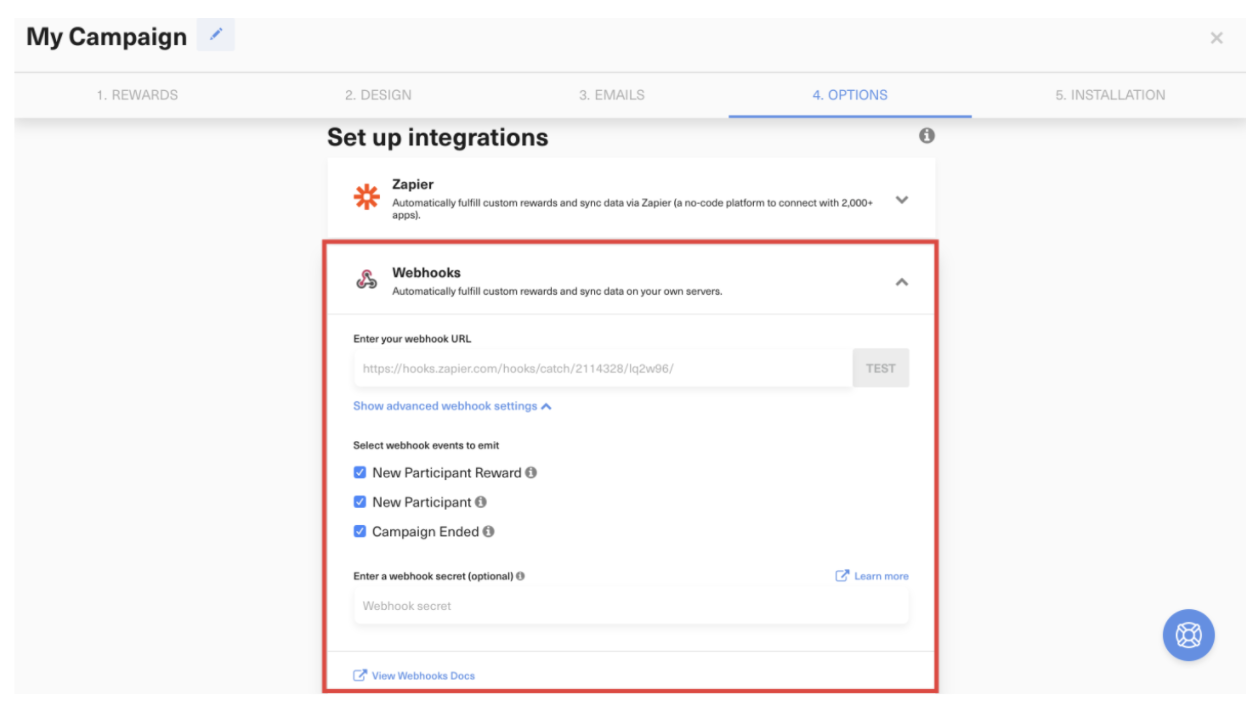 Fraud Prevention 
Not all of your customers will be as sweet as a rose. Some of them might try to engage in fraudulent activities, such as:
Self-referrals : This type of fraud happens when the participants refer themselves. In this case, they get rewarded as both the referrer and the referred.

Duplicate referrals : This type of fraud involves the same person signing up as a referral more than once.
Most referral marketing software come with an anti-fraud system that can be automated to detect risky behavior by suspicious participants. These participants will be visually displayed on your dashboard.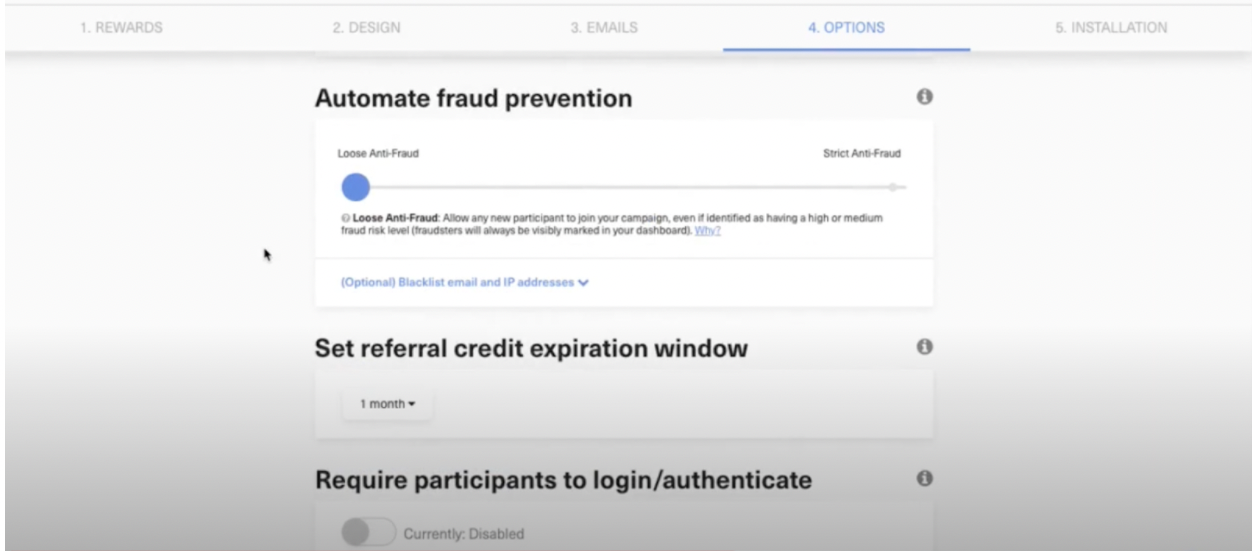 Reminding People to Promote
Let's imagine the following scenario:
A customer signed up to your referral program. However, right before they got the chance to send their unique referral link to a friend, something distracted their attention.
This is normal and can happen to many people. That's why you have to make sure to remind your customers to promote your program.
For example, if there are some customers that haven't been active for a while, send them a reminder email. This process can be entirely automated with a CRM system.
Here are some other actions you can take to remind people of your program:
Schedule reminder emails to people who have been inactive for a certain period of time
Send reminders to all customers every quarter
Send reminders to everyone who clicked on your referral program but did not complete an action
Measuring Referral Program Performance
As customer retention software, referral marketing platforms also provide a dashboard of each participant's activities: when they signed up, how they shared, who they referred, and more. Your team can quickly identify top performers and those who may be leaving your program soon.
The dashboard is your centralized view of seeing how well your referral program is doing. For example, you can:
See the total impressions, participants, and referrals based on a specific timeframe
Understand which social channels your participants are sharing on the most
Import your existing participants' list or download your participants' list 
See granular details of your participants and their activity 
Manage rewards
The best thing is that you don't have to do anything from your end. The platform will keep track of your key metrics automatically and serve you the data to help you improve the effectiveness of your program.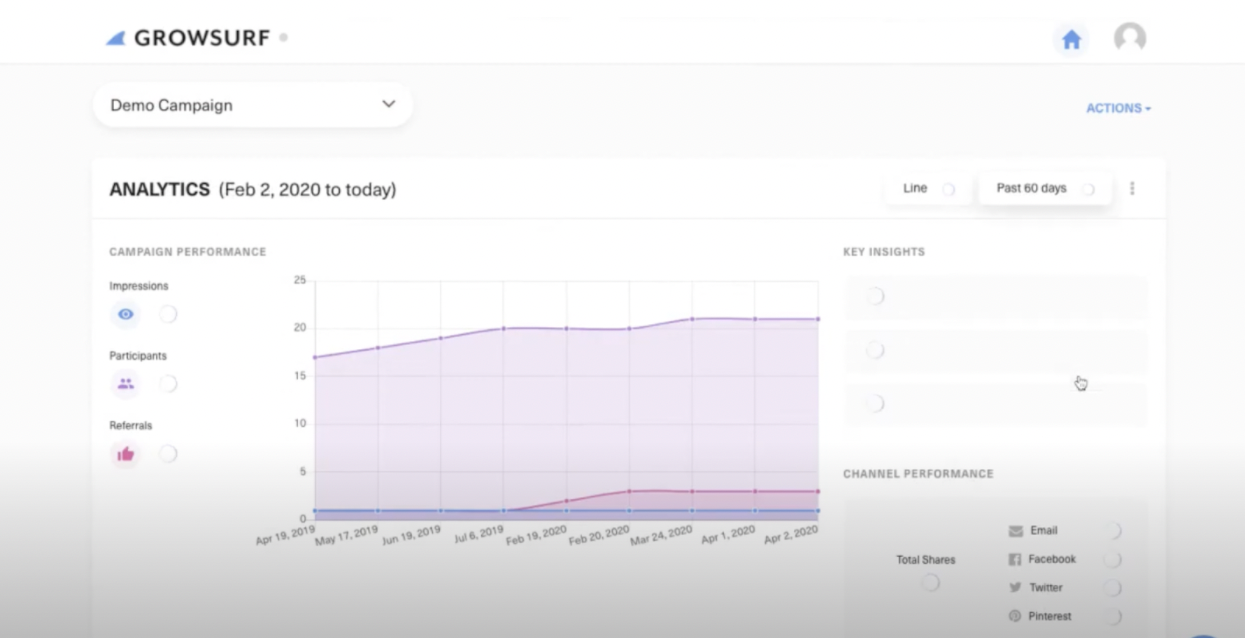 Recommended Automation Tools
Let's take a look at several automation tools that you can use to automate your referral marketing program from start to finish. This is only a list of some of the tools we recommend. There are hundreds of others that may benefit your business but didn't make it to the list:
Final Word
And there you have it!
Several actionable ways you can use referral marketing automation tools to save time and grow your presence.
And everything starts by having a powerful referral marketing platform in place. Most referral marketing platforms will integrate with all the tools you need in order to automate your program from start to finish.
To sum up:
By automating your referral marketing program, you'll save yourself time and be able to focus on other aspects of your business.
Some of the perks of automating the process include reduced manual work overload, an increase in business revenue, and reduced costs.
There are plenty of tools you can use to automate the entire referral program from start to finish. These tools include a referral marketing software like Growsurf, a CRM like Hubspot, and an email marketing platform like MailChimp.
There are several processes that should be automated, including: increasing the number of sign-ups, emailing new participants, promoting the program, managing rewards, fraud prevention, reminder emails, and measuring the effectiveness of the customer referral program.
Have questions about GrowSurf?
Talk to a referral marketing expert today.