Image source: "A Man Holding A Card while Using His Laptop", by Ivan Samkov, licensed under Free to Use
But there's one problem: the growth has stalled. Prospective clients are harder to find, and it's becoming more difficult for you to sell your product or service.
You might be asking yourself:
How can I improve customer acquisition strategies as fast as possible? 
Well, we have good news:
There are some surefire ways to acquire new customers, although it'll take some work on your part.
Why? Because everything in business comes down to strategy, planning, and analysis.
Certainly, there's no magic formula that will help you achieve success overnight, but with the right approach and techniques, you can make things easier on yourself while improving ROI simultaneously.
Here are 10 proven tactics for developing effective customer acquisition strategies for B2B, B2C, Fintech, and SaaS companies.
#1 Build a Product/Service People Want to Buy
No customer acquisition strategy can save you unless your service or product is of great quality.
Let's take Google Glass as an example of a failed product. Google introduced this product in 2012 as a small, lightweight wearable computer with a transparent display for hands-free work. But after two years of low sales numbers, it was evident that people had an issue with the product. Low battery life, reported bugs, privacy concerns, and an inability to live up to the hype were some of the reasons for the product's failure.
What can we learn from Google Glass?
The moral of the story is very straightforward: you have to spend a considerable amount of time and resources upfront to ensure your product or service is of as high a quality as possible.
This will make you more appealing to current customers and save you plenty of costs as the product/service will market itself.
Image source: Google
#2 Target the Right People
Even if you have the best product/service on the market and are putting together a new customer acquisition strategy, you are wasting your time if you are not targeting the right people.
This means you must put in the legwork and conduct thorough research to determine your ideal customer. If you genuinely want to succeed, you need to stop wasting time and money on people not interested in your product or service.
For example, let's say you have an online workout app. The target audience of a workout app can vary significantly, considering that more people are looking for ways to stay healthy at home.
Your ideal customer can be anyone from stay-at-home moms to freelancer workers who need a healthy break from work.
When creating your target person, think about the following:
Where they live
Their behaviors and preferences
Their societal beliefs
Their income level
Only by having this detailed info at hand will you be able to attract their attention with the right marketing tactics.
At the start, it's better to find a more niche audience and market just to them. As you expand your business, you can start selling to more people. For example, you begin by building programs for more advanced fitness levels. As your business grows, you can introduce lower-impact or post-natal programs to target different audiences.
#3 Use Data to Identify Key Channels for Acquisition 
If you want immediate improvement in your customer acquisition strategy, you need to understand the channels that work best for your business.
This requires you to look at your data and see which channels bring in the most conversions. As a rule of thumb, you should focus on cost-effective channels with a high conversion rate.
Let's say your business is selling online courses. You can use Google Analytics to find out where people are visiting from and what referral sources are bringing in the most visitors. If you identify that social media yields the best results, especially Linkedin, then focus your efforts on that channel.
#4 Acquire New Customers Through Great Content
There are many ways to improve your customer acquisition strategy, but content marketing is one of the most overlooked strategies.
Many companies focus on paid ads, giveaways, and other promotional activities, but they neglect the massive potential of content marketing. In fact, content marketing is an effective way for customers to learn about your brand, expertise, and products or services.
According to a report by Semrush, 73% of brands spend 10-70% of their total marketing budget on content marketing. What's more, 72% of brands plan to increase their content marketing budget in 2022.
You can reach a wider audience, boost your brand visibility, and generate leads through content marketing. If you want to make content marketing work for you, you need to focus on creating valuable content, have a consistent publishing schedule, and invest in guest posting. The last element is crucial, as it will help you to build relationships and promote your products and services through other businesses.
Another effective content strategy that's been creating a lot of buzz in recent years is video content. According to the same report by Semrush, the highest performing type of content is video, with 37%, followed by blog posts with 36%, success stories with 22%, and case studies with 16%.
The main reason why video is so popular is that it is more engaging than other marketing formats. If a customer watches a video about your product, there is a high chance that they will retain more information than if they read about it. There's even real science behind this fact: the average person remembers 95% of a message while watching it and only 10% of a message when they read it.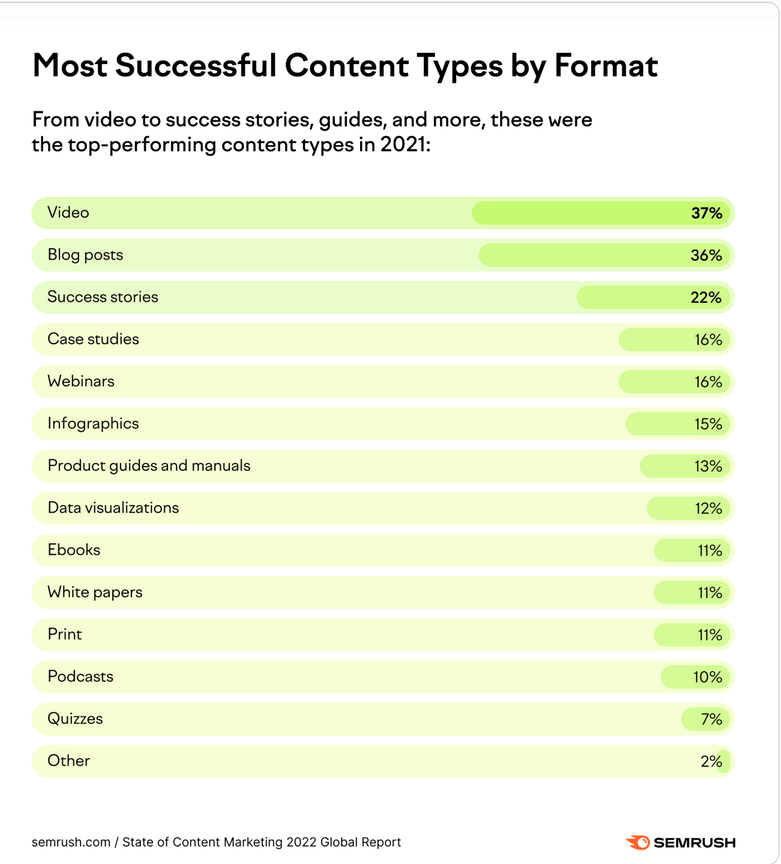 Image source: "Content Marketing Statistics", by Semrush
#5 Don't Forget About Email Marketing
You're probably wondering:
With so many new-age tools available, like Youtube videos and paid ads, why should I invest in email marketing to acquire new customers?
Although email marketing has been around for a few decades, it's still relevant today.
Get this:
Currently, there are 4.3 billion email users.
This number is predicted to grow to 4.6 billion email users by 2025. Email marketing is simply an opportunity you can't afford to miss.
Another important fact is that email has a high ROI. For every $1 you spend on email marketing, you can expect an average return of $42.
Here's something else that might interest you: 81% of SMBs still rely on email as their primary customer acquisition channel.
The good news is you don't need a high budget to start an email marketing campaign. The first step is to build an email list that contains the email addresses of potential customers. You can offer downloadable content for free in exchange for a person's email address. Another way of collecting emails is by asking your website visitors to subscribe to your newsletter.
The next step is to segment your list and start sending personalized emails to each segment. Consider using an email marketing software like Mailchimp that comes with in-built segmentation and reporting features to help you improve your email campaigns.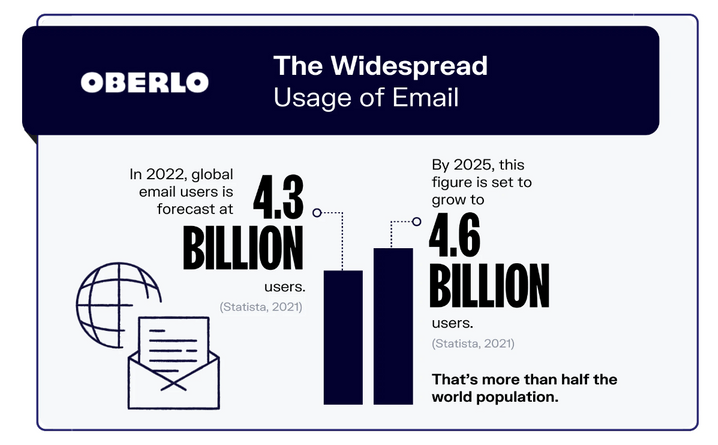 Image source: "email marketing statistics", by Oberlo
#6 Organize Events
Growing your business and acquiring new customers sometimes demands something more than blog posts and email campaigns.
Another great tactic for customer acquisition that works like a charm is organizing events. This can be anything from online webinars to conferences.
By organizing events, you have the opportunity to not only showcase your product but to engage in meaningful conversations with your target audience. Event marketing is a fantastic way to acquire new customers and strengthen relationships with existing ones.
To benefit from event marketing, you must choose the right event for your business.
For example, let's say you have a meditation app. In this case, you can organize webinars where you'll talk about the health benefits of mindfulness mediation. Alternatively, you could organize a conference or seminar and invite prominent figures in the meditation industry to act as speakers.
#7 Offer a Freemium Version of Your Product
The following tactic would work the best for B2B SaaS businesses.
One of the best ways to get people to try your product is by introducing a free plan. Just look at companies like Mailchimp, Slack, and Asana. Besides being the leading players on the tech scene, they also have something else in common: they all offer a freemium version of their product.
Follow in their footsteps.
This customer acquisition strategy for startups will help you generate leads and introduce your product to potential customers without investing a lot of money in the process. Freemium can also help you to test the waters and see what kind of demand there is for your product. It'll be an excellent opportunity for customers to check if your product/service is a good fit.
Many people are willing to try a new product, app, or service when there's no pressure to buy. What's more, some freemium customers will convert to paid premium customers, which will increase your revenue in the long term.
An alternative to a freemium version would be a free trial that can last anywhere from a few days to a month.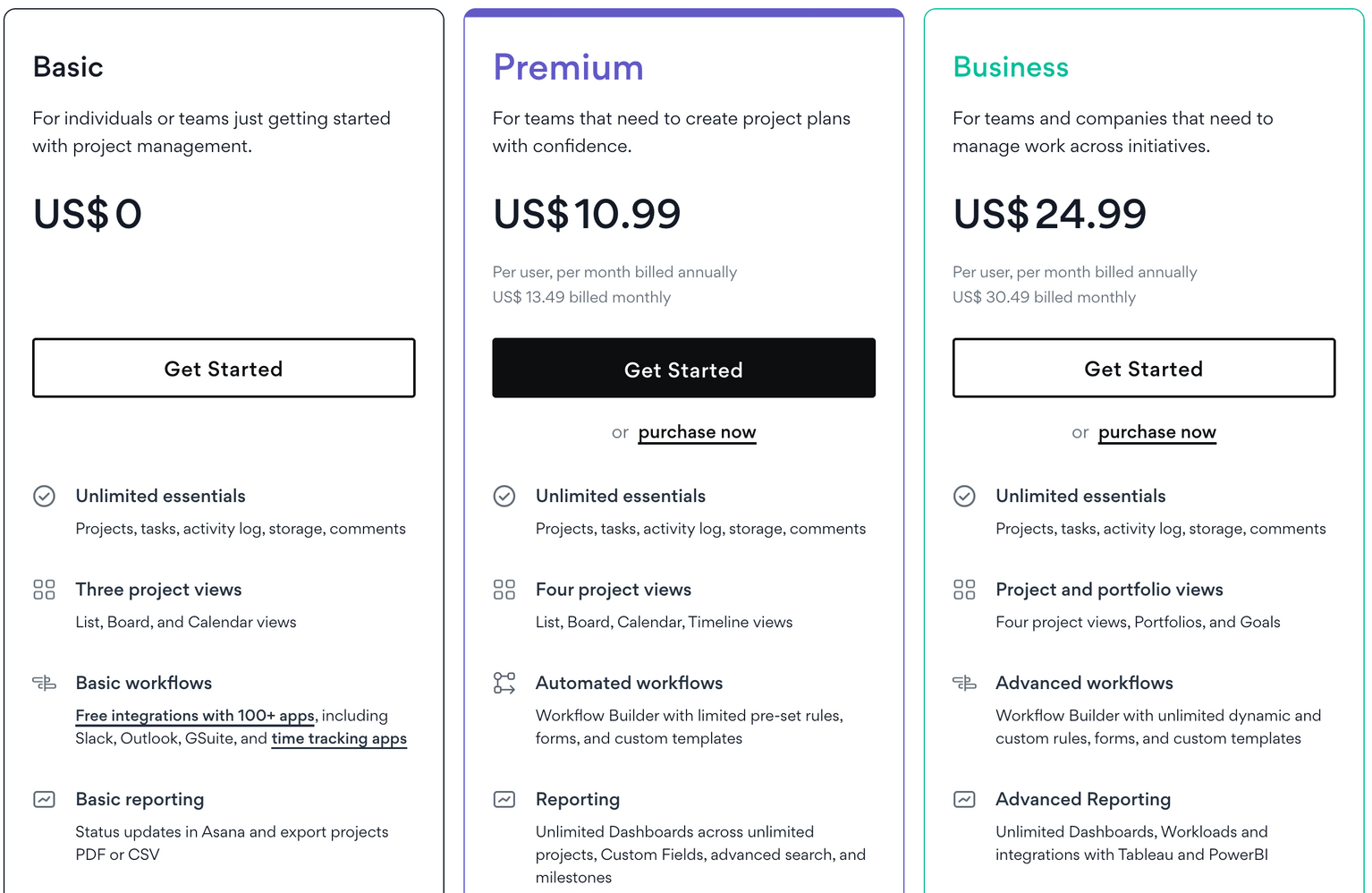 Image source: "Asana pricing", by Asana
#8 Create a Customer Referral Program
Did you know that your existing customers are a goldmine of opportunity?
That's right! They are an effective and cost-effective source for acquiring new customers effectively.
If you want to improve your customer acquisition strategy and encourage your existing customers to purchase more from you, a customer referral program is the way to go.
Get this:
People trust the recommendations of their friends and family members more than they trust online ads. As many as 83% of people in 60 countries said they trust the recommendations of friends and family.
Even better, referral programs have a high ROI.
You can offer anything from discounts to free upgrades of your product/service. The trick is to choose a reward that makes sense for your business and that your customers would be interested to get.
Suppose you're an online insurance platform. Offering free storage space, for example, doesn't make sense. On the other hand, discounts and cash rewards sound like something your customers would be interested to get, and the rewards fit your business model.
The frequency of the purchase is another thing to consider when choosing the best rewards for your customers. Cash, brand swag, and gift cards are great incentives if your customers make infrequent or big-time purchases. But if your product or service is purchased on a more frequent basis, free subscription services and discounts are all great incentives.
Finally, don't skip on investing in a good referral program software. Doing so will help you save on time and development resources. On the plus side, you'll be able to automate the entire process from start to finish.
Request a demo of GrowSurf
Set up your referral marketing program with software that lowers your customer acquisition cost and saves you gobs of time.
#9 Partner With Existing Brands and Influencers 
We've all heard stories about companies that have grown thanks to partnering with popular brands and influencers. These businesses have partnered with famous brands, bloggers, and social media stars who have large followings on their channels.
As a result, they have seen an influx of new customers. And this tactic can be used by all kinds of tech companies, too, including SaaS and B2C.
One great strategy would be to partner with another well-known company to share common customer bases, boost your brand's reach, and create a customer exchange channel that'll be useful for both partners equally. Some of the most popular SaaS brands like Zendesk and Hubspot launched their partner programs at their early stages. By doing so they managed to scale their business, speed up growth, and boost revenue.  
If you're a SaaS business, you can partner with another brand with a SaaS product. You can make it possible for your product to integrate with their product and vice versa.
When it comes to working with influencers, you have to be careful in your choice. Companies that use industry experts as their influencers have the upper hand. The influencers you work with should have industry prominence, specific expertise with B2C products, and some interest in your brand. For example, if you have a fitness app, your target audience will be more attracted to buy the product if it's recommended by someone reputable in the fitness world.
#10 Allocate Resources Toward Search Engine Optimization
SEO is still one of the best ways to drive traffic and acquire new customers.
Get this:
Here's the thing about SEO: it's an inbound marketing strategy. Inbound marketing is more customer-centric, making it easy for people to find you when they want information.
On the other hand, outbound marketing like paid ads, cold calling, and spam emails are more intrusive and advertiser-oriented. And many people find them utterly annoying.
SEO marketing is more convenient for customers and can lead to more qualified leads for your business.
Final Word
The fact is that acquiring new customers is one of the most challenging aspects of growing a business. That's why you must use all the tools at your disposal to improve customer acquisition strategies and achieve success. Partnering with well-known brands and influencers, investing in SEO, creating a customer referral program, and implementing other proven tactics can help you grab the attention of your prospective clients. Once you've got their attention, the rest is easy. If you have a great product or service, plenty of customers out there would love to do business with you. All you need to do is find them. These 10 customer acquisition strategy examples will help you do just that. Good luck!
Request a demo of GrowSurf
Set up your referral marketing program with software that lowers your customer acquisition cost and saves you gobs of time.