A Consistent Flow of Reviews is a Game Changer
Knowing how influential customer reviews are to a company's image is not just important, but necessary. Why? 84% of Americans say that they read reviews before making a purchase decision. More and more people are turning to reviews before making any decision, meaning that the importance for companies to focus on them is only growing from here on out. Understanding how to effectively and confidently ask customers for reviews will have long-lasting effects on your business.
If you're in a customer-facing role, you know how tricky it can be to get customers to leave reviews. But this is an important part of your marketing strategy and should not be overlooked: ratings and reviews are as good as gold! Don't wait for your customers to leave them – take the lead! Ask your customers for their honest review of not only your product but their overall experience with your company.
But how do you effectively ask your customers for reviews ?
Just like asking for referrals or asking for feedback, requesting reviews may feel awkward or self-serving for some businesses. Keep in mind the power reviews carry. A single glowing review can boost your online reputation and bring lasting credibility for your company, as easily as a poor one can be difficult to recover from.
It's important to ensure your request for a review is well-timed and polite. Follow up correspondence should acknowledge the favor with total transparency. Be sure to note how much you appreciate their business and how crucial positive reviews can be in helping other similar-minded people find your business. These steps may be challenging at first but don't worry. If customers understand how important their reviews are to you and your company, more often than not, they will be happy to share their feedback.
Satisfied customers will often want to share their positive experience with others. So asking them to do so on your behalf generally isn't too much to ask. Especially if your product or service offers incredible value. People love to share their opinions, so give them an opportunity, take initiative and reach out. Real reviews build social proof your consumers need to inform them and influence their buying behavior for the better.
In this article, we take a closer look at strategies companies can use to get the most out of their review requests and address how this can change the way your company operates and communicates with consumers.
Why Online Reviews are Important
The more reviews you have for your business, the better. But if even a handful of those are negative, the impact on your orders could be devastating. That being said, it's always better to have some reviews than none.
"Only a fool learns from his own mistakes. The wise man learns from the mistakes of others."   Otto von Bismarck
Was Otto talking about the latest pair of booty boosting leggings on Amazon? Probably not. But the message does echo that of a buyer-beware and consumer reviews flipping the switch products that don't live up to their claims. Business owners have to re-think the traditional marketing model.
Reviews are an important part of a company's image. A few words from a real customer can have more influence on shoppers than your entire website. In some cases, just half a star difference can be what tips the scales in favor of another business over yours.
The power of word-of-mouth speaks volumes. Whether you're a business or consumer, reviews are an essential part of any purchase decision as they provide insight into the quality and value of something before any money changes hands.
What existing customers say about your company holds a substantial amount of influence and can make a difference in whether new customers buy from you or not.
Here are a few more stats, if you're still not sure you if you should build internal processes to ask for reviews:
People Love To Share Their Experiences: In 2019, a BrightLocal study showed that 76% of people who are asked to leave reviews do so. This is an increase from 70% the year before.

Reviews Help Consumers Navigate A Crowded Marketplace: When you're looking to buy a new product, reviews are an invaluable resource. Shopping online can become stressful with so many options and multiple vendors. Reviews are a great way to figure out if someone's selling something legitimate or not and alleviate some of that anxiety.
People Value Feedback: Google's search data has shown that people are increasingly looking for reviews and opinions on products to help them make the best possible purchase. In fact, searches for "reviews" have increased by 35%. Additionally, searches like "best" have increased by 80%, showing consumers' are actively seeking top rated products.
Social Proof Drives Conversions
Online reviews have a direct influence on sales. As such, companies are making sure their website showcases what their customers have to say about their experiences.
For example, we've recognized that developing social proof helps potential customers make an informed decision, so we leverage social proof to get new signups. You'll find Capterra ratings displayed prominently above the fold on our homepage. We also display testimonials from  customers with successful referral programs. This helps users better understand the full process and how referral software works.
Review Ratings Improve Trust
It's safe to say most people would trust a friend or family member before someone they met on the internet, but that isn't always the case when it comes to customer reviews. Most consumers trust online reviews as much or more than recommendations from family or friends, and the amount of trust consumers have in these ratings is growing.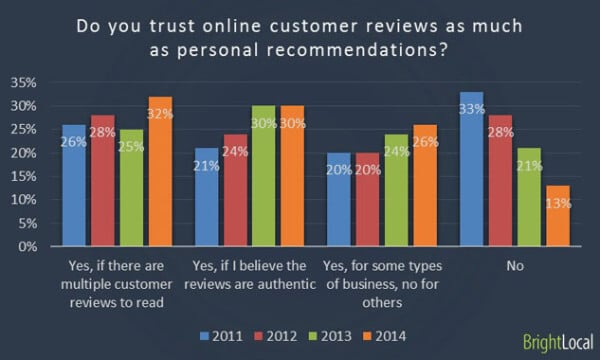 Reviews Build Word of Mouth
Word-of-mouth is one of the most powerful marketing tools. Marketers today know that people are more likely to trust a friend's recommendation than any other form of advertisement and what if there was an opportunity for brands to take advantage? What would happen at this moment in time where customers can be approached during their initial purchase giving feedback on products as they go, or captured moments after competitors have entered your territory when you want those reviews first hand? The answers lie in capturing customer thoughts early on and at different points in the customer journey.
Benefits of Asking for Reviews
Reputation Building
If you're a business owner, reviews can be your best friend. Reviews are great for building brand awareness and there's no better way of telling if something works than reading what others have said in general. If someone shares that they love the quality of service offered by one particular company or write good things about your products in reviews it creates social proof. Social proof will give customers an extra push to buy from you because knowing that other buyers liked it before reinforces confidence in purchasing decisions.
Did you know that asking for reviews increases the average rating of reviews?

Brands who know how to ask for feedback typically have higher social currency than brands without a prompt to review. These types of requests usually maintain their score over time; Without a steady flow of happy customers leaving reviews, unrequested feedback may oftentimes dip in overall average star-rating scores.
Relationship Building
Relationship marketing builds strong connections with your customers by providing them with customer service that consistently exceeds their expectations. Effective relationship marketing keeps people coming back for more while creating happy customers who recommend you to their friends. The combination can turn fans into advocates leaving social media mentions or 5 star reviews more frequently than most. Keeping an open dialogue with customers by proactively asking for feedback will help your company to develop stronger relationships with your existing clientele.
SEO Boost
Research shows that more reviews will help you rank higher in search results and increase your conversion rate. Google's algorithms take into account the number of reviews, ratings, and text reviews when determining rankings for organic searches.
More reviews will help your rank higher than you would without them so it's important that companies create an active online presence with as many opportunities for feedback as possible like review sections on their website, review platforms like Capterra or social media pages like Facebook. Evidence shows that positive customer feedback can lead to significant improvements in conversion rates for your business.
In order to remain top of mind with your customers and continue building brand loyalty, you enlist the power of post-purchase emails that request customer feedback. As stated before, a company's SEO performance is largely impacted by its online reviews.
Subscribe to GrowSurf
Get our weekly newsletter for our latest referral marketing guides.
Error subscribing! Please try again.
When to Ask for Reviews
When you ask customers for reviews, the time of day can make a difference in how many they provide and whether or not they share their feedback with others. The best times to do this are at an appropriate break point during people's daily routines like lunch or dinner.
We all want to feel appreciated and valued. Whether you're the customer or the business owner, nothing makes us happier than a good review!
So how do we make sure that happens? Follow these 3 tips:
Ask customers for a review as soon as possible after they have completed a purchase or service.
We've seen an increase in response rates when your request is sent early in the morning (before 8 AM).
Send emails on Wednesday and Friday during mid-day hours (10:30AM – 12:00PM), which may lead to increased customer satisfaction with their services received from the company.
You now have the perfect time to test and plan. Sending out review requests during peak times will increase your chance of getting feedback on your products or services, so it's best to do this in order for you not to miss an opportunity.
How to Ask Customers for Reviews
Customers should be encouraged to leave a review for your business in several different ways. After all, you don't want to have just one strategy in your back pocket.
Face to Face
By phone or Text Message
Have a link for reviews directly on your website.
Email Request
Ask your social media following
At point of purchase, confirmation emails or invoices.
In fact, it would be wise to use a combination of tactics simultaneously so that people are submitting reviews and increasing trust from customers as well as helping them rank higher in search results.
How to Ask for Reviews via Email
It is always great to hear from a customer, and some businesses have figured out the best way of going about this. One tactic they use is sending personalized thank you emails to their most loyal customers. The email typically starts by thanking them for being such an important part of the business on both personal and professional levels before asking if there are any reviews online that could be written in order to help boost those ratings even further or make future purchases easier. This form of communication not only lets your customers know how much we appreciate all they do, but also leaves room for potential positive feedback while making sure prospective buyers feel confident with what comes next after clicking "buy."
Thank You Email Example:
"Thank you for your recent purchase! We hope you love it and would consider posting a review. It helps us provide great products, so please take the time to let others know how well we do our job. Thank you in advance for any reviews or feedback that may come from this transaction because they are very much appreciated by all of us here at [company name]"
How to Ask for Reviews in Purchase Confirmations
Whether the purchase confirmation is an email or thank you page, asking for a review immediately might seem too soon. However, they can still provide feedback on what it was like to navigate your website and go through the purchase process. These are three important factors that consumers take into account when considering business, so asking them about it when it's still fresh in their mind can get you great results.
When consumers are considering a business, they take various factors into consideration. The three most important of these considerations include the cost and quality of products or services in relation to what people can afford as well as how much it costs them to make their decision-making process easier. Furthermore, for many customers who have purchased from you before (or even several times), if this is not their first purchase with your company but rather a repeat purchase, they might be more inclined to give feedback on why we should try out your service too!
How to Ask for Reviews After Downloading a Lead Magnet
Reviews are a great way to show off your customer service and B2B companies are no different, in fact they're even better placed to do so. B2B sales are generally more complex with large transactions that require a substantial amount of time from the person taking the order. B2B companies also tend to deal with a high volume of repeat customers and are therefore in a position where they have a wealth of information about specific customer preferences which makes B2B reviews more powerful. B2B companies can increase the impact of one-off purchases by working directly with customers to leverage reviews that show consistent quality, great service and professionalism.
If your business offers B2B lead magnets or downloadable content, it's the perfect way to get reviews. Those who frequently download and use these things are clearly invested in what you have to offer. Additionally they may not review right away after downloading but as they continue with their downloads and find out more about how helpful this information is for them, customers will often use reviews as a way to thank you for the resources.
Tips for Asking Customers for Reviews
Tips to get you comfortable and well on your way to generating reviews and helpful feedback: 
Reviews empower customers to make confident decisions by providing other consumers with information, you shouldn't feel uncomfortable requesting them.
Authenticity and transparency are important, make sure your intent is clear and politely stated.
Keep the review process simple. Try not to over complicate the request with too many steps or redirections.
Consider people who are willing to leave reviews and how they can provide insight on how to improve customer satisfaction.
Use reviews as a way to engage with your consumers by responding to reviews, and value all feedback equally.
Key Takeaways
Instead of bribing your customer with discounts or free stuff in exchange for great ratings, focus on developing better customer service skills.
Reviews are social proof, social proof helps people feel confident in their purchasing decisions.
Reviews will help you rank higher in search results and increase your conversion rate.
Asking for feedback will help your company to develop stronger relationships with your existing clientele and improve brand awareness.
Subscribe to GrowSurf
Get our weekly newsletter for our latest referral marketing guides.
Error subscribing! Please try again.