It's human nature to like what other people like. It doesn't matter if you live in Japan or Mexico; we're all looking for social acceptance.
Or else, how would you explain the kale craze?
That desire to fit in can affect all aspects of our life – from food choices to Netflix shows.
But that desire to fit in also affects our purchasing behavior.
In short, this means that if a friend recommends a product, we're more likely to end up purchasing that product than, let's say, if we read that product's description.
Businesses are aware of the science of social proof, and they have been using it to their advantage for years.
Stay tuned as we explain the concept of social proof, and look at ten examples of how you can start using social proof in your own business to increase conversions.
What Is Social Proof?
Social proof is a term that author Robert Cialdini created in his well-known book Influence as part of his list of 6 principles of persuasion.

In a nutshell, social proof is a persuasion technique that exploits the human desire to be part of something larger. The main idea behind social proof revolves around our need for inclusion and feeling like we're doing what's expected or desired by others.
For example, if ten million people read the Harry Potter books, the wisdom of the crowd dictates that you are likely to read and like the book, too.
In marketing, social proof applies to reading reviews and listening to other people's recommendations before purchasing.
If a large number of people have used a service ("More than 500,000 people trust our services") or purchased a product ("Over 50,000 products sold"), then other people will follow the actions of others and become customers themselves.
Businesses use social proof as a powerful marketing tool to show potential customers that others have tried and tested their products before them. That means there's less risk involved in buying from them than if they were ordering from someone else without any reviews.
Let's take a look at some of the most shocking social proof statistics before we dive deep into the real-life examples.
Social Proof Statistics You Have to Know
The science of social proof is not a new phenomenon – businesses have been using it for years now, and the results are always impressive.
It's not just Facebook posts or tweets that can create this type of result – you can also use testimonials from satisfied customers, case studies about how other companies benefited from what you offer, collaboration with industry experts, and more.
The best part? It works! When used correctly, you'll see an increase in conversions that is well worth the time invested into design and implementation.
Here are some statistics that confirm the effectiveness of social proof marketing:
Social Proof Examples to Increase Conversions
Now that we've looked into the basics of social proof and statistics that prove its effectiveness, it's time to see how you can use social proof to increase conversions.
1. Feature customer testimonials on your site
Get this:
92% of customers read online reviews before buying, while 72% say positive testimonials and reviews increase their trust in a business.
Customer testimonials are the perfect way to use social proof because they give people first-hand feedback from someone who has actually experienced your business.
More often than not, these testimonials are given by happy customers, voluntarily or upon a company's request.
They have one goal:
To ensure customers that the service/product they're getting has been tried and tested by others before them.
In fact, they can convince potential customers that the purchase they're thinking of making is the right decision.
The first step is to collect testimonials from happy customers. The next step is to include them on your website or share them across your social media platforms so that your audience learns what existing customers think.
Example: Parabol (B2B)
Take a look at Parabol, a tool for transforming dull retrospectives into productive meetings. The company has intelligently placed testimonials from happy clients on their homepage. Considering the homepage is the most visited page, any client who is thinking about using their services will glance at these testimonials. Perhaps, they may even convert! 
What's more, these testimonials also feature the name of the reviewer, the company where they work, and their position within that company. This greatly increases the trust between customers and the brand.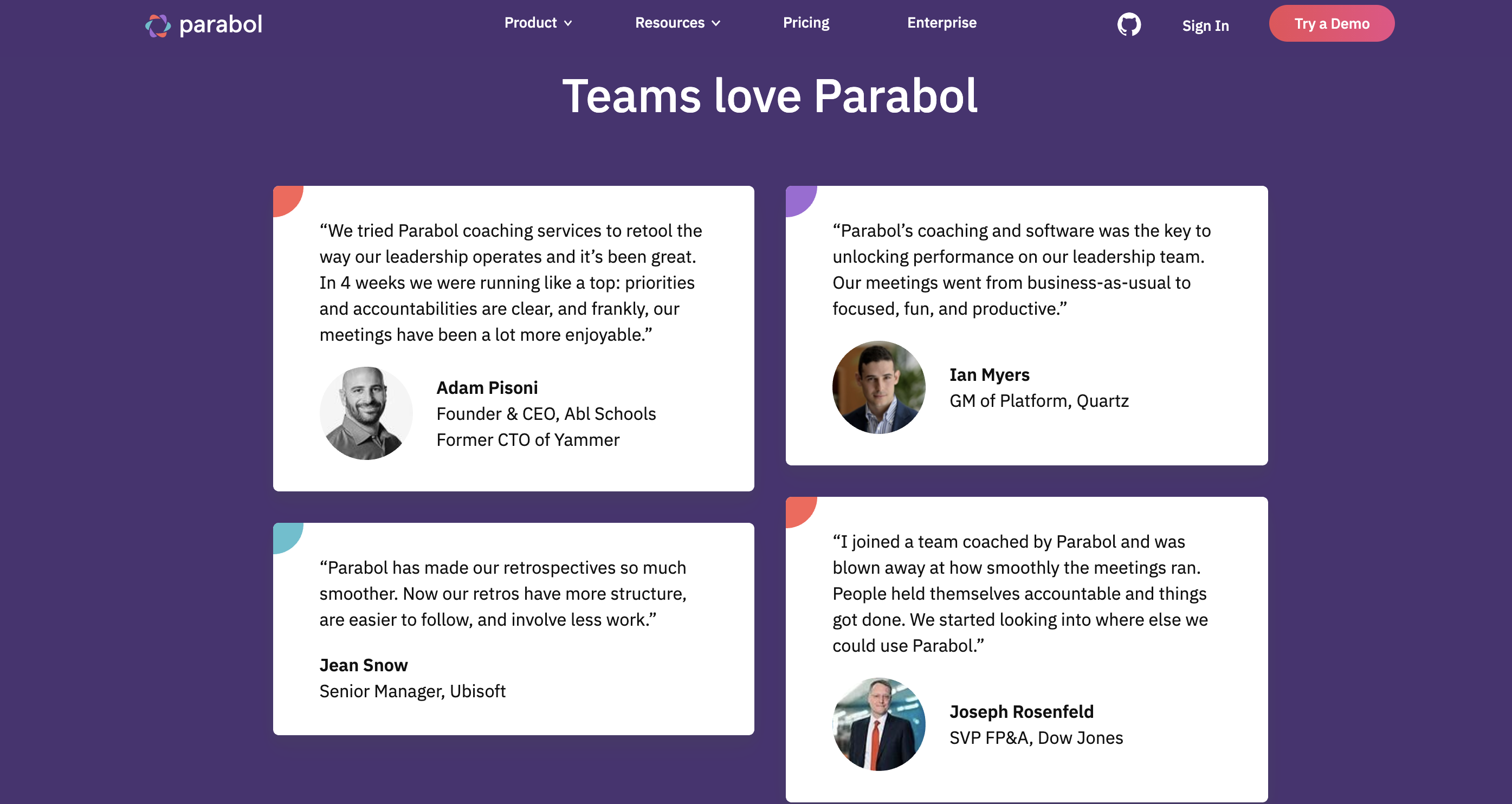 2. Write case studies
Case studies are a great way to use social proof if you're trying to show how your service or product has been implemented successfully by customers or clients.
A common tactic is asking satisfied clients for permission to talk about their experiences.
You can say something like, "We'd love the opportunity of sharing your success story with our audience."
If they agree, then you need to prepare preliminary questions that will dive deep into how you and the client/customer worked together successfully or how your product/service has solved a problem.
In fact, case studies are an effective method to prove that what you're offering is valuable and of good quality – especially if the customer is in the consideration stage of the buyer's journey and is comparing different solutions and providers.
There are several ways you can promote your case studies. Some companies have opted to feature their case studies on their blog, while others offer downloadable PDFs.  
Example: Slack (B2B/B2C)
If we look at Slack, we see that the company features their case studies on a dedicated page called Customers. The page contains 50+ case studies that show how Slack is helping teams get organized and work smarter. The page is easily reachable through the main navigation menu.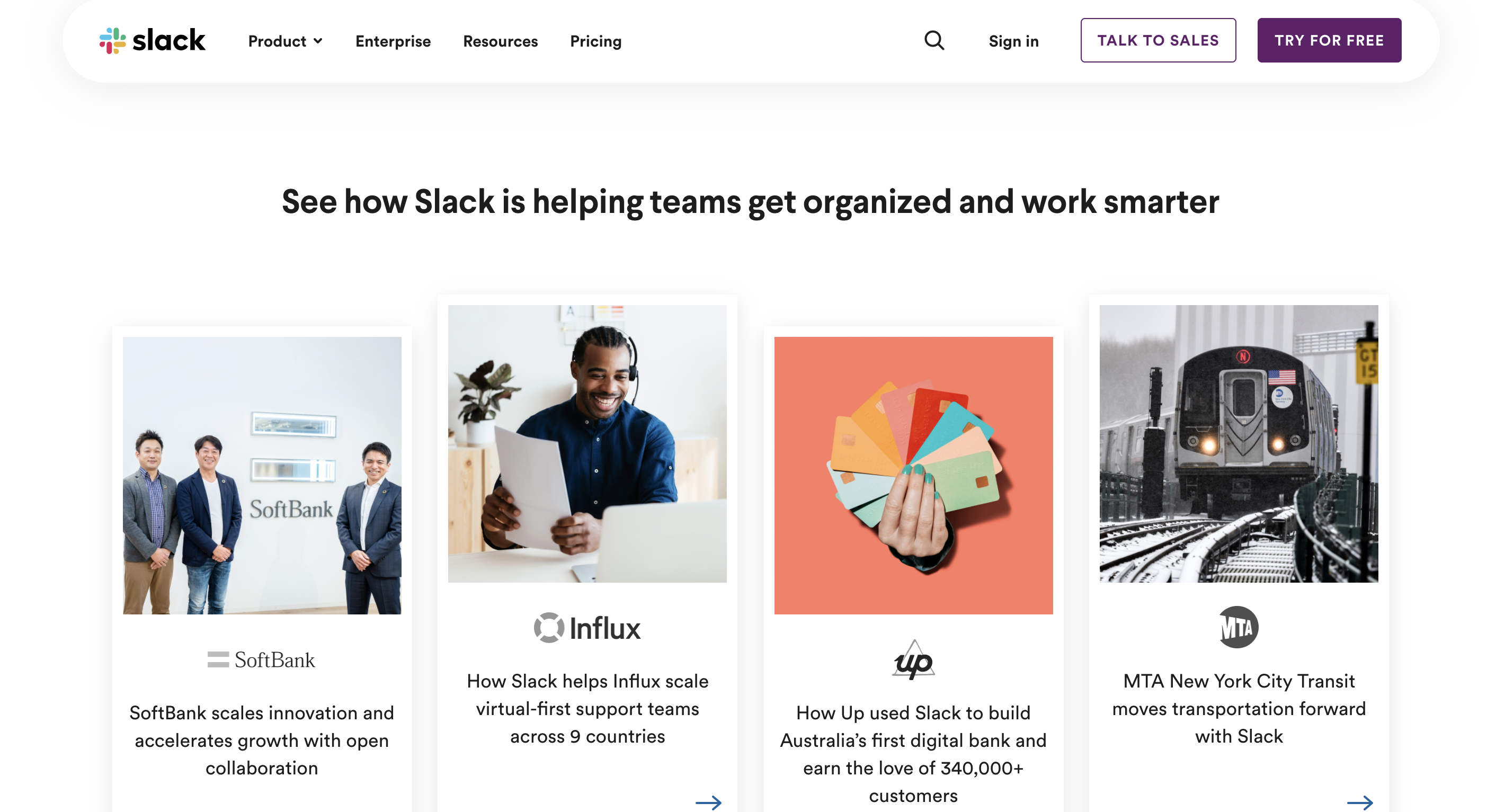 3. Mention your existing customers or clients
Have you ever noticed how every reputable company has logos from other popular brands featured on its home page?
What you're looking at is another way of incorporating social proof to drive sales.
By showing users your existing customer base, you're essentially telling them that these successful companies approve your product/service. And if it's good enough for them, it must be good for you, too!
With that being said, if you happen to work with some well-known brands, share that information publicly to get people interested in your product or service.
Example: Atlassian (B2B)
The photo below is an example from Atlassian's Customers page. The company has included the logos of some of their biggest clients, such as Pfizer, Nestle, and Samsung. If big brands like these trust Atlassian with their business, then there's no reason to be suspicious about the company.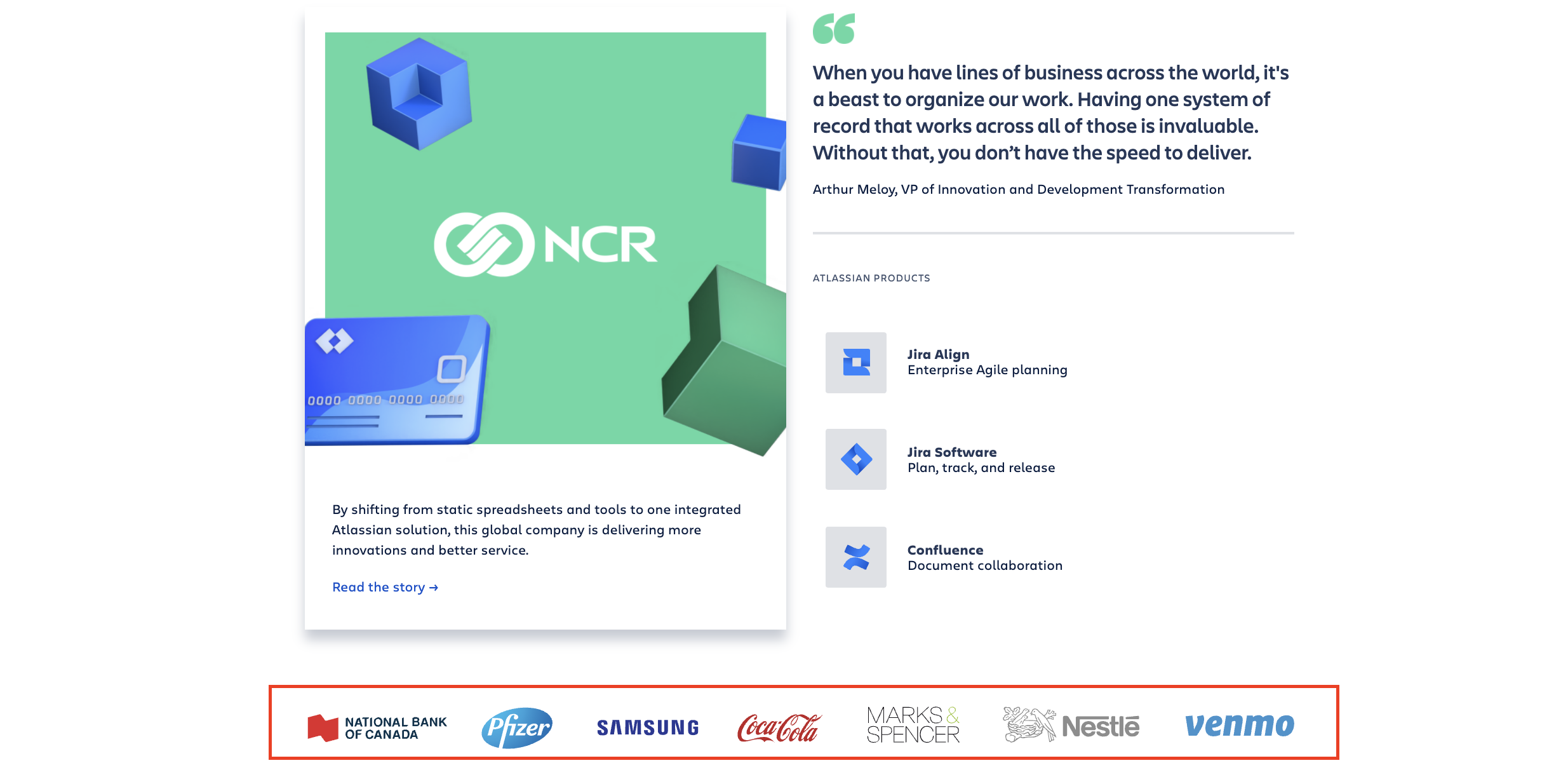 4. Show appreciation for social media shout-outs 
Has your company ever been mentioned in a social media post? Do your customers share their love in tweets and Linkedin posts? If yes, use this opportunity to increase your social proof. Many brands are using their customers' social media statuses as social proof by highlighting what their customers are saying about them. It's authentic, and at the same time, not too promotional or salesy.
Here's an idea: Why not assemble the best social media shout-outs and display these testimonials on your site? 
Example: Notion (B2C/B2B)
In the example below, you can see how Notion, a tool that blends your everyday work apps into one, handles their social media shout-outs. A client mentioned the company in her tweet, saying how she's a big fan of the brand. Instead of just liking the tweet, Notion has also retweeted this so that it gets seen by a larger audience – without sounding too salesy. At the same time, they're building a relationship with their happy clients by showing appreciation for their kind words.

5. Consider using brand ambassadors
Just think about it:
What's the main role of brand ambassadors?
It's to help promote your referral program through word of mouth or across social media.
Brand ambassadors are an effective way to increase your social proof. They can humanize your service or product and make it more appealing to your potential customers. There are different types of brand ambassadors, including:
Celebrities
Industry experts
Social media influencers
Passionate users
The best thing is that brand ambassadors don't have to be paid in cash. Sometimes they receive products from the brand they're working with or gain premium access to their services. They can also earn commissions from the sales made by their promotion.
With that being said, if you're thinking about working with brand ambassadors, a great strategy would be to ask them to spread social proof on social media, their own websites, and within their circle of friends.
Example: Fitbit (B2C)
Have you ever wondered how did Fitbit grow into the successful company they are today? It's simple: They built strategic partnerships to help increase brand awareness. In 2015, they launched their 'FitForFood' campaign together with Feeding America, a charity that focuses on providing food to millions of people across the United States. The face of the campaign was the popular comedian Joel McHale that you probably know as the lead role on Community. Joel shared the promotional video with his 3+ million Twitter followers, mocking the lazy ways people claim to get fit.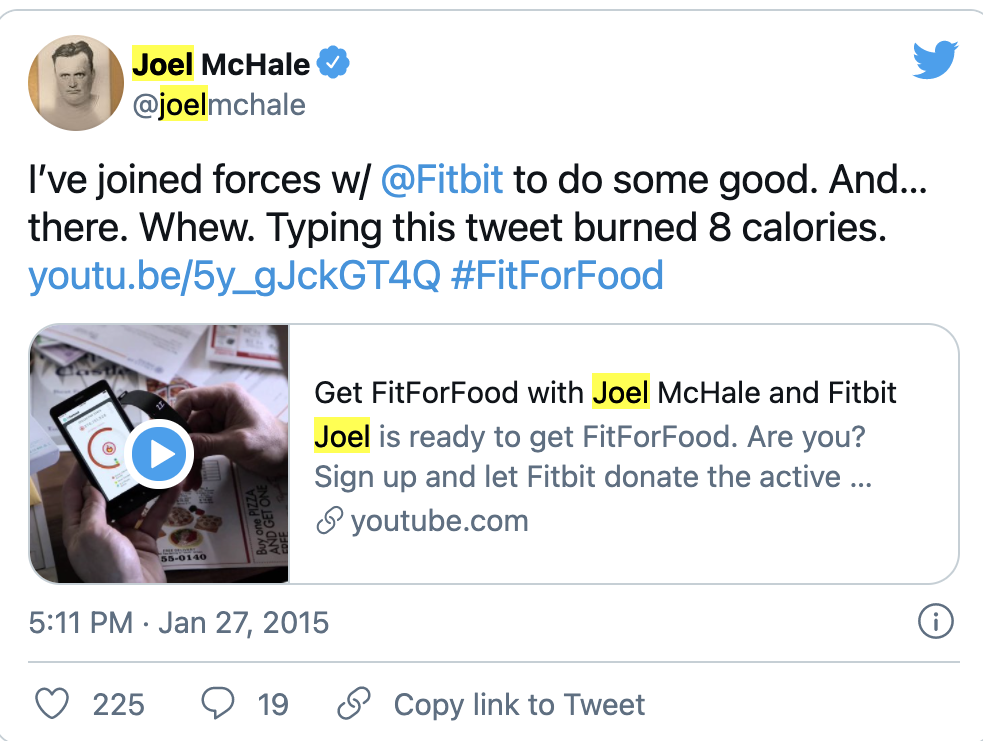 6. Share real-time stats
Have you ever landed on a website that proudly showcased its core metrics to the public?
Let's take a look at GrowSurf. GrowSurf is an open startup. If you visit this page, you can see how well GrowSurf is doing as a business at all times. The company's revenue and core metrics are transparently shared with the public. For instance, you can see the company's current progress towards its revenue goals, monthly traffic, conversion rate, total active customers, unique visitors, and more.
This is another example of social proof.
The good news is that you can use any relevant statistic to show customers how well you're doing.
For instance, you can display the number of:
customers you've served
products you've sold
users you have
downloads of your app or software
your social media followers
countries your company serves
recommendations given
This shows that you have an established business that is trusted by thousands of people. What's more, new visitors will likely have a positive first impression of your brand – you're transparent and have nothing to hide.
In addition to displaying these stats on your website, consider including the numbers in your social media bios.
Example: Hubspot (B2B)
We can see this in action on HubSpot's home page, displaying they have 7M monthly visits, 2.6 million social followers, 113,000 customers in over 120 countries, and other important stats that might interest their customers. With impressive stats like these, you can't help but be curious to learn more about their popular products.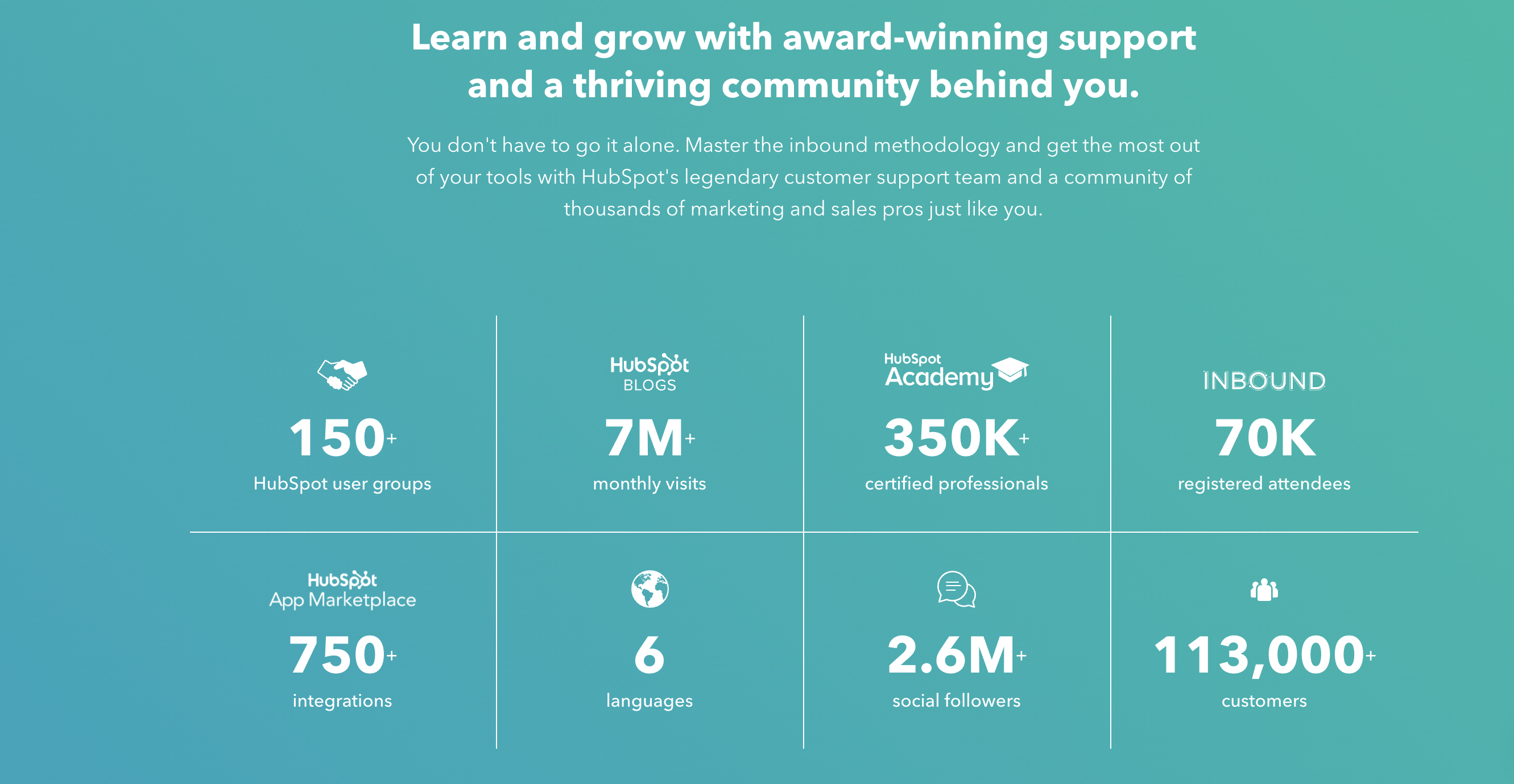 7. Display ratings and media mentions 
Has your brand ever been mentioned by a well-known news website? 
Maybe it got mentioned in Forbes. Perhaps TechCrunch wrote a detailed review and praised your product/service.
If yes, then consider taking excerpts from these mentions and paste them on your website, so they're visible to your visitors.
This tactic is a great way to establish authority and increase trustworthiness among your audience.
Sometimes, you might even get mentioned on social media by an influencer, a big brand, the press, or an industry expert. Consider showing appreciation for these mentions by sharing their post or by saying something like "Grateful for the mention," or "Honored to be featured."
Example: Todoist (B2C)
Here's what Todoist does on their home page. If you scroll at the bottom of their home page, you'll see how they featured their five-star rating on Google Play and the App Store, as well as shared an excerpt from a review about their product by The Verge.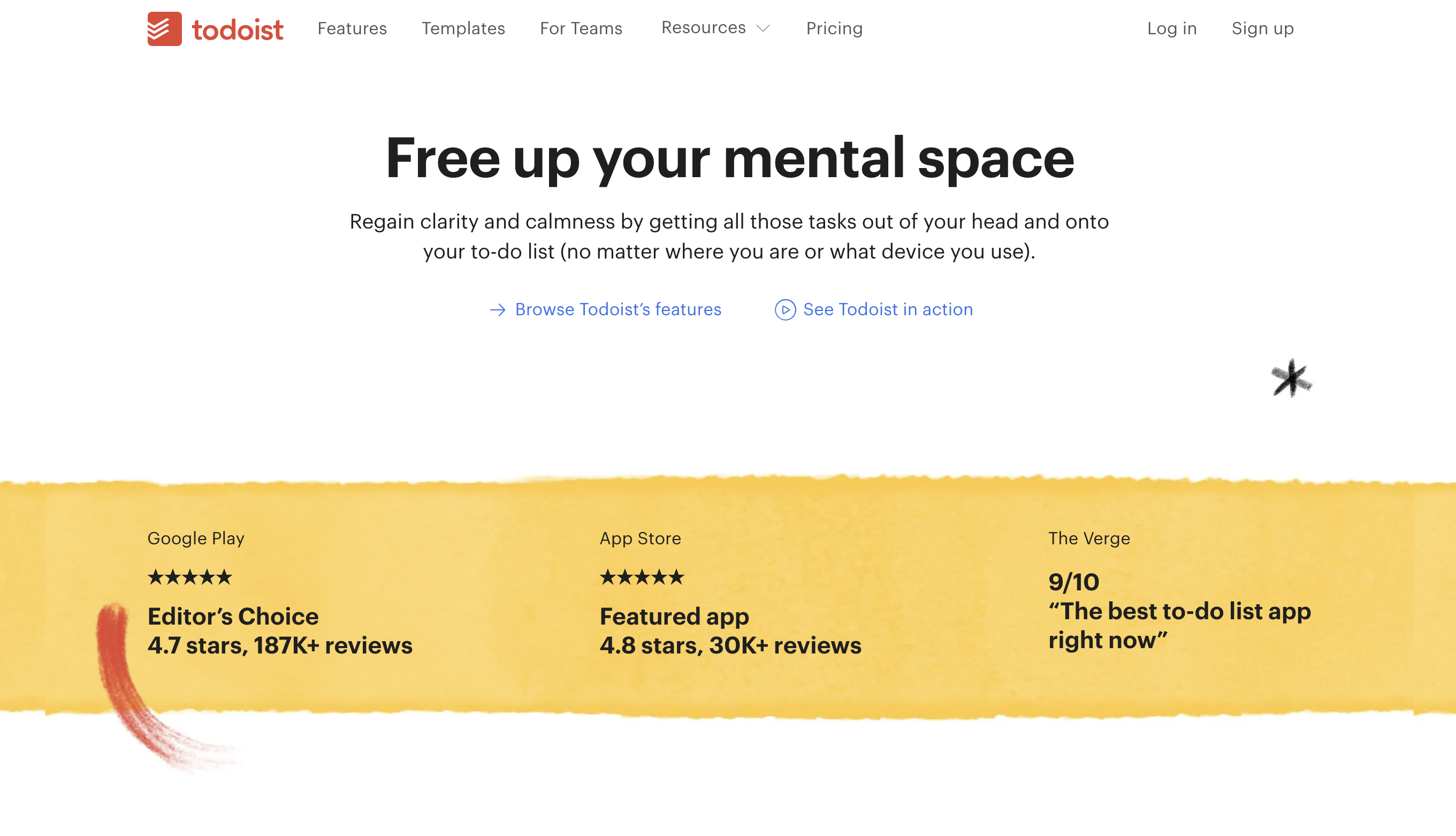 8. Mention your integrations
Here's a fact:
The average employee uses at least eight apps. The average person uses nine mobile apps per day and 30 apps per month.
From video conference apps and file sharing software to communication platforms and time management systems, people juggle between multiple apps on any given day.
If your product or service helps create a better work environment, let them know.
Usually, this better work environment comes in the form of integrations.
In fact, integrations are crucial for B2B SaaS companies. These companies can't expect to be successful without offering key integrations to other ecosystem players.
One way of promoting your integrations is by adding the logos of your integration partners on some pages of your website. Some businesses have an entire page dedicated to the integrations with other services they offer. Also, don't forget to promote your integrations across your social media platforms to make sure the good word reaches a broader audience.
Example: Hopin (B2B)
The example below shows how Hopin, a live online events platform, promotes its integrations. They have an entire page dedicated to their integrations where they list every third-party service their platform integrates with. When someone lands on this page, they may not know who Hopin is, but they've probably heard of Hubspot, Twitter, and Miro. This increases the credibility of Hopin and may lead to more conversions.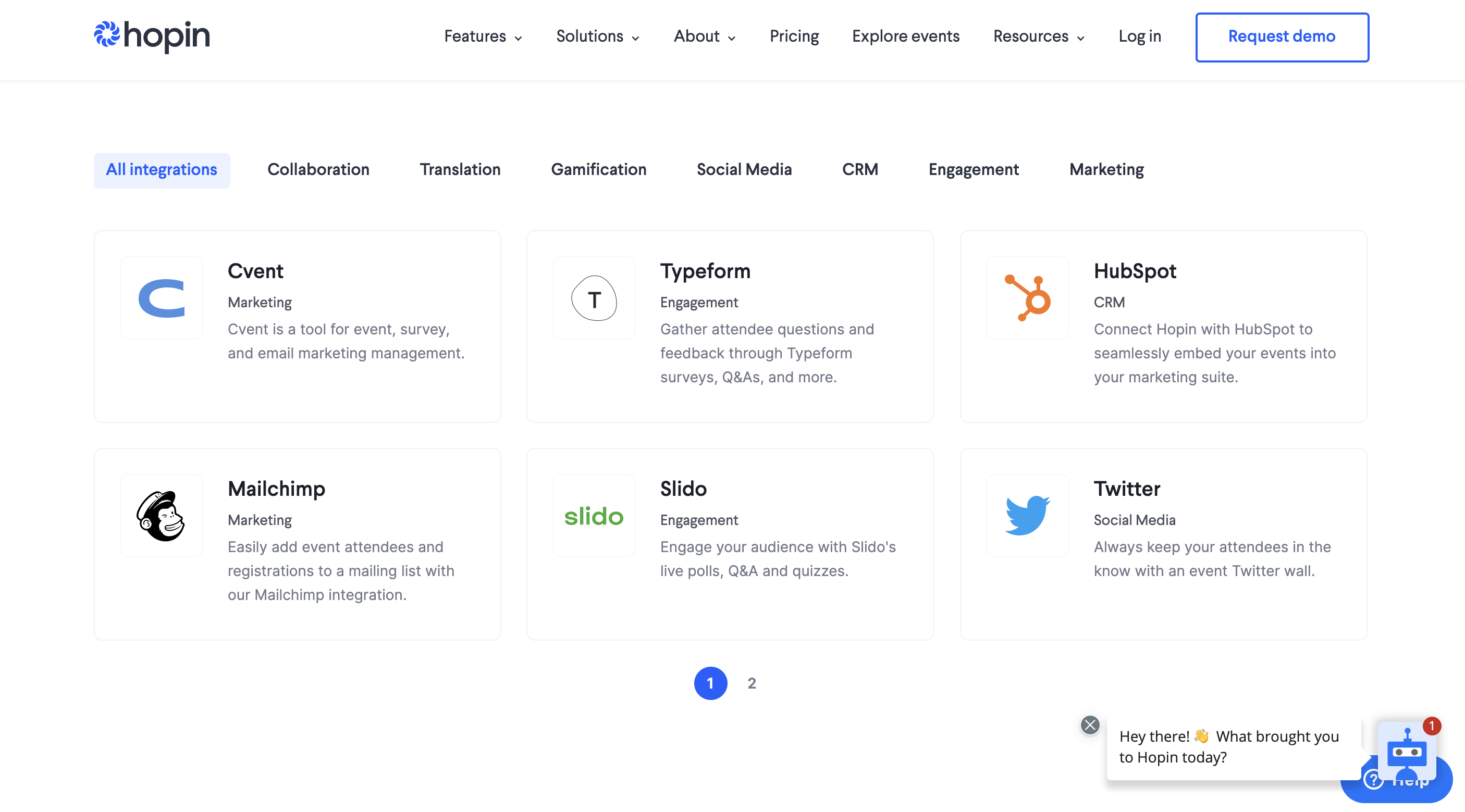 9. Include awards and recognitions
Has your product or service ever won an award or been recognized as a leader in your industry? If yes, show them off! Display these awards/recognitions on your website so that visitors can see your latest achievements.
This can be a fantastic opportunity to win new customers who are considering and evaluating the product/service you offer. Like reviews that can motivate customers to make a purchase, awards and recognitions can ensure that your business will meet their expectations.
Example: MailChimp (B2B)
Take a look at how MailChimp has displayed these types of awards and accolades on its homepage. If you scroll down on the home page, you'll get to this part where the company boasts about having been named one of the best global software companies of 2021 by G2. Considering G2 is one of the biggest review sites today that aggregates user reviews for business software, featuring this on the site confirms MailChimp's excellence.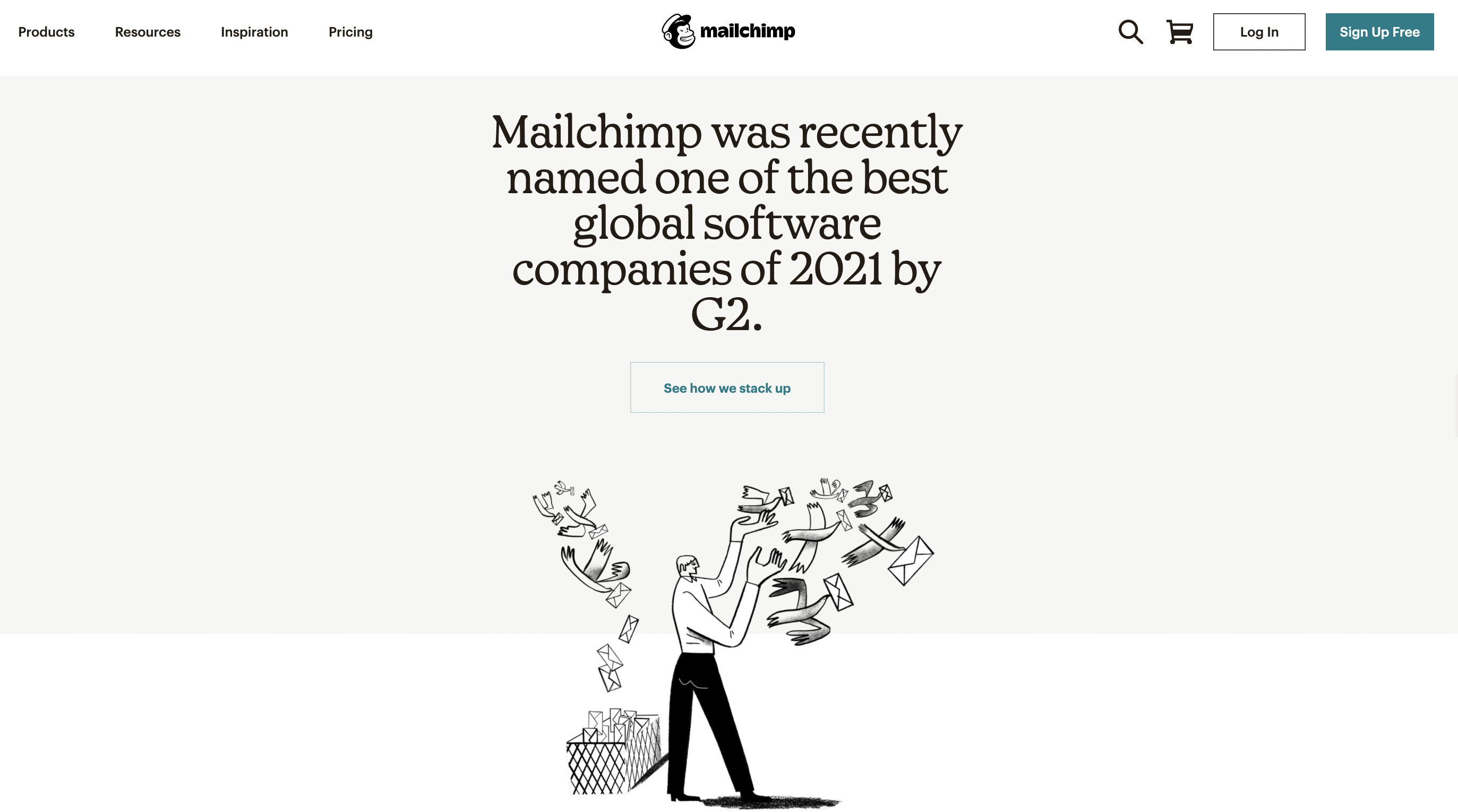 10. Host experts
Inviting expert guests to contribute to your (virtual) events, podcasts, or blogs is a great way to use social proof.
For instance, you can organize a fireside chat – an informal conversation between a moderator and their guest – where you'll discuss a topic that's of great interest to your audience. Alternatively, you can invite an expert to join your podcast. By doing so, you'll create valuable content for your listeners and establish yourself as an authority in the industry.
Example: Airtable (B2B)
We can see this in action on Airtable's LinkedIn profile. The company is promoting a virtual event that will take place on June 16. The event's featured guest will be John Edgar, the Head of Growth Engineering at Pinterest. Considering Pinterest is the 14th largest social network in the world, hosting an event with a prominent figure from the company will help Airtable tap into the expert's positive influence.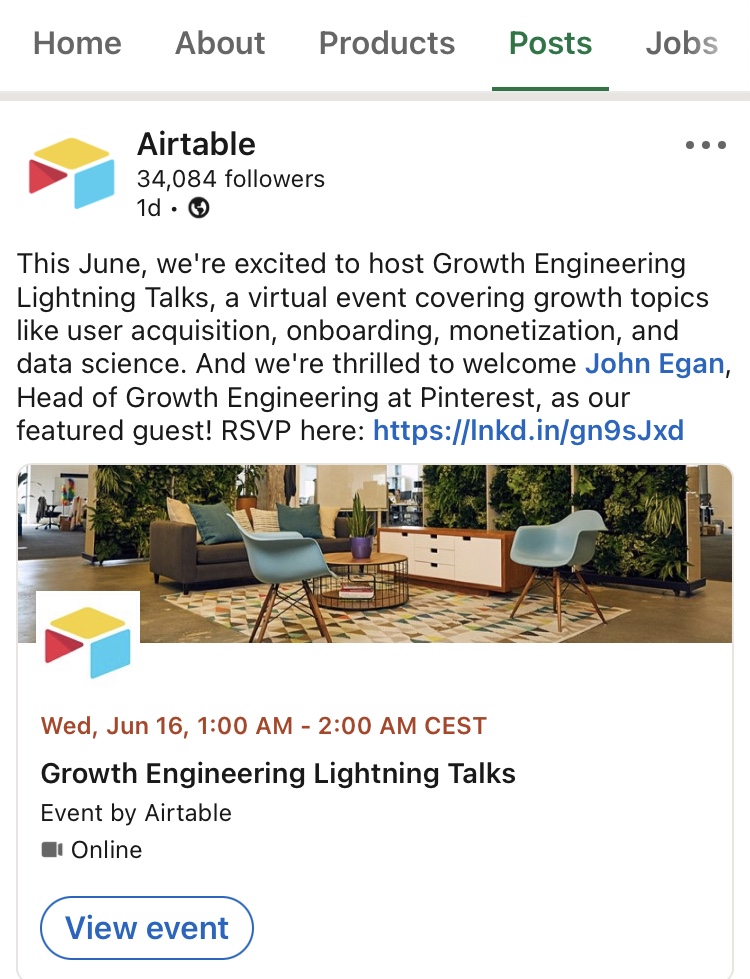 Final Words
There are many different types of social proof. The best ones for you depend on your business and your industry.
I hope these ten ideas will teach you how to use social proof in your marketing and get your business more conversions.
To sum up, the top 10 ways how to use social proof to increase conversions are:
Customer testimonials to give people first-hand feedback from someone who has actually experienced your business.

Case studies to show how your service or product has been implemented successfully by customers or clients.

Client logos to tell clients/customers that your product/service is approved by other successful companies.

Brand ambassadors to humanize your service or product and make it more appealing to your potential customers.

Engaging with social media shout-outs to increase your authority without sounding too salesy.
Real-time stats to show customers how well you're doing.
Ratings and media mentions to establish authority and increase trustworthiness among your audience.

Integrations to let your clients/customers know your product/service integrates with other ecosystem players.

Awards and recognitions so that visitors can see your latest achievements.

Hosting experts to create valuable content for your listeners and establish yourself as an authority in the industry.
Don't forget to include social proof on your key landing pages and on your social media. You can even experiment with adding social proof in your CTAs, for example, "Sign up today and join a community of 100,000+ users."
Good luck!
---
Read more about the 7 Principles of Persuasion:
Social Proof - How to Use it to Drive Conversions (You are here!)
Request a demo of GrowSurf
Set up your referral marketing program with software that lowers your customer acquisition cost and saves you gobs of time.