Do you feel like your referral program could use some improvement?
You did everything you could possibly do—identified your referral targets, determined your rewards, created the resources to remind your customers, the whole works!
But when you wake up each morning and look at your referral program dashboard, what you see is the same old story: a stagnant (if not declining) referral conversion rate.
What's up with that?
You can at least take comfort in the fact that you're not alone. While referral programs are an effective way to promote your products and services, they're not always easy to optimize.
It begs the following questions: Are you offering the wrong rewards? Or are you presenting them badly? Is the referral program itself not interesting enough? All of the above? Or is it something else?
If you're at your wit's end figuring out how to make your referral program more effective, you've come to the right place.
So, let's get to it. Here are 4 powerful ways to optimize your referral program.
1. Make it easy for people to refer you
It's one thing to create a referral program people want to join, but it's another to have one that's easy to find, understand, and use.
It's a no-brainer: If you want your referrable program to succeed, make it easy for people to refer you. And to do that, you make your value proposition and CTAs memorable and prominent.
A strong value proposition should be clear, straightforward, and easy to find. It should tell prospects, at a glance, how you can make their lives better should they choose to buy your products or services (or refer you to their friends). For your value proposition to hit home, it should reflect the desires and needs of your audience.
The same applies to your CTAs. After all, referrals don't just happen. If you want your customers to take your desired action, you need to tell them what to do and how to do it.
To drive more conversions (translation: referrals) with your CTAs, don't dilly-dally. Highlight the benefits of your referral program and use actionable words to prompt them into action.
Want to see how it's done? Check out PastBook's referral landing page below.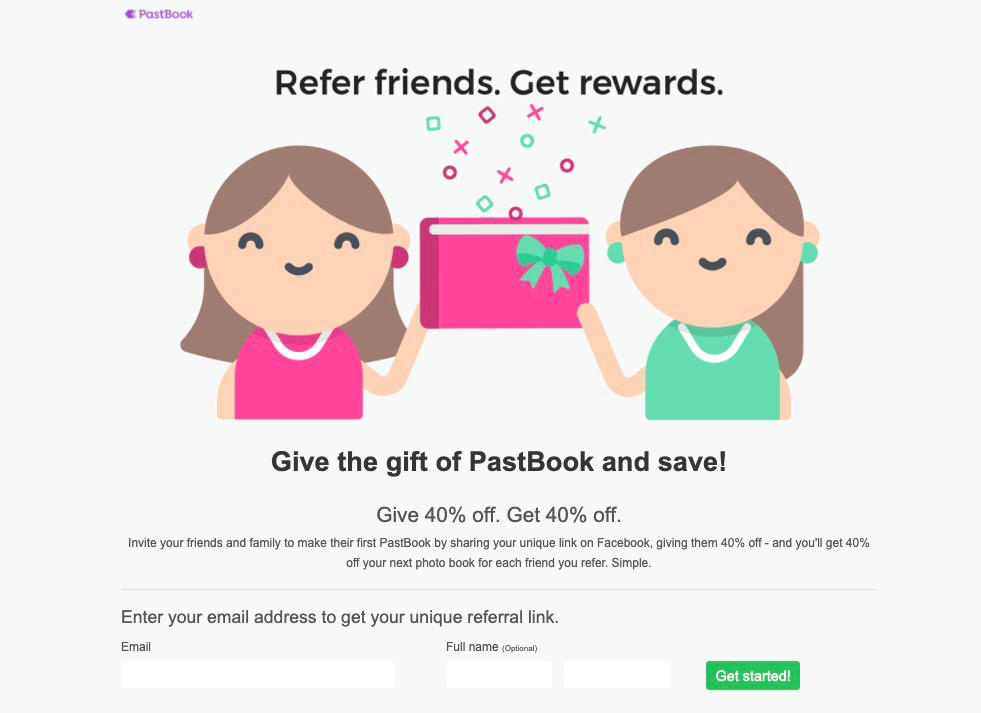 Image Source: Pastbook
Here are good places to mention or promote your referral program.
Email. Email is a great platform for trusted content. After all, a customer opting into your mailing list means they're granting you permission to keep promoting your products and services AND your referral program. If you want to bring more attention to your referral program, don't hesitate to mention it in your email blasts. Also, here's a protip: Using banners for your CTAs will make your offer more visible and can improve your click-through rates.
Referral landing page. This is the page where referred people will land on after their friends/colleagues share their unique link. When it comes to referral conversions, your referral landing page is where the real action is. How you present your value proposition and CTA on your landing page will make or break your referral program—so make them count! Again, make it clear, simple, and highly relevant to first-time visitors on why they should sign up for your product/service. Highlight the benefits and add a powerful image to heighten the effect.
Dedicated referrer page. Create a page that lays out everything your customers (and non-customers) need to know to participate in your referral program. Make sure to include all the necessary tools they can use to make referrals (sharing buttons, email invitation forms, etc.) If possible, display each customer's number of referrals and a graphic that shows all the rewards.
Speaking of dedicated referrer pages, it can't get any better than Morning Brew's referral hub.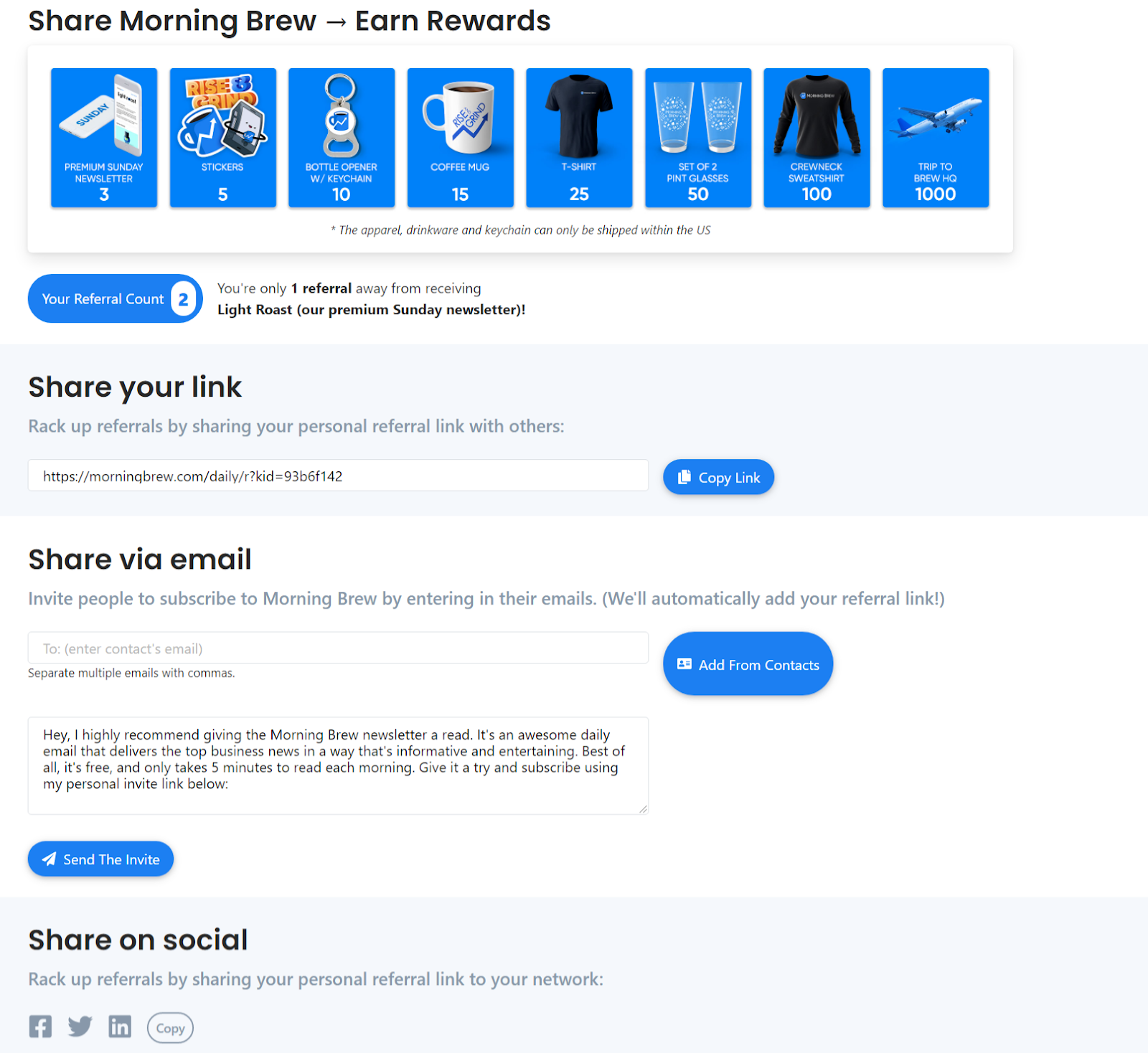 Image Source: Morning Brew
If you're looking for an easy way to implement all three points above, check out our referral software GrowSurf. Our integrations (e.g, Mailchimp, ActiveCampaign) make it easy to embed referral links to your email contacts, and you can replicate Morning Brew's referral hub in one click.
2. Promote your referral program at the right touchpoints
Your customers seem happy with your products and services. So why aren't they referring as much as you thought (or they say) they would?
It could simply be because they have forgotten that your referral program exists.
Hey, it happens. Did you know people forget 40% of new information in 20 minutes? Besides, in this brave new world of constant distractions, it's not in the least surprising.
How's this for a solution: Keep reminding them!
Knowing when to send those reminders or referral prompts is where it gets tricky. For your reminders to have more impact and inspire action, you need to send them during moments where they are most engaged and happy with your brand.
One good approach is to view these moments as "touchpoints."
To identify (and make the most of) these touchpoints, you need to understand the referral program experience from your customers' point of view.
Here's where a customer journey map helps.
For those not in the know, the customer journey is the entire experience a customer goes through when interacting with a brand.
It starts from the moment they encounter your brand for the first time, to the time she finally decides to buy your products or services, and right up to the moment when she stops buying your products or cancels her subscription.
The 5 basic stages of the customer journey are: Awareness, Consideration, Purchase, Retention, and Advocacy.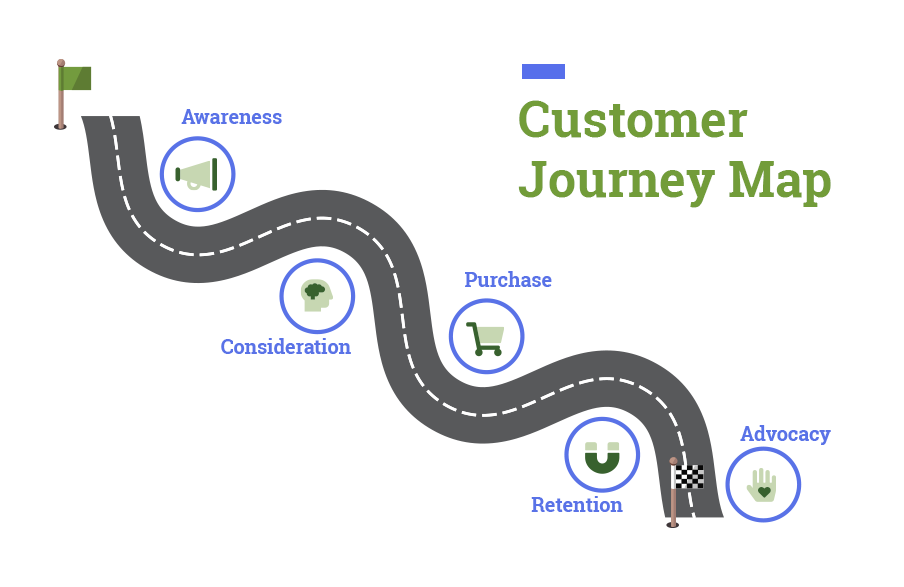 Image Source: Hurree
So, why the need to map the customer journey before sending out referrals? Because it gives you the context and scenarios you need to identify the touchpoints where referral prompts will be most impactful.
With that said, we'll only focus on the purchase, retention, and advocacy stages (after all, it's not considered good practice to ask for referrals before the purchase stage).
Purchase stage
During a purchase, you're at that point in your relationship with the customer where they've already chosen you. They're already convinced that you can solve their problems. What better time to tell them that you have a referral program?
During this stage, you can put your referral links or promote your referral program in the following places/scenarios:
Confirmation page
Confirmation email
Summary of purchase
Post-purchase page
After a successful customer support exchange
Packaging or receipt
At this stage, it's obvious they now like your products and services. You not only want to keep them interested enough to keep buying, but you also want them to keep sending referrals.
Good scenarios or places where you can ask for referrals or put your referral links to include:
Marketing or promotional emails.
Dedicated referral page
Milestone events
Pro-tip: Sending email blasts to customers can get complicated really fast. GrowSurf lets you automate your emails to ensure that you're sending the right messages to the right customer segments and at optimal times.
Advocacy stage
Customers in the advocacy stage are your biggest fans. They're so loyal, in fact, that they won't just keep buying from you, but they're always happy to recommend you to their friends and family. Best to keep it that way, right?
The touchpoints included in the retention stage still apply. But you want to go the extra mile and be more creative this time. Your most loyal fans deserve it!
Pro-tip: Sending your most loyal customers a thank you note or a personalized gift is a great way to show them how much you appreciate their business (and their referrals). By making them feel that their referrals are valued, they are more likely to refer more!
The following are great ways to remind your best customers about your referral program:
Branded gifts
Gift cards
Thank you cards
A thank you note to the referrer on social media
For that last bit, here's a good example courtesy of @Mobcrush: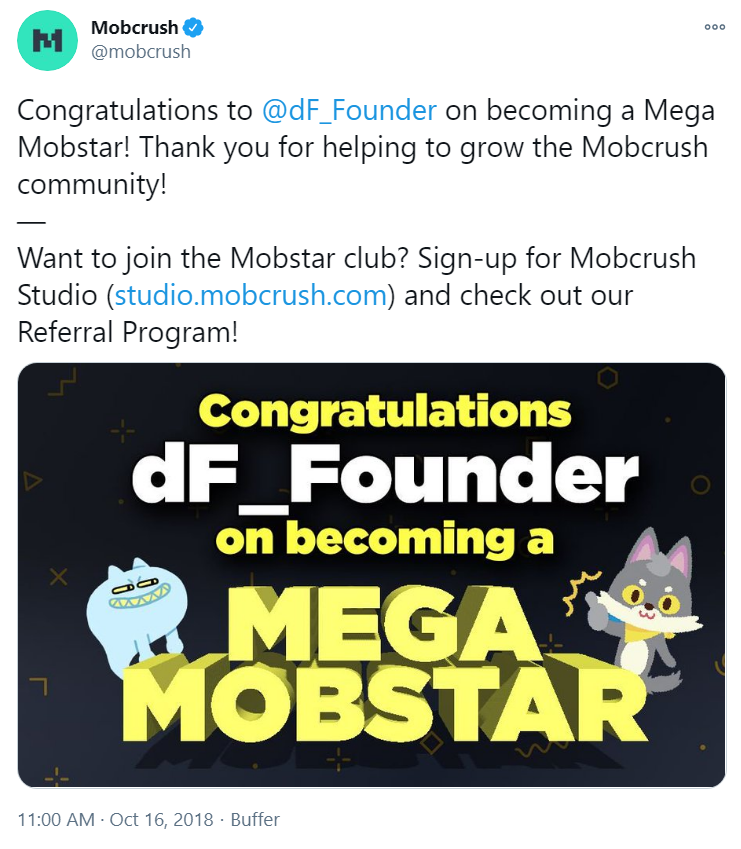 Image Source: Twitter/Mobcrush
At GrowSurf, we've made it as simple as pasting one line of code to place referral links into your website. And our integrations automatically sync referral links to your online tools, so you can ask your customers to share, wherever you are communicating with them.
Request a demo of GrowSurf
Set up your referral marketing program with software that lowers your customer acquisition cost and saves you gobs of time.
3. Gamify your referral program
You want your referral program to bring in more referrals and yield better results in terms of ROI? Don't make it boring!
For starters, you can make your referral program more fun and engaging by "gamifying" it. In other words, you can incorporate game mechanics into your referral program to keep customers "playing."
According to Gigya Information, customer activity online grows by an average of 68% when programs are gamified. The same study also shows that gamification increases social sharing by 22%.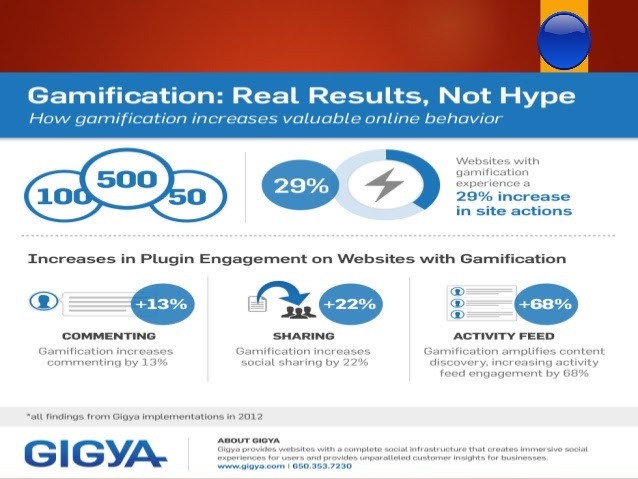 Image source: slideshare.net/choragus
Now think of those numbers and imagine what they could mean for your referral program.
Gamification works because it taps into our competitive nature. And when we're tasked to reach a specific goal, something compels us to achieve that goal no matter what it takes, especially when it's within reach.
But what makes gamification even more effective is the added social element. When we accomplish a goal or a milestone, we can't resist sharing it with the world. The more people who share their referral milestones, the better it will be for your referral marketing goals.
So, how do you gamify your referral program and bring in more referrals? Let us count the ways.
Use a point system
People like to rack up points because they offer something concrete with which to evaluate their performance. By rewarding customers with a corresponding amount of referral points based on the number of referrals made, you can motivate them to keep playing.
Evernote, for instance, rewards members with 10 points for their first 3 referrals. When a friend you refer buys Premium for the first time, they earn 5 points. They can spend those points to buy a Premium account.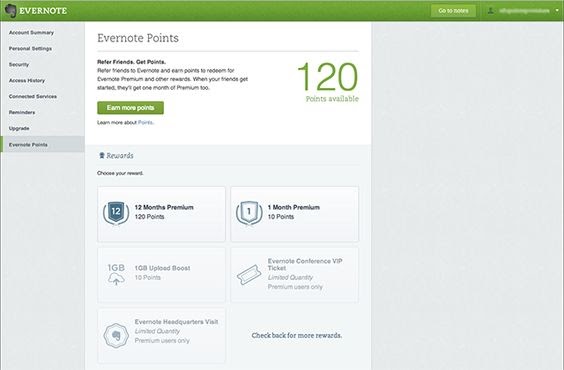 Image Source: Evernote
Add progress bars
Adding a progress bar not only shows customers where they are in your referral program, but also how close they are to reaching the next referral milestone. This gives them the added motivation to keep "playing" and find ways to drum up more referrals.
For better results, make sure to include the customer's (or subscriber's) current number of referrals and the number of referrals they need to make to reach the next level.
That's what Morning Brew did (as shown below) to motivate their users.

Image Source: Medium
Show the rewards
Visuals are a critical part of what makes games fun and engaging. They not only help us navigate a game's mechanics, but they also add to its immersive value.
The same goes for referral programs. If you want to keep things interesting for your users, find ways to make the experience visually appealing and relevant. This is even more true for rewards. By showing (not just telling) them what's up for grabs in the form of a graphic, they are more likely to stay engaged with your referral program.
As an example, check out Contact Mapping's graphic showing their referral program's rewards.

Source: Contact Mapping
4. Pick the right rewards
When it comes to referral programs, picking the right rewards is where it gets tricky. For one thing, what will work for your referral program depends on many things, including your target audience, your goals, marketing tactics, and your budget.
To give you an idea about what types of rewards are right for your referral program, let's talk about the most common ones.
Cash rewards
If things were so simple, you can just offer money to entice your users to bring in more referrals and forget about it. After all, 77% of Americans cite money as their reward of choice. And who doesn't want cash? It's practical, universal, and people can use it anywhere!
But not so fast. Giving cash rewards has its share of disadvantages, too. For one, they are difficult to manage. Second, they're also notorious for attracting poor leads.
That's hardly surprising considering how impersonal cash rewards are. Rewards that don't foster brand affinity or reinforce the value of your products and services may cause your referral program to lose traction fast.
Unless your company's business model involves the direct transfer of money, you're better off offering a different kind of reward.
Discount coupons
Thankfully, there's a middle ground. Instead of offering cash, you can offer discounts in the form of vouchers, coupons, or discount codes.
Discounts are great for two reasons: First, they encourage repeat purchases. Second, they reinforce the value of your offerings. If maintaining and building a customer base is integral to your marketing strategy, offering discounts will bode well for your referral program and bottom line.
Subscription time
With many businesses now using a subscription model, it's not surprising that most referral programs are offering subscription time rewards.
Duolingo, for example, offers users one week of free Plus membership as a reward for each referral.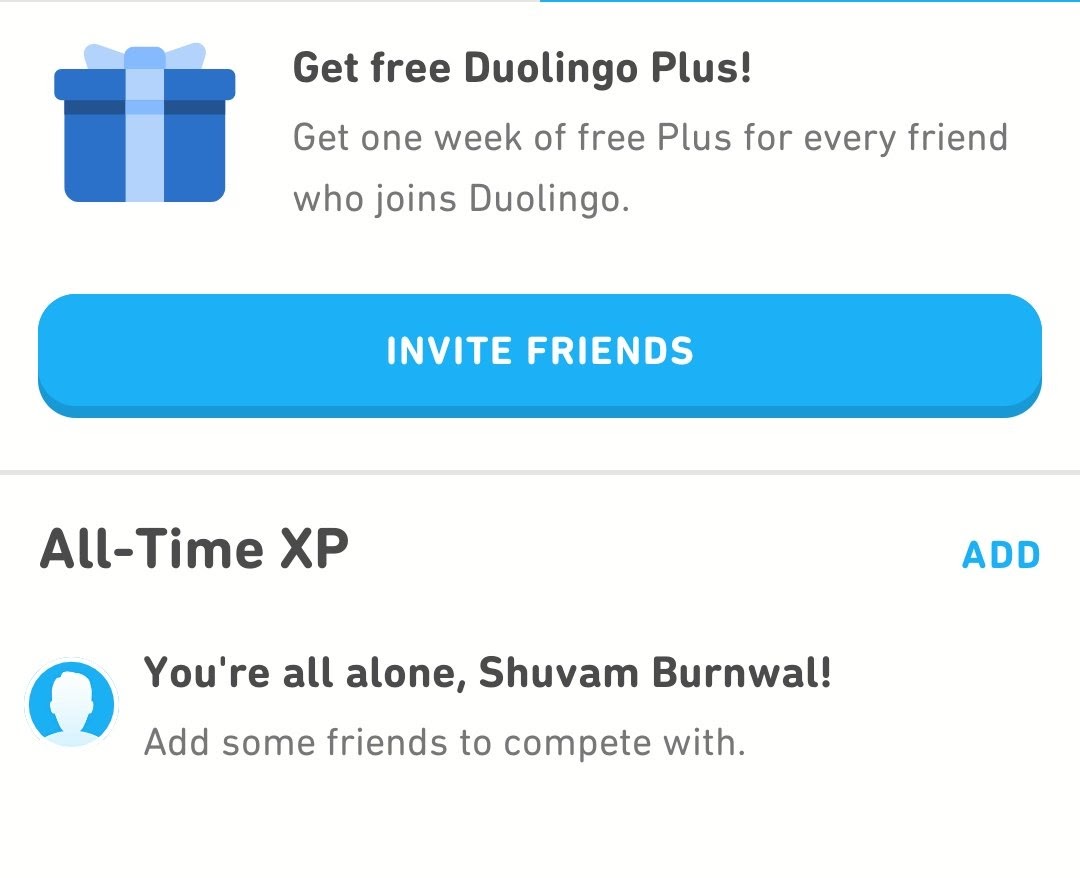 Image Source: Twitter
Subscription time rewards work because they not only encourage users to keep using your service, but also to upgrade to a paid subscription even after the subscription time reward has run its course.
Tiered rewards
A referral reward model that's been gaining popularity of late is the tiered referral program. As the term suggests, a tiered reward system is structured in a way where participants can keep sending referrals to accomplish each milestone and in doing so become eligible for greater rewards.
Because this referral reward system is structured in tiers, companies are offered more than enough flexibility to offer a wide variety of referral rewards.
Speaking of variety, Morning Brew's tiered reward system offers lots of cool swag and personalized rewards.

Image Source: Medium
Pro-tip: If your budget allows it, a double-sided referral structure might just be the thing to kick your referral flywheel into high gear. By offering rewards to both the referrer and the referee, you're increasing the likelihood of the transaction happening because the former will feel emboldened in knowing that the latter will be receiving some benefit as well. Speaking of double-sided rewards, Growsurf has the automation capability to make the fulfillment of double-sided rewards smooth and seamless!
Over to you
Creating a referral program that works isn't as easy as it sounds. But once you get it right, the rewards can be enormous. If you're having any trouble bringing in the results you wanted in your referral program, let your target audience be your guide. By focusing your efforts on delighting them and not allowing your assumptions to get in the way, you're well on your way to developing a referral program that your customers can get excited about.
Need help in optimizing your referrals and building a strong referral community?
Sign up for a 14-day free trial today 👇
Request a demo of GrowSurf
Set up your referral marketing program with software that lowers your customer acquisition cost and saves you gobs of time.