If you're thinking about launching a refer-a-friend program for your business, you may be asking yourself whether it's better to build it in-house, or if it's worth the costs in going with a referral program software.
In this post, we've gathered eleven main benefits of choosing to go with a referral service provider. Though we can't speak for other platforms, we'll use our own referral program software, GrowSurf as an example.
Otherwise, if you choose to create your own referral program in-house, consider this a checklist.
1. Set up your referral program in 15 minutes
Your marketing team shouldn't need to get your developer(s) involved in creating or updating your referral program.
GrowSurf comes with an easy-to-use Campaign Editor for making changes – whether you need to adjust email copy, or update how many referrals are required to unlock a reward (here is a 1-min video of creating a campaign in GrowSurf).
GrowSurf is designed for marketers to control and make changes to your referral program, and streamlined for developers to implement.
2. For developers, integration is straightforward
Once you've set up your referral program, you can invite your development at the click of a button.
Integration is simple, and can take as little as an afternoon. It's just two lines of JavaScript code, or two API calls. If you use HubSpot or Stripe, there's no code required. Check out our API and integration docs here.
3. Save development costs in the long run
Let's say you decide to build your own refer-a-friend program. You should then be prepared to create and handle front-end referral SDK functionality (e.g, cookies, URL parameters, social sharing APIs) and server-side functionality (e.g, validation, business logic, emails/notifications, anti-abuse + slowdowns/rate limits, webhooks). Not to mention all the edge-cases that come with each of these technologies and in different clients/devices.
After you launch your referral program and find success with it, you will eventually discover that you need additional tools for anti-fraud, visibility, rewards management, and customer support.
Consider the cost of development work, compared to paying an affordable monthly subscription (our pricing scales with your growth) to access a reliable, dedicated platform to handle your referrals (we processes hundreds of millions of client+API requests per year).
4. Get anti-fraud right out-of-the-box
GrowSurf comes with a comprehensive anti-fraud system that is continuously battle-tested in the real world and constantly improved. We've developed highly accurate client- and server-side validations that allow you to have peace of mind.
Your dashboard will always show you who's a fraudster, and you have a whole suite of combative tools to further secure your campaign (e.g, blacklist IPs and emails with wildcard support, trace original fraudsters, bulk delete fraudsters).
In addition, you can always customize your campaign to manually approve all rewards, and you can always enable authentication in GrowSurf to lock down your refer-a-friend program even further.
5. Direct integrations that make your life easier
With our direct integrations, which include Zapier and Webhooks, you can sync data to the marketing tools that you use everyday for your business, and automate reward fulfillment.
For example, one-click connect to our direct HubSpot integration, and you will then be able to include unique referral links in your promotional email blasts.
6. When your team asks you how your referral program is doing, you have an instant answer for them
GrowSurf comes with real-time analytics, which provides visibility on the health and performance of your referral program.
7. Get customer support tools right out-of-the-box
Your GrowSurf dashboard also provides visibility for customer support, and tools to easily troubleshoot and investigate any issues.
You get detailed activity logs for all participants and can see every interaction they have had with your referral program
You can retroactively trigger referrals from your dashboard or assign referrers to a participant
8. See who your top referrers are at a glance
Your dashboard makes it easy to see who the best advocates for your business are.
9. Rewards management is baked in
Always know when you need to approve rewards or fulfill them; stay organized with reward statuses.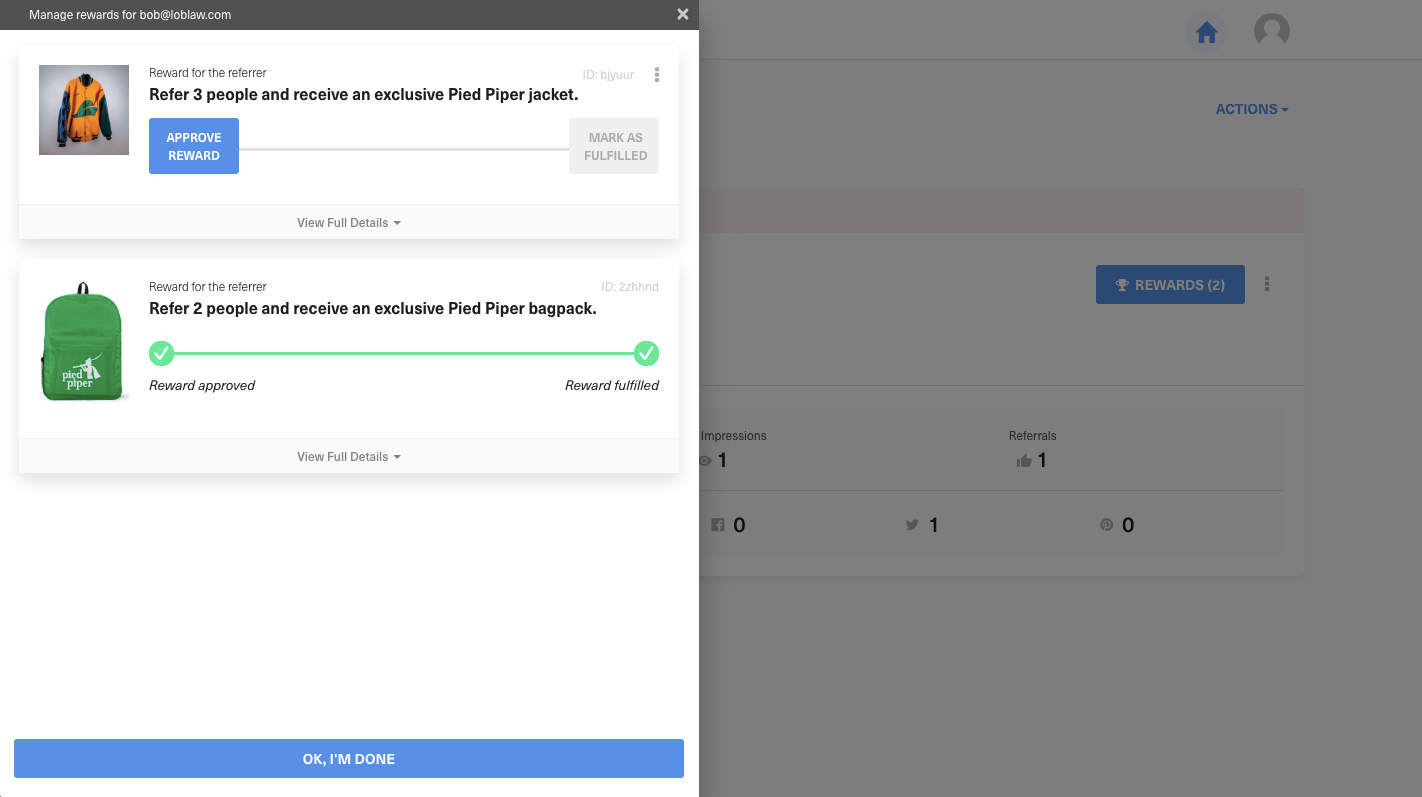 10. End your referral program at anytime
Halt your refer-a-friend program by clicking a button on your dashboard. This will prevent any new referrals from triggering, and thus you'll be able to immediately end your campaign without getting any developers involved.
11. You get a dedicated support team
Whether you need help getting set up, or need advice on best practices in optimizing your referral program for success, we're here to help you grow your business.
We consistently listen to our customers' feedback, and our team continuously pushes out new features to improve your referral program results.
Final thoughts
Ultimately, building a referral program isn't a one-and-done type of deal. As we personally went through these pains when we built our own refer-a-friend program in-house, we know far too well how easy it is to get sucked into the feature creep that comes from building a refer-a-friend program from scratch.
At GrowSurf, many of our customers are internet-based companies or SaaS startups that have a marketer or product person in charge of setting up a referral program. This person has access to development resources, but understands that their team's bandwidth is low and reserved for their existing pipeline of new features, bug fixes, or technical debt reduction.
This is why we built GrowSurf. Our referral software helps marketing and product teams launch a refer-a-friend program in the easiest way possible.
Request a demo of GrowSurf
Set up your referral marketing program with software that lowers your customer acquisition cost and saves you gobs of time.