Why do some referral programs fail while others succeed?
Clients might not be happy enough with the service. The incentives could be poorly designed. Maybe your referral program is much too confusing than most people have patience for.
All possibly valid reasons, and several could apply to any given business.
But there's one potential reason businesses keep forgetting:
Their brand might be lacking a higher purpose.
That's not 'kumbaya' talk. According to an Accenture study, people are more likely to support purpose-driven brands.
Want referrals to keep coming? Tap into people's innate desire to help. Appeal to their need to be part of something bigger than themselves. 
Bench Accounting is a company that does this really well. 
In this blog post, we break down exactly how Bench Accounting's referral program encouraged sharing using a purpose-driven approach—from how they communicate their value proposition and the incentives they offer customers, to the CTA placements on their website and the language used in their emails.
But first...
What is Bench Accounting?
Bench Accounting (or simply 'Bench') is a fintech company that offers online bookkeeping services to small business owners.
If you're thinking, "So it's like Quickbooks?" then you're off the mark.
With Bench, you're not only getting an intuitive proprietary software to help automate your bookkeeping, but they also pair it with real, human bookkeepers to keep your financials up to date and headed in the right direction.
Launched in 2013, the Vancouver-based company has grown quickly to become one of America's largest bookkeeping services. To date, Bench Accounting employs over 500 employees and has recently onboarded its 9,000th client. 
Bench's Refer-a-Friend Program
Bench Accounting's referral program works like this: Once you become a client, you get your own unique referral link. You can then share that link with small business owners within your network to earn referrals. 
If someone you refer signs up, they earn a free trial month of bookkeeping. If they become a Bench client, they earn another free month—and in return you receive a $150 Visa gift card and one free month of service.
The best part? There's no limit to how many people you can refer. Which means you can keep enjoying free bookkeeping services as long as you can keep the referrals (and the sign-ups) coming. 
Being purpose-driven counts a lot in word-of-mouth marketing
You're probably wondering: Why the generous offer?
That's because Bench Accounting is on a mission to help small business owners get the support they need in these difficult times.
In fact, they've been at it long enough that they were able to secure over $136.5M in funding (and counting) for their efforts.

I'm sure the company is doing this out of the kindness of their hearts, but it's fair to assume there's some strategy involved here. 
Because as the people over at Bench Accounting probably know, people are more likely to support brands who care and who stand for something bigger than themselves.
If clients know they can help out by sending referrals, then that is all the motivation they need to do so. What more if helping out in the form of referrals also means they get something in return?
If I would hazard a guess as to why Bench was able to secure over $136.5M in funding for their efforts, it's because they were able to clarify to their clients why they're referring.
Is Bench's referral program enticing?
Here's the thing about costumers: Give them a great experience and they won't hesitate to spread the word about your brand.
Why? Because sharing great brand experiences fulfills people's innate need to reveal something about themselves to others. 
However, clients may have objections or concerns you will need to address before they are convinced enough to refer you.
Here are some questions that might be running in your clients' minds when you ask them for referrals:
Will this make me look bad?

Does this make me sound self-serving? 

Am I being spammy by sending this?
Bench was able to overcome these concerns by:
Speaking to the needs of their potential clients (translation: referral recipients)

Showing they have what it takes to address those needs
Speaking to the needs of your clients and potential clients
It starts with an enticing value proposition —one that explains clearly what Bench does and how they can benefit small business owners. B2B marketing starts with understanding your customers.
We get to see Bench's value proposition via Bench's refer-a-friend landing page. Referral prospects are taken to the following page when they click on a Bench client's unique referral link.
Bench's value proposition ("You run your business. We'll do your bookkeeping.") works because it speaks to the worries, fears, and desires of their target audience. It's got a nice ring to it, too. 
The subheading is just as good. First, it addresses at the outset the two major pain points Bench Accounting is solving for their audience: cashflow ("at a price you can afford") and time ("zero learning curve").
Including a subtle reminder that the company was recommended by a "friend" is a nice touch because it makes referral prospects trust the Bench brand more. I also love that the copy is being specific about what's up for grabs ("$500 in savings")—all the more to convince prospects to sign up for the free trial.
Showing they have what it takes to address clients' needs
Clients are more likely to refer you to others if you can show you have what it takes to address their needs.
Bench makes a convincing case by presenting glowing social proof in the form of testimonials from past or existing clients on their refer-a-friend landing page.
When referral prospects scroll down on the landing page, this is what they see:

Are Bench's incentives good enough?
If you want your referral program to generate more referrals, offer rewards that matter to your audience.
More to the point, offer them rewards they'll be interested in even on top of the benefits your basic offerings are already providing them.
To pull this off, you need to get to know your audience. 
Bench did their homework in this regard.
As already stated in the previous section, small business owners (Bench's target audience) struggle with two things: Cashflow Management and Time.
Bench already solves these pain points through their bookkeeping services. So how can offering a $150 Visa gift card and a free month of bookkeeping persuade clients to send referrals?
$150 VISA gift card
Gift cards work great as an incentive because they offer convenience, flexibility, and instant gratification. For a small business owner who is having a difficult time keeping their finances in check, a gift card is a gift that keeps on giving (pun slightly intended).
Also, unlike cash incentives, gift cards tend to stand out as rewards. Why? They are far more memorable and evoke a lasting reminder of achievement. Besides, while cash is a little more flexible than gift cards, offering real money can feel, well, a little crass. If you want to offer an incentive that gives recipients more spending flexibility without feeling gross about it, gift cards are always a great choice.
Pro-tip: GrowSurf makes it easy and hassle-free to automatically reward your referrers with gift cards. With our native Tango Card integration, it's 100% free to use and simple to set up.
A free month of bookkeeping
This works for two reasons. 
First, by giving them a free month of bookkeeping, Bench is giving their clients something they already value. 
Second, giving them a free month gives Bench more opportunities to demonstrate the value of their service. It buys them more time to showcase what they can do, increasing the likelihood that clients will stick around even if the free month (or months) is already expired.
Caution: Offering free months as an incentive may prove costly down the line if you're not careful. To get a positive ROI, make sure your referral revenue exceeds customer acquisition costs.
Pro-tip: Rewards fulfillment or managing referral payouts can get messy and time-consuming. You can save time and your sanity by using Growsurf to put your rewards fulfillment process on auto-pilot (and ensure your referrers are being rewarded for their efforts).
Request a demo of GrowSurf
Set up your referral marketing program with software that lowers your customer acquisition cost and saves you gobs of time.
The Onboarding
The importance of a smooth onboarding experience in a referral program can't be emphasized enough. 
If you want people to trust you enough to recommend your brand to others, you have to give them a seamless experience.
With all the noise and distractions around us, clients now crave seamless and personalized interactions with brands more than ever.
The thing is, clients also know that those within their network feel the same way.
If your onboarding process is confusing and fragmented, clients aren't likely to recommend you to others. After all, their reputation is on the line. 
This is another thing Bench Accounting got right.
Here are the first couple of emails Bench sends out to new clients after signing up, post-purchase.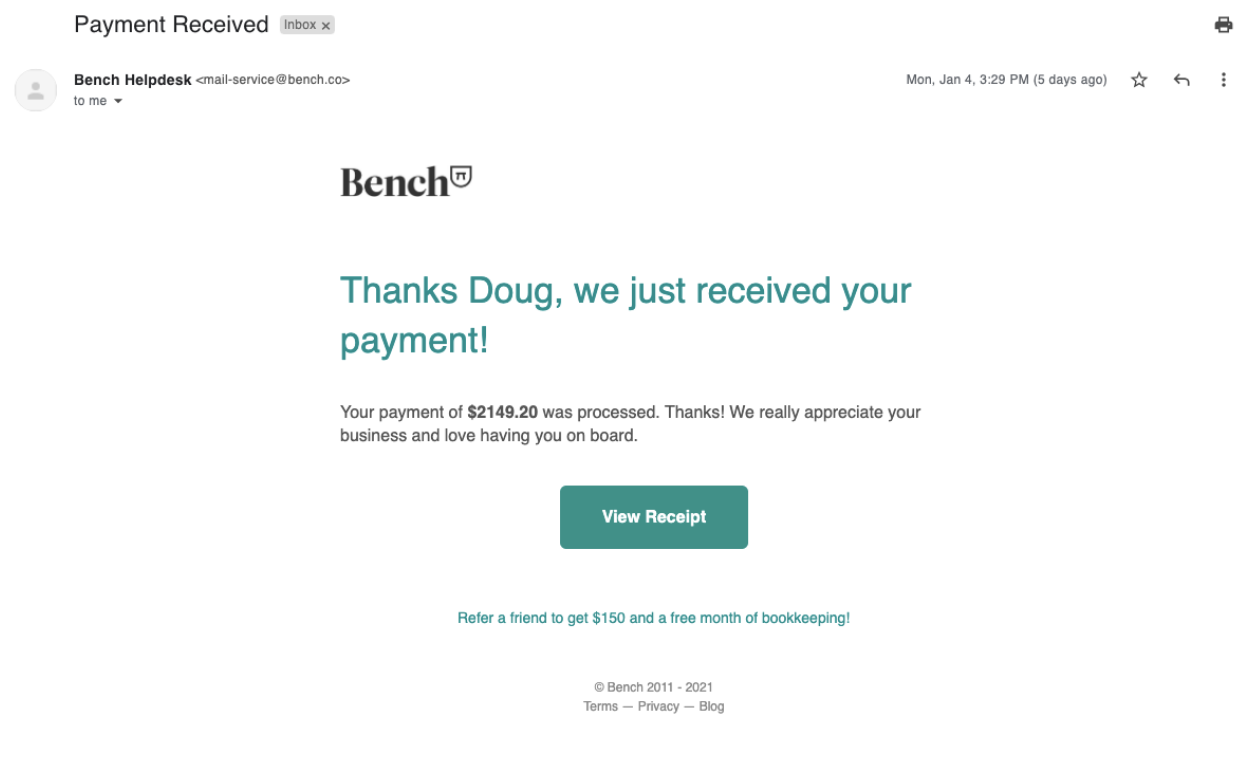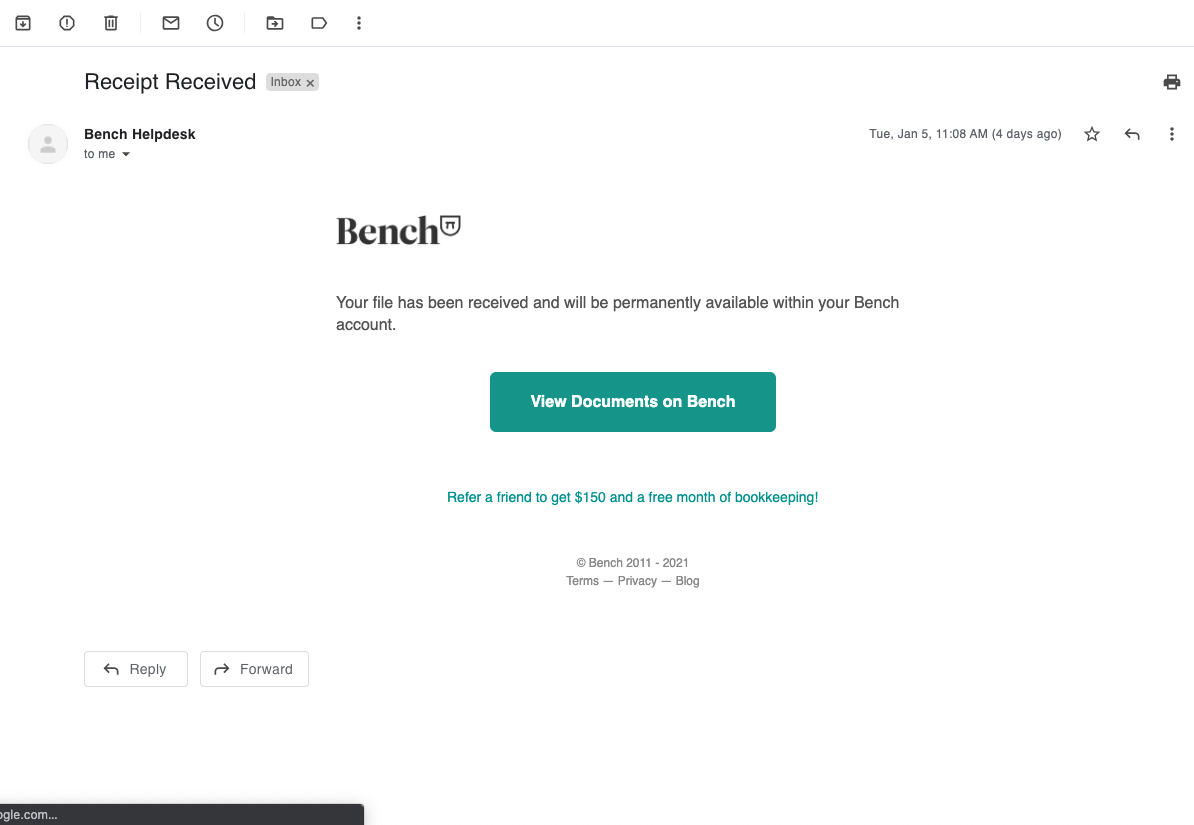 So far, so good.
(Also, did you notice the referral invites?)
And here's another.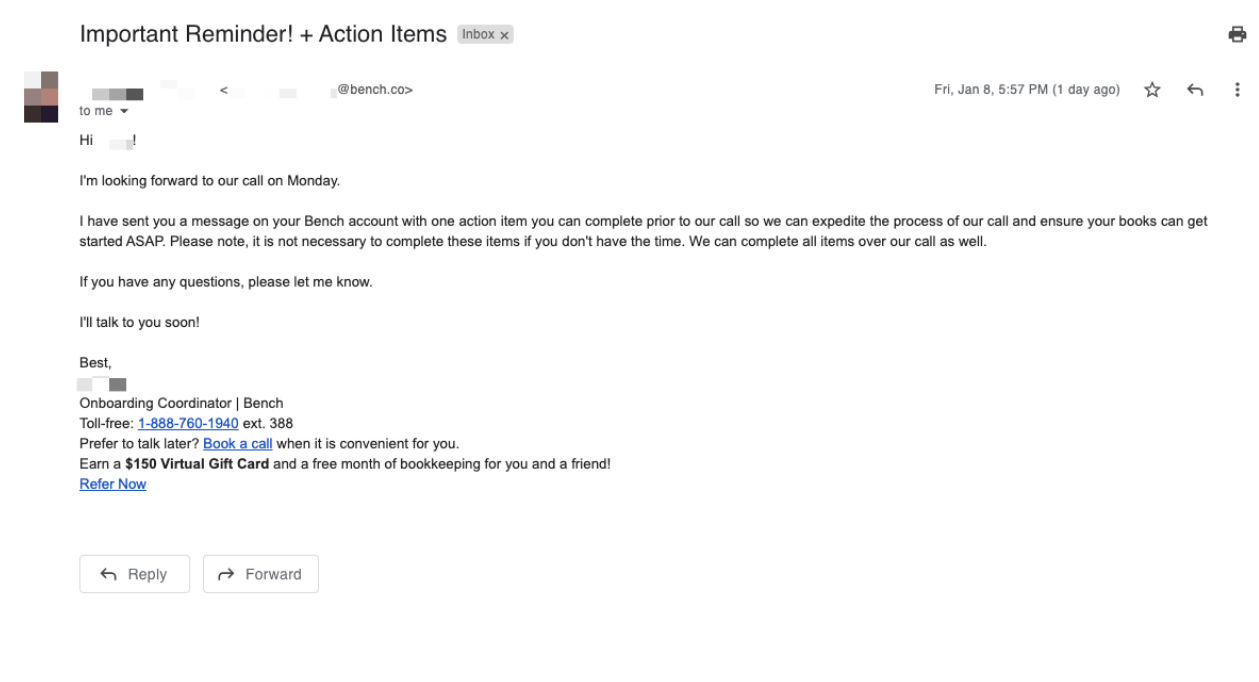 Bench sends the following email after the call.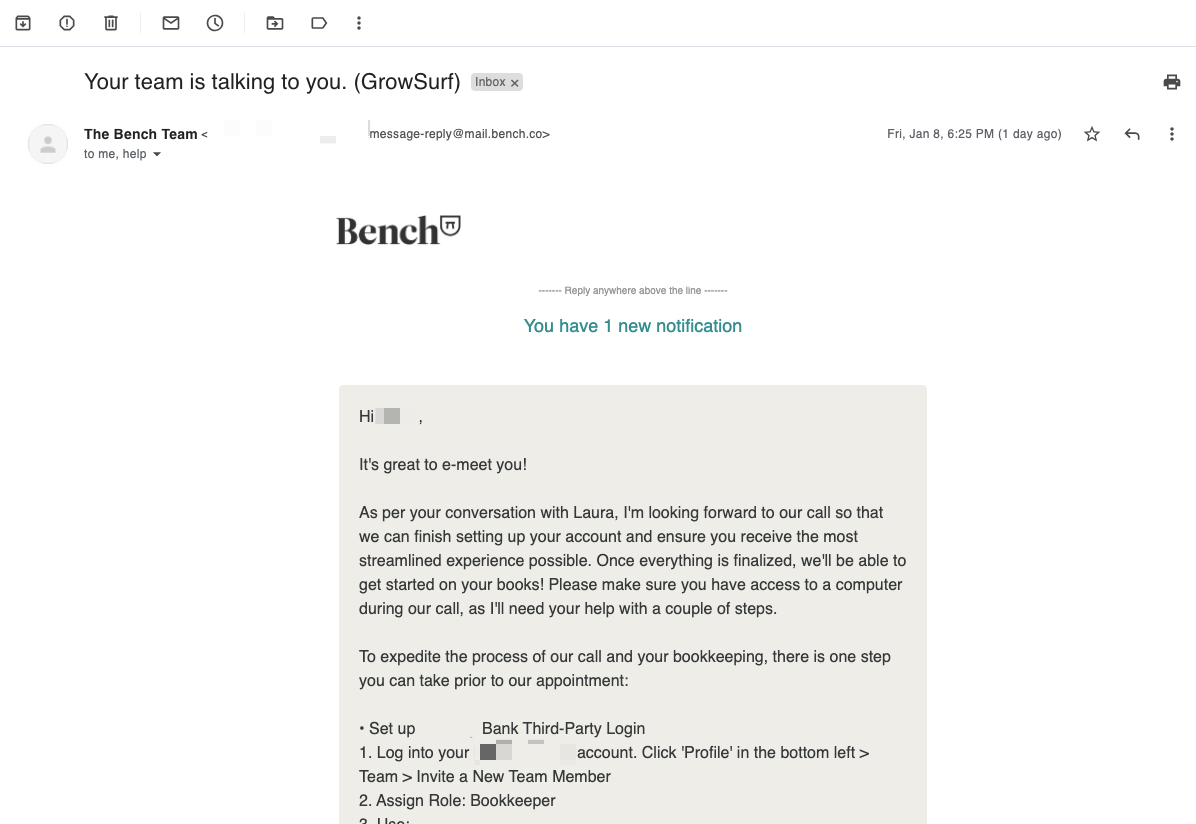 Here are four things Bench does right in the above onboarding email sequence.
Gives new clients a warm welcome. Bench's welcome message makes it clear that they value their relationships with their clients, and don't see them as mere numbers on a balance sheet.

Gives them action items. Tell clients what they need to do to get started and advance the relationship forward.

Gives them the necessary resources. This helps clients get acclimated with the solution and get the most out of the solution from the get-go. 

Keeps it "human." Successful businesses (and by extension referral programs) are built on good relationships. You can't build a good relationship with clients if your communication with them is not personable and human enough.
By creating the right conditions that help demonstrate the value of their services early on, Bench is giving their clients a good reason to stay with the service. 
After all, if clients keep leaving, they can't maintain a client base robust enough to keep referrals coming.
(Speaking of email personalization, Growsurf uses dynamic text to help you craft personalized emails that will boost your open rates.)
Referral CTA Placements
You probably noticed that Bench has started including referral CTAs in the emails they send out to users by this point. This is great timing since engagement is at its peak and clients are now eager to get more value from the investment.
However, people tend to forget things easily. Even if they're eager to send referrals your way, you have to keep reminding them that your referral program exists for them to follow-through.
Bench does a great job in this regard. How? By making their referral program highly visible and accessible throughout their platform. 
Bench placed referral reminders in the following areas:
The Messages section

The Refer section 

The Settings section
By placing referral reminders in areas where users are most engaged, Bench is increasing referrals in ways that feel native to the user experience.
Let's go over each one by one
The Messages section
Bench makes clients feel right at home from the get-go with the following welcome message.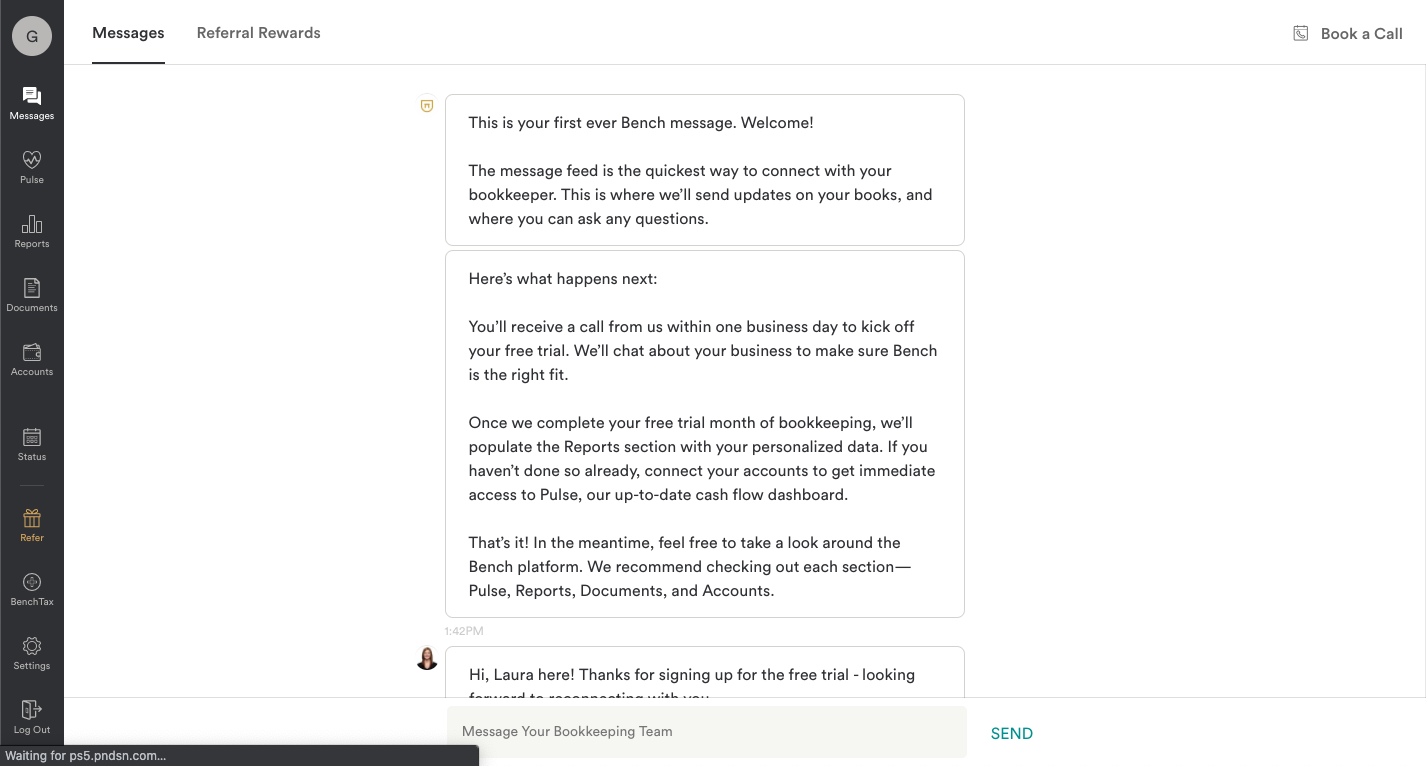 As seen from above, Bench gives new clients a quick breakdown of what to expect and a few suggestions on what they can do to get up to speed with the service. 
The personalized message from one of Bench's bookkeepers that follows is also a welcome addition. Talk about starting off a relationship on the right foot!
By this point, new clients are probably feeling excited by what's in store for them in their Bench membership.  This is the perfect time to remind them about the referral program. 
The Refer section
One of the best ways to keep your referral program top of mind is to create a dedicated section or portal for it. 
Another way to get to the 'Referral Rewards' section is to click on the gift icon on the left menu.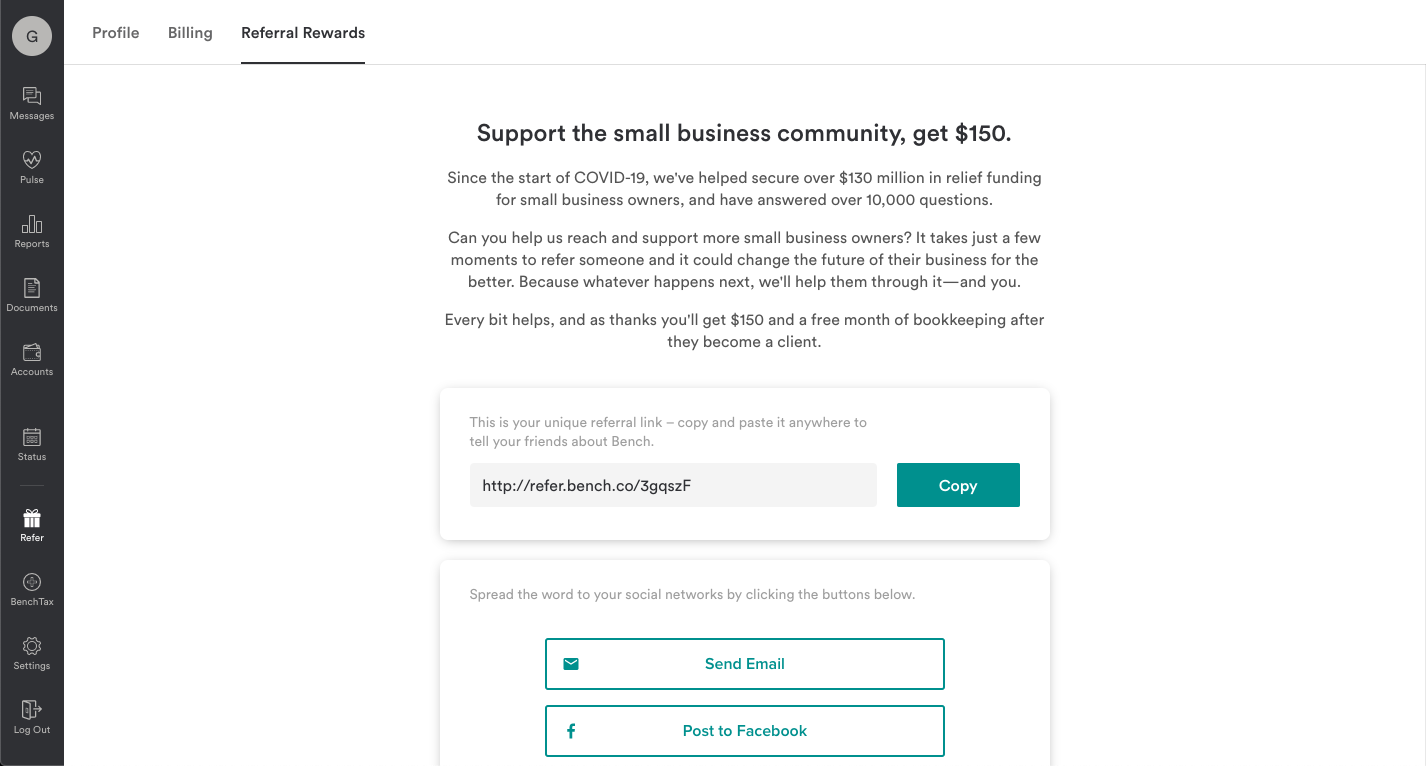 (I like how the main text copy is tapping into people's innate need to help out. It's a good time as any to remind clients the 'Big Why' of their referral program)
As you will notice, clients are presented with many different options to send referral invites as soon as they scroll down on the page. 
By offering clients many choices via multiple referral CTAs, Bench makes it easier for them to send referrals, maximizing referral opportunities.
The Settings section
The Settings section is where Bench users get the opportunity to customize or redesign their experience within the platform. Sounds like a good place to give clients a sense of ownership over the referral experience—hence the inclusion of 'Referral Rewards' as one of its main tabs.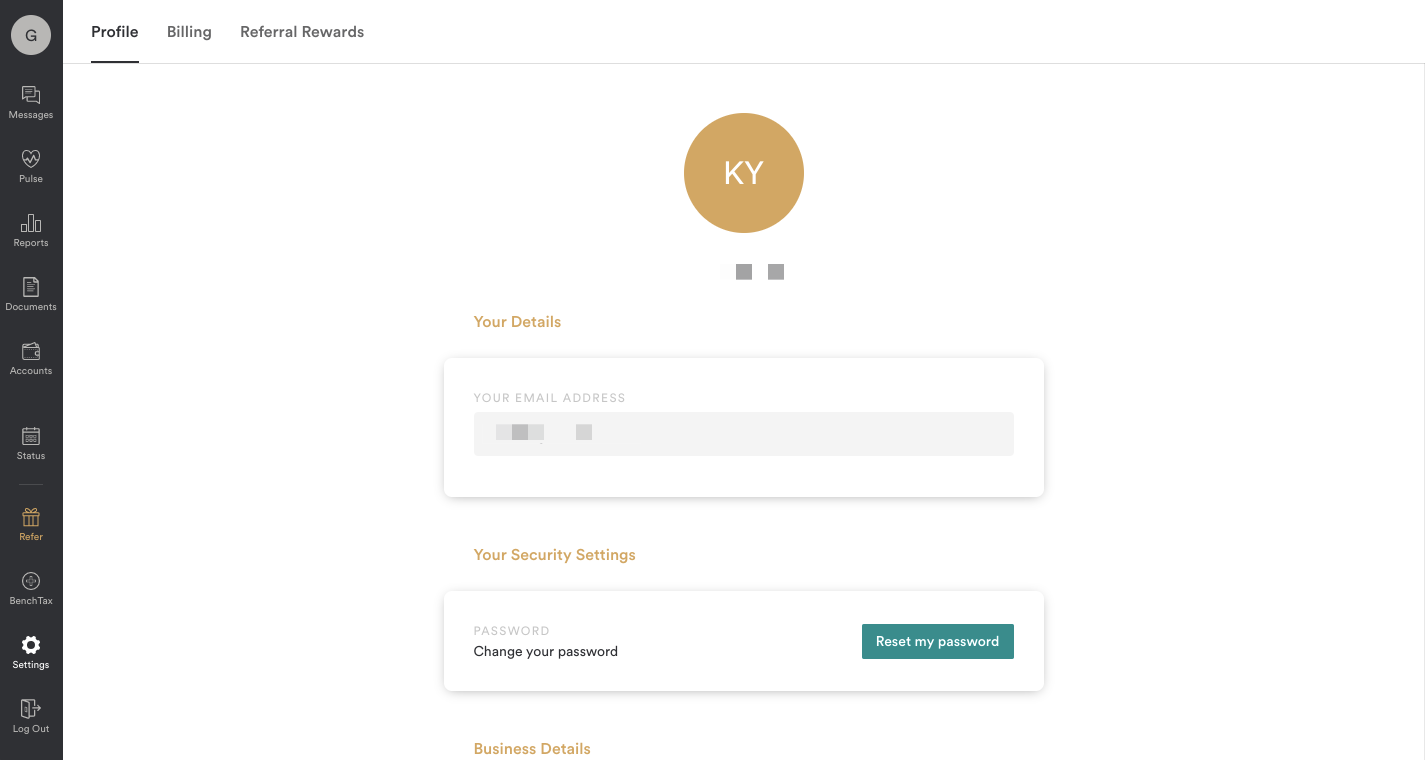 Referral CTA placement matters
Did you see how Bench was able to make the referral process within the platform easy and frictionless through strategic CTA placement?
Let's go over Bench's referral CTAs one by one.
A unique referral link. Unique referral links make it easy for clients to send referrals and allow them to take ownership of the referral experience. They also allow Bench to keep track of all activities in their referral program.
Social share buttons. Utilize social media's reach by giving clients the tools to meet referral prospects where they are.
An invite by email button . Email is still the most effective and most efficient communication channel, after all.
Pro-tip: For faster growth, you can use Growsurf to create a referral program just like Bench. Automatically generate unique referral links for each client who signs up for your product or service, and easily embed referral invites to your promotional and transactional emails.
The "Personal" Referral Message
Word-of-mouth (or referral) marketing works for one simple reason: people are more likely to trust someone they know instead of brands.
A personal recommendation, however, doesn't feel 'personal' without a message.
This is why most referral programs provide their clients with the option to write their own personal message when they're sending referral invites.
However, people can get lazy. And there will always be people who feel awkward writing their own personal message.
Bench solved this problem by offering a pre-written message, which goes like this:
"I trust Bench when it comes to my books and if you're ready for a switch, check them out! They pair you with a bookkeeper and provide insightful financial reports. It was a game changer for my business. You can try them for free—no credit card required here:"
Here's how it looks like when clients send referral invites via email: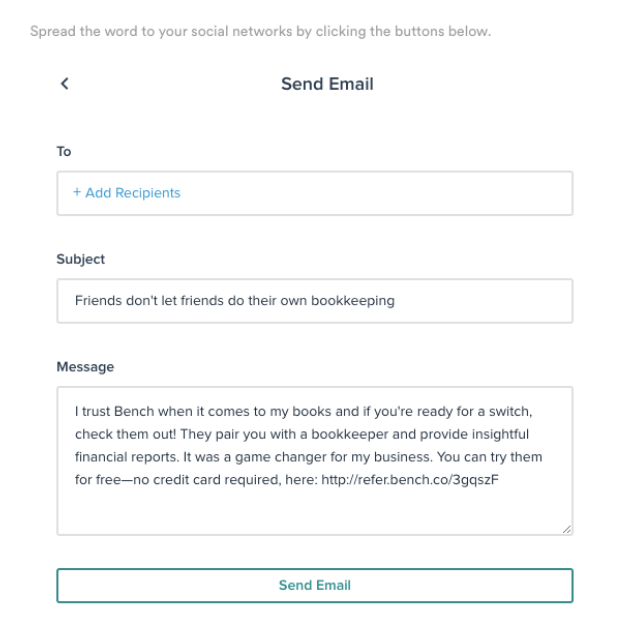 This one is via Twitter.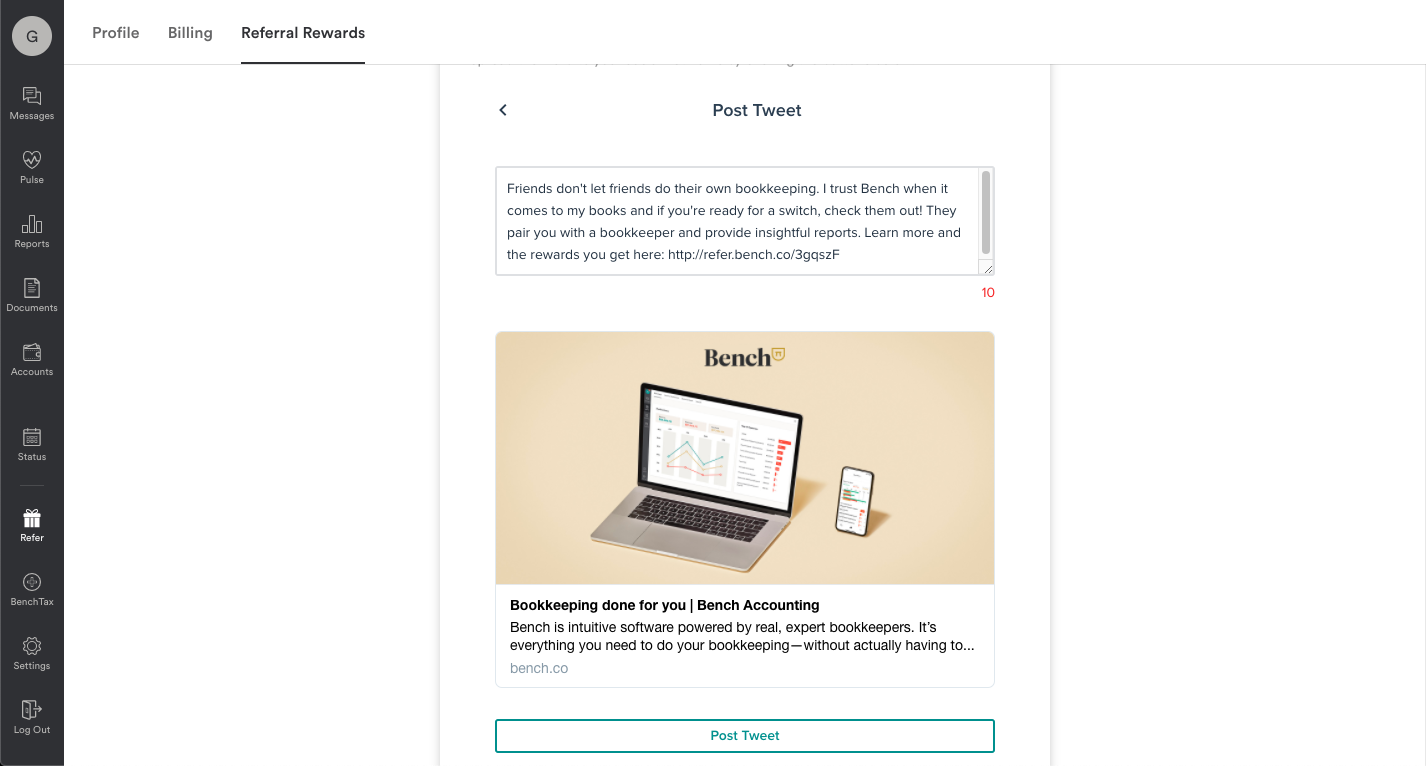 Including a pre-written referral message is a great idea not only because it eliminates any friction that keeps clients from sending referrals, but it also guarantees that referral invites come with a captivating copy that compels recipients to take action.
Final Word
If you want your referral program to succeed, tapping into people's desire to help out can make a big difference. But to persuade clients to spread the word about your brand, you need to give them a good reason to vouch for you. Make it easy for them. Give them the tools they need to get your message across to prospects in a powerful way.
Bench Accounting cares. But they know that caring alone doesn't count. To make an impact, they communicated the value of their services in a compelling way and clarified the 'Big Why' behind their referral program. And by putting their referral CTAs in the right places within the platform, Bench has managed to keep their referral program top of mind and their clients engaged enough to keep spreading the word.
Request a demo of GrowSurf
Set up your referral marketing program with software that lowers your customer acquisition cost and saves you gobs of time.