Tech startups are always looking for ways to get more users. They don't just want traffic. They want quality traffic that will help them build a strong customer base
One of the best things you can do to increase your conversion rate is referral marketing!
Thanks to its referral program, Dropbox increased its conversion rates by 3900%, and now, you can too! 
In this post, we'll break down how they did it so you can reap the same benefits with your own company.
The Inspiration Behind The Dropbox Referral Program
Only a few people know that Paypal was the inspiration behind the Dropbox massively successful referral program.
Before Paypal became the leading digital payments platform, it used to reward referrals with cash.
The company literally paid its first users for every referred friend, spending a whopping $60 million on referral incentives.
Early adopters were rewarded with $20 in their PayPal account for signing up and with a bounty of another $20 for every new user they referred.
The results were mind-blowing!
Paypal experienced 7 to 10% daily growth, growing its user base to over 100 million members.
Sounds impressive, right? 
Dropbox User Growth Timeline
Before we dive deep into the inner workings of the Dropbox referral program, let's first look at some important numbers: 
September 2008: Dropbox has 100K registered users
September 2009: Dropbox grows to 2.2M registered users
September 2017: Dropbox boasts 33.9M registered users
To explain, Dropbox had a user base of 100K by September 2008, a modest growth considering how competitive was the tech marketplace in that period.
But between 2008 and 2010, the company's user base started to double every three months, resulting in 2.8M invites sent in April 2010.
The company went from 100k registered users to 4M registered users. That's a 3900% growth over 15 months!
No wonder the referral program is one of the most studied referral programs in the history of referral marketing.
By 2017, they had almost 34 million users. To top it off, the company was valued at $10 billion and $1 billion in revenue.
Looking at a Slideshare presentation by Drew Houston, the co-founder and CEO of Dropbox, one surprising detail comes up:
At the time when the company experienced its most significant growth, it was mostly staffed by engineers, not marketing gurus.
The Inner Workings of the Dropbox Referral Program 
By now, you must be wondering: 
How did these guys pull it off? 
In fact, the Dropbox referral program was quite simple: reward people with more free space for referring to their friends but also for accepting an invitation.
Their incentive was double-sided: both the referrer and the referee would get 500 MB of free space. Every new referral would get them 500 MB of additional free space, up to a limit of 16 GB.  
But here's something else that might interest you:
The company did more than just pick a suitable referral program incentive.
They did a few more things that influenced the success of the referral program, which is: 
They made the referral program part of the onboarding process. 
Here's a fact:
The best time to mention your referral program to your customers is when they are most engaged with your brand, product, or service.
And what a better time than when the customer is engaged in onboarding your product or service.
That's what Dropbox did with its referral program. In addition to filling out some details and tips on getting started, Dropbox integrated its referral program in the onboarding process as the last step.
They used a simple marketing trick: the more visible your referral program is, the more people will participate.
They let people know exactly what they were getting. 
The problem with many referral programs is that the messaging is often puzzling, which can leave users confused.
Even worse, if users assume some things about your referral program, they might feel cheated and drop out.
Dropbox nailed the referral program's messaging!
The conditions of the referral program were plain as a day:
Refer a friend, and Dropbox will give you 500MB of free storage space if that friend installs Dropbox on their computer. Your friend will also get the same amount of storage. There's a limit to how much free storage space you can get, and that's 16GB.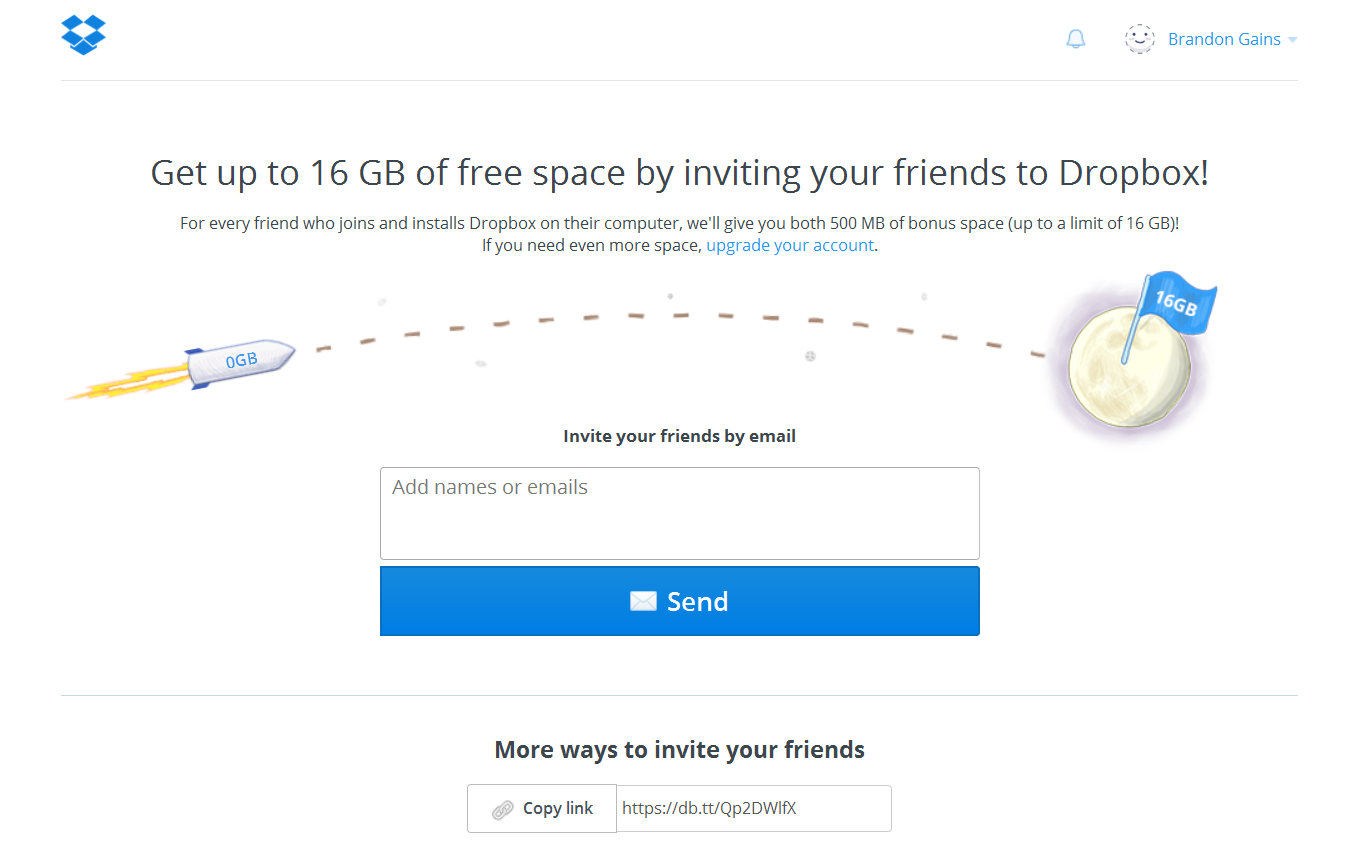 They made the referral process as easy as a walk in the park. 
Let me share with you another fact:
People don't like friction.
A good referral program should make it easy for customers to refer a friend.
If they have to jump from one page to another just to send a referral, they'll likely get frustrated and drop out of the referral program process.
That's what Dropbox did! 
They made it incredibly easy for users to send a referral without too many steps.
People had multiple sharing options with predefined messages.
They could refer a friend by sharing their unique referral link in whatever way they wanted (email, SMS, messenger apps) or do it via social media.
Even better, Dropbox offered users the option to sync their contacts from Yahoo!, Gmail, AOL, etc.

They let users see how their invites performed.
Many people would say that this played a critical role in creating trust and motivation among users.
An invite status dashboard!
What did this do?
In short, referrers could access a dashboard from their Dropbox account and see how many of the friends they referred had completed the sign-up process.
Keeping track of how their referrals performed motivated users to follow-up with their friends and send more referrals to get even more free space.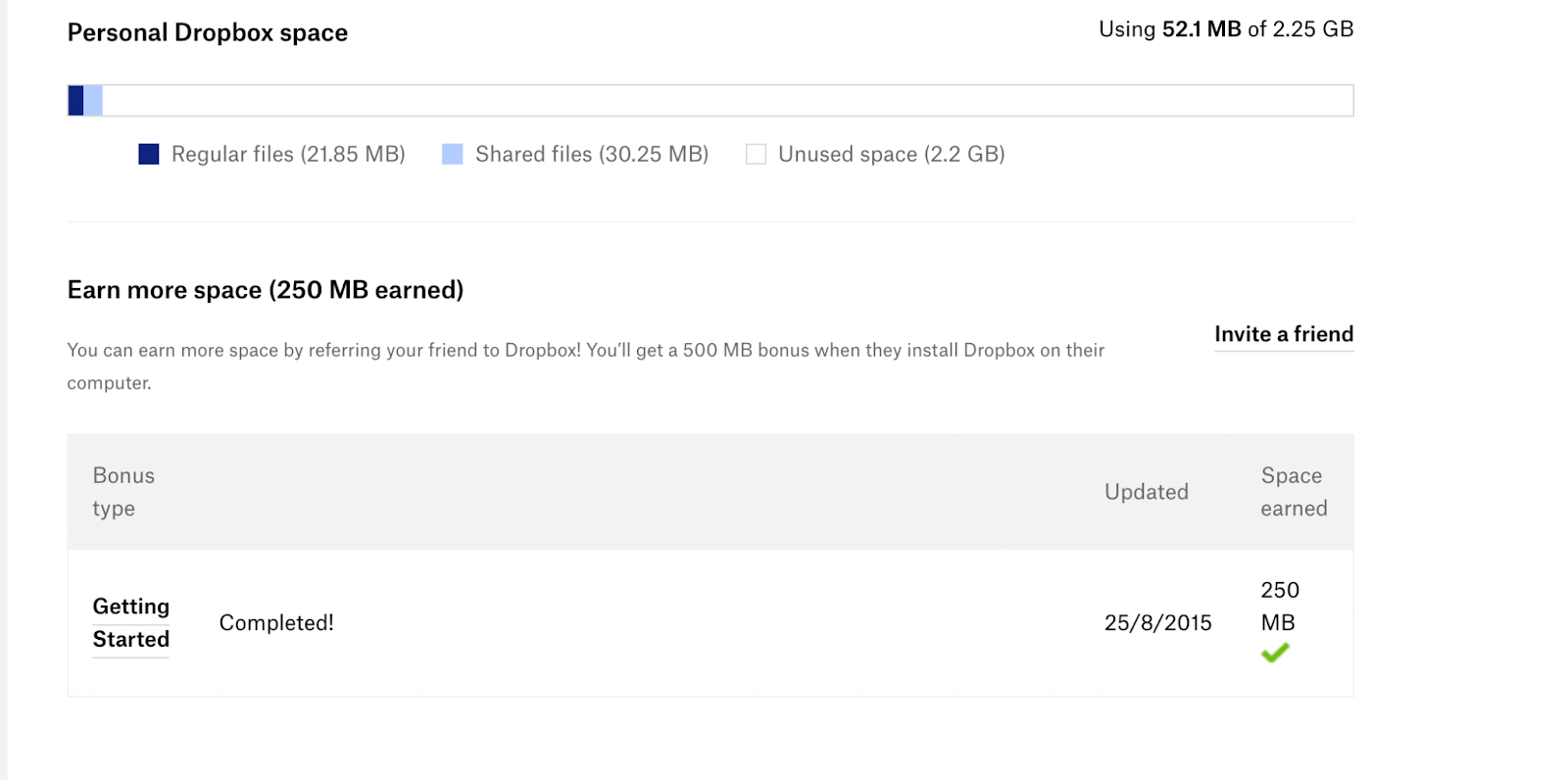 They created a viral loop by sending out "thank you" emails. 
This was the final piece in the brilliantly created referral program that brought Dropbox millions of new users.
Here's how it worked:
Every time a referral would be successful, Dropbox would send a "thank you" email to the referrer and the referee.
In the "thank you" email, the company would include a call to action (CTA) that said, " To get even more space, invite your friends or upgrade to Dropbox Plus ". 
The subtle CTA would compel users to refer more people to increase their storage space.
Ultimately, this created a viral loop that motivated users to refer more people than they would normally do.
The Main Takeaways
We can all agree that the Dropbox referral program is brilliantly thought-out.
But it's by no means unmatchable.
In fact, the takeaways from its referral program are widely applicable to any company.
I'm here to tell you that your returns on investment can potentially match that of Dropbox. All it takes is this:
Make your incentives relevant to your product. Giving out free storage space when you're a ride-sharing app doesn't make much sense. But giving out product/service upgrades when you're a project management app sounds enticing. Choose your incentives wisely – they can make or break your referral program. If you're having struggles choosing the best incentive for your brand, take a moment to read our post on How to Choose The Perfect Referral Program Incentives.
Make sure that your incentives are substantial. If customers are taking the time to refer your brand to their friends, they're not going to do it for a $2 cash reward or one-day access to your Premium plan. You must give something substantial if you want people to jump onboard. Entice them with cool brand swag or 20% discounts.
Build a product people will want to talk about. The truth is that referral marketing worked for Dropbox because they had a product people were happy with and happy to promote to their friends. Referrals are an effective tactic, but they can't do magic.
Finally, don't hesitate to use a referral marketing software. Tools like GrowSurf help you create a referral program like Dropbox and manage your referrals once they start to come in. We have a generous free plan, and you can upgrade anytime when you are ready to fully automate your referral marketing. Sign up today!
Subscribe to GrowSurf
Get our weekly newsletter for our latest referral marketing guides.
Error subscribing! Please try again.