In exciting news, we're proud to announce that GrowSurf is now officially partnered with Stripe to make automated referral programs a breeze in the park.
GrowSurf x Stripe Referral Program Partnership
Here at GrowSurf we're regularly looking for core partners to work with to ensure that our users have the very best experience that they can when building successful referral programs for their businesses. Seeing how Stripe is one of the largest payment gateways used across the internet and by a huge swathe of our users, it seemed only right that we should look to partner with them. We now have a full Stripe integration.
Those who have been with GrowSurf for a while now will know that we previously supported Stripe automation through Zapier but now life is so much easier. We've taken the step to ensure that GrowSurf users will have a far easier time setting up referrals with Stripe thanks to our new shiny API integration.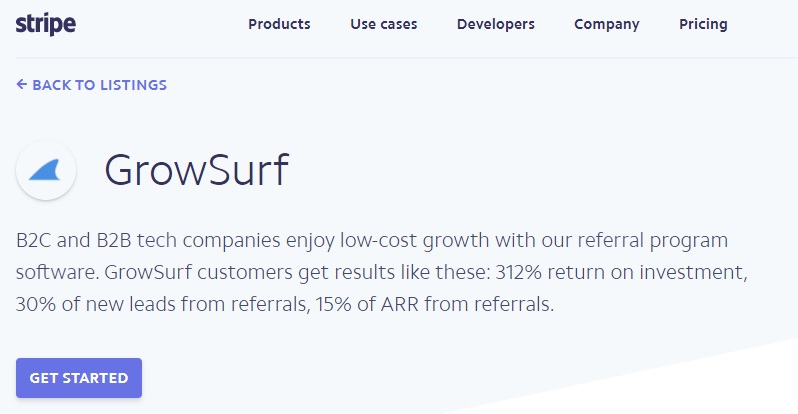 How to Set up a Stripe Referral Program
Once you have connected GrowSurf and Stripe, you'll be able to enable a Referral Trigger based on Stripe transactions. This means that when this trigger is detected GrowSurf will automatically detect it and note new referral charges.
Within GrowSurf the emails will be cross referenced to see whether the Stripe customer matches a GrowSurf user's email address. In positive cases, the referral triggers, the referrer gets their referral credit, their rewards unlock (if you've set these up) and everyone is happy. It's worth noting that the referral credit will only be applied once and if it has already triggered once then nothing will happen on subsequent events.
Set Up
Step 1: In Campaign Editor > Options > Integrations, click the Connect to Stripe button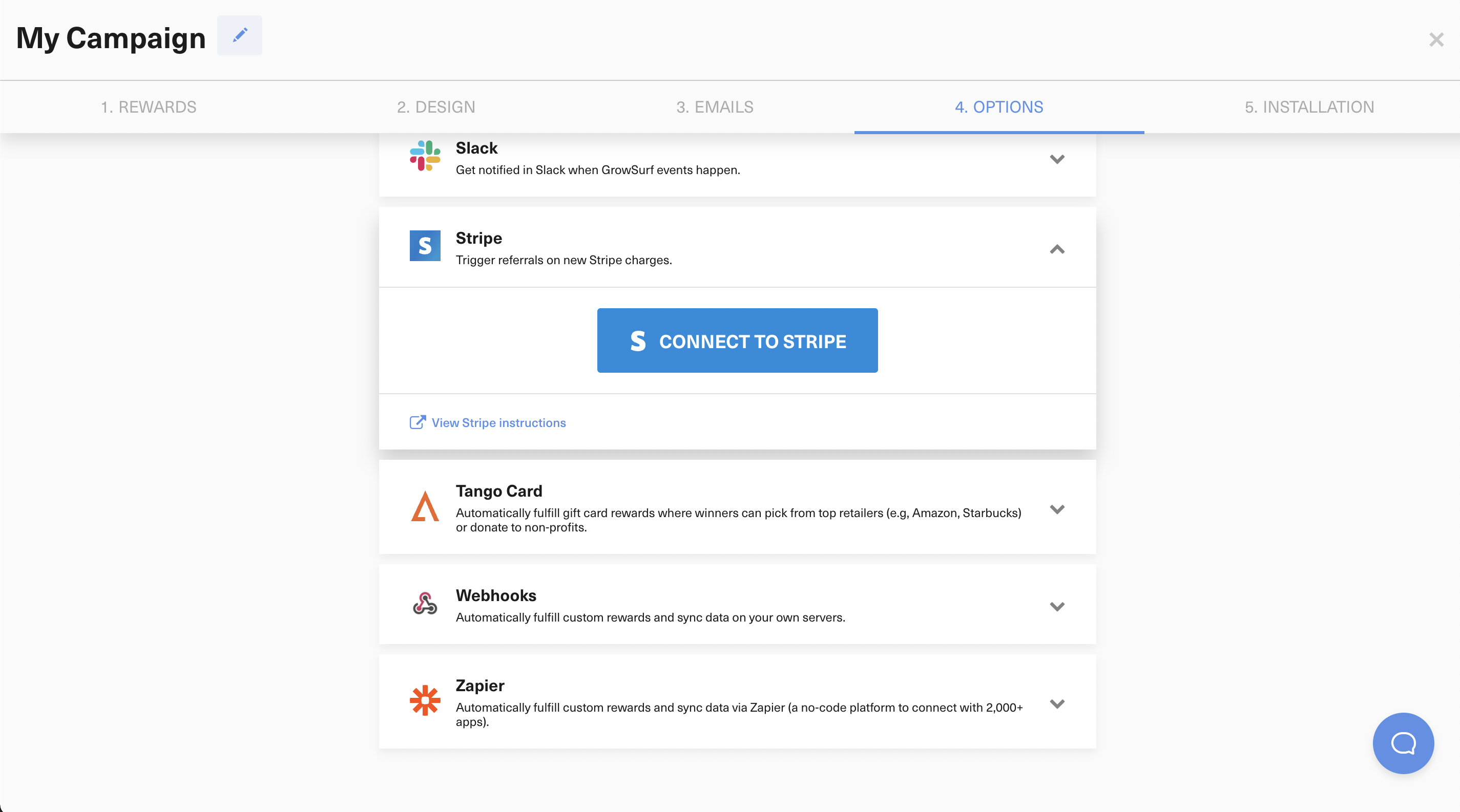 Step 2: Once connected, GrowSurf will have Referral Trigger enabled by default.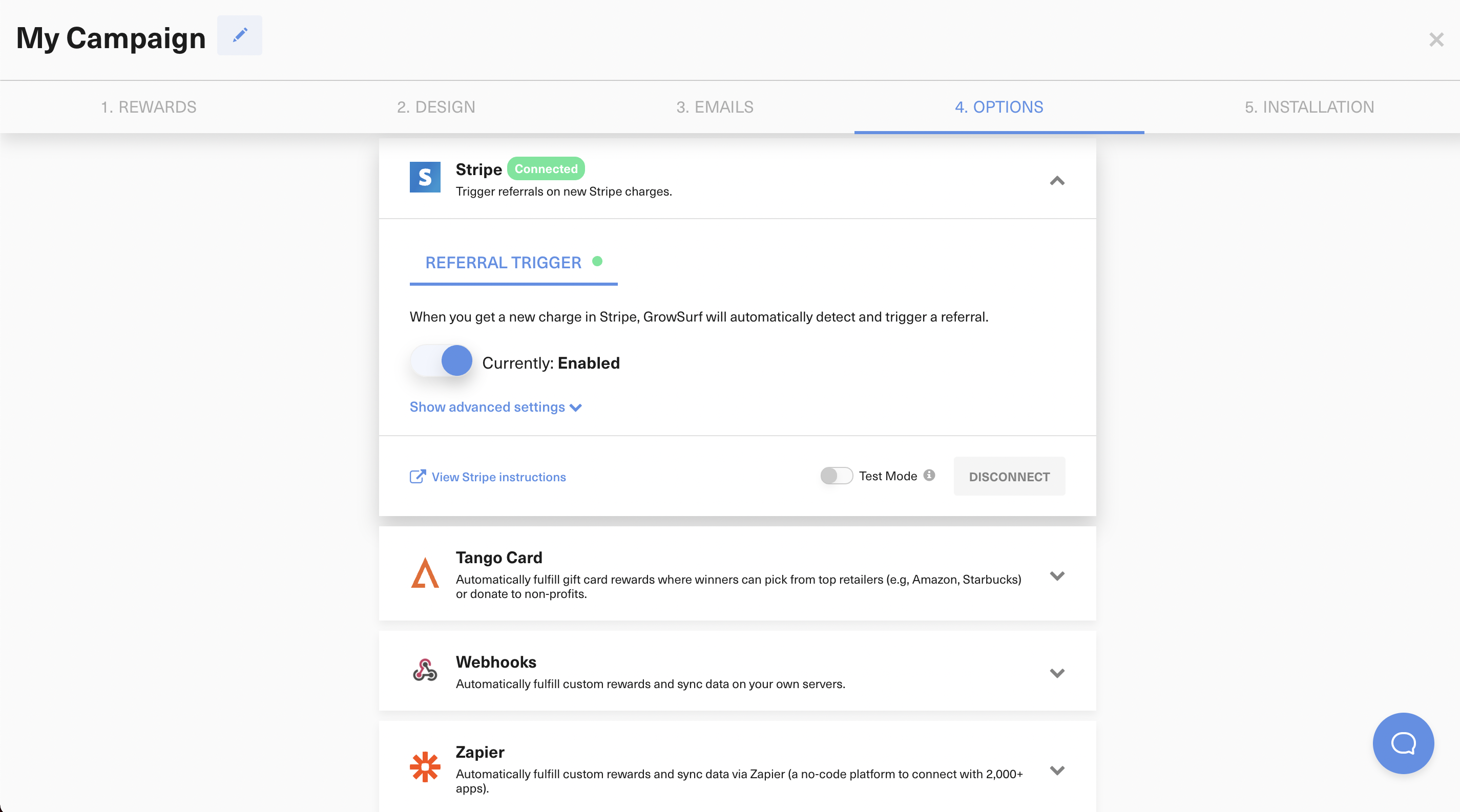 (Optional) Step 3: You can add a referral trigger hold period by toggling the Show advanced settings section.
Using the referral trigger hold can be useful as it prevents fraud and also reduces the amount of revenue lost due to refunds and chargebacks. If a trigger is in hold, should a refund or chargeback be requested, then the referral trigger is nulled.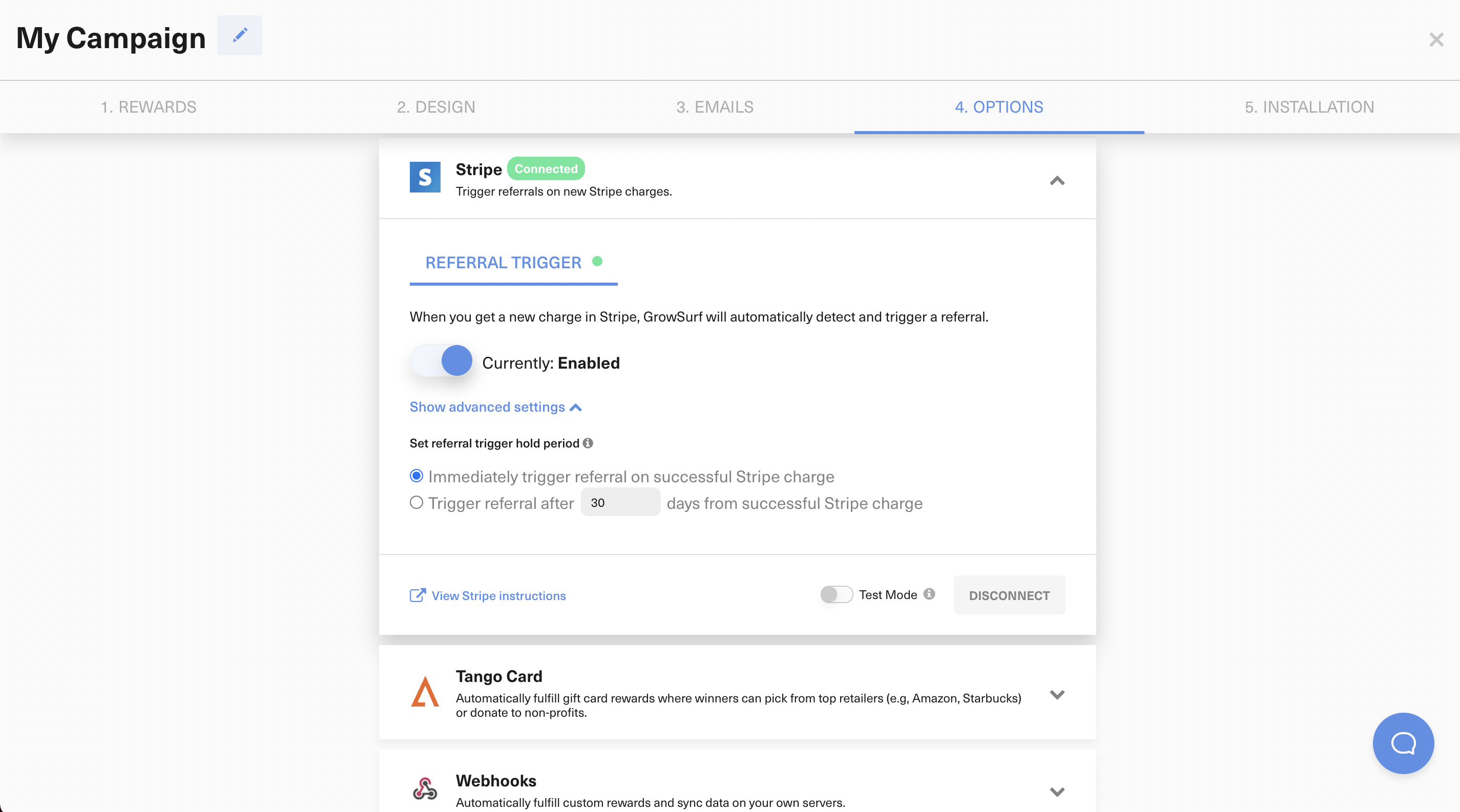 Setting up Stripe Metadata
This will be taken care of by GrowSurf, details of which can be found on our dedicated integration page.
Have questions about GrowSurf?
Talk to a referral marketing expert today.
Using Test Mode
Everyone needs a test mode and our integration has one so you can test to your heart's content without worrying about Stripe having to take live payments. Once you've turned on Test Mode, you'll be able to see that GrowSurf processes all test mode payments made from the Stripe account.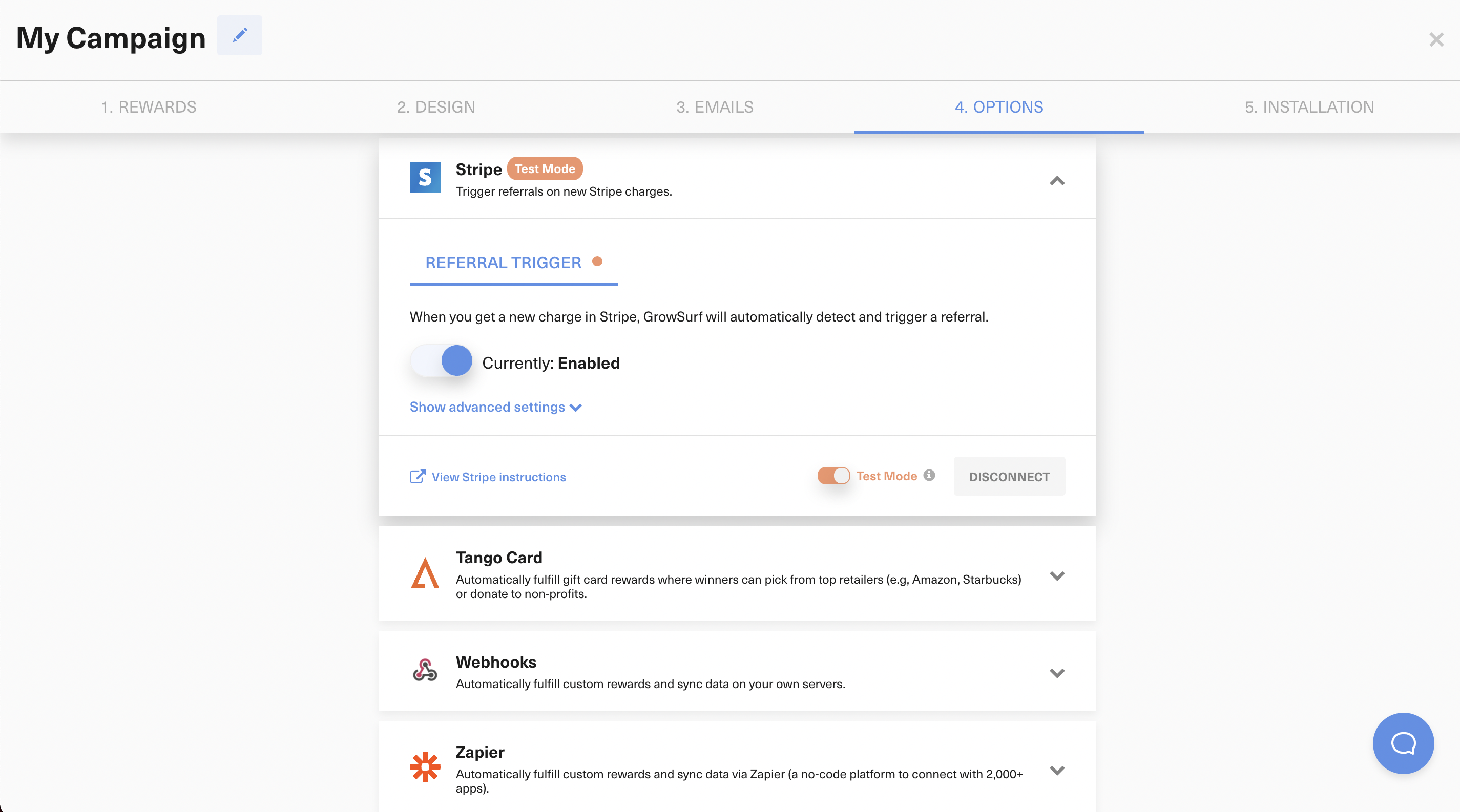 If you're testing the integration be sure that you check the participant's activity logs, the details here will likely help you if you run into any problems.
Setting up Coupons
This process integrates GrowSurf and Stripe so that when a GrowSurf participant unlocks a reward a coupon is automatically applied to the Stripe customer.
Set up
Step 1: In Campaign Editor > 4. Options > Integrations, click the Connect to Stripe button
Be sure to select the default currency for your GrowSurf campaign, otherwise the Stripe integration will not work. The default currency that you choose allocates what Stripe coupons can be applied to customers and subscriptions. Were you to pick USD as the default currency then the coupon will also be in USD and therefore only useable by those Stripe customers using USD.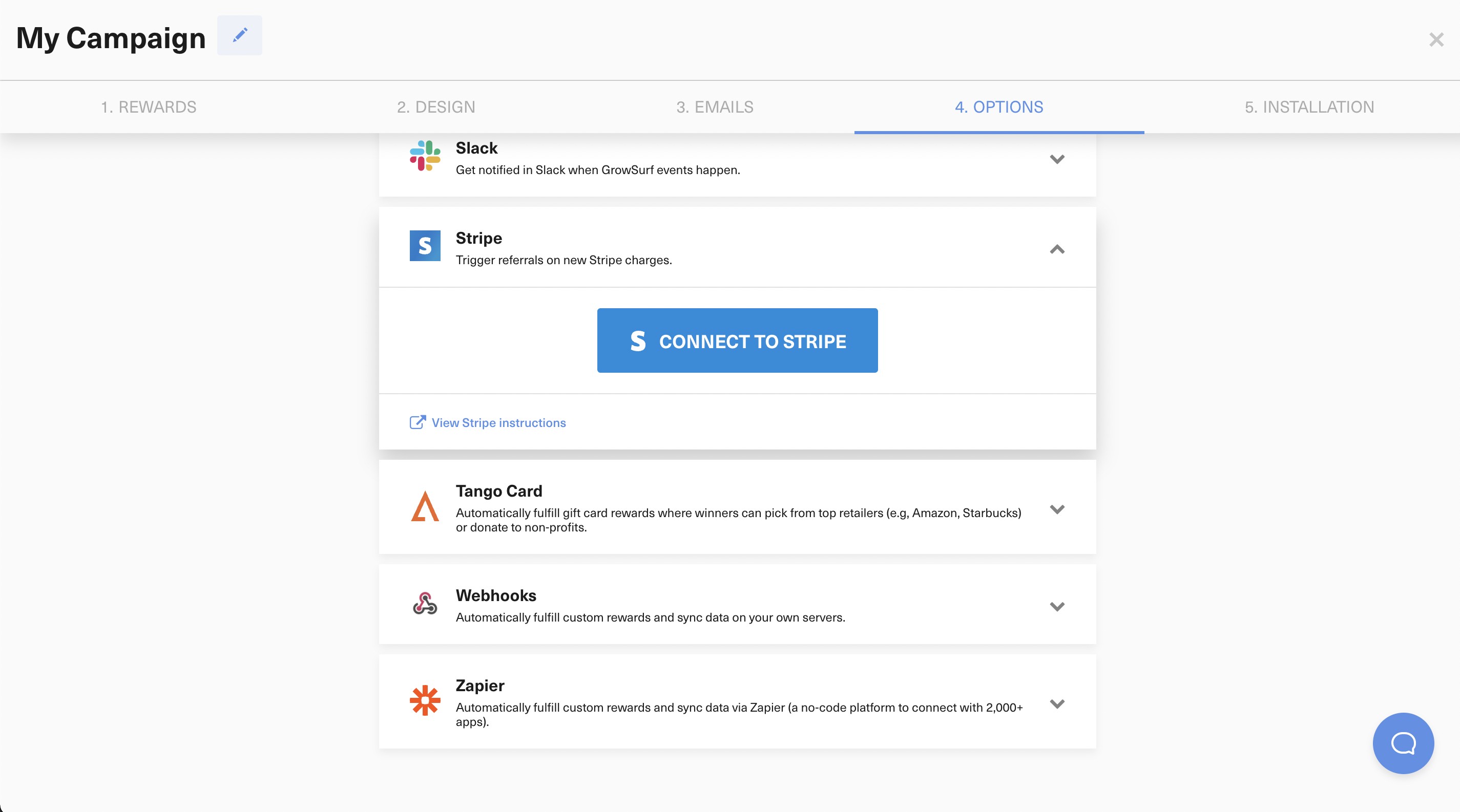 Step 2: Once connected, click the Coupons tab and connect a reward(s) to Stripe by clicking the Connect a Reward button.
By default referral trigger will be enabled, if you're not using this method please disable the toggle in the appropriate tab.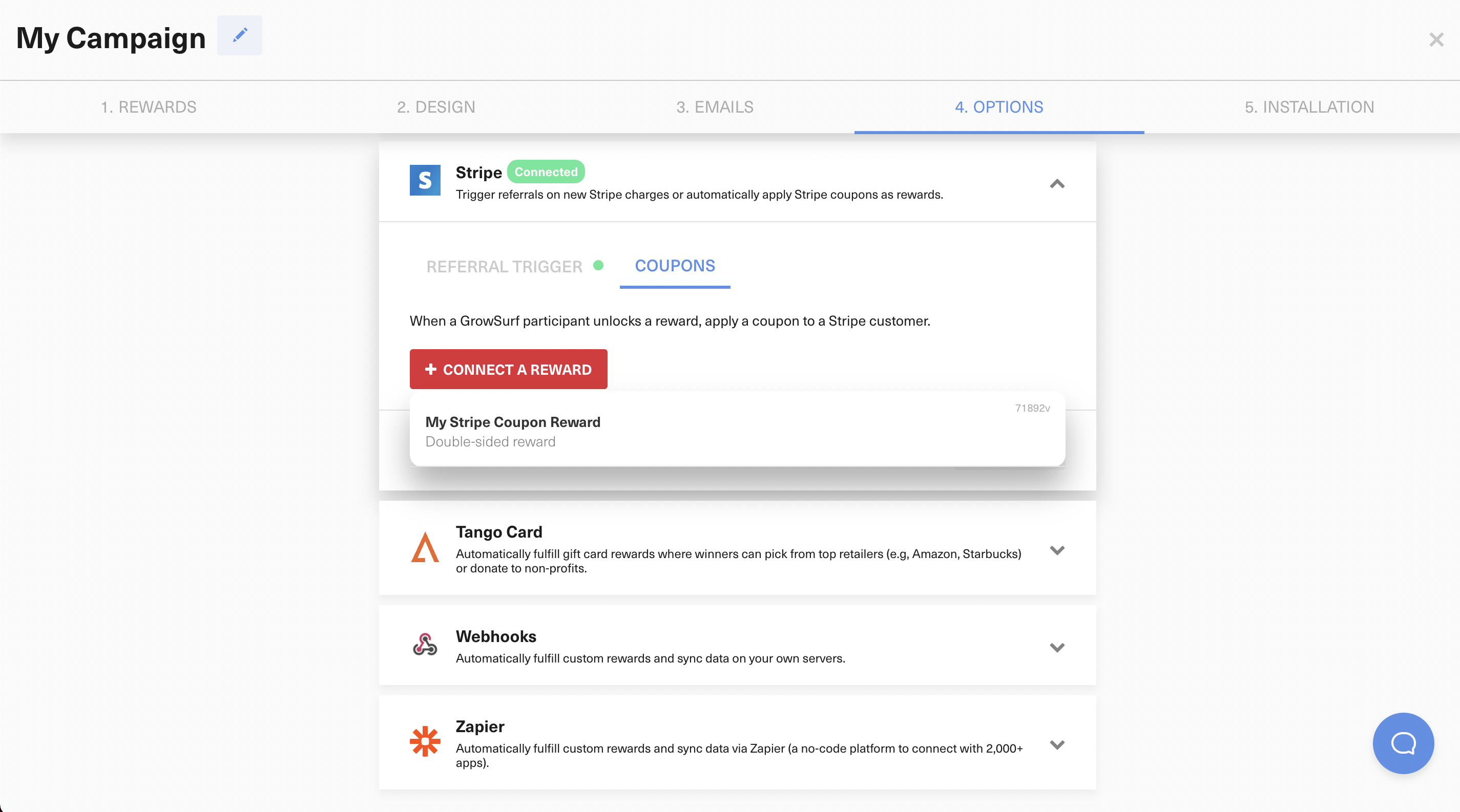 Following this follow the coupon setup wizard by picking a name, type and discount. If you need to, there are considerable advanced settings for the coupon under the customization settings.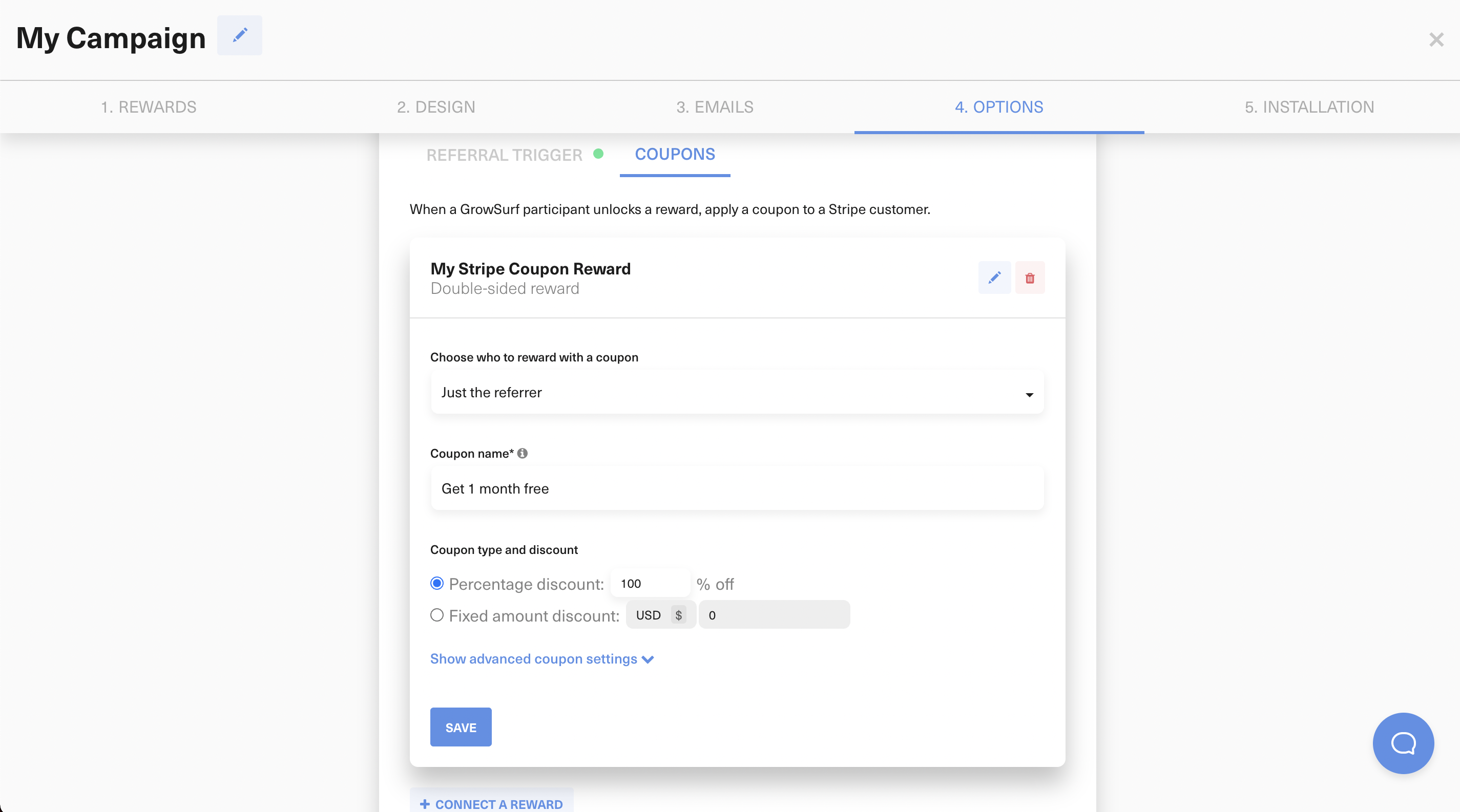 Once this is saved, anytime a user unlocked by a user the Stripe coupon is automatically applied to the Stripe customer or the subscription that is linked to the GrowSurf participants email address.
It is worth noting that if your referral program is double-sided you can choose who gets the coupon reward by selecting if they are; just the referrer, just the referred person or both the referrer and referred person.
You'll know that the integration is enabled by the green dot.
Test Mode
Testing can also be enabled for coupons, meaning that you can trial settings without using coupons that are already live. Simply toggle on test mode and GrowSurf will then only apply coupons to your Stripe account in test mode. Stripe coupons that are created in test mode will only apply to Stripe customers and subscriptions that exist in the Stripe account when test mode is toggled on.
Test mode is activated using the toggle in the bottom right. Once enabled pick the reward to connect.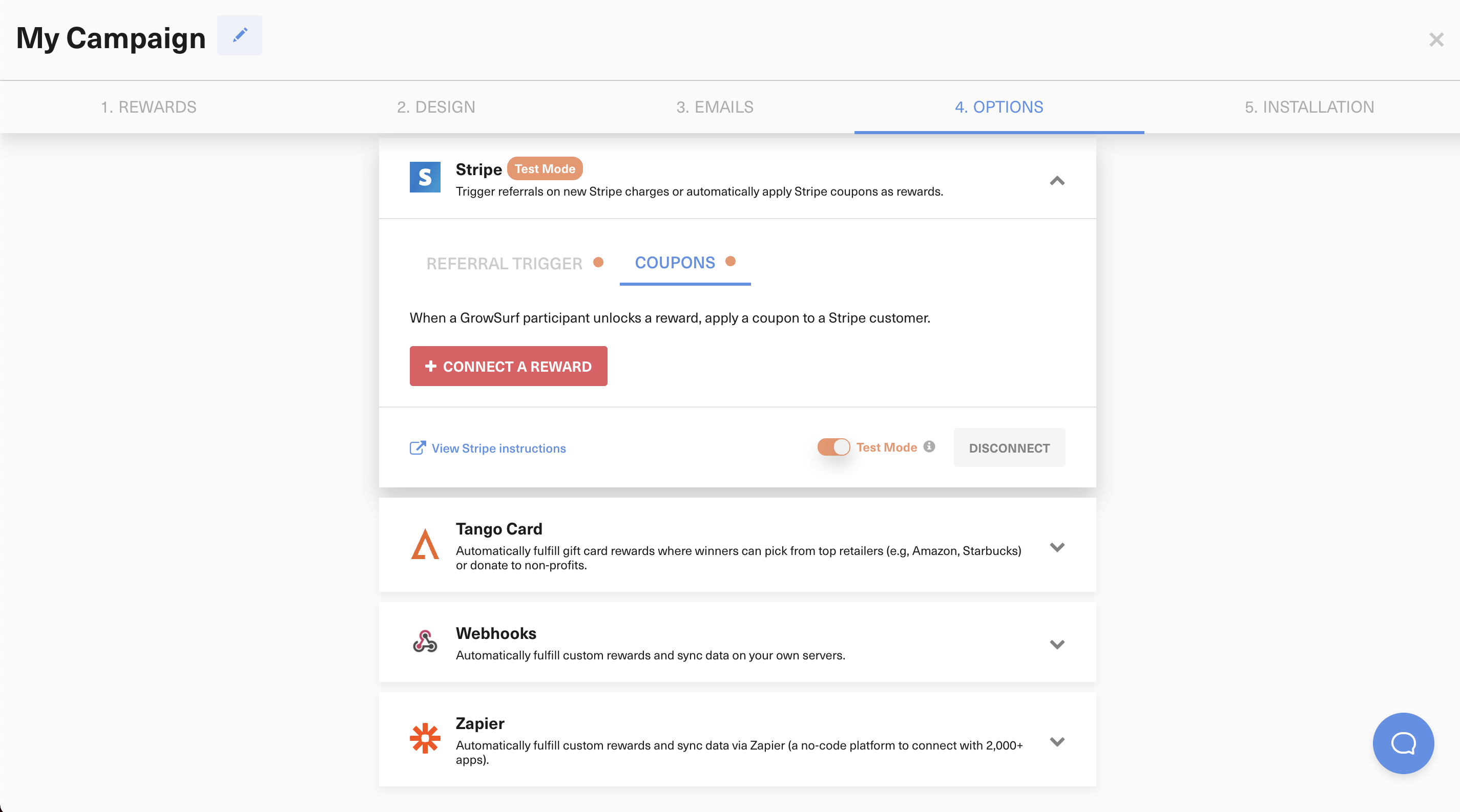 These rewards are entirely separate from those in the live account.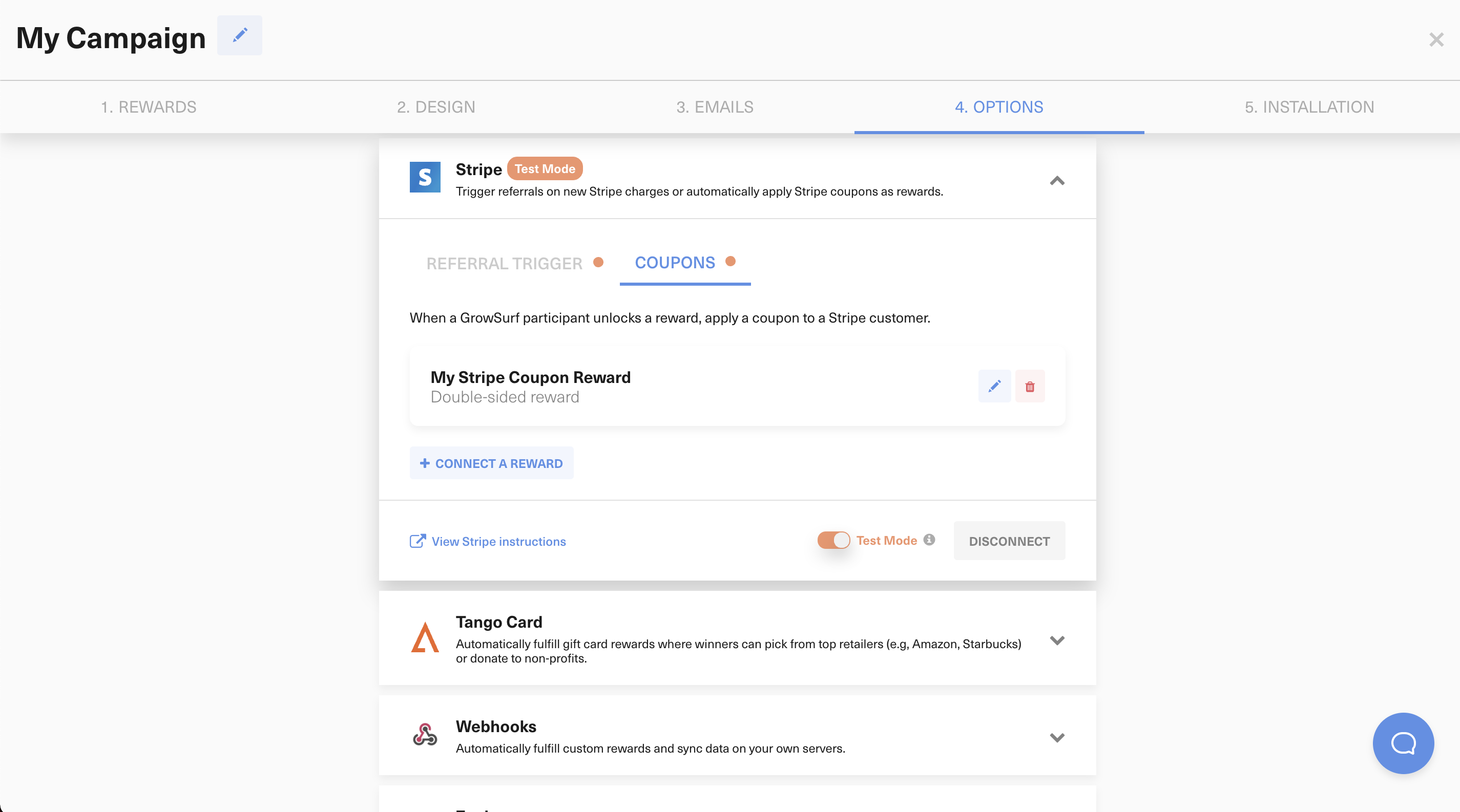 Stripe Coupon Troubleshooting
Stripe Coupons can only be integrated by those in these 135+ countries.
If your rewards are set to be approved manually then the Stripe coupons will only be issued once the reward has been approved.
Check participants logs should you encounter any other issues, details there should assist you.
Stripe Referral Partnership
The integration between Stripe and GrowSurf is live now and ready to connect your business payments with your referral program. We're ready and we hope you are too. Payment gateway ready but no referral program in place? Time to get to it and let GrowSurf grow your business overnight, every night. Try it free today!
GrowSurf and Stripe are now integrated by API
Setting up a referral program with Stripe is easy
Stripe coupons can be applied against referrals too
Request a demo of GrowSurf
Set up your referral marketing program with software that lowers your customer acquisition cost and saves you gobs of time.