Nothing says "I love your brand" better than when a customer sends you a referral.
Social referrals are your key to a successful business. Want to cut through the noise? Here are tips to help you integrate social media and referral marketing effectively.
When your most loyal customers are doing the bulk of your marketing for you, you know you're doing something right.
You can even do better by promoting your referral program on social media.
Because let's face it, social media has become integral in our personal and working lives over the last several years. If you want to take your referral program to the next level, take it to where the action is.
With that said, social media has become crowded lately. If you want to cut through the noise, you need a solid strategy that integrates social media and referral marketing effectively.
Put another way, you need to find effective ways to drive more social referrals to your business.
What are social referrals?
Social referrals are the referral traffic that you get from social media.
When a visitor arrives on your site or landing page after clicking a link posted on a social network, that's a social referral.
When a prospect lands on your referral landing page after clicking on a referral invite posted by that prospect's friend on Twitter, that's a social referral.
So, why are social referrals important?
Let's start with the obvious. They bring you potential leads and sales. While you want your audience to engage with your posts on social media, the real goal is to have them go to your website and take a look at your offerings.
A social referral can give you important clues as to which social media content is resonating with your intended audience. It can tell you if your social media strategy is helping you achieve your marketing goals. It also tells a great deal if your referral program is delivering the ROI you want.
Now why are social referrals important for your referral marketing? 
It's because social referrals that came by way of recommendations are the best kind.
Which social networks are used in referral campaigns?
Like any social media campaign, choosing which social media platforms is a crucial step in campaign success. Here are the most commonly used social networks used in referral marketing:
Facebook
Twitter
LinkedIn
Pinterest
Facebook Messenger
WhatsApp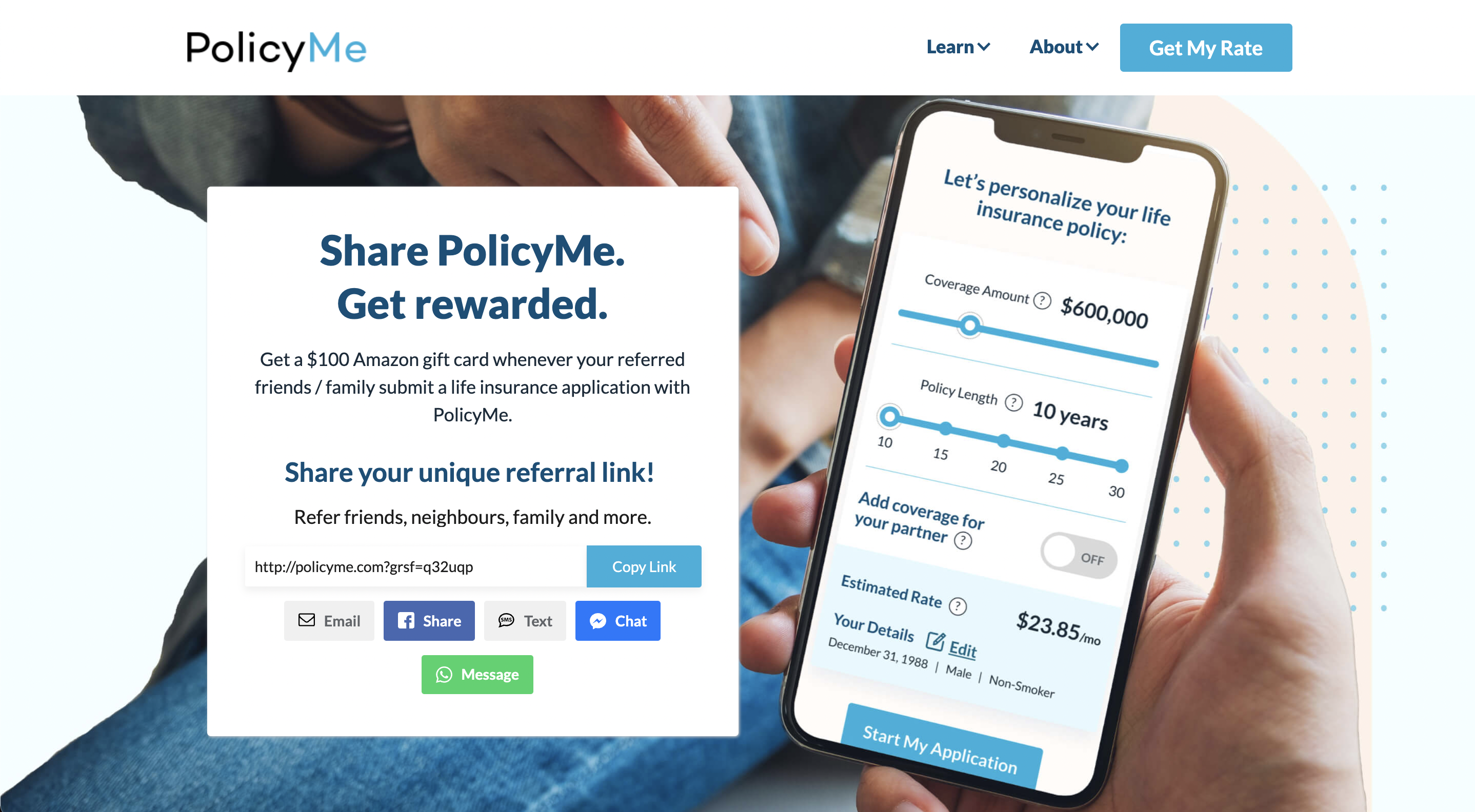 Why social media works for referral marketing
Social media and referral marketing are a killer combo. Here are the reasons why.
1. Your audience is already there
Did you know that 9 in 10 internet users are now on social media? And that most of them spend an average of 144 minutes per day there?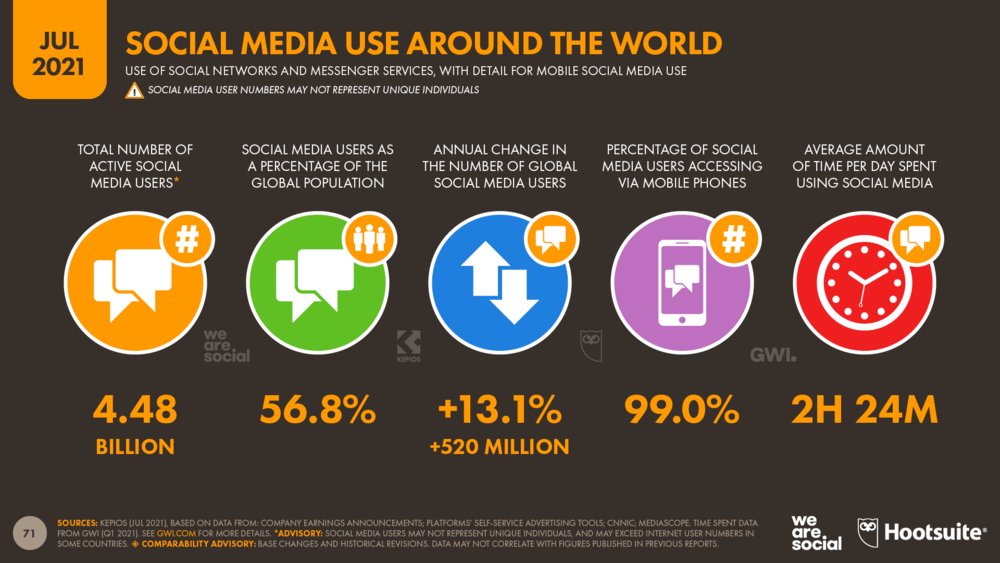 As if you need convincing that the majority of your customers and potential customers are already on social media.
If you want your referral marketing to take off, it helps to use a platform that allows you to reach your audience.
Besides, customers expect the brands they buy from to be on social media. If you don't have a social media presence, your credibility takes a slide.
When a customer or prospect follows you on Twitter or "likes" your Facebook account, they are virtually giving you permission to market to them. So, go ahead and promote your referral program on social media. Tell them what's in it for them if they send you referrals. You can bet your bottom dollar that they're going to be at least interested.
2. It's great for social proof
People are more likely to do something if everyone else is doing it. The same is true for customers. They are more inclined to buy something if everyone else is buying it. Social proof is a great way to drive conversions because it invokes trust.
Is it any wonder that people are 4 times more likely to buy when referred by a friend? It's also not surprising that customers acquired through word of mouth are more likely to spend twice as much on a product than customers acquired through traditional methods.
The same holds true when it comes to referrals generated via social media. If a customer shares a referral link on social media, the people in their network are more inclined to pay attention just because someone they know is using your product or service.
3. Viral potential
People love to share on social media. Why? Two words: social currency. If they see something funny on Facebook, they share it because they want to seem funny to their friends. If they see a post or tweet that offers practical value, they share that, too. People also share because it gives them an opportunity to connect with someone over a shared interest. People share things on social media to share a good cause. They share on social media to get opinions from friends.
People share things for many good reasons. And thanks to how algorithms work on social media, shares can lead to more shares. Social media has immense viral potential.
But virality doesn't just happen. You need to understand how virality works if you want your referral program to go viral on social networks. A well-structured referral program with an irresistible referral incentive is a great start, but more importantly, you need to know your audience and be able to frame your posts in ways that will resonate with them.
The great thing about referral marketing is that referrals are built on trust. With the right social media strategy, you can leverage that trust for your referral program to go viral. Add a product designed for virality and you can boost your chances even further.
4. Increases brand awareness
Referral marketing is a great tool for building brand awareness. So does social media.
So imagine what it means for your brand if you use both.
Referral marketing leverages trust more than other forms of marketing. And that trust can serve as a great foundation to not only spread the word about your brand, but to create an impression you want people to have about your brand.
Social media can also bolster your referral marketing efforts not only because of its viral potential (see previous section) but also because it provides you with many great opportunities to engage with your audience, cultivate meaningful relationships with them, and build communities.
When you create engagement, people talk. Not only with you, but also among themselves. People will talk about your brand and you won't even know about it.
Didn't Amazon founder Jeff Bezos say that "a brand is what people say about you when you're not in the room"?
The thing with building brand awareness is that you won't always be in control over how people talk about your brand. But when you use referral marketing as a foundation and then use social media as a platform for spreading the word, people will be more inclined to say good things.
5. Increases your chances of conversion
As already mentioned, referral marketing is built on trust. In fact, referral leads convert 30% better than leads generated from other marketing channels.
Thanks to social media, you can further boost your conversion rates. After all, a strong social media presence is a big credibility booster. By using social media to distribute helpful content and address customer pain points, you position yourself to referral prospects and existing clients as a brand that delivers great value and experiences in everything you do.
This helps build relationships with both prospects and customers, which can do wonders for your conversion rate.
Join us for an on-demand webinar
A demo showing how GrowSurf works with helpful referral program best practices for success and more!
Benefits of promoting your referral program on social media (and some tips!)
How's your referral program going so far? Whatever the case, you need to promote it on social media. Here are the reasons why.
1. Saves up on costs
The great thing about social media is it allows you to expand your reach and connect with the right audience effectively at little to no cost.
And considering that referral marketing is another cost-effective way to grow a customer base, combining both strategies is a surefire way to give your marketing budget a lot of breathing room.
In a marketing environment filled with big brands with seemingly unlimited budgets, social media is the great equalizer. It's a free way to promote your brand organically. With the right strategy and messaging, you can engage with your customers and prospects and be able to build your brand over time. With referral marketing serving as a catalyst, the opportunity to create buzz around your brand is always within reach.
Pro-tip: Compared to traditional advertising, social media advertising is much more cost-efficient. Using paid social media ads can help you draw attention to your referral marketing campaign. With social advertising platforms like Promoted Tweets, Facebook ads, Sponsored Stories, and many others, you can promote your referral program effectively at low costs.
2. Makes it easier to spread the word about your brand
Social media can play an integral role in your inbound marketing.. By positioning yourself as an expert and creating content tailored to your audience, you can build a loyal following who will look to you to solve their pain points.
By promoting your referral program on social media, you're also making it easy for your following to become ambassadors for your brand.
Let's face it -- while email is more personalized, most customers will prefer and find it easier to share their referral links on social media. Instead of typing each individual email address, they can simply click on the share button so everyone in their social network can potentially see the referral invite.
Sharing a referral link on social media is also much easier to do on a mobile device--usually, it only takes 2-3 taps for a referrer to do the job. Considering that 61% of social media activity happens on mobile and that 18% of customer referrals happen on mobile, you'd be doing your referral marketing campaigns a favor by optimizing your referral program for both mobile and social sharing.
Pro-tip: Here's one cool hack to make it easier for referrers to send referrals: pre-populate social share messages so they won't have to type the message themselves (unless they want to). The fewer steps it takes to send a referral, the more referrals you'll get.

3. You get more social referrals
Referral marketing and social media are a great one-two punch for bolstering your inbound marketing. After all, every referral link shared on social media brings referral traffic to your website, or to be more specific, your referral landing page. The more referral links shared across social media channels, the more opportunities you get for generating new leads and sales.
Pro-tip: You can use your bio to promote your referral program. Simply include a link to your referral program in your social media bios, and you're all set. If you keep posting or tweeting interesting social media content, there will be no shortage of people who will check out your referral program as they continue to check out your social media bio.
4. Fuels community building
Social media is an excellent platform for connecting people with similar interests. And what is your target audience's common interest? That's right -- your brand and what you bring to the table to improve their lives.
If you keep promoting your referral program on social media, you're not just providing your audience with opportunities to connect with each other, but you're also building a community.
In a business environment that gets competitive by the day, a community is your brand's most powerful ally. After all, if there's one thing that will help you cut through the noise, it's the loud voices of the community you helped build. If you doubt that for a moment, think of Apple and its community.
Pro-tip: Want to bolster your community building? Find ways or create opportunities that will bring your loyal customers together. You can stage exclusive events for customers with the most referrals (throw in special giveaways, raffle prizes, special guests, showcase extravaganzas). You can also partner with influencers whose target audience overlaps yours and co-host a webinar or a live event with them. When it comes to community building, you're only limited by your imagination.
Key Takeaways
Social referrals have an amazing potential to take your business to the next level—but only if you know how to make referral marketing and social work together. Using both not only leverages trust it doubles down on it. In a world where trust for brands is declining by the day, that's a big deal.
So, go ahead and take your referral marketing efforts to social media. Give your most loyal customers the platform to share and the opportunity to help others experience the same benefits that changed their lives for the better.
Request a demo of GrowSurf
Set up your referral marketing program with software that lowers your customer acquisition cost and saves you gobs of time.