World of Warcraft's Referral Program is a Smash Hit
Released back in 2004, World of Warcraft (WoW) quickly became one of the most popular video games in the world. The game currently boasts 115 million global players and subscribers . To put things into perspective, Call of Duty, the award winning first-person shooter currently maintains just over 100 million monthly users .
WoW is a massive multiplayer online role-playing game (MMORPG), that allows users to explore a fictional world called Azeroth, interact with other characters, and complete missions, battles and various quests to upgrade their character through rewards such as gold and weapons.
Players advance up the hierarchy in the game by gaining 'experience' for killing other characters and creatures, and completing all kinds of tasks.
Yes, WoW's user base grew organically due to word of mouth, but there was one particular marketing strategy that the Blizzard Entertainment team executed perfectly: Referral marketing.
How does WoW's 'Recruit a Friend' Scheme Work?
At the time of launch in 2004, WoW was the fastest selling U.S. PC game of all time , and within the games first year, they had already reached over 5 million global subscribers .
Despite its success, the marketing team behind the famous game knew the importance of playing WoW with other people. Because it was so heavily based around playing with friends, it made sense to build their own referral program.
Players are able to get their friends involved by utilising 'recruit a friend' (RAF). All they have to do is generate a recruitment link and share it with their friends. When they sign up, both the recruit and the recruiter get in-game benefits to help them progress.
So why was WoW's recruit a friend scheme so effective?
The entire referral process can be completed in-game
The key to a successful referral process is making it as easy to use for both the person referring, and the person being referred. For World of Warcraft's Recruit a Friend program, the recruitment links are generated in-game, resulting in a great user experience. Players can then also view all the rewards they have gained from the users they have recruited in-game, creating a seamless experience all on one platform.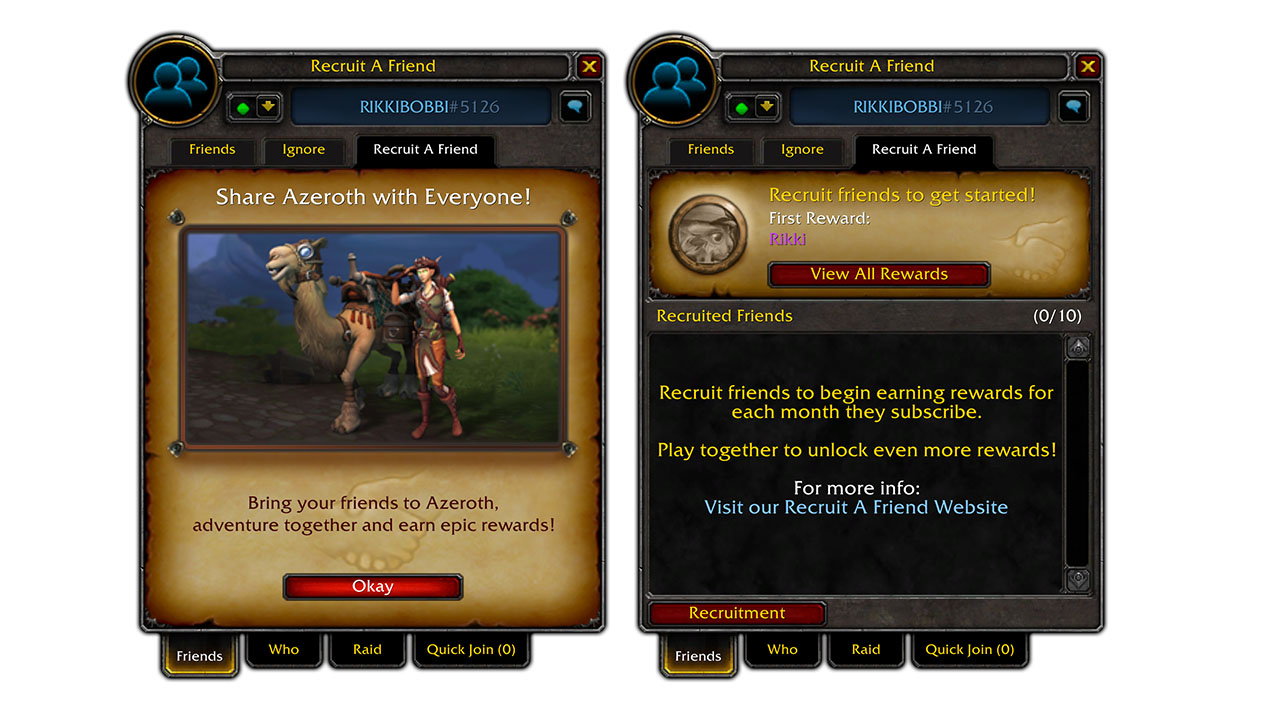 Recruit a Friend players are more likely to be long-term customers
The in-game rewards for new users who joined via a recruitment link make the game more enjoyable from the beginning by not having to start from scratch. A common pitfall of MMORPGs is that it can be quite time-consuming to get from character creation to the part of the game that is actually fun. WoW cuts the fat by giving mounts to new users, a form of faster travel in the game.
On top of improving the onboarding process for new players, the WoW Recruit a Friend program also gives both sides a 50% experience boost when playing together. Playing online games with friends is a much more enjoyable experience than trying to navigate a community alone.
WoW's referral marketing program significantly reduces churn rate while also increasing brand loyalty and customer lifetime value. Not only is the invited player less likely to quit, but the person sending invites out is less likely to drop their existing subscription to the game.
Rewards are tailored towards its most valuable users
The rewards offered for both the recruit and recruiter are practical and sought after in their online journey. These incentives include free game time and a choice of items (mounts and pets) for their new character. Mounts especially are a valuable item as they allow you to travel across the game map with less effort and time involved. MMOs are notorious for being massive timesinks, making mounts one of the most essential equipment for progressing quickly.
Across industries, 91% of consumers are more likely to shop with brands that provide them with relevant offers. Choosing the right referral incentives is paramount to generating significant results.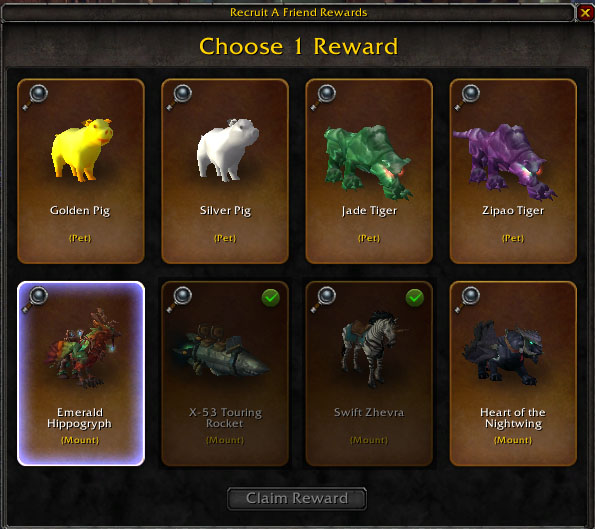 6 Reasons Why Social Referral Marketing Works
1. Improve Conversion Rates
Did you know B2B companies with referrals experience 70% higher conversion rates ? In fact, referral marketing as a whole generates 3-5x higher conversion rates than any other marketing channel.
Consumers trust recommendations from people they know
According to a Nielson study on referral marketing , consumers are 4 times more likely to make purchases if they receive recommendations from people they trust.
2. Build Brand Awareness
Offering exciting incentives that make your customers refer their friends can be a powerful brand awareness driver. Whether you build social media mentions directly into your referral program or not - consumers are likely to share and talk about referral rewards they care about.
3. Create Brand Loyalty
The lifetime value (LTV) of referred customers is on average, 25% higher than other consumers . Since they already have a great first impression of your business, you can expect stronger brand loyalty over the long run.
4. Lower Customer Acquisition Cost
According to the National Law Review , it can be 5 times cheaper to keep current customers than to acquire new ones. Referral marketing is one of most cost-effective customer acquisition channels, making it a no-brainer for tech startups.
5. Deepen Relationships With Your Customers
Referral marketing is all about relationship building, starting at the signup process. For a customer to recommend your product to friends and family, they must first trust your company and love what you do. And once they do, you can rest easy knowing there's a genuine connection being established and nurtured.
6. Create Trust With Your Brand
Studies have shown that 82% of consumers trust referral marketing , placing referrals as the most trusted form of advertising across all demographics.
Subscribe to GrowSurf
Get our weekly newsletter for our latest referral marketing guides.
Error subscribing! Please try again.