Social Referrals: The Fitness Industry's Secret Weapon
24 Hour Fitness is one of the largest fitness club chains in the U.S. with 400 clubs and about 4 million members.
The company is constantly expanding with savvy social referral marketing. Shifting to this system from traditional referral methods, such as direct mail campaigns or brochures, 24 Hour Fitness was able to drive over 330,000 referrals in the first 3 month of their campaign!
How did they implement a social referral system in 2013 and succeed?
What did they offer their members to entice referrals? How did they acquire so many people without giving away too many free-passes? Read on to find out.
---
This is a guest contribution by Emir Atli, founder of HockeyStack - no-code analytics tool that gives 3000+ companies the most actionable insights with the least clicks.
---
The Challenge
As the company head of marketing and communications, Josh Beruta said, "Traditional brick-and-mortar referral methods can be quite expensive." Before trying social media referrals, they were searching to find a more cost-effective marketing strategy to reach large audiences.
The company wanted to maintain a trustworthy relationship with their customers and also wanted to acquire more. One important behavior they noticed was that people worked out better with a "workout buddy" —a friend, family, or someone they know with similar fitness goals.
At the time, social media was still a newly growing marketplace, and one that was much cheaper than the traditional alternatives. So, the company decided to add a new referral channel to their growth strategy and allowed their members to share a three-day free club pass with their friends and family on social media.
The three key challenges 24 Hour Fitness addressed with their new strategy:
Gaining new members while retaining existing ones
Allowing easy access to social interaction and recommendation
Reducing their growing customer acquisition costs
The Solution
24 Hour Fitness started shifting to a social media based referral strategy in March 2013, and saw a massive increase in referral customers.
With the help of Gigya's social-login tools, the company used social sharing and was able to allow its members to send their friends personalized guest-passes.
24 Hour Fitness collects information from referrers' and referees' Facebook, Twitter, or other social media accounts in order to send them emails with exclusive offers.
This new strategy not only increased the number of new membership referrals, but also contributed to 24 Hour Fitness's online presence and social currency across all major social media platforms.
At the start of the campaign, the vast majority of referrals were made on Facebook and Twitter. 9 months later, Pinterest took up about 11% of referrals and continued to grow strong.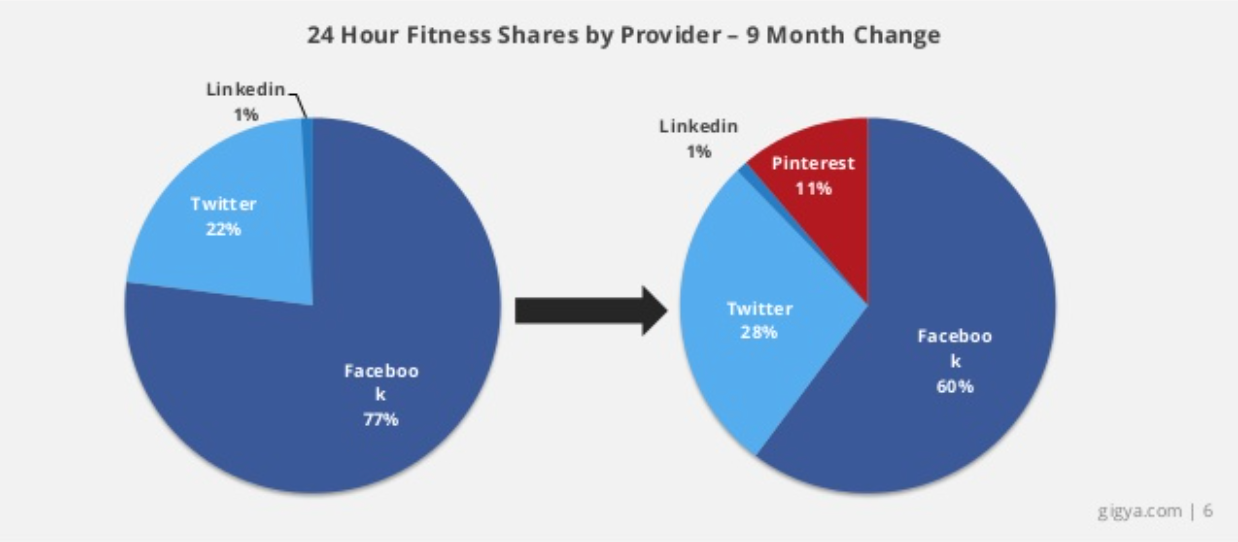 What motivates people to do referrals?
24 Hour Fitness used a one-sided reward system, meaning the inviters don't get a discounted gym membership, a promotion, or a free-pass. Although their friends and family are offered a three-day gym-pass, the referrers themselves don't gain or save any money.
Their biggest gain from making referrals is having a "workout buddy" and that is a huge motivation! 24 Hour Fitness noticed that working with a loved one who shared similar fitness goals helped people workout, and they are using that both to keep their existing members and to acquire new ones.
This is what happens immediately after social media shares,but there is more to gain in the long run. 24 Hour Fitness monitors the most valuable referrers by number of friends, number of shares, volume of referral traffic, and activity frequency.
After identifying these high-value members, 24 Hour Fitness awards them a branded bag of fitness supplies that include a water bottle, clothing, towel, etc. alongside a personalized "thank you" letter.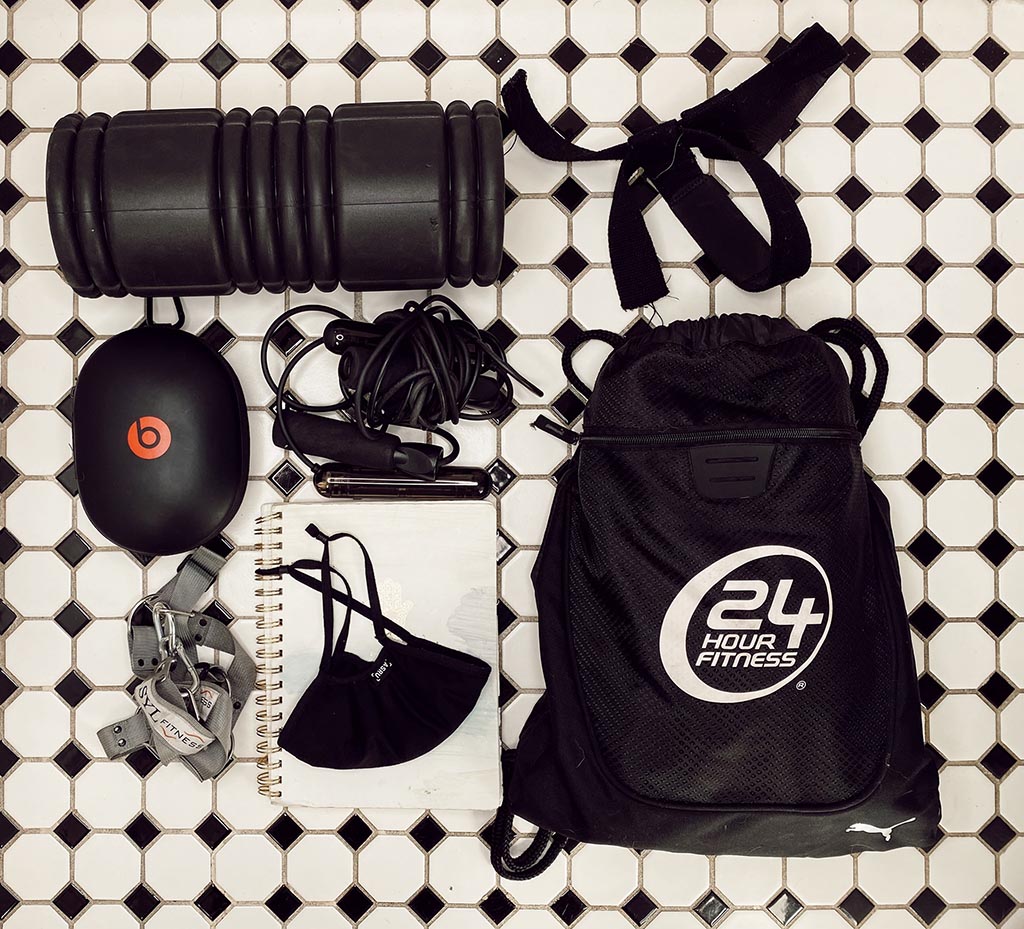 Other than this fitness package, the company sends their best influencers pricing deals via email. Top referrers get a chance to get exclusive promotions and discounts.
The Benefits of Social Referrals
Shifting their referral strategy from traditional to a social-media-based one has been beneficial for 24 Hour Fitness in more than just one way. In January 2014, they saw over 8,400 direct social referrals that brought in new members and a lifetime member value revenue of over $600,000.
Social media referrals made it so much easier to reach customers and increased conversion rates, but it was also much more affordable. Instead of pouring money into brochures, flyers, and PPC; 24 Hour Fitness reached potential customers through their friends and family. This made their campaign much more cost-efficient and added another layer of trust between the members and the company.
Another win for the campaign was their advancement in data collection. 24 Hour Fitness is working with Gigya to access and analyze their customer profiles. Josh Beruta states that "Gigya has equipped [them] to more effectively and efficiently acquire new members in a seamless, social, and secure way." The company knows much more about their customers than they would from any other traditional form of referrals, forming a more trusting and loyal relationship.
Final Words
In 2013, 24 Hour Fitness started shifting their referral strategy to a social-media- based format, inspired by the motivation a "workout buddy" provides.
Since then, they saw a significant increase in their referrals and conversion rates while they were also decreasing their marketing expenses.
This new method allowed the company to maintain a cost-efficient campaign on social media, widened their customer radar, and helped them build better customer relationships.
FAQ
Does social referral marketing work in other industries?
Yes, absolutely! You can incorporate this type of referral program to any business you have. And if you work on it well, you can come up with a campaign that will be beneficial for you and your customers.
How do I encourage people to make more referrals?
People usually do stuff if there is something in it for them. In this case, they primarily make referrals to get a "workout buddy" and if they share a lot then they get additional awards. Make sure your customers get something they actually value from making referrals. Understanding how to choose referral incentives is crucial to the success of your campaign.
Request a demo of GrowSurf
Set up your referral marketing program with software that lowers your customer acquisition cost and saves you gobs of time.