The Best Customer Loyalty Software Tools in 2021
Customer loyalty software tools are an excellent way of increasing the growth of your business. They not only foster a positive relationship with your current customers but also encourage new customers to join and purchase your products or services. Thankfully, the software tools for tech companies that are on the market make life easy to manage thanks to their wealth of automation and extensive features.
What is customer loyalty software?
Customer loyalty software looks to focus on retaining customers but shouldn't be confused with pure customer retention. The terms come from two different trackable metrics. Customer retention measures whether a customer will continue to purchase a product or service from your brand on an ongoing basis. Customer loyalty measures not only future purchases but also how happy customers are with your brand in general, and how satisfied they are with each product they are using.
Measuring customer loyalty allows you to dig deeper into why a customer continues to purchase from you and also aims to leverage that loyalty to encourage further purchases and to encourage them to spread this loyalty to new customers. This can be spread through a word of mouth campaign or through the use of customer loyalty programs that run using customer loyalty software.
In terms of the software itself, you can expect that using it will allow you to build strong and last relationships with your customers through mediums such as gift cards, loyalty points (think supermarket cards), incentives, special loyalty only offers, and more.
Customer Loyalty Programs
Through customer loyalty software you'll be able to launch a number of different campaigns and programs. There are a variety of approaches and selecting the right one will be determined by your business model, the type of customer that you're working with, and the general ethos of your company. Here are two of the main programs you'll see or want to offer:
Earn and Burn : In this form of a loyalty program, your customers earn points by spending money with you, they can then spend these points for additional services or to redeem a specific reward.

Tiered Loyalty Program : A tiered loyalty program encourages your customers to spend more with you so that they reach another level of loyalty. These are essentially VIP programs that allow customers to unlock certain privileges or discounts depending on their level of loyalty.
5 Benefits of Customer Loyalty Programs
Obviously, loyal customers mean more revenue coming into your business, plus if they're so loyal that they become brand advocates then all the better as they'll likely deliver more new customers your way. There are, however, additional benefits of customer loyalty programs:
Builds Brand Affinity
Whilst people like to complain, people prefer to talk fondly about products that they're using. By not only acknowledging but also rewarding your loyal customers you will begin to build a strong level of brand affinity. Your customers will feel that you have their back and then, in turn, through their innate desire to repay you (see the reciprocity principle) they'll want to help you out.
Improves Retention
Loyalty programs naturally encourage people to come back to you for more. They either want to continue on to the next stage of loyalty, they want to receive a reward or they want to be part of an exclusive club. One of the simplest but most effective loyalty programs is run by cafes and restaurants offering a stamp for each purchase. The feeling of getting that 10th meal or coffee for free is great, so people will keep coming back.
Increases Customer Lifetime Value
When customers are loyal to you, and therefore spending more with you over their lifetime and customer journey, their customer lifetime value increases too. That is music to the accounts department's ears.
Build Personal Relationships with Customers
The best loyalty programs will allow you to get personal with customers. Even if the process is somewhat automated, customers will appreciate emails with their names in, personalized offers based on their shopping habits, even an app that greets them by name. Never underestimate the power of offering a personalized buying experience. No one wants to feel like they are but a cog in a machine and just another number.
Create Brand Ambassadors
The pinnacle of customer loyalty is the opportunity to create brand ambassadors. These are those who are so enamored with your brand and what you offer that they are willing to stake their social status and social currency on your business. These are those who will sing your name from the hilltops and will bring in the largest amount of new business to your doors. Treat them well and they can be the making of your business. Your customer loyalty software should help you in identifying these diamonds, and should encourage you to reach out to them.
Top 3 Features of Customer Loyalty Marketing Software
Loyalty Cards
Whether these are physical or are provided through electronic means (such as a mobile app), loyalty cards are a great way for customers to identify themselves as part of the program but also act as a small form of advertising when in social groups. Many loyalty marketing software companies will offer these which are, thankfully, created automatically when a customer signs up to the program.
Membership Management
A large part of running a customer loyalty program involves managing the membership, this includes everything from tiers to rewards, emails to sign-ups. The whole process needs to be succinctly managed and accessible in one place. The majority of software programs will provide you with an intuitive dashboard that allows you to glance at the various management tools required and also allow team access.
Activity Tracking
The analytics built into the software should be robust enough for you to track the actions of individual participants. The very best will allow you to sort and filter based on specific activities so that you are able to tailor your outreach based on specific user segmentation. This is the perfect feature to allow you to identify brand ambassadors and also is required in order to offer tiered levels of loyalty.
Subscribe to GrowSurf
Get our weekly newsletter for our latest referral marketing guides.
Error subscribing! Please try again.
What to Look for in a Customer Loyalty Software
Most tools will include features in the following list, but not all will. Consider which are important and be sure that they are included:
Easy setup : You won't want to spend weeks and months setting up the software

API Integrations : Integrations that allow you to blend seamlessly with your current tech stack

Increase Conversion Rates : Increasing conversion rate opportunities within the platform through outreach and marketing tools

White Label : If you want to have the whole loyalty program in your own branding this is a must-have

Social Media Referrals : The ability to share your platform to social media and also for participants to encourage others through social media.

Dashboard : Being able to check up on your program at a glance via a custom dashboard
What are the best customer loyalty software tools?
COMPANY

BEST FOR

FREE TRIAL

PRICING

WEBSITE

LoyaltySurf

B2B SaaS, B2C Subscriptions, Financial Services,




Online Education, Online Insurance

Free trial

$49/mo

Visit

Annex Cloud

Large/Enterprise Companies

No trial

Unavailable on website

Visit

Kangaroo

Brick and mortar

No trial

$149/mo + One Time Setup Fee

Visit

TapMango

Any size business - customer facing, physical

No trial

Unavailable on website

Visit

Influitive

Large Companies

No trial

From $1,499/mo

Visit
LoyaltySurf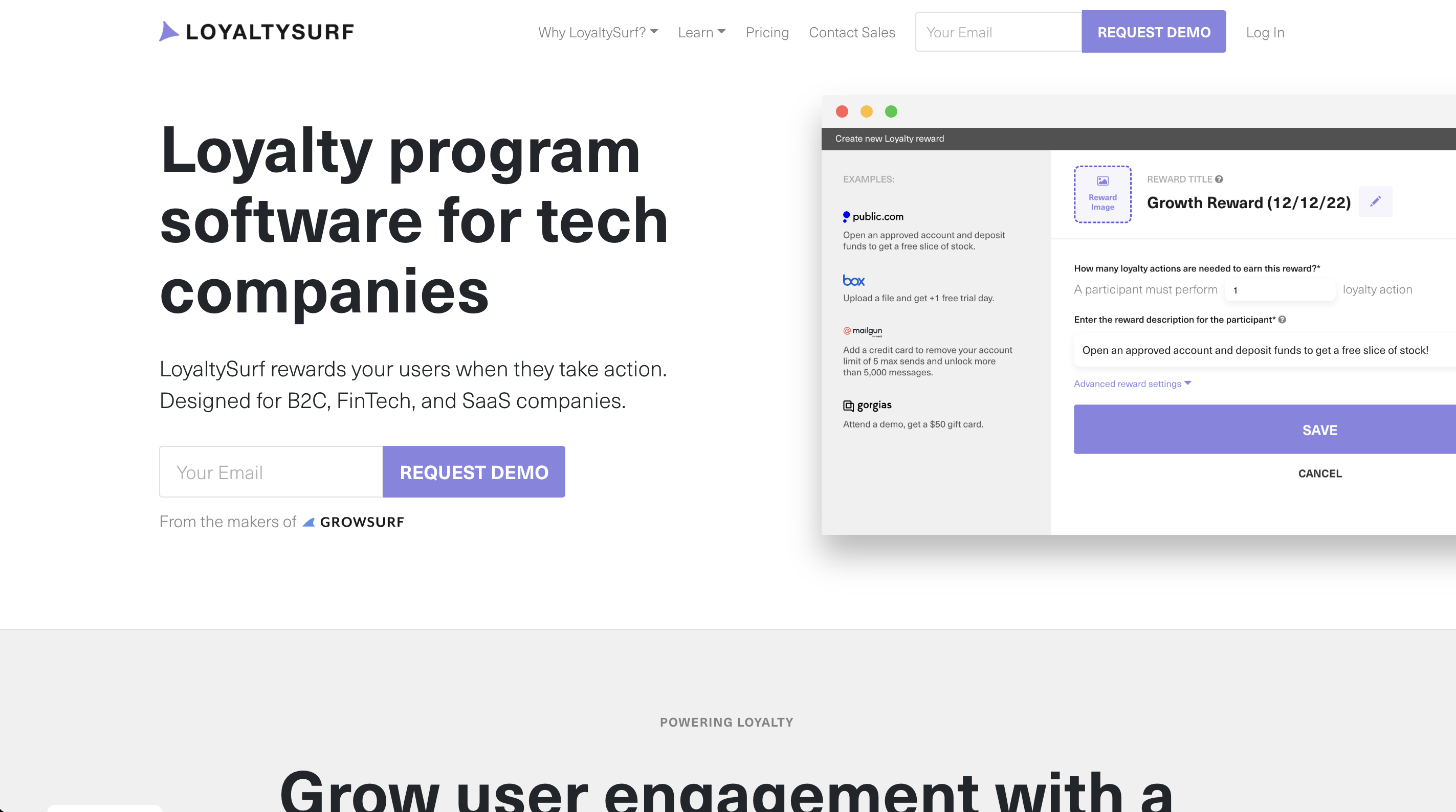 When it comes to customer loyalty software tools for tech companies, LoyaltySurf is a superb choice. With a focus on incentivized reward programs, LoyaltySurf enables your customers to earn rewards when they they perform any action or workflow. As a no/low-code platform, the setup couldn't be easier and it's possible to have your loyalty program launched the same afternoon as signup. For those looking to engage with their most loyal customers and turn them to brand ambassadors, the platform's API, webhooks, and Zapier app make it seamless to implement. There are also a whole host of integrations including the likes of Stripe, Chargebee, and many more through Webhooks and Zapier.
Features
Encourage loyalty through incentivized rewards
Variety of automation options
Analytics dashboard
Excellent customer support
Managed service across all plans
Pricing
LoyaltySurf offers three paid plans:
Startup ($49/mo) that supports up to 2,000 participants
Business that supports up to 10,000 participants
Elite that supports up to 20,000 participants
Sign up for a free trial.
Have questions about GrowSurf?
Talk to a referral marketing expert today.
AnnexCloud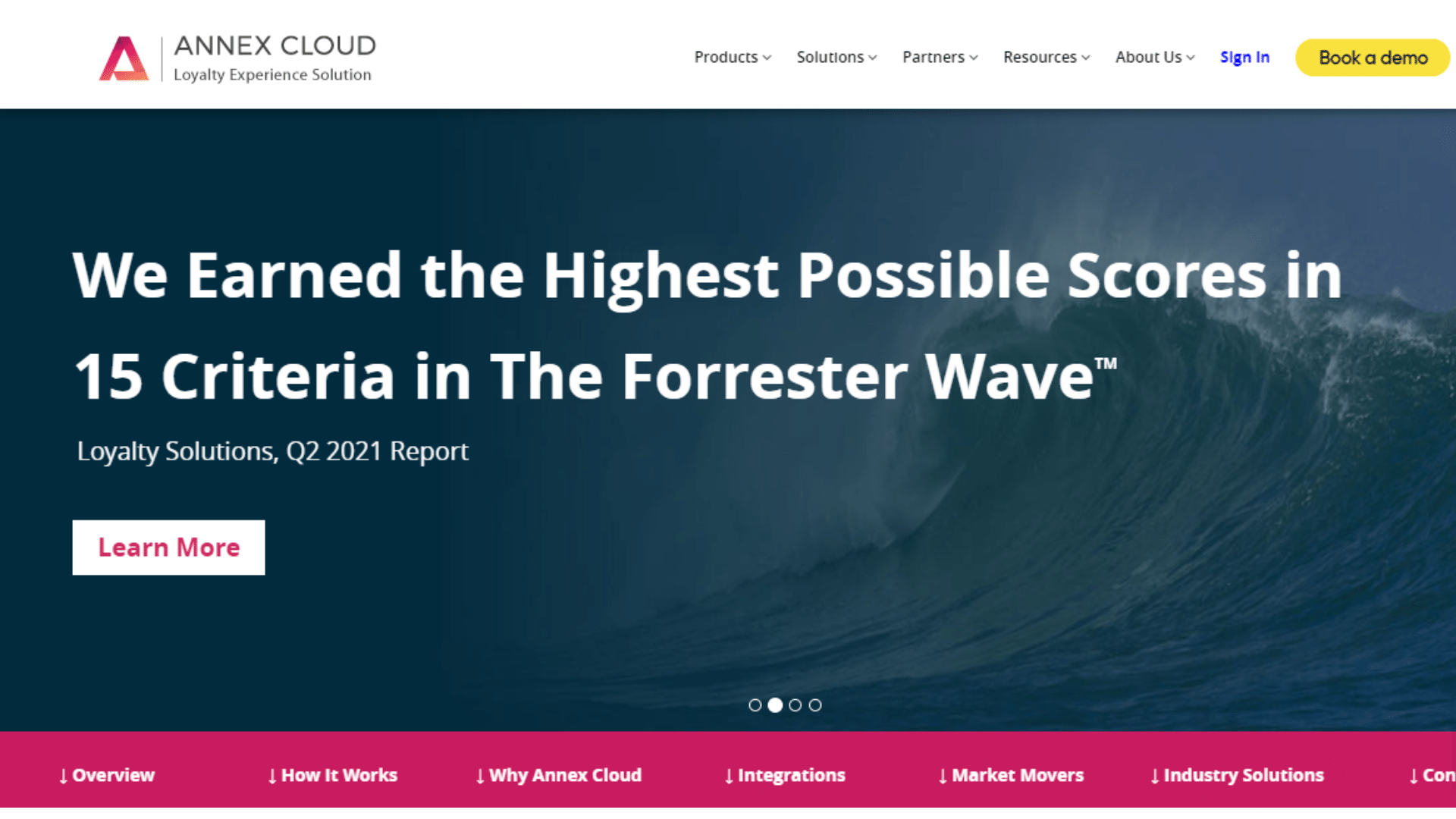 Annex Cloud offers myriad different loyalty experience solutions. The Loyalty Experience Platform offers the loyalty experience manager, an engagement manager who will learn about your business and make suggestions accordingly, and offers analytics, insights and AI data to ensure that your campaigns run smoothly. They take your customer through their whole journey from awareness through to advocacy offering solutions at each stage. With over 100 integrations, chances are it will work with your tech stack easily.
Features
Solutions for every stage of the customer journey
Huge bank of resources
Managed services available
Variety of options beyond standard loyalty platforms
Pricing 
Annex Cloud does not offer pricing or trial information on their website. Instead you are able to book a demo to find out more about their offering.
Kangaroo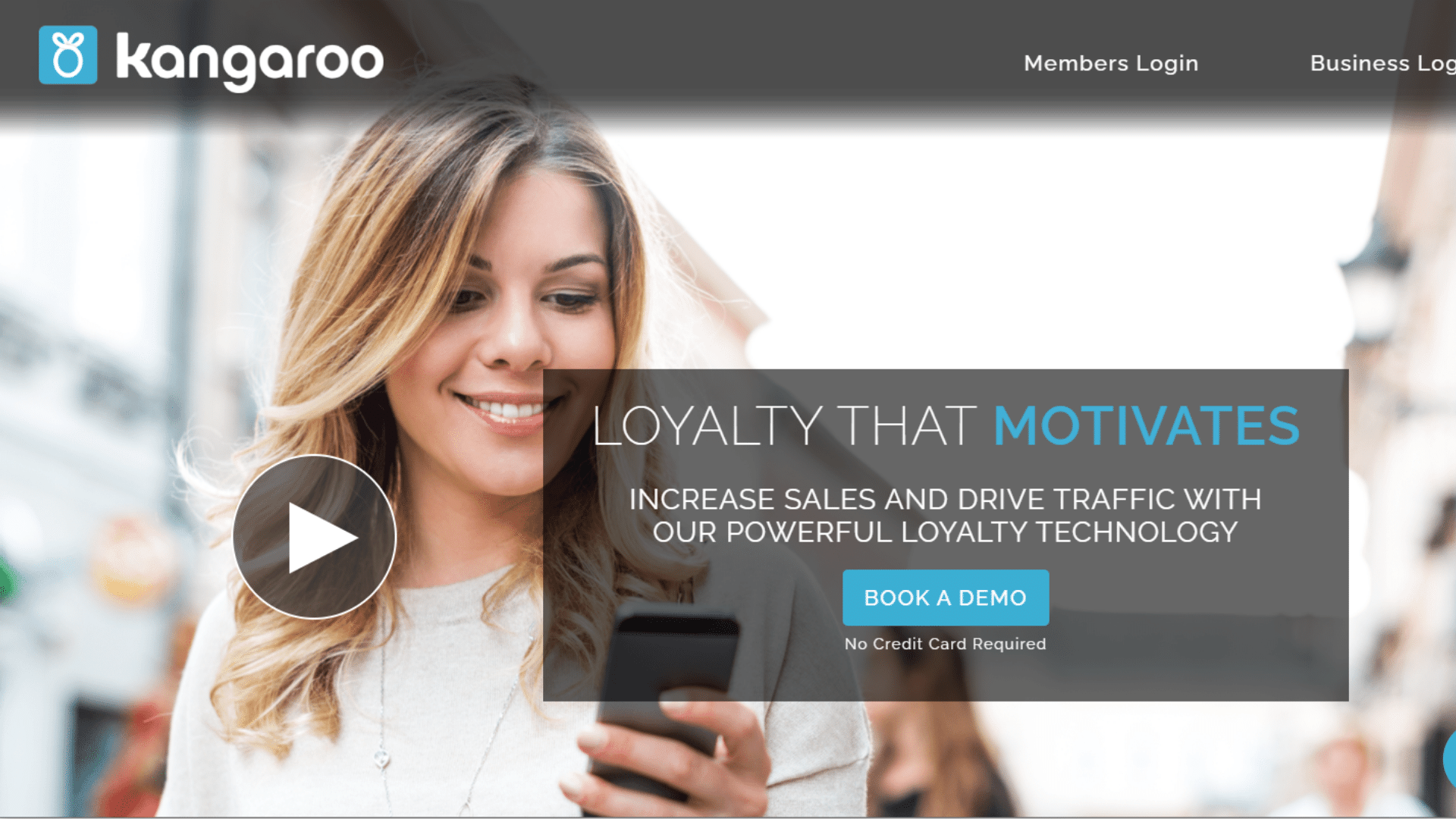 If you run a physical location business then Kangaroo might be a good choice and option for your business. They aim their product and service at the likes of cafes, grocery stores, restaurants, gyms, shops, retail outlets and more. When you launch a Kangaroo loyalty program your customers are both encouraged to shop themselves (and to use the loyalty program rewards) but are also encouraged to refer their network. The analytics dashboard is accessible from any device meaning team members can gain access to data wherever they are.
Features
Impressive engagement features such as geolocalized push notifications
Customizable dashboards to match your brand
Add customers at your electronic point of sale.
Various reward options
Option to brand your gift cards
Pricing 
Kangaroo offers only one plan at an affordable price point:
Go Ultimate at $149/month plus a one time setup fee
There's no trial available but you are able to arrange a demo from their website.
TapMango
TapMango offers a dedicated customer loyalty program that is flexible enough to fit most businesses plus is easily customizable. They offer online and mobile ordering services for both restaurants and retail meaning that customers can order without you having to build a separate ecommerce platform. You receive an online marketing portal to track all of your campaigns, a tablet to use in store, a branded app to share with customers and branded keytags (also usable as gift cards!). There are a host of partnerships and integrations on offer too.
Features
Impressive collection of kit on subscription
Fully customizable
Aimed at businesses of any size
Option for multiple tablets in one or more locations
Pricing 
TapMango offers no pricing on their website but you are able to book a demo.
Influitive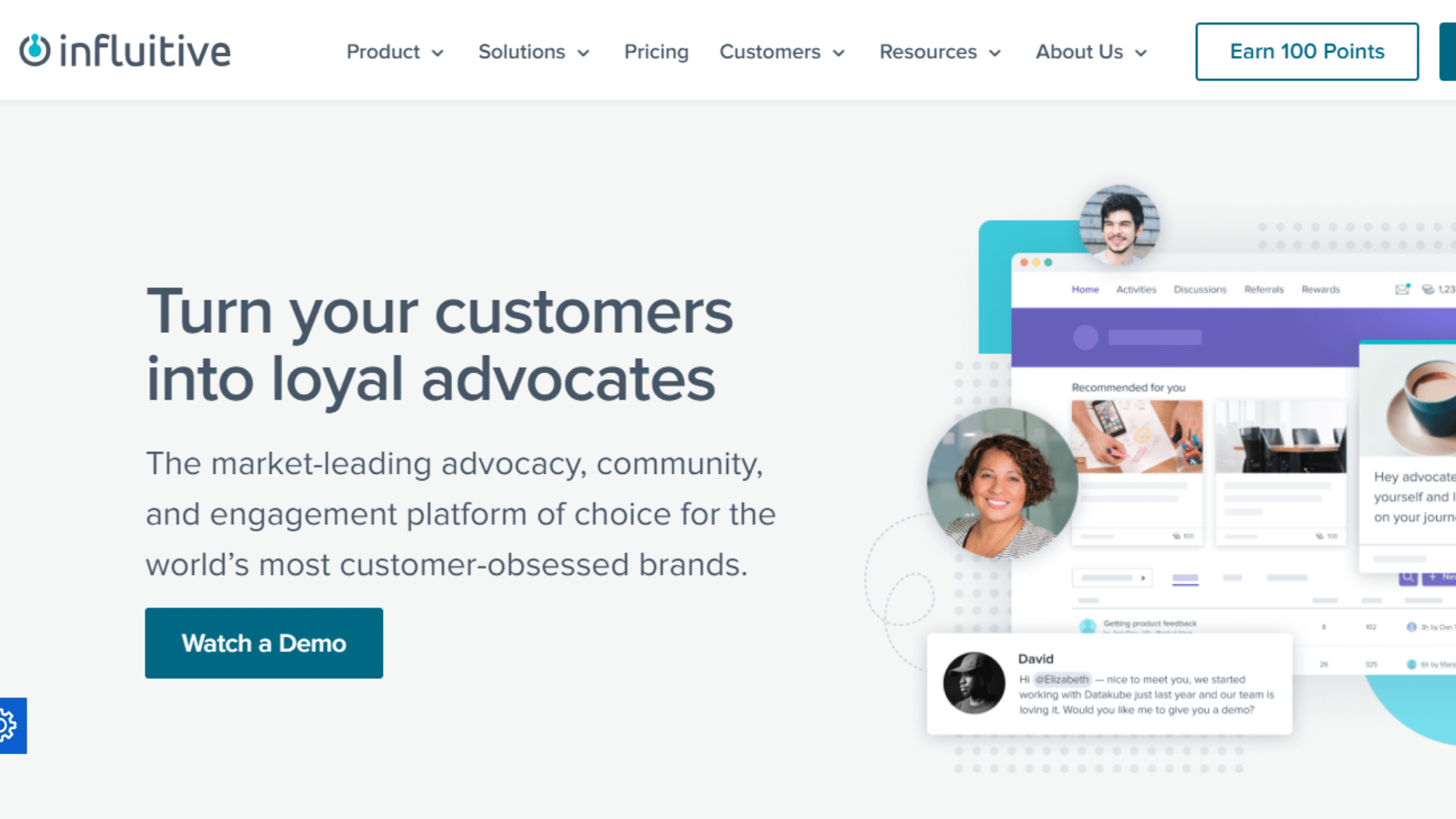 The platform offered by Influtive takes the tack of brand advocacy, where your most loyal customers will turn into brand ambassadors. They encourage loyalty through community and engagement platforms. Influitive isn't for those on small budgets or just starting out and aim to engage with brands already operating at a high level. There are a wider variety of templates and campaigns available to use, extensive reporting and analytics plus personalization and targeting at every level.
Features
Engagement mechanics
Gamification
Personalized and targeted experiences for participants
Recognition for referrals above typical gift card/monetary incentives
Sophisticated knowledge base
Pricing 
Influitive offers two levels of plan:
Customer Advocacy starting at $1,499/month
Digital Community, with price available on application and contacting Influitive.
There's no trial visible on their website.
Key Takeaways
Customer loyalty software is a must have for businesses keen to achieve growth. By turning your already engaged customers into incentivized and rewarded customers, you'll retain more plus receive additional customers into the bargain.
For a no obligation look at a great customer loyalty software option, sign up for the 14 day free trial with LoyaltySurfand you'll be able to launch a program before you know it.
Tailor your loyalty program so it fits with your business style
Pick your top features then ensure the platforms you're considering have them
Make use of free trials available to try before you buy
Subscribe to GrowSurf
Get our weekly newsletter for our latest referral marketing guides.
Error subscribing! Please try again.