Exploring ReferralCandy Alternatives
Looking for the best alternative to ReferralCandy? Look no further than GrowSurf. GrowSurf is the best alternative on the market. In fact, GrowSurf is the best referral program software for tech companies, period.
Company

Best for

Free Trial

Cost

Website

GrowSurf

B2B SaaS, B2C Subscriptions, Financial Services,




Online Education, Online Insurance

Free trial

$775/mo

Visit

Referral Candy

eCommerce stores with 100+ transactions a month

30-day free trial

$49/mo + commission

Visit
Request a demo of GrowSurf
Set up your referral marketing program with software that lowers your customer acquisition cost and saves you gobs of time.
GrowSurf vs ReferralCandy
| Feature | GrowSurf | Referral Candy |
| --- | --- | --- |
| Pricing | $775/ month | Starts at $49/month (+ commission) |
| Monthly Contract | ✅ | ✅ |
| Free Trial | Yes | 30 days |
| Customer Success Manager | ✅ | Unknown |
| Ease of Implementation | Hours to Days | Days to Weeks |
| Participant Portal | ✅ | ✅ |
| Landing Page Builder | ✅ | Unknown |
| Email Marketing Automation | ✅ | Unknown |
| Custom Branding | ✅ | ✅ |
| Automated Reward Fulfilment | ✅ | ✅ |
| Analytics Dashboard | ✅ | ✅ |
| Run Multiple Campaigns at once | ✅ | ✅ |
| Fraud Protection | ✅ | ✅ |
ReferralCandy Review
ReferralCandy is one of the leading referral program software providers on the market but it just isn't the right fit for every business out there. ReferralCandy is a great choice for eCommerce businesses. The software is straightforward to use, fairly intuitive and many of their customers are happy with the outcomes that it produces.
There are, however, a number of pros and cons that every business should consider when deciding whether ReferralCandy is right for them.
ReferralCandy Pros
ReferralCandy Cons
The low pricing for startup businesses isn't quite all that it seems. We agree that at $49 a month this is a seriously attractive prospect, but if you're serious about getting referrals and are expecting a large number of transactions to occur you should bear in mind that at this price point you're also paying a large amount in commissions to ReferralCandy.

At first, this figure is at 5% for the first $1000 of commissions, this then drops to 3.5% until you reach $10,000 in a month. When you do the math, that means you could be paying upwards of $350 a month in commissions on top of paying the monthly subscription.

The $49 a month is ReferralCandy's Premium plan. The next plan which works well for scaling businesses and larger enterprises costs $3,999 a month. That is a huge jump up in cost and one which most scaling businesses won't be able to afford.
One of the best features that ReferralCandy offers, their dedicated account managers, are only available on the enterprise-level plan. This means that if you're looking for personalized customer support you'll need to be paying the massive subscription fee. Otherwise, you'll have to make do with the live chat from someone who isn't up to speed with your business.
Have questions about GrowSurf?
Talk to a referral marketing expert today.
Top 3 ReferralCandy Alternatives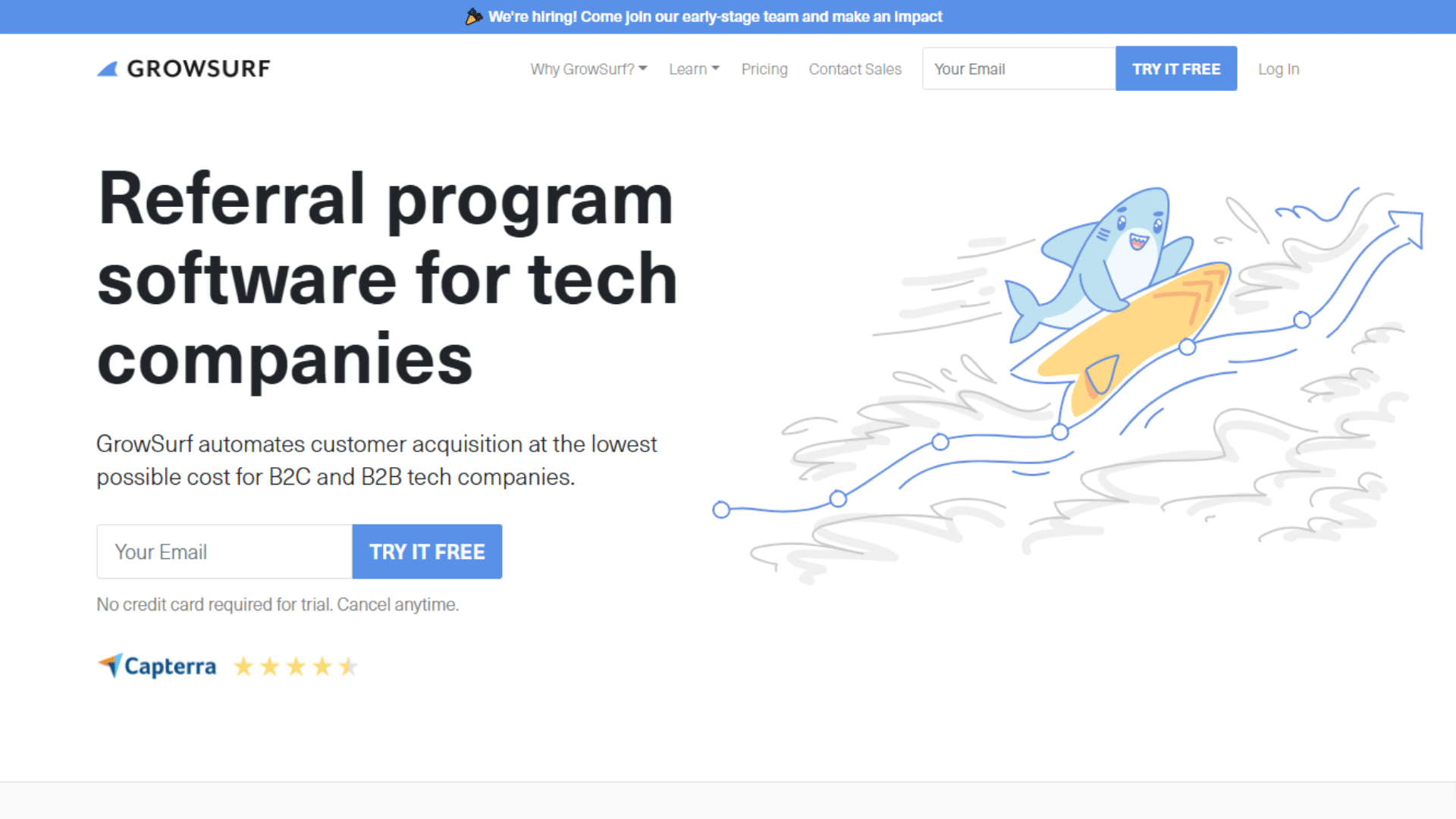 GrowSurf is a platform that focuses heavily on the automation of customer acquisition at low costs for B2B and B2C businesses.
It has quickly become one of the leading referral program software providers thanks to the simple setup process, complete automation, and seamless integrations. Alongside that, there is comprehensive analytics that allows you to track, analyze and adapt -- all accessible from an easily understandable dashboard. If you already use the likes of Stripe and Zapier, you'll be pleased to see the straightforward integrations that allow for even more automation capabilities. This allows you to put your growth on autopilot as your referral campaigns scale alongside your business.
Features
Referral links are generated automatically
The option to embed any element of the software into your own website
Automagic form detection for easy setup
Automated incentive fulfillment
Automated emails
Reward management
Detailed analytics with dashboard
Comprehensive customer support
Managed service available for all plans
Pricing 
Growsurf offers three paid plans:
Startup ($775 /mo, paid annually) that supports up to 10,000 participants
Business that supports up to 25,000 participants
Elite that supports up to 75,000 participants
Request a free demo to learn more.
FriendBuy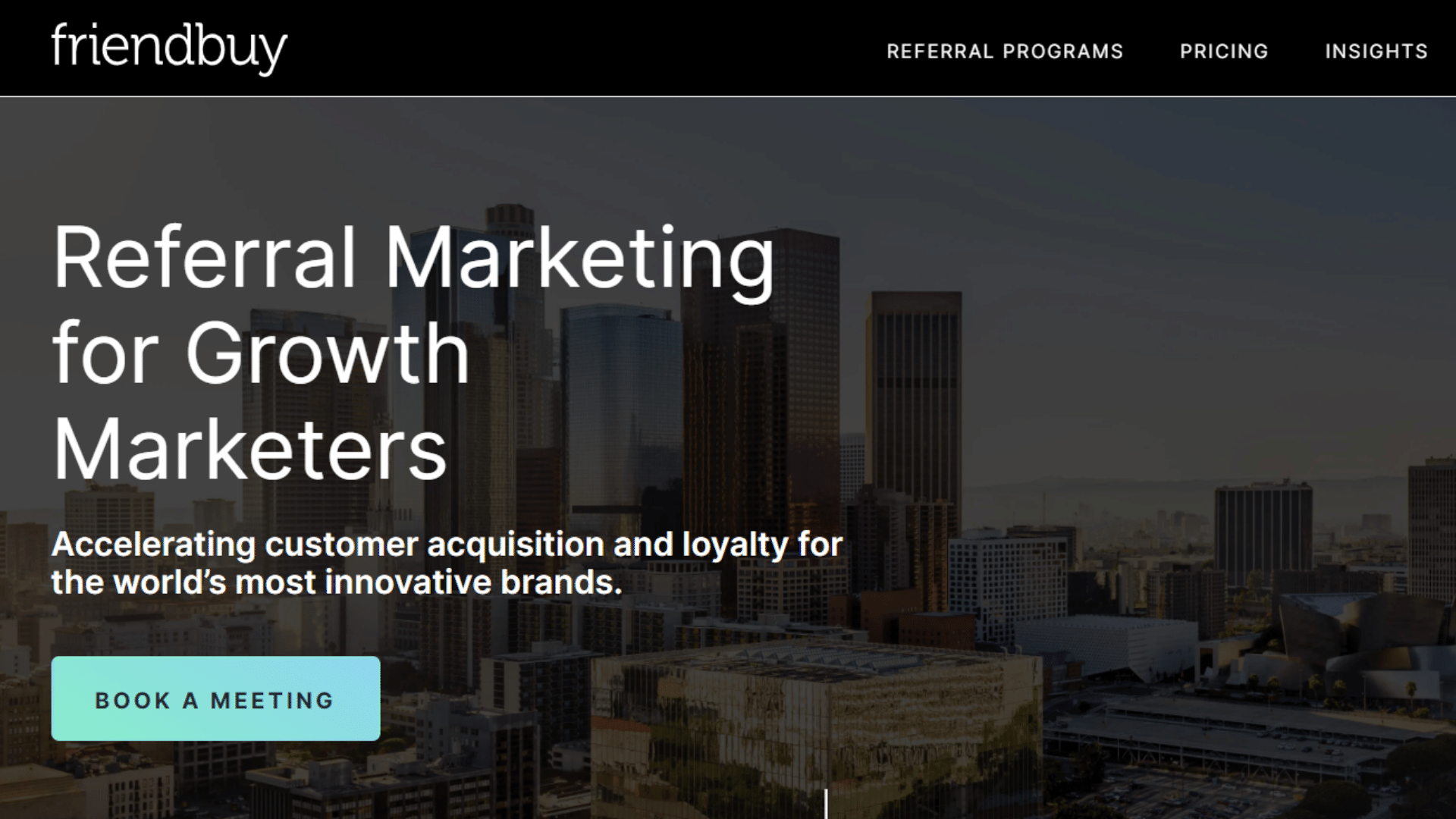 FriendBuy focuses on eCommerce brands and businesses in their offering. Whilst their market share has increased since they launched, there are a number of what one would deem to be core features that are only available to those on more expensive plans (Deluxe and Enterprise). The onboarding team is excellent and guarantees your program will be optimized and running smoothly from launch. They also offer a sophisticated analytics suite that appeals to both marketers and product teams.
Features
Onboarding and customer success teams
Easily accessible metrics
Developer level integration
Branded templates available
Automated reward fulfillment
A/B testing feature
Personal referral links
Pricing 
FriendBuy offers three paid plans:
Starter ($249 /mo) that supports up to $50,000 in total company sales a month
Deluxe ($749 /mo) that supports up to $100,000 in total company sales a month
Elite (Price available on contact) that supports over $100,000 in total company sales a month
There is a 30-day free trial available at all levels of the plan.
Extole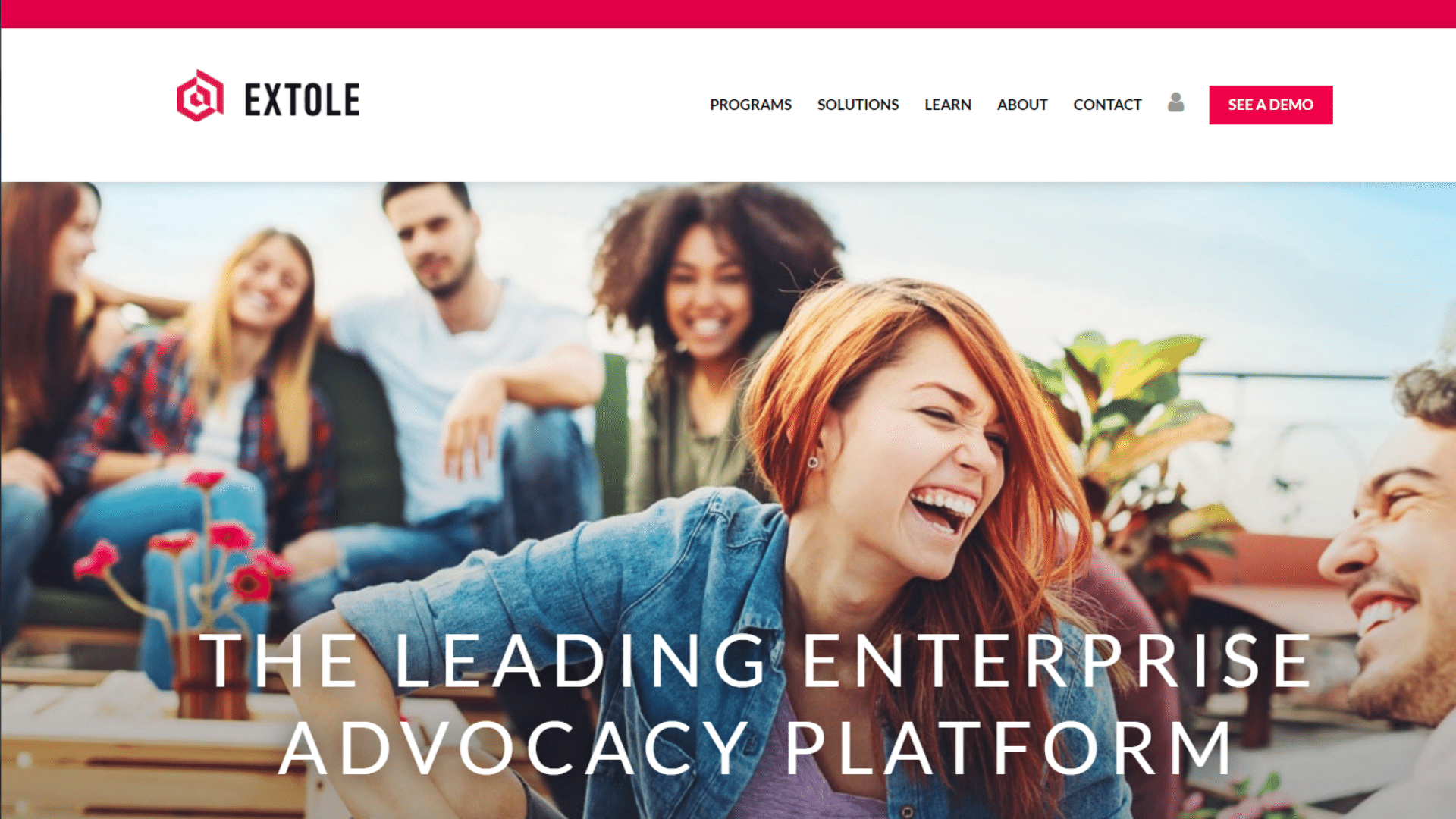 Extole offers solutions for referral systems to a number of different sectors, including retail, membership and loyalty programs. Their platform is an enterprise advocacy program that allows you to easily implement a rewards engine. They also offer some great templates that follow your branding making your offer easily shareable and increasing your brand awareness at the same time with the added bonus of language localization. The robust rewards engine allows you to not only handle both internal and external rewards but also has some rewards that can be automated.
Features
Pre-built, branded referral templates
Personalized links and codes
Language localization
Robust reward system
Profiles for participants
Integrated analytics
Library of webhooks and APIs
Pricing 
Extole does not publicly list their pricing plans, but you can book a product demo from their website. Extole does not offer a free trial on their website either.
Top Features of Referral Software
When shopping for referral program software, it's important to qualify what it is that we're looking for in terms of the features available and the benefits that they'll provide. What follows is a list of the features that should be considered in any referral software that you are thinking of moving forward with.
Automation
If you want to run a business that is going to truly grow and scale, automation needs to be part of your game plan. Without it, you'll be looking at hundreds of additional man hours that could end up slowing down your business rather than allowing it to thrive. Typically you'll want to see these aspects of your referral campaign automated:
Campaign promotion
Participant link distribution through email or SMS
Notifications of campaign changes or award changes
Reward distribution
Reminder emails
Analytics
When you're running a campaign it's important that you're able to see how it's going, evaluate areas that are in need of improvement, track important metrics and create reports. The majority of tools will have some form of analytics attached to them but your new tool should be able to:
Have a clear dashboard that offers an overview of campaign performance.
Have explorable metrics such as conversion rates.
Identify your highest performing referrers (great to encourage additional incentives)
Bear in mind that this is at a minimum, the best referral program software will show even more than this.
Link Generation
A massive part of your referral program will be the links that you distribute to your participants so that they can share your offer. Without these, it'll be either impossible or an inordinate amount of work to track your program and to accurately distribute rewards. The best referral program software will automatically create these links when a new referrer signs up to the platform, this not only removes a task that you would otherwise have to complete manually but also allows your participants to get sharing immediately.
Incentive Distribution
As long as you're offering a digital form of reward, you should look out for a piece of software that automatically distributes rewards when they have been achieved. At the very least, you should receive a notification that an incentive has been unlocked and that the participant should receive it as soon as possible.
Alongside core features, there are also a number of additional elements that should be in your search criteria. These might not be considered core "features" as such but they should still be on your list when you're comparing one referral program software to another.
Integrations : Look at your current tech stack and the tools that your team is using in their daily work. Do these seamlessly integrate with the platform you're considering? If they don't it might cause more hassle and work for both you and your team. Ask yourself questions such as; "Are you able to integrate with payment gateways like Stripe ?" "Can I link this to my email distribution software such as MailChimp ?"

Customer Support : At some point, something will go wrong with your referral campaign and it's important to have a helpful and quickly available solution through the medium of a customer support team. Look for things such as 24/7 customer support, online chat, tickets, and other helpful features. One of the best ways to judge a company's customer service record is to look at their reviews, make sure you do.

Cost : It might not be the most important factor for your business but looking for a good deal on a piece of software (one which you'll be paying for regularly and for the foreseeable future) will make the finance team happy.

Scalability : The whole point of getting a referral program with software underway is so that you can promote growth in your business. Therefore, you should naturally want to consider if this platform can grow with you. If there's a limit on the size of the program it can support look elsewhere.

Setup : Whilst this is only a short part of the big picture process, it can still be frustrating to have your precious time taken up with setting up a new platform. Many providers offer quick setup or even a managed service.
Which ReferralCandy alternative is best for you?
Comparing our three suggestions, GrowSurf, FriendBuy, and Extole, there are a number of options when it comes to finding an alternative to ReferralCandy. Many offer the core features that you have come to expect from referral program software, as well as advanced integrations.
Platform
ReferralCandy
GrowSurf
FriendBuy
Extole

Cost

From $49/month + commissions

From $775/month

From $249/month

Not Available

Free trial

30 days

Yes

30 days

Not Available

Setup Assistance

Unknown

Yes

Yes

Unknown

Integrations

15 platforms

28 platforms

14 platforms

Unknown

Customer Support

Live chat support

Live chat, dedicated account manager and

knowledge base

Email support

Email support

Rating (overall)*

4.5

4.7

4.5

4.7
* Capterra rating
For a robust, scalable, and intuitive referral program software, GrowSurf is the best choice.
The system is designed to be simple so that you can focus on the important things while your business grows overnight. Interested in learning more? Book a call with our sales team and we'll show you just how GrowSurf can put your growth on autopilot.
Already convinced? Sign up now and get your referral program started today.
Request a demo of GrowSurf
Set up your referral marketing program with software that lowers your customer acquisition cost and saves you gobs of time.