Affiliate programs are a perfect solution for growth businesses looking to leverage the marketing skills of third parties. The problem can be that they aren't always the easiest programs to run. That's where a host of affiliate software tools can be useful, and can actually have a massive impact on the effectiveness of the whole program. Especially when they bring in elements of automation and free up your valuable time.
Affiliate marketing is a performance-focused set of campaigns where those participating are only paid on a basis that they deliver. In most circumstances affiliates are aiming to deliver new customers and conversions by recommending your services. The main benefits of affiliate marketing are:
It takes relatively little effort on your part to manage (with the right tools)



It can be applied to almost every industry where there are people producing content related to your business
For most businesses, it is a lucrative source of new customers.
There are multiple tools and pieces of tech that enable it to work in a way that suits you
What is affiliate software?
Affiliate software is the term used to describe the technical deck used to track, analyze and monitor all affiliate activity from each participant. These tools tend to have a fair amount of overlap between each other but the main goals are for them to provide you with useful data which allows you to identify your highest performing affiliates and also those which are underperforming. It will also give you a good indication of which channels are converting best.
A more logistical benefit for affiliate software is that it can manage and automatically pay out commissions to those who have earned them. This takes away a massive amount of administrative work and also removes many possible disputes (as the system is automated).
The very best pieces of software will collate this information into an easily accessible dashboard, offers security solutions to counter potential affiliate fraud and may even create reports that you can use to promote the affiliate program to other potential participants.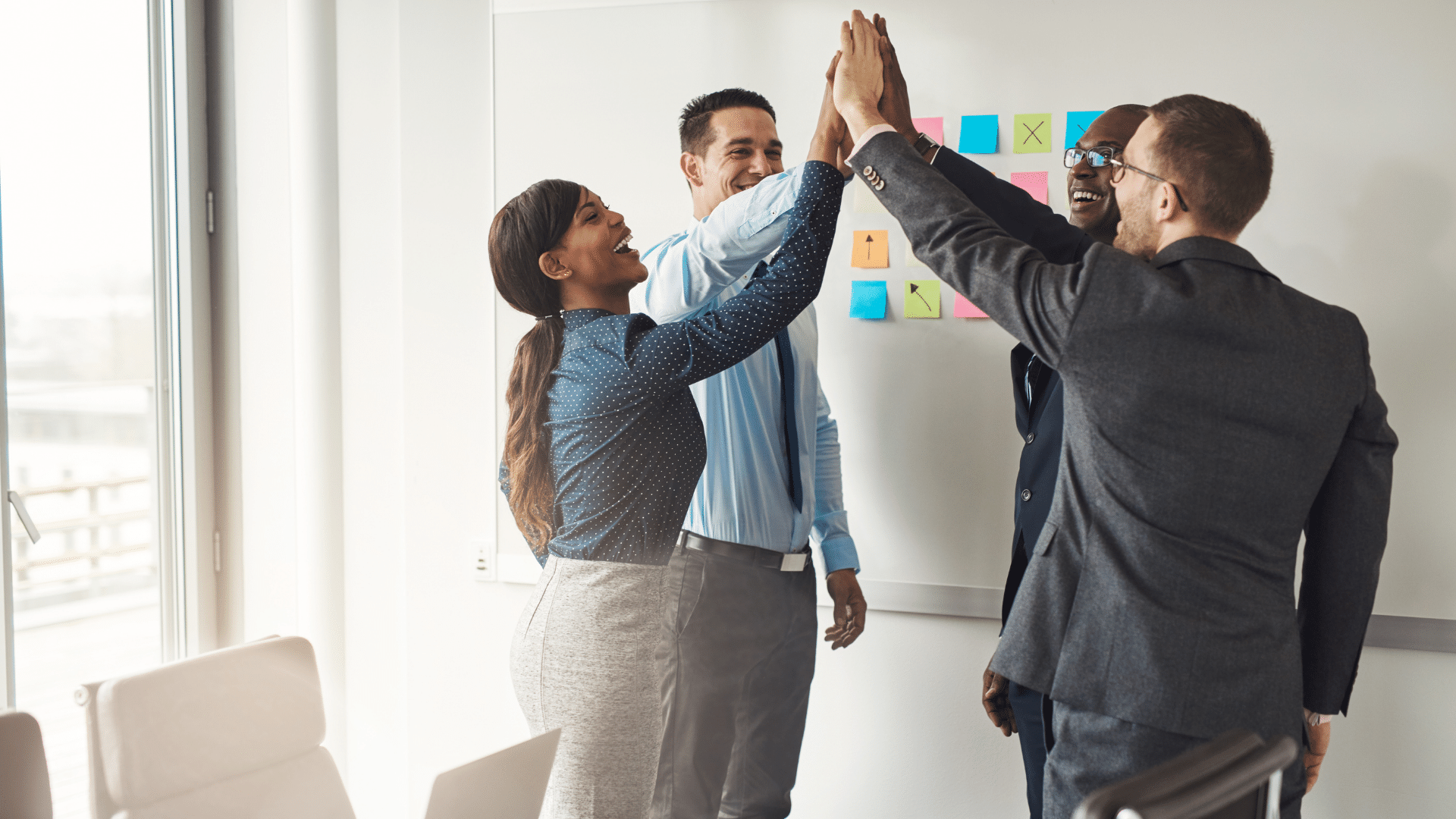 Benefits of Affiliate Software
We've covered the actual uses of affiliate software and some of the major benefits that it can bring, but that's not where it stops. There are further reasons why businesses should consider using these pieces of software to their advantage.
Saves You Time and Money
The age old adage goes that "Time is money" and that couldn't be more true that in the case of affiliate marketing. While generally a profitable endeavor, it can be a major time sink. Time which could be spent investigating other avenues of growth or furthering business development or if this is a task that has been delegated to employees, it can massively free up their time for other tasks.
Investing in a piece of software that enables you to track everything from link clicks to conversion rates, traffic numbers to payments means that there are far fewer manual tasks to complete.

Image Source: EasyAffiliate
Easier to Customize Than Building Yourself
Managing an affiliate program manually is no easy feat. Tracking individual clicks. Aligning conversions to appropriate parties. Ensuring that payments are made in the right amount and on time. The automation provided from many affiliate software tools makes all the difference.
Each of these tasks is usually tracked from a central dashboard which can be easily customized so that you can see the data that you want to when you want to. This makes for a far more streamlined and efficient process for your work. By pooling this information together, you're also in a far better position to share previous data with your affiliates. The recruitment process is far more straightforward if you can easily present an enticing prospect that makes it profitable for both you and your team.
Manage Affiliate Content Production Easier
Content is a major part of the affiliate process. Many pieces of software will allow you to create a bank of marketing content for affiliates to use. This, again, cuts down on the work for you and your team. This removes any issues with affiliates creating their own content, asking for your approval, taking up your time or, worse still, they publish content without approval that doesn't follow your brand guidelines. It also means you can create visual resources for their use, such as advertising banners and more.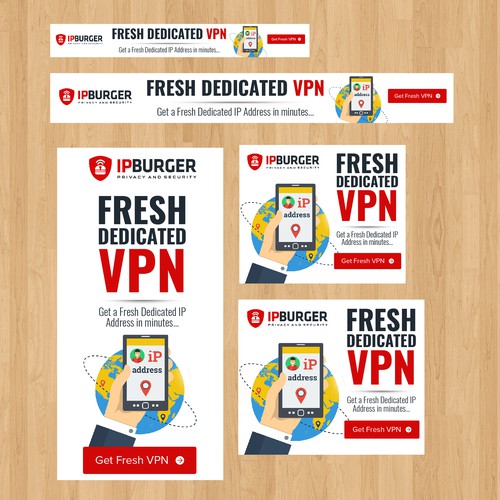 Image Source: 99 Designs
Fraud Protection
Sadly with all of the benefits and positives that affiliate marketing brings, there is the possibility of fraud within your system. There are those who look to receive commissions through nefarious means such as:
Using bots to generate traffic
Sending false clicks from IP addresses to simulate customer investigation
Duplication of orders
Stuffing your cookies with other cookies
Most software will have inbuilt detection tools that actively monitor what activities your affiliates are undertaking. Based on its assessment, you will be notified of any suspicious activity so that actions can be taken swiftly.
Top 3 Features of Affiliate Marketing Software
When searching for the right affiliate software for your business, there are certain features that stand out above the rest that you should ensure are included. These features are essential to the success of your software and will make all of the difference to your affiliate marketing program.
Rich Analytics
Data data data. If you're running your marketing strategies properly you should be able to investigate the data, reflect on your findings, evaluate the process and then adapt accordingly in the future. There is no reason for affiliate marketing to be any different, therefore this data needs to be easily accessible. With data at your fingertips, you'll be able to analyze what is working, what isn't and change your marketing strategy accordingly.
Campaign Optimization
When picking your software be sure to see what features are included to optimize the delivery of your campaigns. Many versions will include certain optimizations in the box but many will also have pricey extensions that are required in order to fulfil its potential. For example, AffiliateWP for WordPress affiliate schemes has many features included in the free version but should you want to pay affiliates on a monthly recurring basis or pay them direct through Stripe you'll need to pay for pricey extensions that are on annual subscription.
Most affiliate software providers will have this information clearly displayed on their websites but if it isn't have your developers reach out and ask for the integration process.
Customization
Affiliates aren't the most loyal of team members. Chances are you won't be their only source of revenue. Therefore it is worth making yourself easily recognizable with a custom dashboard, have a bank of resources available easily which are branded and ready to go, plus you might provide them customizable landing pages that they can leverage to convert their traffic. Affiliates are, generally speaking, looking for the easiest and most effective way to generate revenue. If you can make their life easy, they'll be far more profitable for your business.
Request a demo of GrowSurf
Set up your referral marketing program with software that lowers your customer acquisition cost and saves you gobs of time.
What to Look for in an Affiliate Marketing Software
Easy Setup : This should be a given, but many aren't straightforward to set up. Look to see if there are additional items beyond a quick setup wizard. The best of the affiliate software offerings out there won't even require you to install plugins or complete any downloads.

Mobile Device Optimization : Most people will want access to their work through their mobile devices, that goes for both yourself and your affiliates. Ensure that it is easily accessible on mobile, not all are.

Tracking Beyond Cookies : Affiliate links used to rely on cookies to attribute sales following link clicks. This system doesn't always work, especially if a user clears their history, therefore the best of affiliate software will include additional methods to track beyond cookies such as IP address monitoring. A system that allows this will give affiliates more confidence that they will get sales attributed to their referrals.

Multi Level Marketing : The dreaded MLM words, but many affiliate marketers look for tiered levels where they can recruit their own affiliates. Not necessarily a must-have but still a good option to have in your locker.

Quality Customer Support : Affiliate software doesn't always work as intended and if an affiliate has, for example, missed an attribution or has not received a commission you need to find out why and resolve the issue quickly. If you're not au fait with how the system works you'll want reliable customer service. Check to see if you have access to a phone, email or ticket support system alongside response times.

API Integrations : Integration with your existing software and website should be as straightforward as possible, the same goes for your affiliates. If the software has open and clear API integrations it will save a lot of headaches later on.

SEO Considerations : Affiliates are likely to be leveraging SEO as a tool in their arsenal to drive traffic in your direction, therefore the best tools on the market will create SEO friendly links that won't hinder the affiliate's efforts.
What are the best affiliate marketing software tools?
Company
Best For
Free Trial
Pricing
Website

GrowSurf

B2B SaaS, B2C Subscriptions, Financial Services,




Online Education, Online Insurance

Free trial

$775/mo

Visit

Lead Dyno

eCommerce, SaaS

30-day free trial

From $49/mo

Visit

Rewardful

SaaS

14-day free trial

From $29/mo + translation fee

Visit

Post Affiliate Pro

eCommerce stores

14-day free trial

From $97/mo

Visit

Refersion

eCommerce businesses

14-day free trial

$89/mo

Visit
GrowSurf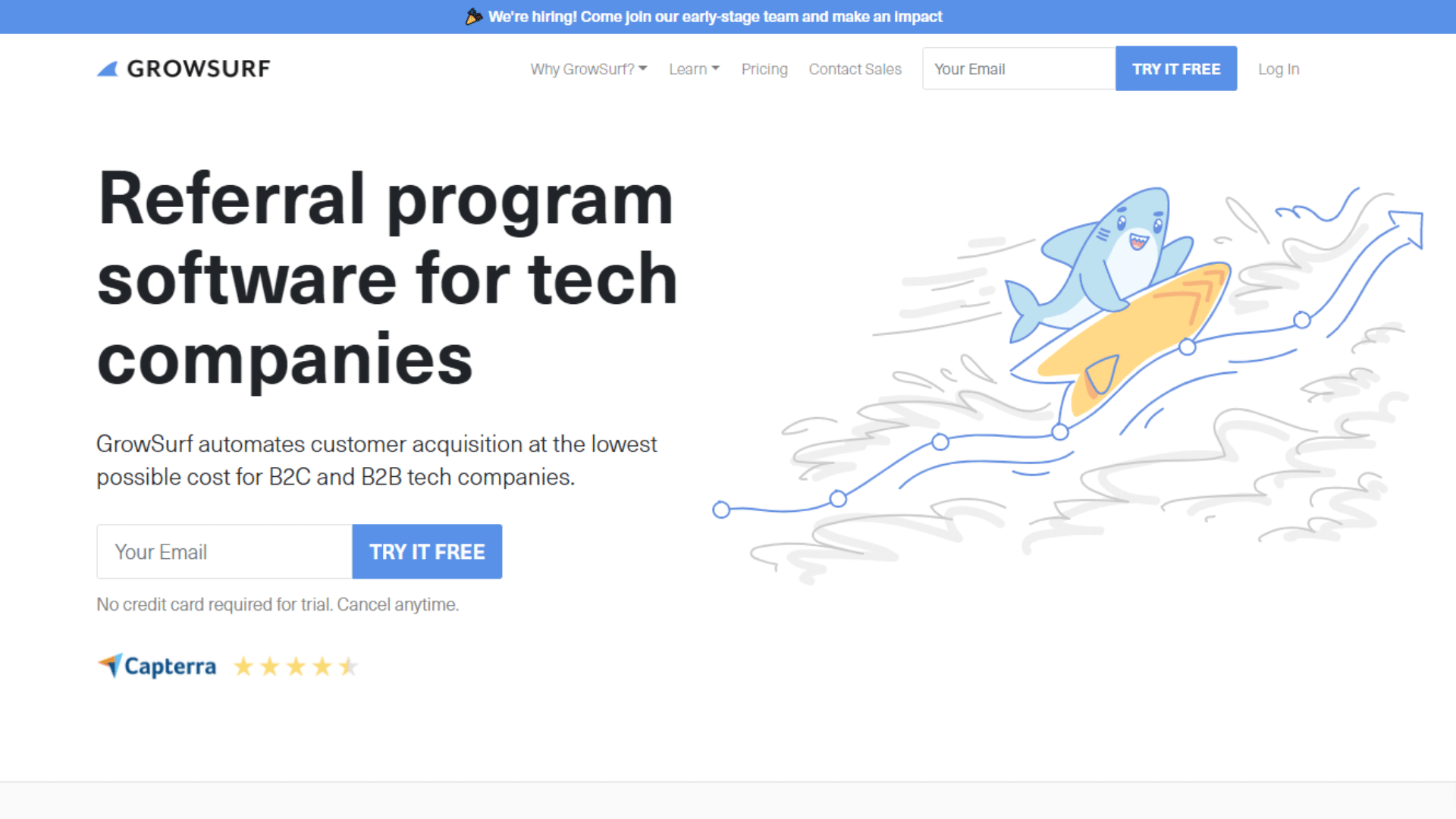 GrowSurf focuses on driving referrals to your business. Whilst this might make it technically referral marketing, this is often a far more lucrative and effective solution over traditional affiliate marketing. GrowSurf provides software that makes the launch of a referral program completely simple with fantastic customer support. It is also effective no matter what size the business is running at, making it an excellent choice for businesses looking to scale.
Read more about the differences between affiliate and referral marketing here.

Features
Automagic form detection
Automated emails
Rewards management system
Track participant activity
Easy-to-use campaign editor
Analytics
Fraud protection
Pricing
GrowSurf offers three paid plans:
Startup ($775 /mo, paid annually) that supports up to 10,000 participants
Business that supports up to 25,000 participants
Elite that supports up to 75,000 participants
Request a free demo to learn more.
Have questions about GrowSurf?
Talk to a referral marketing expert today.
LeadDyno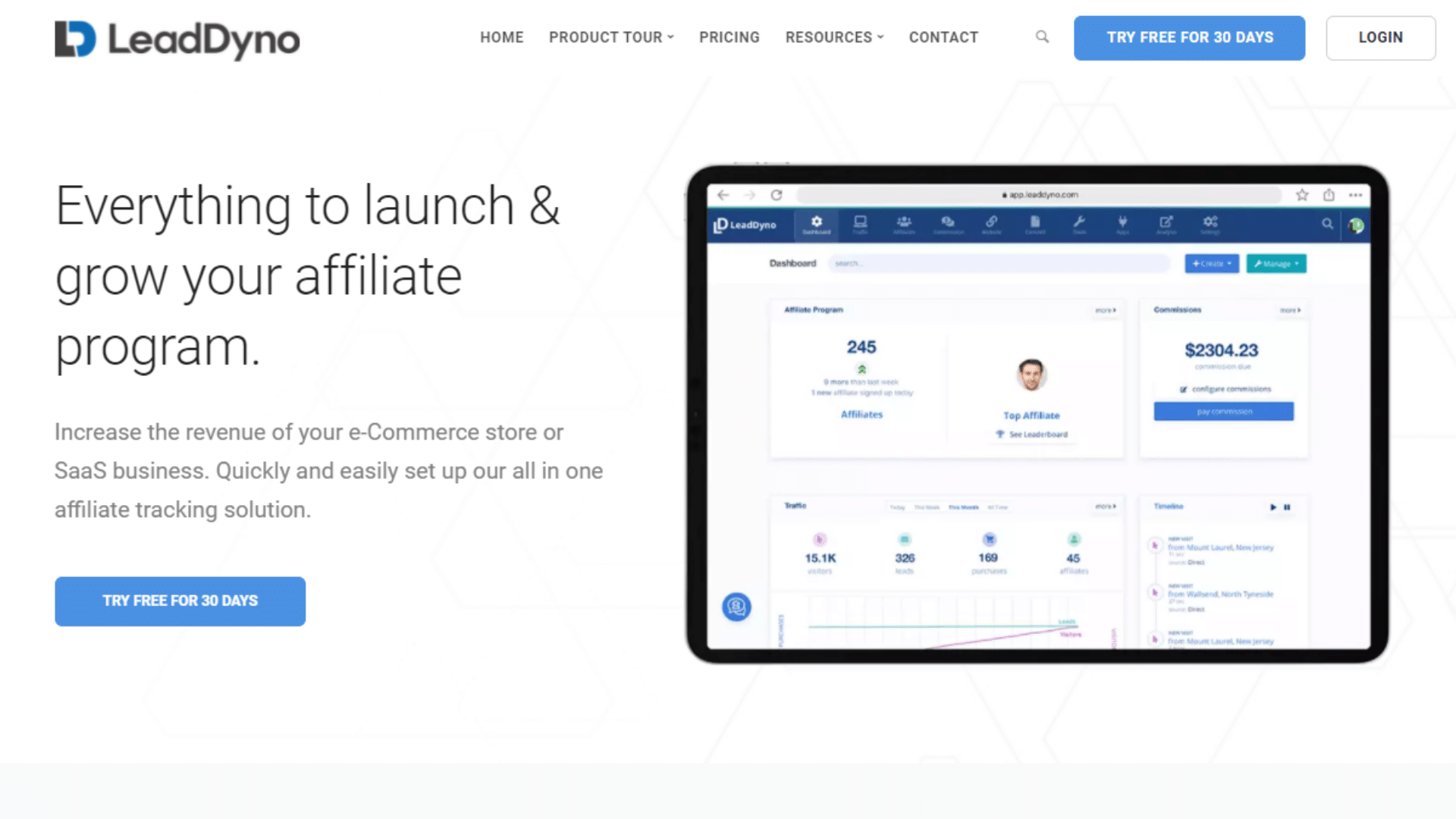 With a focus on eCommerce stores and SaaS businesses, LeadDyno offers straightforward and easy to set up affiliate software that has the majority of tracking metrics you could require. They also include emails that automate much of your marketing and allows you to send emails to both affiliates and customers. PayPal Mass Pay integrated as standard, alongside many other integrations with the likes of Shopify, WooCommerce, Stripe, MailChimp and more.
Features
Simple setup
Suite of affiliate tools
Automated emails
LeadDyno dashboard with clicks, leads and sales
Simple payment options
Pricing
LeadDyno offers three paid plans:
Starter ($49 /mo) supports up to 3000 unique visitors per month
Biz Builder ($59 /mo) supports up to 4500 unique visitors per month
Accelerator ($79 /mo) that supports up to 7500 unique visitors per month
New accounts can make use of the impressive 30 day trial that includes setup help from LeadDyno support. Plans are offered on a month to month basis.
Rewardful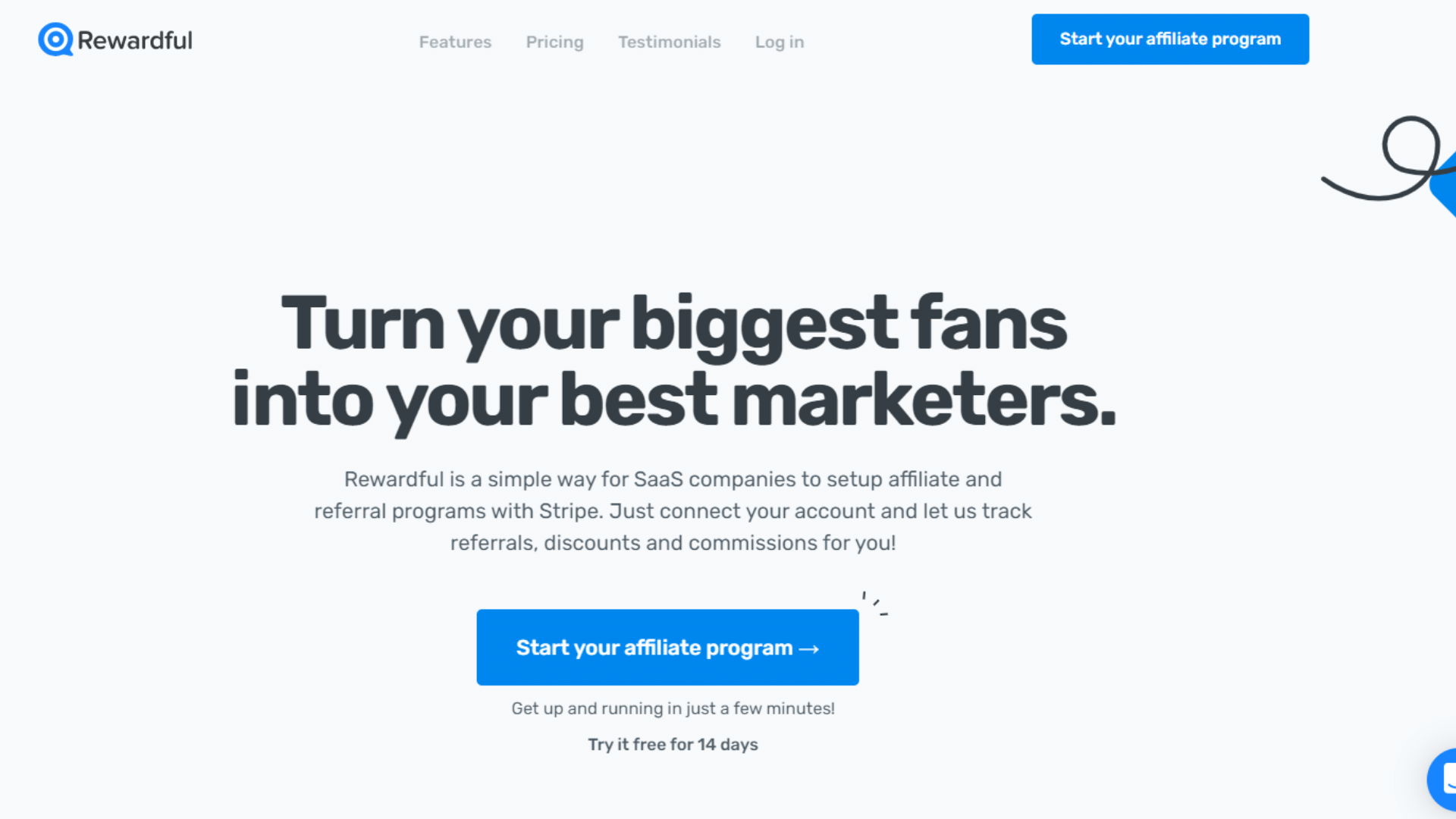 Rewardful, focusing exclusively on SaaS companies, offers a simple affiliate setup with payments through Stripe. It's a straightforward connection process but you do have to have your payments processed through Stripe. They offer many of the core features that you would hope for such as a variety of commissions, SEO friendly links and a customizable affiliate dashboard.
Features
Simple setup with a 5 step process
Market-leading Stripe integration
Free migration if you're with another platform
Affiliate dashboard that can include Terms of Service and custom scripts
Hefty resources to keep affiliates engaged
Handy affiliate finder service to source new affiliates
Pricing
Rewardful offers four paid plans:
Performance ($29/mo) Unlimited revenue from affiliates but with a 9% transaction fee
Starter ($49 /mo) supports up to $5000/mo from affiliates
Growth ($79 /mo) supports up to $15,000/mo from affiliates
Enterprise ($299 /mo) supports unlimited revenue from affiliates, no transaction fees
Each plan comes with a 14 day trial and a tiered level of affiliate finder credits ranging from 0-100 a month. Plus you can save 2 months of cost if you pay annually.
Post Affiliate Pro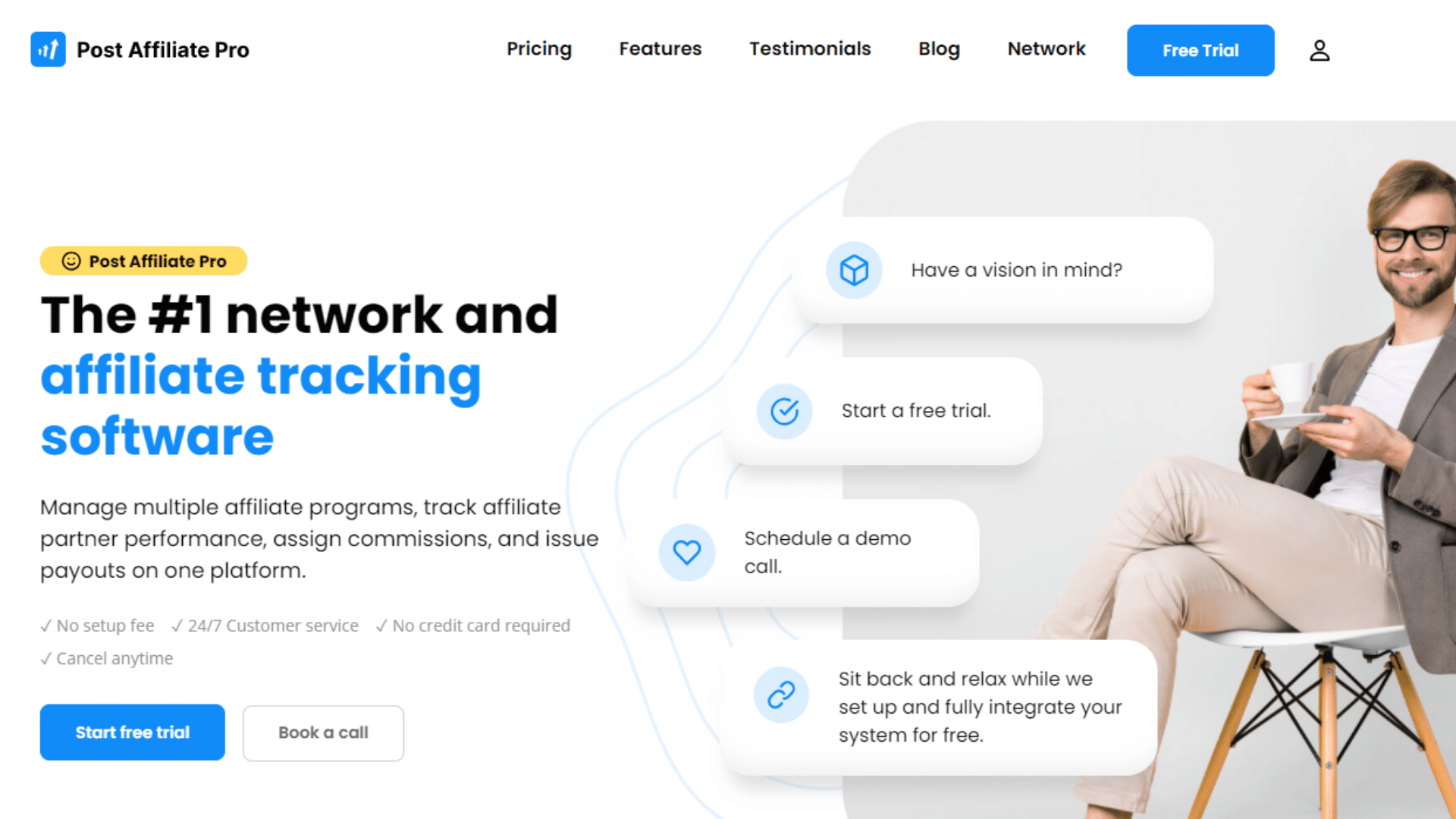 Post Affiliate Pro allows you to manage more than one affiliate program, track performance across each, assign various commission levels and issue payments all in one platform. You can also make use of their 24/7 customer service and even allow Post Affiliate Pro to complete the setup process for you.
Features
Affiliate tracking on performance, engagements, leads and conversion rates.
Commissions can be assigned based on conversion rates based on data that is collected.
Payouts are automated plus bonuses can be offered when milestones are reached.
Integrations with over 170+ CMS and payment gateways
Free lifetime updates
Pricing
Post Affiliate Pro offers four paid plans:
Pro ($97/mo) with up to 1 million tracking requests a month
Pro-Ultimate ($197/mo) with up to 5 million tracking requests a month
Network ($477/mo) with up to 20 million tracking requests a month
Each plan comes with a 14 day trial and a quick signup process. You can also book a video call with their sales manager to discuss the level of service appropriate for you.
Refersion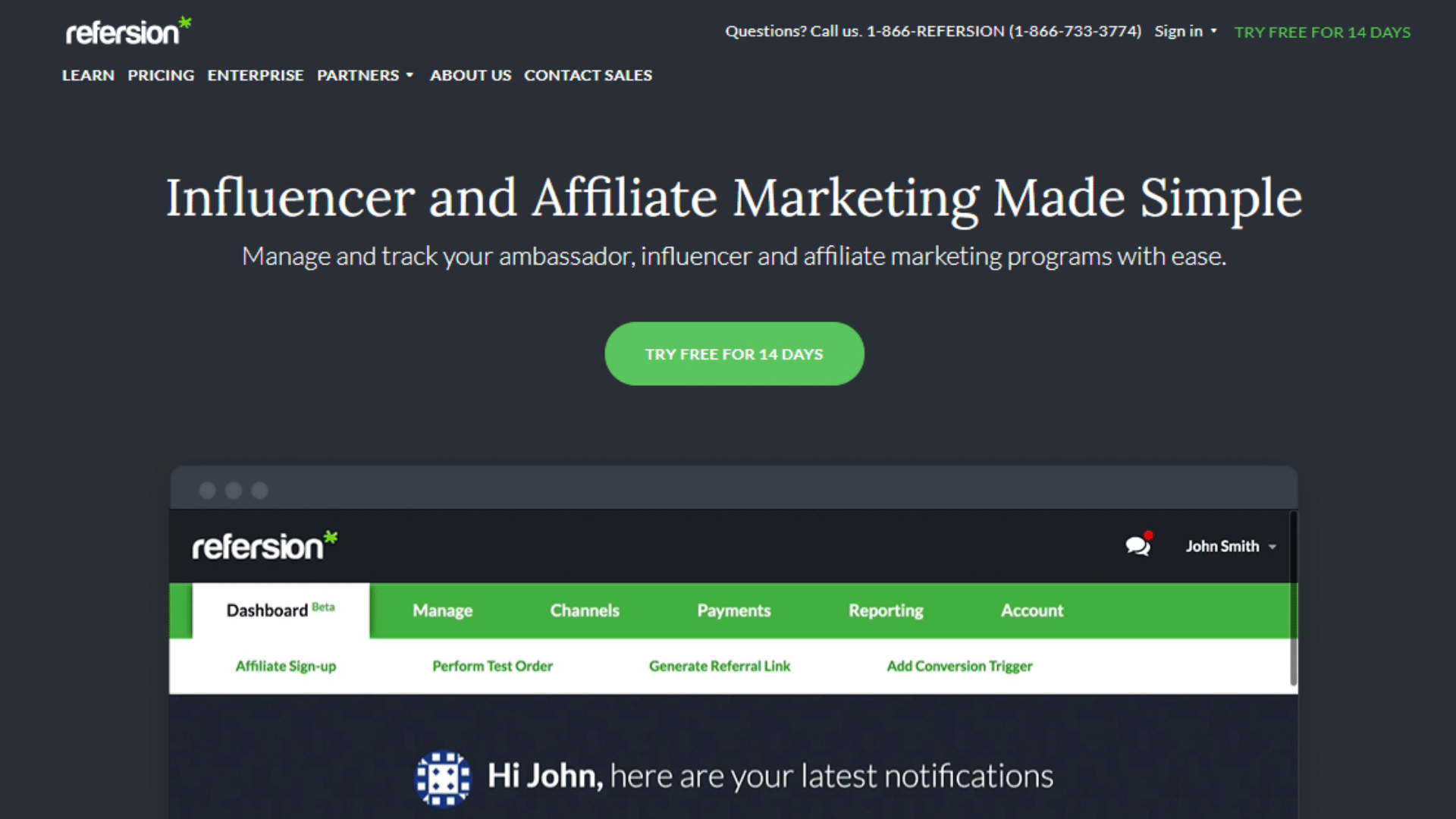 Alongside affiliate tracking Refersion also tracks ambassadors and influencers, within the same program making for a handy tool keeping everything in one place. They allow you to track any digital sale that an affiliate refers integrating into eCommerce platforms, plus you can even watch clicks and conversions in real-time. They offer personalized affiliate portals plus an analytics backed performance dashboard. Furthermore, they alow you to create unlimited commission structures meaning you can personalize your structures per affiliate if you so desired.
Features
Recurrent performance reports
Simple integration in minutes
Easily sign up affiliates
Send payments quickly
Option to add post-sale affiliate program to turn customers into affiliates
Pricing
Refersion offers only two options:
Professional ($89/mo) which offers tracking for up to 130 affiliate orders a month
Enterprise (pricing only available through sales call) which allows unlimited tracking per month and whitelabled service.
The professional plan comes with a 14 day trial.
Key Takeaways
There's a whole lot to consider when picking an affiliate software package for your business. Be sure to complete your research, and even try a few first using free trials. The key consideration is whether this software is going to make your marketing more efficient and more profitable.
A good affiliate software tool will save you time and money
Look out for easy setup and customization to make the most of a new tool
Take your time and research the best fit for your business
Why not take this opportunity to give GrowSurf a try, the 14 day, no obligation trial allows you to see what we can do and show you just how quickly we can accelerate your growth.
Request a demo of GrowSurf
Set up your referral marketing program with software that lowers your customer acquisition cost and saves you gobs of time.