An effective CTA is critical if you want your prospects to do business with you.
"Thanks, Captain Obvious," you might be saying. But you'll be surprised how difficult it can be sometimes to find a "Subscribe" or "Buy Now" button on a website.
That said, if you want your prospects to perform your desired action, you need to do more than make your CTA visible.
You need to write a CTA that grabs attention and inspires action.
Because in a digital landscape that becomes more cluttered and competitive by the day, every word counts.
Want to write CTAs that convert?
This blog post will tell you how. Better yet, we'll also provide you with 15 call to action examples that will inspire you as you write your own.
What is a call-to-action (CTA)?
A call to action is a written statement on a website that tells visitors or prospects to take a specific action.
To be more specific, a CTA is designed to make visitors do what you want them to do on your website, whether it's to buy your solution, download your PDF, subscribe to your newsletter, or anything that will help you advance your business goals.
Why is a CTA important?
Your CTA is the most important element on your website and that's no exaggeration. After all, attracting new customers is not your only goal. If you want to achieve your business goals, you need them to take the next step in their customer journey.
No two ways about it—if you want to generate leads, optimize your referral program, and acquire new customers, you need to craft CTAs your audience can't refuse.
Your website may be well-designed, fast, and have top-notch content, but all that effort will be wasted if your CTA is as interesting as a sack of beans.
The web is a noisy place and your prospects don't want you to add to the noise. They want direction. Once you've grabbed their interest, the least you can do for them is tell them what they need to do next. This also goes for existing customers. Boring and vague CTAs can negatively impact customer experience and can even lead to churn if you're not careful.
How to write a call to action that converts
Here are tips and hacks to writing a call to action that prospects will respond to.
1. Make it relevant
When writing a CTA, the idea is to get your prospects to take action. If you want them to take action, make sure your CTA is relevant to their specific needs.
You have to make sure every element on the page is there to support your CTA. If there's no consistency in the messaging wherever your CTA is presented, you're going to leave your prospects confused. And confused people aren't likely to download your ebook, register for your webinar, or buy your product.
Examples of CTA phrases that signal relevance include:
Active your 30-day free trial today!
Add to cart
Join the club
Yes! I want in
Send it to me!
Appeal to emotion
If you want your CTA to inspire action, write it in a way that appeals to your prospects' emotions, not their logic.
Why? Because 95% of purchasing decisions are emotional. In fact, it's often said that people buy based on emotions and then justify it with logic.
Triggers you can use to create emotionally charged CTAs include:
Hope
Guilt
Fear
Lust
Greed
Sense of belonging
Anger
Curiosity
Here are call to action examples that tap into an audience's emotions.
Stock is limited. Claim yours now!
Bulletproof your business now.
Join over 2,000 subscribers now
Take control of your financial future today
3. Communicate value
Humans are motivated by different needs and desires. Whether that need or desire is physical, emotional, or spiritual, it is almost always driven by the promise of a benefit.
In fact, research shows a 201% increase in conversionswhen replacing a bland CTA with a value-driven CTA.
The same goes when your audience is reading your website copy or landing page. If you want your CTA to take your desired action, you must clearly communicate how taking that next step will benefit them.
Below are effective CTA phrases that communicate value:
Achieve financial freedom now!
Become an expert -- sign up today!
Join our community for exclusive content!
Subscribe to GrowSurf
Get our weekly newsletter for our latest referral marketing guides.
Error subscribing! Please try again.
15 Great CTA Examples And Why They Work
1. ConvertKit
ConvertKit is a platform that has helped creators connect with their audience and make a good living out of creating content. The secret to their success? They provide creators with a clear path towards achieving success.
Case in point: this CTA.

Why the CTA works
The CTA works because every element in the copy builds up to a relevant and emotionally-charged CTA. The headline is easy to see and communicates a big benefit. Moreover, the rest of the copy expands on the promise of the headline. It also helps that it explains clearly how the offer will fulfill the promise made in the headline.
2. Hubspot
Hubspot has been a household name among marketing and sales professionals for years, and for good reason. Having one of the best CRM platforms in the market helps. Most of all, they know how to sell their product with a compelling CTA, as shown below.

Why the CTA works
This CTA ("Get free CRM") is effective because it emphasizes that the prospect is getting real value… for free.The entire layout is set up in a way that moves the reader's eye logically from headline to subheadline to the CTA. The stark contrast between the white space and the primary orange color makes the CTA copy hard to miss.
3. Whereby
Whereby's value proposition is to "make video meetings easy for you and your business." And true to form, they made it easy for prospects to sign up for the service with an effective CTA.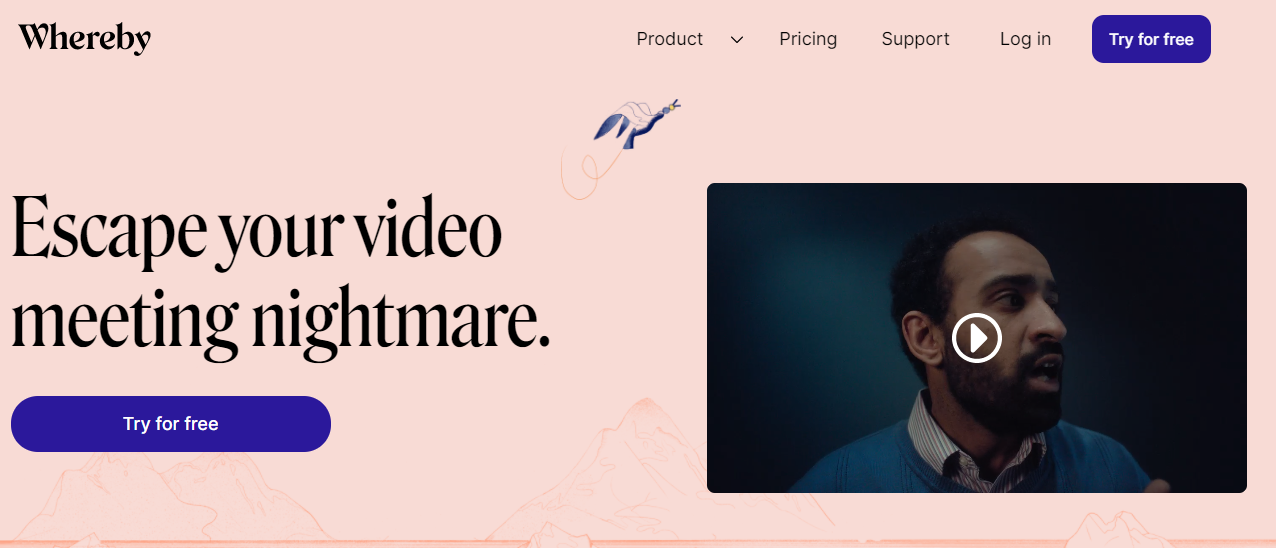 Why the CTA works
When you have a powerful headline and video working together to speak to your prospects' struggles and offer a promising solution, your prospect won't need much convincing to try your service for free.The CTA gives shape to the overall intent by making it clear to prospects that the service is free, making the offer even more appealing.
4. Convince & Convert
Convince & Convert is a consulting company that earned its stripes by knowing how to, well, convince and convert its target prospects. The company generated a ton of leads by leveraging their blog and offering content upgrades.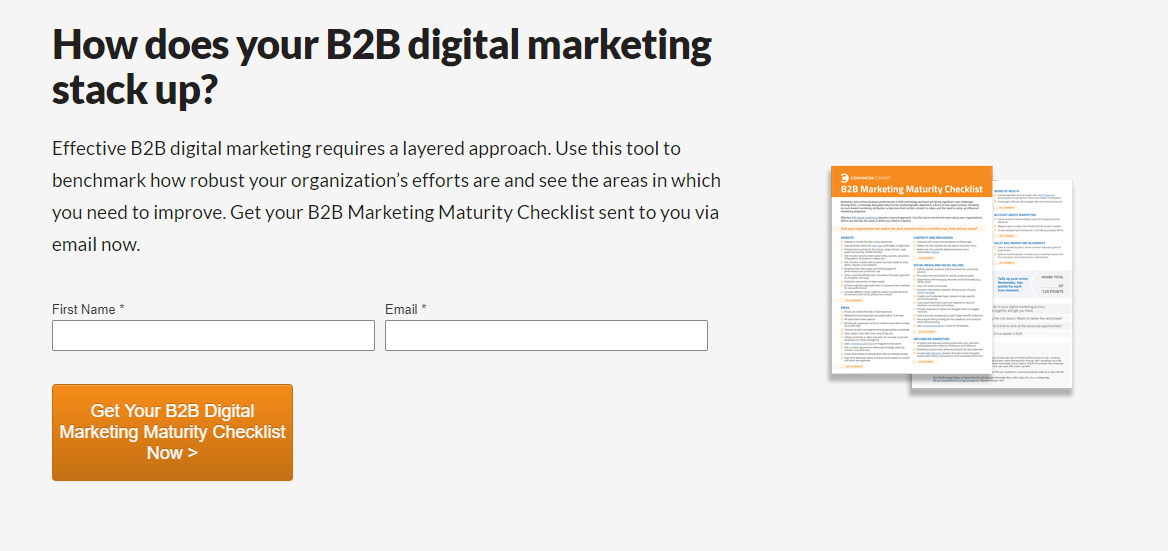 Why the CTA works
In their blog post 'B2B Content Marketing Measurement Tips for 2021', the company offers a free download of their B2B marketing maturity checklist. This works because the content upgrade is relevant to the blog post. Showing a sneak peak of what's up for grabs on the right makes the audience want the checklist even more.. Finally, the CTA copy makes it clear what the reader will be getting.
5. Julia McCoy's Newsletter
I'm a big fan of Julia McCoy's newsletter. The Express Writers founder offers free tips and resources to help creators, marketers, and entrepreneurs become more successful. Better yet, she offers paid courses and workshops to help them step up their game even more.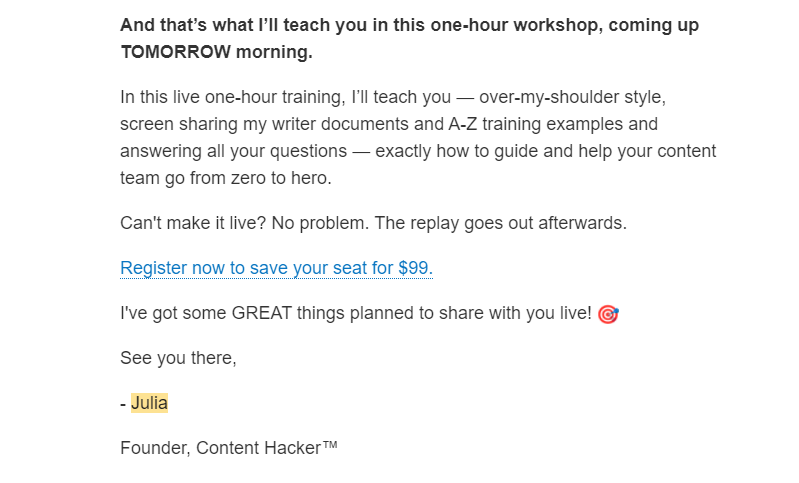 Why the CTA works
First off, THAT is how you sell a one-hour workshop in a newsletter. If the value proposition ("bring a writer up from zero to hero") doesn't leave freelance writers chomping at the bit, the sense of urgency expressed (coming up TOMORROW morning") in the rest of the copy will. This, of course, sets up an effective CTA. Why is it effective? First off, it makes the next step clear to the reader. Better yet, it conveys a sense of exclusivity, making the offer more desirable to prospects.
6. Freshbooks
Freshbooks is a cloud-based accounting solution tailored for freelancers and small business owners. It streamlines financial management and simplifies an otherwise complicated and painful process. And the company knows how to sell that advantage with their CTAs, as shown below.

Why the CTA works
Sometimes, the best way to craft a compelling CTA is to make the web copy and design elements do most of the work.The big headline works because it communicates clearly who the solution is for. The secondary headline then speaks to the needs of the target audience and lays out exactly how the solution will benefit them. The CTA then puts the finishing touches by putting the ball in the audience's court.
7. The altMBA
The altMBA is a 4-week digital leadership workshop designed by the Yoda of marketing himself, Seth Godin. The website's homepage shows a playback video showing testimonials from some of the workshop's alumni. It also comes with a CTA that invites visitors to sign up for the mailing list.
Why the CTA works
As you can see, the CTA copy is not asking visitors to sign up for the workshop yet. It only asks them to join a mailing list. This is a good call. For one, the tuition is quite hefty. Second, not all applicants will be accepted. At this stage, visitors need more information before they are persuaded to join. For now, prospects are curious and excited and will want to know more. The CTA copy "Keep me Posted" is simple, but the fact that it's relevant to the current needs of the prospect makes it effective.
8. Asana
Asana is one of the most popular project management tools out there. If you've been keeping up with the project management tool wars, you know that Trello is one of their fiercest competitors. To steal some of Trello's customers, they created the following comparison page.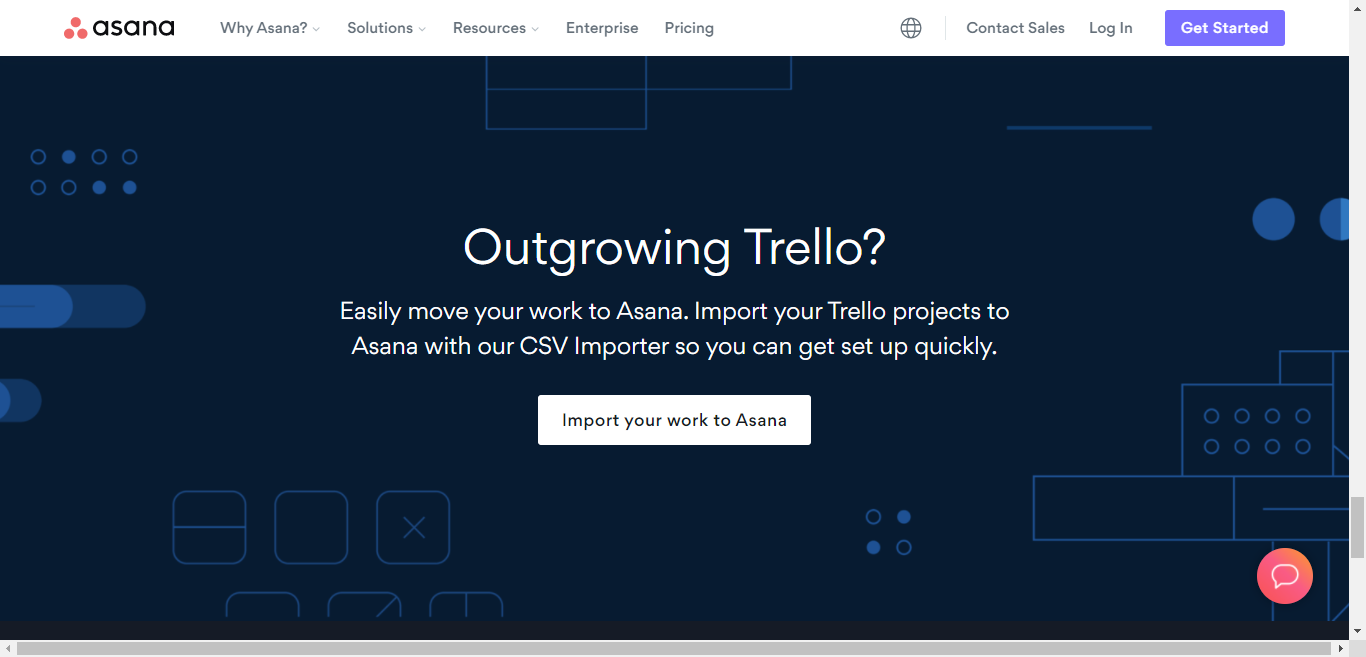 Why the CTA works
Asana went right for the jugular by using a question headline that dares disillusioned Trello users to confront a pain point they've been struggling with. The secondary headline then explains in simple, concise words why they should switch to Asana. It's a good segue to the action-oriented and very specific CTA text ("Import your work to Asana"), don't you think?
9. Mailchimp
Mailchimp prides itself as an all-in-one marketing platform. Being marketed as such, however, comes with its share of challenges. When your solution does just about everything, prospects might feel wary about making drastic changes.
With that said, Mailchimp does a great job in communicating why prospects should make the switch via its homepage and in particular its CTA.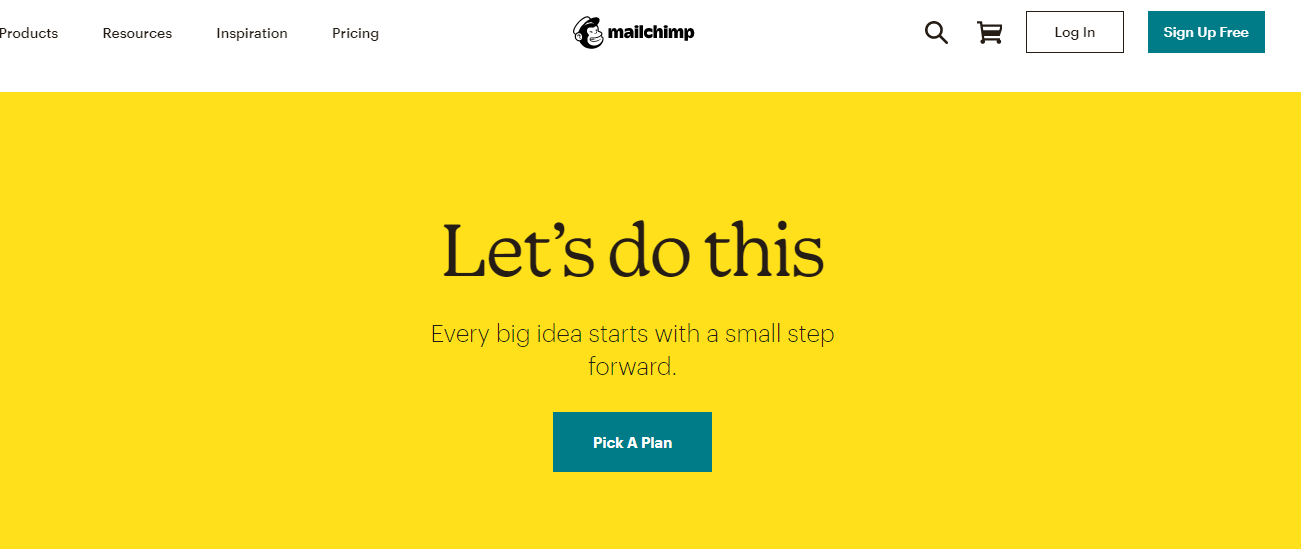 Why the CTA works
You see the above image once you've reached the bottom of the homepage after a long scroll. I love the headline and the secondary headline because they create tension and imply big changes coming ahead. The CTA text is simple yet perfect in this context because it tells the prospects the next step they need to take.
10. Canva
Canva is a design tool that does everything, including helping you create resumes that will knock people's socks off. The design company makes sure you know it via the following page: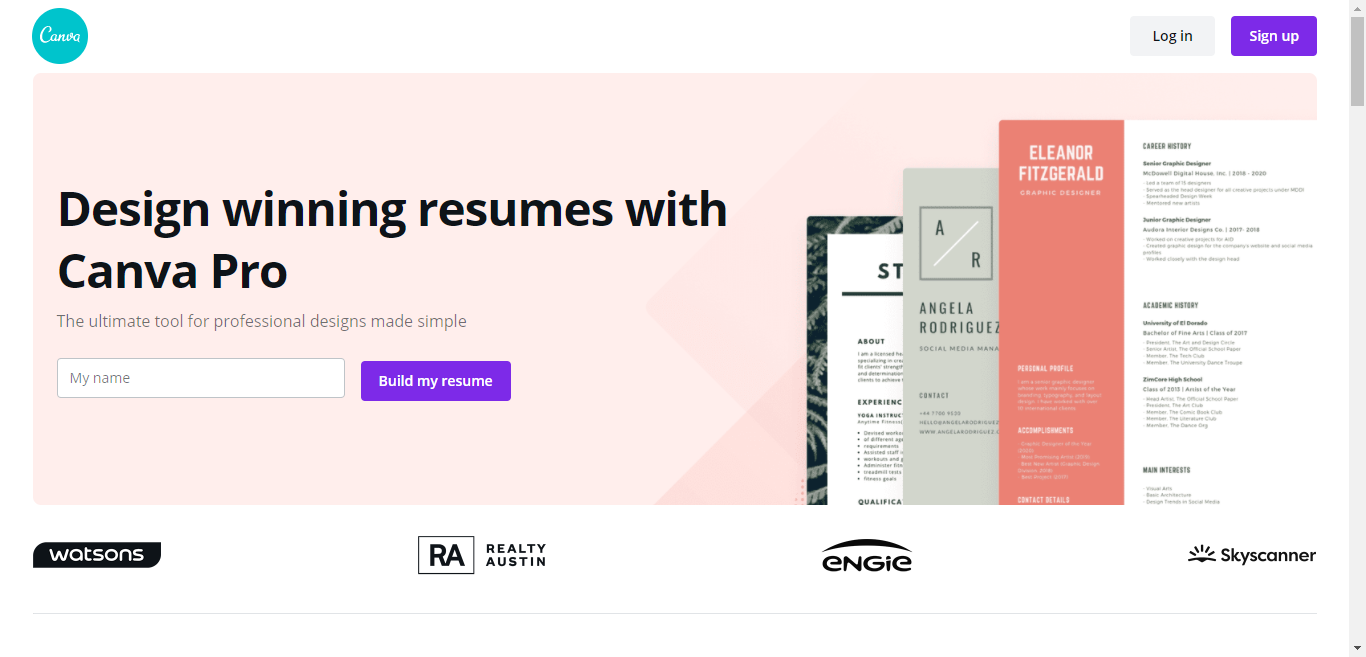 Why the CTA works
Canva does everything right with this landing page. Aside from communicating clearly their value proposition in both the headline and the secondary headline, they also presented a visual demonstrating why they are the best. The CTA is effective because it communicates clearly what will happen once a prospect clicks on the button.
11. Year Zero
August Bradley's Notion Life Design course provides tried-and-tested methods to elevate your performance across life and business. August continues to build a loyal following thanks to the following CTA.

Why the CTA works
First off, I like the part where the copy sells the CTA with a sprinkling of social proof ("Join 25,000 subscribers"). Also, joining the actual course is quite an investment, so offering the newsletter at this stage is a good call. There's enough in the entire homepage to spark curiosity and arouse desire. Adding a CTA that mirrors what the audience is thinking gives the entire pitch the push it needs to convince prospects to subscribe to the newsletter.
12. The Information
The Information is an online publication that delivers "tech news you won't read anywhere else." The content makes good on that promise, but the $39 subscription fee is a bit on the pricey side. Even if you don't subscribe to the paid plan yet, you can still sign up for the free newsletter. Once a newsletter entry is sent to your inbox, you'll see the following discount offer as you scroll down.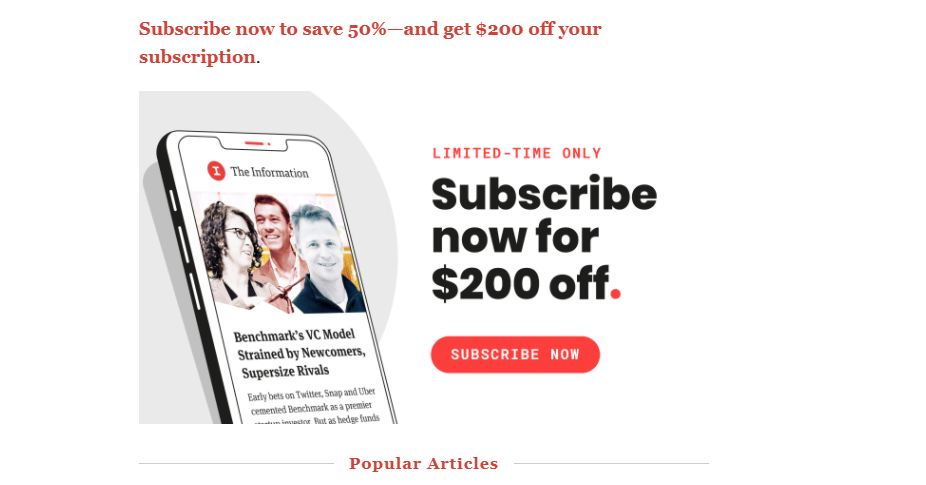 Why the CTA works
If the CTA copy "subscribe now" sounds generic, that doesn't matter because the email copy and design elements do all the heavy lifting. Displaying the discount numbers is a great decision because numbers grab attention. The words "Limited-Time Only" also creates a sense of urgency, making the CTA button more irresistible.
13. Webflow
As a website builder, Webflow is a game-changer. The people behind the low-code platform have no qualms telling the world about it, too.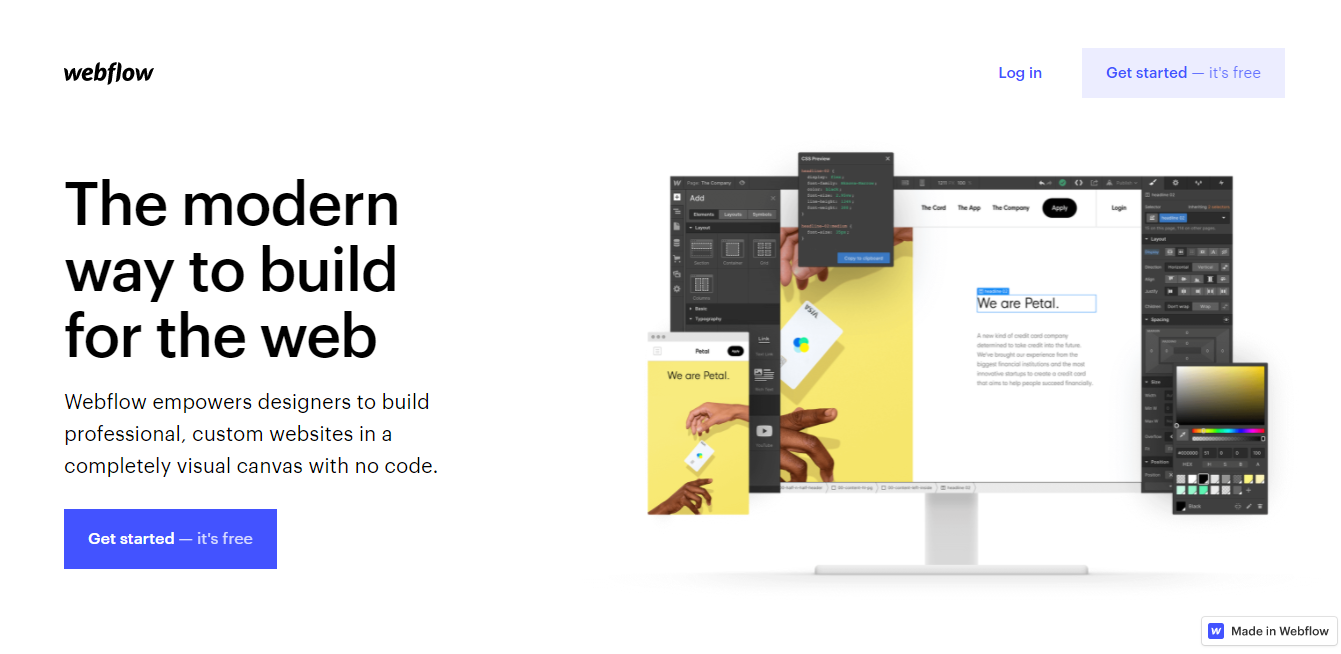 Why the CTA works
Webflow's CTA is effective because it spurs prospects to action and puts emphasis on the risk-free nature of the offer. The headline does a good job selling the CTA by communicating the company's unique value proposition. Combined with a subheadline that supports that value proposition, you've got a winning CTA creators, designers, and marketers will find it hard to resist.
14. NY Times
When you're reading the New York Times, you know you're getting top-notch content. If you love quality journalism, chances are you'll find it hard to refuse a massive discount offer to their digital subscription. If you're a subscriber to the publication's newsletter, you might have received the following discount offer.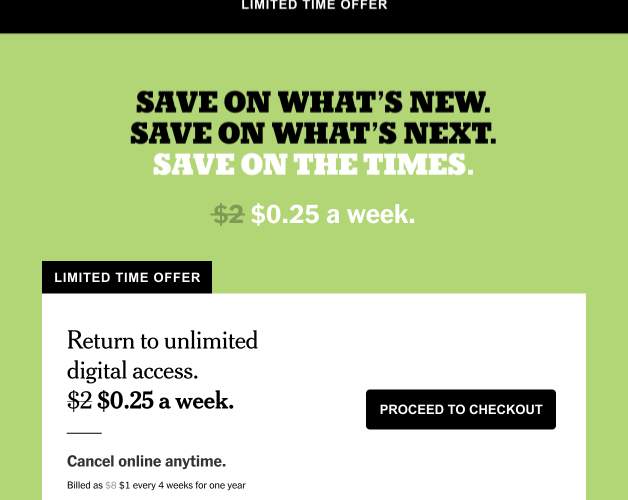 Why the CTA works
First of all, I love the color scheme—it's distinct and plays with contrasts in a way that makes the important elements stand out like big neon signs. What's more, the" Limited Time Offer" bit makes the generous discount offer even more irresistible to prospects. And although "Proceed to Checkout" is a simple CTA, it gets the job done because it tells prospects exactly what they need to do next.
15. Evernote
"Tame your work, organize your life." That headline alone makes it clear to prospects what Evernote is all about. Better yet, the rest of the copy as well as its design elements communicate effectively how the note-taking app can make their lives easier.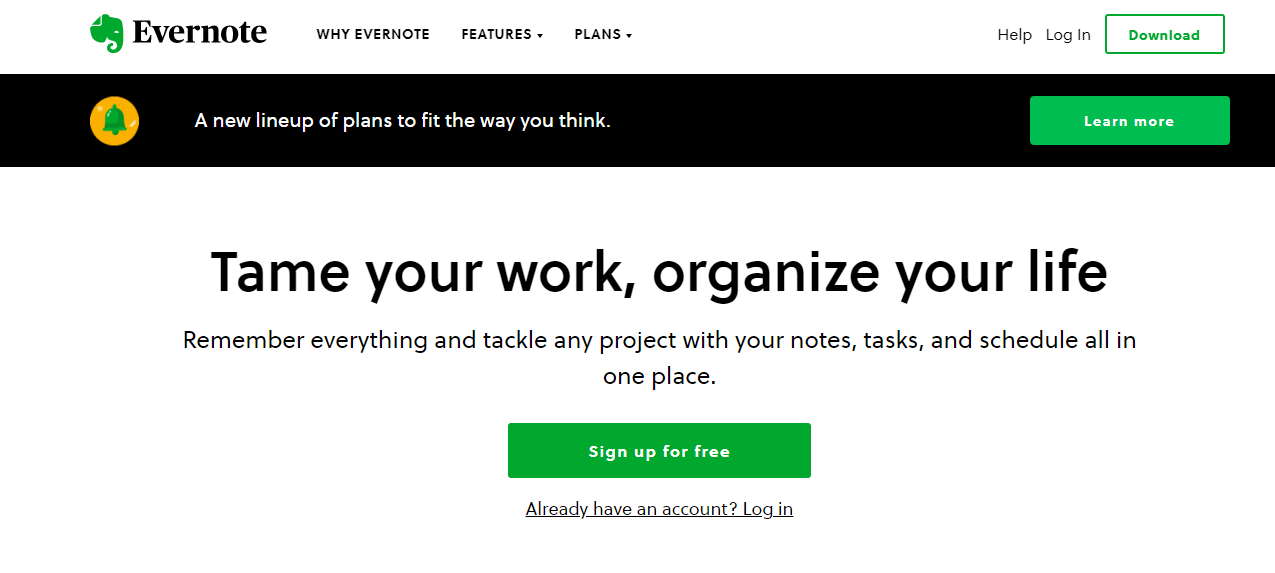 What makes the CTA work
As always, their use of the green color and negative space allows the most important elements—especially the CTA—to jump off the page, emphasizing the fact that prospects can "sign up for free."
Key Takeaways
Writing an effective CTA is a marketing superpower. After all, you can't acquire customers and create an enduring relationship with them if you can't find the words that will help them get to where you want them to go.
Here are key takeaways from this blog post to serve as a refresher:
Create relevant CTAs.
Craft CTAs that appeal to your audience's emotions.
Write CTAs that communicate value
Make your website copy and design work hard for your CTA.
Lastly, I hope that the call to action examples above will spark ideas and inspire you as you write CTAs that will move your business forward and beyond.
Subscribe to GrowSurf
Get our weekly newsletter for our latest referral marketing guides.
Error subscribing! Please try again.