SaaS Pricing Strategy and Tips: A Guide to Pricing
What makes a successful SaaS pricing strategy? It's not as straightforward as you may think. We often talk about how important it is to price our products correctly, but it's much more difficult to understand the "why" behind why we price software products the way we do.
If you are a company with physical products, it can be easier to calculate the cost to produce your product and come up with a price to sell your product on the shelves. But, software pricing is much trickier since there is no cost associated with producing the software (besides labor and R&D).
So, how do you price your software just right? Before digging in too deep, let's define the pricing process.
---
This is a guest contribution by Ryan Gould, Vice President of Strategy and Marketing Services at Elevation Marketing .
---
What is the Pricing Process?
The pricing process is a part of your overarching marketing strategy, and it is the process of determining how much a company will charge customers for a product or service. It's a way of deciding what price point will most likely influence customers to buy your software from you — instead of the competition.
So, what factors should you look at when pricing your software? Many factors come into play when creating an effective pricing strategy including:
Product positioning
Software packaging
Your target audience
Competition pricing
Other factors
Because of this, creating an effective pricing strategy can be challenging for many software companies today. Let's take a look at why many SaaS companies miss the mark with their pricing strategy.
Customer Acquisition isn't Everything
Many software companies lean heavily on customer acquisition (especially startups). They may try to collect more acquisitions through pricing strategies like being a freemium service or offer free trials. But, did you know that customer monetization and retention has 2-4x more impact than customer acquisition?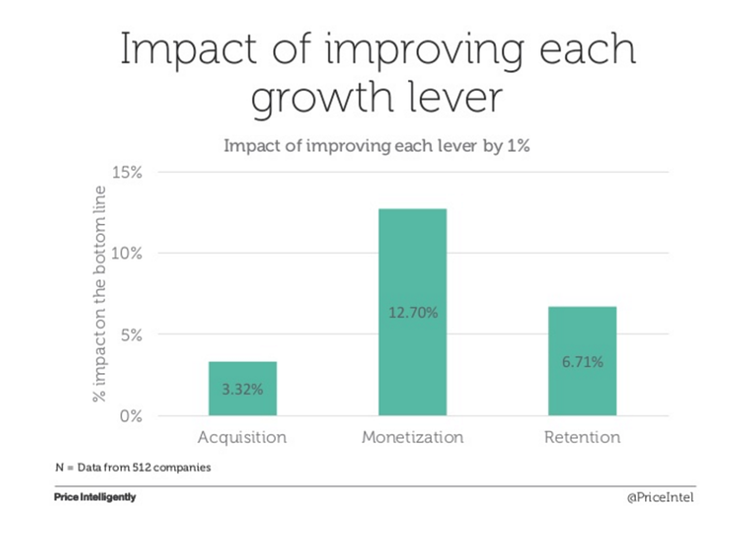 Image Source: HotJar
This means that the focus shouldn't be on acquisition but instead monetization and retention. Those two key elements are going to be what propels SaaS companies forward to improve their bottom line.
This just goes to show that when you're establishing your pricing strategy, you'll want to think way beyond getting your customer's foot in the door. You'll instead want to think about how you can keep them loyal to your software platform and wanting to stick around for more. Let's take a look at the 3 phases of how you can create an effective pricing strategy — with monetization and retention in mind.
3 Steps to Create an Effective SaaS Pricing Strategy
1. Position Your Product
Before doing anything else, you will want to position your product and establish how you want your brand to be perceived by others. Your brand positioning is going to be the factor that differentiates your business from the competition. (So, this isn't a step you want to skim over. )
Take a look at the product positioning map to decide where you want your business to fall on the chart. Do you want to be seen as a more affordable option or a premium option with all the bells and whistles? Do you want to make quality your main differentiator or something else? 
There is no right or wrong answer here, and where your brand falls on the map will help you figure out who your ideal customer is.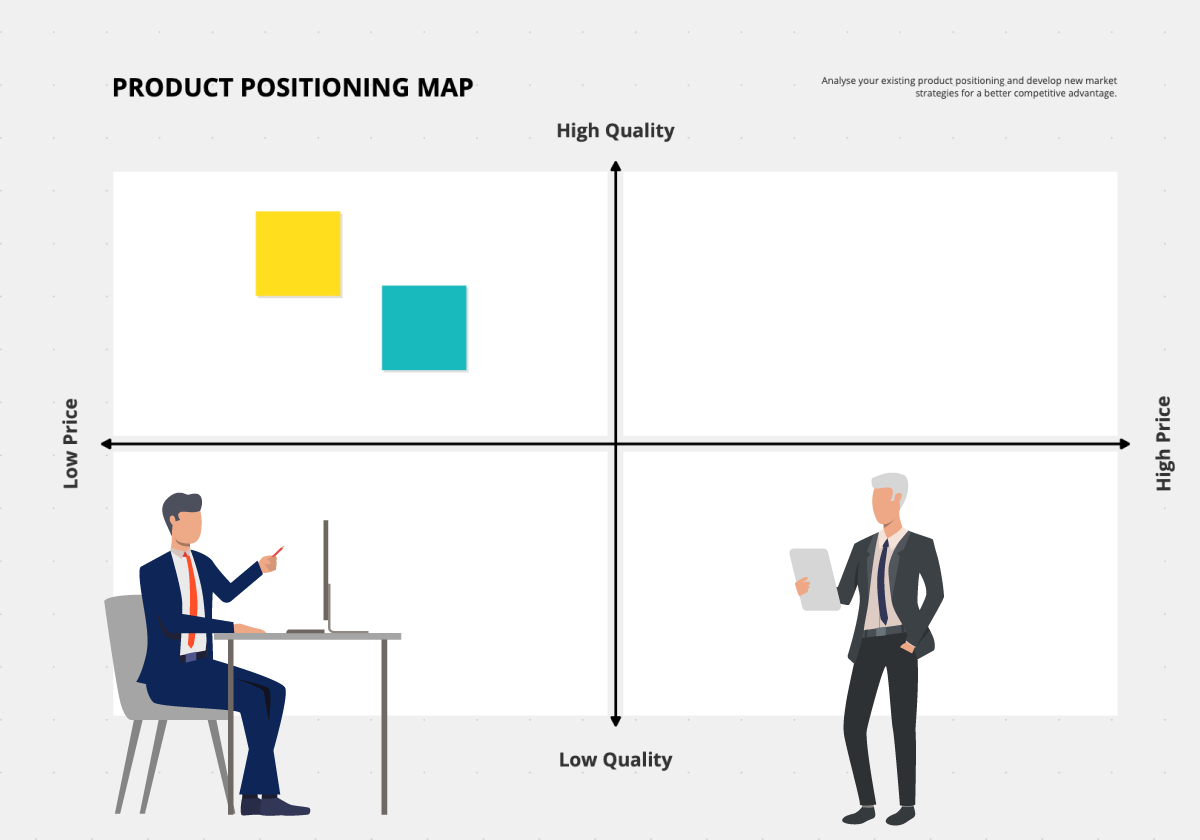 Image Source: ConceptBoard
2. Understand your Userbase
After you position your product and/or brand, it's time to establish who your target audience is.
You can find out who your customers are by asking yourself a few questions like:
What are their pain points?
Why would they want to do business with you in the first place?
What can you offer them that the competition can't? 
You can find out a lot of this information through a market research study. After performing the study, you can then create data-driven buyer personas to ensure that your marketing efforts and pricing strategy is in alignment with your userbase.
Fun Fact : 93% of companies exceed lead and revenue goals by using buyer personas.
3. Package & Price Your Software
Whether you're selling software to large corporations or small startups, understanding your SaaS pricing strategy is essential to maximizing revenue. The basic idea is to package your product so that you can charge customers in a way that is profitable to your business while staying competitive.
Selecting a pricing structure is all based on who your userbase is, what your current metrics look like,  and what your company-wide goals are. Whether you want to select a flat-rate pricing model or a mix of a few of the models, choosing a pricing model is all up to what you want to accomplish in the long run. Here are some of the most common pricing models to look out for in the SaaS space.
Subscribe to GrowSurf
Get our weekly newsletter for our latest referral marketing guides.
Error subscribing! Please try again.
SaaS Pricing Models: Types, Pros & Cons, and Examples
Not all SaaS companies use the same pricing strategy. Some charge based on how much storage space an organization needs while others just charge a flat rate. Here, we are going to take a look at the different types of SaaS pricing models to ensure that you select the pricing model that works best for your business.
Per User Pricing Model
The first pricing model we are going to explore today is the "per user pricing model". The per user pricing model charges companies based on how many users need to use their software platform. This pricing model works great for companies that want to help collaborative teams perform a certain task like analyzing data, messaging back and forth, or moving clients through a digital sales pipeline.
This pricing model would work wonders for companies who specialize in project management software systems, CRM platforms, or even company messaging tools.
Pros:
As your customer's business grows, so does the overall cost to use the software. (ex. Hiring more employees = more users that need to have access to the software)
Cons:
Churn rates are high.
Other employees can share logins to not have to pay for another user seat.
Some customers may stop using the software altogether if they don't want to pay for everyone to have access.
Example: Slack has helped over 12 million users connect with their teammates across the globe through their business messaging platform. Instead of following a traditional pricing structure, Slack charges companies on a per user basis. As you can see below, Slack charges $6.67+ per active user, and this works for slack because they are more "user-focused" than other companies.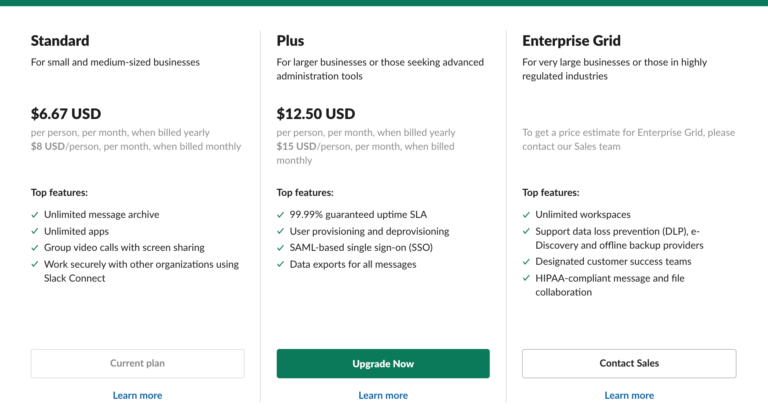 Image Source: Bare Metrics
Tiered User Pricing Model
Tiered pricing is one of the most common and best ways to price software platforms. If you're selling software that's going to change over time with new features and add-ons, then tiers could be very important to your pricing strategy.
Pros of the Tiered Pricing Model : 
Customers can easily see what they are going to get out of each package.
It's easy to upsell your customers when you have different tiers.
It's appealing to a wide range of customers.
Cons of the Tiered Pricing Model:
The tiered pricing model can be visually overwhelming for the end customer.
Too many options can lead to analysis paralysis.
Example: HubSpot is an all-in-one marketing and sales platform that helps companies scale their marketing and sales efforts through its user-friendly interface. When it comes to pricing, HubSpot uses the tiered pricing model to offer their customers different pricing tiers to best fit their business needs at the moment. The more features your business needs, the more it will cost to use the HubSpot all-in-one platform. But if companies are just starting out, they can use the HubSpot starter pack to decide if they want to move up in tiers or not later down the road.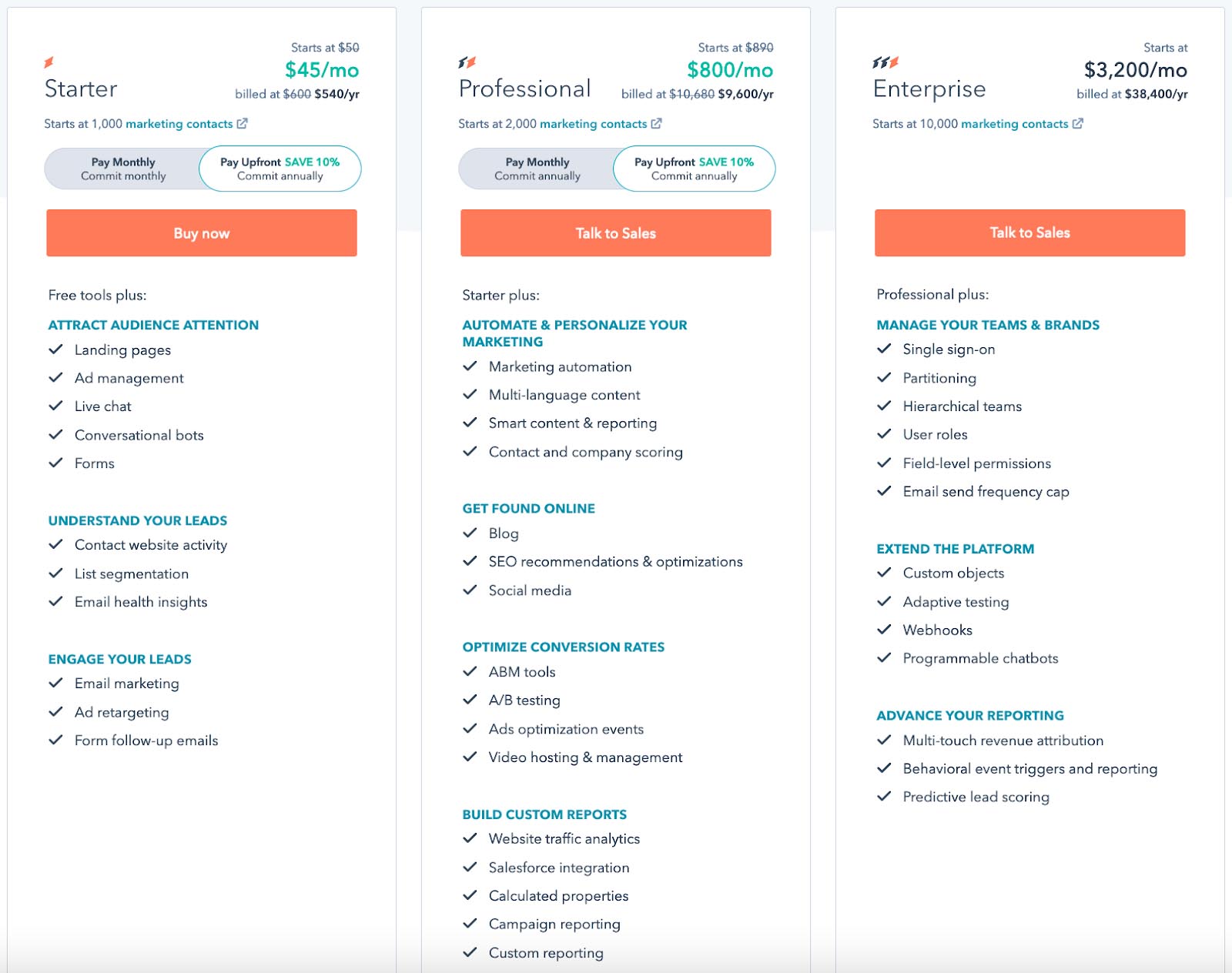 Image Source: HubSpot
Example 2: Workello is a platform for outsourcing your entire content production operation. They have 2 pricing tiers based on usage and also additional premium features. Note that they offer discounts for annual rates and default to annual pricing here. This can be a very effective tool in increasing revenue, reducing churn and building brand affinity.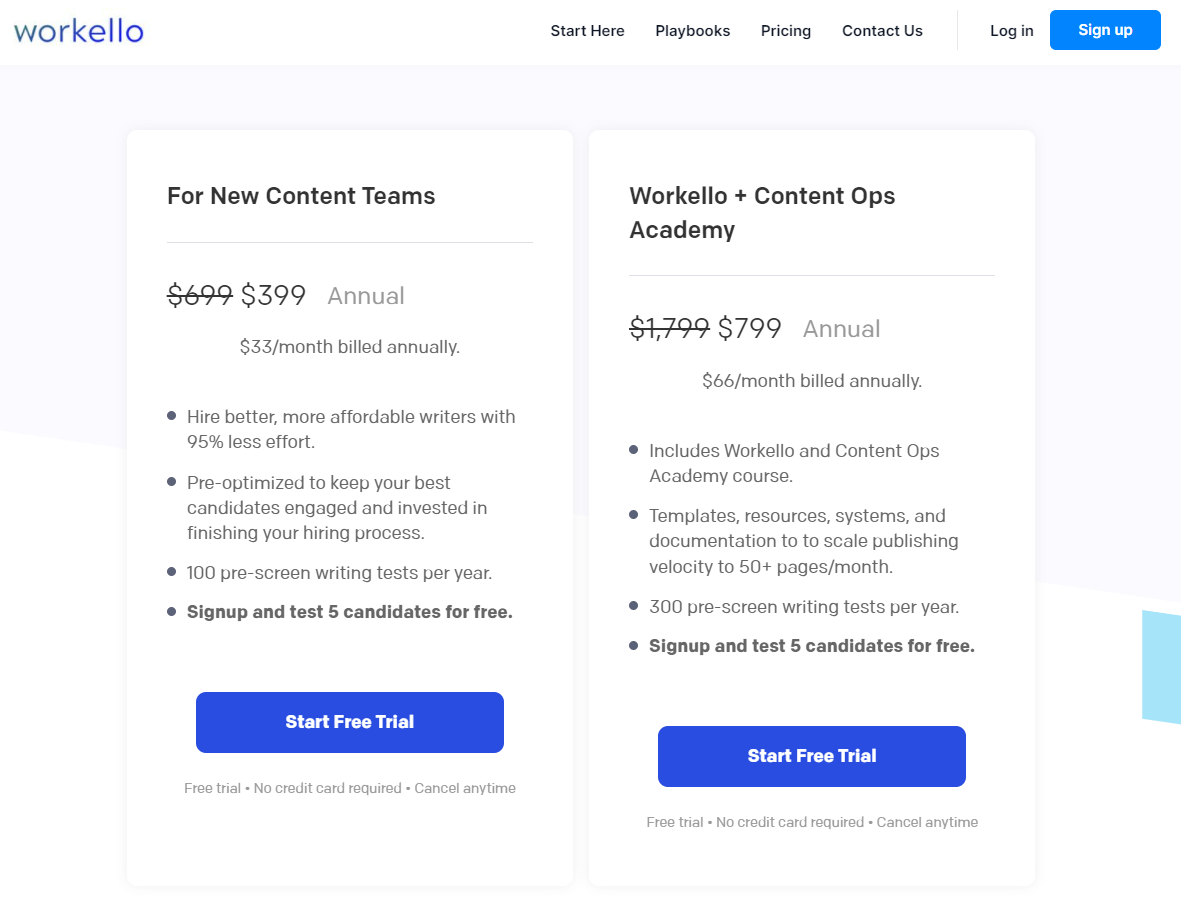 Image Source: Workello

Per Storage Pricing Model
The next pricing strategy we are going to discuss is the "per storage pricing model". Storage pricing is a pricing strategy SaaS companies use to price their product based on how many gigabytes or terabytes of storage a user will need to store digital collateral. This type of pricing model works wonders for cloud-based storage companies like Google, Amazon AWS, and Apple because users use these sites to backup documents, photos, videos, presentations, and more!
If these companies charged a flat price, they wouldn't be able to bring in as much revenue as they would with a per storage pricing model. Here are some of the benefits and drawbacks of the storage pricing structure.
Pros of the Per Storage Pricing Model:
Customers get what they pay for.
Customers feel more in charge of how much they are paying.
Cons of the Per Storage Pricing Model:
If you offer a freemium, you will have to wait until they use a certain amount of storage space before charging customers.
Customers can delete items to free up storage space. By doing this, they will continue to pay less or maintain a  free subscription status.
Example: Google allows users to use up to 15 GB of data for free before making them pay for extra storage. Having a 15 GB freemium option works well for Google because it allows users to adequately try out their cloud-service platform before paying for more storage space. Once a customer has used up the free storage space, they can opt-in to paying for more room to hold all of their digital assets in one place.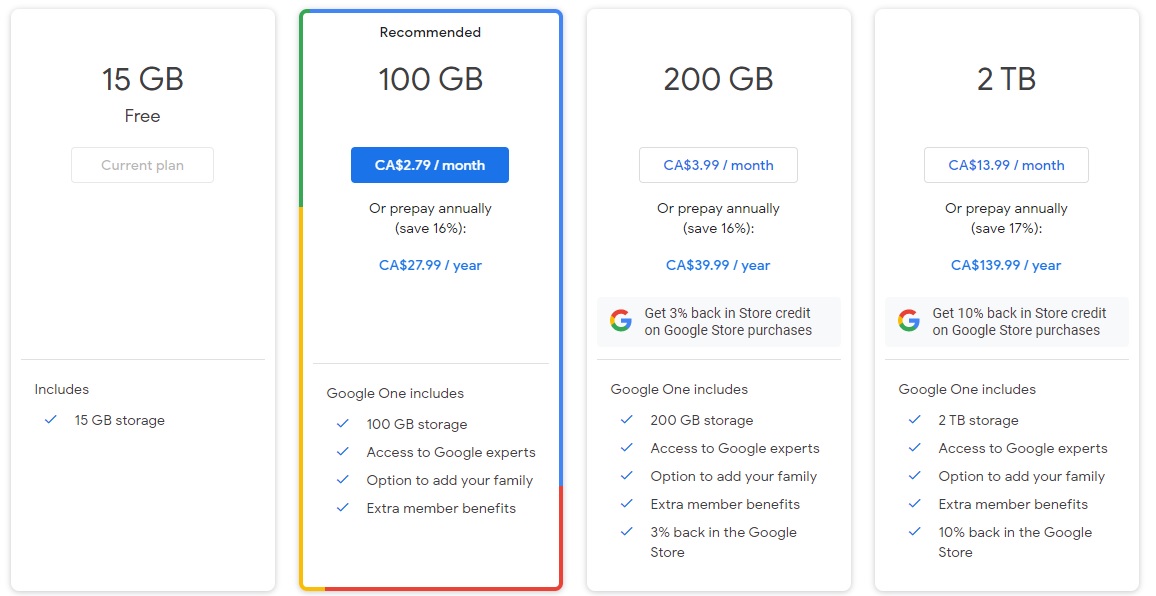 Image Source: Google
Feature-Based Pricing Model
The feature-based pricing model segments different pricing options based on the type and/or the number of features in a certain package. The feature-based model works great for SaaS companies with many different feature options like creative editing tools, CRM platforms, marketing platforms, and other types of software. Let's take a look at some of the pros and cons of a feature-based pricing model.
Pros of the Feature-Based Pricing Model:
You can target different buyers based on their unique needs.
Upselling is easy to do.
Cons of the Feature-Based Pricing Model:
This pricing model can be confusing for customers.  
A customer may not need some of the features that are included in a particular package.
Example: Quickbooks accounting and bookkeeping platform helps businesses manage their transactions and send invoices to customers. Instead of pricing their product per user, they price based on software functionality. Below, you can see how their pricing packages are set up. As the user pays more for a different package, the user will also get access to features that the other packages below it do not offer. Many companies use the feature pricing model because it makes it easy to upsell current customers into buying a bigger package.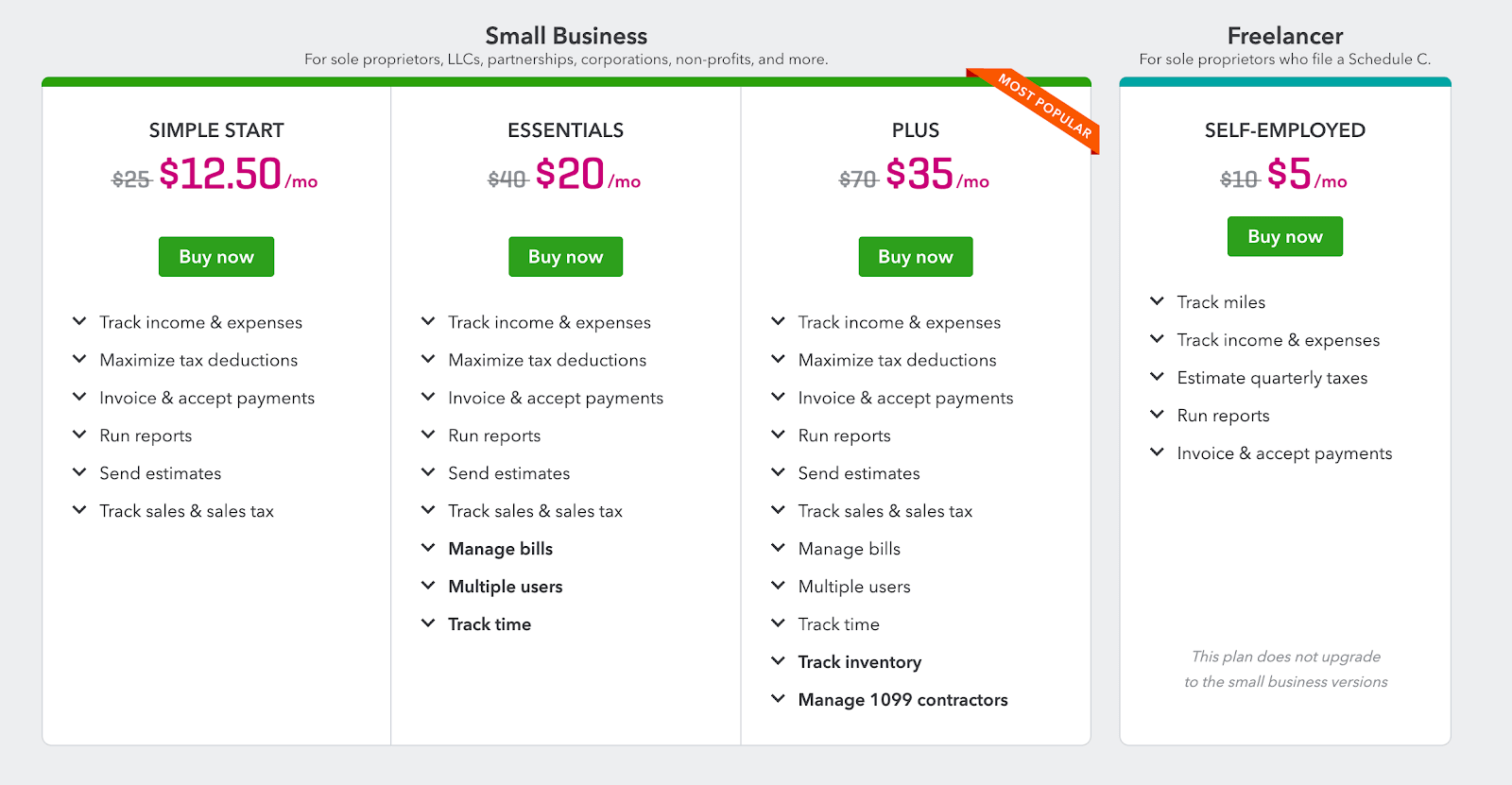 Image Source: ChargeBee
Flat-Rate Pricing Model
In the flat-rate pricing model, SaaS companies charge one price to all its software customers. This simplifies the pricing process for both the business and end-customer. With this structure, there are generally no feature add-ons to choose from because the package deal includes everything already.
Pros of the Flat-Rate Pricing Model:
It's simple to understand for both the business and end-customer.
It's easier to sell.
Revenue forecasting is easy.
Cons of the Flat-Rate Pricing Model:
There is no room to upsell.
Your customers don't have a choice — and some customers like having choices.
A simple solution isn't always the best solution.
Example: Basecamp business management software is a great example of a SaaS company who uses flat-rate pricing. This pricing structure works well for Basecamp because it's easier to sell and simplifies the decision-making process for their customers.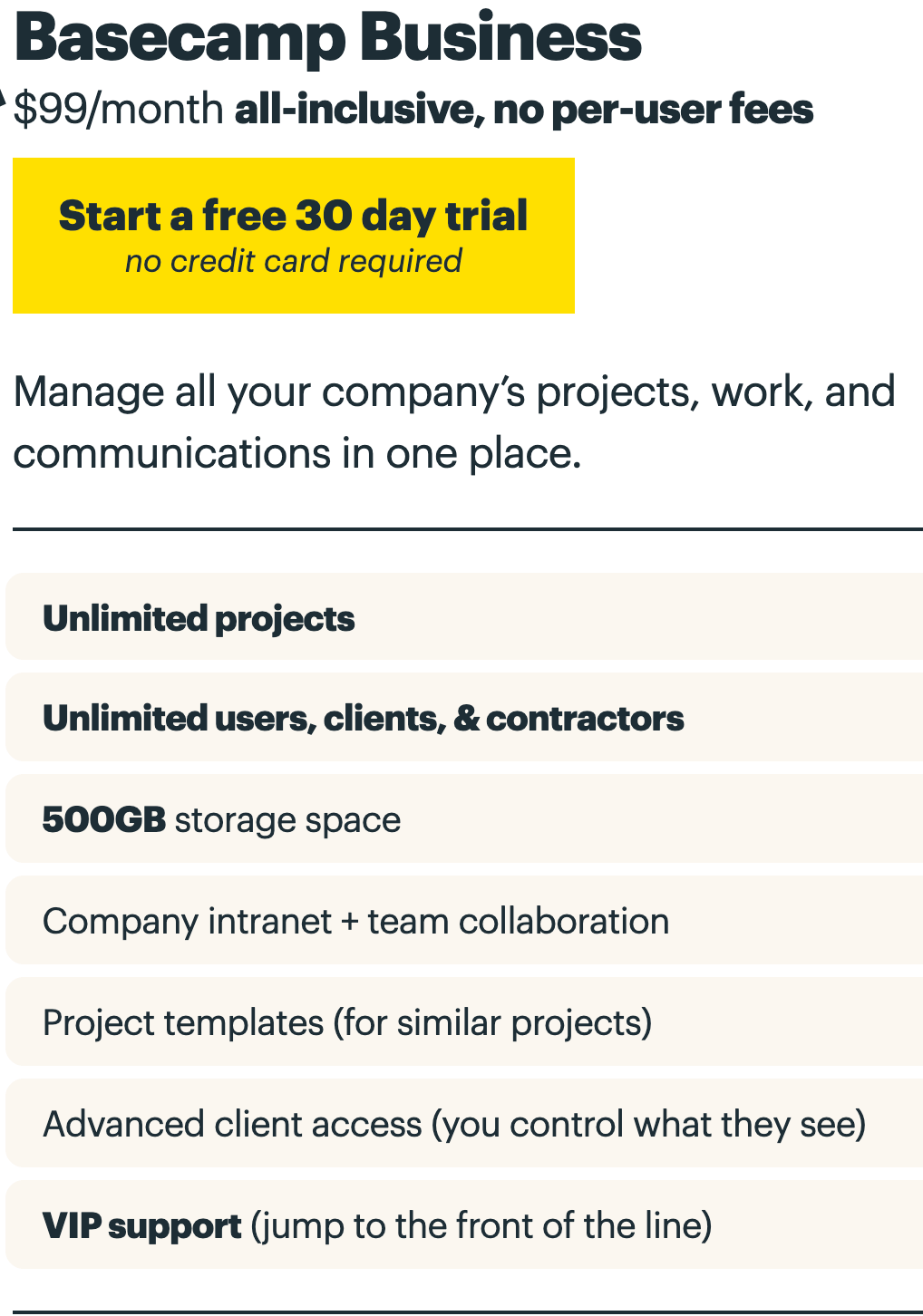 Image Source: ChargeBee
Ready to Select a Pricing Model that Works Best for Your Business?
So, what pricing model should you use? Well, it depends on your goals.
If you are still struggling to select a pricing strategy that best fits your business, try going back through the 3 step process again:
Position Your Product
Know Your Customer
Price and Package Your Software
Growing your SaaS company doesn't have to be complicated, and with this article, we hope you have gained a better insight into the world of pricing.
Looking to get consistent growth from an ever-expanding user base? Sign up for our 14-day free trial to try out our referral program software! (No credit card required.)
Request a demo of GrowSurf
Set up your referral marketing program with software that lowers your customer acquisition cost and saves you gobs of time.