5 Reasons Why Socially Responsible Marketing is More Important than Ever
Imagine marketing to customers without making them feel they are being marketed to--that's the power of socially responsible marketing when it is done right. But what drives companies to engage in socially responsible marketing?
We have one word for you: Purpose.
According to Deloitte's 2021 Global Marketing Trends report:
"Purpose-driven companies inherently understand why they exist and who they are built to serve--from their customers and workforces to the community--regardless of what they sell."
In fact, their report suggests that a staggering 79% of customers remember brands that positively responded to COVID-19 to help the customers, workforces, and communities.
In simpler words, purpose-led marketing can boost your brand loyalty and drive greater awareness as well as recognition, an unparalleled advantage in today's competitive landscape.
In this comprehensive guide, we will look at why socially responsible marketing should be every brand's guiding philosophy, pandemic or not. Plus, we will also look at how you can drive a killer (and relatable) socially responsible marketing campaign.
Let's jump right in.
Why Purpose-Driven Marketing is a Winning Strategy
1. Increases Sales (and the Company's Bottom Line)
As per the Business of Sustainability Index, 64% of customers are willing to pay more for sustainable (read: environment-friendly) products. Plus, research by Nielsen suggests that 66% of consumers were willing to pay more for goods from brands that demonstrate social commitment.
The outdoor clothing brand, Patagonia, is an excellent case in point. The brand has been recognized as a " UN Champion of the Earth, receiving the UN's top environmental honor for a dynamic mix of policies that have put sustainability at the heart of its successful business model." For example, the brand encourages its customers to volunteer for a variety of projects and demonstrate their skills for a grassroots environmental group: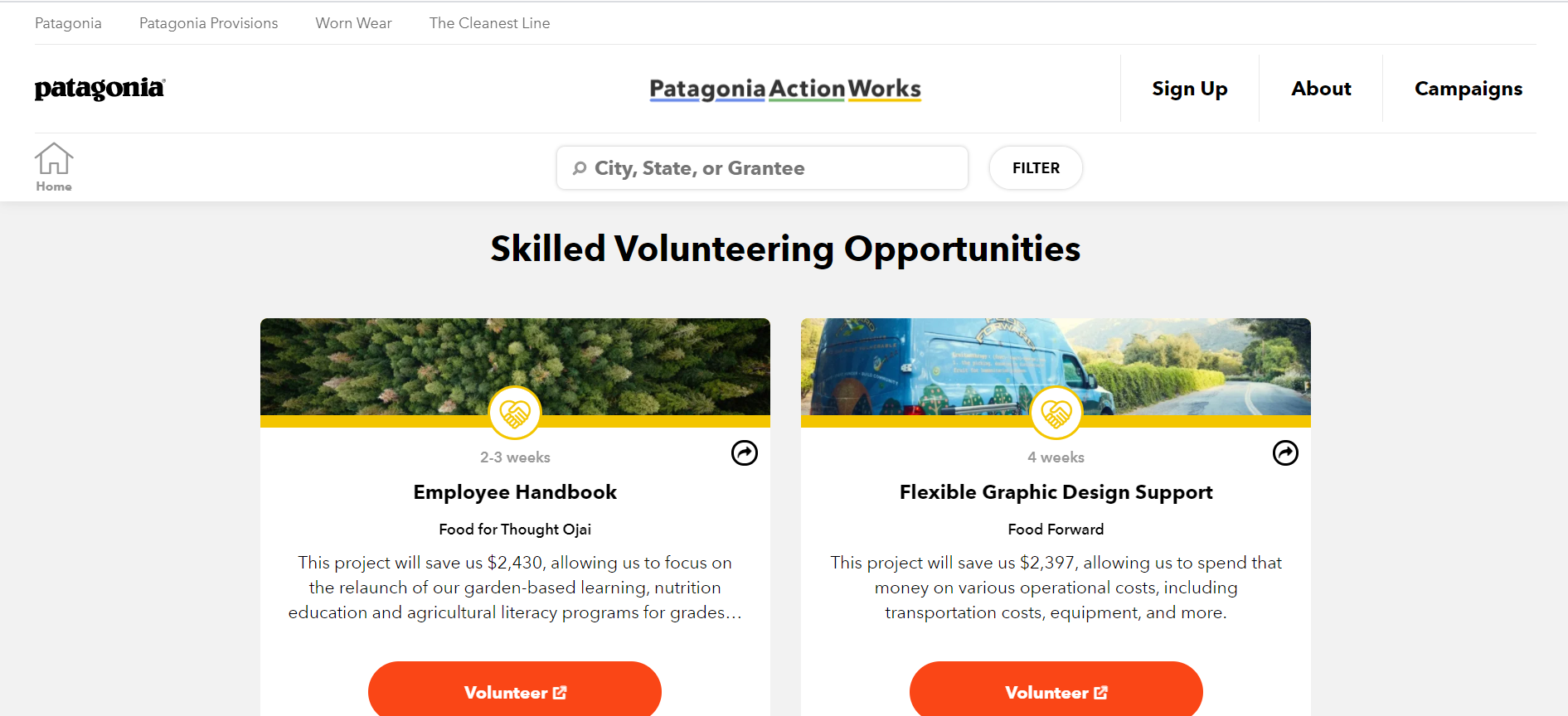 Brands need to think out-of-the-box when it comes to understanding how to build a 'social' connection with their target market. Plus, they need to clearly demonstrate how the brand is genuinely committed to its sustainable cause, as around 74% of customers claim that they don't know how to identify truly sustainable brands.
The Takeaway: Businesses need to instill trust and loyalty among customers, and clearly demonstrate how they share common sustainable goals with their customers. This will empower the brand to add exclusivity to its offering, justify premium pricing, and add value to the customer's life. Finally, it will also boost investor interests in pumping more money into the brand and raise the overall value of your business.
2. Builds a Loyal Customer Base and Increase Customer Advocacy
Openly supporting a noteworthy cause is a profitable brand-building exercise. It allows customers to connect with the brand on an emotional level, driving long-term customer advocacy and customer loyalty.
Moreover, it boosts brand visibility among a relatively new breed of untapped customers, helping your brand to reach out to a wider target base.
Take Glossier's campaign, for instance, which openly and actively supported the sensitive issue of #BlackLivesMatter: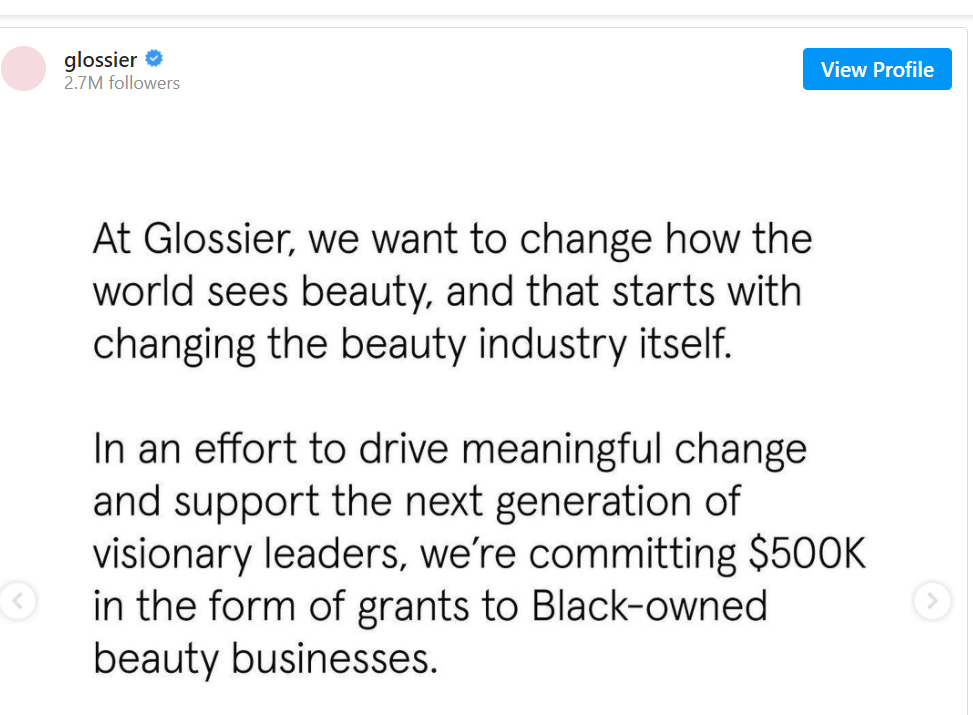 Moreover, the brand announced how they planned to fund $500,000 in grant money to black-owned beauty businesses on social media and was working towards providing $500,000 in donations to organizations fighting racial injustice.
This is in stark contrast to how Starbucks initially denied employees from wearing t-shirts and pins that supported the #BlackLivesMatter movement, and faced significant backlash. The brand, later on, had to reverse its stand and announce its support on Twitter: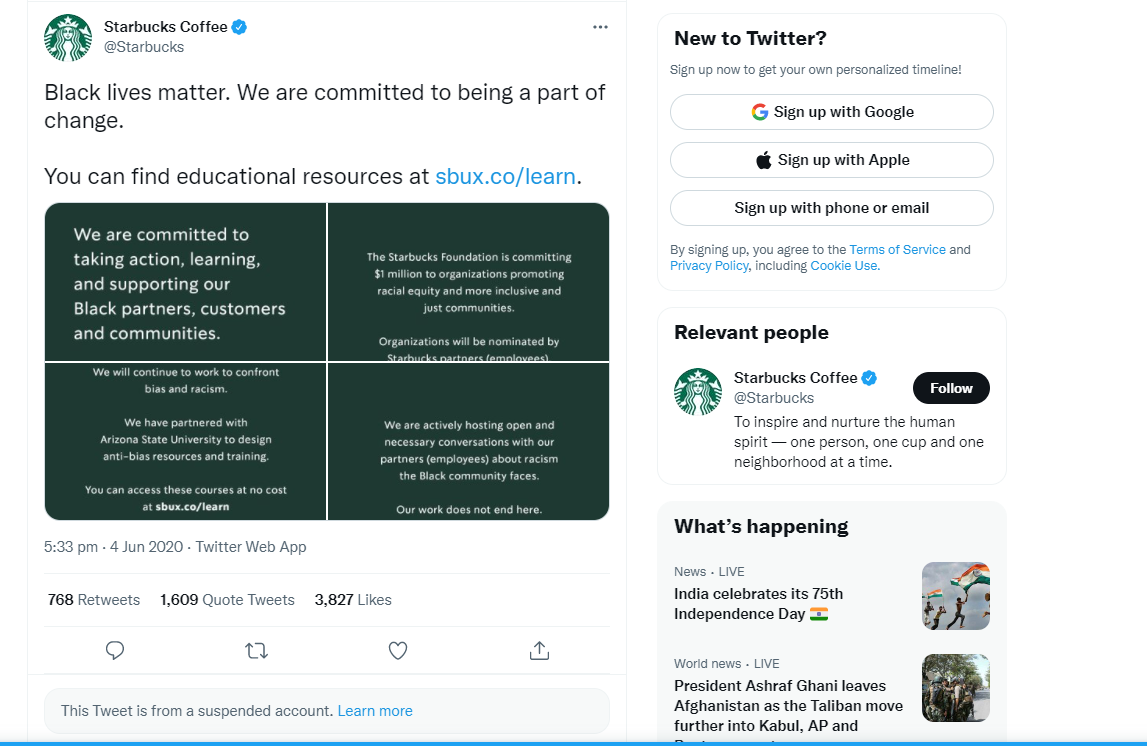 The Takeaway: Taking a stand, making social contributions, and driving a socially sustainable business model finds many takers in today's market. Research suggests that " 79% of consumers are motivated to purchase from companies committed to making the world a better place, while 73% of investors state that efforts to improve the environment and society contribute to their investment decisions."
3. Helps Brands Gain a Competitive Advantage
As per data, 79% of customers believe it's either "somewhat" or "very important" for companies to make the world a better place. So if you are not thinking about ways to create a social impact via responsible marketing, you're already lacking in the customer's eyes.
The Takeaway : Data indicates that 41% of millennial investors put a significant amount of effort into understanding a company's CSR practices. To gain an edge, brands need to actively showcase how they are being socially responsible via branding and marketing campaigns.
4. Boosts the Employee Morale
Socially responsible marketing does not only positively affect your customers, it creates a powerful impact among your employees as well. In fact, nearly 70% of employees say they will refrain from working with a company without a purpose.
The Takeaway : Sponsoring social activities is a must if you wish to drive pride, loyalty, and motivation among your employees. Working towards a shared sense of purpose will ultimately help keep your employees more engaged , productive, and responsive. Plus, it will retain the best talent as employee work satisfaction increases and employee retention rates improve.
The data echoes the same sentiment claiming that 92% of employees who work at a company with a strong sense of purpose say they would be more likely to recommend their employer to those in their network who are looking for a job.
Subscribe to GrowSurf
Get our weekly newsletter for our latest referral marketing guides.
Error subscribing! Please try again.
5. Boosts Investor Interest and Poses Opportunities for Government Grants and Tax Reliefs
If your team is working with real passion and integrity, investors are bound to notice and take an active interest into the workings of your brand. In other words, companies that are truly committed to driving social change sit well in the investor's eyes in the long term.
Furthermore, your brand can also benefit from government grants as well as tax relief and rebates, owing to the targeted social initiatives.
The Takeaway : Socially responsible marketing is instrumental in driving growth, motivation, and loyalty among the shareholders and investors as well as with the government and community at large.
In the next section, we will look at some proven socially responsible marketing strategies that you can embrace.
4 Ways You Can Engage in Socially Responsible Marketing
1. Show gratitude and support to customers:
COVID-19 has upended your customers' lives in unimaginable ways. This is where socially responsible marketing can truly make an impact. It can help position the brand in a 'good light,' ensuring that people remember the random acts of kindness the brand portrayed when the tough got going.
There are numerous ways to showcase your brand in a positive and powerful capacity:
By celebrating and cherishing your customers for staying with your brand through thick-and-thin: Cadbury's refreshing take, #SayThankYou, involved a full-page advertisement where customers could fill in their personalized Thank You--for every unnoticed individual who makes their lives easier: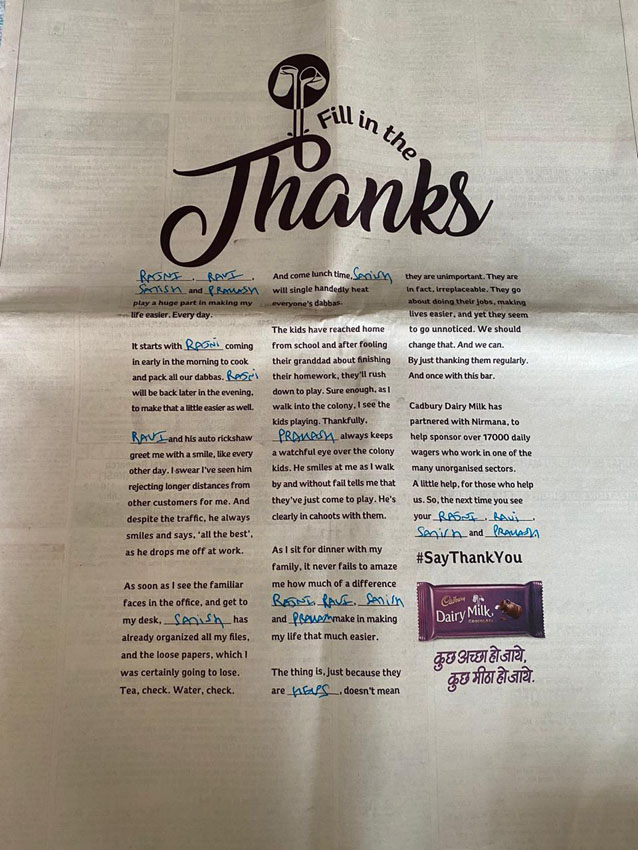 Image Source: CampaignBriefAsia
Moreover, the brand partnered with an NGO called Nirmana to sponsor over 17,000 daily wagers and help them. This is a classic example of feel-good content and socially responsible marketing at its best.
By offering services to users free-of-cost: A number of brands, particularly the mental health and physical fitness apps, made their offerings (or at least a part of it) free to help users who were struggling with the challenges that COVID poses. Headspace is one such app: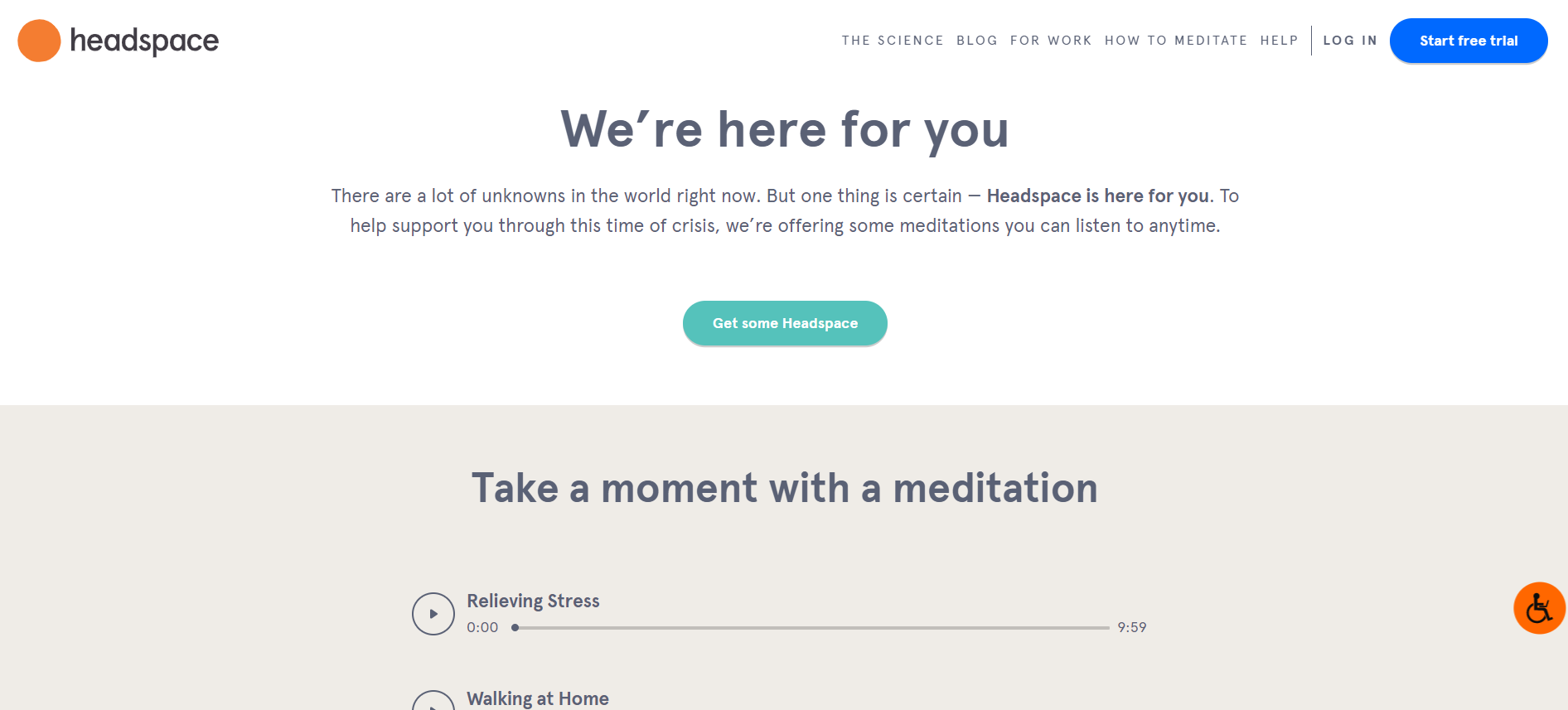 Image Source: Headspace
By investing in the right customer service tools : For instance, think about how your brand is going to help customers in their time of need. As a tried-and-tested solution, you can add the live chat support software . Live chat is one of the most effective customer support channels today to improve the quality of customer experience.
Take a look at Lululemon's live chat functionality which empowers customers to connect with the brand instantly: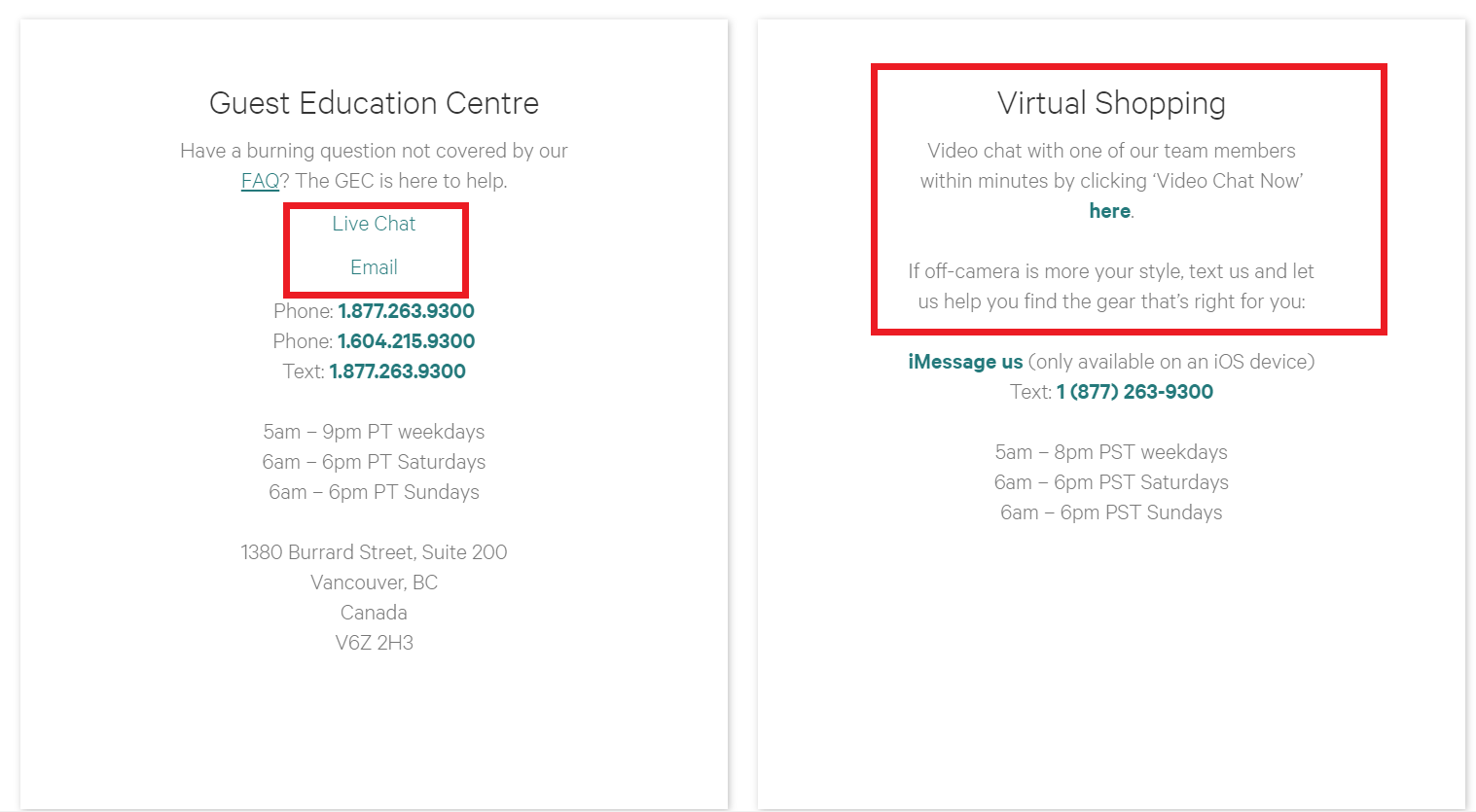 Users can get all their queries addressed at the click of a button, without having to wait or hold at all. This kind of speedy and efficient service is what customers need, especially when everyone is in the thick of a global pandemic.
2. Be genuine, empathetic, and transparent:
As per a Cone study, 65% of the participants claimed that they will research a company's stand on an issue, to see if it's being honest or not. So if you think that you can get away with marketing gimmicks and one-off social campaigns, think again.
For inspiration, look at SAP's Qualtrics Remote Work Pulse platform, which offers indispensable advice on how companies can transition into new ways of remote working: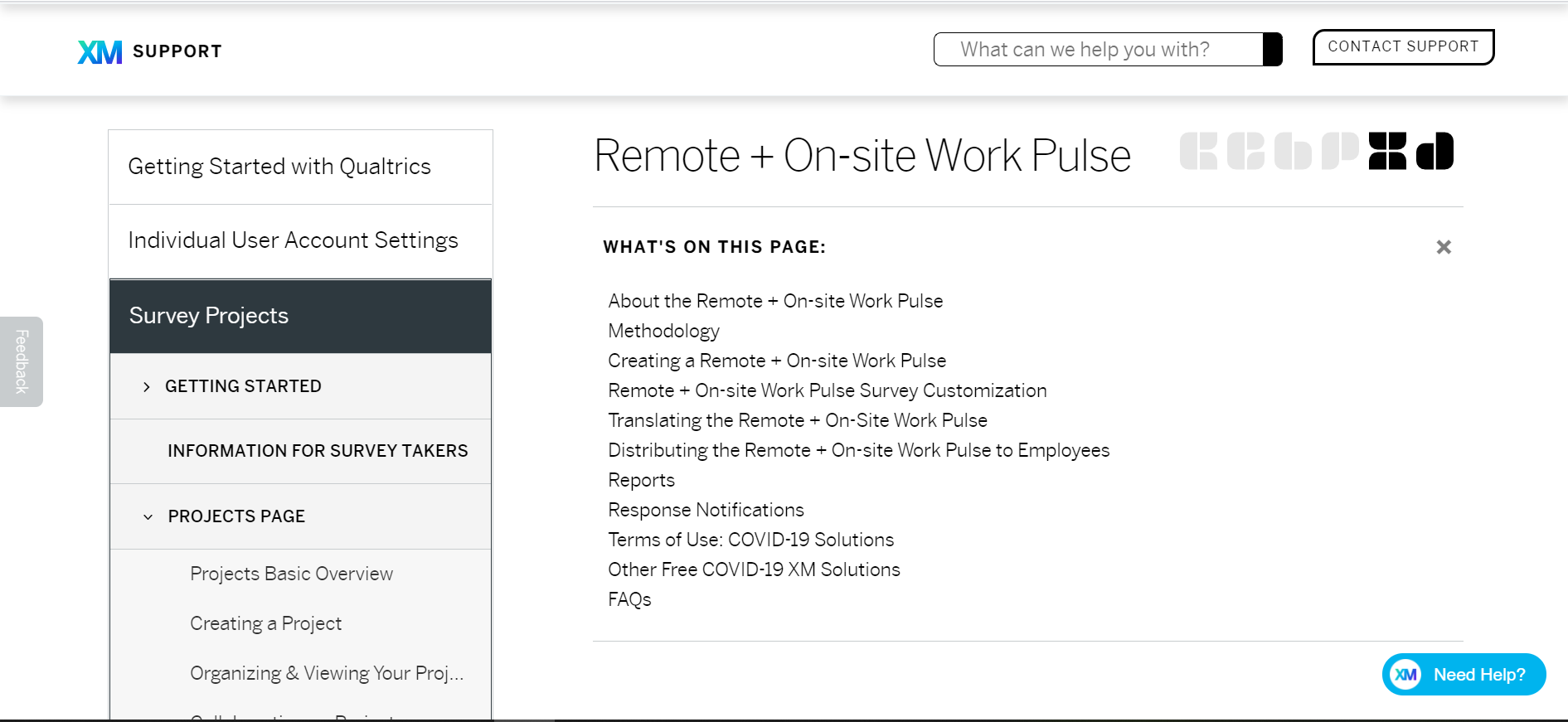 Image Source: Qualtrics
This kind of authentic, value-driven offering, one that's marked with empathy and transparency, can organically place your brand into the customer's good books.
Lifebuoy's 'hands-on' approach to spread hygiene awareness during COVID is an excellent example to consider. The brand rolled out a heart-touching and honest public service campaign by requesting people to maintain hand hygiene irrespective of the product they choose to wash their hands with: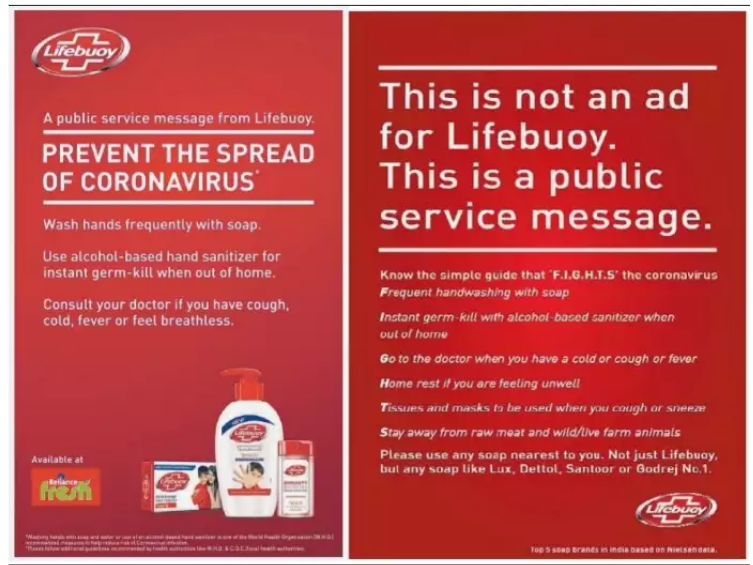 Image Source: India Times
No points for guessing whether the ad makes an indelible mark on the customers or not.
Long story short, stay away from in-your-face commercial advertisements that can do more harm than good. For instance, marketing your brand's clothing as "virus-free" material can have a negative impact on the customer's mindset as it is clearly impossible and untrue.
Or take the example of Kent's disastrous campaign, which was unabashedly classist in approach and discouraged customers from allowing domestic help to enter the home. Instead, the brand highlighted its own 'dough maker as the perfect solution, leading to an outpour of trolls on social media channels (understandably so):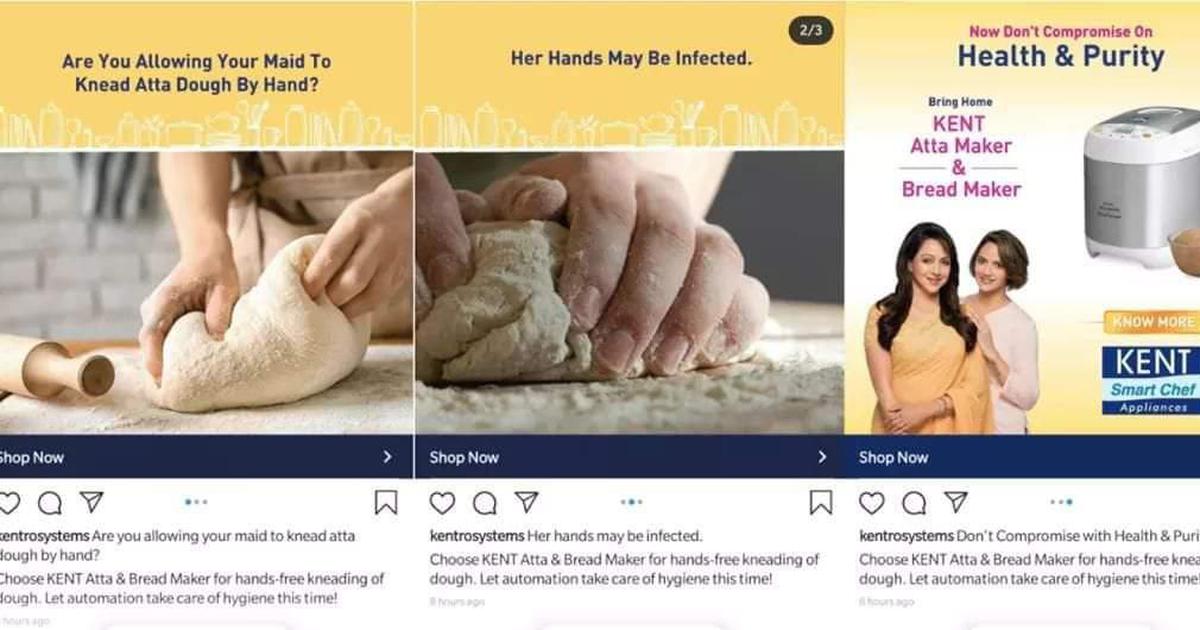 Image Source: Scroll.in
As you can imagine, the brand had to withdraw the advertisement but sadly, the damage was already done.
3. Focus on the message construction:
Customers want to be emotionally connected to brands. They want to see meaningful, purposeful, timely, and relevant campaigns from brands, and 55% want brands to take a stand on key social, environmental, and political issues.
So if your brand is making it the one-point agenda to support--and drive--social causes, ensure that the messaging is not coming across as 'tone-deaf.' In simpler words, you need to revisit your brand's messaging tone and voice to ensure that it sounds more humane, empathic as opposed to being corporate-like and robot-sounding.
Take a look at the Harvard Business Review's example:

Image Source: Harvard Business Review
To add value to their reader base's life and boost positive branding, the brand delivers numerous Coronavirus-related articles free of cost. Small-yet-significant socially relevant marketing steps like these can create a ripple effect and drive positive word-of-mouth publicity n the long run. Another example worth noting is Nike's "Play inside, play for the world" campaign which encourages customers to adhere to the social distancing norms and 'play their part' in driving a safe and sound world: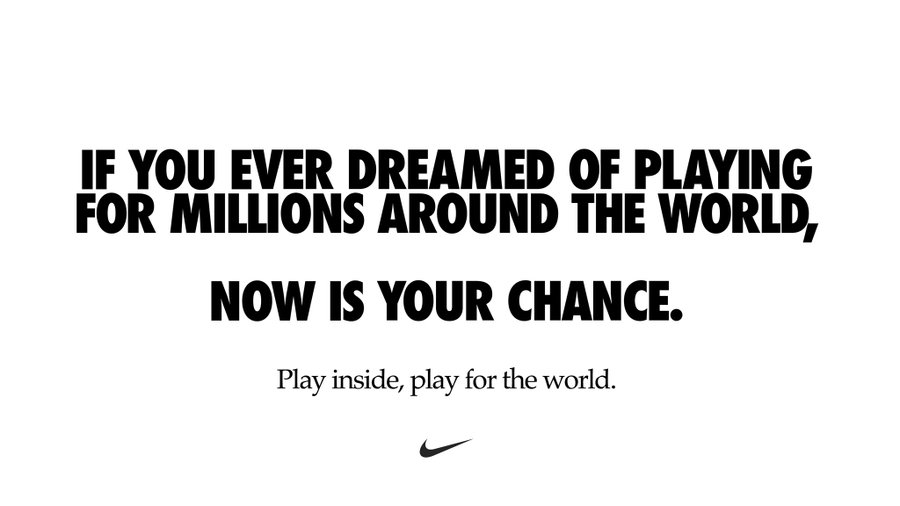 Image Source: Muse
Pro Tip : Always A/B test your campaign messaging to understand what kind of tone and voice your brand should embrace. Should it be too informal or will a buttoned-up approach suit your brand more? The more you A/B test, the higher the chances will be of driving campaigns that resonate well with your target audience.
4. Humanize your brand and drive a sense of community:
As mentioned earlier, customers like to engage with the people behind the brands and not the product. It is important to showcase the people and their stories as they relentlessly work towards making your brand more successful.
Highlight behind-the-scenes content. Talk about your team's inherent core values and culture. Humanize your company and let the people take charge to build stronger connections with your target base.
Guinness created a masterstroke of a campaign titled, " A St. Patrick's Day Message," which drove home the message of longevity and wellbeing instead of traditionally focusing on celebrations and pub gatherings:
Image Source: Guinness
Here are a few action points to learn from this campaign:
The inspirational tone of the video along with the central theme of communal care and unity helped strike an emotional chord with the users.
The campaign could effectively and clearly demonstrate value (for the user) and humanize the brand.

The content was original and relevant, encouraging around 21% of people to share the video on social media as it defined the spirit and the mood of the times.
The Takeaway
An overwhelming 95% of employees believe that businesses should benefit all stakeholders—not just shareholders— including employees, customers, suppliers, and communities they operate within.
That said, brands don't always have to go the 'non-profit' route to gain the customer's trust and credibility, and be perceived as a 'socially responsible' company. Small socially sound initiatives that add real value to the broader community at large will catapult brands into lasting success while boosting the bottom line. What do you think? 
Subscribe to GrowSurf
Get our weekly newsletter for our latest referral marketing guides.
Error subscribing! Please try again.