The education industry is as big as it's ever been. As digital transformation continues to change how we communicate and do business, it's only going to get bigger. In fact, it's expected to reach $350 billion by 2025.
As an education company, will you be disrupted or be the disruptor?
Here's the rub: As people demand more from educational institutions, competition in the education sector will only intensify. If you want to win the battle for attention and keep filling up your pipeline with leads, you need to win people's trust.
Because in a sector that is more digitized than ever, earning people's trust is the true differentiator.
This is where referral marketing can help. By letting your best customers do the talking for you, your education company can win the trust of their peers.
But how do you make referral marketing work for your education company? Here are 10 education referral program examples that will help spark some ideas.
1. Microverse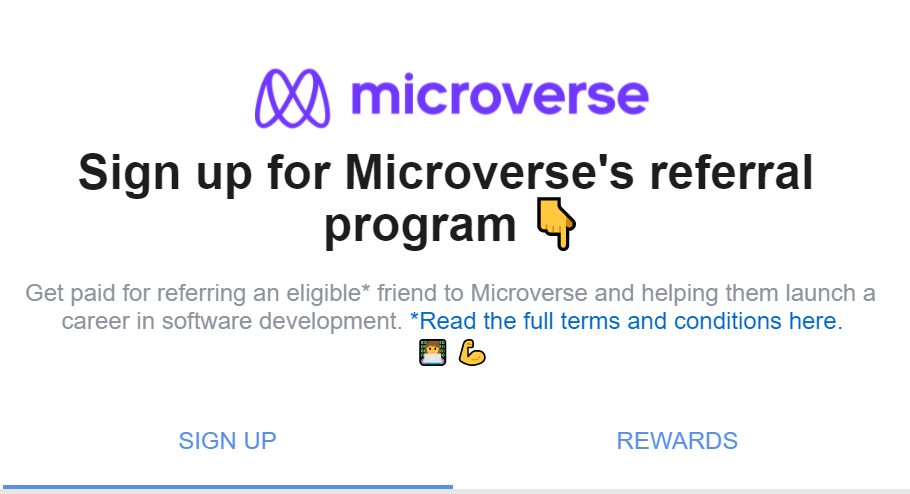 Microverse is a global school for those who want to become remote software developers. Students don't have to pay anything until they get hired. The company provides students from around the world with robust remote workspaces, allowing for a more collaborative learning experience.
How Microverse's Referral Program Works
Refer a friend and you get a referral bonus of $150 when that friend finishes the fifth week of Microverse's full-time program. For the referral bonus to count, the referring customer must remain in good standing. They will receive the referral bonus via bank transfer.
Why It Works
By offering cash rewards, Microverse shows they understand the pain points of their target audience. Because if there's anything college-level students struggle with, it's money. And financially-strapped Gen Z'ers and Millennials won't pass up the opportunity to help out their peers by spreading the word.
Microverse's diverse community also meshes well with the social nature of referral marketing. A robust learning community can entice students to invite their friends and family so they can also be a part of that community.
Lastly, Microverse uses GrowSurf to automate its referral program from end to end,  creating a viral loop while keeping customer acquisition costs down.
Wes Wagner, Head of Growth & Marketing at Microverse, sums up their experience with GrowSurf as follows:

2. Learning A-Z

Learning A-Z is an education company that empowers teachers through affordable and thoughtfully designed resources, making learning more personalized and accessible for their students.
How Learning A-Z's Referral Program Works
Spread the word to your fellow instructors by sharing with them a coupon that lets them save $5 on the company's products. You earn an entry into a monthly drawing to win a free Circuit DIY machine for each referral who subscribes.You also get a free license to a Learning A-Z product for every three new referrals who make a purchase.
Why It Works
Learning A-Z's referral program works because it's helpful and relevant to the company's target audience. It addresses a common pain point among educators: lack of quality instructional resources. Offering a two-sided incentive also gives both referrers and referees the motivation needed to boost referral activity and word of mouth.
Learning A-Z also offers a second (and bigger) incentive. This is a great decision on their part because it gives customers the added motivation to keep sending referrals.
Lastly, the company did an excellent job with its referral program landing page. A short, simple headline that communicates the program's core value? Check. Attention-grabbing and value-driven visuals? Check.
3.
Canadian College of Business, Science & Technology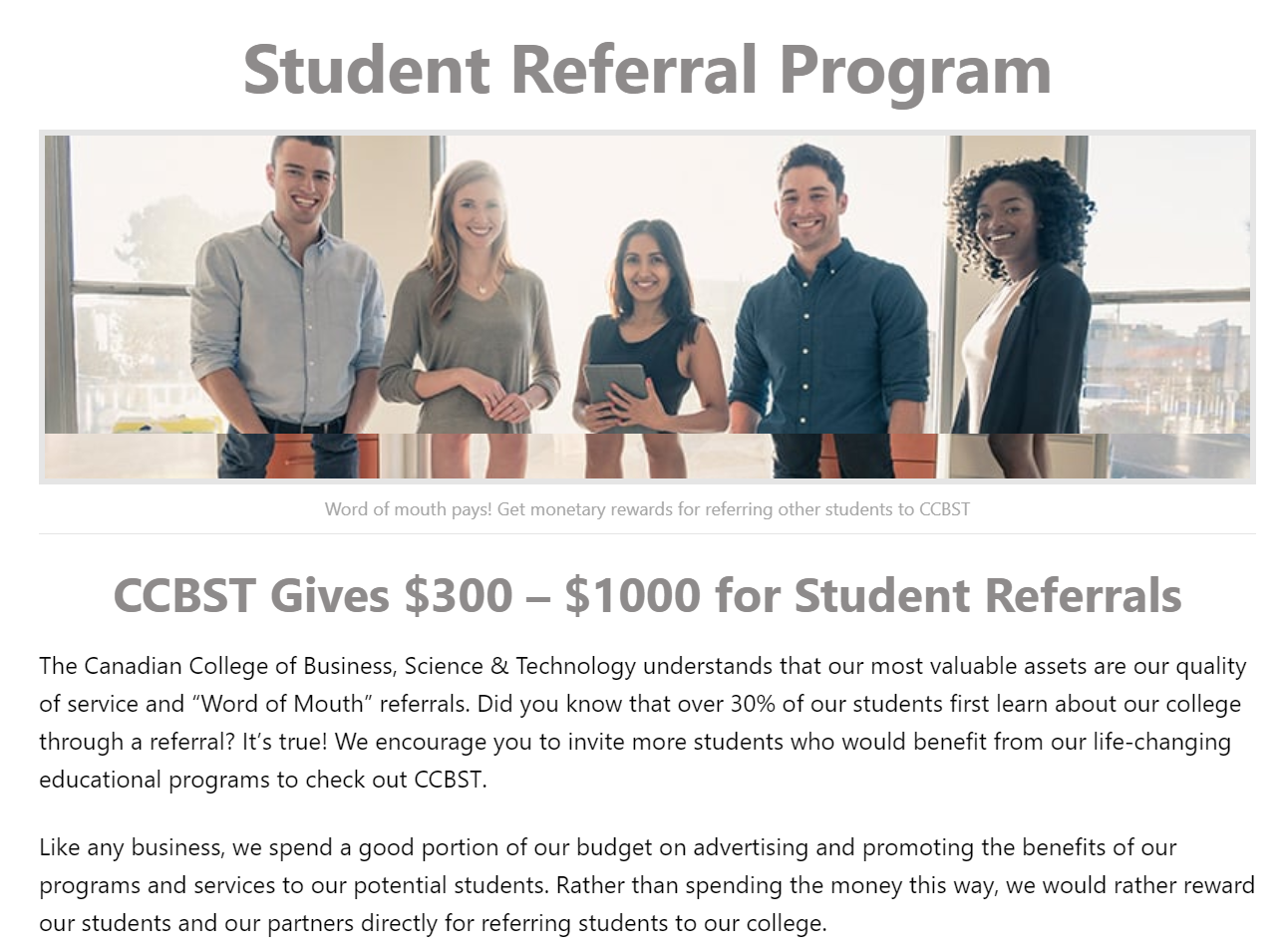 Want to get the skills you need for a rewarding professional career in IT, business, entrepreneurship, and more? CCBST delivers the learning environment, the educational resources, and the highly trained educators to make it happen.
How CCBST's Referral Program Works
CCBST's referral program lets you earn between $300 - $1,000 through referrals. Just fill out a form with your referral's contact information or give them a call and the educational institution will do the rest. The institution will contact you to arrange the delivery of the reward once the referred student has completed 2 months of any diploma program.
Why It Works
As already mentioned, many college students are struggling with money. So, what better way to reward referring students for their efforts than to offer them cash incentives? Besides, it's a safe bet many of them know at least a few people who want to acquire more skills but don't have the financial resources to make it happen.
CCBST is a prestigious educational institution. It's not easy to get accepted into the program and it shows despite the welcoming atmosphere of the website. This gives the referral program a scarcity value. This works because people are attracted to things that are exclusive and hard to achieve. Combined with a generous cash incentive, it's easy to see why 30% of CCBST students learned about the college institution through a referral.
4. Codecademy

Codecademy lets you learn to code for free. The online interactive platform offers free coding classes in 12 different languages. Many of the courses are designed for all levels and can be learned at your own pace.
How Codecademy's Referral Program Works
You can start referring friends or family members once you're a Pro member. You get one free month of Pro membership for every referral who purchases a Pro membership (the referral gets one free month too!).
Why It Works
The reward works because it's directly tied to the platform's core benefits. And by offering both referrers and referrals a free month of Pro membership, Codecademy is giving their customers more time to experience the value of their Pro membership, giving them more than enough reason to keep subscribing.
5.
International TEFL Academy

International TEFL Academy or ITA offers internationally accredited TEFL (Teaching English as a Foreign Language) courses in 20 locations across the globe. Founded in 2010, ITA provides the gold standard in TEFL certification for those who want to make an illustrious career teaching English online to non-native speakers.
How ITA's Referral Program Works
Refer a friend to ITA using your unique referral link and receive $100 for every referral who enrolls. The referred friend also gets a free digital copy of ITA's main textbook (worth $45). Referrers also receive $100 for every 5 referred friends who enroll.
Why It Works
ITA does a great job with its referral program landing page by keeping the headline, value proposition, and CTA highly visible. Using concise copy, ITA was able to communicate the referral program's benefits in an impactful way.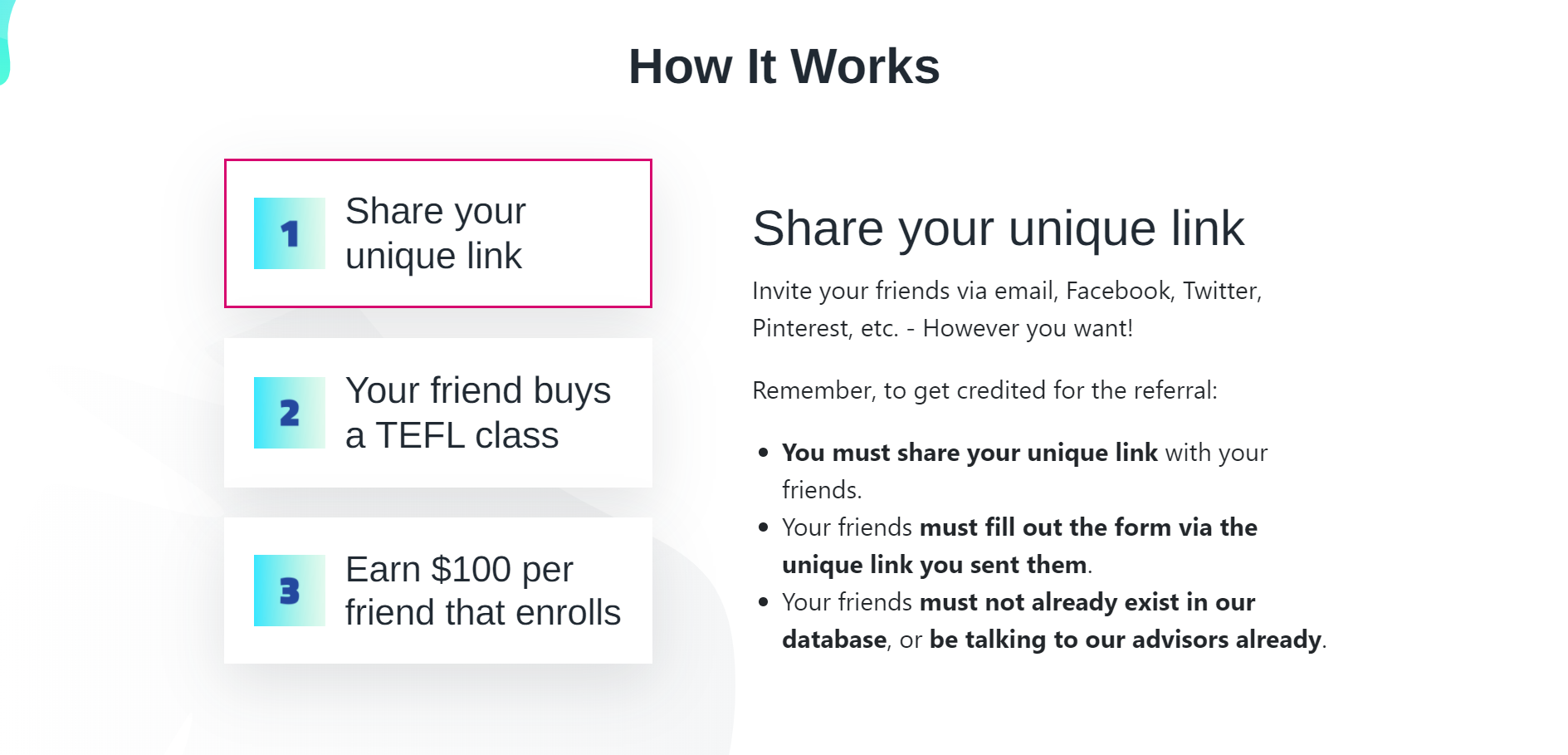 Gotta love the 'How It Works' section. The visuals are eye-catching and the negative space gives the images and the copy more room to breathe. You're also getting a straightforward and concise breakdown of how the referral program works. Website visitors can also get supporting information when they click on each step.

?Did you know ITA's referral program has helped the institution achieve 1,055% ROI? By automating their referral program with GrowSurf, ITA tracked referrals with ease and was able to focus on improving the referral experience of their alumni. The result? A10x return on investment!
Here's what ITA Digital Marketing Manager Stéphane Le Mentec had to say about the experience (as featured in one of our case studies.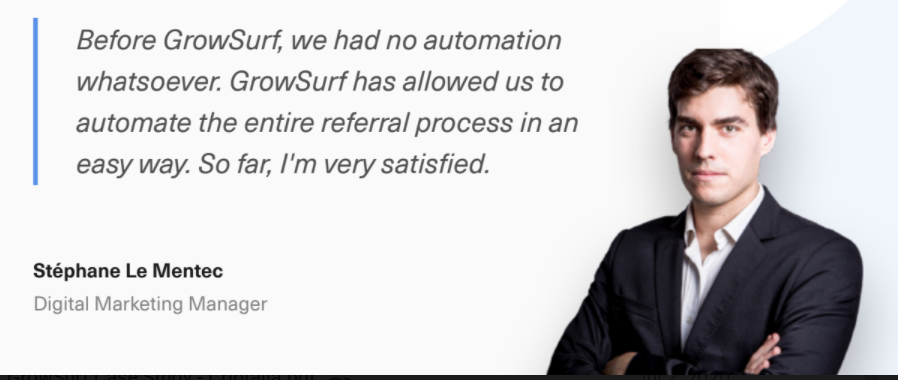 6. Coursera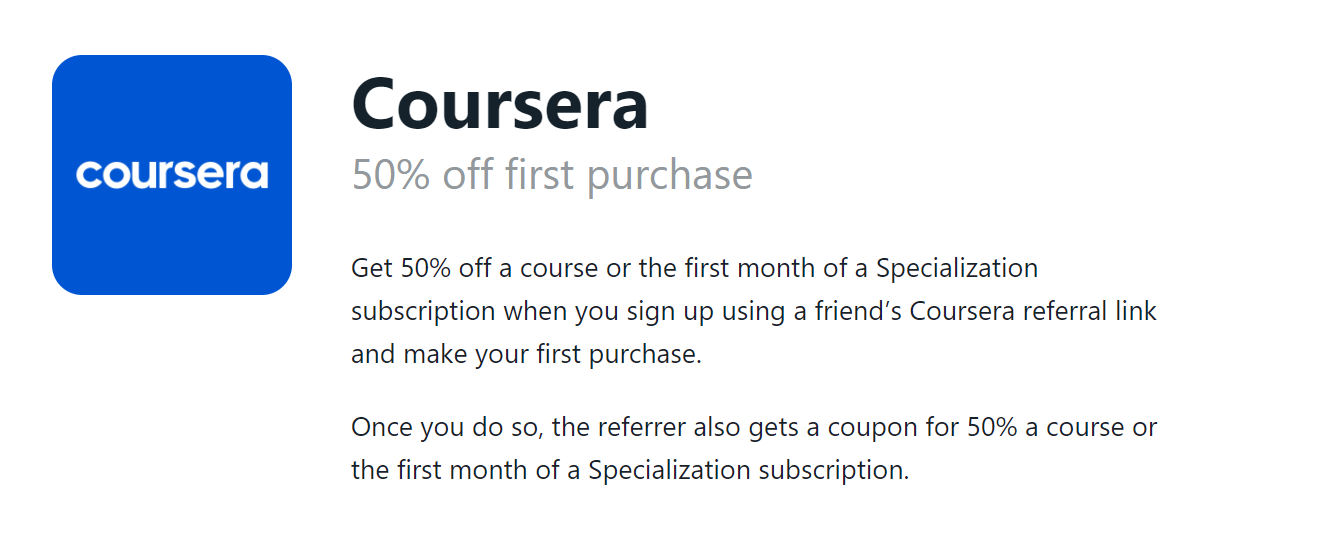 Coursera is a global learning platform that offers courses and degrees online with the help of top universities and companies.
How Coursera's Referral Program Works
You can start sending referrals once you're a Coursera student. For every referral purchase, both the referrer and the referred friend gets 50% off a course or the first month of a specialization subscription.
Why It Works
For one thing, Coursera's referral program platform or hub makes the act of sending referrals effortless.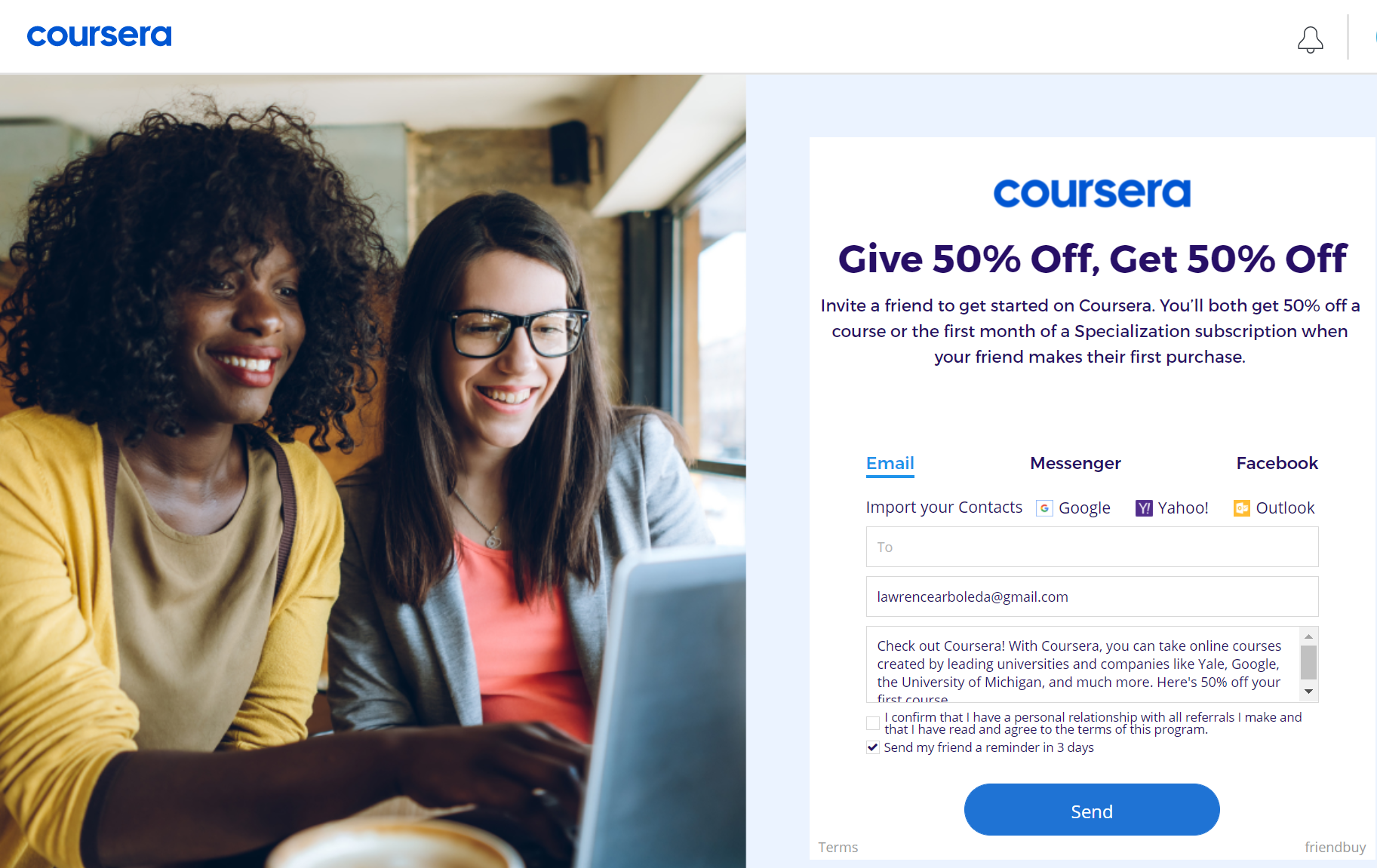 As you can see, all the essential elements — the referral program headline, social sharing buttons, email form, hero shot, etc. — are there. When customers can see almost at a glance what they need to do to send referrals, you bet referrals are going to keep coming in.
The "Give 50% OFF, Get 50% OFF" headline sounds cliche, sure, but it's highly effective when you're running a double-sided referral program.
7. Hippo Education

Hippo Education is a web-based education company that empowers people of medicine by providing them with educational tools and resources and a supportive community.
How Hippo Education's Referral Program Works
Refer a person to Hippo Education by using your unique referral link. The company donates $50 to GiveWell for every referral sent. The referred friend gets a 20% discount upon signing up via the referral link.
Why It Works
Hippo Education's target audience — the medical community — cares about people, and it's a safe bet they'll be happy to help out if it means they can contribute to the well-being of the community in some way. And this is why offering charity donations as an incentive works for this particular referral program.
Hippo Education has also included a leaderboard to showcase their referral program's top referrers. This adds a gamifying element that encourages competition among members. Besides, who doesn't love being recognized for their contributions? 
8. Skillshare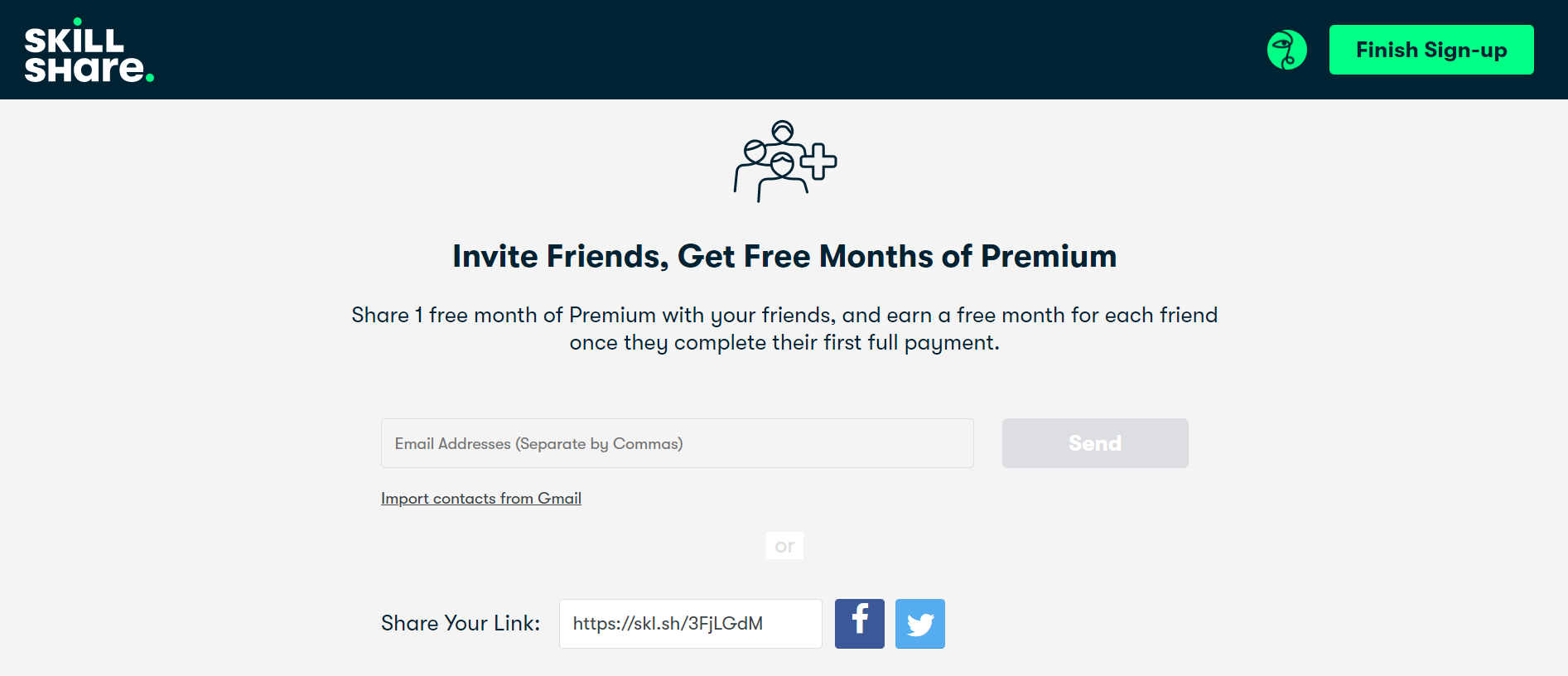 Skillshare is an online learning community for creators and entrepreneurs, offering thousands of classes with topics ranging from design illustration, photography, freelancing, and more.
How Skillshare's Referral Program Works
Refer a friend to Skillshare and you get one free month of Premium subscription for each friend who completes their first full payment.  The referred friend gets a free month of Premium subscription too — a win-win!
Why It Works
The refer a friend section ticks many right boxes.
You have a headline that communicates the value proposition clearly, and a supporting headline that explains in concise terms how the referral program works.
Referrers not only enjoy multiple options to refer friends, but the referral program makes it easier for them to send referrals thanks to the import contacts option, referral link, and social sharing buttons.
The Why It Works section is effective because it provides clear steps and engaging visuals.
Last but not least, you get a referral history section that lets you track the progress of your referrals. Sure makes the act of sending referrals more fun.
9. Connections Academy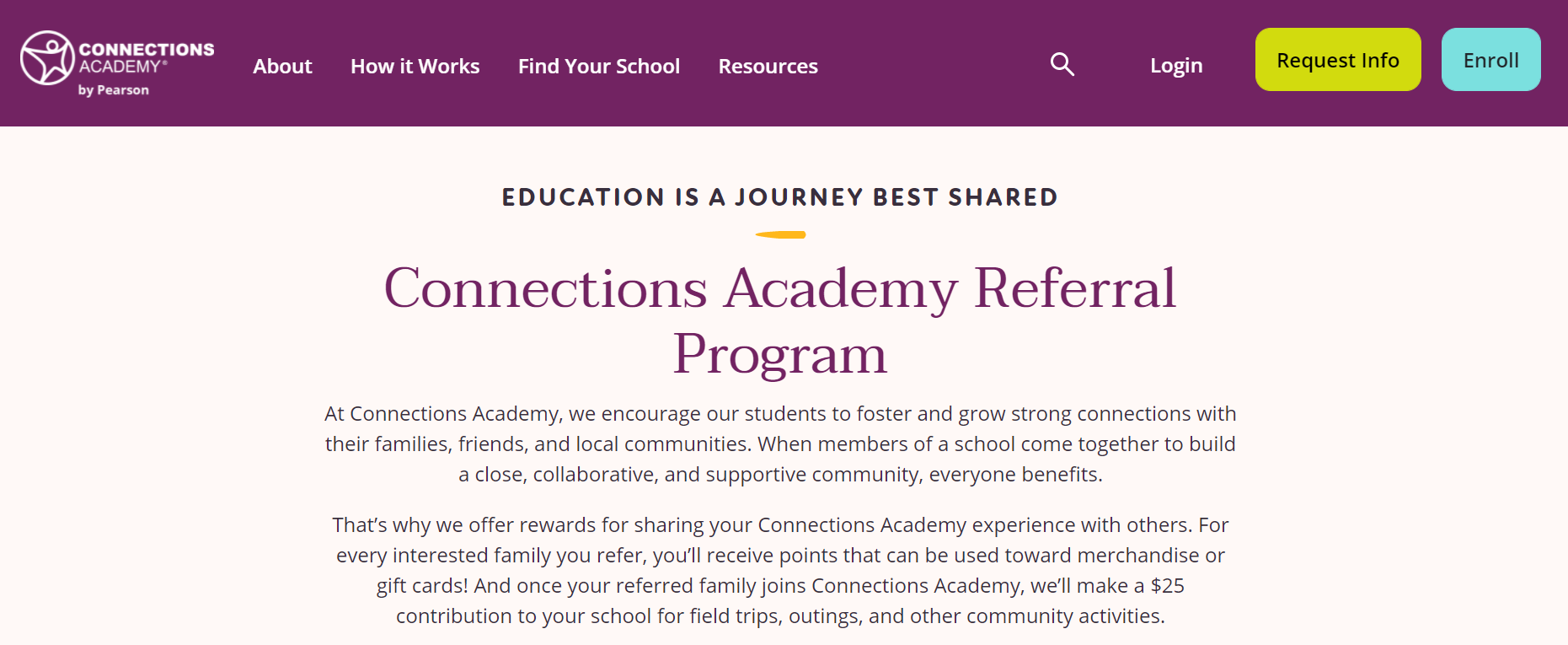 Connections Academy is a tuition-free K-12 online public school that provides students with robust learning resources to help them gain the life skills they need to thrive in the modern world.
How Connection Academy's Referral Program Works
You can start sharing your referral link with family and friends once you're a member. You receive points used for redeeming merchandise or gift cards. For every person who signs up for Connection Academy, the school will send $25 to your school, outings, and community activities.
Why It Works
All referral activity can be monitored in real-time, including the number of people engaging with your post or link, and those that requested more information from enrolment. This not only keeps members engaged with the referral program but also lends more transparency to it.
Giving a $25 contribution to the school for community activities is also a great incentive because of the community aspect involved.
10. Creativebug

Creativebug brings the latest in art and craft education in arts and crafts online classes. Once signed up, you get access to thousands of classes taught by renowned artists.  And you can watch them anytime, anywhere, and at your own pace.
How CreativeBug's Referral Program Works
Refer your friends to give them a free month of Creativebug. Each successful referral gives you 100 points.
Why It Works
Creativebug uses simplicity to its advantage in its referral landing page. The headline is straightforward and clearly communicates the benefits. The supporting headline provides customers the context needed to understand how the referral program works. The page also offers multiple options for sending referrals.
Lastly, the image Creativebug chose is nothing fancy but it's visually appealing and communicates vividly what the service is all about.
Key Takeaways
Chances are, you have a ton of happy students who are eager to advocate for your company and refer you to their peers. So, why not launch a referral program and reward them for their efforts? Give them a platform to help you tell your brand story.
I hope that the 10 referral program examples (if you want more, go here) discussed here have sparked some ideas. Follow their example and it's only a matter of time before your referral program takes off.
To sum up:
State the benefits clearly in your referral copy.
Keep it simple, concise, and straightforward.
Use visuals in your referral program landing page to hold the attention of your visitors.
Referral rewards should be relevant and address the pain points of your target audience.
Automate your referral program so you can focus on improving the referral experience.
Subscribe to GrowSurf
Get our weekly newsletter for our latest referral marketing guides.
Error subscribing! Please try again.