Marketing Email Tips You Can Implement Today
Writing regular emails is easy.
Writing marketing emails is a thoughtfully crafted process.
You're not simply sharing information. You are trying to give the recipients highly targeted, personalized, and relevant content beneficial to them and your business.
What do your readers have to gain?
Relevant content.
What does your business have to gain?
Higher engagement and conversion rates.    
In this article, we'll cover the following topics:
Types of marketing emails
Tips for writing marketing emails that work
Marketing emails examples
Let's get started!
Types of Marketing Emails
There are two major types of marketing emails: informational emails and transactional emails.
Informational emails
New content emails
New content emails are sent out to inform the reader about a new ebook, webinar, coupon, free trial, etc. Generally, these emails contain a CTA that links to a targeted landing page.
Event promotion emails
An event invitation email is a type of email that invites recipients to attend an event. Event invitations can help you put together a list of attendees and generate hype for the event.
Product update emails
Product update emails are a great way to keep customers up-to-date on the latest news surrounding your product. It's an email that informs customers about specific updates, such as new features or changes in pricing, and how these changes affect the customer. In fact, these emails are an opportunity to get customers excited about your new products and educate them on what is happening in the world of your business.
Newsletters
Sending newsletters is one of the most effective ways to connect with your customers, prospects, and other stakeholders. They can be sent out weekly, monthly, or quarterly. Most people create newsletters to update their customers with the latest news about their products or services.
Transactional emails
Confirmation emails
Confirmation emails are sent by companies to verify that you have purchased something from them. Confirmation emails can provide important information about your orders, such as the date of purchase, the price paid, and a confirmation number.
Thank you emails
Thank you emails are one of the most effective types of emails for building a long-term relationship with your customers. In short, you're thanking your customers for performing a specific action, expressing how much you appreciate their time and generosity.
Welcome emails
A welcome email is the initial email you sent to a new customer or subscriber. Usually, these emails contain special offers, videos, a sign-up form, info about the brand, etc.
Lead nurturing emails
Lead nurturing emails are a way to communicate with potential customers and keep them engaged in the business. Lead nurturing emails follow the customer's journey from visitor to lead, and they often feature content that is relevant to their interests.
Referral emails
A refer-a-friend email is an email that a company sends out to their customers to inform them of their referral program. These emails let customers know what type of reward they'll get in exchange for referring the brand to their friends and family. Take a look at referral email examples here.
Tips for Writing Marketing Emails That Work
Any effective marketing email contains three critical elements: subject line, preheader text, and email copy.
With that out of the way, let's jump to a few techniques that will help you write not only effective marketing emails but fun, too.
Writing the Subject Line
The first most critical element of writing a marketing email is doing a good job with the subject line.
We can compare a subject line with a movie trailer. Movie trailers are a great way to help the audience understand what a movie is about. They are usually set up with scenes from the movie, displaying the movie's mood and tone.
The same thing applies to subject lines. They give your subscribers a preview of what content awaits them when they open the email.
Just like a movie trailer that fails to capture viewers' attention if it's poorly done, subscribers won't open your email if nothing grabs their attention.
There are tons of tips when it comes to crafting subject lines. We bundled them together to save you time jumping from one resource to the next:
Great subject lines are personalized. The more personal your subject line is, the easier it'll be to develop a relationship with your customer. But don't think that using a subscriber's first name is as effective as it used to be — people don't seem to be as impressed by it as they were in the past. Today, they prefer to get personalized content based on their interests and motivations. And what's the best way to know your subscribers' interests and motivations? Buyer personas.
Great subject lines are clear and concise. Your subscribers should quickly get the idea of what's inside the email by reading the subject line. This is not the place to get philosophical or mysterious. Yes, your subject lines may contain a dose of humor to pique people's interest. But they should always be extremely clear about what people will get when they open the email.
Great subject lines align with the email copy. If readers don't get what they were promised in the subject line, your click-through rates will take a nosedive.
Great subject lines use actionable language. By including a verb like watch, get, download, reserve, buy , etc, the reader will know exactly what they can do in the email.
Writing the Preheader Text
The preheader text is your second chance to convince the reader to open your email.
Maybe the subject line wasn't ideally written and the reader has second thoughts about whether your email carries valuable information.
But what is the preheader text?
In a nutshell, the preheader text is the brief summary of the email that's located just below the subject line.
There are two ways you can add preheader text to your emails: by using HTML and CSS, or by choosing email software. The latter is the easier option as you can customize your text without writing a single line of code.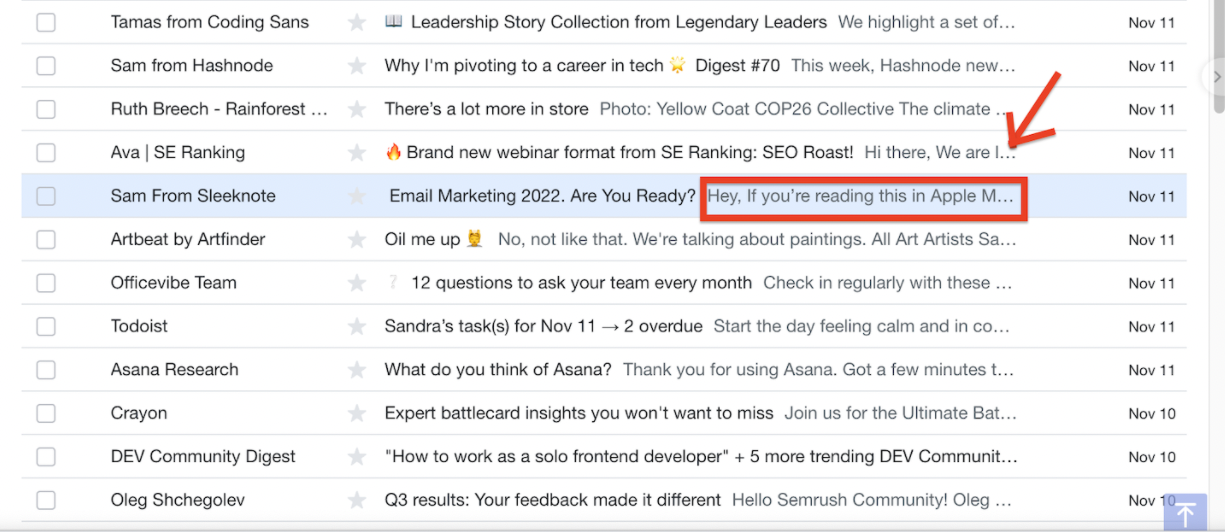 Email preheaders for marketing emails in my inbox
The preheader text looks slightly different on mobile devices:
And what's the ideal length for a preheader text? Aim for 40-130 characters as the preheader text displays differently with different email clients. Just make sure the beginning of your preheader text contains the most valuable information.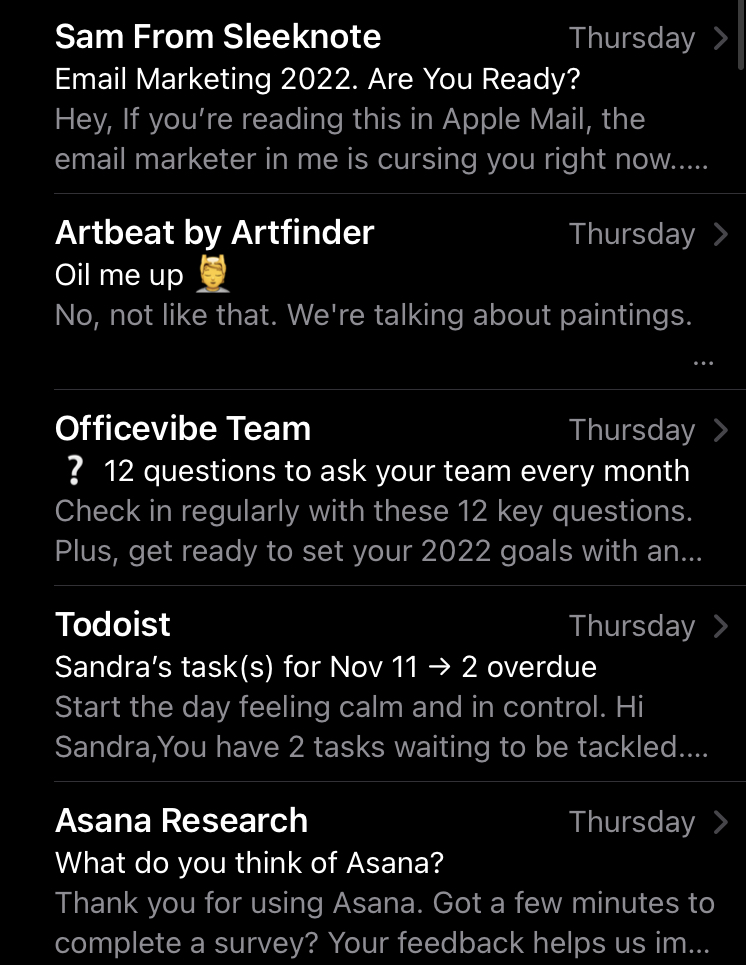 Preheader Text Best Practices
Don't repeat the subject line inside your preheader text
Make sure the subject line and preheader text align
Add a call to action
Use the preheader text to entice your readers
Writing the Email Copy
Once you've crafted the subject line and preheader text, it's time to write the email copy that will encourage readers to take action. Here's how to write one: 
Stay on point
The average human's attention span is…oh look, a falling leaf!
The fact is that your readers will be skimming the content of your email. If your message looks more like a novel than an email, you're doing it wrong. Readers will be overwhelmed by the heavy information and will have a hard time deciding whether they want to click through.
With this in mind, make your marketing emails short and to the point. Bold text and one-sentence paragraphs are your best bet.
Give a sum up of what the reader will get in a compelling way. Let them decide whether they want to take action by adding links that will lead to specific pages on your site.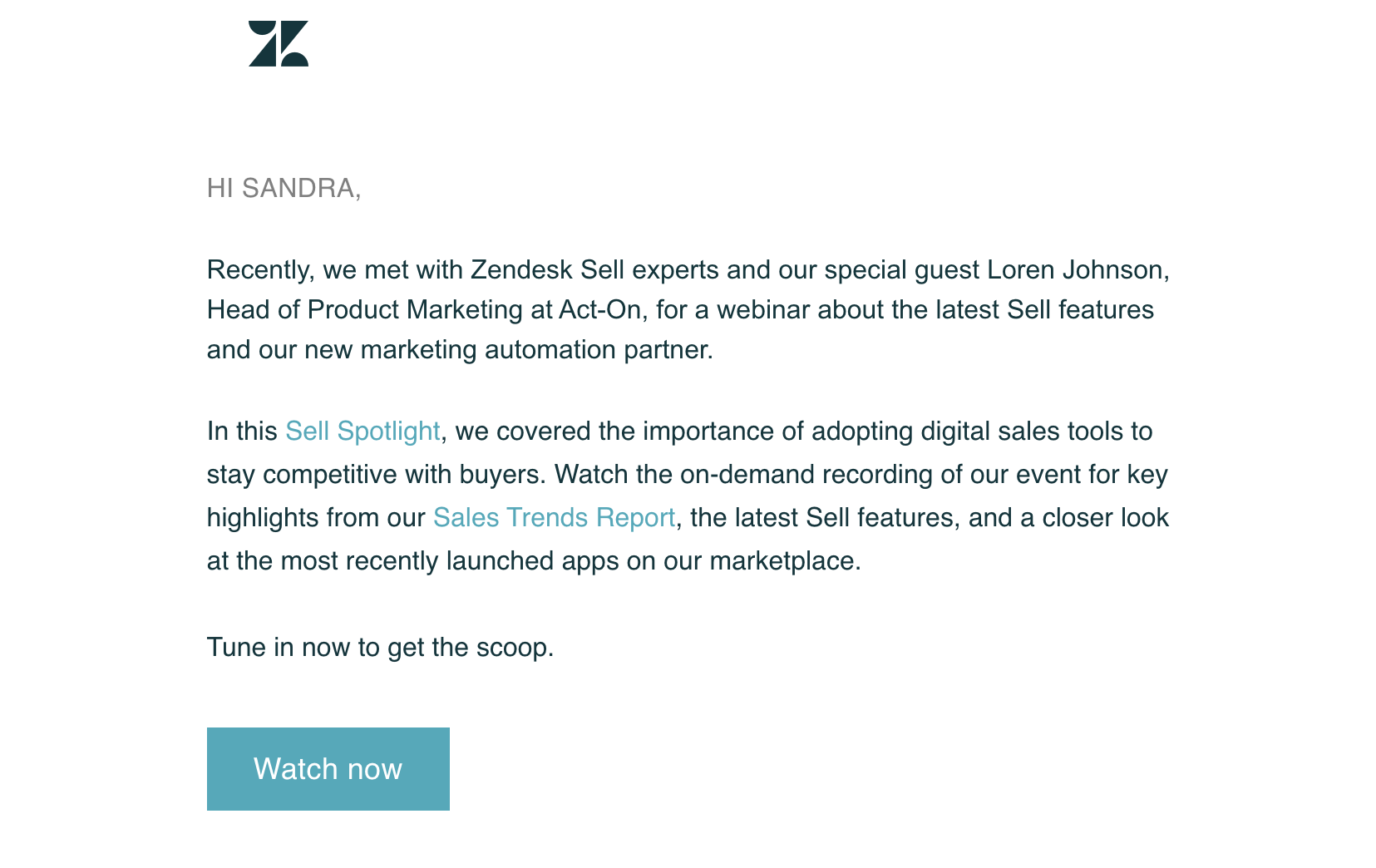 Talk more about benefits, not features
Here's the main difference between features and benefits:
Features explain the technical aspects of a product or service. Benefits paint a picture in the reader's mind of how a product/service will change their life.
Here's an example:
Feature: this referral program software comes with a built-in fraud prevention functionality.
Benefit: you will be able to filter out any suspicious participants and remove them from your referral program, which will save you money in the long run.
The easier way to define your benefits is to ask yourself the So What? Question that works like a charm in any industry.
Our software helps you write high-converting copy. So what? You'll be able to convert visitors into loyal customers.
We are the first fully online solution in the life insurance industry. So what? You will be able to purchase life insurance when you feel most comfortable, less stressed, and in control of your decisions.
The problem with many marketing emails is that they focus more on the features and skip talking about the benefits. Your goal is to paint a clear picture of what readers stand to gain by focusing on the benefits rather than just listing the features.
Make sure to add a CTA that will lead readers to a specific page on your site where they can learn more.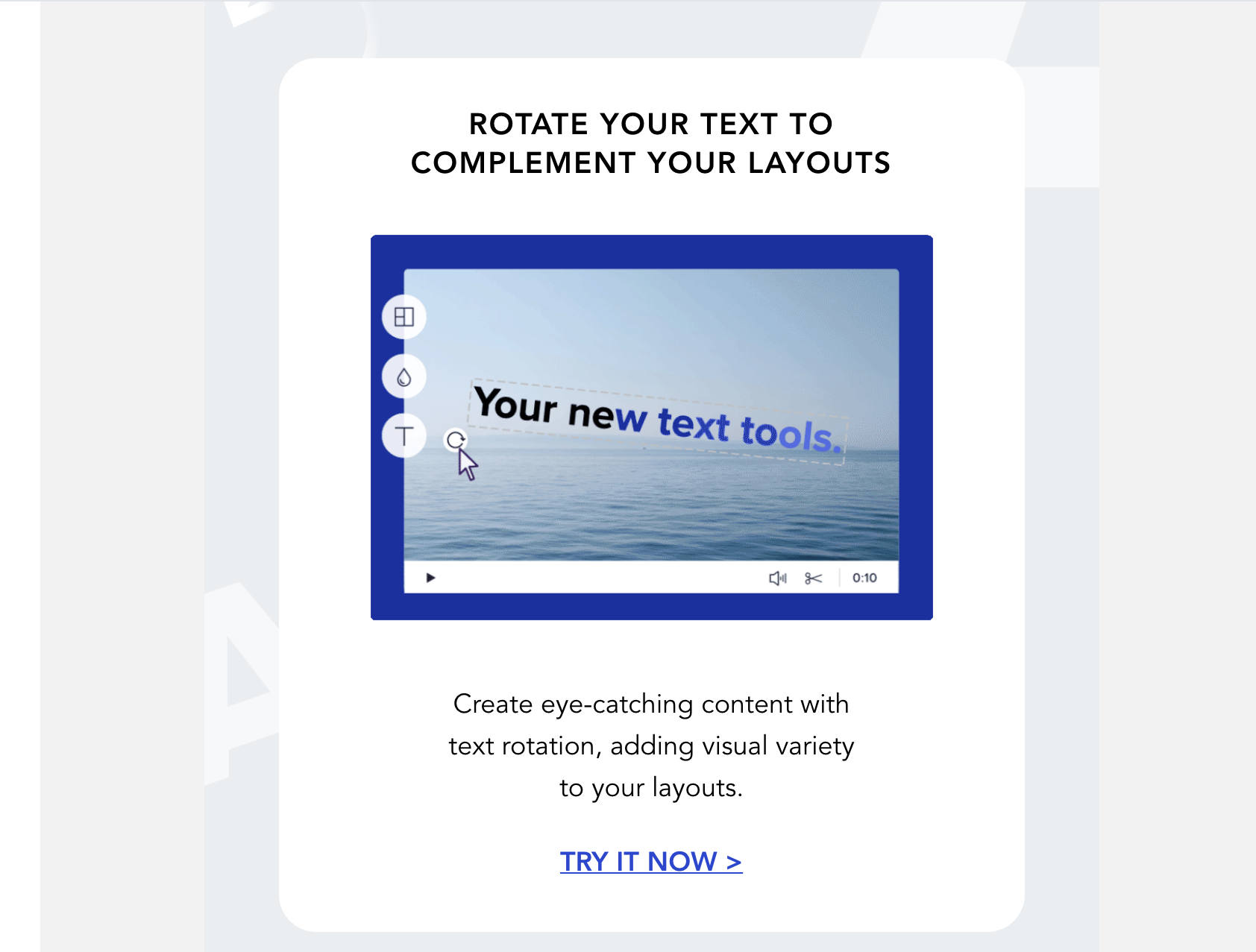 Focus on the readers, not your company
Here's another common error many companies make in their marketing and sales copy:
They place themselves as the hero of the story.
But if you want readers to convert to customers, you must make them heroes, not your company.
Customers are the heroes; you are the helper.
With that said, you have to let readers know the marketing email is oriented towards them, not your brand.
The best tactic, in this case, is to use second-person pronouns in your emails instead of the first-person plural pronoun "We."
Pronouns such as "you," "your," and "yours" will make people feel like you're speaking directly to them, which will help them connect with your content.
On the other hand, pronouns like "we" and "ours" sound more salesy and might frustrate the reader.
In fact, there's one study that has found that adding second-person pronouns in your marketing copy enhances consumer involvement.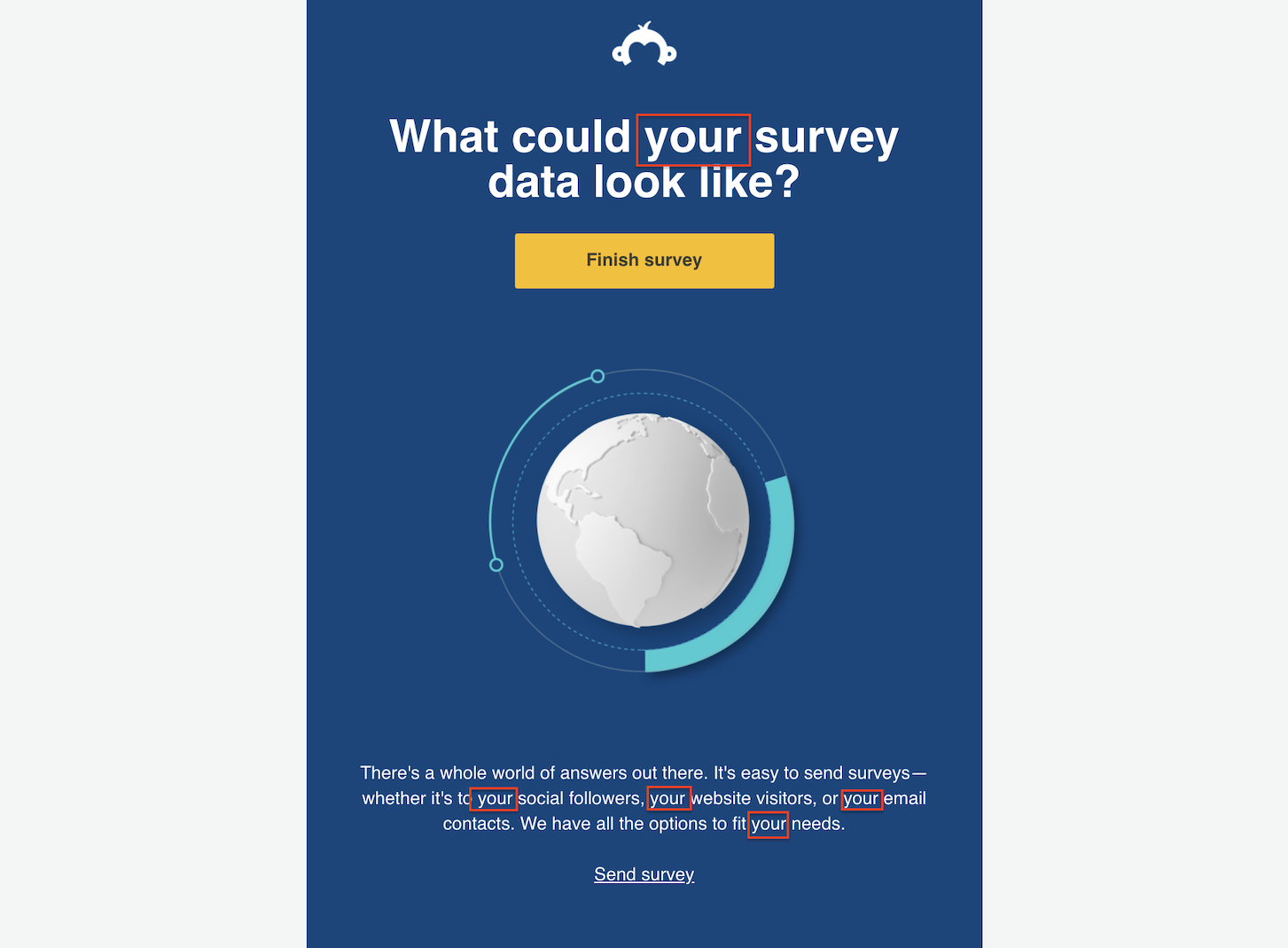 Let your brand personality shine
One of the best ways to make your brand stand out against the competition is by using your brand personality.
In short, a brand personality can help you build a meaningful relationship with the people on the receiving end.
Yes, the principal goal of marketing emails is to inform. But don't let this be a reason not to let your brand personality shine.
71% of consumers say they are more likely to recommend brands with whom they have an emotional connection.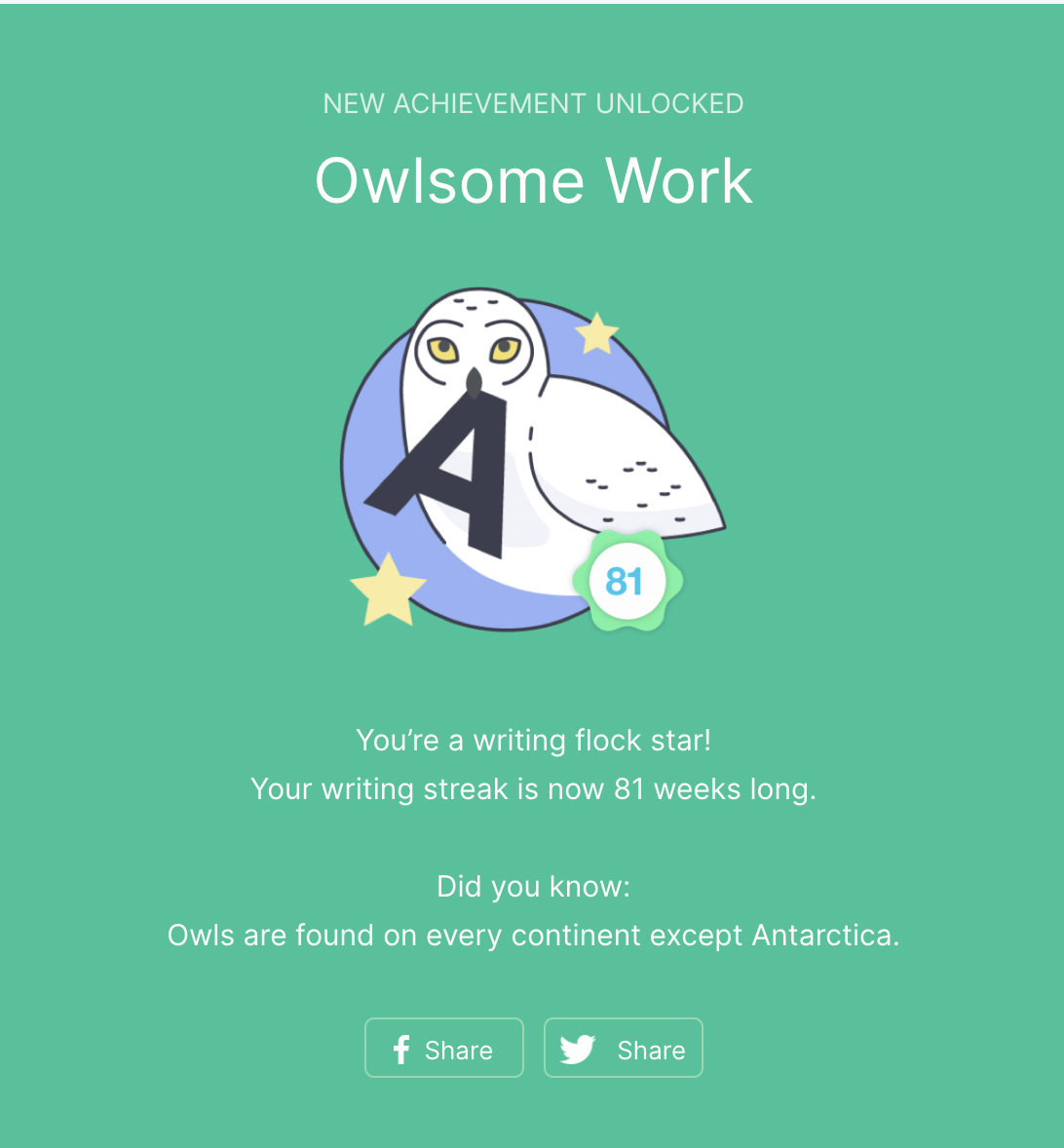 Don't forget your calls to action
The last step to complete your marketing email masterpiece is crafting an effective CTA button. Your story is reaching its end, and readers get to decide what happens next.
The CTA will only work if other parts of your email have managed to build enough interest. By the time the reader gets to the CTA, they should be primed and ready to click.
Here are several best practices when it comes to creating CTAs that work:
If it makes sense, use more than one CTA. For instance, if you're introducing a new functionality, the first CTA can lead to a page where people can test the new functionality, while the second CTA at the bottom of the page can lead to a landing page that explains how the functionality works.
The CTAs must align with the content of the email. For example, if you're promoting a new guide, adding a CTA that says Buy now won't make much sense. Grab the new guide sounds like an enticing CTA.
Skip generic and boring CTAs like "download now," "submit", and "enter." "Try it out for free," "Reserve your spot," and "Get your discount" are more likely to draw readers in.
Make sure your CTA buttons are large and visible. They should be large enough to be read easily, but not too large to be considered distasteful.
Using the first person is another great tactic. CTAs like "Start my free trial" or "Download my guide" can lead to an increase in clicks.
The first CTA should always be above the fold. This way you make sure readers don't miss it.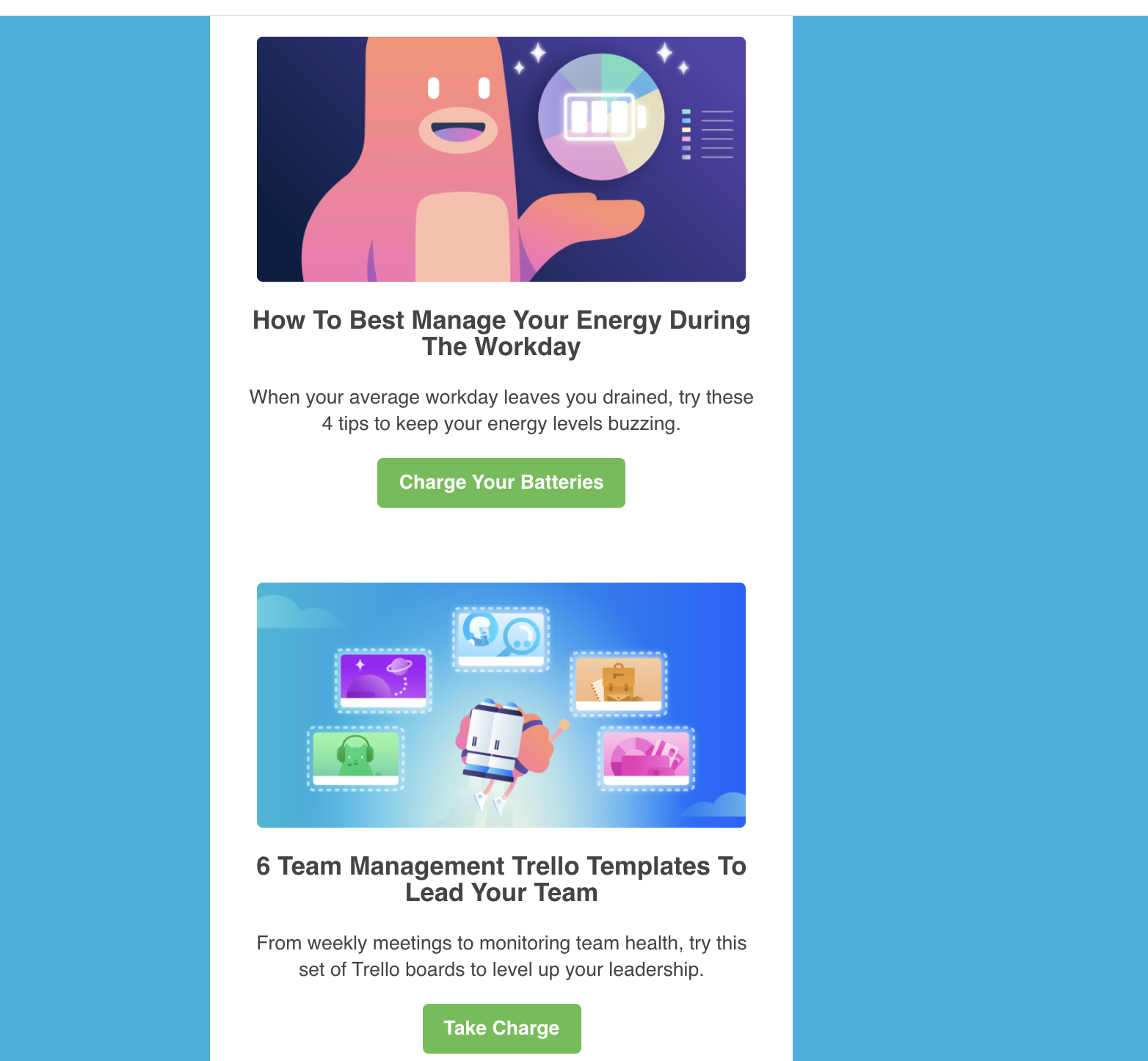 Marketing Email Examples
In this next chapter, we'll take a look at three marketing email examples and explain why they work.
1. Animoto: Product update marketing email
Animoto sends out different types of marketing emails to its subscribers, including:
product updates
success stories
account information 
welcome emails
thank you emails
educational emails
Each of their email is beautifully designed, contains short but valuable information, and entices readers to act using effective CTAs.
The example we'll look at today is a marketing email promoting the company's latest design tools.
Why It Works
Let's take a look at the subject line and preheader text. They're the first indicators of whether an email is well-thought-out.

By reading the subject line, the reader will immediately know what the email contains. The preheader text only confirms this.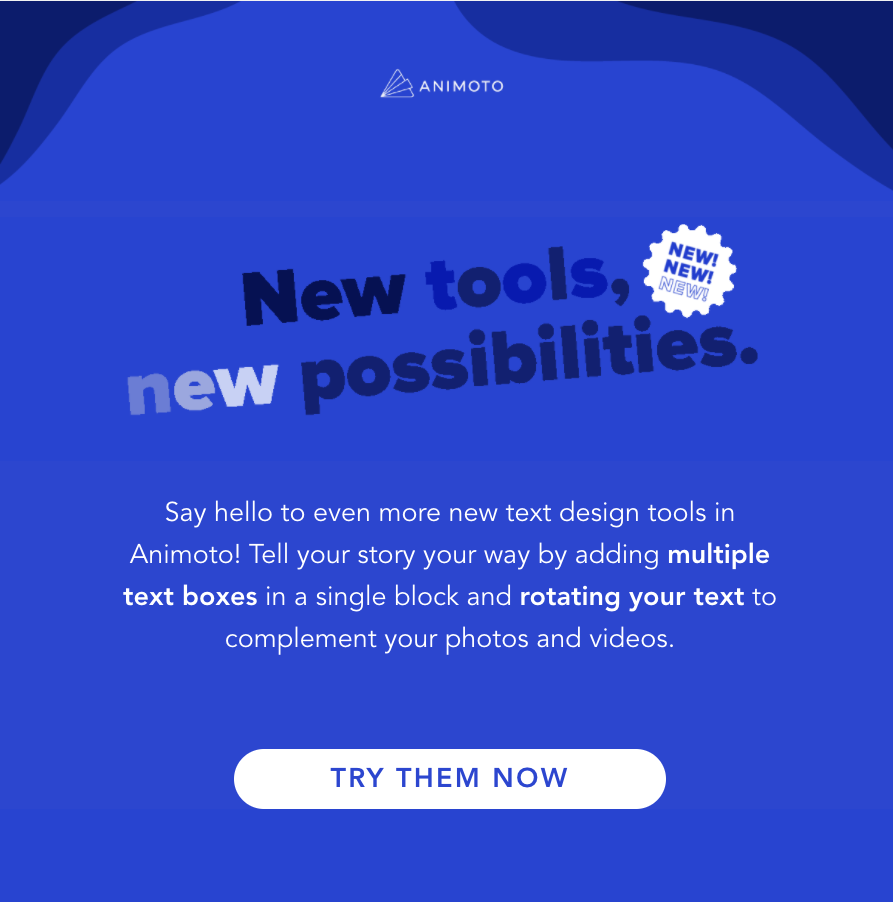 The email copy is short, on-point, and informative. It tells the reader that new design tools are ready to be tested out.
They are several things this email does well:
It addressed the reader in the second person. They've used their brand name once and the second-person pronouns "you" and "your" four times.
It focuses on benefits and not on features. Readers are told they can now tell their story their way.
There's a strong CTA button that entices readers to perform an action.
The most critical phrases of the email are written in bold so that they're more impactful.
The second part of the email is equally brilliant.
Each of the new design tools is explained briefly in separate blocks. There's even a short video to complement the new functionality. The new functionality is explained in bold all-caps wording above the video, while the longer part of the text focuses on the benefits. Each block features a CTA.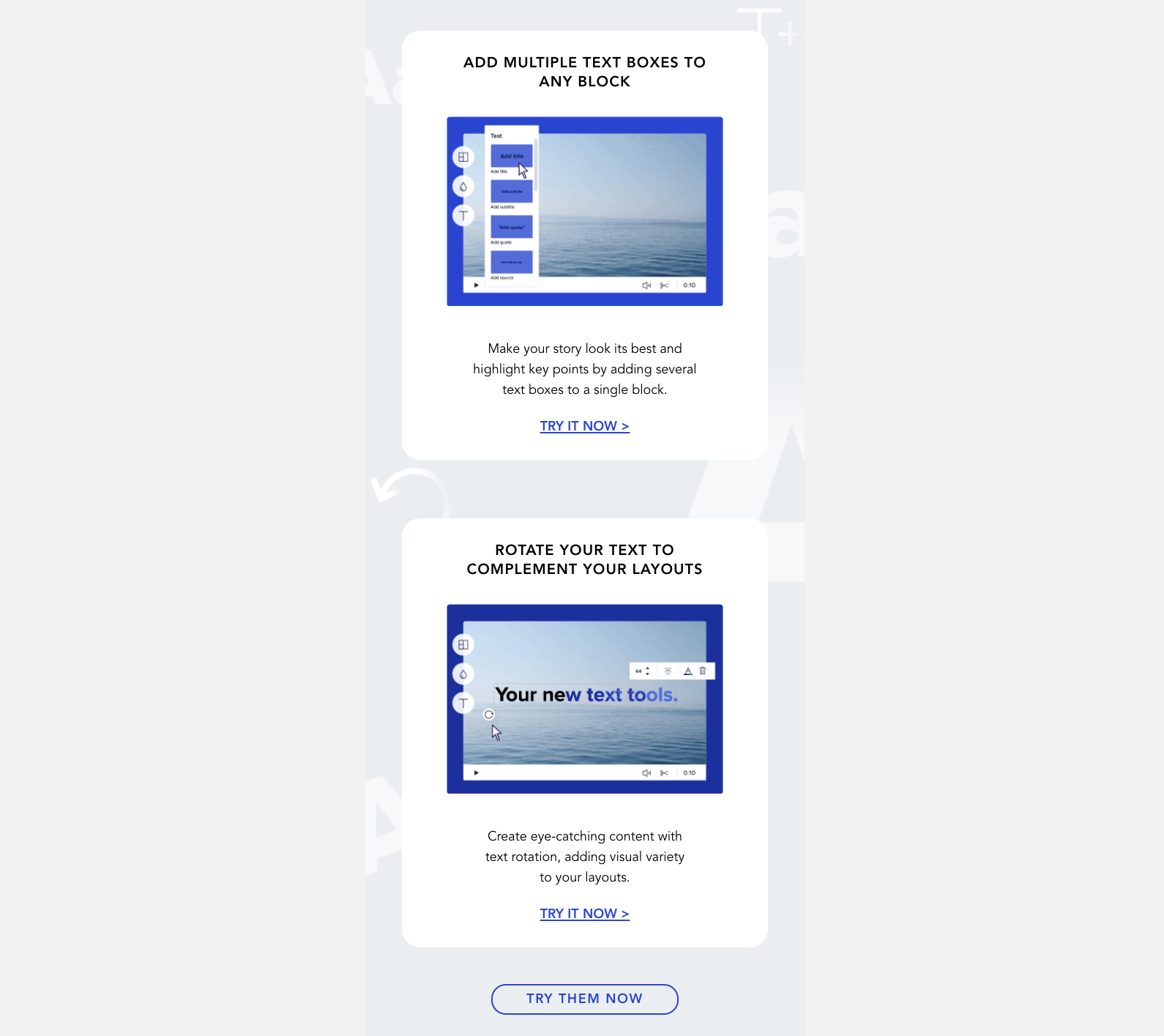 2. SurveyMonkey: Newsletter marketing email
Like Animoto, SurveyMonkey sends out a wide range of marketing emails to its subscribers, including welcome emails, newsletters, winback emails, and product updates. We'll focus on one of their newsletter marketing emails that I found in my inbox.
Why it works
The email has a great subject line that makes it perfectly clear to readers that this is a newsletter email. There's also a preheader text that informs readers that if they open the email, they'll get the company's latest news and content.

Those who are enticed to open the email will be relieved to see that the subject line and preheader text align with the email copy. This is a well-designed email with a proper hierarchy. There are four CTAs inside the email that lead to separate landing pages. One leads to a blog page, another to a customer success story post, the third to a study, and the final to a virtual event registration page.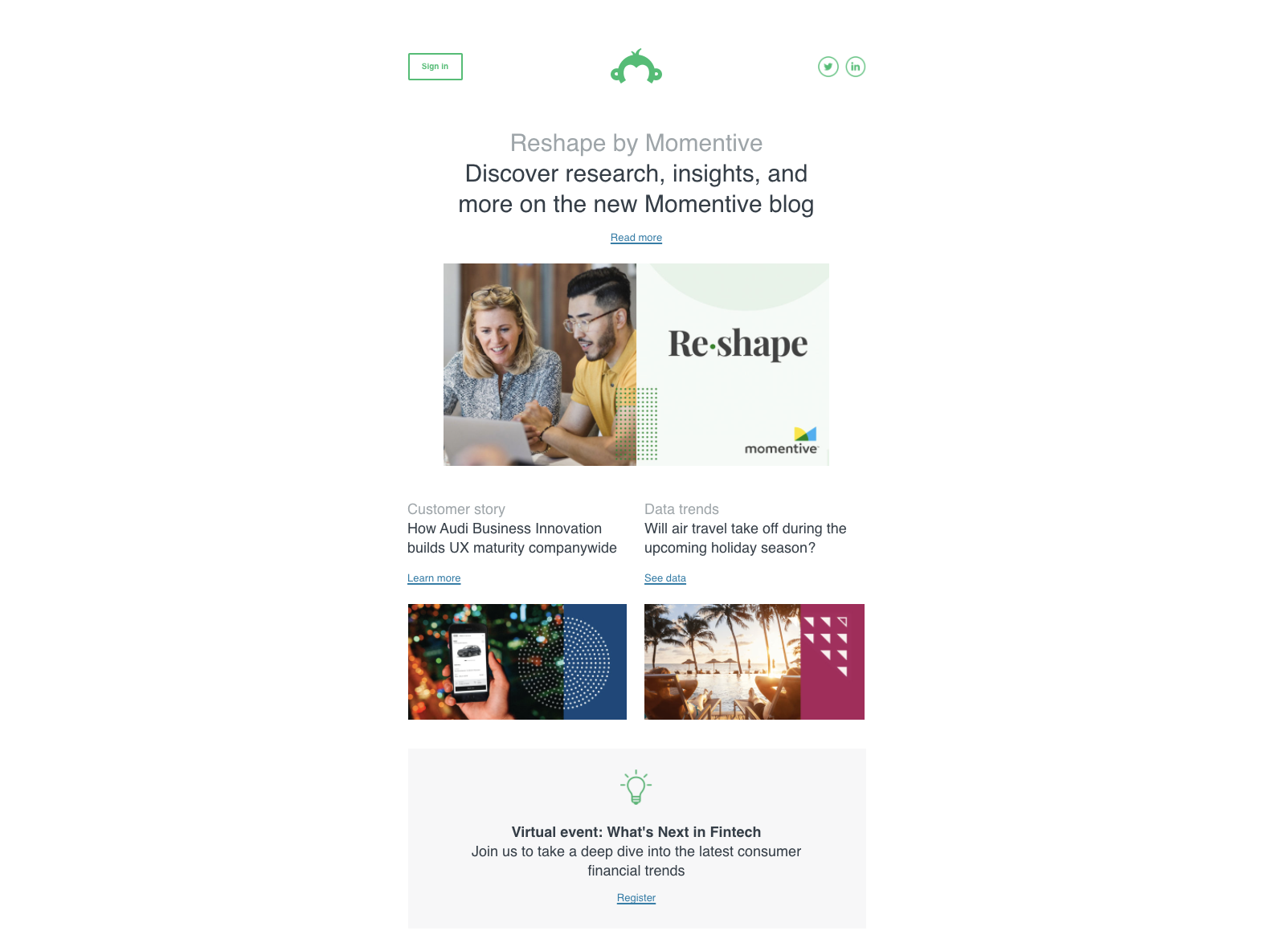 3. Todoist: Lead nurturing marketing email
When I did a quick search in my inbox, I've found all kinds of emails sent out to me by Todoist. There's a welcome email, winback email, and lead nurturing email. We'll focus on one of their lead nurturing emails.
Why it works
By looking at the subject line, it's quite apparent to readers what this email contains: it's all about collecting points and unlocking new levels. The preheader text motivates readers to click on the email by telling them they're already halfway to unlocking a new level.

The email copy doesn't beat around the bush. On the contrary, it gives readers the information right away on the top of the page.
The email is highly personalized, keeping the subscriber up-to-date with their number of points, and offers several tips for unlocking the next level. A CTA button leads to a landing page where those interested can read all about the next level and its benefits.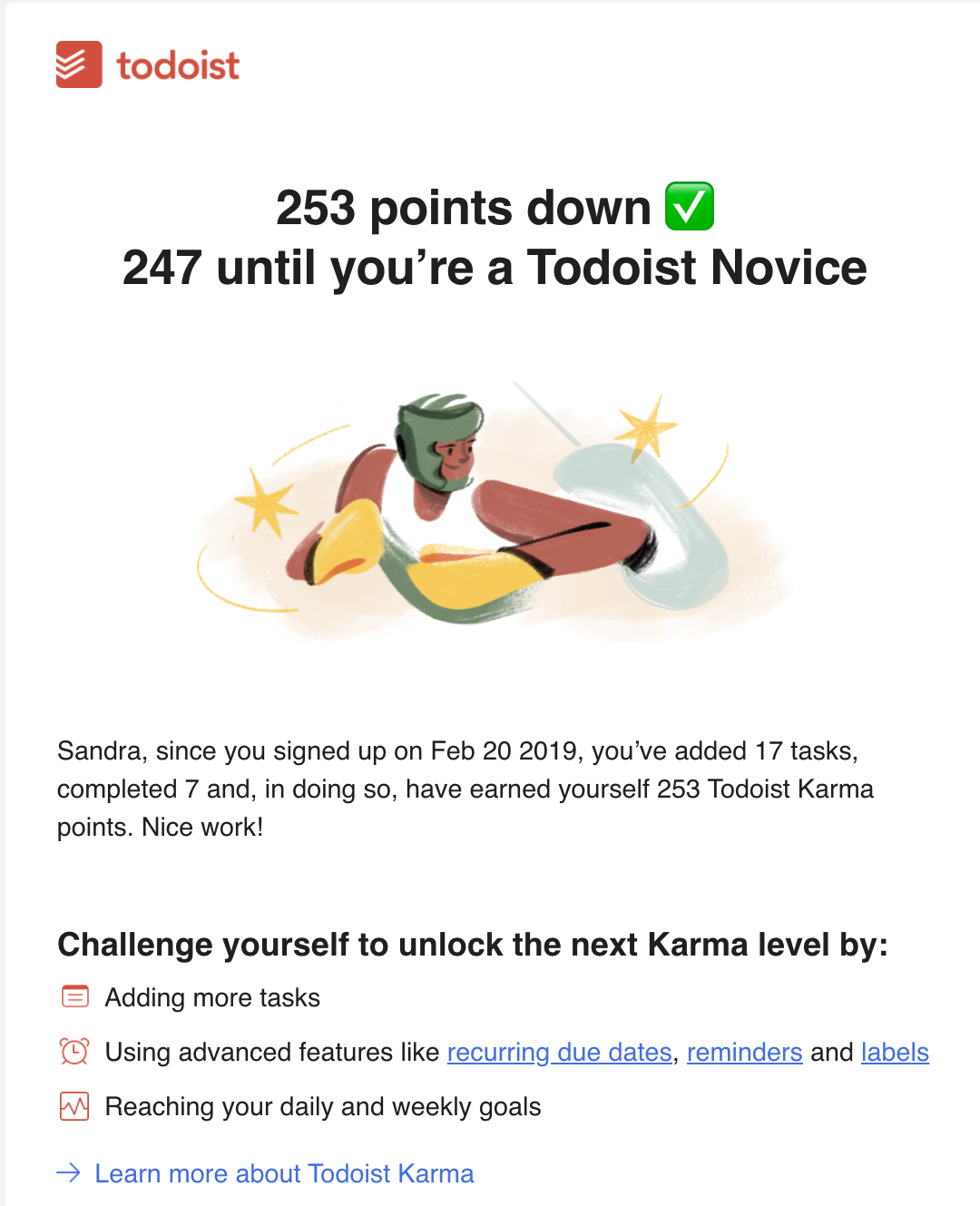 Ready to tackle your marketing email?
The key to crafting the ideal marketing email lies in making sure all elements align. Everything from the subject line and preheader text to the email copy should make it clear to readers why your email is in their inbox, convince them to open the message and convert.
Let this extensive post serve you as a marketing email template for crafting many awesome, high-performing emails that will bring steady revenue for years to come.
To sum up:
Writing marketing emails is a thoughtfully crafted process that follows scientifically proven best practices.
There are two major types of marketing emails: informational emails and transactional emails.
Any effective marketing email contains three critical elements: subject line, preheader text, and email copy.
The subject line gives subscribers a preview of what content awaits them when they open the email.
The preheader text is your second chance to convince the reader to open your email.
The email copy is the main part of the email where you inform and encourage readers to take action.
Subscribe to GrowSurf
Get our weekly newsletter for our latest referral marketing guides.
Error subscribing! Please try again.