Developing a Financial Referral Program that Stands Out
With fresh fintech apps emerging every day, the demand for financial services is at an all-time high among fierce competition.
Referral programs are an excellent way to grow your financial business.
Studies show that 83% of customers trust recommendations over other acquisition channels, so running a formal referral program can reap considerable rewards. Leveraging the relationships you're already building to bring in new leads is a useful passive growth strategy.
In this blog, we'll cover unconventional referral incentives and approaches to financial referral programs that you can implement for your own campaigns.
Why Financial Organizations Need Unique Referral Programs
The financial industry is all about referrals, and that should come as no surprise. Asking customers to do something is the best way to keep users engaged, and rewarding referrals will convince them to follow through. In most organizations, this takes the form of cash rewards.
For example, PayPal, a leader in the fintech space, offers up to $50 for user referrals. Others like Acorns, Western Union, Chase, Capital One and Square, provide similar incentives. Even crypto finance apps like Coinbase offer monetary rewards for referrals, though in cryptocurrency.
With the market crowding up with similarly structured referral programs, it's starting to get more difficult to stand out. You may need a more unconventional approach.
How to Set Your Referral Program Apart
Offering cash rewards for successful referrals isn't necessarily ineffective or ill-advised.
Considering how crowded the market has grown with these kinds of programs, though, it may help to set yourself apart. It may be more enticing if you offer something users haven't seen in a dozen other places.
Thankfully, you can offer plenty of perks besides money to encourage referrals. In some cases, these alternative rewards may be more cost-effective on your end, maximizing your referral program's returns. It's important to consider referral program costs before launching a full-scale campaign.
Here's a look at five unique incentives you could offer.
1. Offer Free Services
One of the most straightforward yet effective ways to set your referral program apart is to reward users with free services. Any company can offer money, but only you can provide your expertise.
This model works particularly well for financial services since your goal is likely to help customers save or make money. In return for a successful referral, you can offer a month of free trading advice, fee-free trading or a similar service. These are the things that draw customers to you in the first place, so accessing them for free is an enticing offer.
At first, it may seem counterproductive to offer services for free. After all, these are how your business makes money. However, referred customers have higher LTV on average than others, so you're likely to recoup your costs in a timely fashion.
2. Give Customers a Choice
Another way to make your referral program more unique and enticing is to give customers a choice of rewards. Instead of a rigid reward system, let users choose what kinds of rewards they want. This will ensure your incentives are as relevant to each user as possible.
Everyone has different preferences, so while some users may want a simple cash prize, others may prefer physical items or free stock. Look through what you could offer that actually matters to your consumer base then develop a few options. You could even implement a tier system where customers gain more choices for more successful referrals.
In an industry as tightly regulated as finance, customers likely aren't used to seeing such flexibility. Giving them a choice in referral rewards could help your brand positioning since the offer is unique and resonates with your customer base.
3. Connect Rewards to a Cause
Consumers today are more socially and environmentally minded, and that's a powerful motivator. Consider how Ford has invested $11 billion in electric vehicles as people grow more worried about fossil fuels' impact on the environment. People want to support responsible businesses, which provides a unique referral incentive opportunity.
Tying your rewards to a cause customers care about is appealing. For example, you could donate a certain amount to women's STEM education for every successful referral. Customers may be more willing to engage in these programs, knowing it helps promote inclusivity.
For the best results, look for a cause close to your target market's hearts. If you serve many military customers, you could tie rewards to veteran assistance programs. The more relevant the cause, the more likely people will refer others.
Purpose-driven referral programs work excellent in B2B and have proven to bring in results for companies like Bench Accounting.
4. Gamify Referrals
Another way to encourage engagement in your referral program is to gamify it. Instead of straightforward exchanges, create a point system where customers can unlock new rewards as they level up.
Gamification helps customers stay interested in your campaign for longer because it feels like playing a game. The allure of reaching new levels will keep them coming back as they strive to gain better rewards. On top of keeping people interested, this ongoing process brings in more conversions.
Another way to gamify your referral program is through raffles. Customers could get one more entry for a raffle of a high-value item or service for every successful referral. No matter what kinds of rewards you offer, gamification is an approach you can try.
5. Offer Higher-Value Rewards
You don't see high-value incentives like free phones or paid vacations often in referral programs, but they can be effective.
Since they're such an uncommon strategy, you can be sure your rewards will stand out from competitors. The high dollar value of these prizes can also encourage people who wouldn't normally use referral programs.
Of course, more expensive prizes will cost your business more. The way to accommodate for that is to use a tier or raffle system. Only those that win the raffle or reach the top of a leaderboard achieve the highest-value rewards.
These types of systems also work well as temporary promotions. Consider supplementing your normal referral reward program with an annual big-ticket giveaway.
Examples of Unconventional Referral Programs in Finance
Most referral programs in finance rely on the old-fashioned cash prize model. However, some companies have experimented with less conventional reward systems, helping them stand out from the crowd.
Here's a look at three leading examples from finance organizations that have successfully implemented unconventional referral programs.
1. YNAB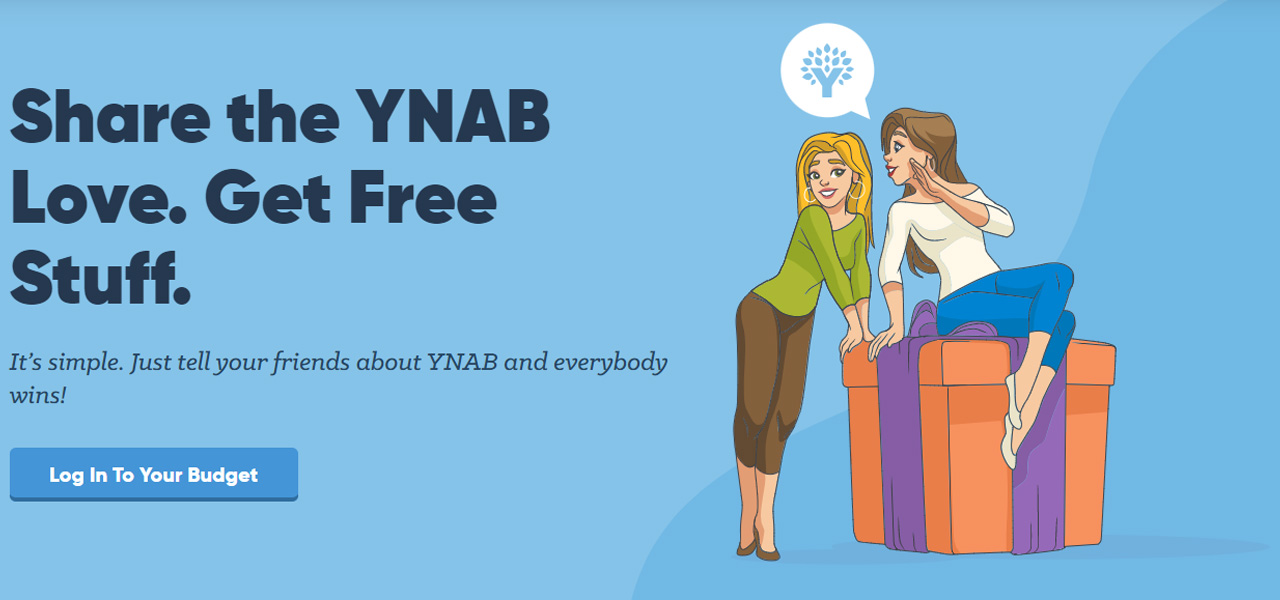 You Need a Budget (YNAB) is an app aimed at helping users manage their finances to get out of debt. Appropriately, in return for their referrals, it offers free subscription periods. Users who refer a friend get one month for free, and so do their pals once they subscribe.
Something to note about this program is that it capitalizes on the double-sided incentive model. Offering rewards to the referrer and the referred is more costly upfront, but it's the most effective way to profit from these programs in the long run. Two-sided rewards are more enticing, so they lead to higher conversion rates down the line.
YNAB's program is particularly noteworthy because it fits its business model. Users interested in an app that helps them save will doubtlessly be interested in an opportunity to reduce their subscription price.
2. Citibank Philippines

Citibank's operation in the Philippines is an excellent example of giving users a choice in rewards. In return for referrals, customers get to choose among three reward categories:
Cash rebates
Rewards points
Airline miles
Citibank goes the extra mile by offering more options after that choice. If customers choose to get points for their referrals, they can spend them across multiple stores. Whether users want to use them for food, electronics or toys for their kids, there's an option that suits their preferences.
The bank also includes a tier system where higher-value accounts can earn more per referral. That way, on top of acquiring new customers, the program encourages current clients to spend more.
3. Chase Credit Cards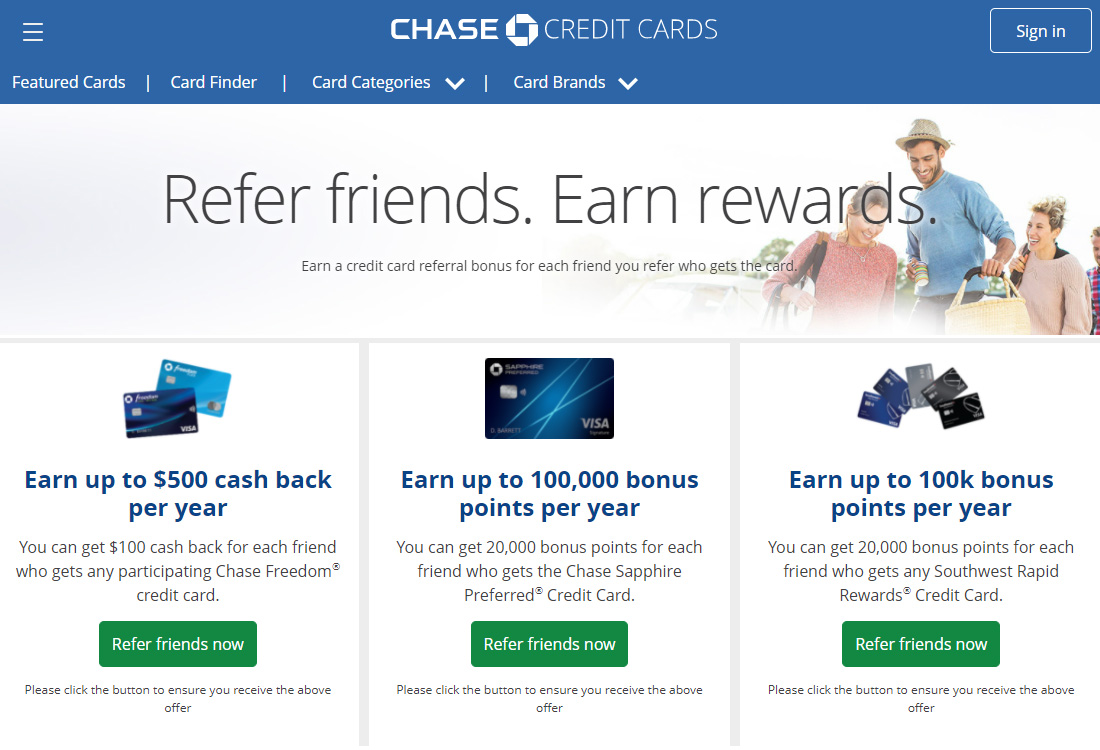 While Chase offers standard cash rewards for its regular banking service, its credit card system works differently. As the largest bank in the U.S., Chase has several perks credit cards that earn users points for various stores and businesses. Customers who refer a friend to any of these cards earn related points.
What users get as a reward depends on what type of card they refer people to. For example, customers who refer others to a Disney Visa card get Disney Rewards Dollars. Similarly, referring someone to a United MileagePlus card will earn you airline miles with United.
This system works because it ties rewards with what users are interested in. Whether customers want to go to Disney or fly to new locations, there's an option for them to earn points in their preferred area. While not every company has the resources Chase does, this varied, option-heavy model could work in many businesses.
A Strong Referral Program Is Indispensable
Referral marketing is an essential tool for any financial organization. A unique approach to referral programs will bring further benefits, helping companies stand out from a sea of competition. As the market grows increasingly crowded, finance businesses can't afford to overlook this opportunity.
If you've got ideas for your own referral program, we have a 14-day free trial of our referral program software to get you set up for success.
Start today to rise above the competition and show customers something they haven't seen before.
Subscribe to GrowSurf
Get our weekly newsletter for our latest referral marketing guides.
Error subscribing! Please try again.