Growing a business can get tricky if you're a financial services company.
With digital transformation causing an industry-wide shakeup in the financial sector, the game has drastically changed. Digital-savvy customers are expecting more from financial service providers. New regulatory and compliance obstacles are in place, limiting your marketing opportunities a great deal. And while trust in the financial sector is at its highest since the 2008 financial crisis, history shows that that trust is on shaky ground.
As a financial services company, how do you survive—and thrive—in this volatile environment?
You're not going to pull it off by solely using traditional (and outdated) marketing methods.
Try financial services marketing instead.
What is Financial Services Marketing?
Financial services marketing is a form of marketing that employs strategies and techniques that drive awareness and build an audience around a financial brand.
By using marketing strategies tailored to financial services, you can grow your business effectively in ways that turn obstacles into an advantage.
What kind of companies can benefit from financial services marketing?
The financial services sector has many different niches and segments. In case you're wondering, here are the types of financial companies that can benefit from financial services marketing:
Brokerage firms
Credit unions
Commercial banks
Retail banks
Credit card companies
Insurance companies
CPA firms
Wealth management firms
Etc.
Disclaimer: Bear in mind that these financial institutions are subject to different laws and regulations, and are beyond the scope of this article. Please refer to standard practices and regulations specific to your field as you consider and implement marketing strategies that will be discussed here.
8 Marketing Strategies for Financial Services
Let's break down the most effective financial marketing strategies that will help you attract more leads and turn them into your most loyal customers.
Host Educational Webinars
Webinars are an effective channel for generating leads, especially for B2B businesses. In fact, around 73% of B2B marketers think they can get high-quality leads using webinars. What's more, the use of webinars has increased two-fold since the coronavirus outbreak.
Webinars continue to be a go-to channel for many marketers because they offer a great way to build authority and trust among your audience base. Unlike most marketing strategies, a webinar session allows financial institutions to show a more human face—which is a big deal considering how most people perceive financial companies as impersonal, formal, and cold.
Webinars are an effective way to generate leads because they promise more value than most other marketing content. If your webinar invite grabs a prospect's attention, chances are she won't think twice about filling out her information in your webinar sign-up form.
Besides, hosting a webinar offers a golden opportunity to get to know your audience. After all, it's the next best thing to having face-to-face conversations. It adds a layer of spontaneity, making prospects comfortable enough to bring up questions or concerns they wouldn't have raised in any other environment or platform.
Pro-Tip: If you want better results for your webinar, run it with strategic partners. It not only strengthens your relationship with companies or influencers whose solution or service compliments yours, but it also provides you a great opportunity to reach new audiences. Besides, partnering up is a good way to enhance your brand equity by association.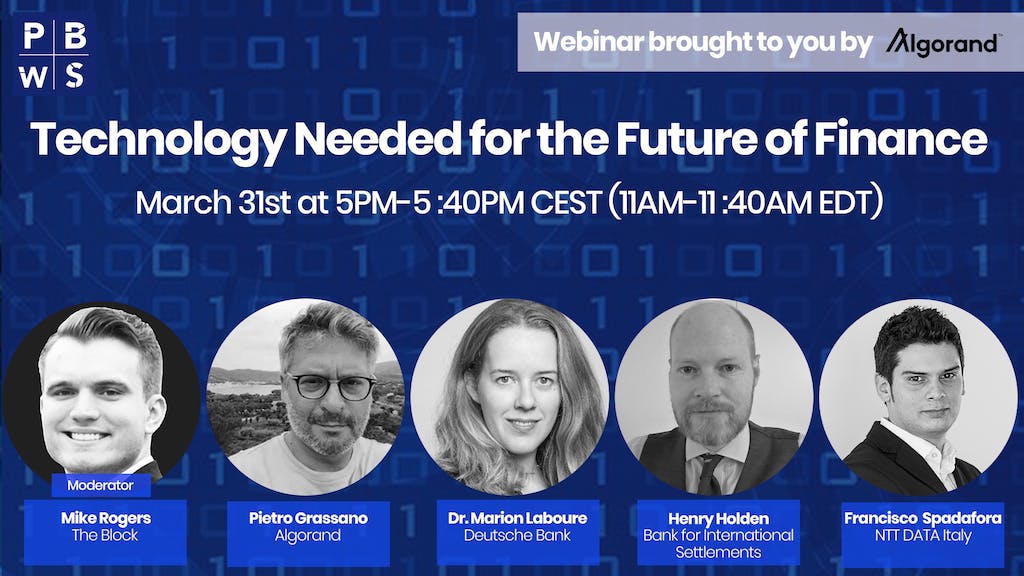 Publish Case Studies
Want to make a great case for your company as the best solution for your audience's financial woes? Publish case studies.
Why? Because case studies help you provide a compelling way to prove to your prospects that your product or services work.
For one thing, case studies tell a story. And a success story at that. And if there's one thing potential customers crave, it's a story that promises a good ending.
Case studies are also evidence-based and backed by hard numbers. When you tell a story of how you're able to help a struggling company increase their annual revenue by 312%, and then back it up with hard numbers, you're showing that you're the real deal and that you can back up your promises.
Thomson Reuters, for example, does a terrific job building its credibility as a financial services provider by publishing case studies on its website. One such case study provides a detailed account of how their CSProfessional suite products helped Davis & Graces, CPA, achieve cost savings equal to the cost of one staff member.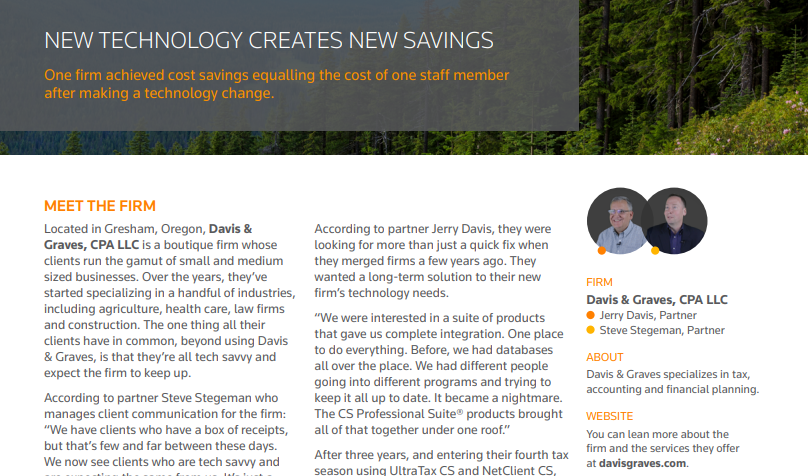 Referral Marketing
While there's no magic wand for building trust, referral marketing is as close to a magic wand as you can get.
After all, nothing makes people trust you more than letting your happiest customers vouch for your products and services. Not surprising considering that 83% of customers trust recommendations over other forms of marketing.
Request a demo of GrowSurf
Set up your referral marketing program with software that lowers your customer acquisition cost and saves you gobs of time.
Start by making your brand referral-worthy. If your financial solution or service keeps delivering the goods, and you remain consistent in delivering exceptional customer experiences, word of mouth will start kicking in. Add advocacy marketing into the mix, and you're providing your happiest customers with more than enough motivation to keep spreading the word about your brand.
You can even do better by implementing referral marketing to your financial services. By incentivizing referrals, you're making it easy and convenient for customers to bring up what you do.
Better yet, running a referral program can significantly reduce your CAC (cost-per-acquisition). The average CAC for financial institutions is around $644. If you're a commercial bank, offering $100 as an incentive ($50 for referrer, $50 for referee) may be good enough to attract and convert new leads, giving you a CPA ranging anywhere from $120 to $200. As you can see, that's way below the industry average!
With that said, managing a referral program involves many moving pieces—tracking referrals, rewards fulfillment, keeping CAC low, you name it. Thankfully, using a referral program software like GrowSurf automates everything for you, while also keeping your customer acquisition costs low. And because GrowSurf can track every referral, the software also gives you a bird's eye view of the referral program's performance, giving you the data and insights you need to improve it and bolster growth.
That's exactly how online estate planning service Willful turned things around for their referral program. After six months of implementing GrowSurf, the company has achieved a net return of 312%.
Want to get the skinny on how Willful pulled it off? We documented everything in one of our case studies.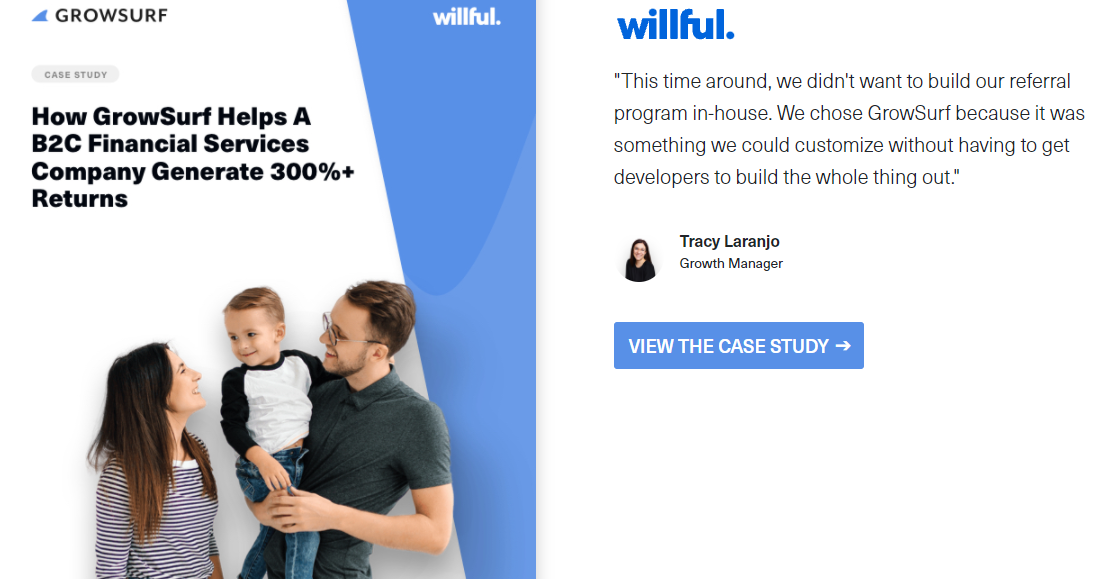 Design a Frictionless Brand Image
As a financial services company, you're up for some competition. And in an increasingly digitized landscape, you need to adapt to the changes to stand out.
One of the best ways to do that is to design a frictionless brand image.
Allow me to explain.
When you're communicating with your audience, your message is not only about the message. Your branding elements (logo, font, imagery, color palette) come with the equation, too.
If you want your message to resonate, all branding elements should be consistent and convey a common theme or feeling, whether on your website, social media, app, or print ad.
But having a frictionless brand image goes beyond having a consistent design or message. Everything you say, write, do, and how you present yourself, should be informed by your brand mission, vision, and core values. If the "why" behind what you're doing is not clear to your customers, why should they care?
Have you ever wondered why people are willing to stand in long lines to buy the next Apple product? As best-selling author Simon Sinek says, Apple did it because Apple starts with 'why.' They just happen to make great computers.
Which is a way of saying that Apple has a seamless and frictionless brand identity. Unlike its competitors, Apple is not just another face in the crowd. The company was able to build brand equity because its message and branding elements make it clear why it does what it does. By forging that emotional attachment, the brand was able to create meaningful brand interactions that develop loyalty and drive further growth.
Social Media Marketing
Most of your customers (potential and existing) are on social media.
In fact, roughly 7-in-10 Americans use social media to connect with one another.. And they spend an average of 2 hours and 25 minutes going around the interwebz per day.
What's more, people on social media are not there just to interact with their peers. They also use social media to interact with brands.
Here are more stats to prove it (courtesy of Oberlo):
54% of internet users use social media to research products.
71% of customers who have had a positive experience with a brand on social media will recommend that brand to their friends and family.
49% of consumers are likely to buy something if it was recommended by an influencer on social media.
In other words, if you're not building your social media presence, you're leaving money on the table.
Social media is where conversations are happening, making it an ideal place to establish authority and trust around your financial brand.
Protip: Make sure that you tailor your content strategy for each social media platform. Use the strengths of each platform and take into account your audience's needs and preferences. Social media is also a great opportunity to humanize your brand. In a financial sector that is perceived by many as too impersonal, having a personality and engaging in authentic interactions with your audience can differentiate you from the pack.
PPC for Financial Lead Generation
When you're growing a financial firm, you ignore PPC advertising at your peril. After all, financial services companies are heavily dependent on lead generation. And when it comes to generating leads, PPC advertising is where it's at.
PPC ads come with the following advantages:
Helps you rank faster for strategic keywords.
Helps you get immediate traffic.
Attracts highly targeted visitors to your website.
Whether you're using search advertising, display advertising, retargeting, or all of the above, it helps to have a PPC strategy.
Here are tips that will help you drive better results for your PPC campaign:
Use focused landing pages. Communicate clearly how your financial services will benefit your customers. They clicked on that PPC ad to find out what's in it for them. It will help A/B test your landing pages.
Perform keyword research. Most potential customers will do a search on Google to find solutions to their financial problems. By performing keyword research, you can key in on search intent and make your PPC ads more visible to your target audience.
Set up a budget. You want to make the most out of your advertising spend, right? Clarify your goals first. It's critical that you understand and define what you're spending for.
Publish High-Value Blog Content
Blogging has changed radically over the years.
But it still an effective form of marketing? You bet.
How's this for context: On average, Google has 100 billion searches every month. And 77% of those users are reading blogs daily.
This is why publishing high-value blog content is still an effective strategy to growing a financial brand (or any brand for that matter). Most people, after all, will do a search on Google to find answers to their financial problems or dilemmas. Like with PPC strategy, you can start by doing keyword research. Unlike PPC however, you have a new metric to consider with SEO keyword research: keyword difficulty. This gives you an indication of how easy or hard it should be to rank for a keyword. Use a keyword difficulty software like Semrush or ahrefs. If you're just starting out, try focusing on keywords with lower difficulty to start earning initial search traffic.
Investing in a blog can benefit your financial services business in the following ways:
Drive traffic to your website
Boost brand visibility (via SEO)
Generate leads for your email database 
Build trust and authority in your niche
Grow a social media presence (when a high-value blog post gets shared on social media)
Etc.
Personalize communication at all touchpoints
To say that the financial sector is cluttered is an understatement. If you want to cut through the noise, stop treating your customers like account or order numbers. Treat them as unique individuals.
Your customers will thank you for it (and give their undying loyalty in return).
Stats will back me up on this:
57% of customers will share their information if they receive personalized offers.
80% of customers are more likely to purchase from a brand that delivers tailored experiences.
72% of customers will only respond to personalized marketing messages.
Besides, personalization is more critical in the financial sector. Because let's face it, people tend to be more tight-lipped and skeptical when it comes to their hard-earned money.
And in a financial marketing environment where tellers are not always on hand to deliver personalized service to customers, you'd do well to use technology at your disposal to personalize communication at all touchpoints.
There are three ways to do this:
Prescriptive personalization. Anticipate customers' needs based on data.
Real-time personalization. Use real-time data and historical data to deliver customized personal experiences.
Machine learning personalization. Leverage machine learning algorithms. Using AI automation, financial companies can communicate with customers more effectively and in ways that are relevant to their needs.
Whether a customer needs to pay off a loan earlier, file taxes, or save for retirement, he or she will most likely respond to your marketing message if you deliver personalized communication.
Key Takeaways
So there you have it—the most effective financial services marketing strategies that can help give your financial firm a boost. Considering the many tech trends shaking up the financial sector, I highly suspect you'll find them useful.
Here are key takeaways to keep in mind:
Host educational webinars
Publish case studies
Implement referral marketing
Design a frictionless brand image
Use social media marketing
Leverage PPC for financial lead generation
Publish high value blog content
Personalize communication at all touchpoints
Stick to your goals and keep yourself motivated. You got this.
Request a demo of GrowSurf
Set up your referral marketing program with software that lowers your customer acquisition cost and saves you gobs of time.