Creative Referral Incentives for Your Next Campaign
Most marketing executives consider word-of-mouth marketing the most effective strategy. However, very few companies have successfully implemented a sustainable campaign. Instead, they focus their efforts on paid advertising and sales to boost their bottom line. In doing so, they disregard a massively untapped source of potential revenue: referral rewards.
Referral marketing incentivizes existing and potential customers to promote a brand. This way, companies don't have to sit around waiting and hoping for them to share a passive word of truth. Strategically promote honest and organic word-of-mouth advertising by rewarding advocates and supporters. Just imagine how excited and motivated they'll be to tell all their friends about products when you offer them something in return.
Why Are Referral Rewards Important?
Launching a referral rewards program is important because it enhances customer satisfaction and increases brand loyalty. Acquiring new customers is five times more expensive than retaining existing clients, so it pays to keep frequent shoppers around. Offering them membership perks through a referral rewards program will also make them more likely to buy in the future.
Referral rewards can also boost business by attracting customers and driving sales. A 2015 study offering the most recent data shows that 83% of online respondents in 60 countries trust family and friends' recommendations more than brand ads. Whether companies have their best interests at heart is a toss-up, but customers tend to assume their loved ones won't lie or coerce them.
Subsequently, they're more willing to visit a brand's website and even purchase goods and services if you have a strong online presence. Therefore, as long as the rewards are practical and don't subtract from the bottom line, brands can effectively increase revenue by reducing spending on paid ads and expensive marketing campaigns.
Types of Referral Incentives
Most brands offer incentives through a formal year-round referral program. Others will reward referrers during a particular timeframe or with limited-time offers. Regardless, all rewards strategies will fall into one of two main categories.
Bonus Reading: How to Choose the Perfect Referral Incentives
One-Sided Referral Incentives
Referral incentives that benefit only one party—the referred or the referrer—are one-sided incentives. When current customers receive rewards, they are more motivated to share their reviews and recommendations with others. Subsequently, brands that implement this strategy will likely attract and retain shoppers looking for brands with perks and rewards for members and repeat buyers.
One-sided incentives can also lead to an influx of new leads. However, new patrons will be less likely to seal the deal and become paying customers without an incentive to join. It can also look disingenuous when existing customers stand to gain from telling others about the brand and new clients don't receive anything. Thus, this type of incentive is best for companies that want to raise awareness and increase customer satisfaction among their existing clientele.
If, on the other hand, new customers are the ones to receive the one-sided referral incentive, they'll be much more likely to make a purchase, regardless of whether someone gave them a personal recommendation. In this case, word-of-mouth marketing has little to do with their decision. Rather, strategic advertising and digital targeting persuade them to seal the deal. Thus, offering incentives for new customers may work best for subscription model companies that land frequent sales.
Of course, once the new customer has taken advantage of the sign-on bonus, they'll be more likely to recommend your brand to friends and family. Here is where word-of-mouth advertising comes into play to establish rapport and attract new customers.
Two-Sided Referral Incentives
Double-sided or two-sided incentives benefit both parties and are often part of a comprehensive referral reward program. Because both sides have something to gain, you're more likely to increase traffic, boost sales, and attract and retain loyal customers. This approach is more costly, as you'll be rewarding twice as many people. However, it's the most effective way to turn a profit in the long run.
Often, rewards are only double-sided if a new customer closes the deal. For example, HelloFresh offers $20 to referrers and a $40 credit to new subscribers, but only if the latter actually sign up. This approach provides the most promise for companies that choose to implement it. However, it often requires quality referral software and a larger advertising budget, so the lack of affordability may prevent some small businesses from utilizing this strategy.
Unconventional Referral Rewards to Consider
It pays to think outside the box when creating referral rewards. Catch your audience's attention and attract more paying customers with unconventional campaigns and surprising incentives. They're bound to be effective, regardless of whether they're one- or two-sided. Use the following ideas to create the ideal referral program for your brand.
1. Early Access
Many customers pay to join VIP programs and get early access to new items. However, you can just as easily use this incentive to encourage referrals.
Create an exclusive club for referrers and let them view and purchase new items before they're available to the public.
2. Sharing Content
Whether you have brand ambassadors or not, engaging with your followers is key to retaining them. Ask customers to tag you or use certain hashtags in brand-related posts. Then comment on, like and share their content.
Giving them a quick shout-out will likely boost their follower count and increase your credibility through authentic storytelling and glowing reviews. Plus, more customers will strive to be influencers for your brand, which will attract even more clients in the long run.
3. Celebrity Meet-Ups
Does your brand work with celebrity brand ambassadors or well-known influencers ? Maybe it was even founded by somebody famous. If so, host a meet-up for customers who make the most referrals in a year.
For example, Fabletics fans would jump at the chance to meet Kate Hudson or Demi Lovato. If they could earn a meet-and-greet session just by referring the brand to friends and family, they'd likely do so with little to no convincing.
4. High-Value Rewards
Many businesses offer free swag as both one and double-sided incentives. However, brands that want to go the extra mile and take a more unconventional route might offer high-value rewards like a free iPhone, a vacation or an experience.
Even if these rewards have nothing to do with your company, they can prompt the most unwilling to refer a friend or two. Whoever refers the most wins the grand prize.
Tiered, or leaderboard rewards like this are easy to set up within GrowSurf. Some of our highest performing customer referral programs take advantage of high ticket items in a leaderboard format, so it's something you should consider when launching your referral program.
5. Tiered Incentives
A sports memorabilia store can easily motivate referrals by offering specific merchandise like balls and bats. However, creating a more competitive atmosphere with more valuable rewards will likely boost referral rates—and your bottom line.
Use a tiered incentive system and offer both high and low-value rewards. Prompt them to move up in the program by enticing them with new products and even greater perks for more referrals.
Request a demo of GrowSurf
Set up your referral marketing program with software that lowers your customer acquisition cost and saves you gobs of time.
6. Raffle Entries
Gamifying your referral reward program is another brilliant and surprising way to engage existing customers and attract more. Host a monthly contest where each customer gets a raffle entry for every friend they refer. You can even create an online leaderboard so participants can keep tabs on the competition.
Brands can promote this as a dual-sided referral incentive by giving new customers a free raffle entry by signing up or making their first purchase.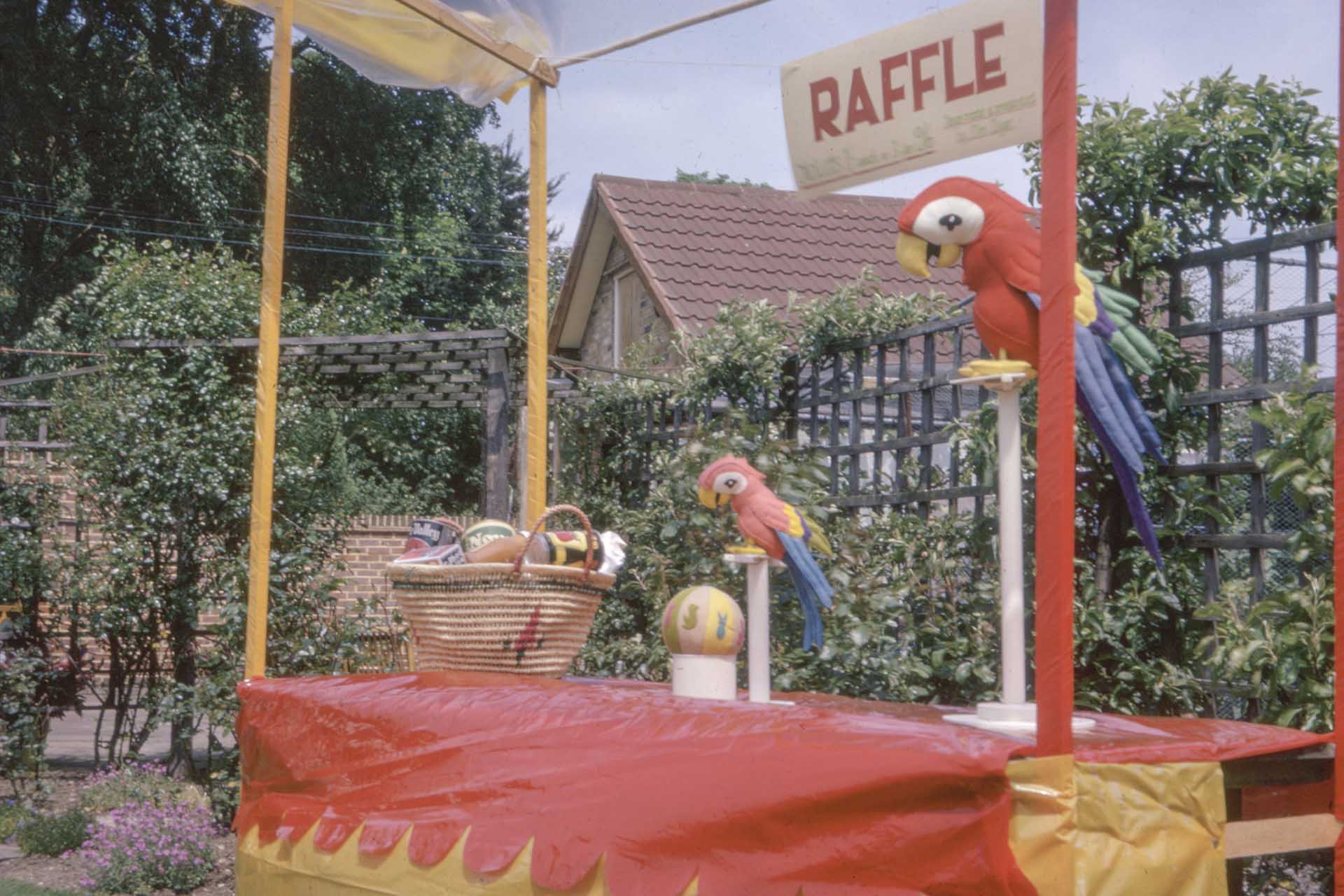 7. Social Gifting
For some, it's much more enjoyable to give than to receive. These kinds of customers love to participate in a social gifting referral program.
Take a more unconventional approach by creating a one-sided system. Clients who refer enough people will earn a prize they can give to a friend. You can also provide them with the choice to either keep the item or give it away so the process is more autonomous.
8. Partner Programs
Partner programs are referral programs for businesses and resellers instead of individuals. This arrangement is more personal as it requires you to form a relationship with another company. However, it's highly effective when done right.
Essentially, your partner will recommend your brand as long as you agree to reciprocate. Choose a partner with a similar target audience or offering products that would appeal to at least some of your client base to reap the most benefits.
9. Community Referral Program
If you're looking for something even more unconventional, create a community referral program to reward local businesses, schools and nonprofit groups. This double-sided incentive promotes everyone by garnering brand awareness and revenue.
For example, a pizza restaurant might allow nonprofits to organize a fundraiser at their eatery. The charity will do all the legwork to advertise the event in exchange for a percentage of the sales. It's a win-win.
10. Just Ask
When all else fails, ask for referrals after purchases, deliveries or successful interactions with customer support. These moments provide happy customers the opportunity to promote your brand without getting anything in return. Their overall satisfaction is enough. It just takes you asking to prompt them to act.
Breaking the Mold
Coming up with unconventional but effective ways to reward referrals may take some trial and error. However, developing a successful strategy that breaks the mold is key to ensuring long-term success.
Set yourself apart from the competition by developing wild and wacky incentives. Odds are good they'll attract and retain more customers and boost your bottom line. Those profits will help you expand your referral program and offer even more enticing rewards in the future.
Subscribe to GrowSurf
Get our weekly newsletter for our latest referral marketing guides.
Error subscribing! Please try again.