How to Use Gamification in Your Referral Program
Reaching out to your current customers for referrals is a great way to grow your company. But you're not just asking them for their help, you're asking them to put their social currency on the line by recommending you to their friends and family. Since they're going out of their way for you, it's important that the reward is worth it.
That's where gamification can come in handy!
Gamification is an excellent way of motivating customers to share their experiences with others. In this blog post, we'll show you how you can use gamification in your referral programs to improve customer retention and conversion rates for your enterprise.
What Is Gamification and How Does It Relate to Referral Programs?
Gamification is the process of applying game-design elements and game principles to non-game situations to engage people. You can gamify many things such as referral programs, gamifying entire organizations, gamified marketing campaigns, gamified news websites, gamified customer service portals, and so on.
When you gamify a referral program, you are making sharing recommendations fun by rewarding referrals with points or badges for promoting your product or brand. If referring others becomes gamified, customers might stay interested longer in your campaign because it feels like they are playing a game—plus, they get rewarded for their efforts!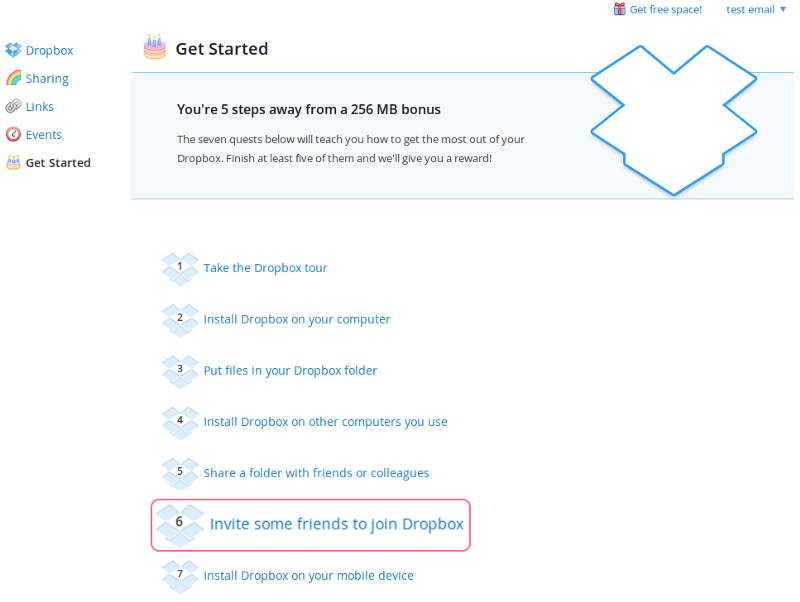 Image source: GrowSurf
A great example of this is Dropbox's famous refer-a-friend program which uses gamification to encourage signups. Users earn points every time someone they've invited joins Dropbox, and reaching higher levels unlocks special perks like increased storage space.
Gamified referral programs perform best when sharing or inviting are as easy and seamless as possible. This is an important aspect of gamification because if your customers have fun, they will be motivated to continue "playing".
Why You Should Leverage Gamification
Gamification is a great way to attract customers to stay interested in your business and become repeat customers.
When each share becomes gamified, the customer has fun with the sharing process and is incentivized to participate longer. It also works for customers because gamifying referrals gives them immediate rewards (points, badges) and long-term benefits (upgrades).
Customers will be motivated to refer others because they want to win more points or bonuses, which means you can potentially increase revenue.
How to Implement a Successful Gamified Referral Program
To  gamify a referral program, it's important that you keep the following four things in mind:
1. Get your customers involved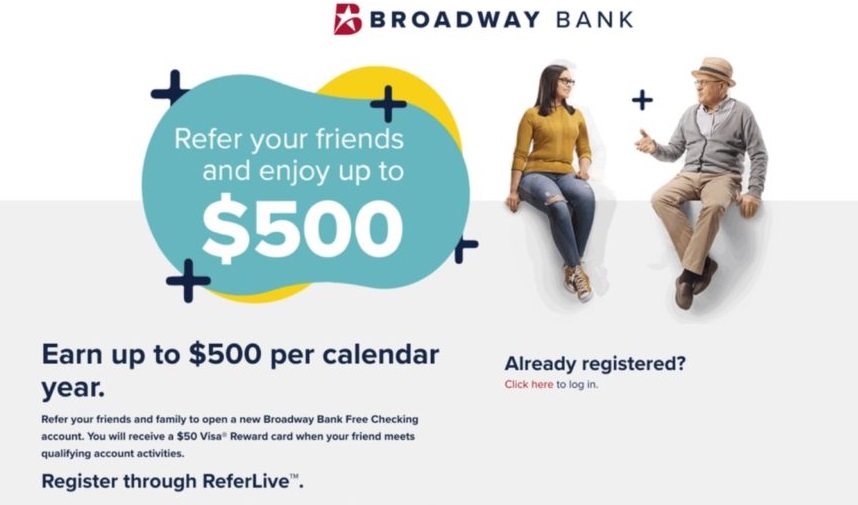 Image source: Retainful
Ask for customer input and make sure they feel like their contributions matter.
Each gamified referral campaign should have some sort of simple goal which will allow you to measure participation. For example, if you're gamifying a customer referral program, your goal might be to send out 100 referrals in 30 days and provide a specific reward for doing so. You can then track progress throughout your gamified referral campaign.
2. Make sharing easy and fun
Make it as easy as possible for people to share with others by offering social-sharing tools such as built-in Facebook Connect support, referral SMS messages, and personalized sharing URLs.
3. Give your customers an incentive
Offer tiered rewards or badges to encourage higher participation. Of course, the reward should be worth it—you don't want people just signing up for a gamified referral program because they're only in it for the badges. Referral incentives can include things like cash prizes, gift cards, account credits and more.
4. Monitor and track progress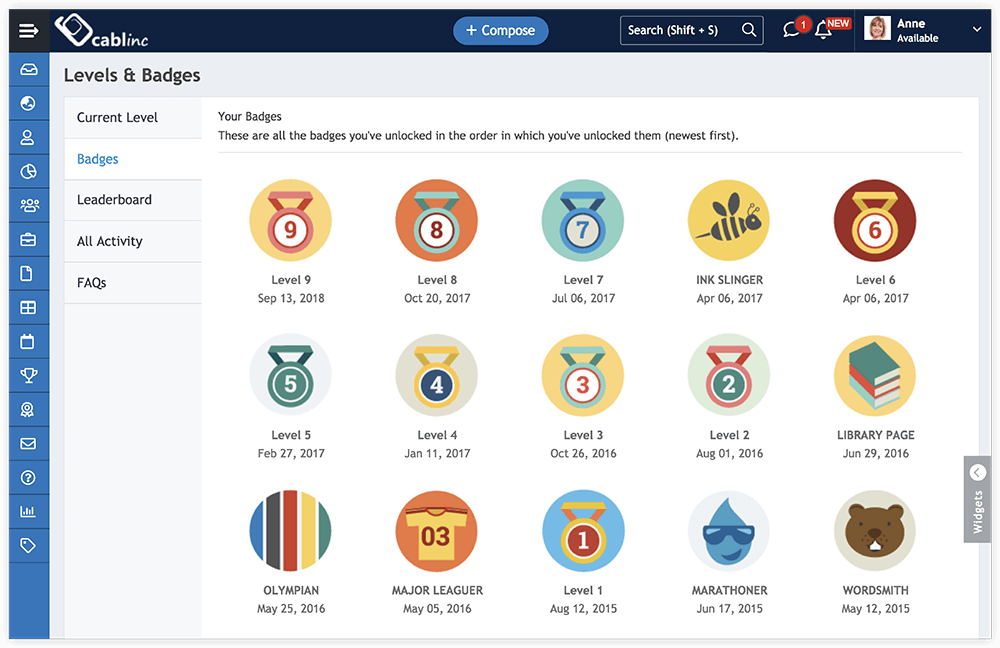 Image source: MangoApps
You can monitor gamified referral programs using different tools ranging from spreadsheets to gamification platforms. Keep tabs on the program's status and see how many badges have been unlocked by customers as well as which features they've enjoyed most. Some of the most successful referral programs are a result of finely tuning which rewards best motivate a customer base to share.
Benefits of Gamification in Referral Marketing
The following are some of the benefits your business could enjoy as a result of incorporating gamification into your referral program:
As each share becomes gamified, customers are incentivized to participate longer while sharing with friends.
Customers will be motivated to refer others because they want to win more points or bonuses, which means you can potentially increase revenue.
Gamification allows for easy customer input through goal setting, where each gamified referral campaign has some sort of simple goal. This makes it easier for companies to gamify their referral programs while still driving results across their business.
Challenges and Considerations When Implementing Gamification
As gamified referral programs grow in popularity, it can be challenging for companies to know where to start.
This is especially true if gamification isn't a part of your company's usual approach or culture. That's why gamification software such as Badgeville, Launchrock, and Bunchball offer user-friendly gamification dashboards that make it easy to set up gamified referral programs and track their progress.
While designing gamified referral campaigns may seem like fun and games—you should still consider the potential challenges involved:
Consider whether gamified referral programs are appropriate for your target audience. Can they handle them, or will it be too much of a challenge?
Ensure the technology behind gamification is scalable so that you can continue to grow as more people share with others. This may require some training on using the gamification platform's dashboards, reports, and other tools.
Gamifying referrals means more work on your end, and this could increase revenue over time. You'll need to plan for what gamification will suit your program's goals the best by thinking about how many levels and badges you will implement.
Examples of Gamified Referral Programs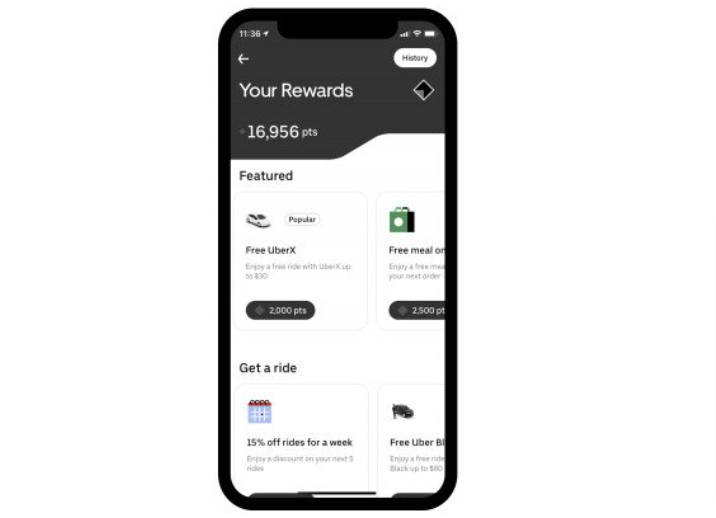 Image source: StriveCloud
The gamification of referral marketing seems to be a win-win for both companies and customers. Here are some examples of gamified referral programs that have had great success:
Create a Clear Path for Customers to Follow by Defining Benchmarks for Them
Customers should see exactly where they are along the gamification path and which badges or items they could then unlock once achieving that particular milestone. Remember that gamified referral programs won't work without incentives, so offer rewards that can help customers achieve their goals, such as discounts, bonus points, free shipping, etc.
Make it known to your customers what they may win for referring a certain number of friends and how many points each referral will get them. Allow customers to set their own goals because creating incentives is important when gamifying referral campaigns. Let customers know ahead of time if there is any chance to win bigger prizes like a new iPhone or a feature in your newsletter after reaching a certain level or goal amount in the gamification.
Let customers know what they need to do to win a prize with gamified referral programs by including all the information on a clear web page or referral program FAQ. This could include how many people the customer needs to refer, where to send those referrals, and how long the referral campaign will go.
Make it as easy as possible for customers to share your products with their friends through gamified referral campaigns by providing them with special offers that they can't find anywhere else. You should also make sure you have dedicated landing pages so that sharing is quick and painless — without requiring users to leave Facebook if they choose to promote your product there.
Gamification is Underutilized
The future of gamification is bright, and it's important that you use this powerful tool to your company's advantage. If you're considering adding gamification into your referral program, make sure that the rewards are meaningful, or else they will lose their appeal. Take care not to overwhelm customers by making them work for too much to get a reward; instead, create clear benchmarks for them, so they know what they need to do next.
Don't forget about customer engagement ! Make sure you provide your customers with an incentive every time they complete one of these benchmarks- even if it doesn't result in getting credit towards their prize yet (such as when someone shares on social media). Allowing people who have completed part of the path access to some kind of reward will keep them interested in your gamified referral program.
Subscribe to GrowSurf
Get our weekly newsletter for our latest referral marketing guides.
Error subscribing! Please try again.