Are you not sure what to include in your referral program FAQs? Take a look at the most common questions people may have regarding your program.
What do I get for referring a friend? How do I track the status of my referrals? How many referrals do I need before I get something? 
These are some of the questions people may have when they join your referral program.
In this blog post, we'll go over some of the most common FAQs about customer referral programs and how to answer them so your customers can refer friends with confidence!
Let's dive in!
Benefits of Having a Referral Program FAQ
A FAQ page is a place where people can find answers to their most common questions. You must have this on your site, so customers know what they're signing up for when joining your referral program!
Bear with me as we explore the top four benefits in more detail:
Saves Your Customer Support Team Valuable Time
If a customer has a question about the referral program and cannot find a FAQ page, they will likely contact you for help. If this happens often, it can use up valuable time from your customer support team who should be working on more business-critical issues. The good thing about having a FAQ is that your support team can simply direct customers to the FAQ page if they get in touch with a question.
Improves Customer Experience
Can you guess what can happen if customers can find the answer to any question that pops in their mind quickly? You'll improve the customer experience significantly.
This will build trust with them, and they will feel safe to refer other people to your program. All of your rules and conditions will be clearly laid out on the FAQ page – a sign that you have nothing to hide from your customers.
Improves Communication
Here's a fact:
Referral programs come with certain conditions that customers must meet. Whether that is the expiration of rewards or who's eligible to be a referral, things can sometimes get quite confusing for customers.
A FAQ page removes that friction and confusion. It informs the customer from the get-go what they can expect.
Increases Conversion Rates
Your FAQ page is an amazing way to increase the conversion rate of your referral program.
How come?
Think about it:
Customers will be more likely to refer their friends and family because they can trust your brand and are happy with how your company handles things.  
Subscribe to GrowSurf
Get our weekly newsletter for our latest referral marketing guides.
Error subscribing! Please try again.
What to Cover in Your Referral Program FAQ
News flash: 
The FAQ for your referral program must be tailored to your customers.
Imagine what it would be like if you just copy-paste the FAQ page of another company.
That wouldn't make much sense to your audience.
It's simple: your FAQ must answer the most common questions YOUR customers are asking. It has to answer questions about the type of rewards you offer, any special conditions the customer should be aware of, the reward structure of your program, the easiest way for the customer to access their referral code, etc.
With that said, it's time to go over some of the most common questions that customers are asking. We have divided the questions into separate sections just to make everything easier to digest.
Under each question, we'll offer a short explanation of what your answer should contain. You'll also find a few examples of how some tech companies have done a great job with their FAQs so that you can do the same thing with yours.
Let's get started! 
Important Details of Your Referral Program
These are some of the most basic questions your customers would have about your referral program. The goal of these questions and answers should be to give the customer a short description of your program. Generally, these questions pop up when a new customer signs up for your program. When answering these questions, just assume that the customer is clueless about the referral program and needs an on-point answer.
What is [your company name]'s customer referral program?
Customers who ask this question simply want to learn the basics of your program, its goal, and rewards.
Consider saying something in the following lines:
Our referral program allows all eligible existing customers to invite their friends to [company name] and earn [type of reward].
The referral program is an easy way to share [company name] with others, rewarding your friends for trying [company name], and you for making a successful referral.
The [name of program] is an exciting opportunity for you to earn cash by referring [company name] to your audience.
Here's a great example from the RingCentral Referral Program FAQ page: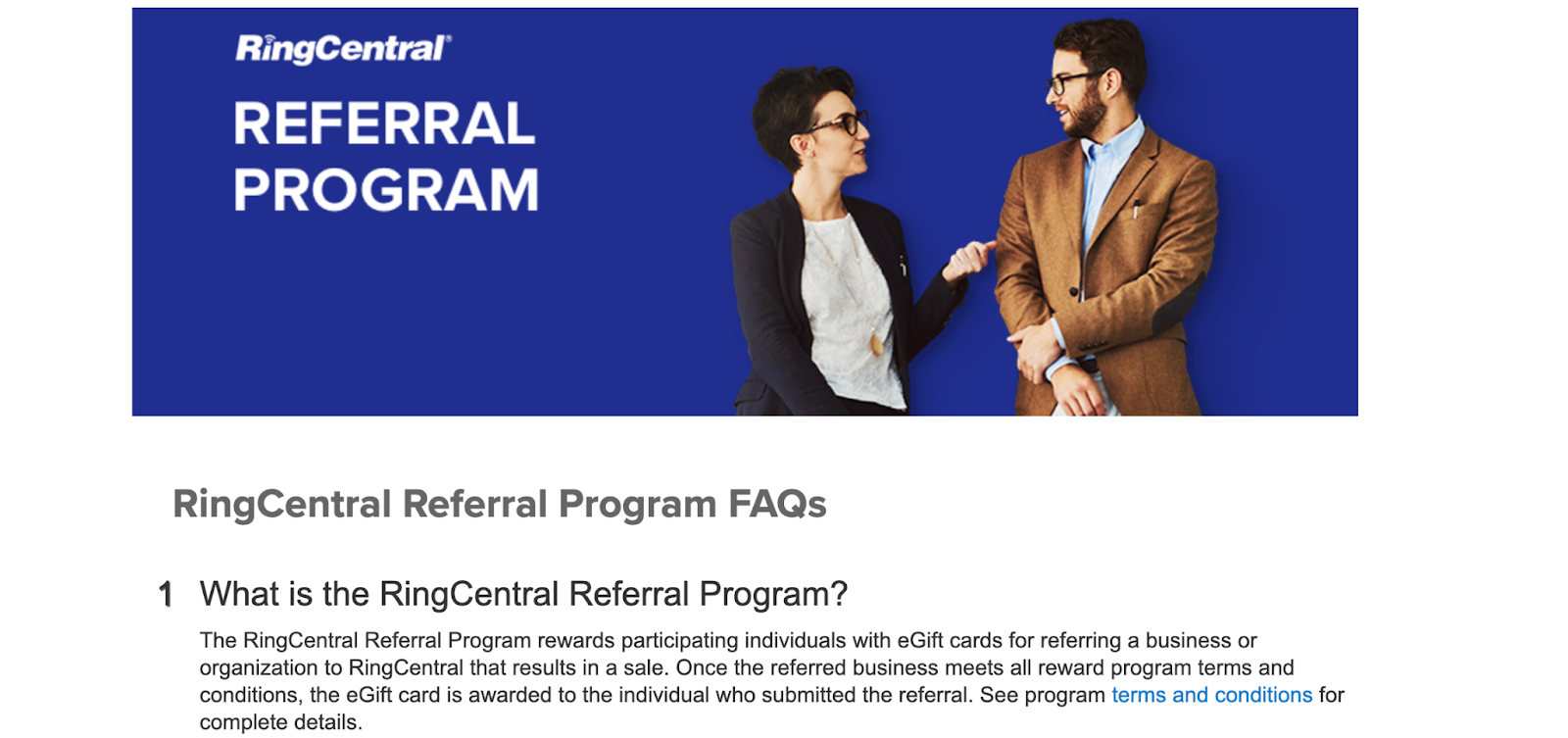 How does the referral program work?
This question should explain the inner workings of your referral program. The customer is interested to learn what's expected of them to receive a reward. It's a follow-up to the first question. Another idea is to join the two questions into one instead of answering them separately.

Consider answering some of these questions:

Where can the customer access the program? 
Do customers have to send a referral link to their friends or a code?
Where can customers share their referral link or code? Social media, email, or across all platforms? 
Are you offering any rewards? Is it a one-sided or a two-sided reward system? 
What are some of the conditions for receiving a reward? 
Explain how the process of referring a friend and getting rewarded is incredibly easy.
Here's an example from the Venmo Referral Program FAQ page: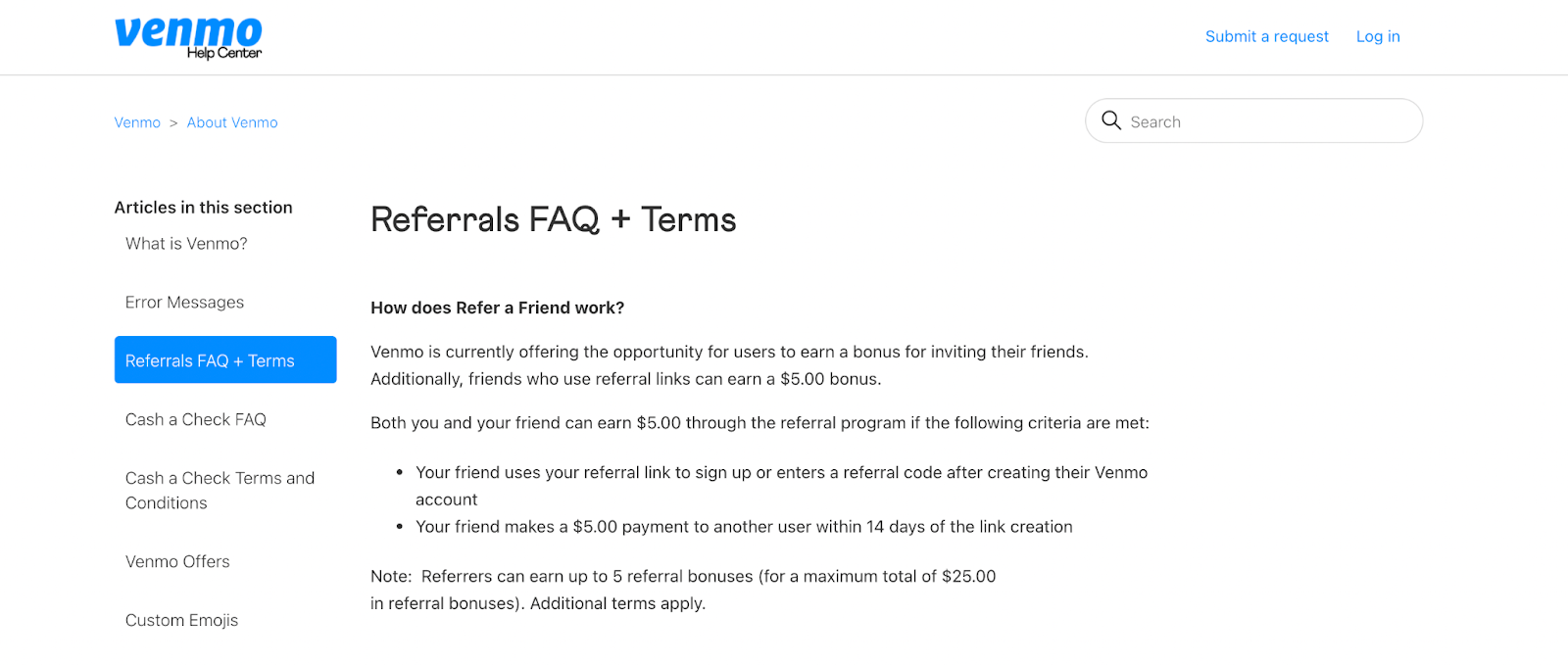 Referral Rewards and Eligibility
Surely, some customers will be excited to share your company with others just because they've been with you for a while and have had an amazing experience with your brand. But a large number of customers would be impatient to learn about the rewards you're offering. So don't skip answering some of the most commonly asked questions your customers have about rewards.
Is there a reward when I refer a friend?
This is where you tell the customer what they'll be getting for referring your brand to their friends and family. Will you be giving away product upgrades or early access to an event? The best type of rewards for your business depends on the nature of your business. If you're having a hard time deciding on referral rewards, here are some tips we have prepared for you.
Will my friend receive a reward too?
Here's something that might interest you: two-sided programs are a powerful psychological trick. Not only does the referrer get a reward, but their friend will also be rewarded for accepting the referral. So if your referral program is two-sided, let customers know.
How and when will I receive my individual reward(s)?
How will the customer receive their reward? Will you be sending them a cash reward through PayPal or a gift card through email? Or will you be sending them discounts via text messages? Or will their account be automatically upgraded to a more advanced monthly plan? Let them know so that there's no confusion.
Here's an example from the SurveyMonkey Referral Program FAQ page: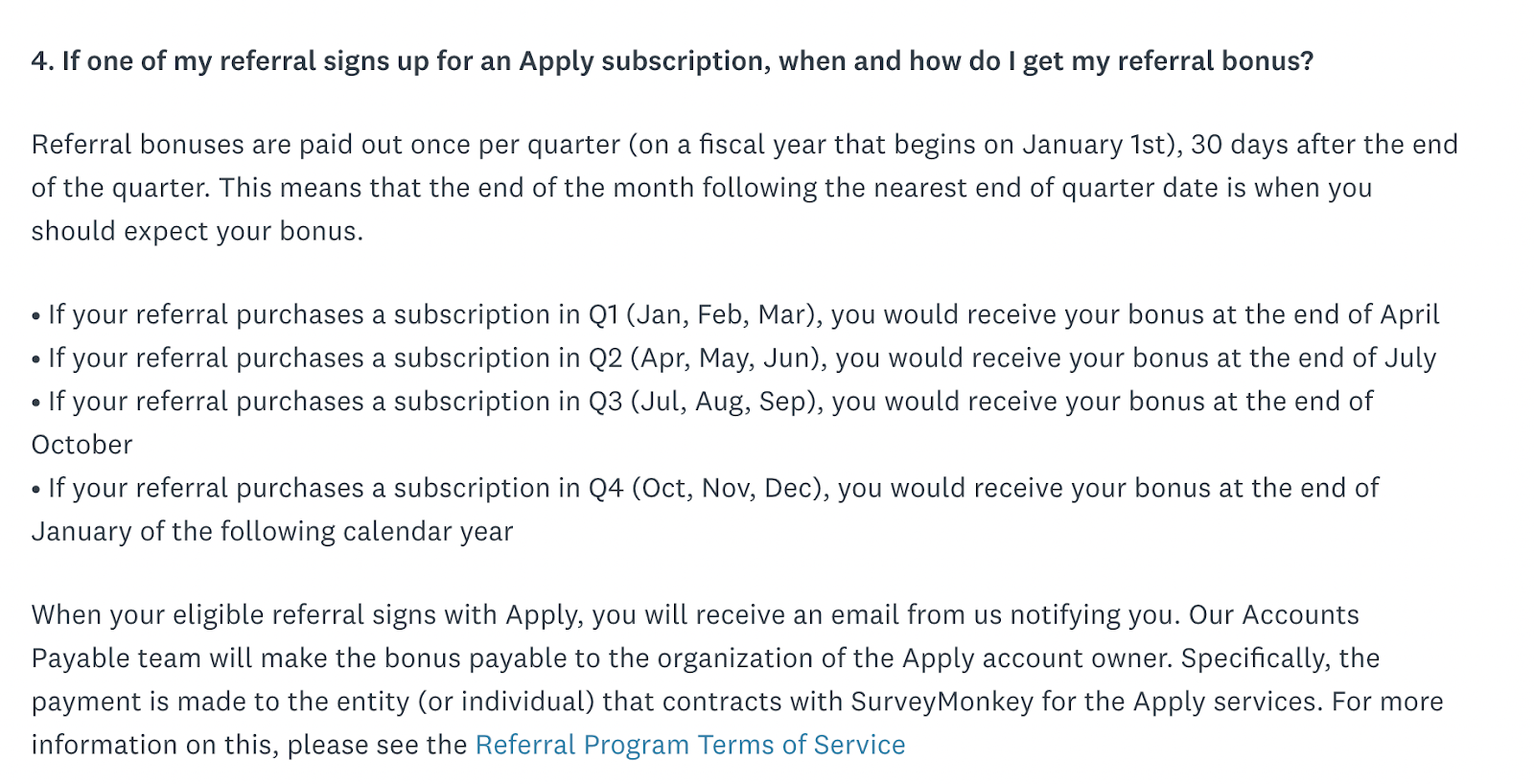 Do any of the rewards expire?

This is another question that often pops up in customer-customer support conversations. It's simple: the customer wants to know whether their reward has an expiration date. This usually applies to gift cards and vouchers.
Is there a limit to how many friends I can refer or the rewards I can earn?
Inform your customers whether there's a limit to the number of referrals they can send or the rewards they can earn. Letting them know when they can no longer receive any more rewards can help you avoid any disappointment.
If there's a limit, does it apply on a monthly basis or yearly? Is it an all-time limit? These are all important details you have to highlight in your FAQ section.
What conditions must referrals complete for me to earn the reward?
Here's where you outline any conditions regarding your referral program. In most referral programs, simply sending a referral link to a friend doesn't count as a successful referral. Successful referrals are those where the referee makes a purchase or creates an account, for example, although it varies from company to company.
The customer may also want to know the conditions regarding some of these questions:
Will my friend have to use the link that I specifically provided so that you can associate me with the referral?
My referral forgot to use my referral link. Is there a way to track it back to my account?
What happens if my friend cancels their subscription or deletes their account?
Can I receive payment for previous customers I referred before the Referral Program was launched? 
Outline your program's specific conditions to avoid confusion and miscommunication between you and your customers. Ensuring they are aware of the conditions helps avoid disappointment and improves the custom experience considerably.
Here's how Payoneer handles that question: 

Who is eligible to be a referral?
Not everyone will be eligible to be a referral. When your customers sign up for the program, let them know who qualifies as an eligible referral.
Does the referral have to be a new customer who has never purchased or used your brand?
Are people who have used your product/service in the past but currently hold an inactive account eligible for a referral?
Does the referee have to have a unique email address that has never been referred before? 
What happens if the referee has been referred before but has never accepted the referral? 
Or is everyone eligible to earn rewards? 
Sharing Referral Codes and Links
Okay, your customers have learned everything there's to know about rewards and eligibility. But what happens after that? How do they send a referral? Can they track the status of the referral? These are all questions that your FAQ page should contain.
How do I refer friends?
You want to make it easy for customers to refer friends. But not only will you have to make it easy for them, but you also have to highlight how easy the process is. Tell your customers what they'll have to do to refer a friend. Usually, that's by sharing a unique referral link or code in order for your company to track the referrals. They'll probably like to learn all the ways they can send a referral (e.g. via email, social media, text, or other methods).
Where can I find my referral link/code?
Will customers have to generate their unique link on their own, or will you do it automatically for them? Where can they find the link or code? Make sure you answer these questions in your FAQ section to give customers peace of mind. Also, don't forget to highlight the ease of generating a link or code – customers don't like too much friction. Generally, customers' referral codes or links can be easily accessed from the user dashboard or automatically appear when they share a referral link from the dashboard.
HoneyBook did a fine job answering this question on the FAQ page: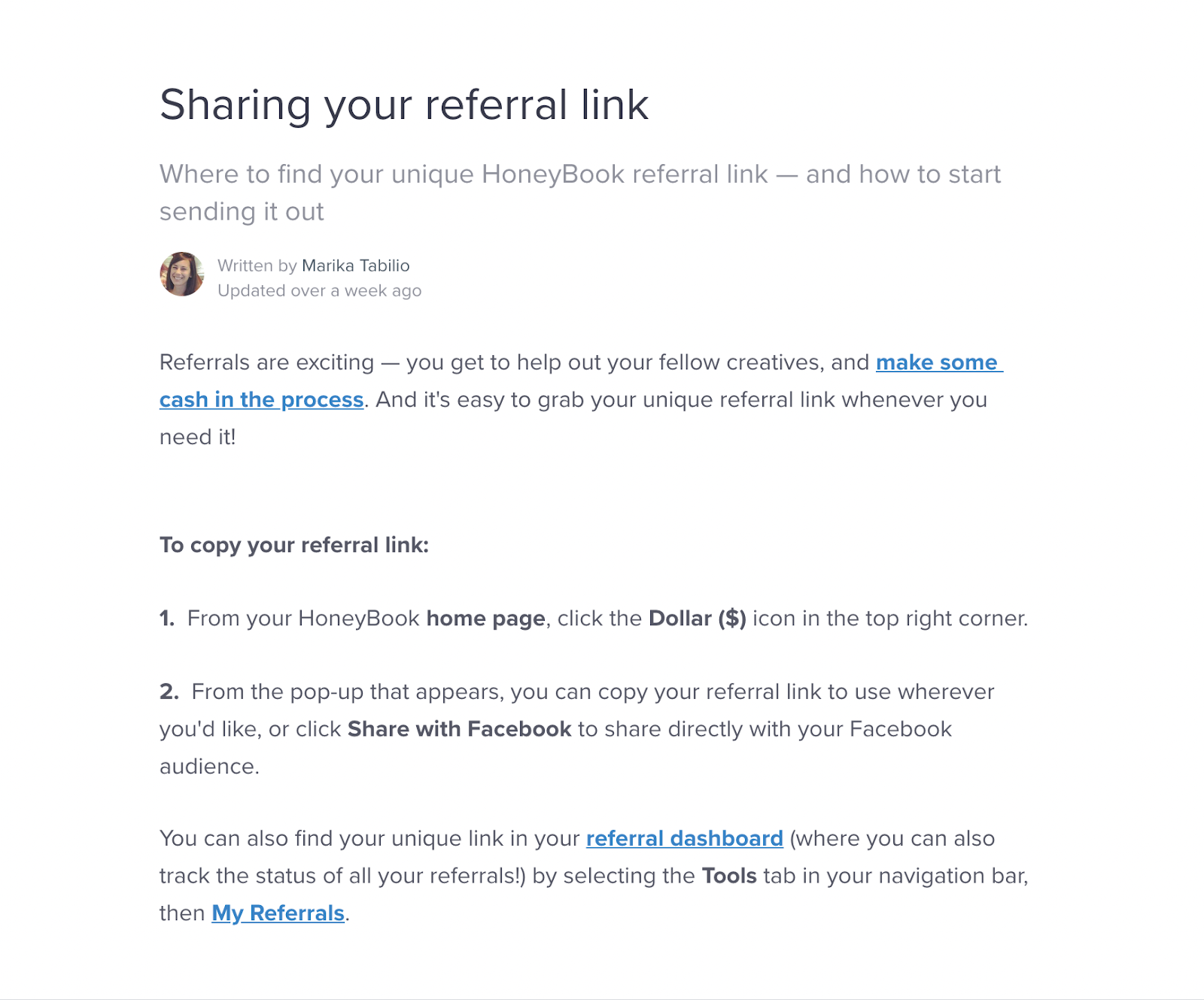 What if my referral forgets to use my referral link?
It can happen: a friend will forget to use the unique referral link or code the referrer sent. You have to explain to your customers that if this happens, there's no way you can track referrals back to their accounts. Confirm that in order for a customer to be eligible for a reward, the referral must sign up using their unique link.
Where can I share the referral code/link?
Here's a fact: referral codes and links can be shared anywhere. But if you don't want them shared on a certain platform, let customers know. For instance, you may allow customers to send referrals through Facebook and Twitter, but not through Reddit. Clearly state the conditions and explain the consequences if someone plays against the rules.
Referral Tracking
The heart of a referral program is the rewards. And once your customers send a referral, they'll be impatient to know when their friends have met the conditions required for them to receive the reward. These are two of the most common questions your customers may have regarding this concern.
How do I know when I've successfully referred someone?
Will you notify customers when one of their referrals has been successful? For example, you may say that they will receive an email when a friend successfully makes a purchase or takes the desired action, and their reward will be sent to their account within five business days.
Is there a way for me to track the status of my referrals?
Keeping track of how referrals perform can motivate people to follow up with their friends and send more referrals to get even more rewards. So, if you have a referral dashboard where customers can check the status of a referral, let them know. What's more, if you have different statuses on your dashboard, explain to customers what each of those statuses means to avoid confusion.
Here's how Postscript has done it on their website: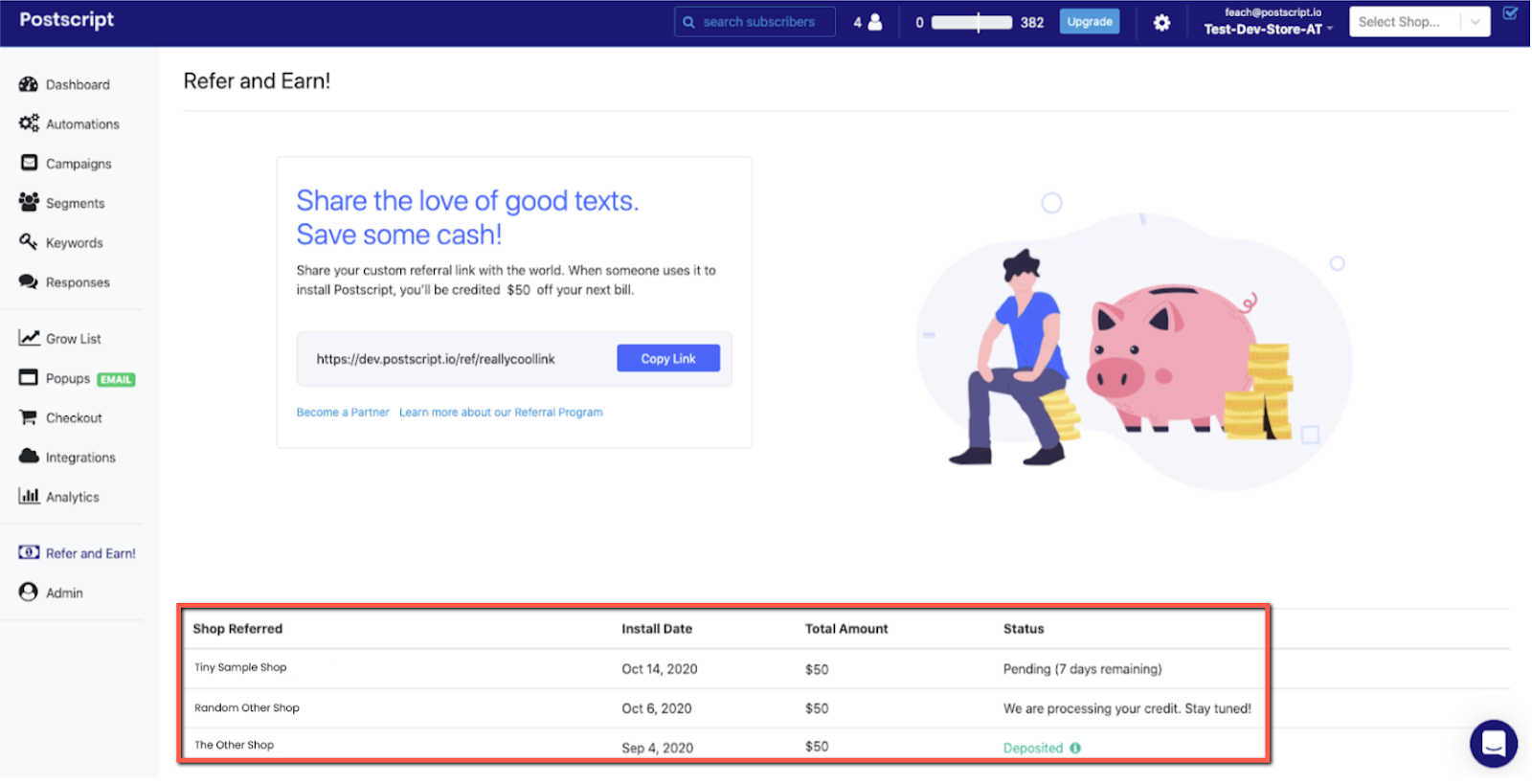 Customer Support
There will be cases where the customer will have a specific question that's not included in your FAQ. When this happens, you have to give them a way to get in touch.
Where can I reach out if my question wasn't answered here?
Consider including this as the last question in your FAQ. Inform customers how they can get in touch with customer support, whether that is by email, phone number, or chat.
The Main Takeaways
In a nutshell, be sure your FAQ section answers the most common questions customers may have so there's no confusion. Let people know how your program works, any conditions surrounding the program, and what they'll get for referring their friends. Finally, if someone has a specific question about your program, be prepared to leave instructions about the best way to contact customer support.
Now that you've learned what to include in your referral program FAQs, it's time to get started.
Launch your first refer-a-friend program in a jiffy with GrowSurf. Start your free 14-day trial!
Subscribe to GrowSurf
Get our weekly newsletter for our latest referral marketing guides.
Error subscribing! Please try again.