B2B SaaS Marketing Strategies to Increase Revenue
B2B SaaS marketing can be a tough field to compete in. 
This is because it has a much more competitive landscape than B2C marketing. In fact, for every B2C company, there are 1.6 B2B companies.
Considering growth is critical to success, B2B SaaS companies need to go above and beyond to convince customers their software is a high-quality solution that can fix their problems.
And one of the best ways to take your company to the next level, stand out from the crowd, and experience growth is to leverage the most effective marketing strategies available ( think: content marketing, referral marketing, free trial, etc. )
The marketing techniques that used to work a decade ago are no longer effective, considering most of the action happens online. All of the marketing strategies we'll mention below happen in the online world.
With that said, it's time to go over some of the best B2B SaaS marketing ideas that you can use to increase revenue for your company.
Launch a Customer Referral Program
Referral programs are one effective B2B SaaS marketing technique for how SaaS businesses can quickly and effectively grow their customer base.
First of all, setting up a referral program with software like GrowSurf doesn't require much time. Secondly, it comes with powerful ROI.
You can use a customer referral program to incentivize your customers with a cash reward if they successfully refer someone who becomes a new customer. But cash rewards are only one idea to incentivize your customers. B2B SaaS companies have plenty of other options at their disposal, some of which are more attractive than plain cash rewards.
For instance, if you have customers using the freemium version of your service, a good strategy would be to reward them with access to your premium features, also called service upgrades.
Let's take Todoist as an example. They applied this strategy to get a steady stream of referrals. When a referrer shares their unique referral link with someone, the referred will receive two free months of the Pro plan if they sign up or log in. If the referred person purchases a yearly Pro subscription, the referrer will get a free trial of Pro for two months.
There are a few reasons why referral programs work so well for SaaS B2B businesses :
Lower customer acquisition: According to research, the average cost for acquiring a new customer for B2B SaaS companies is $205-$341. Referral marketing is the most cost-effective acquisition channel, making it an attractive option for SaaS companies. Basically, you're leveraging your existing customers to expand your overall customer base.
Increased Customer Lifetime Value: Referred customers tend to make purchases more often, are more loyal, and make more referrals. The CLV of referred customers is greater than non-referred customers. One study by the University of Pennsylvania's Wharton School discovered that referred customers generate 25% higher profit margins.
Increased conversion rates: Some studies report that B2B companies with referrals experience a 70% higher conversion rate. Referral programs work so well to improve conversion rates because they help foster relationships, spread word-of-mouth, and enhance the online experience by providing rich content outside of your company website.
Lower churn rate: According to a study by Deloitte, referred customers have a 37% higher retention rate than non-referred customers. This means if you invest time and effort into implementing a referral program that works, you'll manage to lower your churn rate.
Brand awareness: Referral marketing has the potential to be one of the most powerful methods to promote your brand. As the number of people who talk about or share information about your company grows, the number of customers will also improve.
Many B2B SaaS businesses have jumped on the bandwagon and created their customer referral program. Zoom, Airtable, Trello, Dropbox, Evernote, Notion–they're all doing it!
Airtable's referral program works on a "pay it forward" basis. When you refer a friend, they get 100 credits to start. If they continue to upgrade after that, they get 25 credits every time. Even better, the entire process is automated, so people don't have to do anything except share the good word to those who will find the most value in upgrades.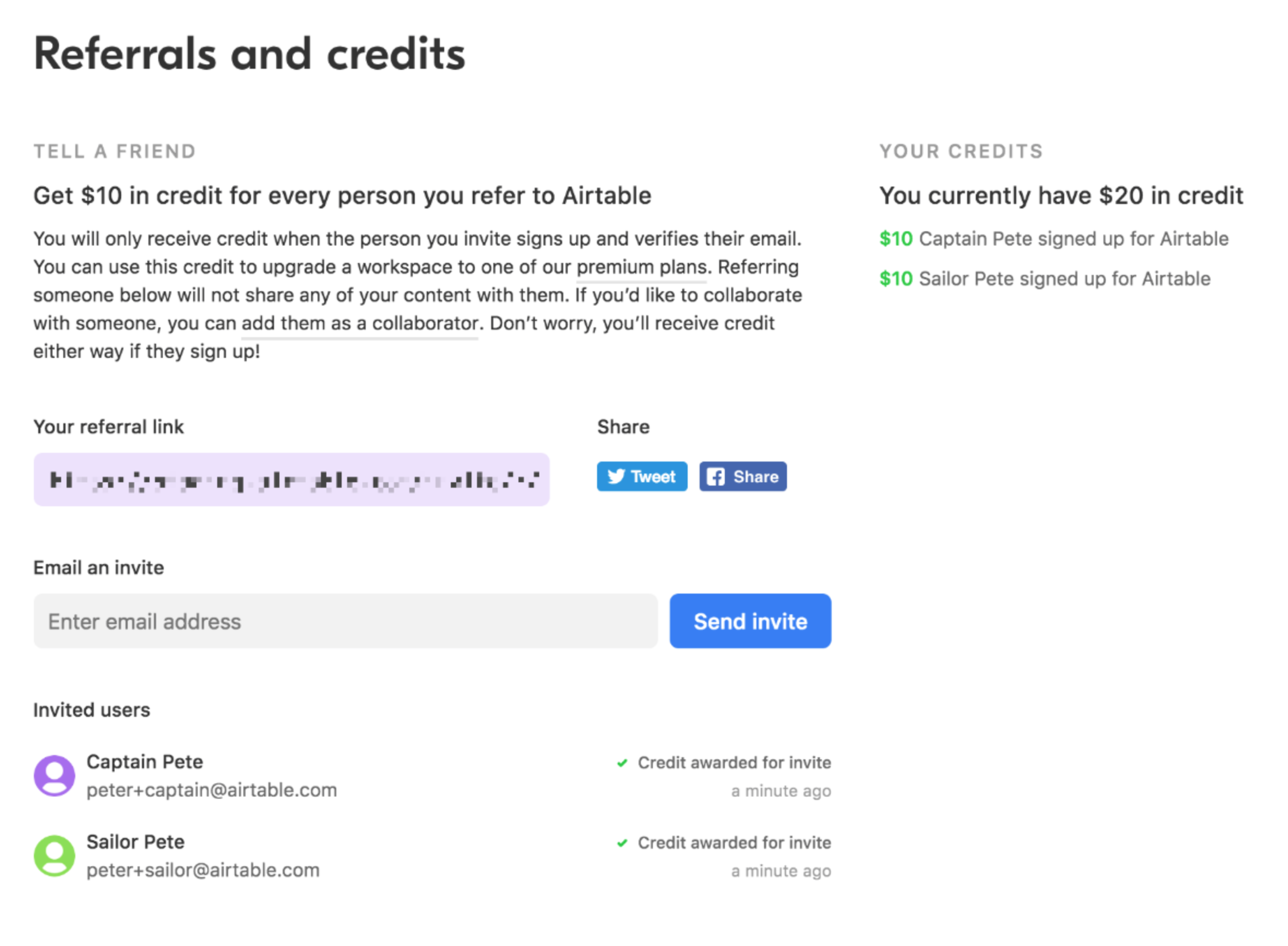 Offer a Free Trial
The second B2B SaaS marketing strategy you should consider is offering a free trial.
Offering a free trial is a great way to convince people who are on the fence about purchasing your service. Maybe they're unsure whether your platform is beginner-friendly and intuitive. Perhaps they're skeptical whether they'll make use of all the features.
By giving your customers a taste of your best features, they'll be more likely to continue to use your service once the trial has expired. They'll be getting so much value from your premium service that they can't imagine being without it.
Most B2B SaaS companies let users experience the full capabilities of their software to get them hooked. Let's take Copper as an example. This CRM software company offers a 14-day free trial that lets users test-drive all the features from their Business plan, which is the highest pricing plan you can subscribe to.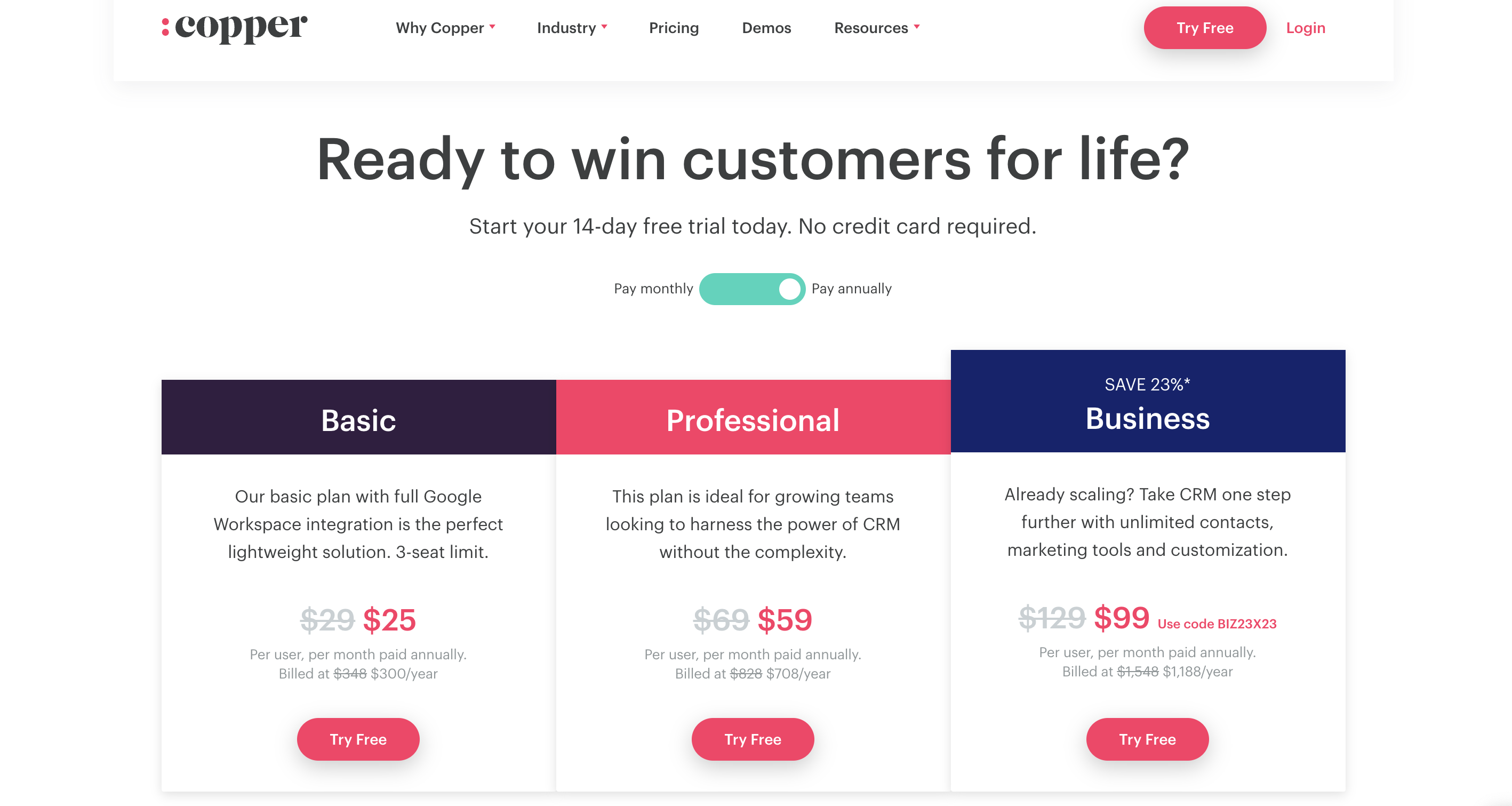 Produce Blog Content
If you want to compete in the crowded SaaS content marketing space, you need to roll out consistent, high-quality content that speaks to your SaaS customers and is keyword optimized. Although blog content is aimed at customers that are in the Awareness stage of the sales cycle, blog posts can move potential customers along the sales funnel.
There are many reasons why blogging just works.
For one, people love consuming content. If the blog content is educational and solves their problems, you'll gain a steady traffic flow. And more traffic means more leads. B2B SaaS businesses that provide valuable content are seen as valid sources of trusted information. Chances are, people will be coming back to your blog every time they are faced with a problem they believe your blog will answer.
Let's take Trello as an example.

If we visit their blog page, we'll see how their content is nicely organized in various categories, like Product, Use Cases, Productivity, Remote Work, and Enterprise. On the right-hand side, we can see all the Editors' Picks. This is another tip to beаr in mind: make it easy for readers to explore your content. Categories are a common way for visitors to navigate through your blog. Attractive designs and reading time can also entice readers to stay on your blog page.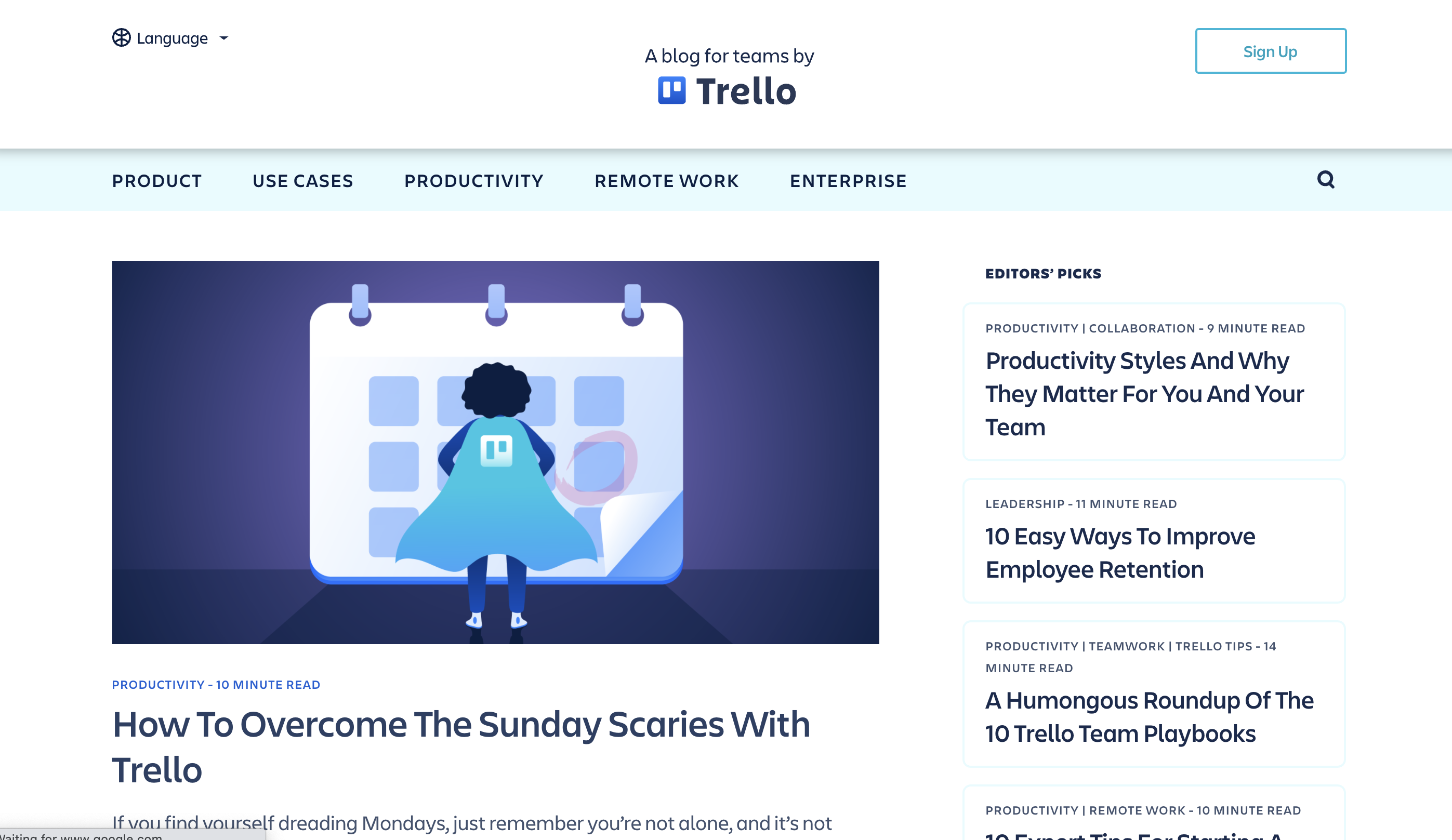 Create Lead Magnets
Now that you've created a blog page and started gaining traffic, it's time to start collecting leads.
Because if you aren't generating leads, you aren't getting any new sales opportunities.
And the easiest way to get leads is through lead magnets. An example of a good lead magnet would be gated content. In short, you produce high-quality content, such as a downloadable ebook that is hidden behind a form where people must submit their email address in order to receive it.  
You can then use these email addresses for your email marketing strategy.
It's a win-win situation! 
The secret to creating an effective lead magnet is to understand your prospects' pain points. For example, let's say you're an online insurance company. You can combine several of your blog posts into an ebook, for example:
"Tips for Starting an Online Insurance Company"
"5 Tips for Promoting Your Online Insurance Company"
"Step-by-Step Guide for Growing Your Online Insurance Company"
These posts can be compiled into an ebook titled: "The Insurance Startup Guide: Everything You Need For Success."
In addition to ebooks, here are a few other lead magnet SaaS marketing ideas:
Case studies
PDF Guide
Email Course
Checklists
Resource Library
How-to guides
Mini eBooks
At GrowSurf, we like to showcase our successful referral programs and offer them on our website for anyone to study in exchange for an email address.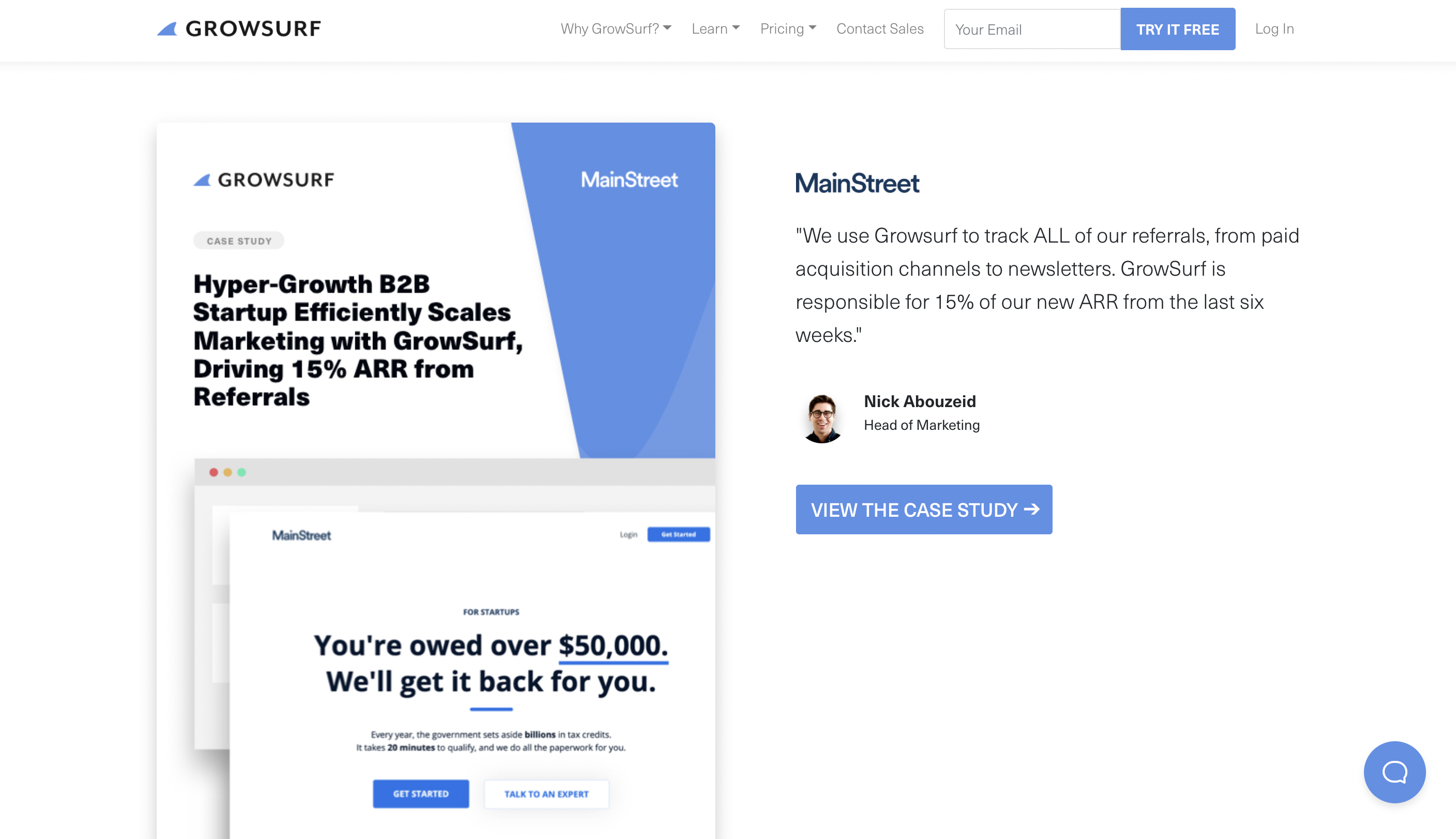 Offer Annual Pricing Plans
One of the best ways to increase revenue for your company is by offering annual pricing plans. Annual pricing plans are not only beneficial for customers, but they also let you establish a predictable revenue stream.
One of the priorities of SaaS businesses is customer retention, which increases profitability. Customers who churn waste a large portion of the money you invest in acquiring them.
A monthly subscription is ideal in terms of offering customers the flexibility to cancel at any time. But annual pricing plans guarantee the customer will be around for at least 12 months.
The major benefit of annual plans is that they allow B2B customers to purchase a yearly subscription to your service at a discounted price. For example, instead of paying $20 per person per month, your SaaS customers can pay only $15.
In addition to profitability, annual plans give you more room to engage with your customers and build a long-lasting relationship with them.
A good tip is to be transparent with your monthly and annual plans. Let customers see the difference in price if they opt for the annual plan compared to the monthly. You can even highlight the price difference between the monthly and annual plans.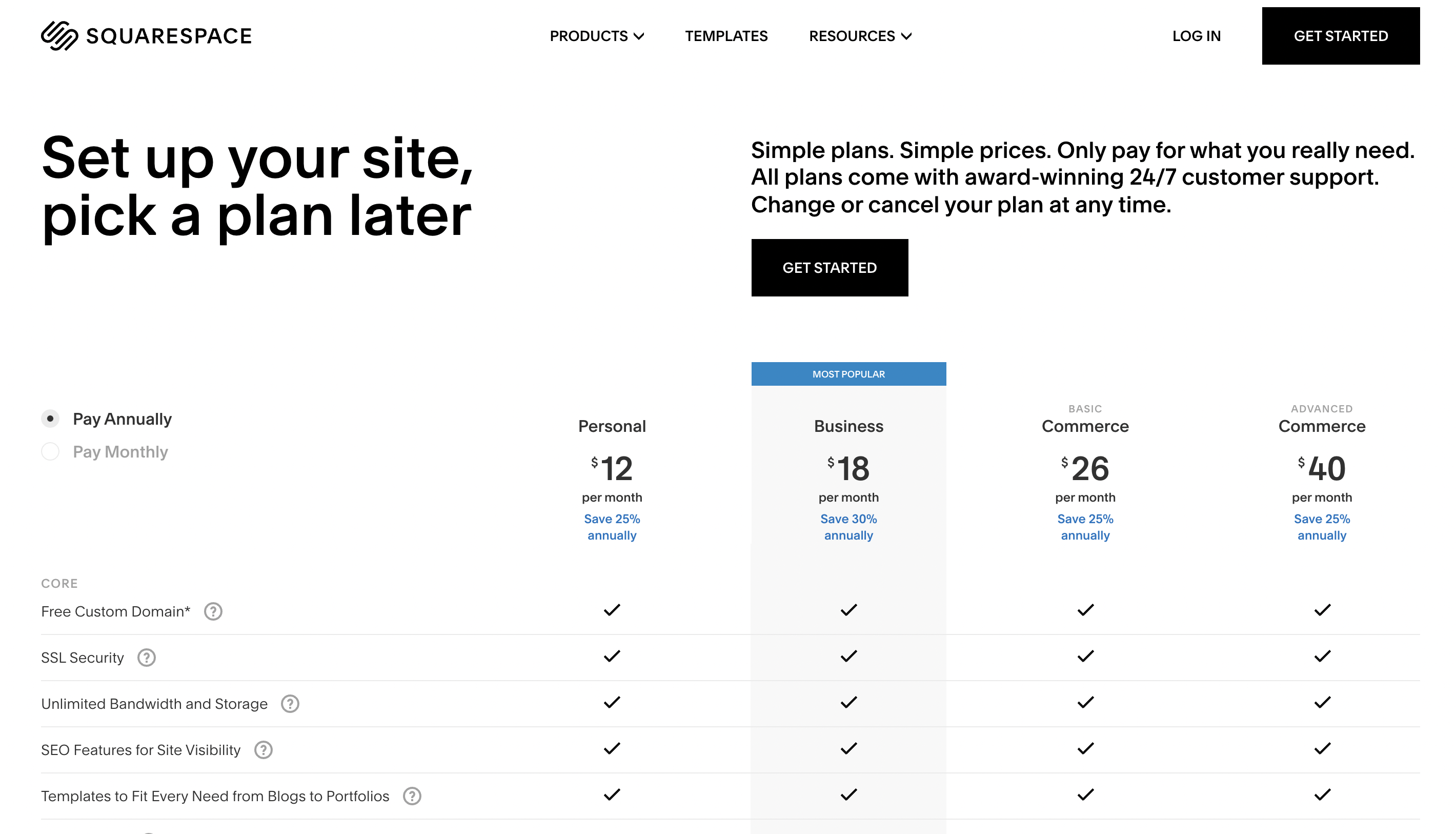 Promote Your SaaS on Software Review Sites
Get this:
9 out of 10 consumers read online reviews before making a purchase.
Stats like this only confirm the importance of reviews in a consumer's purchase journey.
What existing customers say about your company can influence whether other people purchase your service or not. Being present on the most popular software review sites will help consumers in your market locate you and can improve your credibility and conversion rate.
The power of customer reviews lies in their ability to resolve any doubts potential customers might have regarding your business that's preventing them from converting. Reading how your service has helped other businesses can motivate people to give your business a shot.
What's more, brands who know how to generate feedback or appear on software review sites typically have higher social currency than brands that don't.
With that said, some of the best review sites for B2B companies are:
Capterra
G2 Crowd
SaaS Genius
Software Advice
TrustRadius
Get App
If your company is not on these review sites, it might be the ideal time to reach out to each review site with your service's specifications and value proposition.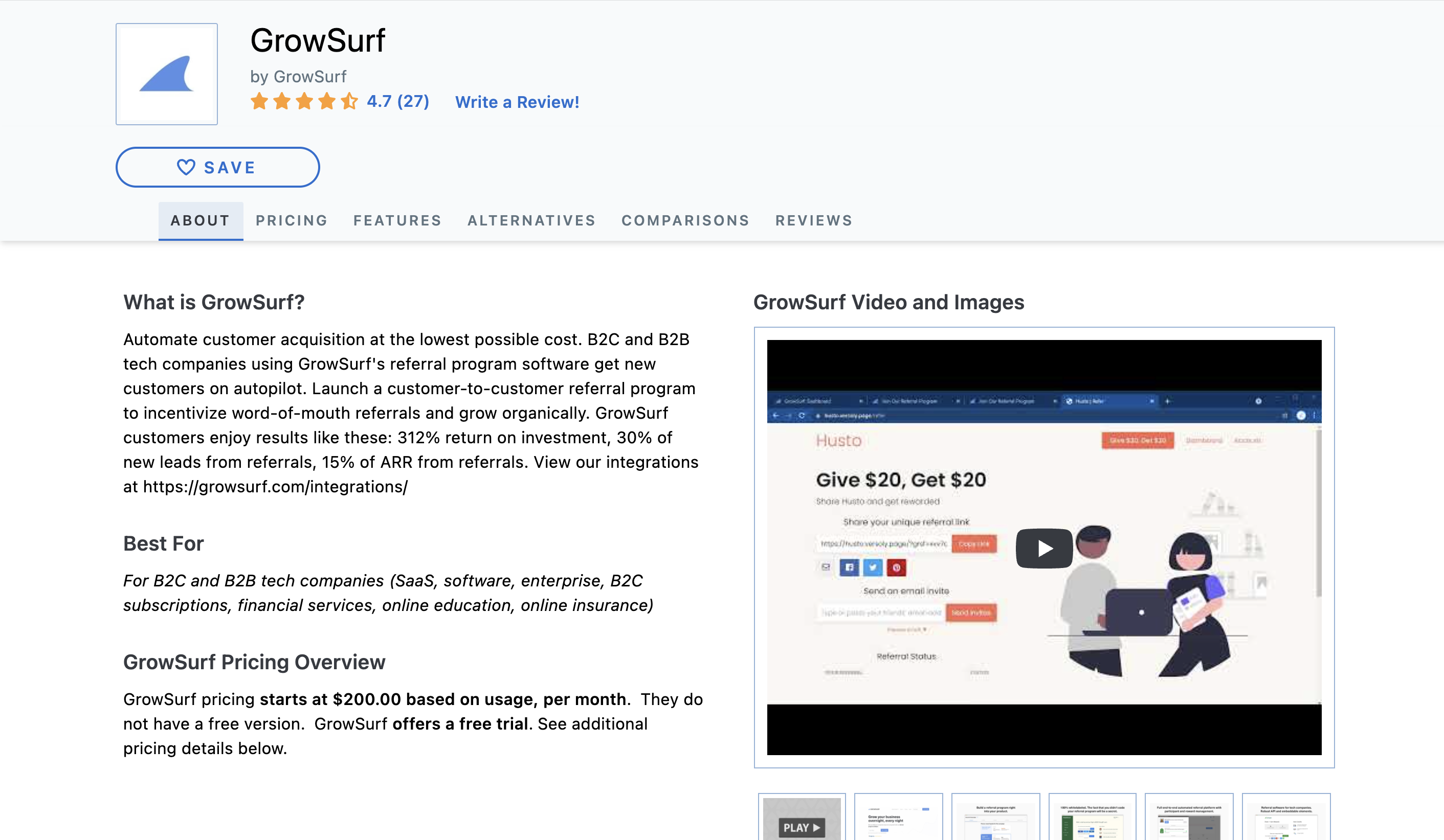 Optimize Your CTAs
CTAs have two major purposes: help visitors find their way around your website and persuade them to convert.
Some visitors will land on your site to learn more about your service features. Others will wish to see a product demo video. Adding CTAs will help visitors navigate to the specific pages of your site and see your offerings.
The wording on your CTAs will depend on the prospect's position in the marketing funnel. For instance, if they're in the awareness stage, "Read More" would be a good CTA. If they're in the decision phase, "Schedule Demo" is a better fit.
The copy in the CTA should always answer the following question, "Why should I click this button?" Prospects should be able to understand what will happen if they click on the button.
The best CTAs are short and clear, ranging from one to seven words.
And where should you place your CTA?
Statistics show that 37% of websites keep the CTA on the right side, while 29% keep it in the middle.
B2B SaaS companies most commonly use the following CTAs:
"Get 14 days trial of X"
"Get pricing"
"Get Started"
"Sign up"
"Try X for Free"
"Get a Demo"
"Learn more"
The best pages to add CTAs include the Homepage, Product page, and Pricing page. For instance, your Homepage CTA can say, "Get Started," "Schedule a Demo," or "Learn More." 
People who land on your Product page are probably those who have decided to buy or are considering to buy. The CTAs on these pages should appeal to both types of visitors. Good CTA examples are "Try for Free," "Request Demo," and "See All Features."
When it comes to your Pricing page, the best strategy is to add multiple CTAs. You need a CTA button next to each of your pricing plans.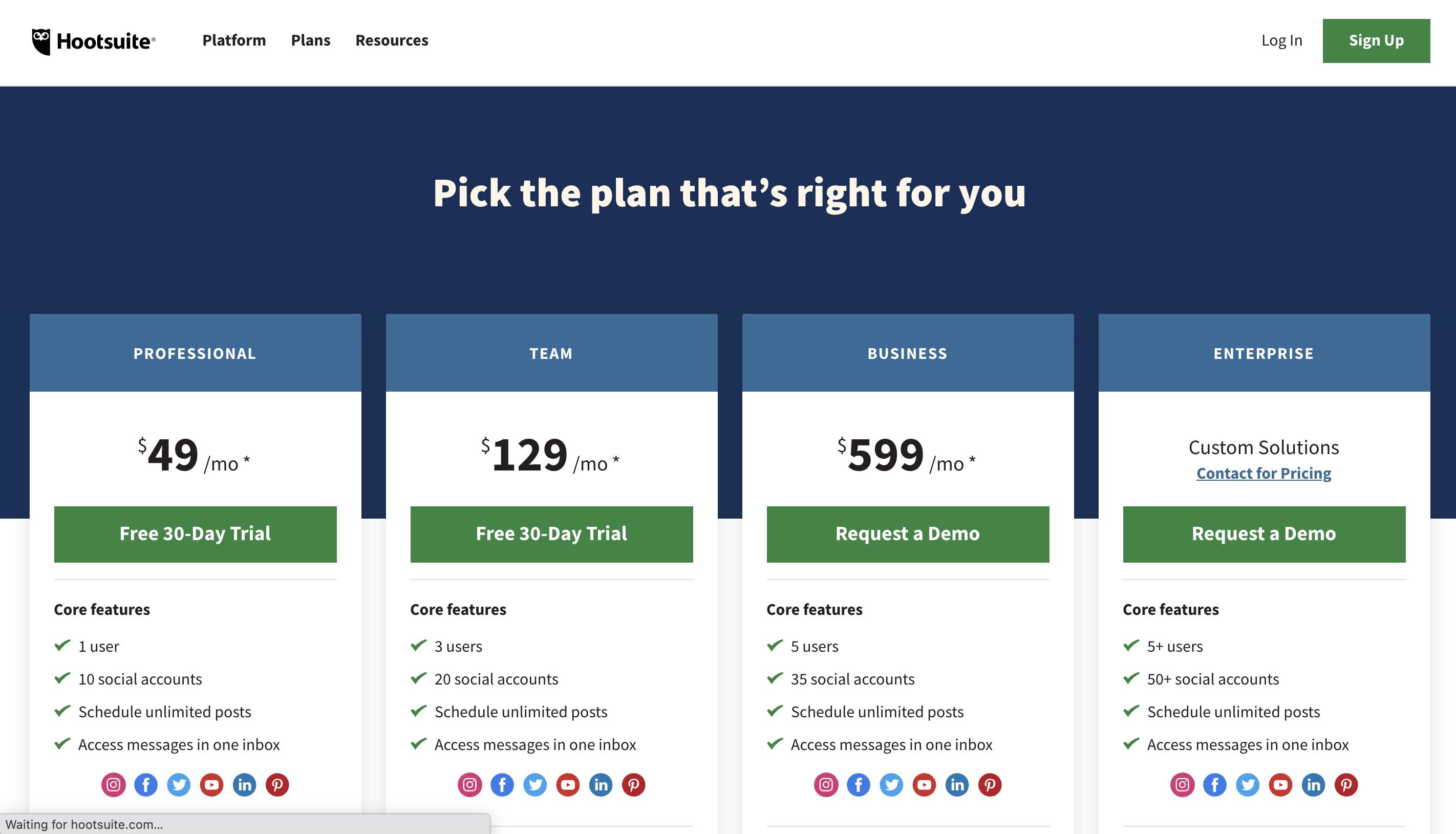 Improve User Onboarding
First impressions are crucial. Whether it's about romance, friendship, or business, they set the tone for how the relationship will unfold.
The same thing applies when it comes to the user onboarding process. Do it right, and you're set for a long-lasting relationship with your customer. Do it poorly, and it won't be long before a customer churns.
Considering B2B SaaS businesses use a recurring revenue business model, you must constantly provide a seamless experience.
This is the final B2B SaaS marketing strategy:
Make the user onboarding process short, sweet, frictionless, and personalized.
Tailoring your SaaS onboarding process to specific user personas can make your onboarding more effective and relevant.
Another way you can impress users is by using prompts that will guide them through the core processes. For example, if it's a referral program software, you can teach them how they can create their first referral program. Make sure you're helping them solve a problem rather than impressing them with your advanced features. Consider breaking the onboarding process into smaller stages.
And here's another tip: ask for users' feedback. Don't wait a few weeks before you reach out, asking for their feedback. They might be facing difficulties the first week of their onboarding, so the sooner you reach out, the better. It's better to convert unhappy customers to happy, instead of having them complain about your service on review sites. You can either send them an automated email or reach out via phone.
Asana is a great example of amazing onboarding. When a new user starts using the service, they get a series of four emails called the "Getting Started Series." These onboarding emails are intended to teach customers how to use a specific feature and contain a clear CTA that invites customers to try that feature instantly.
After the initial onboarding emails, Asana continues sending emails to its new customers that explain the more advanced features of the platform.
And get this:
New customers even receive an email from the Sales Department at Asana, offering them a demo of the Asana Premium/Business plan.
It might not seem like much, but this can make customers feel more valued.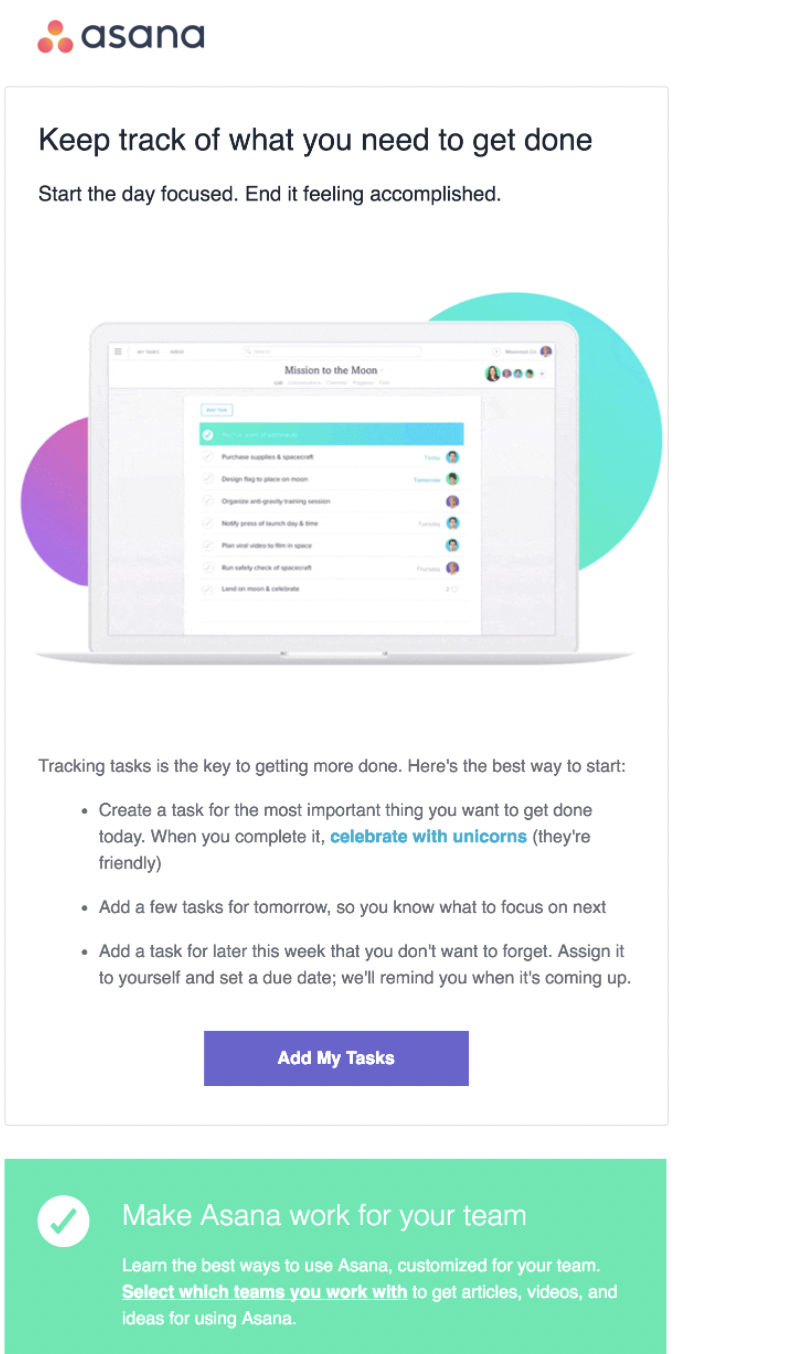 Key Takeaways 
The B2B SaaS marketing ideas outlined in this article will ensure you get quality leads and generate more customers. With an effective SaaS marketing strategy in place, you'll be able to reduce churn and grow your company sustainably, continually onboarding new customers and retaining your old ones.
To sum up, the best B2B SaaS marketing ideas that you can use to increase revenue for your company are:
Launch a customer referral program to grow your customer base quickly and effectively.
Offer a free trial to convince people who are on the fence about purchasing your service.
Produce blog content to gain a steady flow of traffic.
Create lead magnets to generate new leads.
Offer annual pricing plans to establish a predictable revenue stream.
Promote your SaaS on software review sites to improve your credibility and conversion rate.
Optimize your CTAs to help visitors find their way around your website and persuade them to convert.
Improve user onboarding to leave a positive first impression and avoid customer churn.
Subscribe to GrowSurf
Get our weekly newsletter for our latest referral marketing guides.
Error subscribing! Please try again.