Referral Marketing is a Perfect Fit for SaaS
SaaS referral programs are a great way to win over new customers by offering existing consumers rewards when they refer someone new to the company. This acquisition channel can be incredibly powerful and it comes with little-to-no barriers to entry.
Referral programs are one method SaaS businesses can use to grow their customer base quickly and effectively. Setting up your own referral program with software like GrowSurf doesn't require much time and comes with powerful ROI, making it an excellent way to grow your company. Referral software can be an excellent addition to any tech company's existing marketing efforts, bringing overnight growth.
Why do referral programs work so well?
Referral programs make customers feel appreciated and incentivize them to share their experiences with friends and family that are likely to enjoy your brand just as much as they do.
Did you know that the customer lifetime value (LTV) of a referred customer is 16% higher than the norm? And that a study by Wharton found that the churn rate of referred customers is 18% lower than other channels?
The secret to a successful referral program is to create an effective incentive structure that motivates customers and prospects to share their experience with your product or service with everyone they can. Referral incentives come in many shapes and sizes, so it's important you choose the one tailor-suited to your target audience.
Why should SaaS companies launch referral programs?
With no-code tools soaring to new heights in 2021, software is becoming a more and more competitive landscape. SaaS companies are finding that they need more than just a solid product to stay ahead of the curve in this highly dynamic market. This also means SaaS companies have additional costs to deal with – and one of those is acquiring new customers.
In fact, customer acquisition costs are expected to continually rise in the coming years. This is especially true for Facebook advertising, since the iOS 14 update saw a large portion of users opting out of targeted advertising altogether.
Referrals are one of the most cost-efficient user acquisition channels and will continue to be for many years to come. If you're working in tech, now more than ever, a referral program is ever more important for acquiring new business.
Let's dive into what a successful referral program looks like, how they drive signups and why you should start building your referral program today.
5 Benefits of SaaS Referral Programs
Referrals help build trust in your product or service, which can lead to higher conversion rates (CR) and lower customer acquisition cost (CAC). Referral programs also build social currency within distribution channels like social media that might not be otherwise attainable for SaaS companies.
When a customer shares their referral links on social media, they are inherently building a deeper relationship with your brand. Referral programs allow your business to grow organically, by empowering customers to share their genuine satisfaction with the world. Doubling down on this type of emotional marketing is a powerful way for SaaS businesses to grow their user base.
There have been numerous studies on referrals that have time and time again shown just how powerful they can be. Here's a few referral program statistics that illustrate this:
Referred customers have a 37% higher retention rate ( Deloitte )

84% of consumers trust the recommendations of others over other forms of marketing ( Nielson )

People are 2-10x more likely to rely on word-of-mouth than paid media ( Boston Consulting Group )
Thinking beyond customer acquisition shows the true power in running a successful referral program. Wouldn't it be great if you could lower your churn rate while also increasing your LTV?
Referral programs provide opportunities for post sale interactions between you and your customer. This can aid in developing longer term commitments to the product and brand ambassadors. These post-sale interactions are also a great way to set yourself apart from competitors.
If you're still not sure how your company would benefit from a SaaS referral program, we've detailed the key benefits of successful referral marketing below.
Brand awareness is the key to any successful marketing campaign. The more they know, the more you grow. Therefore, referral marketing has the potential of being one of the most powerful methods to promote your brand. The more people that talk about it or share information about you, ultimately leads to more signups.
Increased Conversion Rates
Referrals are the holy grail of marketing. They work for fostering relationships, spreading word-of-mouth and enhancing the online experience by providing rich content outside of your company website. User-generated content (UGC) helps to drive traffic from within your brand advocates' networks. Referral marketing has been shown to improve conversion by up to 70%.
Increased Customer Lifetime Value (LTV)
Customer lifetime value (LTV) is the sum of all net revenue generated from a customer over the course of their entire relationship with your company.
Referral programs improve LTV by fostering engagement with your platform, product or brand. Because referrals are backed by a person's reputation and therefore social proof, referral marketing can be one of the most powerful methods for promoting a business online.
If you are able to create loyal, repeat customers who buy again and again, this has a significant impact on improving your LTV. Building virality through referrals is a popular tactic among unicorn startups like Spotify and Tesla.
Lower Customer Acquisition Costs (CAC)
Customer Acquisition Cost (CAC) is simply the actual cost of gaining a new customer.
Referral marketing is a great way to leverage your existing customers to expand your overall customer base. Referrals are often the most cost effective acquisition channel, making it an attractive option for SaaS companies.
Lower Your Churn Rate
Churn rate is the percentage of users which leave for a given period. SaaS businesses often implement referral programs as a lead generation tool for increased customer acquisition, with rewards and incentives given to both new and long-term customers.
These programs can be cost effective when executed properly. Referrals have been shown to increase loyalty between existing clients and brand recognition.
Referred customers have a 37% higher retention rate than non-referred customers, according to a study by Deloitte. This means that you can lower your churn rate by investing time and effort into launching a referral program that sticks.
Request a demo of GrowSurf
Set up your referral marketing program with software that lowers your customer acquisition cost and saves you gobs of time.
6 SaaS Referral Program Examples
Now that you know the benefits of having a referral program for your SaaS, let's explore some referral program examples to learn from.
Airbnb
Airbnb has one of the most famous referral programs of all time.
When a user refers their friends, family members, or even strangers to Airbnb, that person receives benefits depending on the length of their stay with Airbnb.
For every successful referral and application submission, the referrer will receive $10 in credit towards future rentals if they refer 10 referrals or more.
What most people don't know about Airbnb's referral program is that it wasn't always a smash hit. They spent a good amount of time reworking their copywriting because the phrasing of their referral incentives made users feel like they were taking advantage of friends, rather than sharing what they loved about the platform.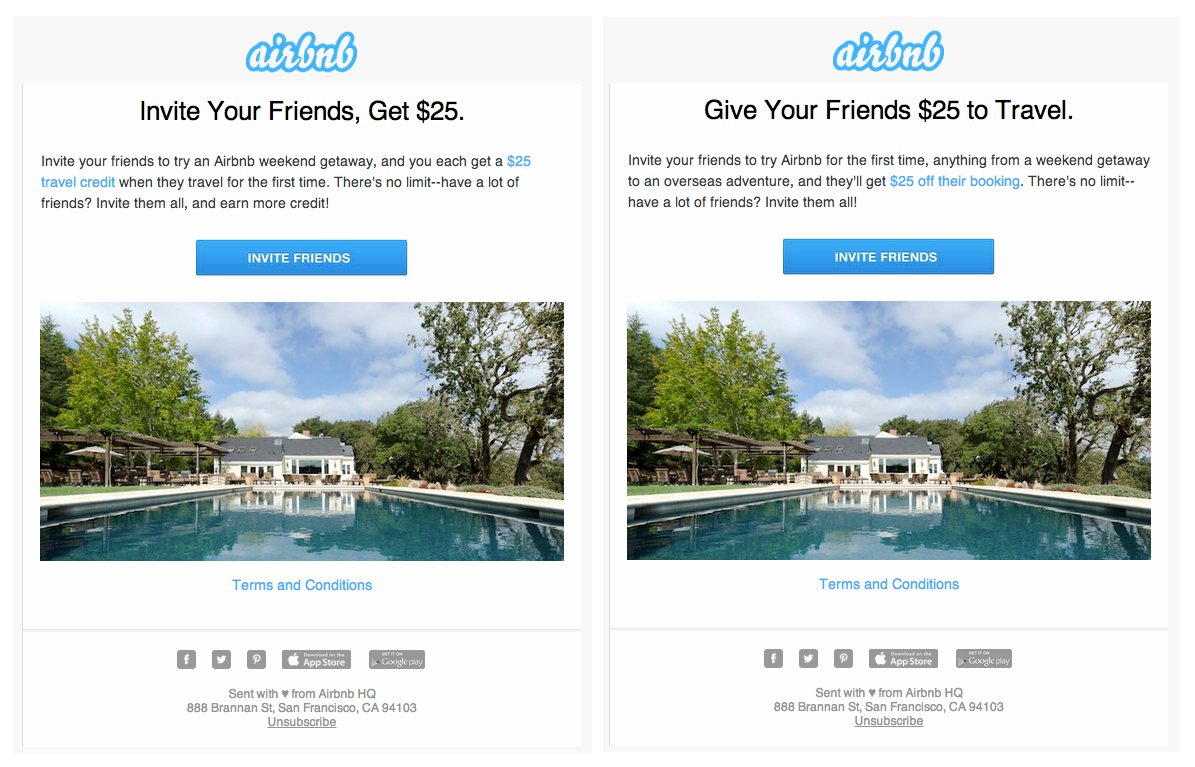 Airtable
AirTable is an organized data source and scalable spreadsheet. It provides a real-time view of your business that can be shared with anyone, so teams can run projects more efficiently from start to finish.
Airtable's referral program works on a "pay it forward" basis. When you refer a friend, they get 100 credits to start. If they continue to upgrade after that then you get 25 credits everytime they do. The best part? It's automatic! You don't have to do anything other than spread the word to those who will find the most value in upgrades.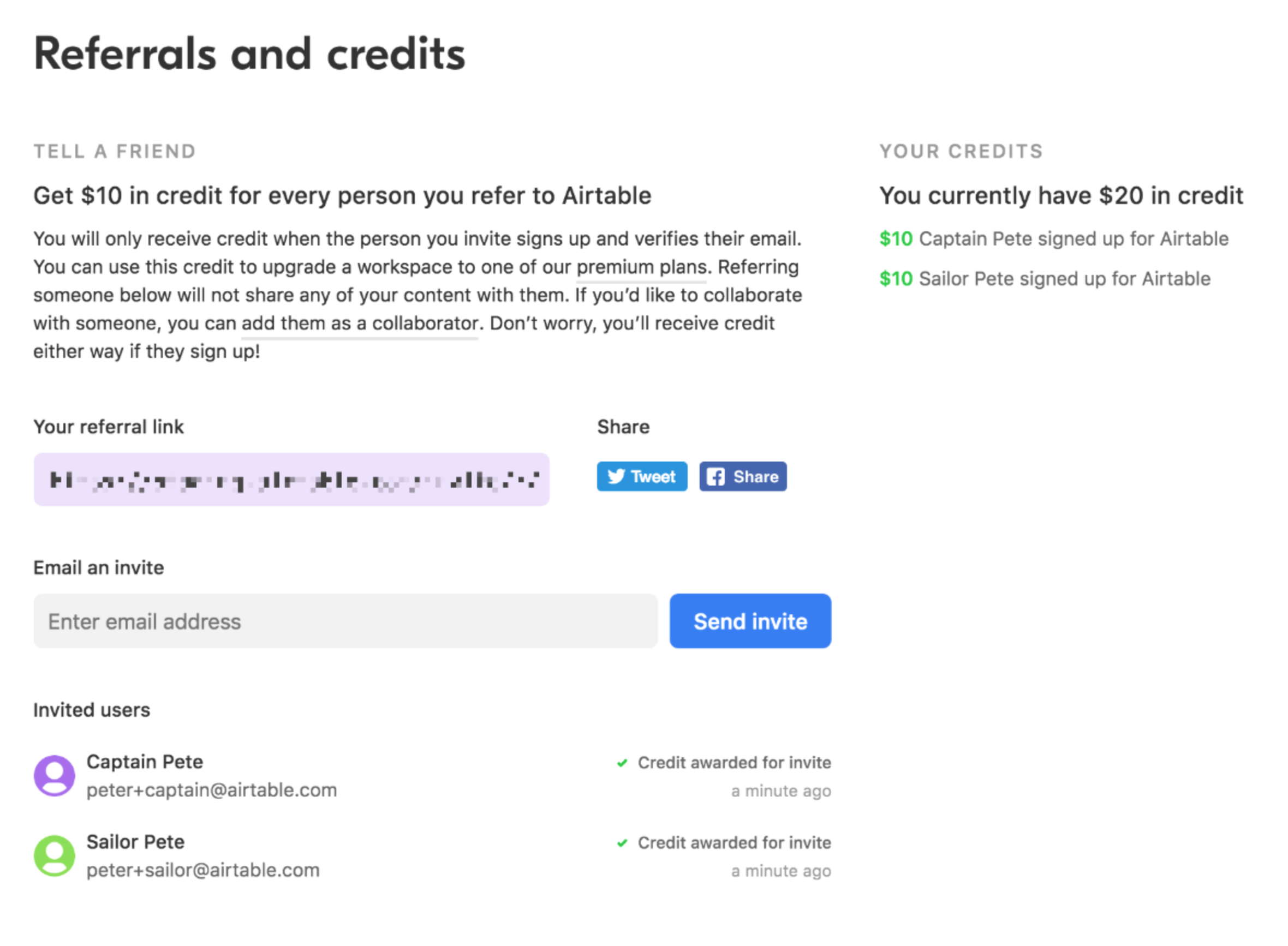 Blue Apron
Unfortunately for Blue Apron, they have become the poster child for misconstructed referral programs. What resulted in an 8 million dollar loss, Blue Apron's referral program was carelessly open-handed.
Every new customer of Blue Apron received a free introductory meal kit. The referral program incentivized sharing their meal kits with your friends and family by serving up more free meals. When existing Blue Apron customers referred potential subscribers, both the referrer and the referred person received a free box of food. Each subscription was eligible to refer 4 friends.
While the program was (technically) successful by generating an extraordinary amount of short term interest, the CAC was not sustainable. The strategy backfired when customers used to receiving free products saw their incentives dry up. Even worse, Blue Apron's competitors launched their own referral programs to further steal market share from them. It's a great referral marketing case study (of what not to do).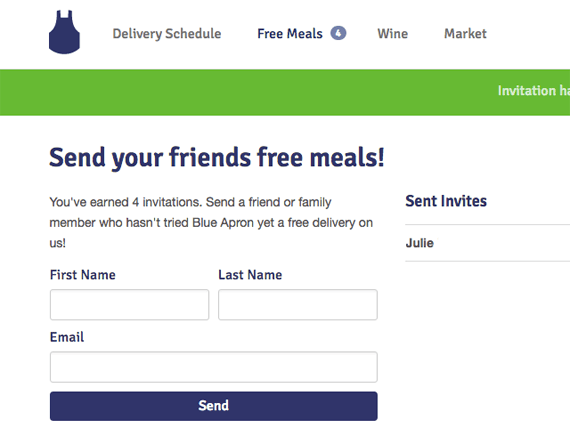 Evernote
Evernote is a product that has rapidly become one of the leading apps for quick note-taking.
Evernote's referral program is a simple and easy way to get rewarded for sharing the service. For every new user that you refer, you will receive an extra 60 days of free access to Evernote. That's a pretty good deal, but if that incentive doesn't appeal to you, Evernote lets you choose your own benefits.
A drop-down menu allows you to select one three rewards depending on your preference. They have included promo codes, Amazon gift cards and premium service subscriptions.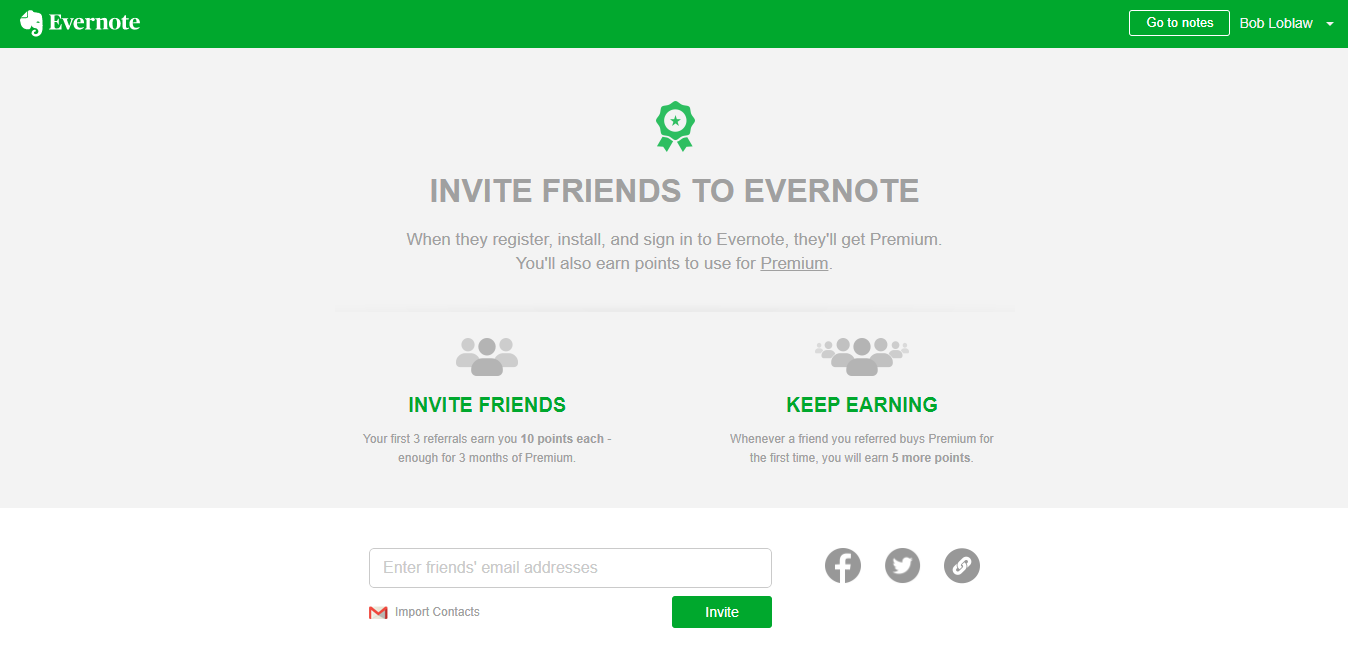 Spotify
Spotify is the world's largest music streaming service and has more than 30 million paying customers.
Spotify's referral program allows you to generate referral credits that can be used towards discounts on premium subscriptions and promotional products. The catch? Users who refer Spotify to friends are only rewarded if the referee stays subscribed for one month. Creating incentives that are conditional on user behavior is a great way to ensure the success of your referral program.
Zoom
Zoom is a one-stop solution for video conferencing, providing customers with two separate types of service.
If you sign up to be a customer at Zoom's referral program, they'll give a referral link to you that your friends can use if they're interested in the service. When the referral link is used, you'll receive credit towards your account. You can use this credit for any of your future purchases or expenses with Zoom - it's like receiving cash back to use towards future transactions.
Key Takeaways
A great referral program is one that's tailored to your audience's wants and needs. If you want to generate signups or leads, increase conversions and limit churn rates all without breaking a sweat, then it might be time to invest in an effective referral program.
There really is no excuse not to have one already. Think about how much easier it would be if people were constantly telling their friends and family about what they love most about your company. You can increase revenue with minimal work on behalf of the company, it just makes sense.
Request a demo of GrowSurf
Set up your referral marketing program with software that lowers your customer acquisition cost and saves you gobs of time.