Customer Loyalty Marketing Strategies
What Is Loyalty Marketing?
Customers now demand more from companies than ever before. That is why thousands of businesses now have loyalty programs. Customers want brands to persuade them to use their products/services and, additionally, expect incentives for doing so.
Loyalty marketing is a form of marketing that emphasizes retaining existing clients using incentives. There are various ways to reward clients for particular actions that benefit the company, such as discounts, rewards, freebies, or early access to new features or products.
A loyalty program is a persuasive way to show your customers appreciation, ensuring they return to your product or service. However, not all loyalty programs are designed equally.
This post will cover the key components of a successful customer loyalty program.
How To Design A SaaS Loyalty Program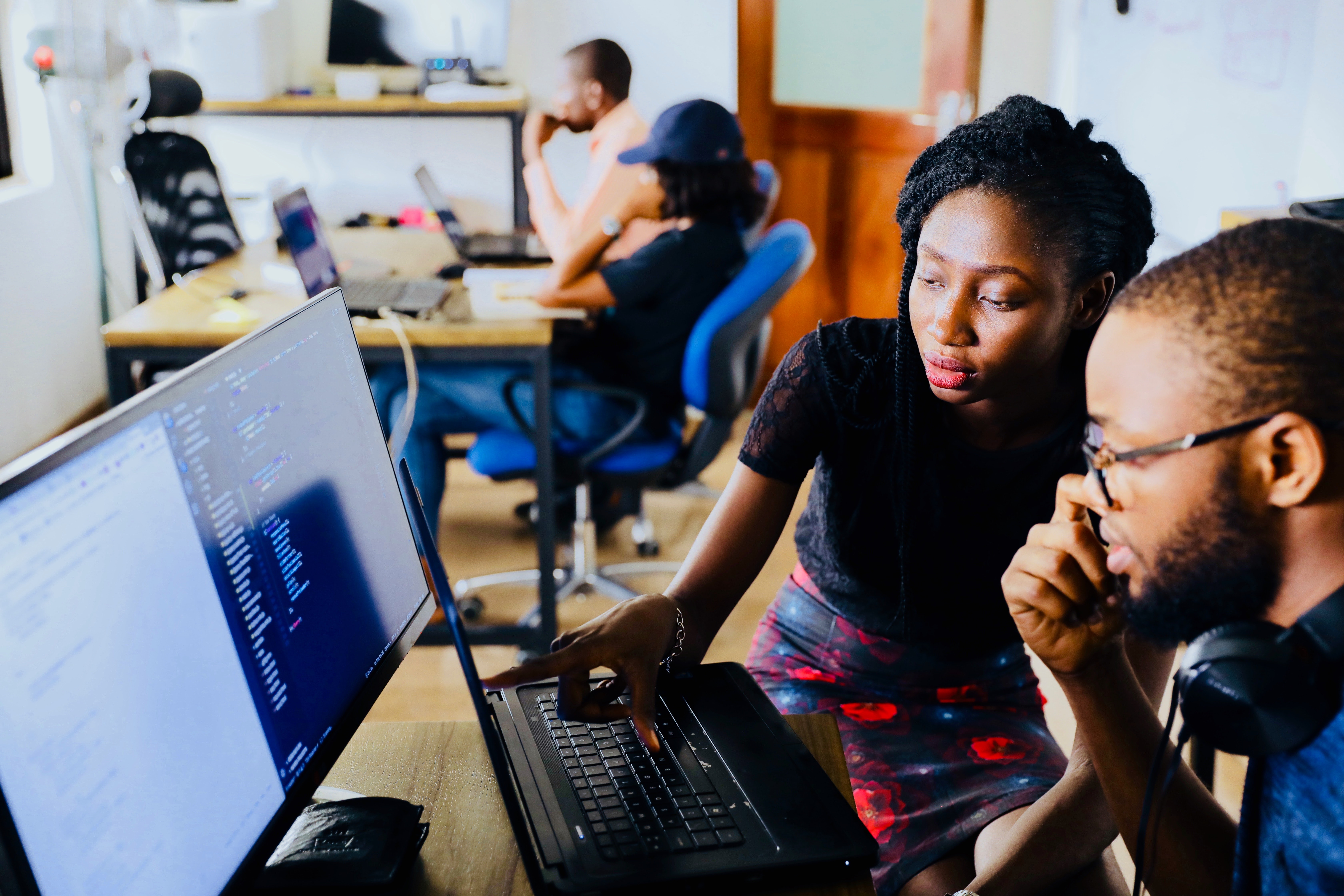 Creating and implementing a customer loyalty program can be challenging, especially for web-based SaaS. You can't just use punch cards when your company is entirely online. You must choose the right loyalty program software and incentives based on your company model, consumers, and goals.
Here are our sure-fire ways to get your loyalty program off the ground in only a few simple steps: 
Do Your Homework
Before your team can start implementing a successful program, they must first complete some thorough research. Make a list of your company's goals before beginning any marketing campaign. Create a plan to help you meet your business objectives, considering client expectations, behavior, and current market trends. You can use this data to construct customer loyalty programs or even improve your goods or services to suit your consumer. This all aids in providing exceptional client service.
Choose a Specific Goal
You may want to reach several objectives at once but focus on one at a time. This way, you can incentivize a specific behavior that supports your goal. If your aim is to promote awareness about your product or brand, offer incentives for new signups in exchange for referrals. If you want to increase income, consider incentivizing repeat purchases by providing a unique, time-limited discount.
Give Your Loyalty Program a Name 
Choose a name that's simple, memorable, and associated with your company somehow. Try to ensure the name is on-brand and indicates rewards up for redemption.
Buy Domain for Your Loyalty Program
Don't try to operate your loyalty program on your primary website. To run your membership program, create a simple website and use the name of your program as the domain address.
Alternatively, you could host your loyalty program on a subdomain of your marketing website.
Select Incentives  
Analyze the demands and behaviors of your target consumers when deciding on the best incentives for your loyalty program. Freebies may distract customers from your goods or services, so be careful when giving them out. Try to choose incentives that are exclusive and add value.
Consider experiential rewards. Experiences make customers feel good and add value to their lives. This type of reward creates long-term loyalty among consumers and helps your company stand out from a sea of ordinary offers.
Simplify The Customer Experience
If you complicate your loyalty program, there's a good chance that customers won't understand it. If this happens, it will be ignored and forgotten.
Create a simple points system to manage, so everyone knows what's going on. Give consumers points in return for their purchases, describing how they may use those accumulated points, if they are time-limited and whether or not they expire.
Customers will not return to your business if they are not confident in how it is communicated. To keep them, make the process simple for them to understand.
5 Loyalty Marketing Strategies For SaaS
Launch a Referral Program
When it comes to loyalty marketing, referrals are the most trustworthy and effective form of advertising. 83% of customers say they base their purchasing decisions on advice from a friend or family member!
Today's digital world is the age of internet transparency; customer relationships can be complicated for businesses to maintain. Word-of-mouth recommendations have become increasingly vital when reaching prospective clients who may not know about your product but trust their peers enough to get on board.
A referral program can help you capitalize on the power of recommendations to develop trust early on. You may, for example, enable consumers to provide a friend with a custom coupon code for $10 off their first purchase. The sender receives $10 off when the friend uses the coupon code as a thank-you gift.
You can also think about ways to gamify the referral process. For instance, you could give customers bonus points for every friend they refer who makes a purchase. This encourages customers to spread the word and rewards them for doing so.
Whatever approach you take, make sure that your referral program is easy to use. The easier it is to participate, the more likely people will take advantage of it. You might also want to consider offering a special incentive for referrals that result in a sale. This could be a discount or free shipping.
There are many ways to operate a referral program, but the key is to reward existing customers for referring family and friends. The existing customer has a reason to keep shopping, and the new customer is introduced to your brand by someone they trust.
Not sure how to launch a referral program?
Get on the fast track to referral success with GrowSurf's referral program software. Let us simplify the development and customization of your program then automate the entire process for you.!
Introduce a Customer Loyalty Program
Loyalty programs are effective because they get people excited about making purchases. It works like this: 
Customers earn points for each purchase; when an adequate number of points accumulate, the client can exchange them for a free item or reward.
Customers are more likely to return if they believe the company cares about their repeat business. A loyalty program encourages consumers to come back regularly and earn points toward a gift that adds value to their purchases. It's a method of rewarding consumers for making purchases while also establishing a competitive advantage. This is an essential element of any loyalty marketing approach.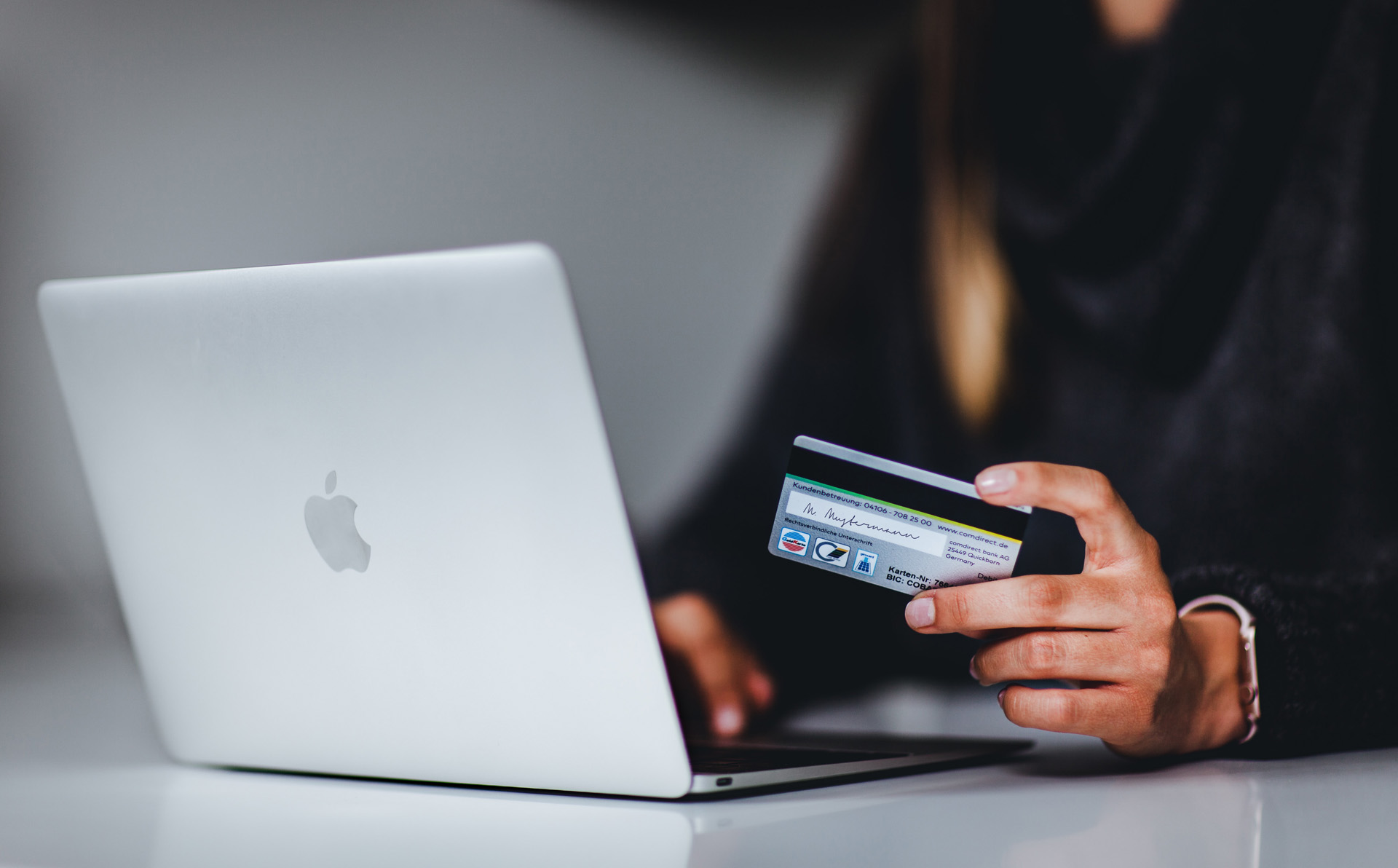 Here are some methods to keep in mind when developing your customer loyalty program :
Proper Promotion: If you're a fan of any brand with a loyalty program, you'll notice that they're very persistent in promoting their benefits. You should have a marketing campaign to advertise your loyalty program too. Ensure that any potential client is aware of the program and informed of the added value they receive by joining.
Flexible Rewards: A loyalty program will be ineffective if you don't provide anything of value. A guaranteed crowd-pleaser is converting points into dollars. If you choose to give points in exchange for specific goods, make sure you have an attractive selection of items your consumers want.
Convenience: A simple point system performs best for most companies. Each dollar is assigned a specific point value, and particular point values represent discounts and freebies. If the process is too complicated, customers might become confused or frustrated, and the offer's value may be diminished.
Add-On Offers: While the point system is useful, you may also encourage consumers by providing special bonuses to loyalty members. Online retailers frequently offer loyalty members special discounts, gifts in the mail, or early access to new items. Make a separate email list for your loyal members and use it to stay in touch and keep them interested.
Even if they've never heard of your company, providing new clients with a loyalty program is one of the most effective methods to convert them into repeat customers.
Focus on the Customer
Pragmatic marketing is a commitment to the customer experience, which results in up to 25% more consumer retention than sales or marketing initiatives. Consumers become repeat customers when they feel valued when their requests are addressed. 
The single best way to improve satisfaction is to listen to customers, both in-person and online. Customers will help define the objectives of your loyalty marketing by telling you what matters most to them. Take their input seriously, too, as it can help steer company initiatives for years to come.
Customers are more likely to buy a product if they feel that the brand understands them. So, to create a loyal customer base, it's essential to know who your customers are and what they value.
Retention is the outcome if you truly put the client first.
Loyalty marketing isn't just about giving customers rewards for their loyalty; it's about focusing on creating an experience that makes them want to keep coming back.
Spread the Word on Social Media
Businesses can reap countless benefits from a well-executed social media marketing plan, such as website traffic growth, increased leads, and higher conversion rates. When done correctly, social media will help to increase loyalty among customers and make them more likely to stick with your brand in the long term.
Every business has specific objectives that guide its actions. These should line up with your company's overarching goals as a whole.
Every marketing campaign should be built around a company's branding strategy, and your social media must reflect it. When you plan your social media marketing push or look to update an existing program, it's essential to ask: How can you know what's working and what isn't? Which strategies will take hold long-term, and where are there growth opportunities?
Here's how you can optimize your social strategy to ensure the most engagement: 
Stay connected with your audience.
Customers are more likely to become loyal if they are exposed to your brand more frequently. Just be cautious not to go too far with it. Nobody wants their social media feeds relentlessly plugged with marketing material.
Engage with followers.
Converse with your followers by addressing their queries, addressing their concerns, and keeping them in the loop. This establishes a personalized connection between your brand and its followers while directing attention to your products.
Improve your visibility. A few micro-influencers can significantly impact brand awareness and stimulate positive buzz around your business. This is because popular social media influencers are considered trustworthy sources of advice on everything they discuss or promote.
Boost Social Proof.
Improve your social proof by using your social media presence to share customers' product demonstrations, reviews, and shout-outs—the power is in the peers. 
Social sites empower you to do more than simply advertise your newest feature or product; they allow your consumers to continue to connect with your business daily. Because of this, branding is being directed to suit social media platforms, such as Instagram, Twitter, and YouTube, at a faster than ever trajectory.
Give Followers Something To Talk About And Share.
Loyalty marketing campaigns should also include loyalty programs that reward customer engagement on social media channels. At their core, these programs offer rewards to consumers for participating in certain behaviors, which ensures that every interaction counts toward building a relationship with your brand. You may consider rewarding customers for specific actions, for instance, offering exclusive discounts or deals to followers who "like" or "follow" your page.
This establishes a connection between you and your audience, which keeps them interested in what you have to say. They'll be more likely to sign up for notifications about your most recent posts if they feel like they might miss an opportunity to participate in a contest, give away, or other incentives.
Purpose-Driven Marketing
As part of your objective, you may distinguish yourself from the competition by supporting a worthwhile cause. If consumers believe that their purchase benefits the greater good, they will be more inclined to shop with you frequently. Some companies partner with charitable organizations, while others promote sustainability initiatives.
Whatever route you decide to take, ensure that your cause is authentic and relevant to your brand. Consumers are savvy and will see through a disingenuous attempt to garner goodwill. If your company is committed to helping others, let your customers know about it. Share stories of how your organization has made a difference in the lives of others.
This type of content can help you build an emotional connection with your audience, leading to increased loyalty and brand advocacy.
Loyalty Programs vs Referral Programs
Both referrals and loyalty programs are utilized to entice consumers to make purchases by offering incentives. With referral programs, customers are rewarded when they refer their peers. In loyalty systems, customers are rewarded for demonstrating trust and loyalty with repeat purchases or subscription renewals.
Both marketing methods are used to retain and gain new consumers. These marketing techniques are both inexpensive and effective and both will help your company if you want to increase sales.
If you're still not sure what type of incentive strategy is right for your business, check out this helpful chart: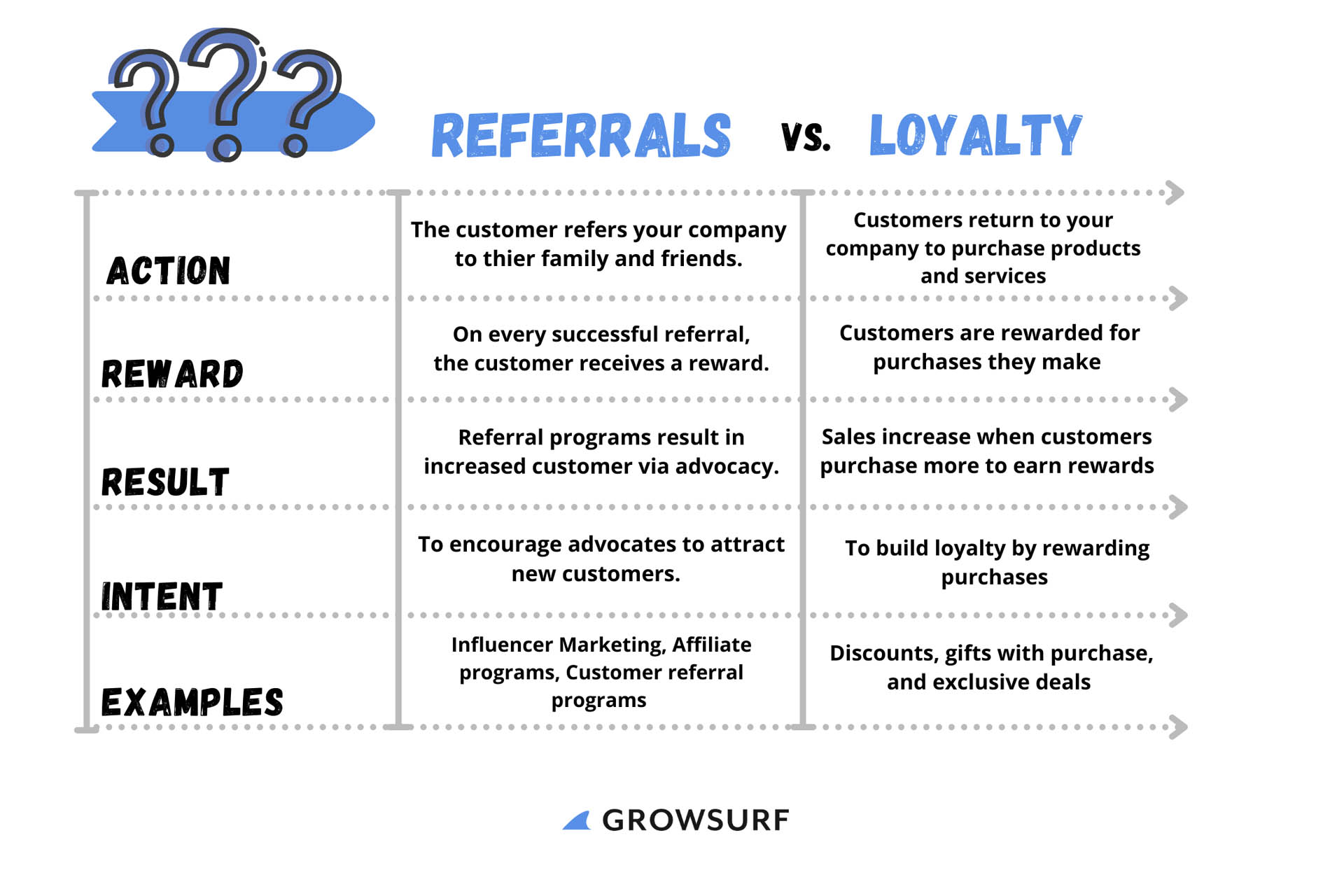 Bonus Reading: Loyalty vs Referral Programs: A Side-By-Side Comparison
Key Takeaways
Customer loyalty programs can benefit your business by increasing profits and retaining existing customers. This implies they have the capacity to make a significant difference to your bottom line. You can guarantee long-term success for your business by implementing the proper loyalty program for your consumers, properly managing it, and keeping track of user engagement.
Subscribe to GrowSurf
Get our weekly newsletter for our latest referral marketing guides.
Error subscribing! Please try again.