2021 has changed B2B marketing in a big way. While new trends and technologies come and go all the time, the pandemic has accelerated digital transformation in ways we couldn't have imagined a few years ago.
If you're involved in the B2B space, you should be excited. A little scared, yes, but that comes with the territory when big changes are coming.
As a B2B marketer, you will fall in one of two camps: either you leverage new trends to meet the evolving needs and preferences of your customers. Or you remain stuck in your old ways.
If you want your B2B marketing efforts to pay dividends, you strive for the first.
As we head into 2022, B2B marketers like you are faced with the challenging task of navigating an overcrowded and evolving market. How do you keep up? Where do you even start?
To give you a leg up, here are B2B marketing trends you can leverage to win your customers over in 2022 and in the years to come.
1. Referral Marketing
Don't look now, but referral marketing is blowing up.
It all started during the first wave of lockdowns in 2020. With in-person meetings out of the question, companies relied on the digital self-serve model to expand their customer base.
That digital shift worked to their advantage as referrals grew by 425%.
And it's looking like referral marketing is going to get bigger as reports reveal that 91% of B2B buyers are "very likely" to keep using the self-serve model 12+ months after COVID-19.
Besides, without in-person meetings, B2B decision-makers will come to rely more on referrals to determine if a business is to be trusted.
No surprise there, considering 92% of buyers trust recommendations and suggestions from friends and family more than advertising.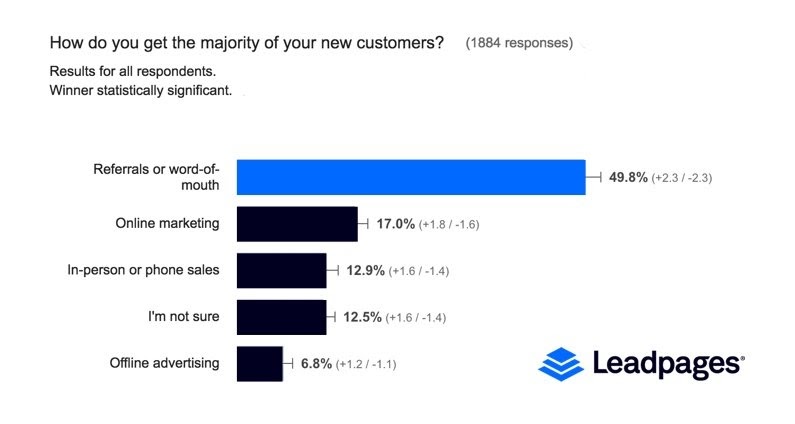 [ Source ]
Referral marketing gives your business a significant advantage not only because it generates higher conversions and boosts retention rates, but also because it's damn cost-effective. Unlike other forms of marketing, referral marketing spend is mostly tied to reward costs, which are much easier to quantify and manage.
That said, referral marketing is not a solution that will magically turn your business around. You need a sound strategy to make it work. For a deeper dive on how to run a successful B2B referral marketing campaign, do check out our B2B Referral Program guide.
Mainstreet, one of our clients, was able to drive 15% ARR from referrals via a B2B referral program. They did so by making it easy for their loyal clients to send referrals through an intuitive and user-friendly referral program dashboard.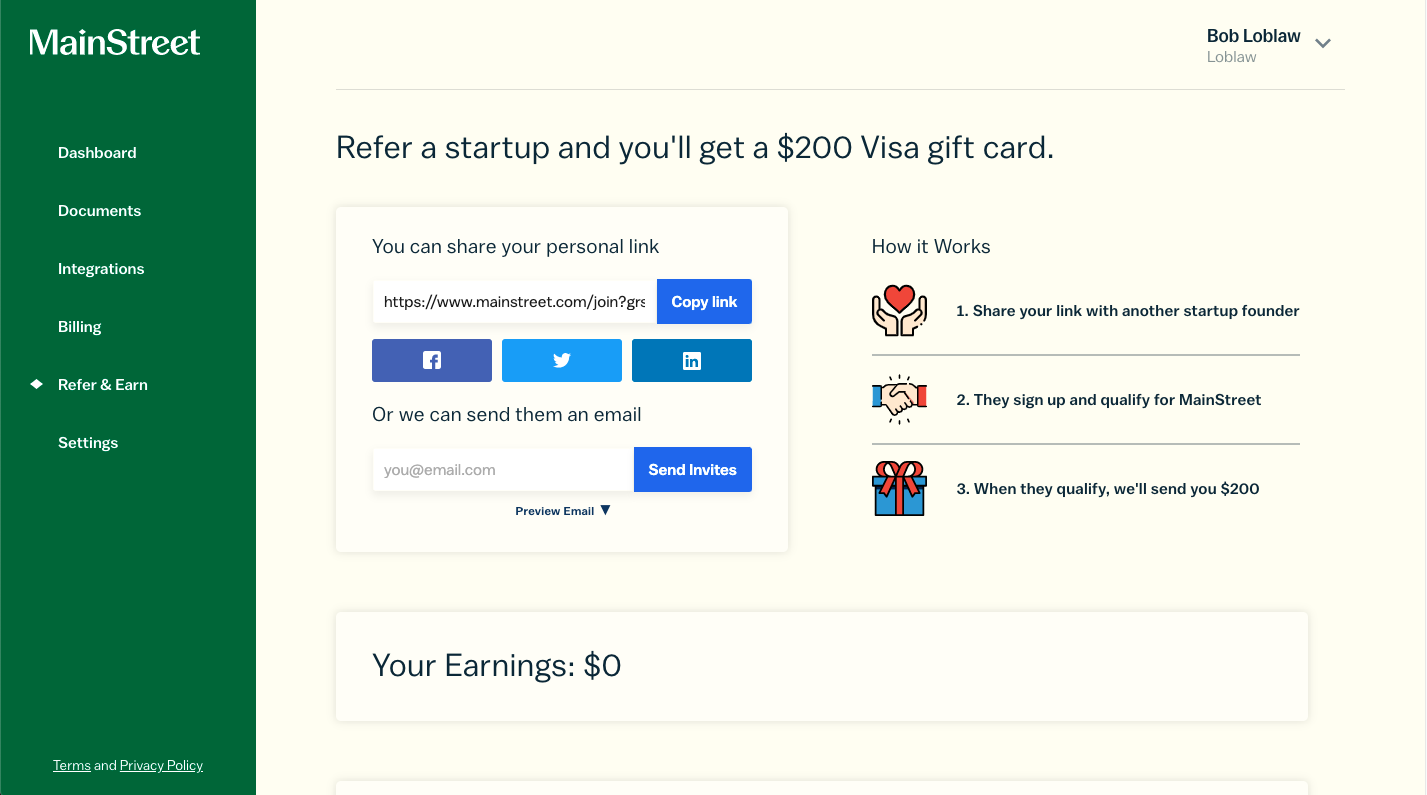 Better yet, they set up a seamless onboarding experience that makes it easy for referral prospects to sign up, not to mention giving them an offer they can't refuse.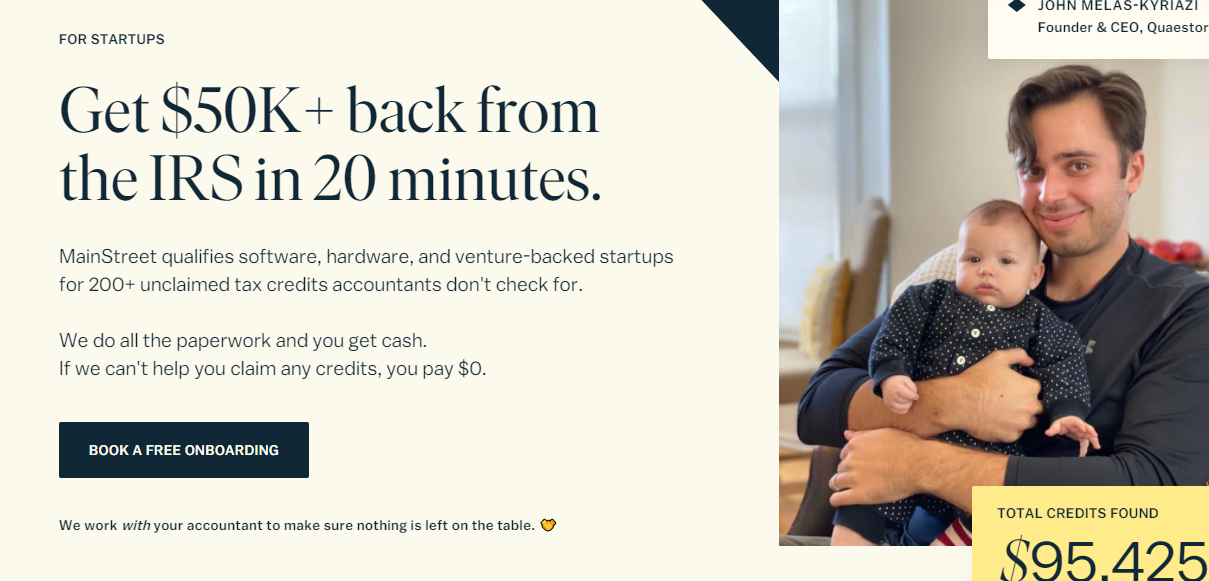 Nick Abouzeid, MainStreet's Head of Marketing, had this to say about their experience with GrowSurf: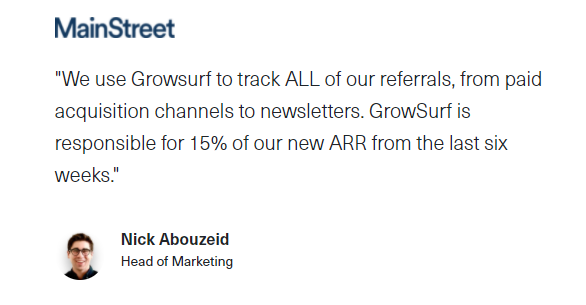 To see how Mainstreet achieved success through referral marketing, check out our Mainstreet Case Study.
To serve as inspiration for launching your own B2B referral program, check out our B2B referral program examples blog post.
2. Account-Based Marketing
B2B marketing and sales can be a long and tedious process.
When you're dealing with complex buying processes, long sales cycles, and buying committees that don't always see eye to eye, chances are you might waste your time and resources selling to prospects who aren't likely to buy what you're offering.
Thankfully, Account-based Marketing (or ABM) is a marketing strategy that can fix that.
For starters, account-based marketing is a strategy that ensures you're selling to highly qualified leads.
Account-based marketing, as defined by HubSpot, is "a focused growth strategy in which Marketing and Sales collaborate to create personalized buying experiences for a mutually-identified set of high-value accounts."
Is ABM effective? You bet.
A Demandbase study reports that 19% of companies using ABM for at least a year had a 30% growth in revenue. A SiriusDecisions survey also shows that 91% of marketers using ABM see a larger deal size, with 25% of those deal sizes growing by more than 50%.
Another reason why ABM is so successful is that it relies on contextual data, which gives you a more comprehensive picture of a buyer's purchasing behavior. It forces businesses to get their data from multiple sources, allowing them to unlock valuable insights that give them a clearer picture of their target audience's buying behavior and intent. This, in turn, helps you tailor a better and more personalized customer experience in every stage of the buying journey.
Contextual data gives you a broader picture of your prospects, which can optimize your lead scoring models. Moreover, you can use that data to set up targeted and effective B2B lead magnets, helping you qualify leads more efficiently and more accurately, it makes the handoff process between marketing and sales fast, easy, and seamless. Which, of course, improves conversions, sales, and revenue.
3. Intent Monitoring
When it comes to B2B sales, or any human endeavor for that matter, intent is everything.
If you understand the intent behind your audience's purchasing behavior, you're on the right track.
But for that knowledge to count, you need to create brand experiences that satisfy that intent. You need to give your prospects what they want and need. And you need data to make that happen. And not just any data. I'm talking about intent data.
Here's a definition of B2B intent data courtesy of Strategic IBM.
"B2B intent data provides insight into a web user's purchase intent; allowing you to identify if and when a prospect is actively considering, or looking to purchase your (or similar) products or solutions."
Capturing or understanding intent isn't as easy as it sounds, especially in today's overcrowded digital market. B2B buyers are human too. They may drop off the radar for a myriad of reasons. They may have budget concerns or their priorities may have changed. The B2B buying journey is anything but linear.
For you to gather intent data, you need to see the whole picture. Don't just gather data from multiple digital sources. You need to make sense of all that data from a customer journey standpoint so that you can detect signals that reflect your ideal customers' interests, pain points, and goals.
With all that data at your fingertips, you can identify which organizations or small businesses are more likely to buy from you. Moreover, you have the information you need to engage your prospects at the so-called Zero Moment of Truth, which also means that moment in the buying journey where the customer is more likely to take action.
You must satisfy three criteria to engage and resonate with prospects and buyers at their Zero Moment of Truth, namely timing , context , and relevance.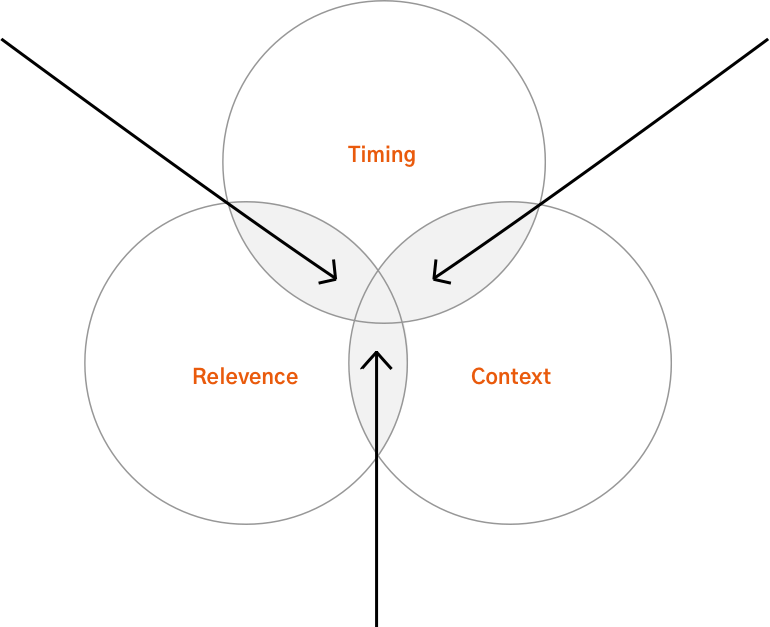 [ Source ]
And here are buyer intent signals to look out for when you're looking to satisfy the above criteria:
Demographic (customers' socioeconomic information),  firmographic (signals that make a company a good fit for your business), ), and technographic (the tech stack your potential buyer users) data
Event-based buyer intent signals (new round of funding, industry events or conferences attended, etc.)
Action-based intent signals (actions prospects are taking that signify interest such as asking questions in live chat, searching high-intent keywords, and multiple visits on your website)
Once you have all the intent data you need, what do you do next?
Here are a few ideas:
Build qualified target account lists
Reach out proactively
Use personalized and targeted sales processes
Use intent data tools like ZoomInfo, Leadlander, and Cliently.
4. Neuromarketing: Customer Psychology
Want to convert more B2B customers? Understand what makes them tick. Get to know how their brains work.
Use neuromarketing to your advantage.
Here's a good definition of neuromarketing thanks to The Future of Commerce:
Neuromarketing, otherwise known as consumer neuroscience, is "the scientific study of how the brain responds to branding and advertising." 
This marketing strategy uses insights from many fields, including neuroscience, behavior economics, and social psychology.
Using neuromarketing is a critical strategy because it ensures your marketing strategies are based on verifiable facts, not on huckster salesmanship and strategies of the snake oil variety.
It also uses data taken from non-invasive methods like: 
electroencephalography (EGC)
magnetoencephalography (MEG)
functional magnetic resonance imaging (fMRI)
eye tracking & electrodermal response measures.
It bears mentioning that neuromarketing goes beyond just creating attention-grabbing ads. It's a strategy that digs deeper into the decision-making process, and then applies the insights in the B2B sales process.
Here are some examples of neuromarketing in action:
Using eye-tracking and EEG to test the efficacy of web content
Implementing insights gathered from EGC, MEG, and fMR to create marketing collateral that will draw customers' attention and hold their interest, such as using fonts that can be processed faster by the brain, aligning images with call to action, etc.
Using insights from demographic, technographic, and firmographic data to profile customers and create tailored experiences and deliver personalized content
Implementing persuasion marketing
Evaluating customer satisfaction via EEG imaging.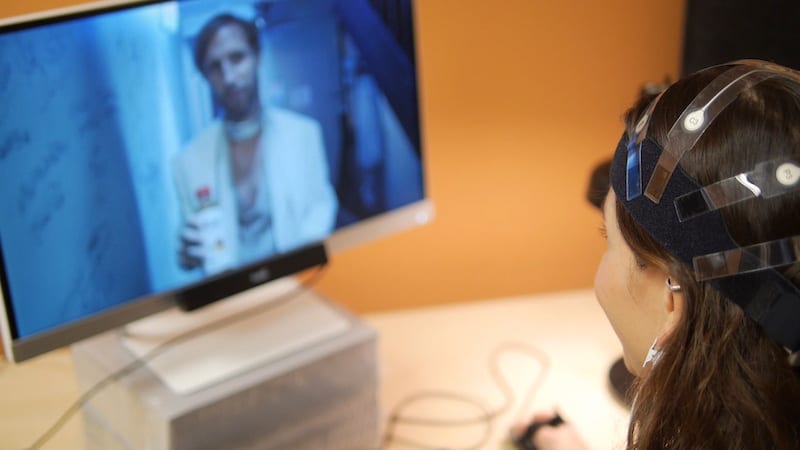 [ Source ]
5. Conversational Marketing
Conversational marketing is a marketing process that leverages technology and trends to engage your audience in meaningful two-way communication so you can move them faster and more efficiently through the sales funnel.
It's a form of marketing that focuses on delivering engaging and unique customer experiences that delight them at a personal level.
The goal is to facilitate meaningful conversations through the use of technology so you can gain a deeper understanding of your customers' personal needs, which in turn, help you offer them the right solution.
Put another way, it uses conversations to bridge the gap between prospects and your solution.
Conversational marketing works like a charm. In fact, 55% of businesses that use conversational marketing generate better quality leads. Moreover, 68% of customers prefer customer service chatbots because they provide quick answers regardless of the usual operating hours,
Tools that can help you implement conversational marketing include:
Live chat
Chatbots
Apps like Slack or WhatsApp
To maximize the above tools, integrate them into your tech stack, including your CRM, collaboration software (like Slack, Zoom, and Teams), referral program software, and marketing automation tools.
The key to using these tools to implement conversational marketing is to:
- leverage real-time engagement so that you can engage with visitors when they're most receptive
- deliver personalized experiences and as a result help you offer relevant pieces of content
Conversations are more contextual and relevant, easing the transition from interested prospect to sales.
6. Retention Marketing
Acquiring customers is nice. But retaining customers is much, much nicer.
In fact, attracting a new customer costs five times as much as keeping an existing one.
Moreover, increasing your customer retention rates by 5% can increase your profits by 25% to 95%.
How is that possible? I could think of a few reasons:
Lower marketing costs. Existing customers are already familiar with your brand so you don't have to spend much to grab and hold their attention.
Repeat purchases. If they bought from you once, chances are they'll buy from you again.
Repeating customers are likely to spread the word about your brand via word of mouth and referrals
A few tips on how to implement retention marketing:
Offer personalized deals to make them feel valued
Offer exclusive offers
Leverage email marketing (emails are a great way to nurture customer relationships and to re-engage them)
Provide excellent customer service
Reward referrals by offering incentives.
7. User-Generated Content Tools
Let's face it. Marketing has a bad rap. Not just with consumers but also with small businesses.
People don't like being sold to.
Part of the reason is because they know that when you're selling products or services, it's also for your own benefit. Or maybe they have trust issues because a brand they used to trust over-promised and fell short of their expectations.
You may have a product or service that is worth their time and money. The problem is they don't know that yet. You have to earn their trust first. And what better way to earn that trust than by leveraging user-generated content (or UGC)?
User-generated content is content about your brand created and published by users who are not employed or affiliated with your business. It could be a social media post, a blog post, a video, a podcast, a review, or many others.
Here's the thing: your prospects don't want to hear from you. They want to hear from fellow customers. According to the 2020 Shopper Experience Index, 78% of shoppers trust online product reviews. A ComScore study also reports that brand engagements increase by 28% when marketing campaigns are fueled by user-generated content.
Here are other reasons why UGC is effective:
They provide social proof (the more people are showing they love your product or services, the more credible you look in other people's eyes)
They look more authentic
They increase engagement
Creating a dedicated testimonial page is a powerful way to leverage user-generated content. Here's an example by Bizzabo.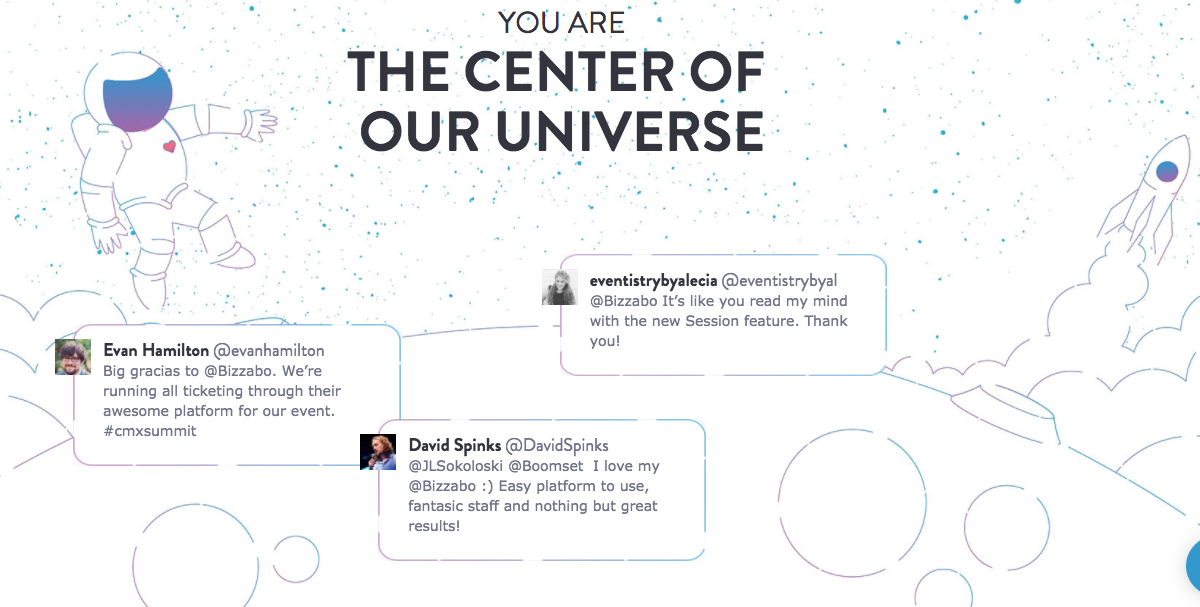 Check out our UGC Examples blog post to see more.
8. Mobile-First Marketing
Mobile-first marketing has been essential for some time now. For one thing, who doesn't own a mobile phone or tablet these days? It's no exaggeration that we're married to these devices. So it comes as no surprise that around 70% of B2B decision-makers now prefer remote or digital interactions when prospecting for B2B products and solutions.
Here are reasons why mobile-first marketing is a must not only because B2B buyers and Google favor mobile-responsive sites, but also because advertisers are pouring more into mobile ad spend.
In fact, a recent U.S. B2B Advertising Report from eMarketer predicts that mobile spend will double to $7.43 billion by 2023.
There are many ways to make your marketing efforts mobile-friendly, but here are the non-negotiables:
Make your website and online content mobile-friendly (does it render well on mobile devices?)
Speed up your website's loading time (you can use Google's Mobile Speed Test tool to measure current performance.)
Make your CTAs visible.
Key Takeaways
While it's true that using new technology is critical to becoming successful in your B2B business in the years ahead, keep in mind that you're marketing, nay, building relationships with humans, not business entities. And if you want your marketing efforts to resonate with them, remember to be human in your approach to marketing, no matter how sophisticated your marketing tools are.
To sum up, here are B2B marketing trends you need to watch for in 2022:
Use referral marketing to leverage the trust of your customers.
Target qualified accounts using account-based marketing.
Collate intent data to get a deeper understanding of the buyer journey.
Use neuroscience to implement marketing strategies that are based on fact and evidence.
Use conversational marketing to move leads down the sales funnel faster.
Focus on retaining your customers to get the most value out of them.
Build trust and authenticity with user-generated content.
Make your content mobile-friendly.
Subscribe to GrowSurf
Get our weekly newsletter for our latest referral marketing guides.
Error subscribing! Please try again.