B2B marketing can be a drag sometimes. Keeping up with long sales cycles, deciding which decision maker to target, keeping customer acquisition costs in check...
This is why building relationships is a key part of building a B2B brand. But before you can build those relationships, trust must be earned. And that's the most difficult part.
This is where a referral program can help. Customers, after all, trust each other more than they trust brands. If you can leverage that connection effectively,  you're going to close deals faster.
Looking to launch or refine your B2B referral program but don't know where to start or how to go about it? Here are 10 B2B referral program examples you can copy and draw inspiration from.
1. Mainstreet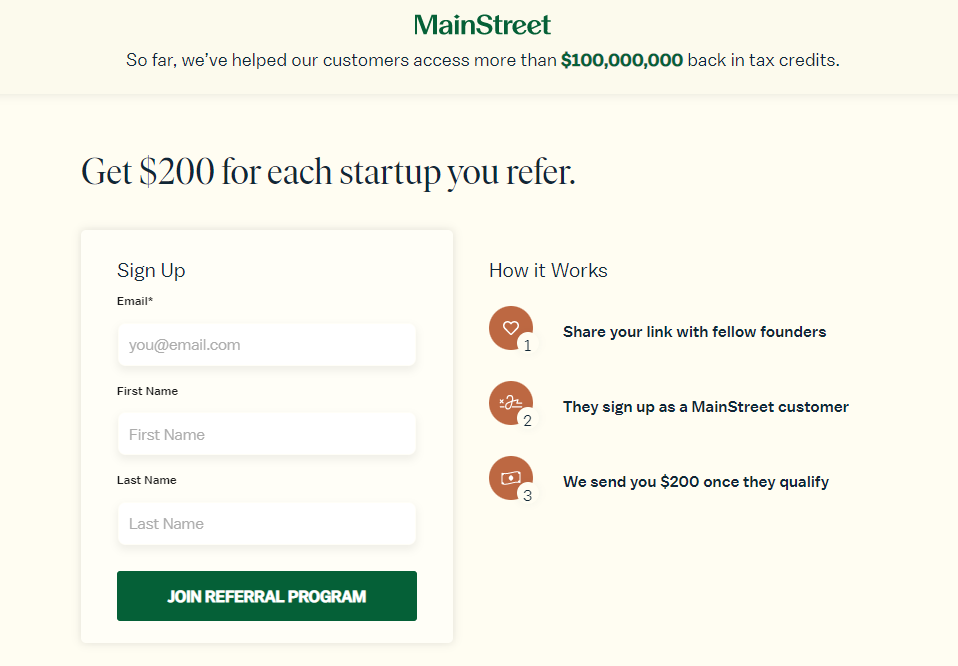 Mainstreet is an enterprise SaaS platform that helps startups automatically identify, claim, and advance tax credits. The SaaS company exceeded $3MM in six months with the help of a referral program.
How Mainstreet's Referral Program Works
You get a unique referral link once you become a Mainstreet client. For every referral prospect who signs up and qualifies using your link, you get a $200 Visa gift card.
Why It Works
Sending referrals is a breeze thanks to Mainstreet's referral program dashboard.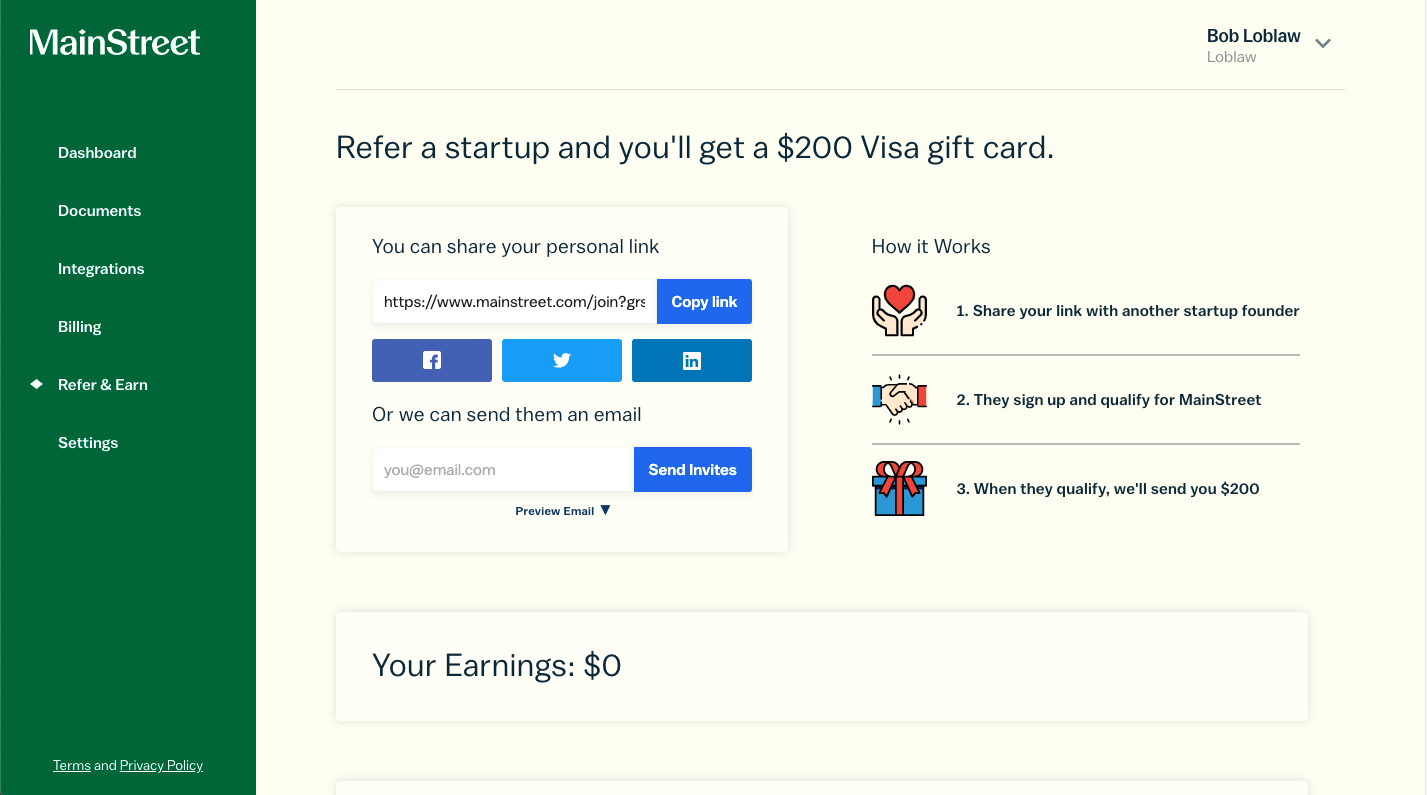 A simple ,straightforward headline reminding clients what's in it for them sets the tone nicely. The $200 Visa gift card incentive works. After all, strapped-for-cash startup founders need all the financial help they can get to fund their small business.
As seen from above you get a unique referral link which you can copy and paste anywhere. Prefer to share your link via social media? Simply choose from the available social sharing buttons. If you want to send referrals via email, just enter email addresses and click "Send invites." Easy peasy.
Clients are more likely to send referrals if they know how the referral program works. The 'How It Works' section on the right hand side tells them everything they need to know in three clear and concise steps.
Pro-tip: Scaling and tracking your referral program can be a pain. Mainstreet fixed that by using GrowSurf. The referral program automation software not only put Mainstreet's acquisition efforts on autopilot with its Salesforce integration, but it also helped the company track their referrals and measure quantifiable KPIs. It gave them the visibility they needed to scale the entire program, which translated to a 15% ARR increase in six weeks.
Nick Abouzeid, MainStreet's Head of Marketing, had this to say about their experience with GrowSurf: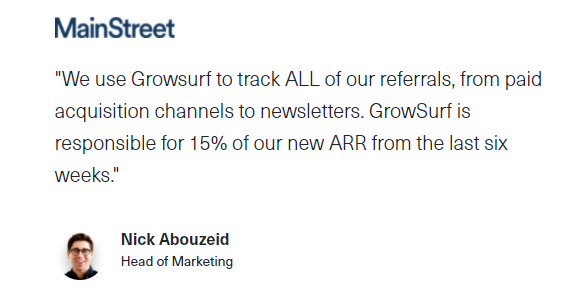 To see how Mainstreet did it, view our Mainstreet Case Study.
2. Airtable
Airtable is a low-code platform that helps businesses customize workflows and simplify collaboration, leading to ambitious outcomes.
How Airtable's Referral Program Works
Airtable's referral program offers a single-sided reward. For every person you refer to Airtable, you get $10 in credit.
Why It Works
First off, Airtable's email sequence for their referral program is so *chef's kiss*. Let me show you.
Here's what you see when someone (let's call him "Bob")  sends you a referral invite email.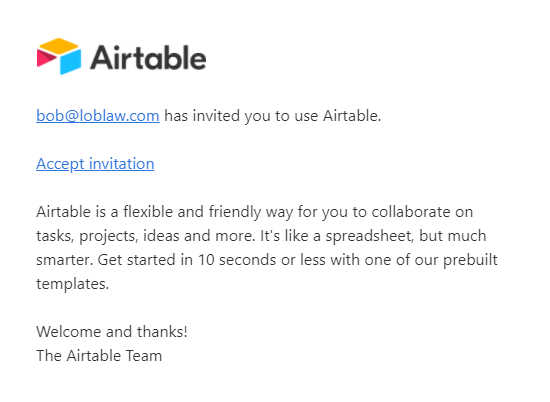 As far as effective referral emails go, the above example ticks the right boxes. The brand logo stands out. And the email takes advantage of the connection element by immediately mentioning the referrer's name. Next, the email provides a short summary of what Airtable can do for you. It's specific while managing to be concise about it. That's great copywriting.
Here's what the referred person sees after clicking on the "Accept invitation" link.'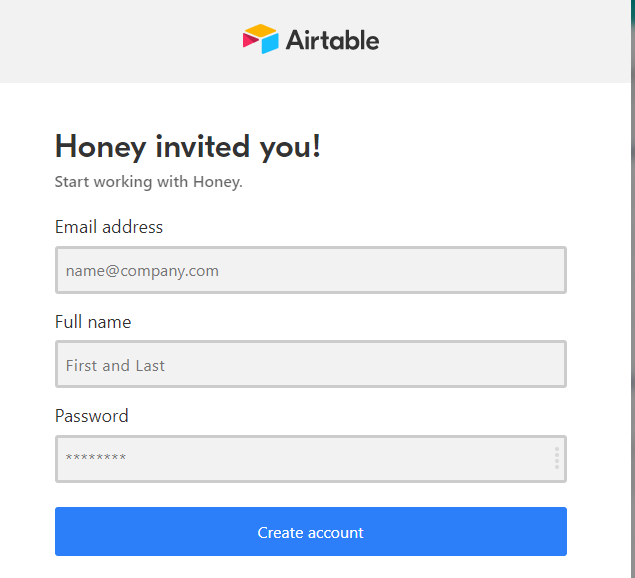 As you can see, signing up is simple, fast, and easy. Not to mention mobile-friendly. Airtable knows how it's done.
3. Hotjar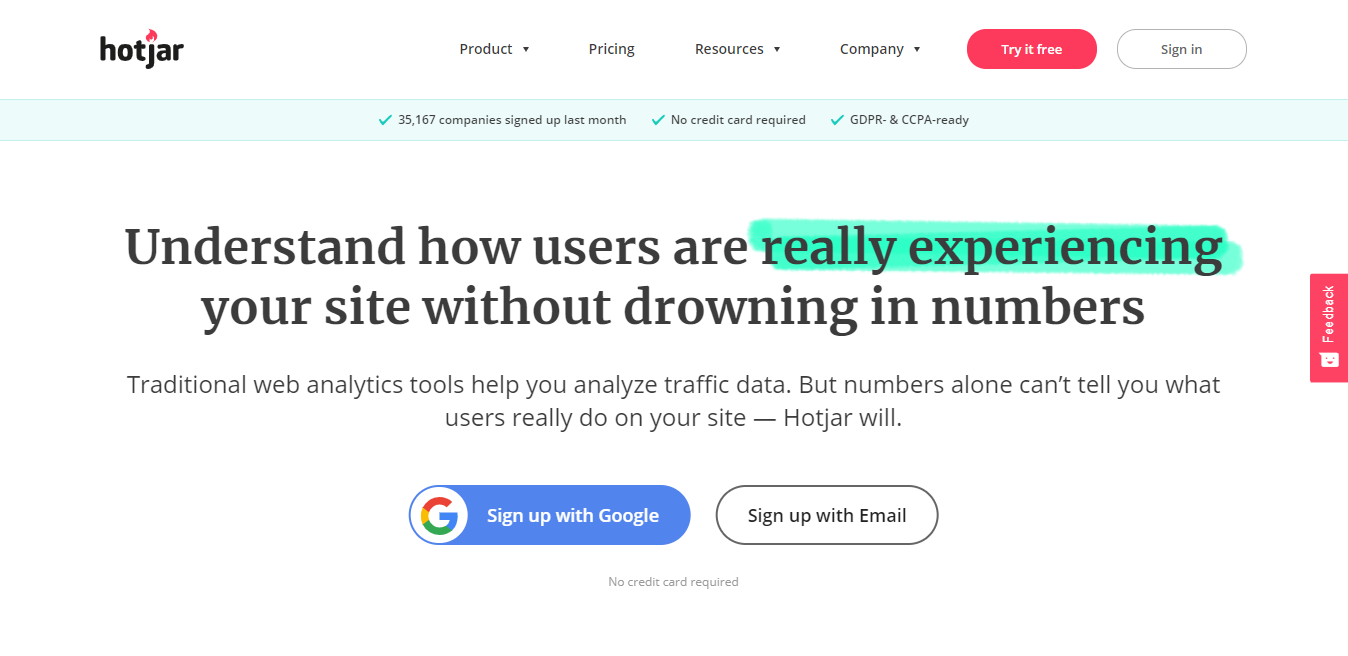 Hotjar offers an intuitive user feedback service and behavior analytics platform to help businesses discover, integrate, and facilitate user needs.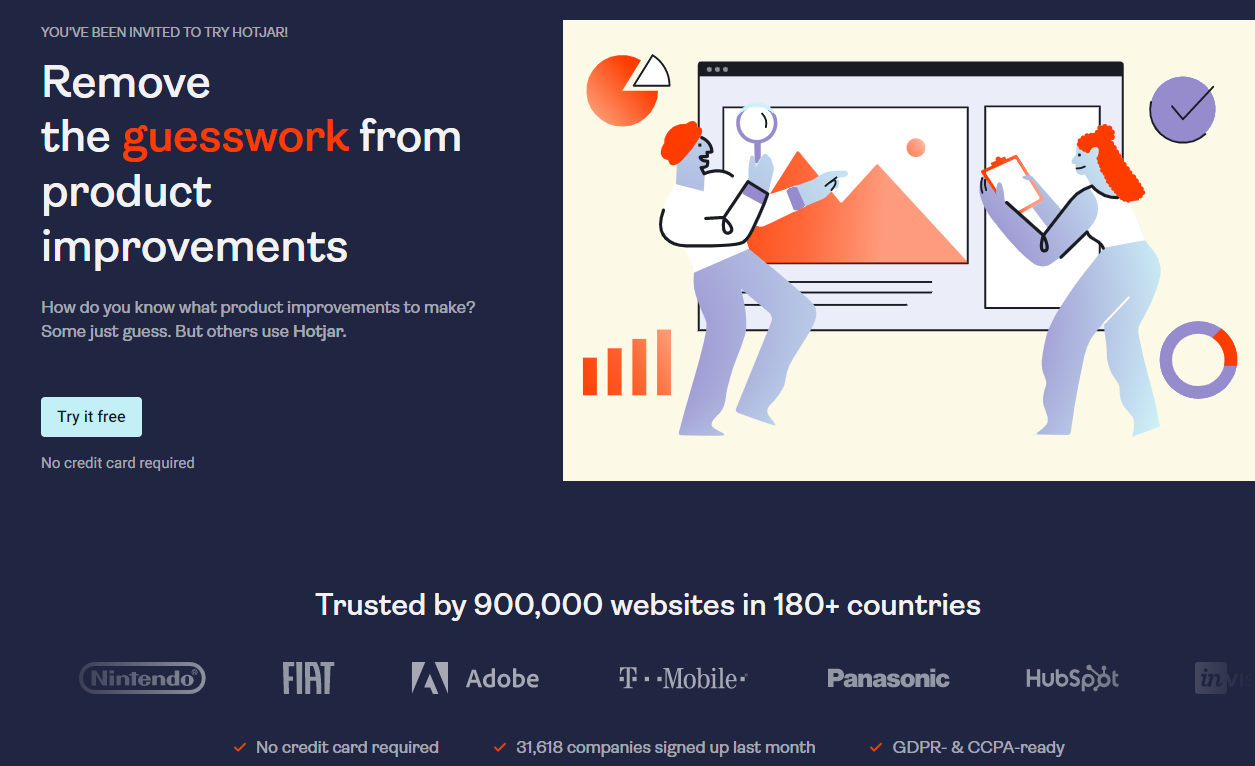 How Hotjar's Referral Program Works
Hotjar's referral program offers a monthly leaderboard and milestone rewards where the top referrer receives a free Lifetime Hotjar business account. Top 5 runner ups each get a free Hotjar Hoodie. Those who refer 5 valid friends get an official Hotjar tshirt.
Why It Works
Referral programs work best if they make customers feel like they're playing a game. How did Hotjar do it? Check out Hotjar's referral program dashboard below.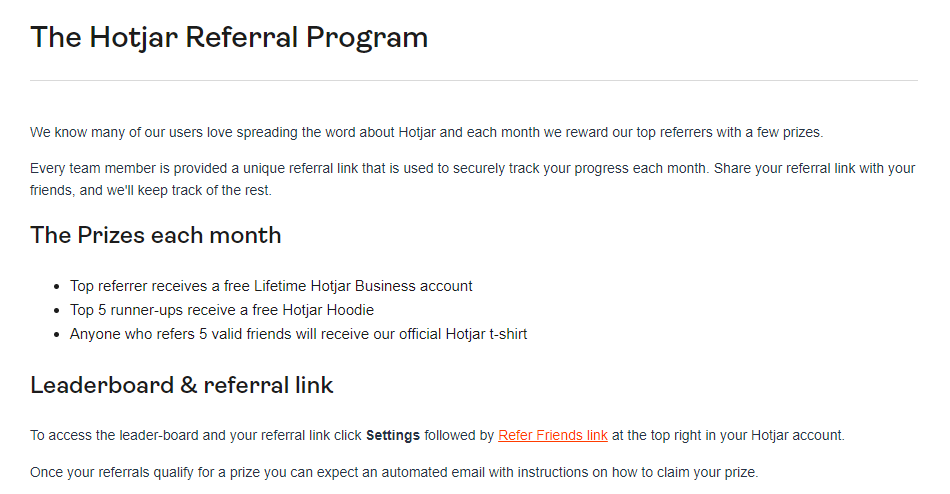 Notice the gamified elements? The headline ("Win awesome prizes") kicks it off nicely by hinting it's a competition. The leaderboard below confirms it. The page also shows what's up for grabs on the right hand side. A free lifetime business account—who doesn't want that, especially if Airtable is delivering the goods? If that seems out of reach, you can at least try to win a Hotjar hoodie. All you have to do is keep sending referrals.
4. Paypal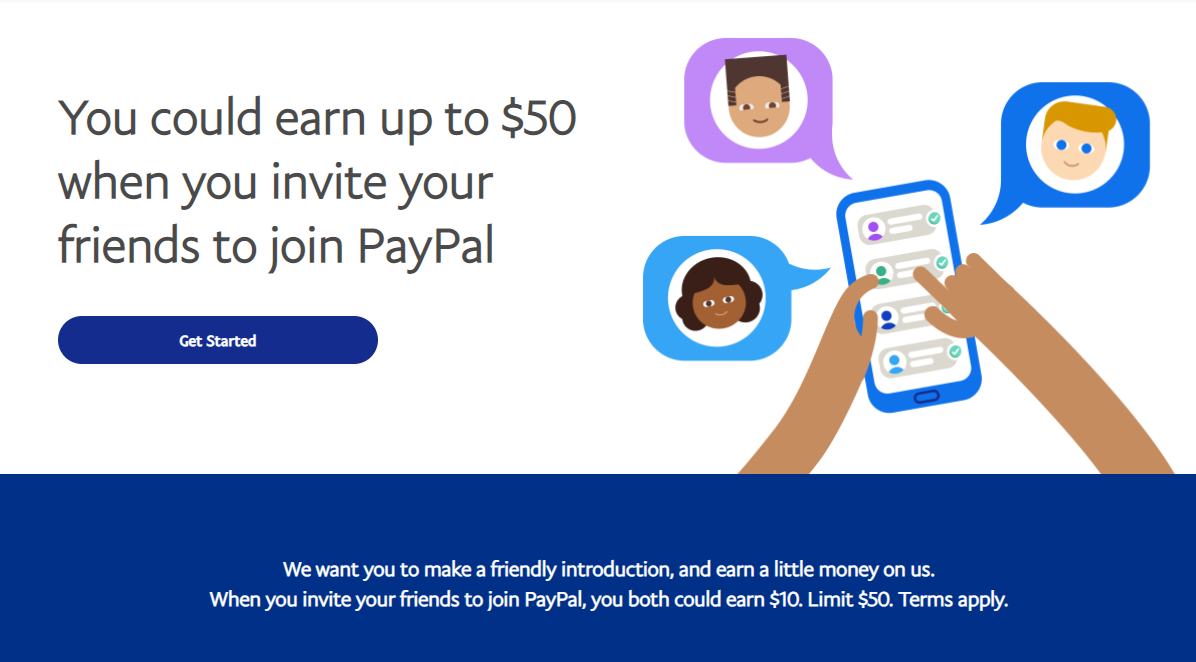 Paypal is a company that helps parties facilitate online transactions online. Paypal is also a trusted payment solution for B2B payments.
How Paypal's Referral Program Works
Refer a friend and earn $10 when they spend $5. The referred friend gets $10 as well. You ccan earn up to $50 through the referral program.
Why It Works
Cash rewards aren't always the best incentives for most referral programs. But given how Paypal's target audience are individuals who love to shop online using their phones, any opportunity to earn $10 is always welcome.
As you've noticed, Paypal's referral program offers a double-sided reward, creating a flywheel effect that further  increases referrals and conversions. Mentioning the name of the person who referred reinforces that flywheel effect. Trust between friends and family makes that flywheel go round and round.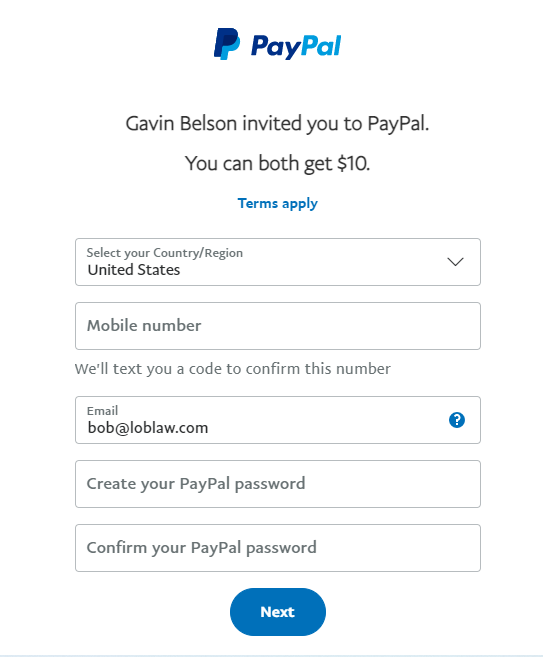 5. Google Workspace

Google Workspace is a collection of productivity and collaboration tools that improves the way we work.
How Google Workspace's Referral Program Works
Refer a friend and earn a one time reward for every referred user who signs up. You can earn for up to 200 new Google Workspace users per year.
Why It Works
For starters, the referral program section was able to explain in three simple steps how the referral program works. The icons keep things interesting while giving users the visual handholds needed to understand the instructions.

Here's the page you get taken to when you click on a referral link for Google Workspace:

What's in it for the friend? In a few short sentences, Google Workspace explains how their suite of tools can make their lives better. And it's free for 14 days, making the offer irresistible. The short flash video on the right hand side also offers a convincing demonstration of how the tools can benefit your work life.
6. Ubindi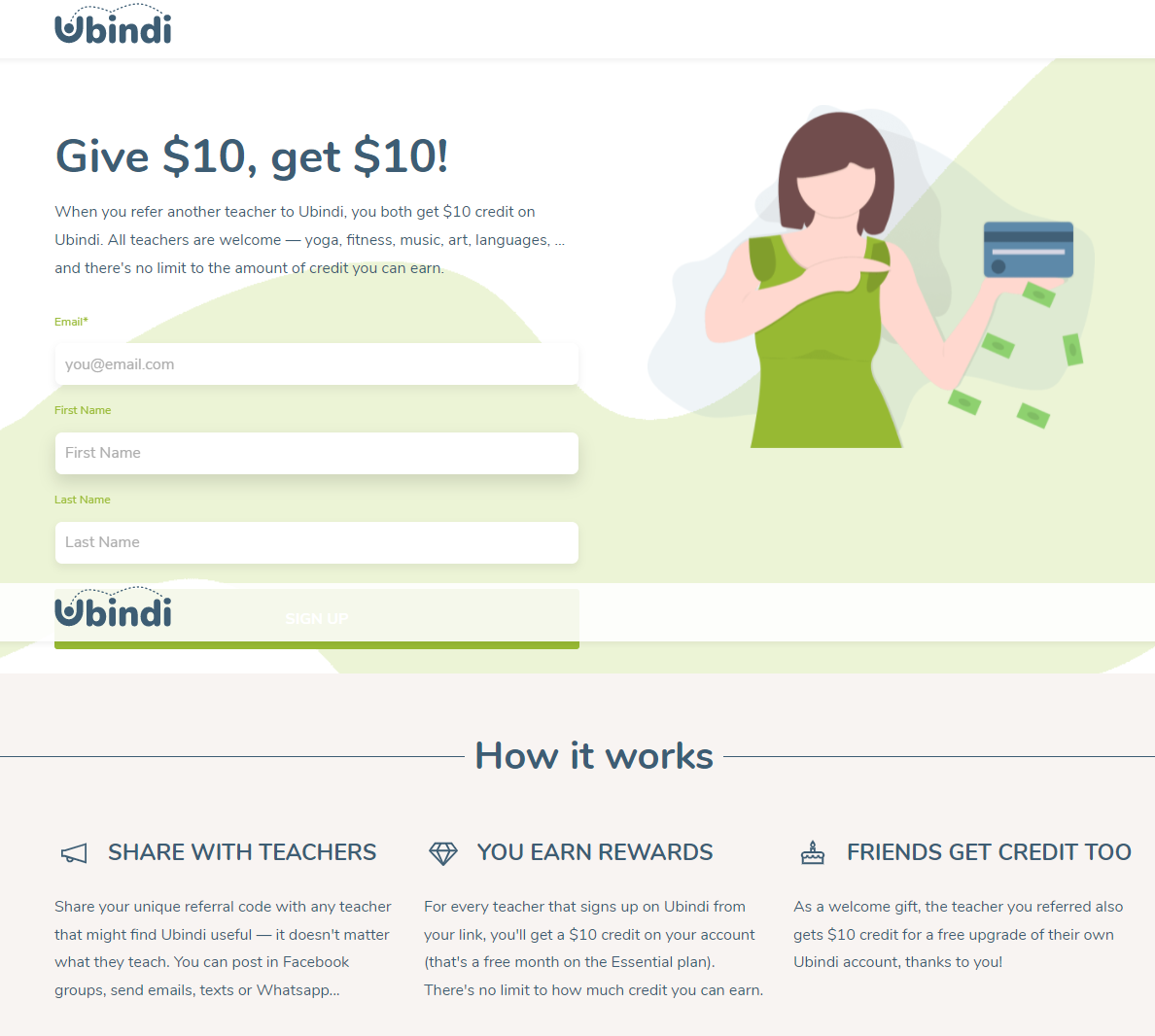 Ubindi provides an intuitive booking & admin solution for independent instructors and small  studio owners.
How Ubindi's Referral Program Works
Refer another teacher to Ubindi and you both get $10 credit when the referred teacher signs up through your unique referral link. There's no limit to the amount of credit you can earn through referrals.
Why It Works
The referral incentive ($10 credit) works because it reinforces the value of the platform, especially for a self-service platform like Ubindi. It gives both referrers and referred friends the enough opportunities needed to get to the "a-ha" moment that makes Ubindi a must-have solution.
Ubindi does an excellent job in communicating the product's value to referral prospects. When you click on a referral link, you're taken to a landing page with a headline that tells prospects what's in it for them (with an engaging and inspiring visual to boot!).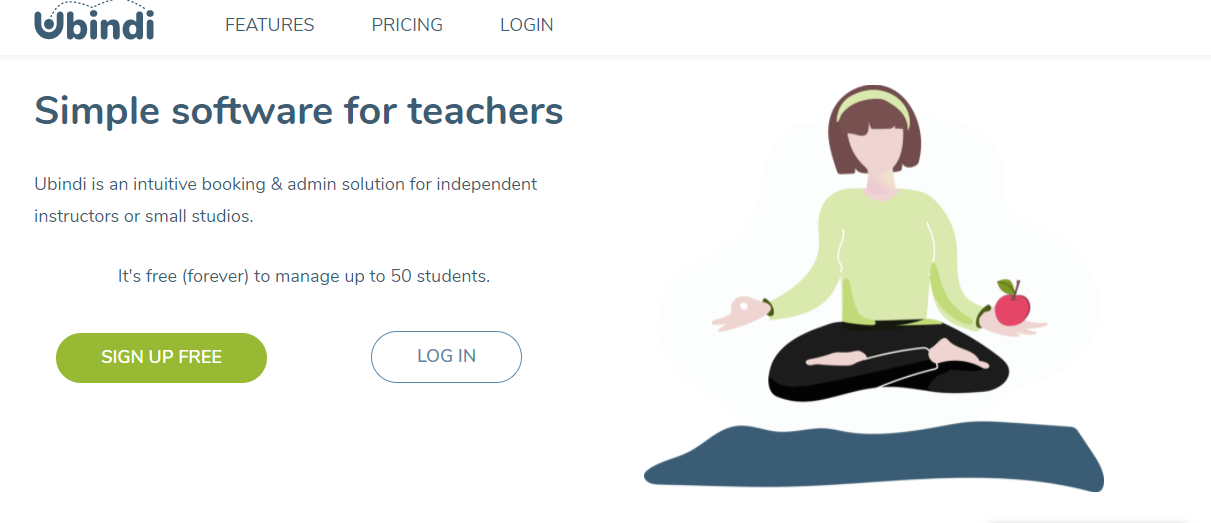 As you scroll down, you get to watch a short video on how Ubindi works and a list of features explaining the many ways the platform can save you time and make your work easier.
The list of testimonials below that gives the platform added credibility by way of social proof.
What's happening behind the scenes—referral tracking, the coding, rewards fulfillment—is instrumental to keeping your referral program going. But doing these tasks takes time and can prove costly. Ubindi did away with these manual tasks by using GrowSurf. This put their referral program on autopilot, saving up on costs and giving them more time and resources for more impactful activities.

7. Gusto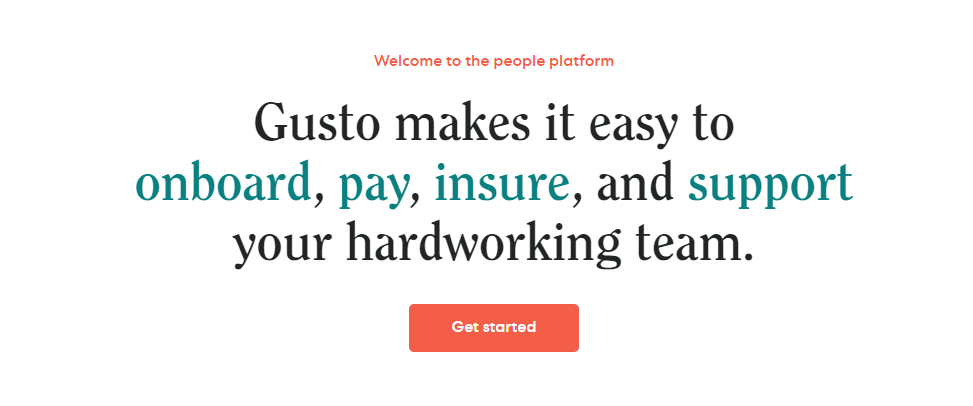 Gusto is a full-service HR platform that helps businesses with payroll, employee management, and HR tasks
How Gusto's Referral Program Works
Refer a friend and earn a $300 gift card after they sign up via your unique referral link and run their first paid payroll. The referred friend gets a $100 gift card.
Why It Works
Gusto has a referral program dashboard where users can learn about the rewards and get a wide range of options to share the HR platform with their friends. The referral page has a minimalist design, but font and color variations make the act of sending referrals comfortable and easy for users.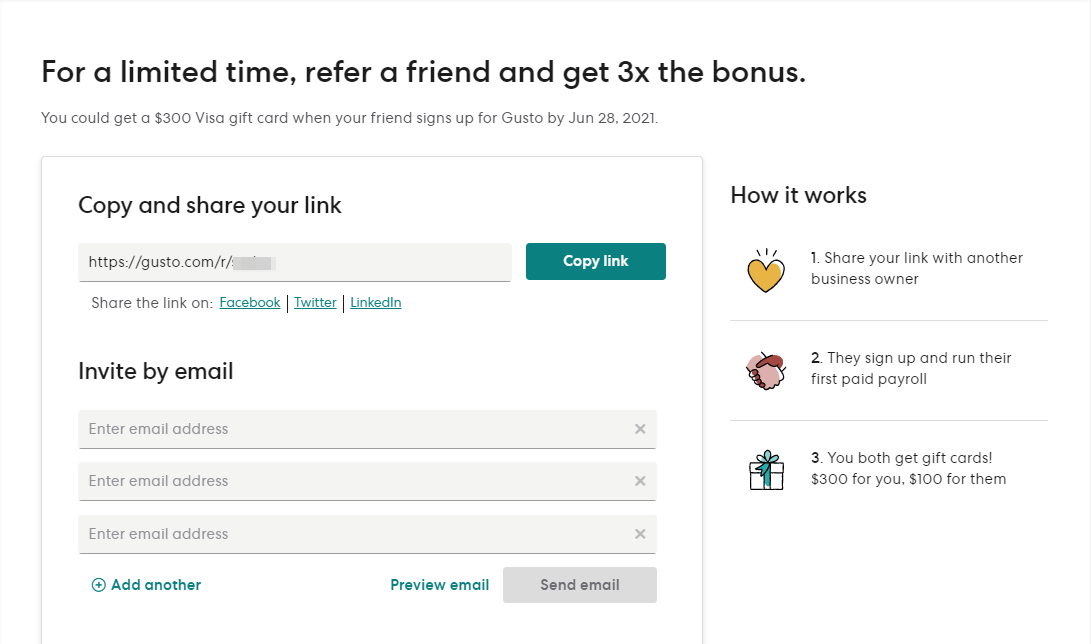 Here's what Gusto's referral email invite looks like: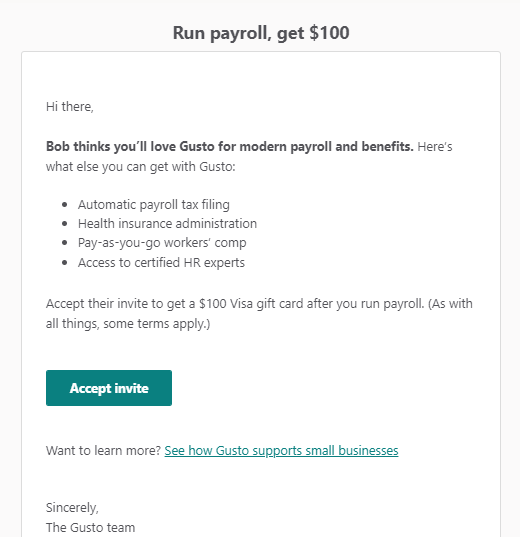 Again, good call on mentioning the name of the referrer. If you can leverage the relationship between friends to earn trust, why not? Considering Gusto has many benefits, it can get tricky mentioning them all without boring the reader. But Gusto managed to do it with a nice, concise bullet list. And as you can see, it never hurts to mention the referral reward twice, especially when you can place an eye-catching CTA button right below it.
Finally, here's the page you get when you click on a referral link on social media.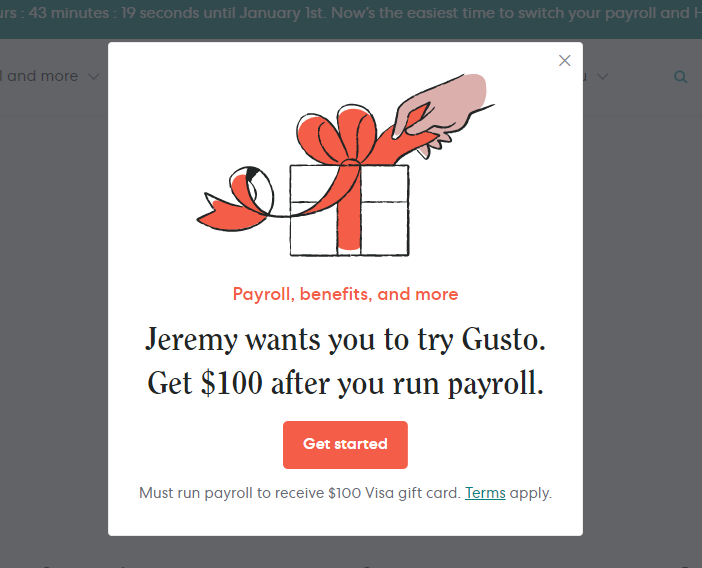 The referrer's name is hard to miss so it's a great start. Also notice the visual hierarchy, the benefits-driven copy, the use of color contrasts, and the noticeable CTA button. That's an effective referral landing page if I ever saw one.
8. DigitalOcean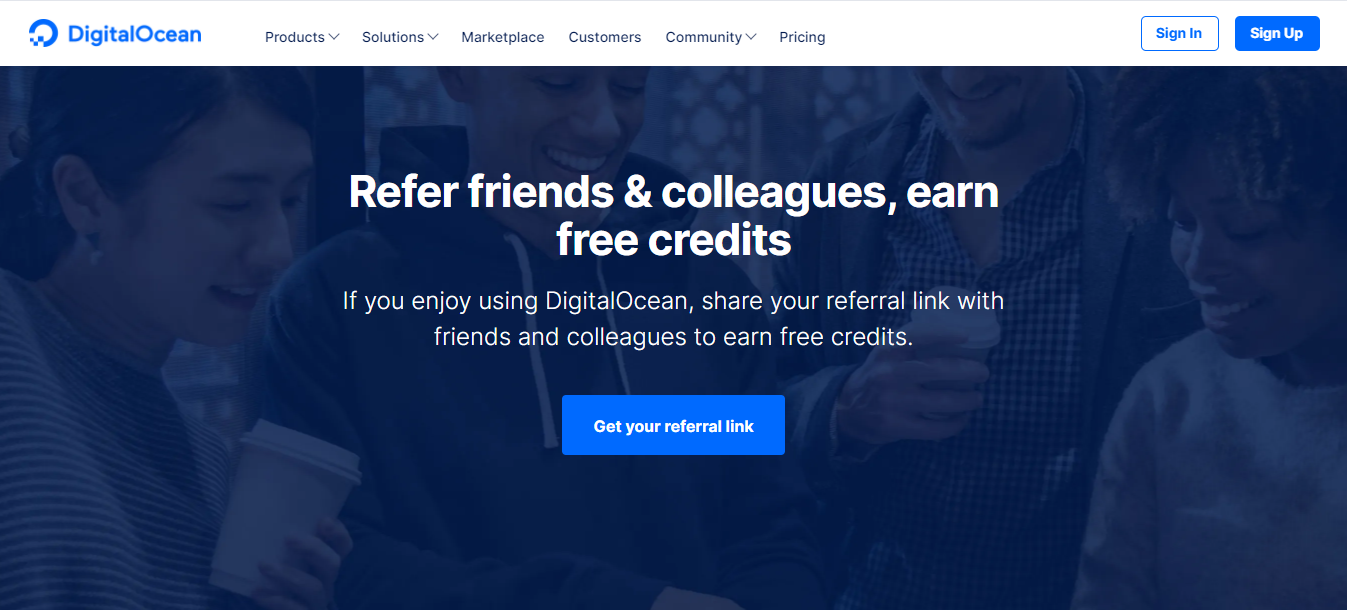 Digital Ocean helps your business deploy, manage, and scale faster with an application server, saving your team time and money. It's a cloud infrastructure solution that is fast, secure, and reliable.
How DigitalOcean's Referral Program Works
Refer a friend and earn a $25 credit for each person who signs up via your referral link and spends $25. The friend earns $100 in credit over 60 days when they add a payment method to their Digital Ocean account.
Why It Works
By offering a dual-sided incentive, DigitalOcean's customers will feel more eager and comfortable to send more referrals simply by knowing that their connections will be getting instant value too.
DigitalOcean's customers can visit the following referral hub when logged in.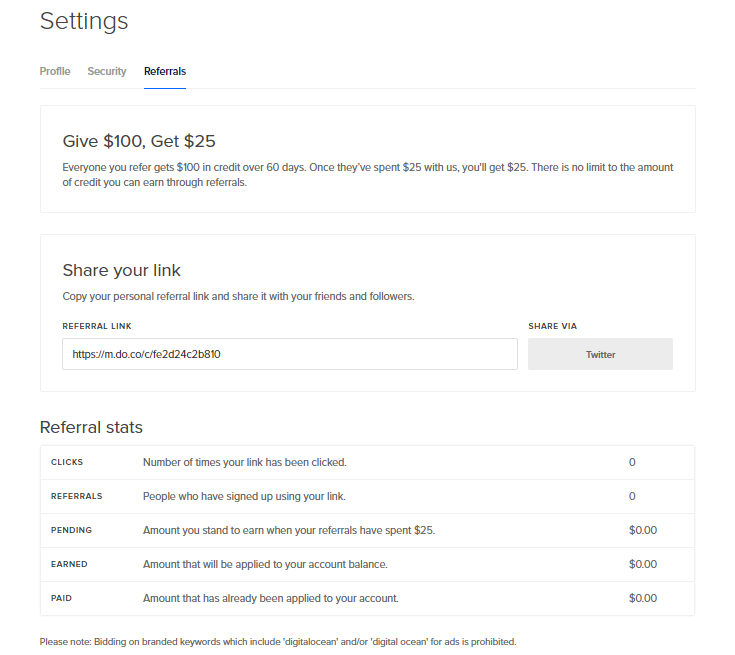 The "Referral stats" section is a great addition because it increases transparency and keeps customers engaged. After all, feedback gives users a sense of progress and achievement.
This is the page you get taken to when you click on a DigitalOcean referral link.

From the image above, I liked the headline the best. Why? Because it identifies the target audience's problem and positions DigitalOcean as the solution effectively in two short sentences. The more specific supporting headline makes the landing page even more effective.
The easy, fast signup process (the "Deploy in seconds" CTA is brilliant) gives prospects the gentle nudge they need to proceed.
10. Bench Accounting

Bench Accounting (or Bench) is a B2B fintech company offering online bookkeeping services to small business owners. You're not only getting an intuitive proprietary software to automate your bookkeeping, they also offer human bookkeepers to help keep your finances up to date and running smoothly.
How Bench's Referral Program Works
Refer a business owner and you get a $150 Visa gift card and one free month of service for every referred friend who signs up. The friend also gets a free trial month of bookkeeping. There's no limit to how many people you can refer.
Why It Works
As many small business owners can attest, doing bookkeeping can be a real chore. The headline ("You run your business. We'll do your bookkeeping.") works because it communicates that pain point effectively and does a great job in positioning Bench as the go-to solution. Using Bench bookkeeper Ada as the hero shot was a nice touch, too, for it highlights one of the best features that separates Bench from its competitors.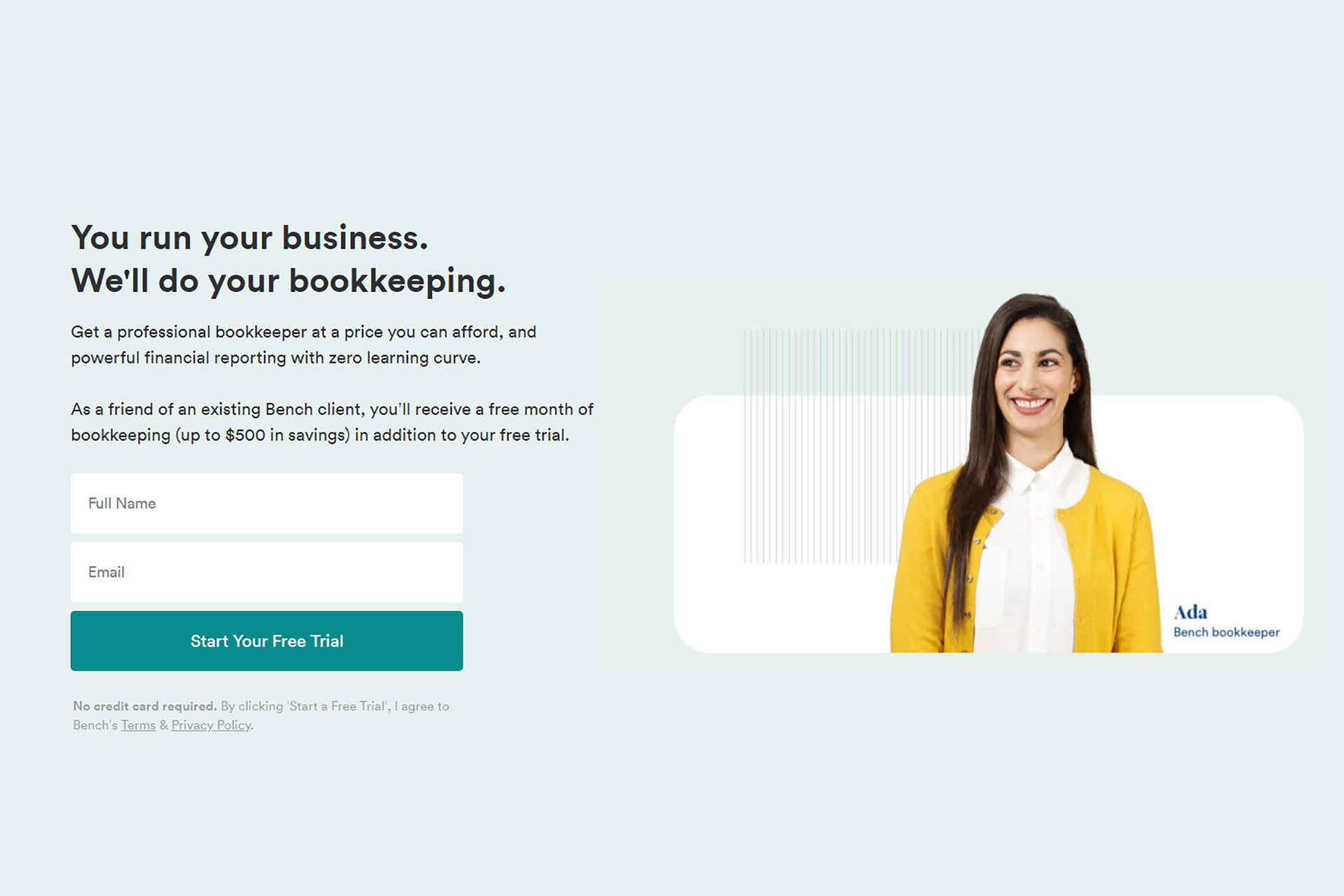 Key Takeaways
A B2B referral program is a powerful marketing channel if you do it right. While trust by way of customer recommendation gives you an advantage, a formalized referral program gives your customer acquisition the kick in the pants in needs to supercharge your growth.
I hope you've learned a ton from the 10 B2B referral program examples presented here 
To sum up:
Make it easy to send referrals.
Speak to the needs of your referral prospects in your referral copy.
Use visuals wherever necessary.
Gamify your referral program.
Leverage connections by mentioning the referrer's name
Subscribe to GrowSurf
Get our weekly newsletter for our latest referral marketing guides.
Error subscribing! Please try again.