What Is a Brand Ambassador Program?
As a brand, you want to tell your story and sell your products.
This is where the idea of a brand ambassador program comes in.
In short, a brand ambassador is a person who advocates for your business in a positive way. They're also considered brand evangelists.
Brand ambassador programs serve to formalize your relationship with a brand ambassador. You may have happy customers who have been promoting your brand on their social media. Or, you may have a loyal employee that's been spreading the good word about your fantastic company culture. These are your brand ambassador candidates! 
With a brand ambassador program, you're recruiting your best supporters and making them official members of the program. With the program in place, you can give your ambassadors detailed information about the program's guidelines, how it works, incentives involved, etc.
But what's the goal of these programs?
That's easy! A brand ambassador program aims to help a company increase sales, drive more conversions, and improve brand awareness. An ambassador might be asked to promote a brand online, like on social networks, or offline, on events, trade shows, etc. In some cases, it's a combination of both.
Brand ambassador programs differ from influencer programs in that they are more long-term.
Types of Brand Ambassadors
There are several types of brand ambassadors that you can include in your program. The most common include:
Niche Ambassadors
If your business operates in a specific niche, then using niche ambassadors seems like a great idea. In short, niche ambassadors are authoritative people in your niche. For example, if you're an online education platform that offers astronomy courses, having Neil deGrasse as a brand ambassador seems like an amazing idea (but not sure if it's doable).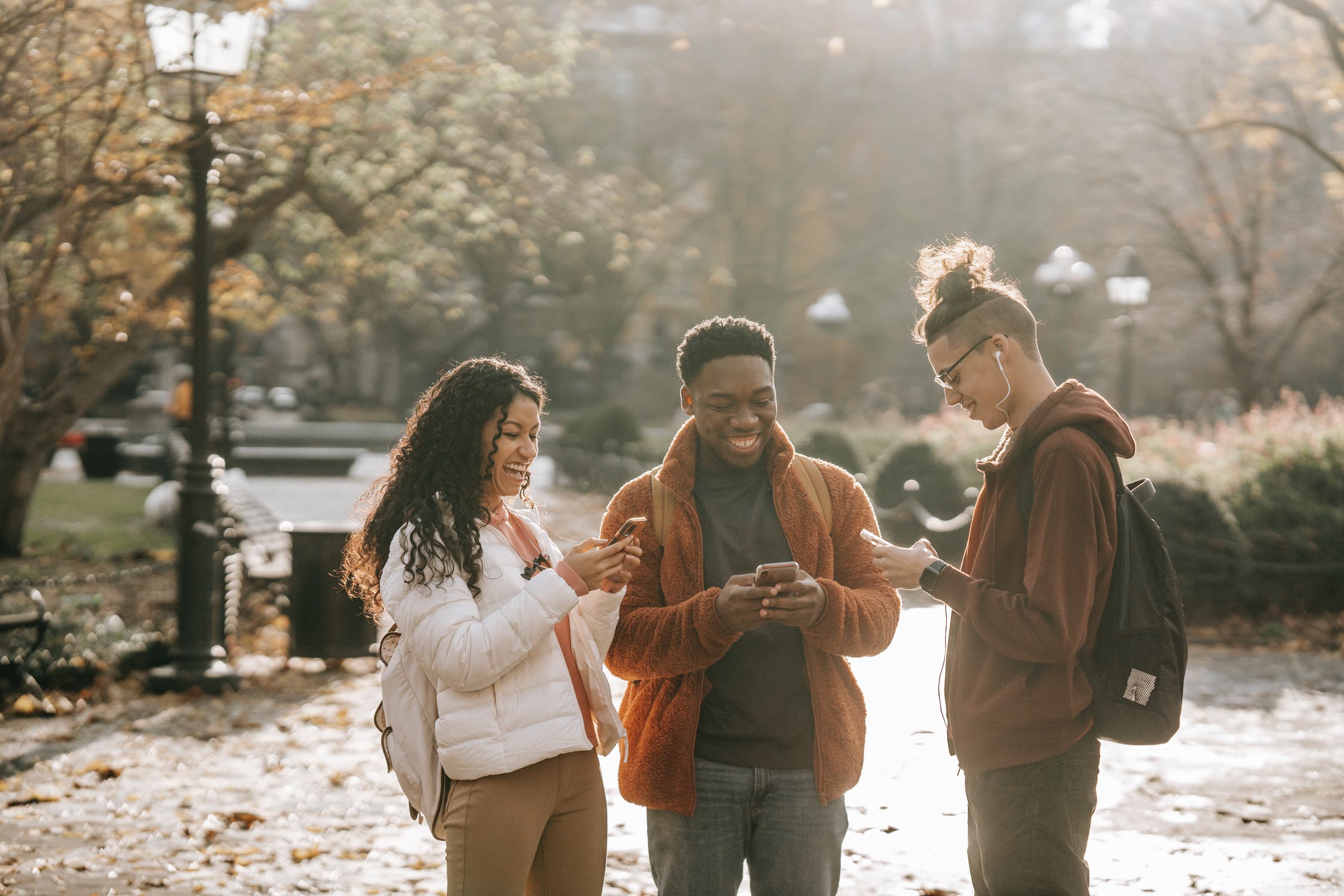 Brand Loyalists
These are your most loyal customers who have shared good words about your company before or are actively promoting your brand. They're doing so because they love your brand and want others to know it, too. Their promotion is authentic and comes from the heart, which makes them the perfect candidates for your brand. They have been doing this for free, but once they join your program, you can discuss guidelines and incentives.
Target Audience Blenders
These brand ambassadors are the people who can reach your target audience easily. For instance, let's say that you're a company whose prime product is a student online learning platform. You might recruit campus students to promote your product as these are the people who can quickly get in touch with your target audience.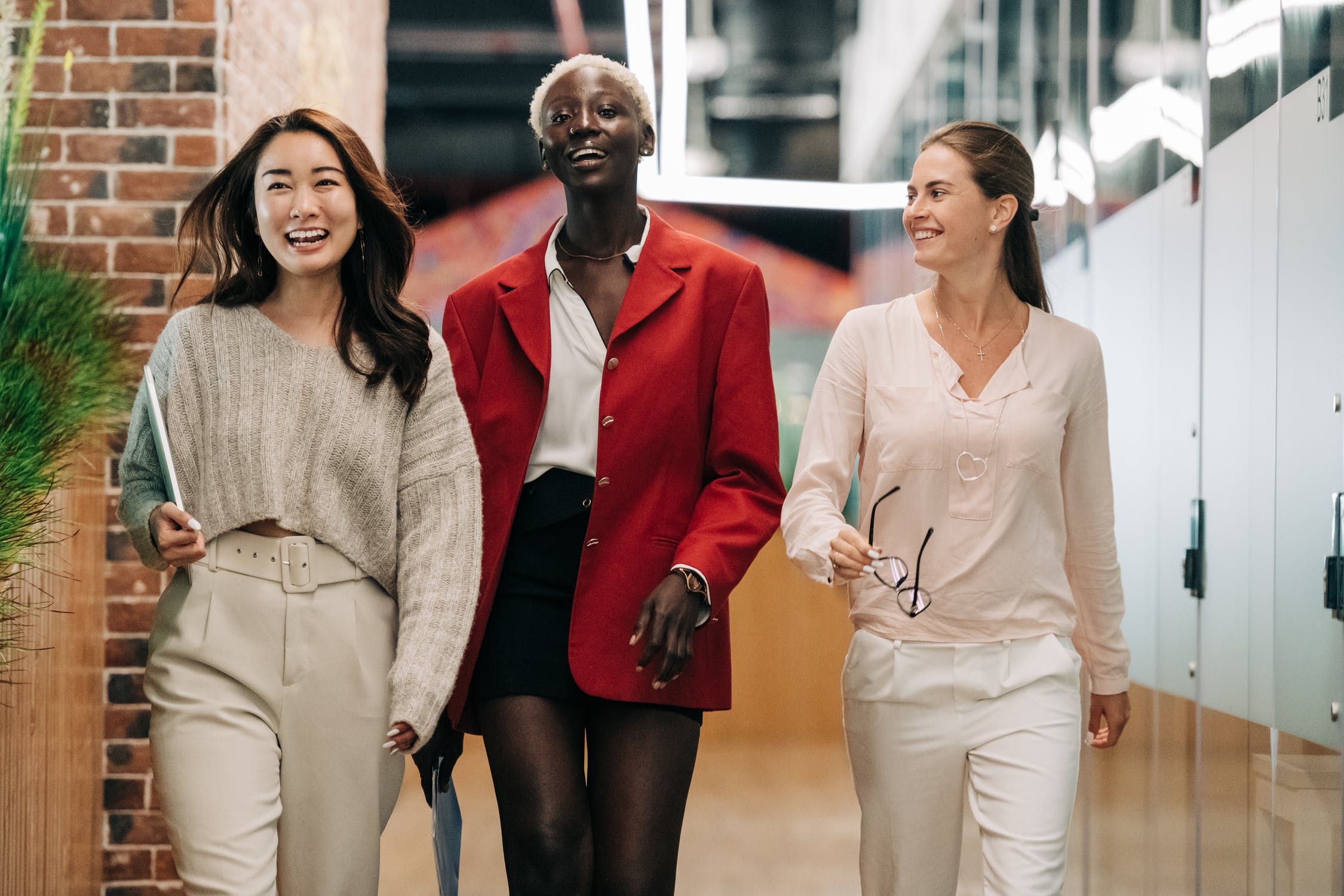 Employees
Employee ambassadors are your best ambassadors. They are the ones who know what your company stands for and why it is worth supporting. They're the people who are closest to your customers and see your company's culture on a day-to-day basis; it only makes sense that they would be the best people to show off what you're all about.
What Do Brand Ambassadors Do?
Brand ambassadors serve three main purposes: 
Promote Your Brand
Promoting your brand to their audience is the main responsibility of brand ambassadors. This promotion can happen both online and offline. For instance, if you and the ambassador have agreed on online promotion, they can spread information about the company via their social media accounts. If it's an offline promotion, they may interact with your customers at events and gatherings.
Connect With People
A brand ambassador is someone who is in charge of representing your brand in the real world. They usually do this through the subtle art of brand storytelling. They can help you put a human face on your company, establish customer loyalty, and have the opportunity to upsell or cross-sell products to customers.
Improve Your Brand Image
Brand ambassadors will promote your product to their friends and family. In some cases, they will be sharing the good word with their followers. These are all people who trust them deeply. This can, in turn, improve your brand image.
How to Start a Brand Ambassador Program
In this chapter, we'll go over how to set up a successful brand ambassador program from the ground up. We'll provide some tips for attracting and retaining ambassadors. So read on to learn how to start your own ambassador program in five steps!
1. Define Your Goals 
Defining your goals for the brand ambassador program is the first step you have to take. Without knowing your goals, you won't identify the most suitable ambassadors or establish the proper guidelines.
Let's say that you find a brand ambassador without defining your goals first. The ambassador has a goal of their own: to promote your post once per month.
But your goal is to increase sales. Posting once per month won't do the trick. You need the ambassador to share the good word at least four times each month.
And that's why defining your goals beforehand is critical. It helps set your expectations and requirements from each brand ambassador and avoid misunderstandings.
In addition to the increase in sales, here are a few common goals of brand ambassador programs:
Increase brand awareness
Drive conversions
Expand to new audiences
Build a social media following
Foster customer loyalty
As we mentioned above, some brand ambassadors will have their own personal goals, like increasing their followers or earning a higher income. Make sure your goals and values align with theirs.
2. Select Your Ideal Brand Ambassador and Establish Guidelines 
Once you define your goals, it's time to identify the ideal brand ambassador for your brand. As we discussed above, there are several types of brand ambassadors, like niche ambassadors, brand loyalists, and employees.
Here are some things to consider before choosing your ideal brand ambassador :
Have they used your product/service before?
Have they been promoting your product/service?
Do they have a large base of followers?
Have they worked with other brands, and if yes, with which?
Are they professional?
Once you select the ideal ambassador, the next step is to establish guidelines for how brand ambassadors will promote your brand.
Here are some points to get you inspired:
Will they be promoting your brand online or offline?
How often should they promote your brand?
How will they promote your program (social media posts, blog posts?)
Should they use specific hashtags in their content?
Will they be receiving a reward?
3. Reach Out to Potential Ambassadors 
Here's the thing:
Many of your potential brand ambassadors are hiding in plain sight ( your employees and loyal customers). They just need to be discovered.
Here are some of the best ways to locate your best promoters: 
Search on Social Media
A quick search on popular social media platforms can reveal who is posting good things about your brand. Try with @mentions of your brand or #hastags to see who's saying what and generates the most engagement. If someone has been loudly supporting your brand by saying how much it has improved their life, they might be an ideal candidate.
Have a Formal Application Form on Your Website
Here's another idea:
Let people apply to join your brand ambassador program. For example, you can create an application form and add it to your website so that people can apply. Alternatively, you can also promote the program in emails you send out to subscribers.
Use the application form as an opportunity to learn more about the people applying to join. Ask them why they love your product, how it has improved their lives, and whether they'll be willing to regularly share your product with their network. At the same time, explain the established guidelines to those applying, like the perks of joining the program.
Look at Your Customer Data
Sometimes, you don't have to look far to find the ideal brand ambassadors. Sometimes, your ideal brand ambassadors are your existing customers.
Look at your customer data. What are your most loyal customers? Are there any customers who purchase from you often? These are your best candidates.
In fact, consider looking in your customer data before trying out anything else, like social media or application forms.
Try Software Programs
If you want to avoid combing through any mentions of your brand on social media, consider trying a software program that does everything for you automatically.
These tools can do the hard work for you by tracking who's talking about you and mentioning your brand. Once you find potential candidates, reach out to them with an offer.
4. Reward or Recognize Ambassadors
Now that you've found a few good candidates to join your brand ambassadors program, it's time to think about ways how you're going to reward them.
Yes, they might agree to work for free, but it's always a good idea to offer a reward or recognize them to increase motivation.
Here are several ways how you can reward or recognize your ambassadors:
Option #1: Give them discounts or free access to your service/products. Let's say that you have a life insurance platform. You can give brand ambassadors free life insurance or a discount on one of your packages.
Option #2: Pay them a percentage of the total sales like an affiliate program . For example, anytime someone purchases with their unique code, they'll receive a 10% commission.
Option #3: Offer compensation based on the number of posts they create for your brand.
Option #4: Recognize their achievements. Not all incentives have to be monetary. Another great idea is to recognize your brand ambassadors publicly to make them feel valued and part of your team. For instance, you can thank them in a special post on your social media, send them a personal thank you note, or give them a shoutout on Instagram Stories.
The best incentives for your brand ambassadors depend on what motivates them. This is up to you to discover. Don't forget to inform them of how and when they'll get compensated for their efforts.
And if you want to track which brand ambassadors are driving the most sales, consider giving them a unique referral code. You can track each of your brand ambassador's performances with a referral software like GrowSurf.
5. Track the Progress of the Program
Chances are you're already tracking your website visits, bounce rate, and social media engagement to identify what works and what needs improvement.
The same should apply to your brand ambassador program. You must assess what's going well with your program and what needs adjusting. Maybe you'll find that a certain ambassador is not bringing in the expected amount of sales. Or, you may identify ambassadors that are killing it with promoting your brand and deserve an increase in rewards.
You can track:
The frequency of posts
Engagement of each post
Inboard traffic
Reposts and shares
Conversions 
But how do you track these metrics?
Luckily, plenty of tools can help you figure out whether your brand ambassador program is hitting its targets. For instance, you can equip your ambassadors with a UTM tracking code to monitor your online traffic sources. In addition to this, you can use a referral program tool like Growsurf to manage key elements of your program.
GrowSurf focuses on the referral program side of brand advocacy. The platform lets you easily setup, automate and track all of your brand advocates through simple and effective referral software.
What's more, it integrates with payment gateways, such as Stripe, meaning that payments and referrals go hand in hand. You can offer incentives such as gift cards, account credits (through Zapier or webhooks), and coupons/subscription discounts (if you're using Stripe).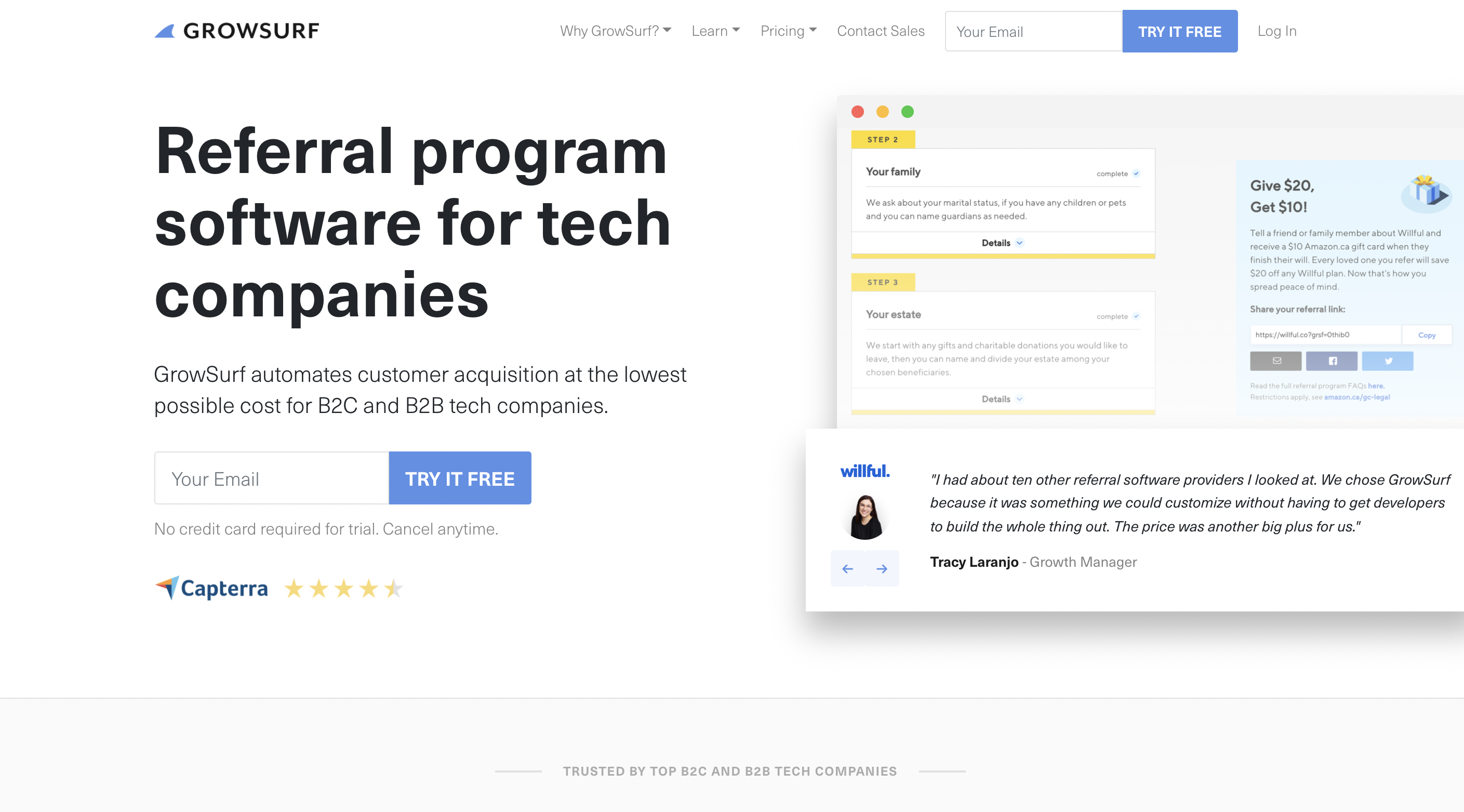 Brand Ambassador Program Examples
Now that we learned the basics of starting a brand ambassador program, it's time to see how some popular brands are running their own programs. We'll look at two examples!
Adobe Spark Ambassador Program
I'm certain that Adobe needs no introduction. This computer software company has an amazing brand ambassadors program. Currently, they have 900 true brand ambassadors.
In 2020, they launched the Adobe Spark ambassador program.
In short, Adobe gathered a group of experts in the social media marketing space to share their hard-earned tips, hacks, and strategies with other Adobe users so they could reach their career goals.
For instance, there's Dani Aziz, a self-taught graphic designer whose goal is to empower others to tell their story through their brand and imagery. Mikos Adams is a Creative Entrepreneur helping businesses, brands, and influencers turn "Followers into Buyers" through his strategic online marketing strategies and promotional tactics. Claudio Zavala Jr. is a creative media consultant and educator who leads workshops and webinars on creativity, video creation, and storytelling.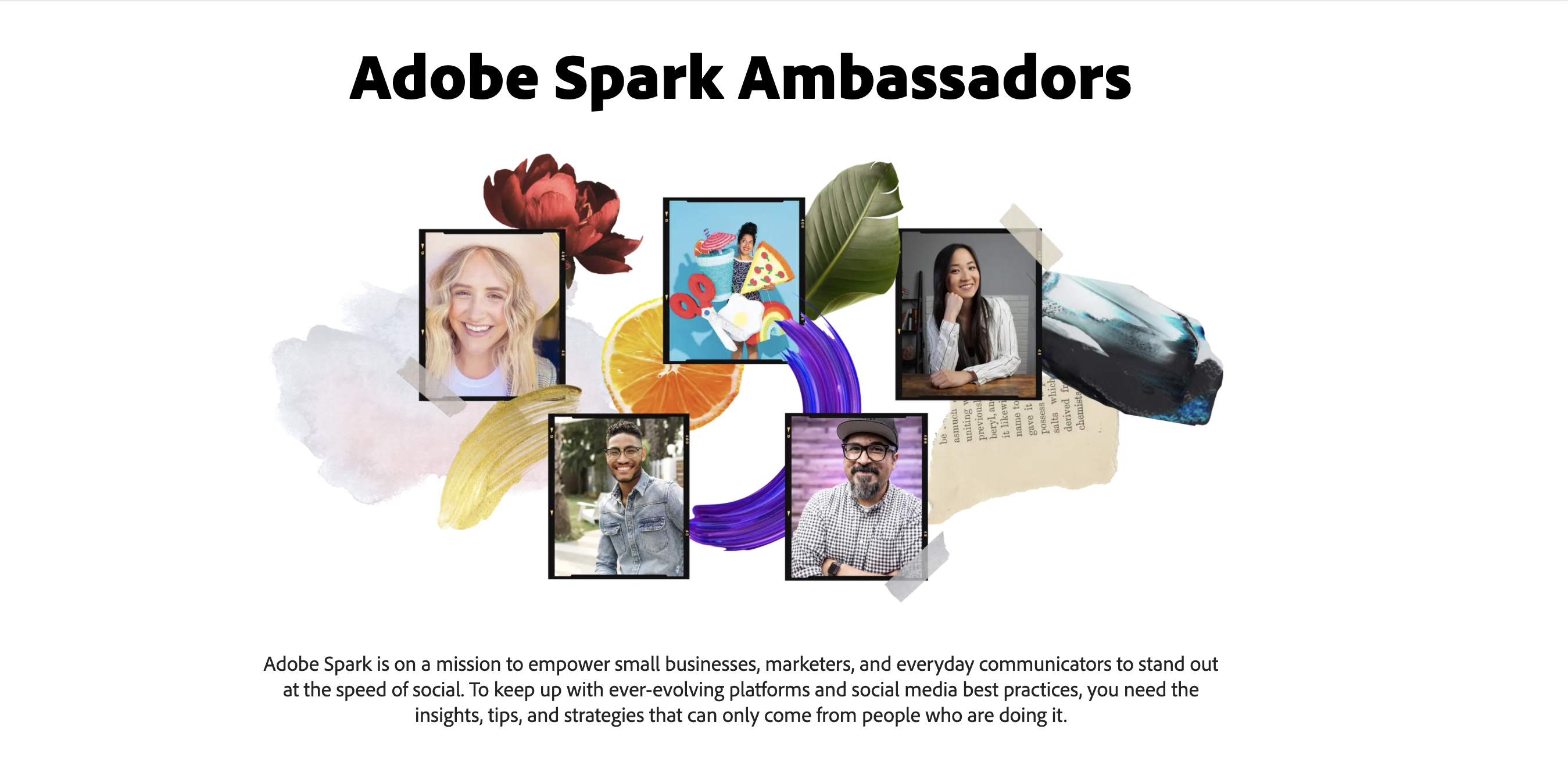 Wix Ambassador Program
Wix created its Ambassador program in 2016. Since then, it has gained more than 80 passionate experts from around the globe who build their own local communities of Wix users.
How exactly does the program work?
Similar to Adobe, Wix ambassadors organize free events in their city and lead workshops that aim to educate Wix users on trending topics in the world of website design. Topics can include web design trends, photo techniques, SEO, and more. Wix Ambassadors can be found on every continent and often partner with local small business organizations and coworking places to expand their reach.
To become a Wix Ambassador, Wix users have to become Wix Certified Trainers. Then they're vetted through an application process that selects only the most passionate users. Once someone becomes an Ambassador, they are equipped with all the resources they might need to organize and run a Wix workshop or event.
The program is currently unavailable ( probably due to Covid-19 restrictions ).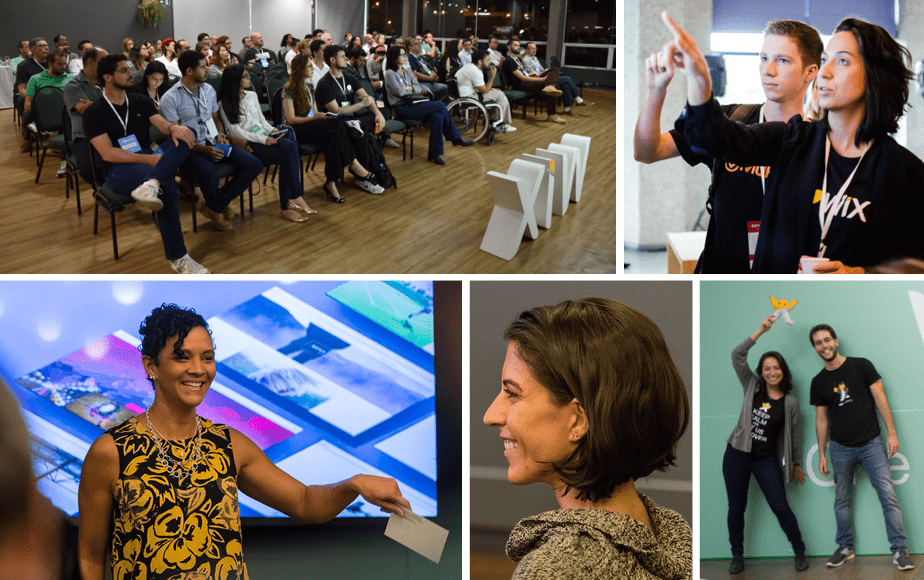 Key Takeaways 
A brand ambassador program is a great way to get the word out about your company and products while building relationships with people who have a passion for your product.
Hopefully, the five best practices we mentioned above can serve as a good starting point for putting together your own program.
To sum up:
Brand ambassador programs serve to formalize your relationship with a brand ambassador.
There are several types of brand ambassadors that you can include in your program, including employees, niche ambassadors, brand loyalists, and target audience blenders.
Brand ambassadors serve three main purposes: promote your brand, connect with people, and improve your brand image.
The five steps you need to take to start a brand ambassador program are as follows: define your program's goals, choose your ideal brand ambassador persona, reach out to potential brand ambassadors, offer rewards or recognition, and track the progress of your program.
Subscribe to GrowSurf
Get our weekly newsletter for our latest referral marketing guides.
Error subscribing! Please try again.