Marketing Your SaaS on Social Media
SaaS (Software-as-a-Service) businesses have seen explosive growth in recent years as more companies move operations to the cloud. Companies worldwide will spend a whopping $145 billion in 2022 on cloud application services.
But SaaS companies face more challenges than ever, namely building brand awareness and acquiring customers — both of which aren't easy in today's competitive market.
So how can you reach and engage more of your target audience? How can you demonstrate the value that your SaaS products deliver and generate more revenue?
This is where social media marketing comes in.
This article will cover the benefits of using social media to market your SaaS business, as well as cover the strategies that you can implement to increase your reach and attract more customers.
Benefits of Saas Social Media Marketing
Let's start with a definition — social media marketing is all about using social platforms like Facebook, Twitter, and Instagram to build your brand. The goal is to reach your audience and promote your products or services.
If you're not already using social media, you're missing out on opportunities to grow your SaaS business.
Let's take a closer look at the benefits of social media marketing.
Increase Brand Awareness
There are now an estimated 4.2 billion social media users — that's well over half the world's population. That figure will only increase as more people turn to social media to obtain information and stay connected.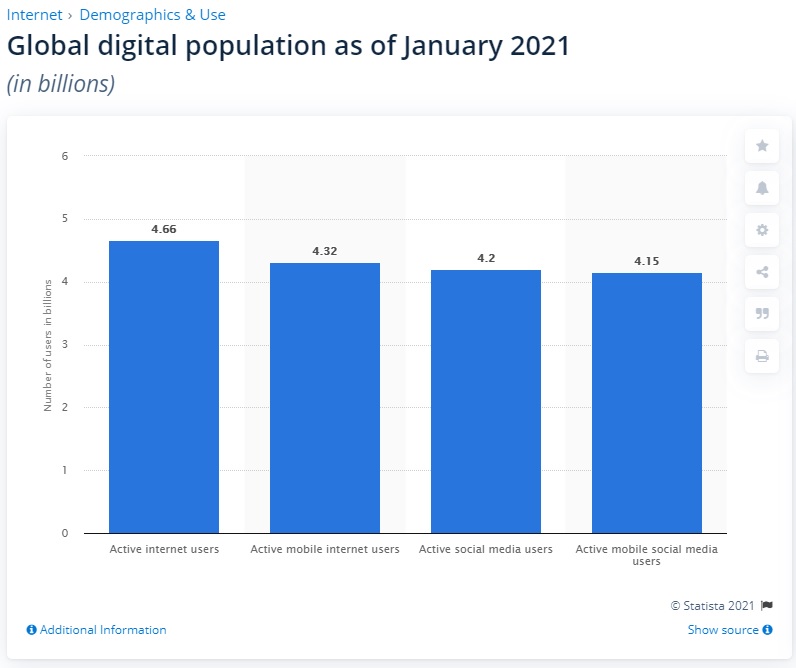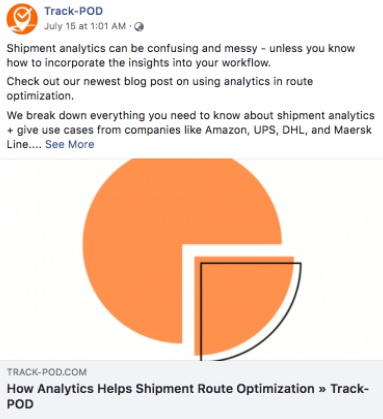 Manage Your Brand Reputation
More people are turning to social media to voice their opinions and complaints.
Failing to respond quickly can leave customers with a negative impression and turn into a bigger issue.
Here's an example of how Delta Air Lines helped one customer on Twitter: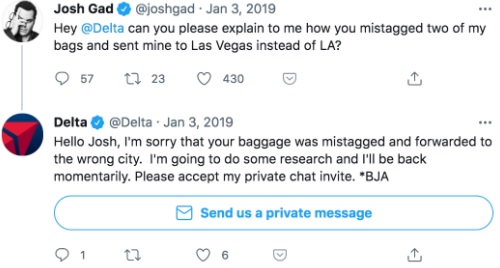 Image Source: @Delta
75%of customers are willing to spend more on companies that offer great customer experiences. That also extends to how you present your brand on social media and respond to customers.
Gain Valuable Insights
Understanding your audience is essential to driving growth. It allows you to create more targeted campaigns and demonstrate that you understand their needs.
Social media allows you to gain valuable insights into your customers.
Platforms like Facebook and Twitter offer detailed analytics information about people who engage with your brand. These insights can help you create more engaging content.
Monitor Your Competition
Social media isn't just a direct line to your customers. It also enables you to track mentions and see what others are saying about competitors.
For example, if customers complain about a particular feature (or lack of it), you can feature that pain point in a targeted campaign and attract customers.
These are only a handful of the benefits of using social media.
It's a marketing channel you can't afford to ignore as it allows you to raise brand awareness, engage your audience, and generate more sales.
Let's look at the social media marketing tips that you can use to grow your SaaS business.
Subscribe to GrowSurf
Get our weekly newsletter for our latest referral marketing guides.
Error subscribing! Please try again.
1. Build Your Social Media Team
As social media has evolved, so too have the responsibilities. You're not just posting content to your profiles. You're also monitoring brand mentions, engaging with prospects, working with influencers, and analyzing metrics. That's far too much for any one person to handle.
More companies are now expanding the recruitment processto find team members with social media experience to manage these responsibilities.
The first step to growing your SaaS business with social media is to hire the right team. Start by setting a budget, as it'll influence your hiring decisions. How much you can allocate will depend on factors like your goals, company size, and annual revenues.
There are a few key roles that you need on your social media team. These include:
Social media manager to oversee the strategy.
Content creator to create engaging content.
Community manager to engage with your audience.
Advertiser to assist with paid campaigns.
Data analyst to analyze data.
Your social media team is your brand voice. Make sure to hire people who have the right experience and align with your company values and culture. If your budget is tight, consider working with freelancers and make plans to eventually expand your team.
2. Identify The Right Platforms
New social networks continue to regularly make their way into the social sphere — each promising innovative ways to connect with people. For businesses, that means more opportunities to build brand awareness and generate more sales.
It can be tempting to join as many of these networks as possible, but you'll only spread your efforts thin. This can dampen your social media marketing efforts.
With social media, it's better to focus on quality than quantity. Ask these questions to identify the right channels to target:
Where is your target audience?
What type of content do they interact with?
What channels align with your brand and industry?
What channels do your competitors use? 
Don't forget about your audience's demographics. Start with your current customer base and look through your Google Analytics data to gather this information. Then narrow down your choices to just a handful of platforms.
3. Maintain Brand Consistency
Imagine you discover a new brand while browsing Facebook. Its posts are witty and full of humor. But then you click through to its site, and the content doesn't have the same tone. This can be jarring and leave you with a negative impression.
Establish clear guidelines to ensure your messaging is on-brand.
What tone do you want your content to reflect? If you're a B2B SaaS company, you might opt for a professional tone. Brand guidelines are helpful resources that your team can refer to whether they're creating a blog post or writing a tweet.
Don't forget about visuals. You'll want to use the same colors and images on every platform. As an example, Breadcrumbs, a revenue acceleration platform, maintains the same distinct comic design across each of its pages.
Here's what their website looks like: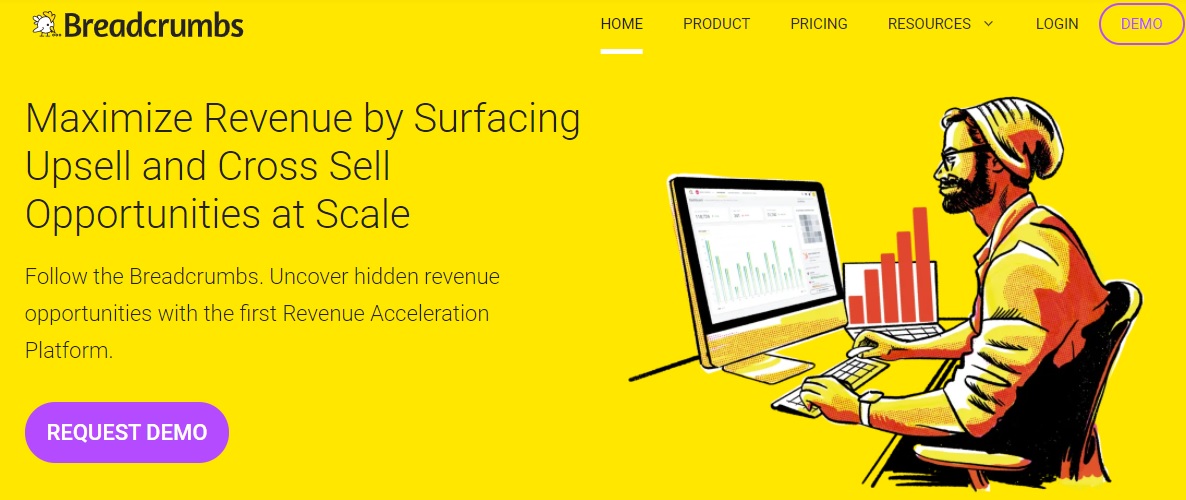 Here's what their Twitter profile looks like: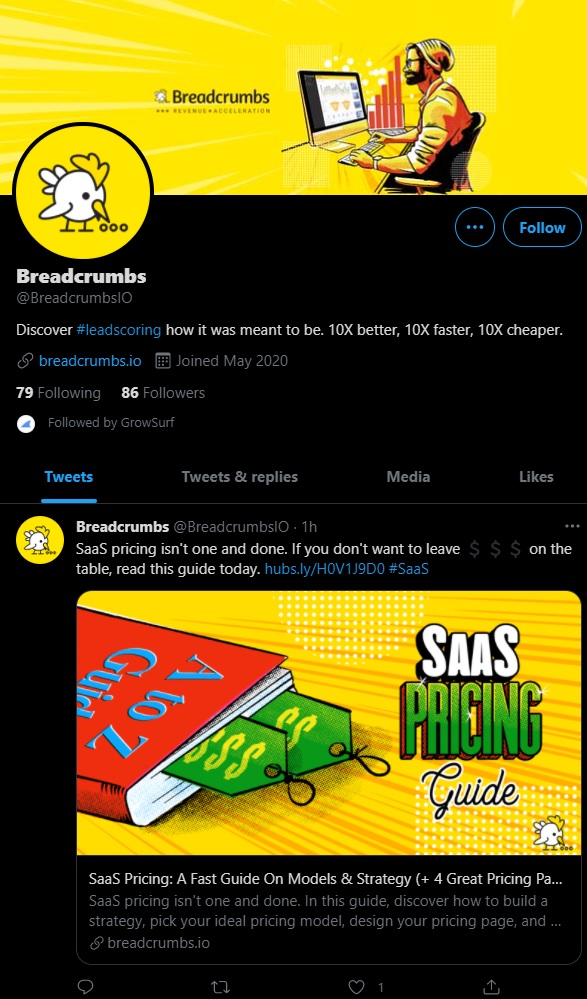 Visitors on Breadcrumb's Twitter can instantly recognize the brand. Make sure to maintain a consistent voice and visuals across your channels. This can help you stand out from the competition and get more prospects interested in your SaaS business.
4. Involve Your Audience
Most brands use social media to post and share their content. There's nothing wrong with this approach, but it tends to be one-sided.
To drive measurable results and increase your reach, find ways to involve your audience.
For example, Trello ran a campaign on Twitter called #WhereITrello, inviting customers to share photos of where they use the platform.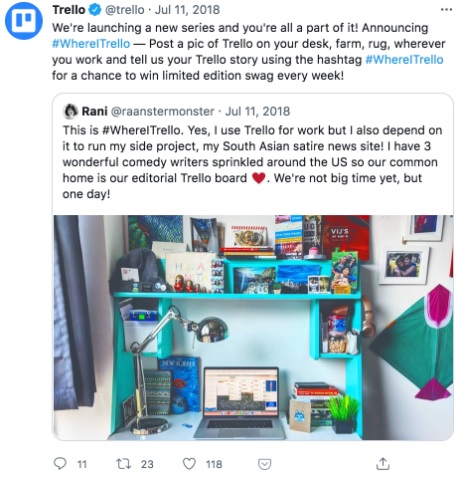 Involving your audience also allows you to gather user-generated content (UGC). As the name implies, it's content that your users create. This type of content lends more credibility to your brand through word-of-mouth marketingand can influence purchasing decisions.
5. Create High-quality Visuals 
Capturing the attention of your audience on social media isn't easy.
Fail to generate interest, and most users will scroll past your content without a second thought.
One way to increase engagement and generate more views is with quality visuals. A report from HubSpot on Instagram Stories found that users were more likely to tap through to the end of stories that contained photos, videos, and text.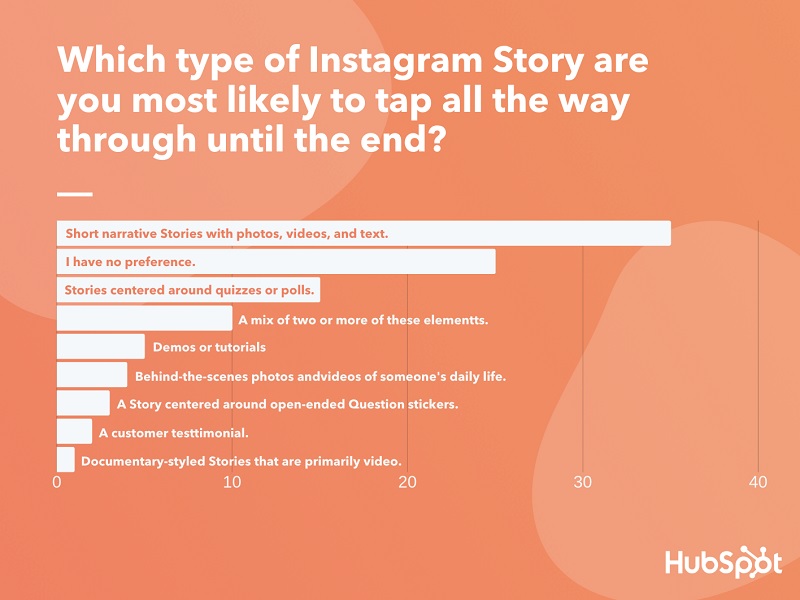 Image Source: HubSpot
If you're not already adding images or videos in your posts, you're likely missing out on a ton of views and engagement. Use image editing tools like Cava and Piktochart to create engaging visuals and infographics or you can use ClipChamp for creating video content.
Even if you have a post on a "boring" topic, you should still include images. For example, the topics of savings, custodial accounts, and investing aren't the most entertaining.
But look at how Earlybird maintains a cheerful and fun Instagram presence around monetary gifts for children. The company does this through a combination of short videos, funny posts, and more serious ones that describe its services.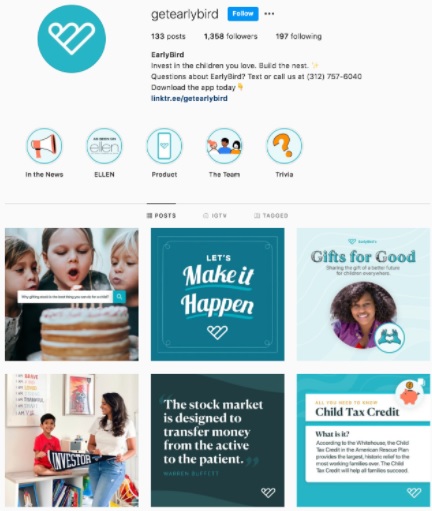 Find other ways to turn your content into engaging visuals. For example, you can easily turn interesting data about your SaaS business into an infographic.
Don't stop at images and videos. Considering the global reach of podcasts, you can also promote your podcast through various social media channels to spread the word.
People have preferences regarding how they consume content. Using different formats helps your posts stand out and allows you to reach an even wider audience.
6. Run Social Media Giveaways
Running a giveaway is another great way to promote your SaaS business.
The way it works is straightforward. You announce a prize (e.g., an annual subscription) on a network like Facebook or Instagram and set entry criteria. Then you accept entries and announce a winner once the contest is over.
Here's an example of a giveaway that Shea Moisture ran on Instagram for its beauty products: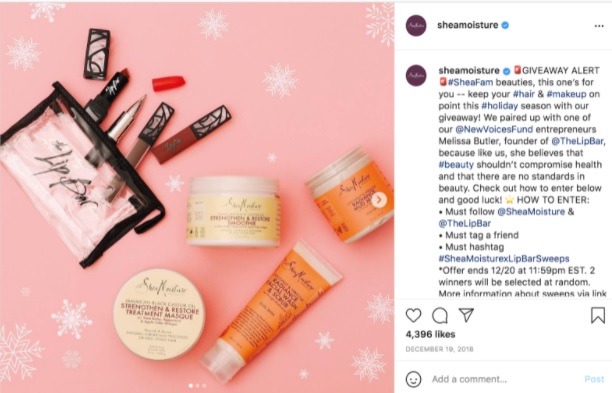 The example above was for an eCommerce company, but you can just as easily run Instagram giveaways for your SaaS business.
Whether you're running a giveaway on Facebook or Instagram, make sure that you follow the rules for each platform, or you risk legal action.
Instagram requires that you include eligibility requirements and acknowledge that Instagram doesn't sponsor or endorse your giveaway. You also can't tag users who aren't in the post or encourage others to tag themselves if they're not in the photo.
7. Boost Customer Referrals 
Seeing a commercial might not be enough to compel you to make a purchase. That's because advertising from brands is the least trusted source of information among consumers. But if a friend or family member recommends a product, you're more likely to pay attention.
93%of respondents in one survey trust friends and family as a source about brands.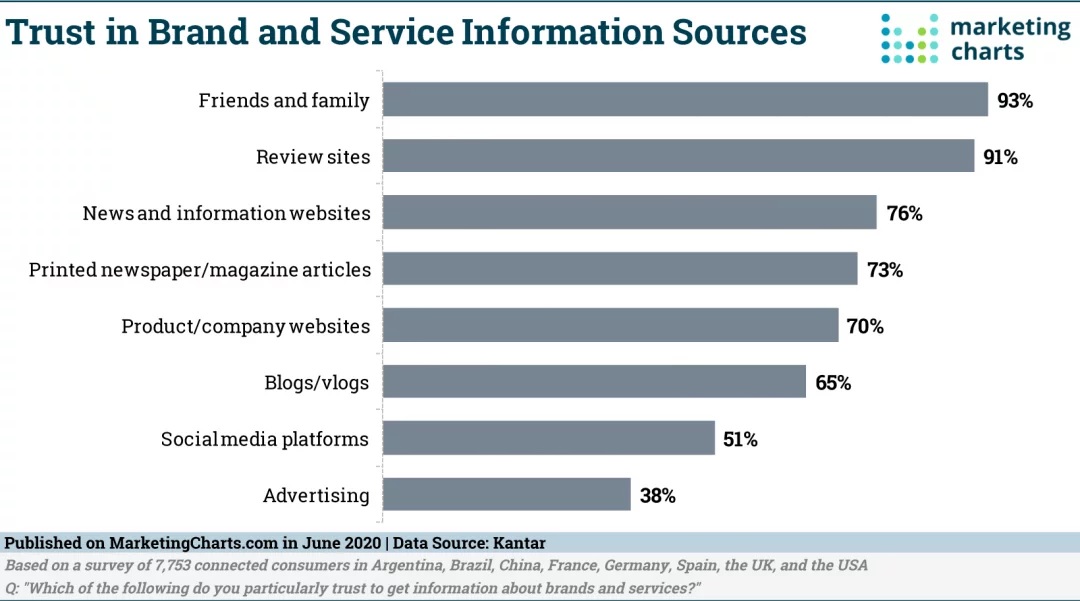 Image Source: Marketing Charts
Your customers are your best brand advocates. Getting referrals from them can lend more credibility to your SaaS business and generate more sales.
To illustrate how effective customer referrals are, 24 Hour Fitness generated over 330,000 referrals by allowing its members to send personalized guest passes to friends.
The easiest way to get customer referrals is to ask. If someone posts on your page about a great experience they had with your company, take the opportunity to respond and ask for a referral in a direct message.
To ramp up your efforts, you can also use referral software to give your customers their own referral link and issue rewards.
Key Takeaways
Social media has become an invaluable tool for businesses of all sizes to increase reach and grow customer bases. If you're not already leveraging social networks like Facebook or Instagram to promote your SaaS business, it's not too late.
Here are the main takeaways from this article to get you on the right track:
Build your social media team.
Identify the right social platforms to promote your business.
Maintain brand consistency across all channels.
Find ways to involve your audience.
Create high-quality visuals for your posts.
Run social media giveaways.

Boost customer referrals
Just remember that social media marketing is an ongoing process. You need to put in consistent effort to generate measurable results. It's a lot of work, but it can help your SaaS business grow.
Request a demo of GrowSurf
Set up your referral marketing program with software that lowers your customer acquisition cost and saves you gobs of time.