SaaS Content Strategy 101
What does one need to build a successful SaaS startup?
A brilliant product idea, qualified software development team, and a winning content marketing strategy.
Yep, content marketing strategy is also important.
With the help of a compelling content strategy, you will attract more traffic to your website, improve brand awareness, build brand authority in your industry, and eventually increase your SaaS sales.
This blog post will teach you how to develop a highly effective content strategy for a SaaS startup from scratch.
It will cover everything from target audience research to content writing and distribution.
Let's dive into the topic!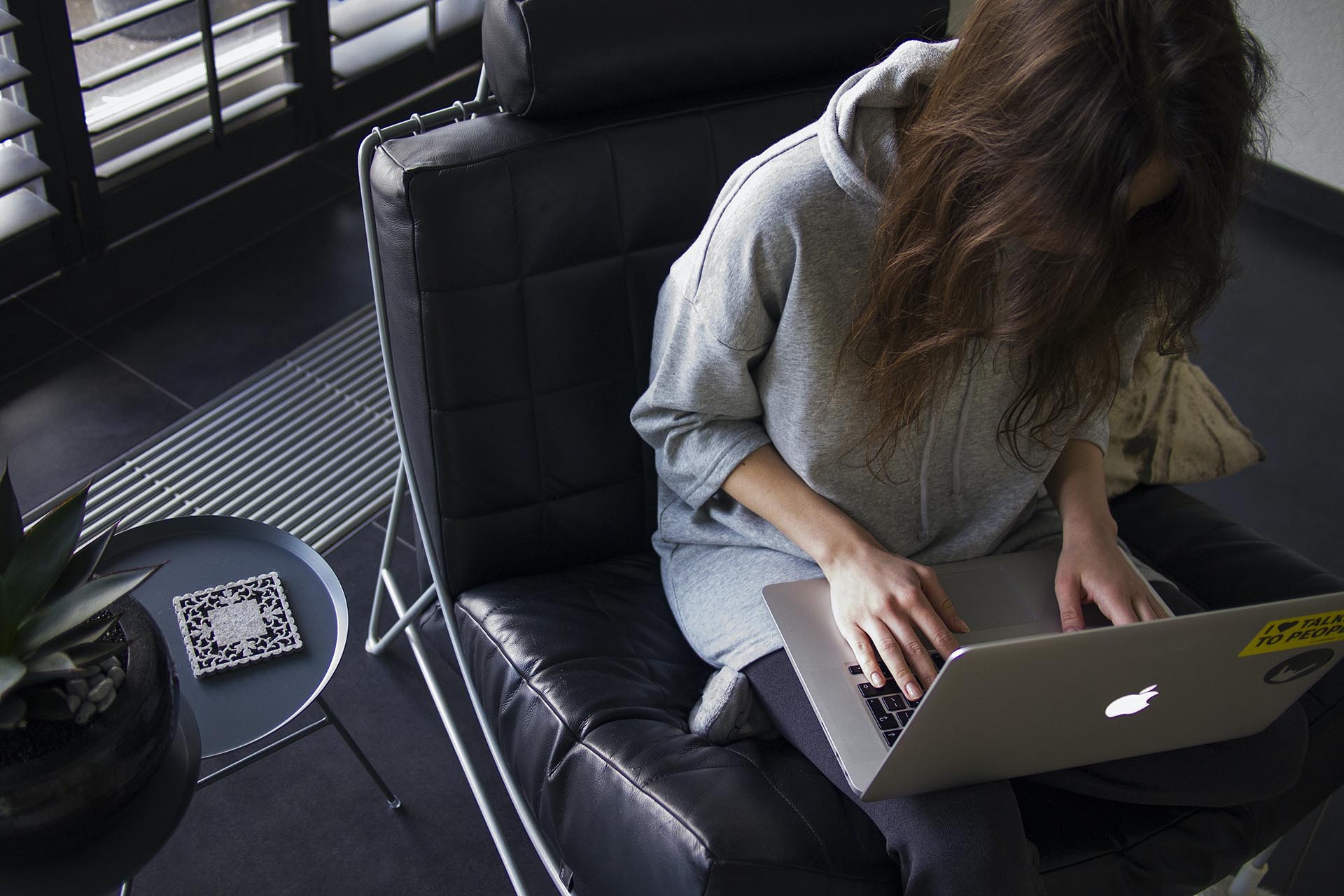 Research Content Ideas
Content strategy is a written plan that outlines what content you need to create, when, and how you should do it.
Content strategy needs to be tightly linked with your marketing objectives. For instance, if your key marketing objective is to improve brand awareness, you should focus your efforts on creating value-adding content that serves this very purpose.
When you start developing a content strategy for your SaaS startup, you should research content ideas in the first place. Let's discuss the steps you should take.
Understanding Content Format Preferences
Why do you develop a content strategy? You strive to engage your target audience and draw their attention to your product, right? 
Naturally, you should have a good understanding of what type of content resonates with your target audience. You should conduct research and answer the following questions:
Here is a list of tools you can use to do in-depth research: 
Audience Interest Tool by Alexa : Using this tool, you can find websites and topics that attract your customers.

Upfluence : This tool will help you find social media influencers who are most popular among your target audience. By analyzing content created by influencers, you will better understand the content preferences of your customers.

BrandMention s : You can use this tool to track mentions of your product and your competitors' products on social media and other platforms. It's a great way to identify the key customer's questions and concerns, as well as discover relevant content ideas.
Monitor Your Competitors' Content
Well, your SaaS company is not the only company in the market – you have many competitors out there.
You should analyze the content strategies of your key competitors and find the keywords they rank for. It will help you understand what specific content you should create to provide users with the best possible search experience.
You can conduct competitor research using BuzzSumo, Alexa, SEMrush, SpyFu, or other competitive intelligence tools.
Analyze the key metrics around your competitors' activity, find out what content works for your customers, and what content gets the most shares.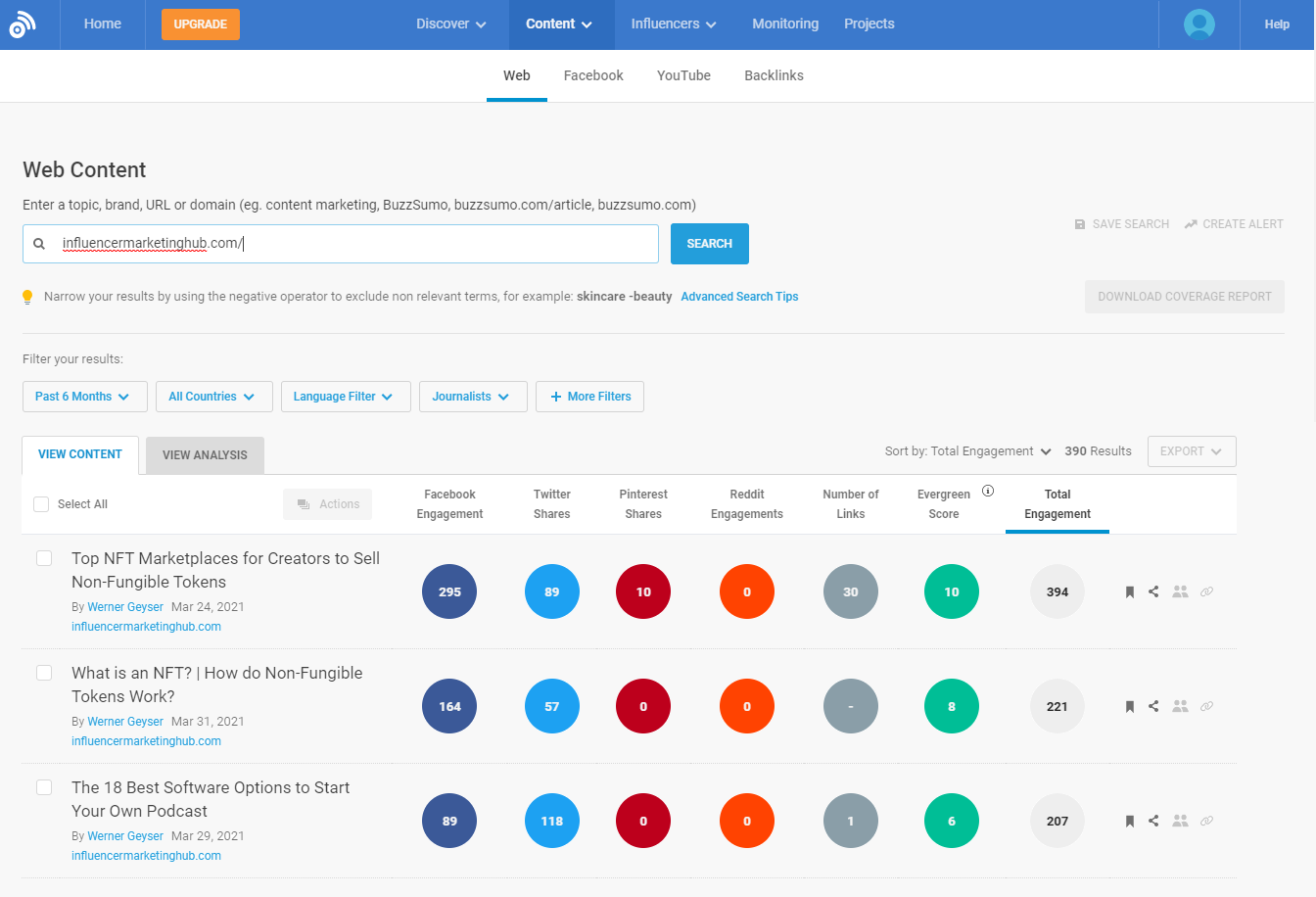 Image source: BuzzSumo
Bring Your Content Ideas to Life
You've already found out what content attracts your target audience the most. Now it's time for you to decide what content you will create for your SaaS startup.
Start Blogging
According to statistics, 85% of the largest SaaS companies have a blog. So if you want to grow your startup into something big, you should also get into blogging.
High-quality content will allow you not only to build brand awareness but also boost your SEO efforts and drive organic traffic to your website. A recent survey shows that 72% of digital marketers agree that blogging is the best tactic for SEO. It will be wise of you to make blog writing the cornerstone of your content strategy.
Subscribe to GrowSurf
Get our weekly newsletter for our latest referral marketing guides.
Error subscribing! Please try again.
Build Social Media Presence
Social media is an integral part of modern life, and you can't ignore this fact. Statistics show that 74% of customers follow brands on social media, and 96% interact with the brands they follow.
If you run a B2B SaaS business, you should build your presence on LinkedIn and optionally on Facebook or Twitter.
If you run a B2C SaaS business, you should be even more focused on social media content. To engage Gen Z and younger Millennials, you will need to create educational and entertaining content for Instagram and TikTok.
Start a Podcast
Most SaaS companies have blogs and are present on social media, but not many of them have their own podcasts. If you want to start a podcast, you're in luck because despite its rise in popularity, it's easy to stand out in your niche.
Only 18% of the top SaaS companies leverage podcasts in their content marketing strategies.
The number of podcast listeners is growing year by year and has already exceeded 104 million monthly listeners
in the US alone. So, we highly encourage you to consider the idea of starting a podcast. Become the first podcaster in your niche, and you will win the attention of your target audience.
Create Diverse Content
Modern customers demand content diversity. For this reason, you should provide your target audience with more than one type of content.
Your content strategy should go beyond blog writing and social media posting. You could also create and share infographics, checklists, how-to guides, case studies, white papers, marketing reports, and other useful content.
When it comes to diversifying the content formats you publish, repurposing content is a great way to scale your operations. One simple way to achieve this is by bundling your existing content into larger formats like content hubs or eBooks. Another common approach is taking the opposite route, by breaking up large pieces of content into smaller, more digestible pieces.
Streamline Your Content Production Process
You already know what content is needed for your SaaS startup. Now you should decide who will be responsible for content creation.
Hire Content Creators
Content creation is a full-time job, and you should find someone who is good at it. You need to hire a professional who has worked for SaaS companies before and has a good understanding of your product.
Don't have free space in your office for a new team member? It's not a problem. Most writers and content creators prefer working from home, so you can offer a remote job to stay-at-home specialists.
Outsource Writing Services
If you are not ready to expand your startup team yet, you can outsource content writing services. Here you have a few options. You can recruit knowledgeable members of your community from social media circles. Or, you can visit job board websites like Upwork to hire freelance content creators for one-time or long-term projects. Make sure to check the content created by freelancers for plagiarism as publishing plagiarized content will only damage your brand and credibility.
Invite Guest Bloggers to Contribute
Do you have a tight budget and can't afford to hire professional writers? Well, you can start running your blog on your own and later invite fellow bloggers to contribute their guest posts to your blog. That's how guest blogging works: you get free articles, while bloggers get the backlinks to their websites.
Are you ready to take advantage of accepting guest posts? Create guest posting guidelines and add a "Write for Us" page to your website.
Just remember that poorly-written articles are enemies of SEO, and you shouldn't tolerate low-quality content! You should accept only high-quality content and always check links before publishing.
For example, when we receive guest blog submissions for the GrowSurf blog, we have writers go through the same editorial standards as our in-house staff. If you're interested in writing about anything CRO, SaaS or referral marketing, get in touch with us.
Promote Your Content
Imagine that you've published a winning article. What should you do next? You should promote your article on different platforms.
Share on Social Media
Share links to your articles on social media and encourage your followers to check them out. It's a great way to drive traffic to your website and boost engagement.
Here is an example of how CB Insights invites its followers to read the electric vehicles market research.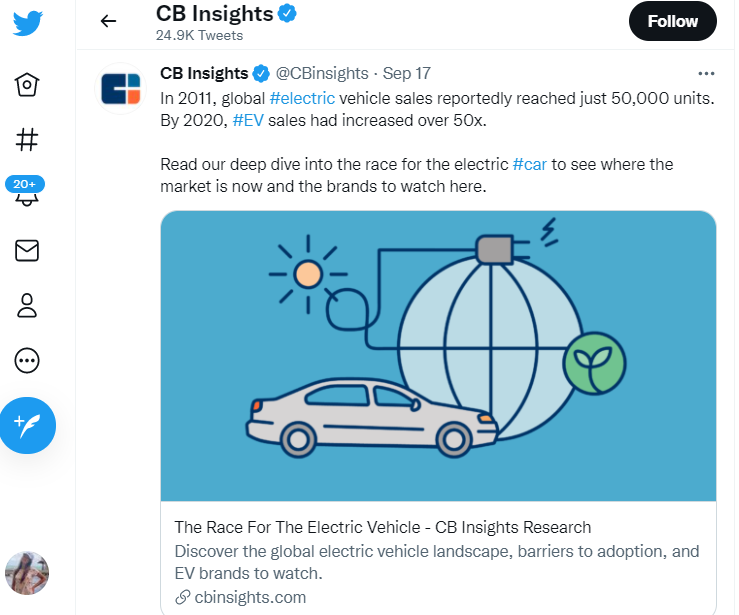 Leverage Email Marketing
Email marketing is one of the most effective tools SaaS startups can use for staying in touch with their customers.
To promote your content, you can create a newsletter with your best articles and send it to your customers. You can send such newsletters on a weekly, bi-weekly, or monthly basis. Here is an example of a content-promotional email sent by BuzzSumo.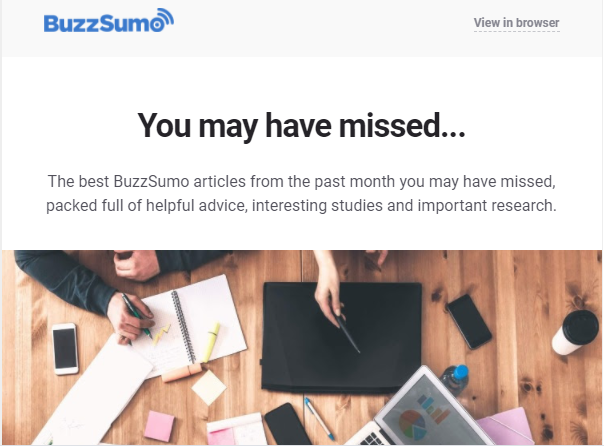 Another great thing about email newsletters is that you can use them to promote your referral program. You can share valuable content with your customers, and then gently remind them that they can refer your SaaS company to their friends.
Need help with setting up your very first customer referral program? Check this step-by-step guide or use our referral program template.
Final Words
Follow these steps, and you will design a winning content strategy for your SaaS brand. Don't worry, it's not as hard as it seems!
Having a strong content strategy will ensure that you are putting all your content writing efforts into improving brand awareness and building online credibility. It will help you get one step closer to your strategic goals and grow your company to its full potential.
Subscribe to GrowSurf
Get our weekly newsletter for our latest referral marketing guides.
Error subscribing! Please try again.