Benefits of Customer Reviews
Consumers formerly relied on word-of-mouth marketing to discover and learn about businesses offering products and solutions to everyday problems. These days, we (90% of us anyway) turn to online reviews which have become an essential process in our purchasing decisions.
A company's reputation is largely based on customer feedback and in a crowded marketplace, one favorable review might be enough to tip the balance in your favor. In fact, a few words from a genuine consumer may have a bigger impact on prospects than your entire website.
What existing customers say about your company holds a substantial amount of power and will influence whether new customers buy from you or not. If you operate a B2B or SaaS business, your presence on a software review site or directory will not only help consumers in your market locate you, but boost your credibility and conversions.
In this post, we will explain the benefits user reviews offer B2B SaaS companies and give an overview of 12 trusted review sites for you to check out.
How Do Software Review Sites Work?
In the simplest terms, B2B and SaaS review platforms operate to allow consumers to write and read reviews of tech products with the goal of simplifying software purchasing decisions. These sites assist customers in the procurement process by compiling product ratings based on peer evaluations. Buyers can use review platforms to discover relevant citations on their own rather than relying only on vendor-supplied information to make educated decisions.
To get users linked to a filtered list of relevant and useful software choices, the ratings on review websites range from simple star ratings to sophisticated proprietary algorithms that are only available to vendors of a particular platform. Some sites even deploy 'experts' to assess and rank different software alternatives, while others use only user-generated submissions.
These platforms also help software companies connect and interact authentically with their target customers. It's particularly effective in B2B software marketing, allowing vendors to educate the market about their product and influence active buyers.
Why Software Review Sites Are Important
The power of a review in its ability to provide consumers with information and help them make purchase decisions in consumer-facing spaces cannot be understated and the same holds true in the B2B sector. According to Research and Markets, the global SaaS market is expected to grow from $194 billion in 2020 to $253 billion by 2023.
There's never been a time where the need for trustworthy insight on technology has been so pronounced. In today's business climate, 77% of B2B purchasers say they do their own research before engaging with salespeople, or committing to a product or service. Or at least, according to a study by HubSpot.
Improves Brand Awareness And Credibility
Brands consumers recognize most are more likely to be considered. Having your company listed on credible review sites can play a huge role in how your brand image is shaped.
On the path to conversion, marketers should make brand awareness and visibility a top priority. They can accomplish this via various strategies but, they better believe customer reviews are critical in continuously developing and strengthening brand associations in the thoughts of their target audience. The more individuals are familiar with anything, the more they gravitate to it.
Increased Confidence In New Customers
Customer reviews increase consumer confidence by resolving any uncertainty that could impede a sales completion, this is critical to lowering return rates. If you're a SaaS entrepreneur, reviews can be your best friend. There's no better way of telling how well something works than reading what others in search of similar solutions are saying about competing products.
Social Proof
Social proof is a term used to describe a psychological element that makes consumers review and rely on the feedback left by other people to help them make purchase decisions. The most successful SaaS companies create feedback loops and constantly find ways to engage with their target audience.
Social proof builds a credible reputation of trust and has the potential to boost sales exponentially. Brands who know how to generate feedback or appear on review sites typically have higher social currency than brands that don't.
Increased Conversions 
Online reviews stimulate decisions to buy and have a direct influence on sales. Consumers trust online reviews as much as a personal recommendation. In fact, nearly 4 in 5 (79%) of consumers say they trust online reviews as much as personal recommendations. Additionally, products with high ratings experience fewer cart abandonments. The same logic applies with SaaS, where positive reviews mean your customers are spending less time on the fence and shopping for alternatives.
Builds Loyalty
User reviews are a terrific resource for feedback on user experience, customer service and satisfaction. Keeping open communication with your consumers can help you build stronger relationships with your existing client base.
It is not simple to construct a strong client community around a SaaS venture. However, assisting clients in interacting with your business will help to build loyalty; repeat purchases and improve SEO viability, as shown in the next point.
Improved SEO
Having more reviews will help you rank higher in search results and improve your conversion rate. When Google's algorithms rank pages for organic searches, they consider the number and quality of reviews, ratings, and text reviews.
As stated before, a company's SEO performance can be impacted greatly by its online reviews. The more thorough your profiles are on review sites and directories, the greater your chances are of getting your profile indexed by Google. And once your profile has been indexed, your reviews will be more likely picked up by the search engine as well.
Subscribe to GrowSurf
Get our weekly newsletter for our latest referral marketing guides.
Error subscribing! Please try again.
The 12 Best Software Review Sites for SaaS Companies
Capterra
Capterra is a review site that assesses software marketed by both B2C and B2B businesses. Users may search for applications based on industry, company, and software type using an internal search engine. Capterra shows a list of businesses that are relevant to your keyword and a short description of their service.
Capterra has a "compare to" functionality that lets you compare up to four businesses side by side, showing how they stack up against each other in various areas like ease of use and customer support. This makes it easy for users to quickly discover the software that best meets their demands without the need for messy spreadsheets.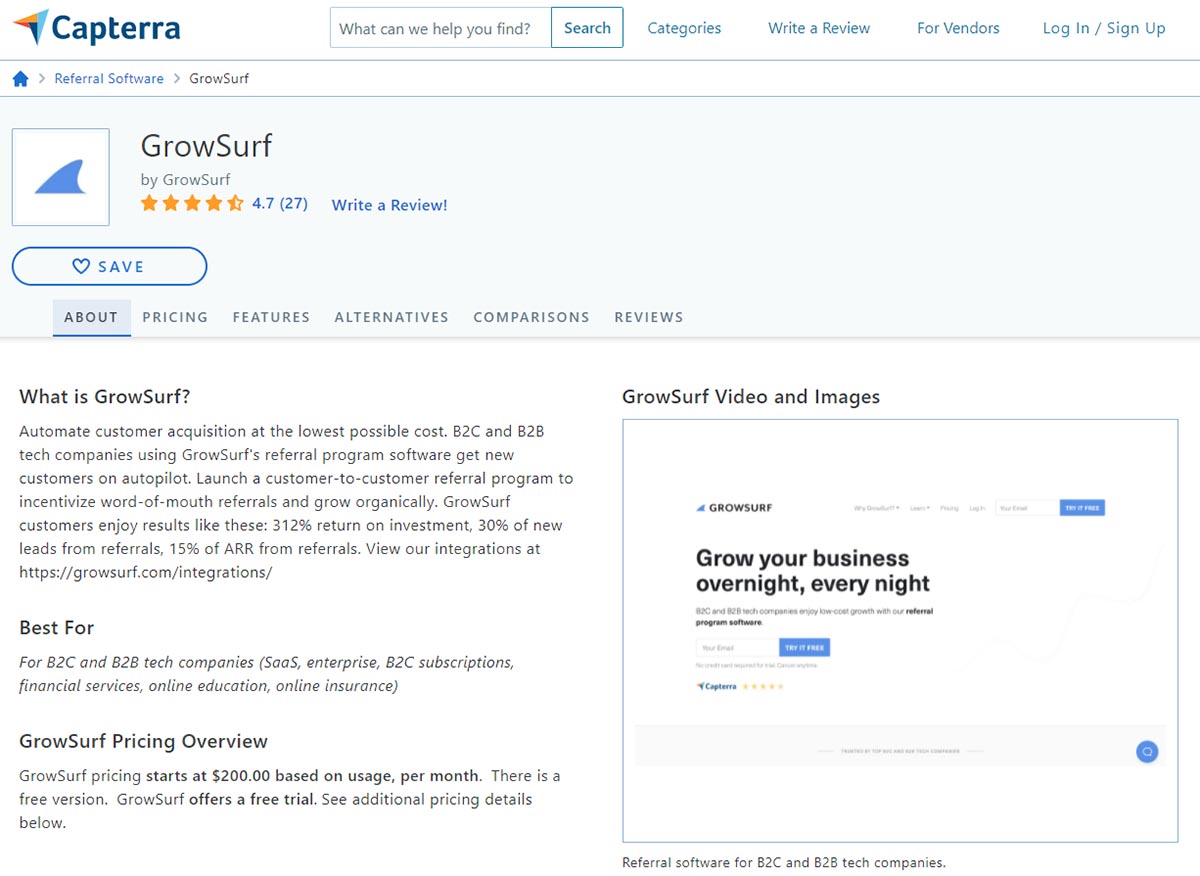 G2 Crowd
G2 Crowd is the world's leading business solution review platform. Business professionals, buyers and investors use G2 Crowd to compare software services based on peer reviews from other users and synthesize social data that highlights what others are saying about each service in order to help them make savvy decisions.
For the exceptionally broad software market, being able to provide prospective users guidance when it comes to software purchases is a position of strength, and one with its own set of problems.
However, G2 Crowd seems to have captured quite the audience.
"G2 Crowd has the highest traffic and engagement, largest selection of products and services, and highest quality data of any B2B marketplace, G2 Crowd is already growing at an incredible rate, and this latest funding round will only help them build the next Amazon for business even faster." Jason Green at Emergence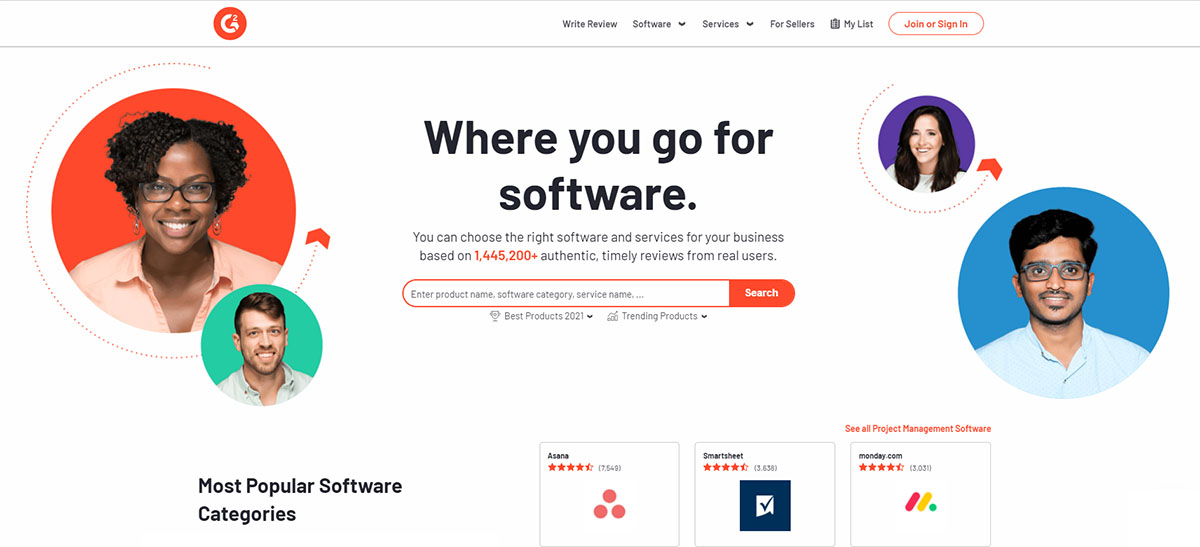 SaaS Genius
SaaSGenius is a data and reviews platform that helps companies easily discover, compare SaaS products. This platform provides users with an engine for generating recommendations and trusted product reviews in order to help them find the best match based on business needs - from leads generation to administration or co-marketing initiatives.
For the fast-growing SaaS firms, SaaSGenius provides a global performance marketing platform aiding in early discovery.
Software Advice
Software Advice advertises software recommendations that match digital needs and budget within 15 minutes or less by providing free, personalized software recommendations in over 300 market categories including CRM, HR, business intelligence and marketing automation.
Not only does this company offer one-on-one support from personal advisors, consumers save time and money by receiving unbiased knowledge from industry experts and verified customers.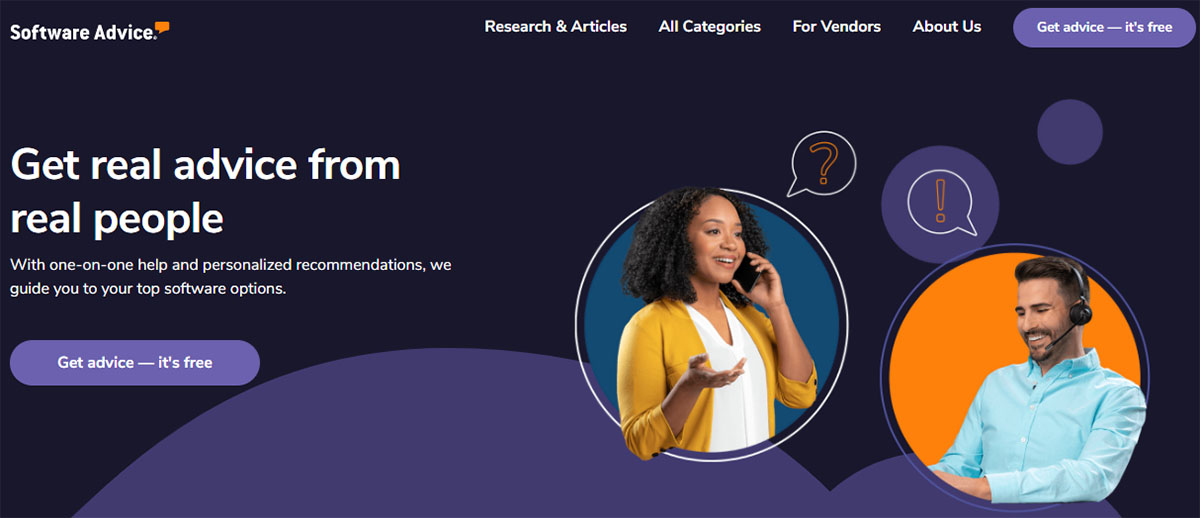 TrustRadius
TrustRadius is an online community of professionals providing insight on business software to assist in selection, procurement and implementation. TrustRadius users can develop personal profiles to exhibit their technology know-how and gain reputation points as they contribute. All reviews are rated by members for their usefulness.
To keep reviews unbiased and valuable, membership credentials for newcomers are checked against their LinkedIn profiles and review submissions are vetted by a TrustRadius analyst.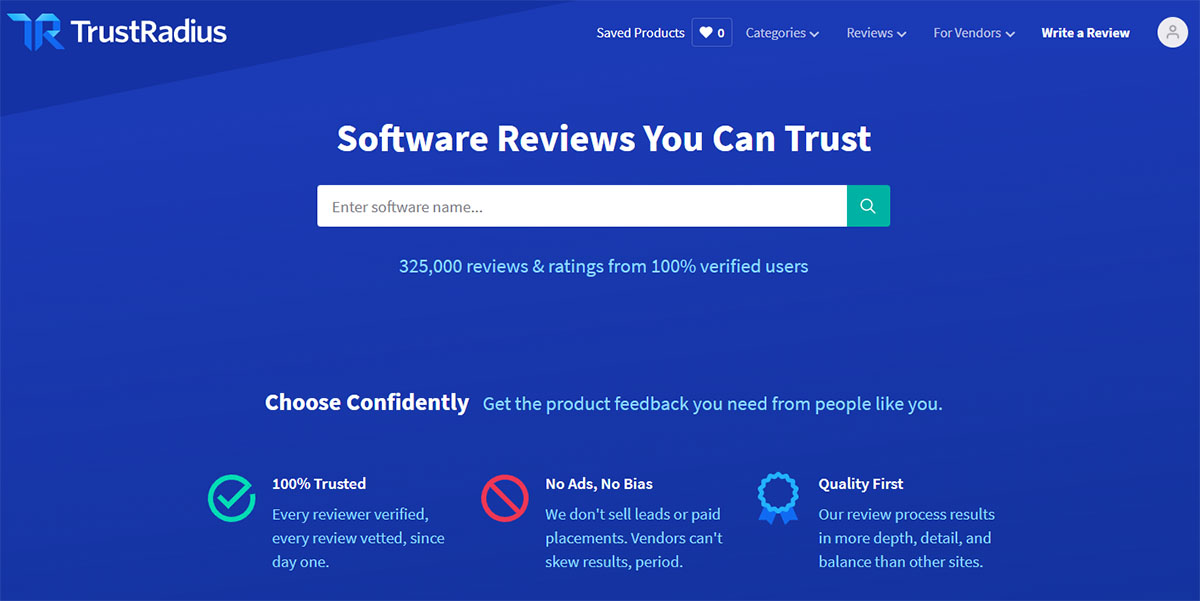 Get App
Users turn to GetApp to locate, compare, and choose from a variety of business solutions organized into categories based on IT and business needs. The search feature is quite comprehensive, allowing users to filter results down to a single vendor or enterprise-grade software. The platform offers software providers a low-cost way to be discovered. GetApp is a wonderful option for SaaS vendors aimed at small to medium sized businesses.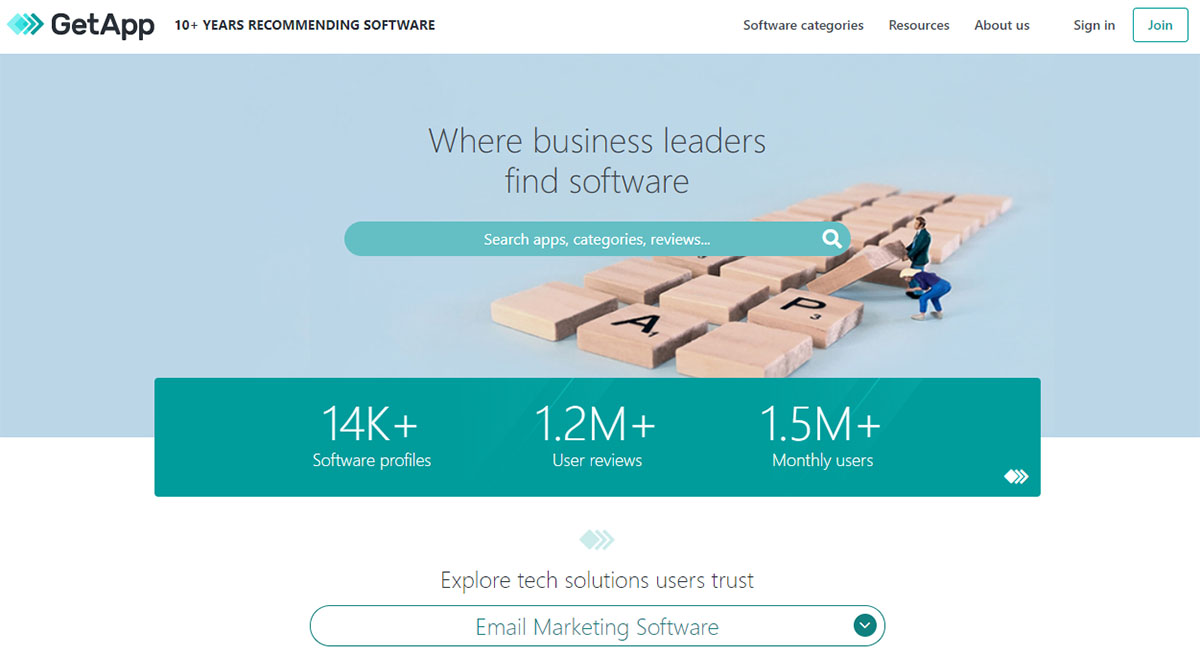 Finances Online
FinancesOnline is a rapidly growing software evaluation website with over two million monthly visitors. Thousands of user reviews are collected every month, and each one is verified via LinkedIn to ensure the provided feedback is valuable. User evaluations are based on comprehensive surveys that provide a thorough look at each provider. In the most popular categories', quarterly reports based on algorithmic analysis are also made available to the community.
The site contains some genuinely useful material, and it's easy to navigate. As an added bonus, the product pages rank highly in Google, so getting a few good user reviews on their website might help boost your search visibility and brand awareness.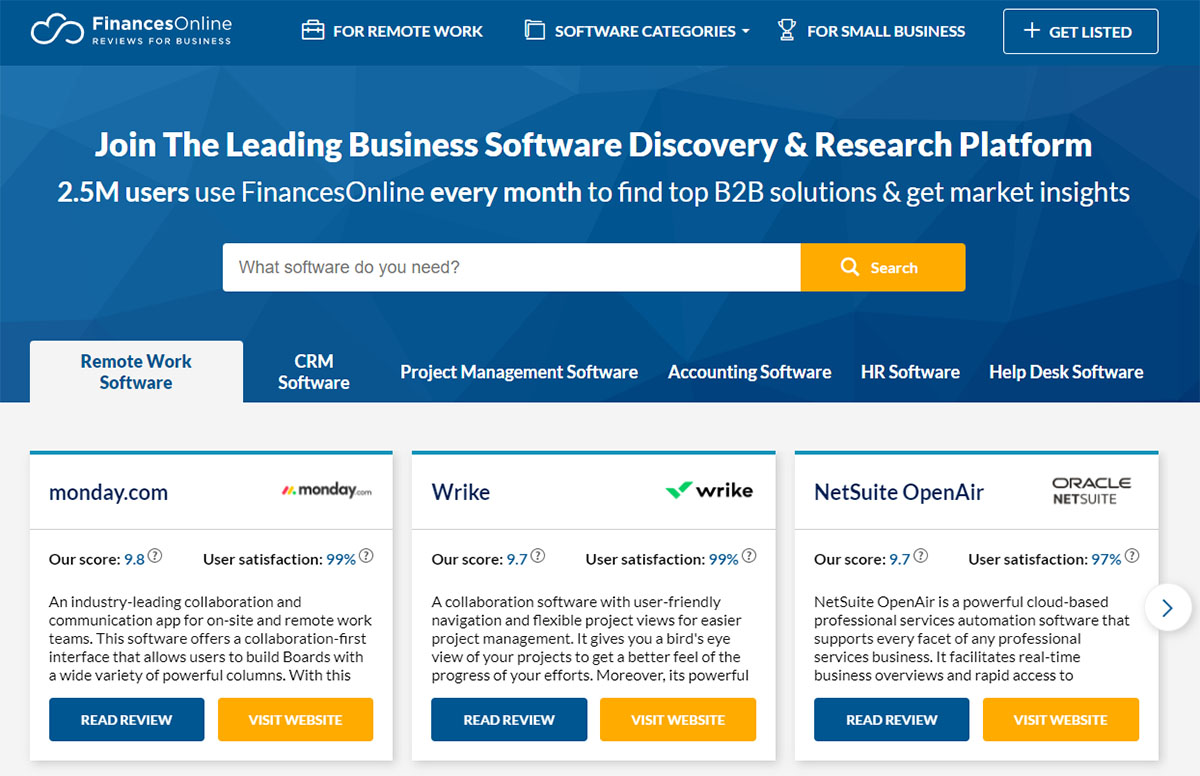 HubSpot App Marketplace
The HubSpot App Marketplace is a space where businesses can browse extensions, and apps that connect are compatible with HubSpot. Some apps available are created by HubSpot, while others were designed by partners and third-party groups but all apps are reviewed and certified by HubSpot's team of developers.
Total integration means users may then connect their tools, people, procedures, and data within a single interconnected system.Being able to access all of these apps from one location makes it simpler for HubSpot users to add new capabilities to their accounts.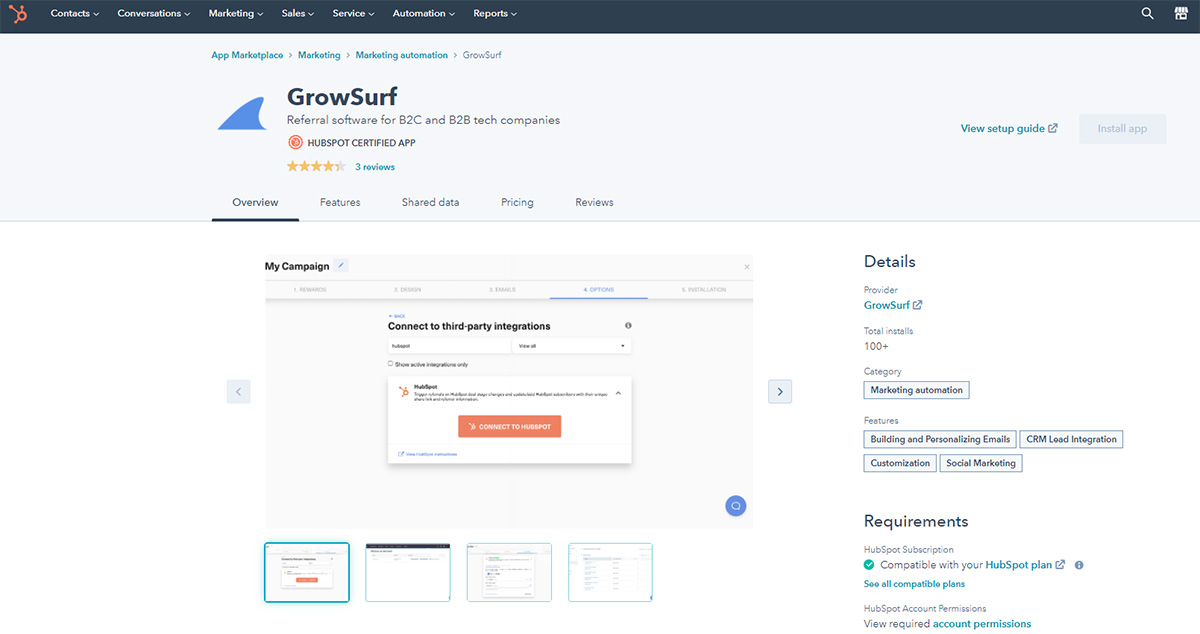 GoodFirms
This reputed B2B research platform is a research-based company that combines cutting-edge consumer reference techniques with industry-wide evaluation and rankings to assist consumers locate not just what they want, but also the best providers in the field. GoodFirms evaluates the top-performing firms and software solutions based on three key elements: Quality, Reliability, and Ability. These metrics are further segmented then ranked based on their cumulative research scores.
The well-managed research process delivers reviews, ratings & rankings, company profile & CEO interviews of more than 6000+ prominent, efficient, and well-performing development firms.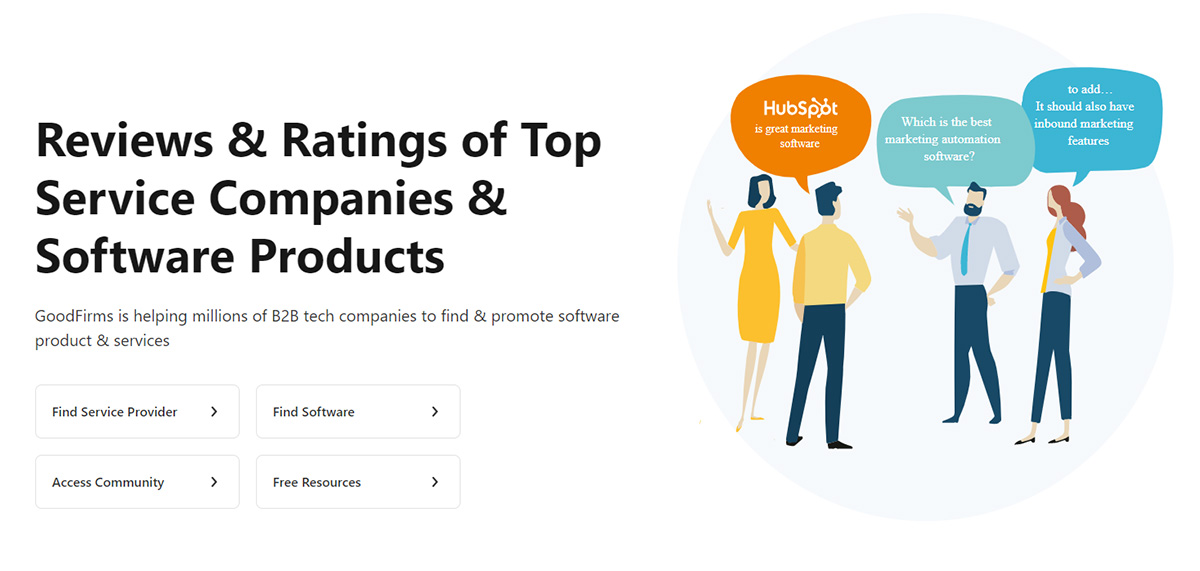 CrozDesk
CrozDesk connects buyers and sellers of business software using an algorithm to evaluate platforms and assign a rating based on factors like functionality, popularity, cost, and reputation.
CrozDesk also allows vendors to list on its platform for free. This offers startups and other established service providers exposure to thousands of prospective buyers searching for the best web-apps for their jobs.
The platform has more than 290 distinct software categories for programs in a wide range of industries and sectors and easy to use comparison features searching for software is a breeze.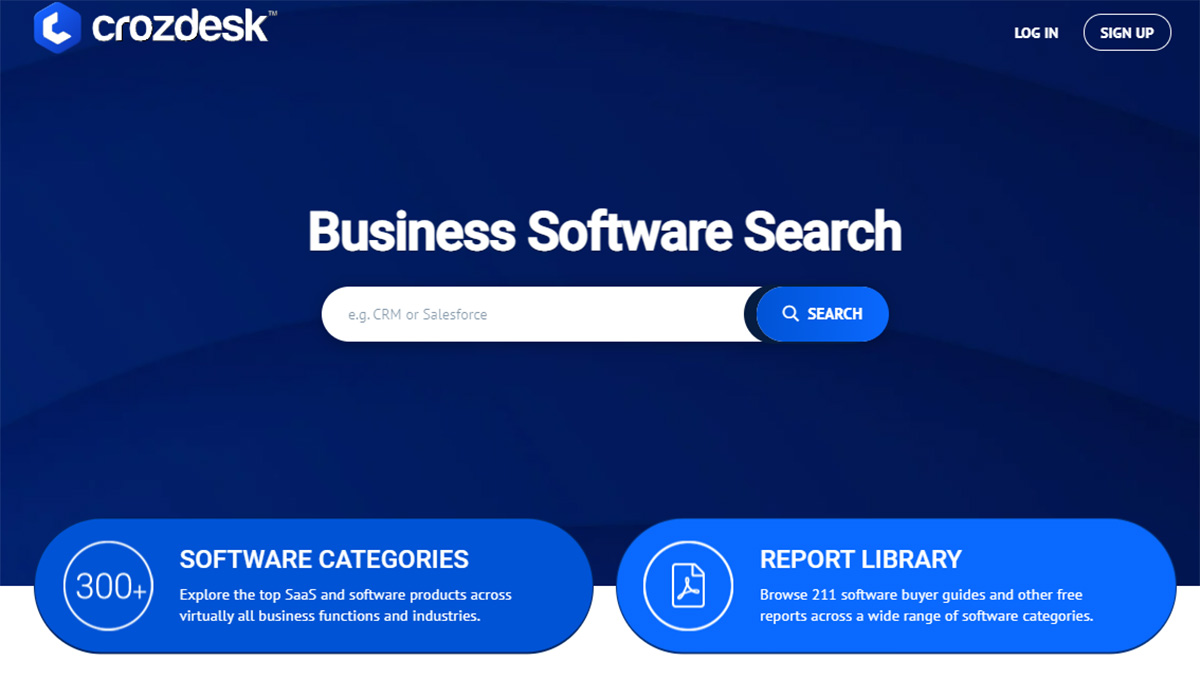 AlternativeTo 
AlternativeTo is a website which lists alternatives to web-based software, desktop computer software, and mobile apps. Users can search the site to find better alternatives to any application they are using, in fact AlternativeTo even has an alternative to itself.
The software is not organized into categories on the site, but each individual program has its own list of alternatives, which allows for a more personalized listing approach than many other software directory websites. User submitted alternatives can be registered and proposed, as well as changes to existing data. suggestions and modifications are evaluated by the AlternativeTo team before being made public.
Although it is common for (software) companies to write comparison writeups, getting unbiased comparisons from the AlternativeTo community can be valuable. For an example of a software comparison blog, you can read about ReferralCandy alternatives on our blog.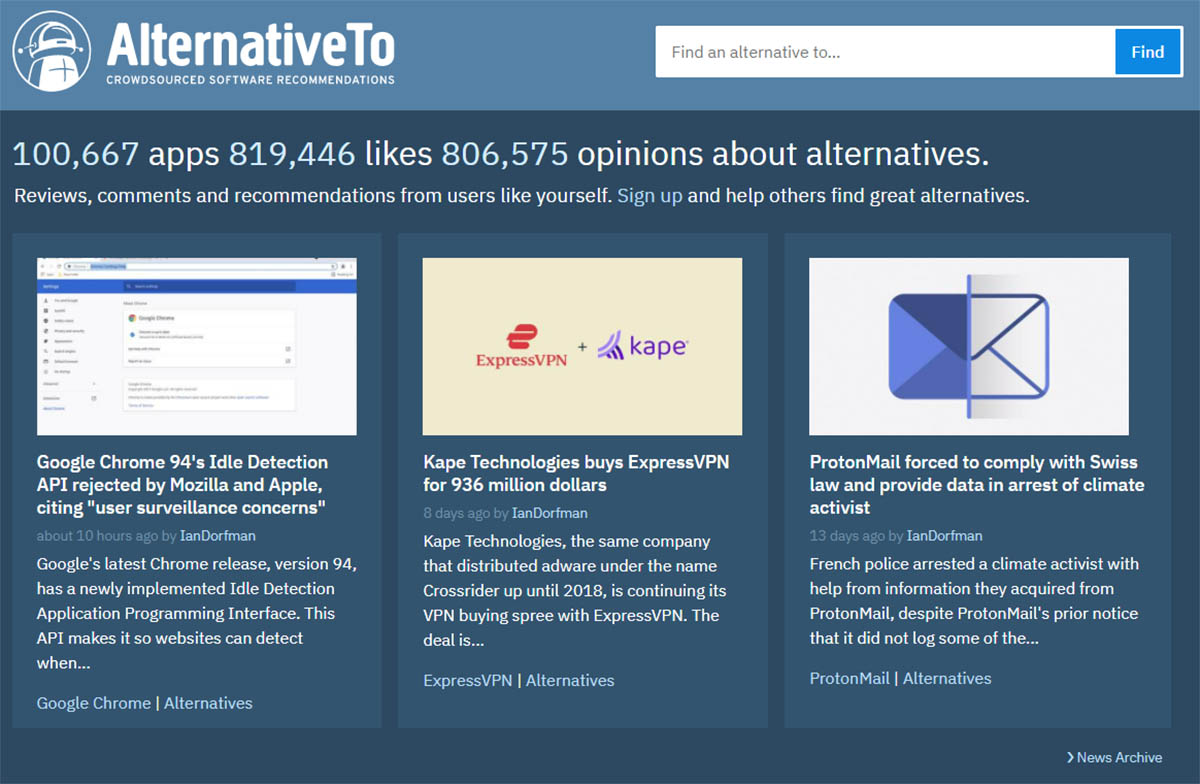 SalesForce App Exchange
Salesforce AppExchange has embraced transparency, each app is rated with the best review and most helpful negative reviews first followed by all other five-star ratings. Users can access thousands of opinions on their favorite products in minutes without leaving the page.

Key Takeaways
Online research and product discovery is a standard practice for B2B decision makers. The top B2B sites offer many opportunities to expose your services, reach business buyers and win new customers. If you haven't already, you should consider your presence on such platforms. It's an easy and cost-effective way to:
Stimulate buying decisions
Maximize sales
Increase confidence in new customers
Help build loyalty for existing customers
Improves SEO
Brings credibility to products and the company
Have you tried any of the above-mentioned discovery platforms?  Do they have what it takes for your SaaS business to get the traction and competitive advantage it needs? If not that's alright; there are hundreds more available, each with its own specialty. Check out BigMongolian!
Subscribe to GrowSurf
Get our weekly newsletter for our latest referral marketing guides.
Error subscribing! Please try again.