Using Customer Feedback to Drive Referrals
A crucial factor of your organic growth as a business is your ability to exceed your customer's expectations.
When your customers are satisfied with the product or service you provided, they frequently turn into a brand advocate. Happy customers are likely to leave glowing reviews of your product or service online as well as recommend you to their social circles. A study found that 83% of American consumers regularly make recommendations to their friends and families. The study also found that word-of-mouth referrals influence as much as 90% of all purchases.
Referrals are a powerful growth driver, so having a formal referral program in place will allow you to leverage the trust you're building with your customer base everyday. Seeking out and implementing feedback into your referral program will help you build deeper relationships, increasing brand loyalty and reducing churn in one fell swoop.
Referrals are a Powerful Growth Channel
Word of mouth can generate a surprising amount of new customers. If your customer service and product quality are top notch, you've likely seen the impact that organic referrals make.
"Referrals are so effective because they come from trusted sources," explains Kim Schmidt, a project manager at Essay Writing Service. "You are much more likely to trust the word of a friend or family member than a complete stranger." On the other hand, some people feel obliged to succumb to peer pressure and try the recommendation for the sake of the referrer.
Referral marketing works so well because of its inherently social nature.
An existing customer recommending your product or service to their social circle builds social proof of your integrity as a business. Social proof not only builds trust with the consumer before they actually become a customer, but can also serve as a lever for future conversions.
Referral programs leverage the power of relationships to influence consumer actions. The more a consumer values their relationship with the referrer, the more likely they are to listen to their recommendation.
How To Build A Successful Referral Program Organically 
A well-developed referral program could mean the difference between growth or stagnation as a business. Here are a few strategies to help you naturally develop a referral program that works based on glowing customer feedback.
Focus On The Quality Of Your Product And Service 
Delivering a consistently high quality product or service is the best way to build organic referrals.
When you continuously exceed the expectations of your customers, they will naturally rally behind you (and your brand).
Connect With Customers 
Focusing on the customer and their experience fosters trust and loyalty. When you consistently prioritize the happiness of your customer, they are more likely to recommend your business to their friends and family. Fortunately, there are numerous ways to improve the customer experience.
Suggested Reading: The B2B Customer Experience: Business Transformation
Encourage customer service representatives to engage customers in meaningful conversation. While this may not always be possible, especially when things are busy, encouraging your employees to connect with customers brings many benefits to the table. It makes customers feel seen, heard and valued by your business. Moreover, it cultivates customer loyalty.
Never underestimate the value of genuinely asking a customer how their day has been!
Share Positive Customer Feedback On Social Media 
Another great strategy to grow your referral program organically is to engage customers on social media.
If a customer posts an image or positive review of your product, connect with them. Like their post, comment on it, and share it on your own account. This is an effective way to show gratitude to customers who are freely promoting your company to their followers. Some of the highest performing SaaS companies actively reshare customer feedback on their official accounts.
Another benefit of sharing positive experiences to your followers is that it showcases recent social proof. Keep in mind that it's most likely that a large portion of your followers may not necessarily be paying customers quite yet. Consumers tend to self-identify with reviewers and listen to their recommendation if they find something in common with the existing customer.
If possible, highlight positive feedback from customers of yours that are most similar to your social media followers.

Reach Out For Feedback After A Purchase
One of the easiest ways to receive positive feedback from a customer is to ask for it directly. Many businesses send automated emails after a set period of time following a purchase. This is a simple but effective way to check in with your customer to ensure they are satisfied with your product. Also, to encourage the reviews, you can offer a discount code for every 50th reviewer or use a no investment merch creation tool to create small gifts.
Seeking feedback from a customer also informs them that you value their opinion. As a business, it demonstrates that you care about their experience. Taking this extra step can be a catalyst for word of mouth marketing.
Aside from the immediate gratification of receiving new reviews, staying in touch with a customer after a purchase also helps nurture a long-term relationship. By making the customer valued, you are decreasing the likelihood of churn.
How to Design a Referral Program in 5 Steps
If you want to grow quickly as a business, referrals through organic word of mouth might not cut it for you. In this case, it's imperative you develop a formal referral program and create a strategy to ensure its success. Here are a few tips to help you get started on your referral program.
1. Create Email Templates
Referral email templates are an efficient way to reach out to your existing clients or customers for referrals. These templates can save you or your team a significant amount of time when sending out referral request emails.
However, if you want to write your own referral template, it's wise to incorporate some crucial components in your template. In your referral template, show your appreciation for the potential advocate in advance. Keep the contents of the template as concise and short as possible out of respect for your client's time.
While a concise template is ideal, it's important to highlight the chief benefits of referring your business to others. When explaining these benefits, frame it so the client can clearly understand the value for them. This value is not limited to monetary incentives either.  
Last but not least, create a captivating headline. Your referral template should be straight to the point, but it doesn't mean you can't be creative. A good headline could make the difference between the client reading your referral request email or sending it directly to the trash.
2. Identify Potential Promoters 
Not everyone will be a good fit for your referral program. Customers who don't engage with your business might not be the best advocate, so it might make sense to exclude them from your outreach. In contrast, customers who enthusiastically share their positive experience are ideal advocates of your product or service.
If you exceeded the expectations of a customer, consider asking them to refer you to another client. Their recommendation will be more effective because their positive opinions are genuine. When searching for a potential referrer, read through customer reviews that describe their experience with your product in a flattering and positive way.
In the event that you provide a service for a client, time your request for a referral after you deliver a satisfactory result or accomplish an important objective. Clients who are thrilled with your work are more likely to be open to referring your business to others. Of course, in order for this strategy to work, your company must first focus on consistently exceeding the standards of this client.
3. Personalize The Why 
Despite using a template, you can still personalize some sections of your referral request. The most beneficial part to personalize is the reason why you're requesting a referral from that particular client.
Adding a personal touch to this segment of your request is a good chance to appreciate your client. Perhaps the customer often leaves kind reviews on your product pages, or they engage often with your account on social media platforms. Whatever the specific reason, incorporate it into your request.
Personalizing this small section might just convince the client to recommend your product and service. This only works if you have a genuine understanding of your customer. This means acknowledging their experience with your product and reminding them of the positive feeling they felt when using it.
While reminding your customer of your relationship can be effective, be cautious of your tone. The last thing you want is to sound as though you are taking advantage of the relationship's loyalty and trust to advance your business objectives. To avoid this, focus on the potential benefits for the customer rather than the benefits for your business.
4. Provide Worthwhile Incentives 
If you want to gain a substantial number of customers through referrals, you must provide irresistible incentives. This may sound unnecessarily expensive as a business, but it doesn't always have to be.
The great thing about developing your own referral program is that you determine the conditions and the rewards. If your product is on the expensive end, it might not be feasible to provide every advocate of your business a free product. Instead, you could offer a discount or account credits for promoting your brand.
This is also a great way to express your gratitude to customers who are helping you grow as a business. While most companies show their gratitude to promoters through money, you do not necessarily have to go this route. Instead of money, offer the customer who recommended your business free shipping or a free gift of some sort.
We recently wrote about unconventional referral rewards if you want to explore more creative ways to build out your referral program.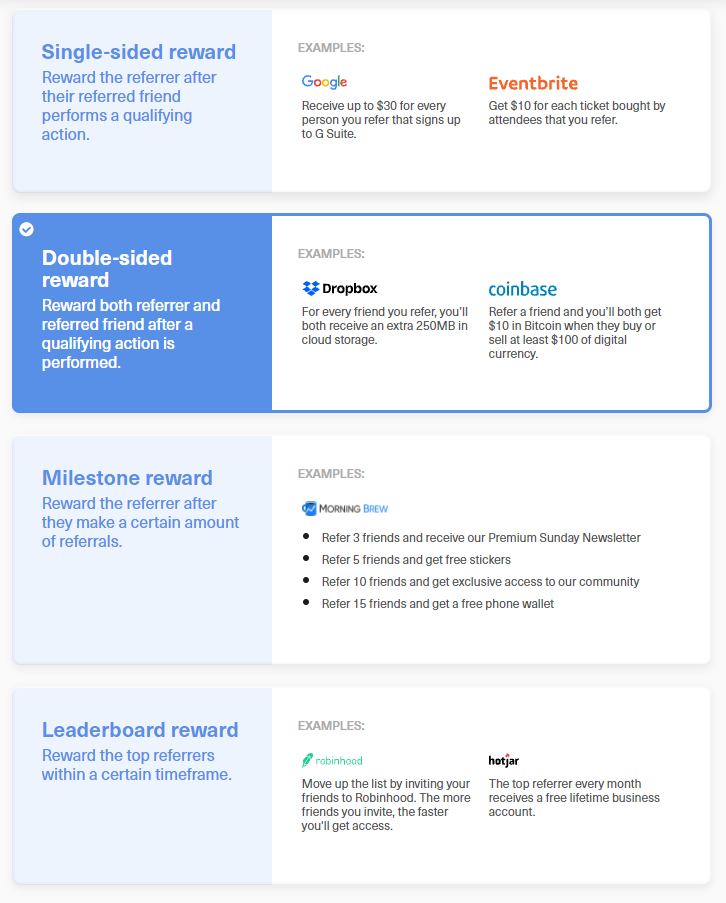 5. Show Gratitude To The Customer 
In addition to thanking the customer for using your product or service, thank them for their time spent reading the email. Thank them for referring you to another client, and thank them again when their referral turns into your client. It costs you absolutely nothing to demonstrate gratitude towards your customer so be generous with it.
Why Your Referral Program May Not Be Working
Beyond what makes a referral program successful, it's also important to know what could go wrong. Knowing the potential pitfalls of referral marketing will help you mitigate or avoid them as well as identify when they are happening in the first place.  In many cases, referral programs stop bringing in new customers because the existing ones are no longer satisfied. A referral program will never work unless your customers are happy with your product or service.
It's too complicated.
One possible reason why your referral program is not effective is a lack of simplicity. Programs that are too complicated might frustrate potential advocates. Not many people are willing to go through complex processes just to refer someone to your business. When it comes to referral programs, simplicity is key.
Your incentives don't align with your customers.
Your referral program might not be producing the results you would like to see because your incentives are simply not worth it. Most businesses tend to offer cash or gift cards as incentives for their referral program. You could also offer a discount, free shipping, free product or free service.
Lack of promotion.
It's possible that your referral program is lacking promoters because your customers aren't even aware of your program's existence. It's important to inform your existing customers that your business offers a referral program especially if they are vocal about how much they love your product or service.
Customer Feedback is Paramount
A customer referral program is a fantastic way to grow your business. Recruiting your existing customers to advocate on behalf of your business is an effective yet underrated strategy. Never underestimate the power of word of mouth to transform your business.
Subscribe to GrowSurf
Get our weekly newsletter for our latest referral marketing guides.
Error subscribing! Please try again.