Winning more customers is every company's dream.
Having more customers means having more profits.
But what about the customers you already have?
Here's a fact:
Having 20,000 customers who are engaged is a better case scenario than having 50,000 customers, of which 20,000 are dormant.
So, if you've accumulated a group of inactive subscribers, it might be time to reignite your relationship.
But how do you convert your inactive subscribers into purchasing customers?
Three words: winback email campaigns.
In this post, you'll learn:
What is a winback email campaign
Benefits of winback email campaigns
How to create the perfect winback email 
Stay tuned until the end, where we look at five winback email examples from companies that know what they're doing.
What Is a Winback Email Campaign? 
A winback email campaign is a type of email marketing campaign that companies use to reconnect with inactive subscribers. In a winback email campaign, you send targeted emails to customers who have had some sort of interaction with your business in the past but stopped engaging. These interactions could be anything from shopping your product to downloading a guide from your website. The end goal is to filter those subscribers who are still interested in your product/service and remove those who are unresponsive.
Benefits of a Winback Email 
You're probably thinking:
Why should I invest time and money into winning back inactive subscribers instead of winning new customers?
Here are three benefits of a winback email: 
Winback Email Campaigns Are Cost-Effective
Did you know that attracting a new customer is five times more expensive than retaining an existing one? 
That's right! The most successful businesses know that retaining and creating loyal customers is more important than acquiring new ones.
Let's imagine the following scenario:
You have 20,000 subscribers on your email list. After sending a series of winback emails, you've generated a 5% response rate. This means that you've reestablished communication with 1,000 of your subscribers. Suppose your average order value (AOV) is $50, and 10% of those 1,000 subscribers make a purchase in the next 30 days; you've just made $5,000.
And that's if your AOV is only $50. If your AOL is $150, then you can expect to generate $15,000.
Winback Emails Have a High Open-Rate
Here's another fun fact that might surprise you:
According to Klaviyo, the average open rate for winback emails is around 29%. What's more, 45% of subscribers who receive a winback email are more likely to open future emails from your company, according to a 2014 MarTech study. Not so bad, considering many of these subscribers might not have interacted with your brand in a while.
Winback Emails Encourage People to Make Repeat Purchases
Winback emails aim to turn your subscribers into repeat customers. They remind your subscribers why they were interested in your product/service in the first place and motivate them to buy again. And get this: repeat customers are nine times more likely to convert than first-time buyers and are 20% more profitable, according to Privy.
How to Create the Perfect Winback Email
What are the elements of an effective winback email? We've rounded up four critical steps that you should follow in your next campaign: 
Step 1: Identify Inactive Subscribers
The first question that pops in mind when creating your winback email campaign is this:
How long should a subscriber be inactive before you add them to the "inactive subscribers" list?
The answer to this question can be tricky as this mainly depends on the nature of your business.
For instance, let's say that you're selling online insurance. As people don't purchase insurance that often, you can consider a subscriber as inactive if they haven't interacted with your brand for over a year, for example.
On the other hand, if you're selling online courses, then you should expect people to make more frequent purchases. In this case, you can generally consider a customer inactive after one to three months of them not engaging with your brand.
But again, this will depend on your business.
Step 2: Choose an Email Schedule
Once you identify inactive subscribers, it's time to decide on the ideal email schedule.
If you want your winback email campaign to be effective and yield results, consider sending 4-5 emails, but no more than that. If you send four emails in two days, you may only seem desperate and annoy the subscriber.
Another reason why 4-5 re-engagement emails are ideal is that winback emails have four essential parts:
Reminder: You remind subscribers that they haven't been active for a while.
Incentive: You offer inactive subscribers a freebie or an incentive to entice them to start re-engaging.
Last chance: This email reminds subscribers they have one more chance to re-engage with your brand or they're going to lose something, like a discount or chance to test-drive your latest feature.
Goodbye: You're letting subscribers know you'll be removing them from your email list.
You want to leave room for the subscriber to open your email and re-engage with your brand. Wait at least 1-2 weeks between each email.
Step 3: Use a Clear CTA (Call-to-Action)
CTAs are one of the most crucial aspects of marketing copywriting. They encourage readers to take a particular action, whether to subscribe to a newsletter or purchase your product.
The same goes for your emails. If you want passive subscribers to wake up from their deep sleep and engage with your brand, you must entice them with well-crafted CTAs that you'll include in your winback emails.
Another thing to keep in mind–that is, if you want to keep the reader engaged–is to make sure your emails are short, on-point, and written in a cheerful tone.
If you're looking for inspiration, look at these CTA examples that can give you a headstart.
Step 4: Write a Strong Subject Line
Have you ever noticed how some subject lines are more compelling than others when you're checking your email? 
It's simple: to get people to open and read your emails, you must create enticing subject lines.
Emails with compelling or emotional subjects (like "Long time no see" or "A free gift to say thanks") will likely be opened, while emails with less captivating subject lines might end up in the trash folder.
5 Winback Email Examples (with Templates)
Now that we explored the best practices of writing a winback email, it's time to look at some examples and templates to inspire your re-engagement campaign.
The "It's Been a While" Winback Email
One of the most common ways brands approach inactive subscribers is by sending them "It's been a while" emails.
The goal of these emails?
To help brands re-establish a connection with their subscribers by simply asking them for their feedback.  
It's simple:
You're just curious to see why your subscriber has been disengaged with your brand and if there's any way of motivating them to begin interacting.
Here's one example by Animoto.
They send out a simple question: 
Do you still want to hear from us?
They guide subscribers to a CTA button that takes them to a preference center where they can quickly update their email addresses and choose what kind of content they would like to see sent to their inboxes.
It's short, sweet, and gives the subscriber a chance to choose what content they're interested in from Animoto.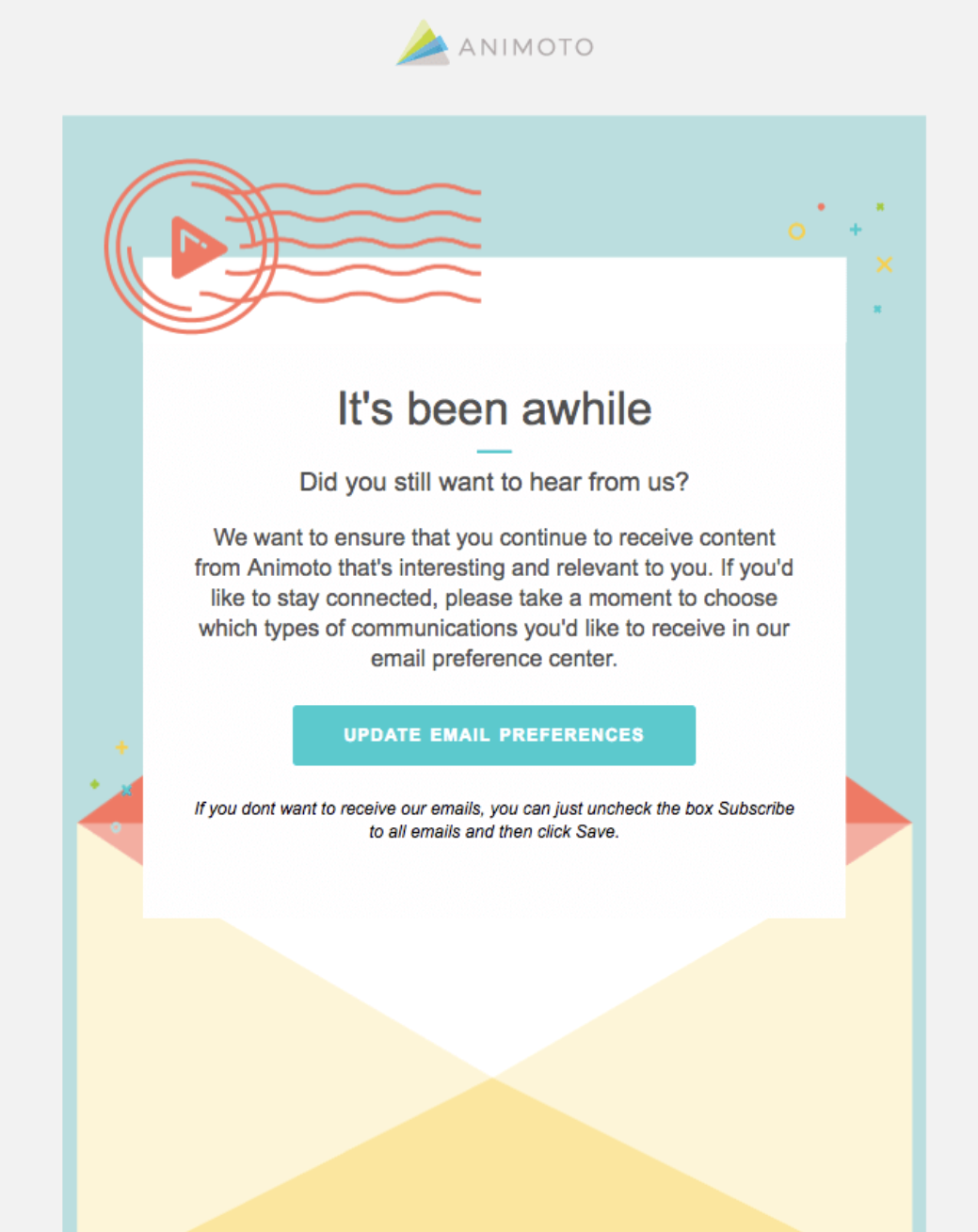 Subscribe to GrowSurf
Get our weekly newsletter for our latest referral marketing guides.
Error subscribing! Please try again.
The "See What You're Missing Out On" Winback Email
This second example takes advantage of the new-age phenomenon called FOMO. It's the feeling we get when we think we're missing out on something deeply important that others are experiencing right now.
It can be anything from attending an event to using a product.
Businesses are aware of the power of this phenomenon and have been using it to their benefit.
Here's an example of the approach the AI writing assistant Copysmith uses to re-engage its subscribers: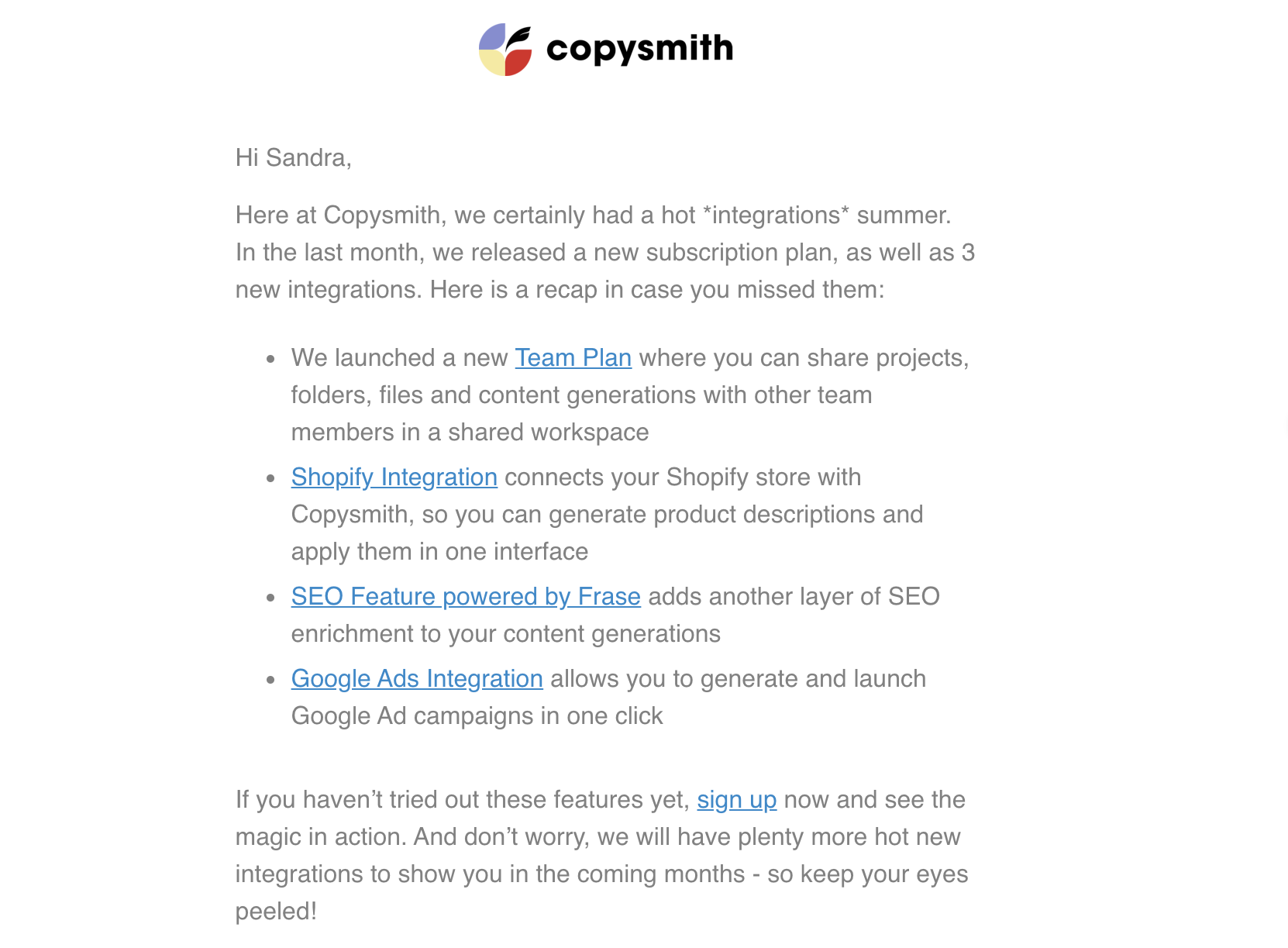 They tap into their customers' FOMO by informing them of new integrations they've released in the meantime.
It's an excellent opportunity to show subscribers what they missed during their time away, in this case, a couple of new integrations that make working with the software more straightforward.
This is a great approach, particularly for targeting subscribers that used to log in frequently to your site but have been dormant for the last couple of months.
ClickUp, the popular project management tool, tries to win back subscribers by promoting their productivity conference. Subscribers can register for free and learn ClickUp's 2022 product vision, see what new features are rolling out, and hear some of the leading professionals in the field of productivity talk about obtaining personal and professional success.
Sounds quite enticing, am I right?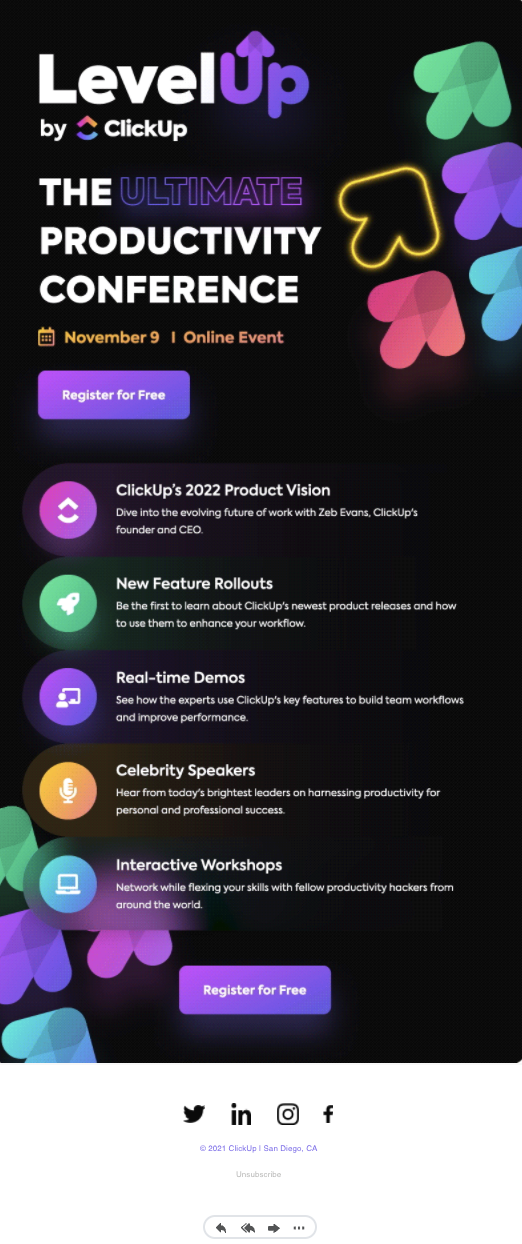 The "Here's What's New" Winback Email 
This winback email is somewhat similar to the FOMO example. The only difference is that its only goal is to help you promote new features or keeping subscribers in the loop about your recent rebrand.
You're telling people that you have been hard at work while they've been away. You've launched a rebrand – which is no small feat – or came up with some cool features that your subscriber might enjoy using.
Consider sending out this type of winback email if you believe that the competition in your field is getting fierce and other brands have been stealing your subscribers' attention – and possibly their money.
Here's how Bloom, the popular self-therapy app, tries to win back its subscribers: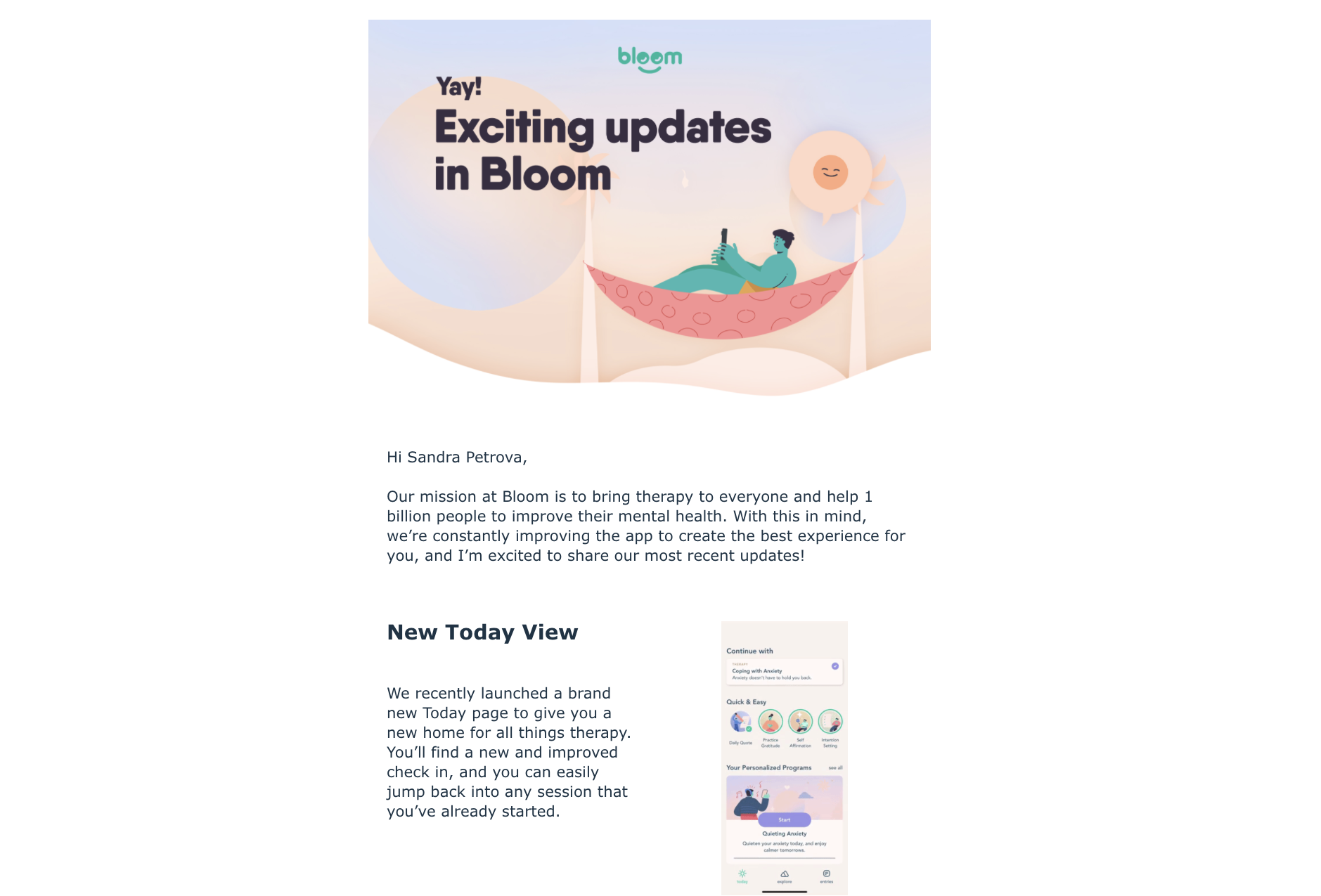 They've recently launched a new page that will hopefully help customers navigate the platform, and they want people to know about this recent change. They've also come up with another great feature called Personalized Programs that promises to help people on their self-help journey.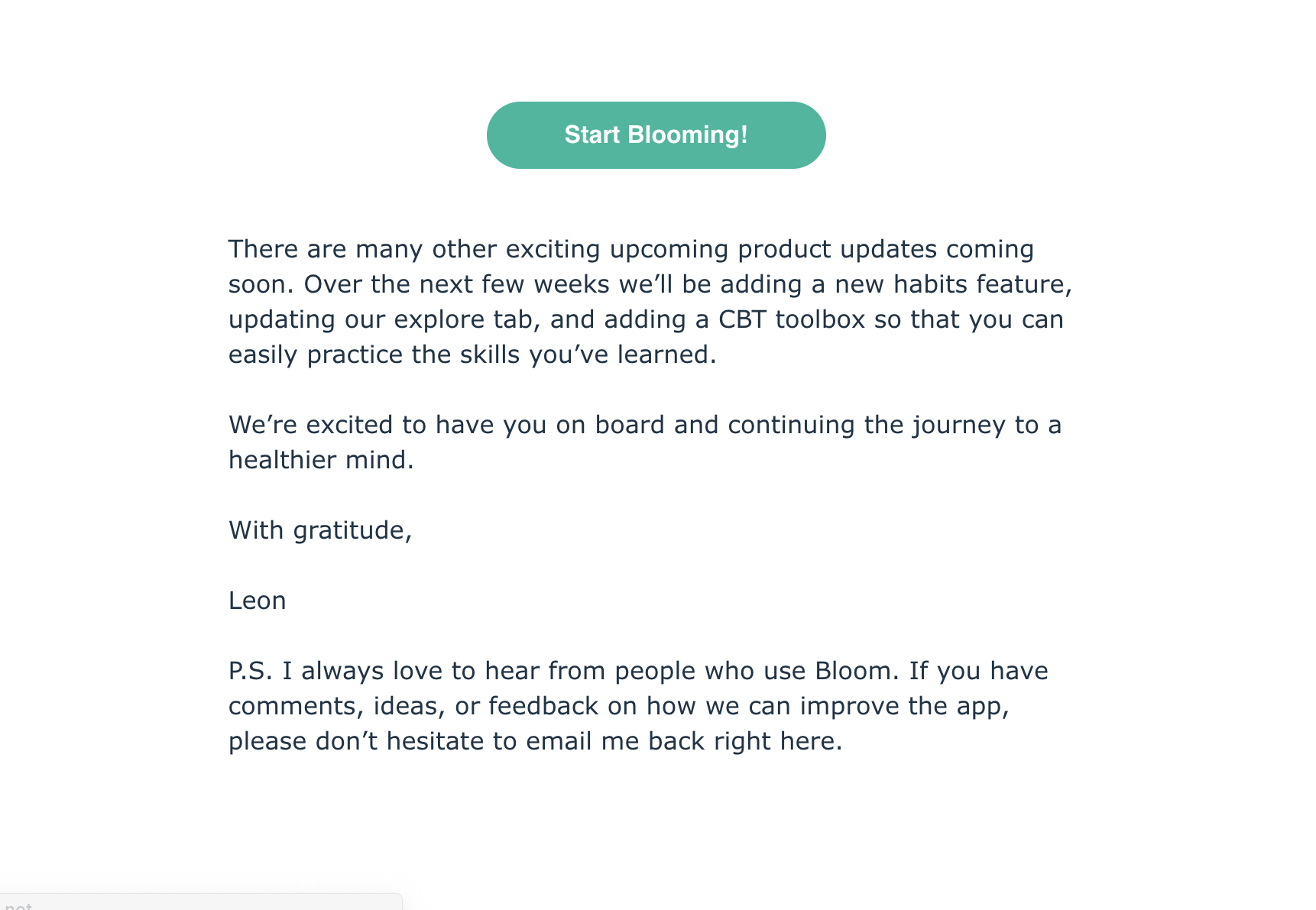 The "Get 25% Off" Winback Email 
If you believe that all other email examples we explored above won't help you wake up your dormant subscribers – or if everything else failed – here's another idea:
Give them an offer they can't refuse!
And yes, we're talking about a freebie or incentive to motivate them to return to using your product/service. This strategy of offering incentives is at the heart of referral programs. Just look at Tesla and its referral program – the company has generated more than 40x ROI with a $0 advertising budget.
Here's how Zendesk is using the strategy to win back its subscribers: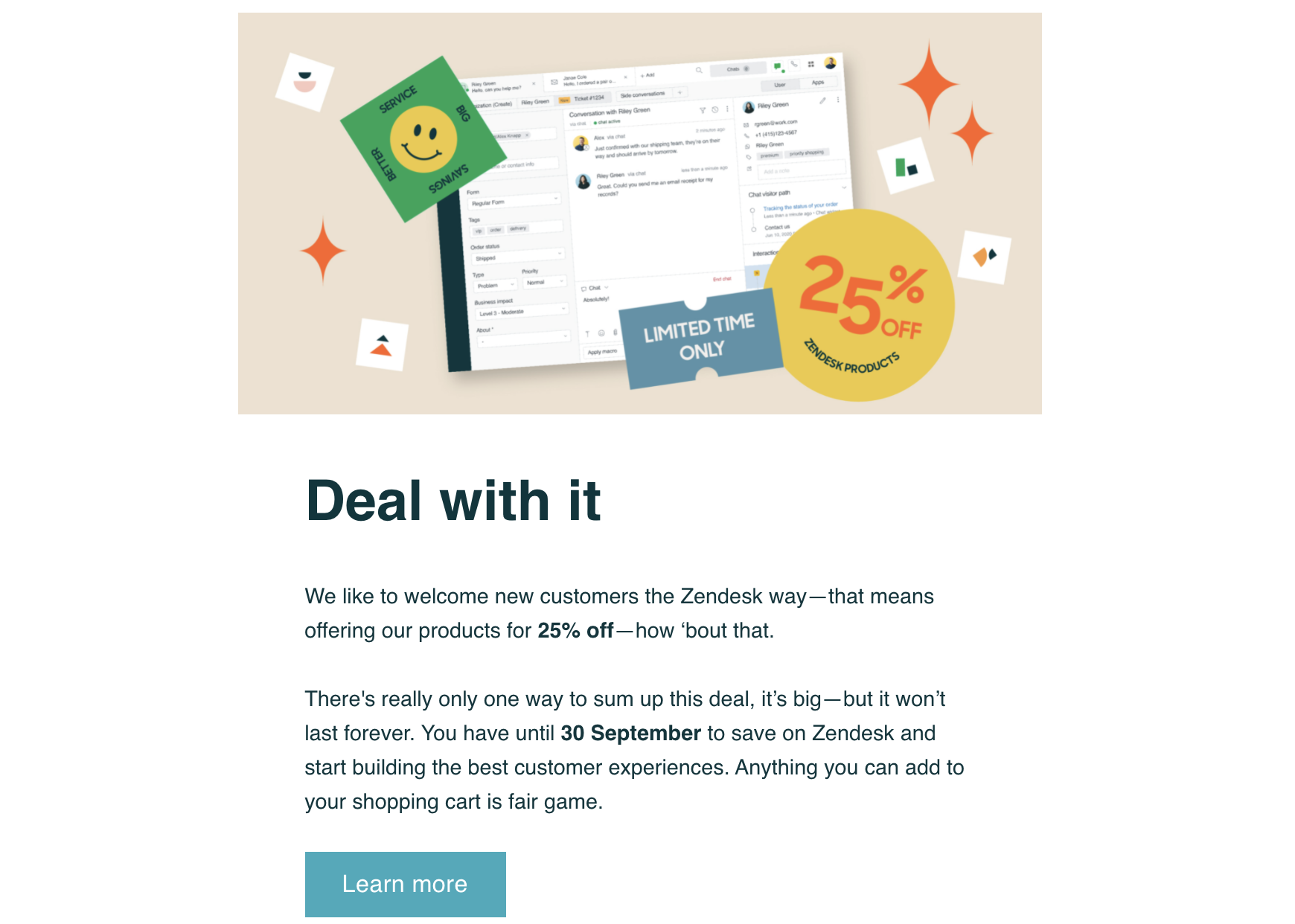 They're offering a 25% discount on all products. And not only that, they're reinforcing their message by saying it's a limited-time offer, which also takes advantage of the FOMO phenomenon we talked about earlier.
Discounts are not the only type of incentives you can offer to your subscribers. There are many other types–more enticing and unique–that can convince people. Look at this list of unconventional rewards that can persuade subscribers to take action.
If you want to add a more playful element to your emails and try to win back subscribers by using a dose of humor, look at this message from Grammarly: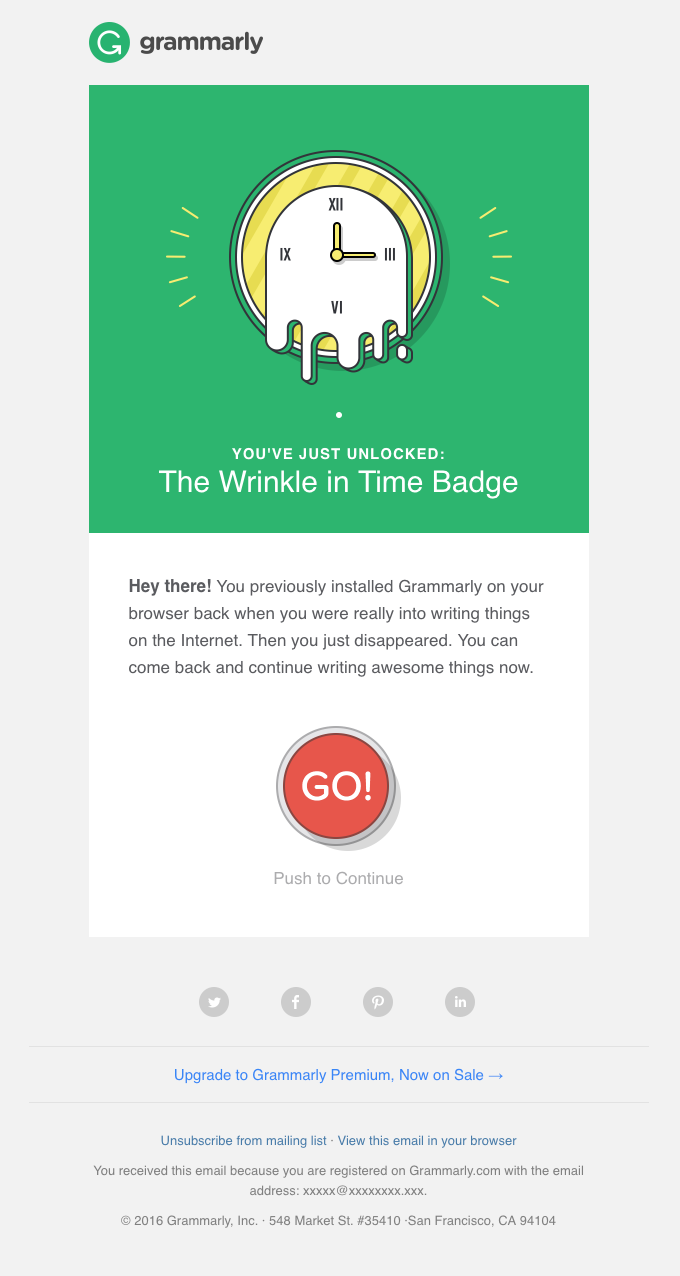 Yup, they've taken a bold approach and are rewarding subscribers with "The Wrinkle in Time" badge for being inactive.
The "Mea Culpa" Winback Email 
The last winback email example on our list is the "mea culpa" email, which, as the name suggests, can be a great way to win back subscribers through humility.
In short, you're admitting that you understand why people have been disengaged from your brand. It might be because your product was too slow, too pricey, or had a steep learning curve.
The goal of this email is to invite people to test-drive your now improved product, but without being too pushy.
Here's how Avocode has done it: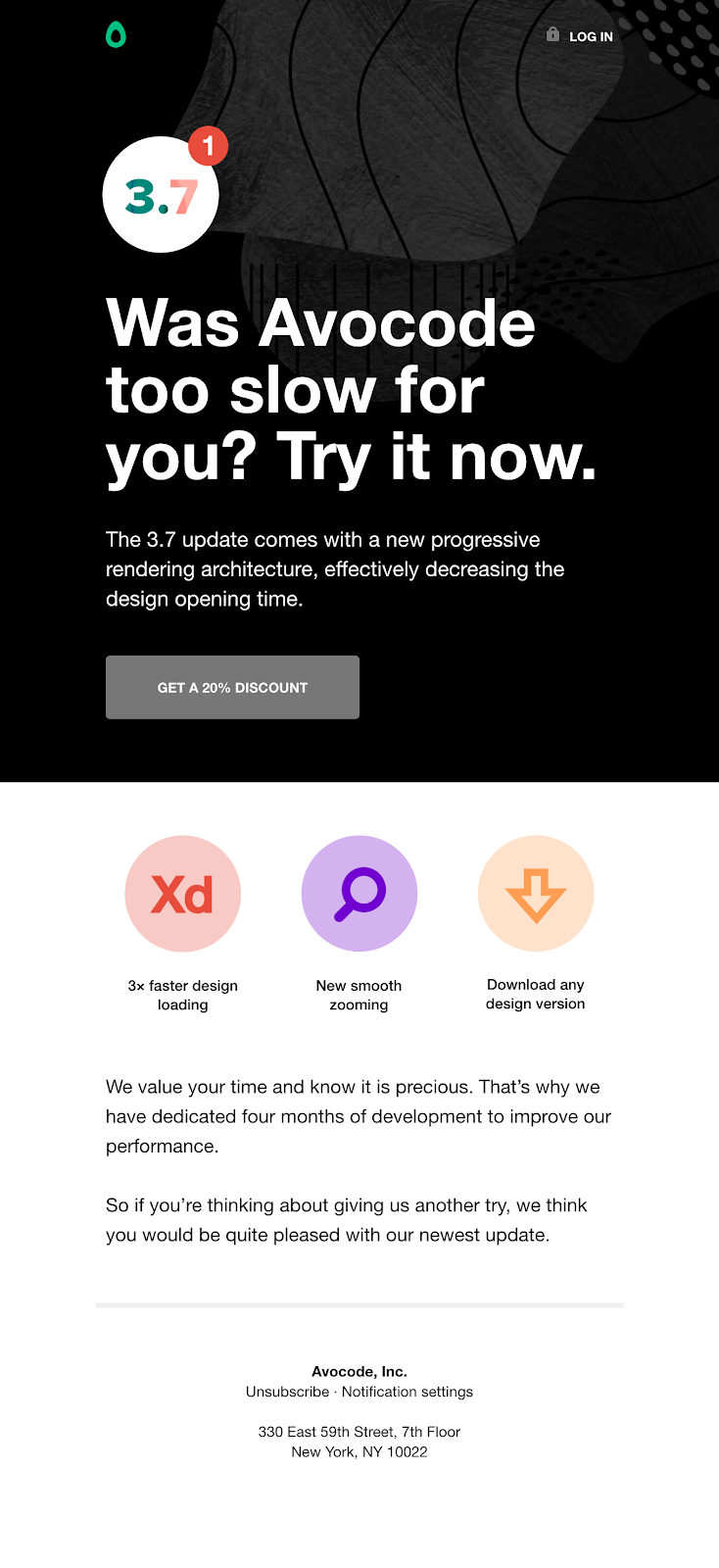 They're telling subscribers they've updated their product, and on top of that, they're also offering a 20% discount to those interested.
Writing Winback Email Subject Lines
Remember how we talked about the importance of being short and sweet, humble, and witty in your winback emails?
Well, the same goes for your winback email subject lines.
They shouldn't be too salesy or aggressive, feature too many characters, or mislead subscribers.
Instead, you should create a sense of curiosity, urgency, and personalization to your subject lines. Adding an emoji or numbers may also work in your favor.
Here's another tip:
DON'T USE ALL CAPS or overuse exclamation points!!!
If you're feeling uninspired, let's look at some sample subject lines from the companies we talked about earlier: 
See what's new with Bloom
Get 25% off Zendesk products 
Was Avocode too slow for you?
Do you still want to hear from us? 
Unlock our new exclusive features now!
Got plans November 9th? 
The customers of today want to communicate with brands like they communicate with their friends. With that in mind, imagine you're talking to a friend when crafting your subject lines and emails.

Another thing to note: Consider A/B testing your winback email subject lines to see what works best with your audience.
Key Takeaways 
Letting your passive subscribers "wither away" is something all companies should avoid.
Winback emails seem like a no-brainer as studies show that attracting a new customer is five times more expensive than retaining an existing one.
Hopefully, this post has helped you learn a great deal about winback email campaigns and inspired you to take action.
And remember: some subscribers might have already moved on. There's no point in trying to keep someone that likes to leave. Customer churn is completely normal and happens to the best companies. Head over here if you want to learn more about predicting and reducing churn.
If there are subscribers who don't re-start interacting with your brand–even after sending them a series of winback emails–consider sending them a final email to let them know you'll be removing them from your email list.
To sum up: 
A winback email campaign is a type of email marketing campaign that companies use to reconnect with inactive subscribers.
Winback email campaigns are cost-effective, have a high open rate, and encourage people to make repeat purchases.
The first step towards creating a winback email campaign is to identify your inactive subscribers. Choosing an email schedule is equally important.
One of the most common ways brands approach inactive subscribers is by sending them "What can we do" emails.
Offering a freebie or incentive is another way to motivate passive subscribers to return to using your product/service.
Subscribe to GrowSurf
Get our weekly newsletter for our latest referral marketing guides.
Error subscribing! Please try again.