You've done it —you've turned a prospect into a customer or subscriber. Good job!
But your job is not yet done. For starters, you have no way of knowing whether the new customer will return after the first log-in. She might switch to a competitor in the blink of an eye. Or simply decide your solution or service is not worth her attention. Who knows?
Do you want your customers to stick around long enough to generate high returns for your business?
Send them an onboarding email.
But how do you create an onboarding email that helps retain your customers, boost referrals, and maximize your ROI?
This guide tells you everything you need to know on that score, not to mention provide you with 5 onboarding email examples that will help you create or refine your own. We're also throwing in an onboarding email template in the bargain!
What is an Onboarding Email?
I'm sure you already have at least an inkling of what an onboarding email is. But here's a refresher to get you warmed up for what's ahead.
An onboarding email is what a customer or subscriber receives after buying a product or signing up for a service. Its main purpose is to guide and educate new customers on how to use a product or service.
Many brands send onboarding emails to:
Welcome a new customer or subscriber.

Show a new customer they appreciate their business.
Keep a new customer engaged.
Answer other questions new customers may have.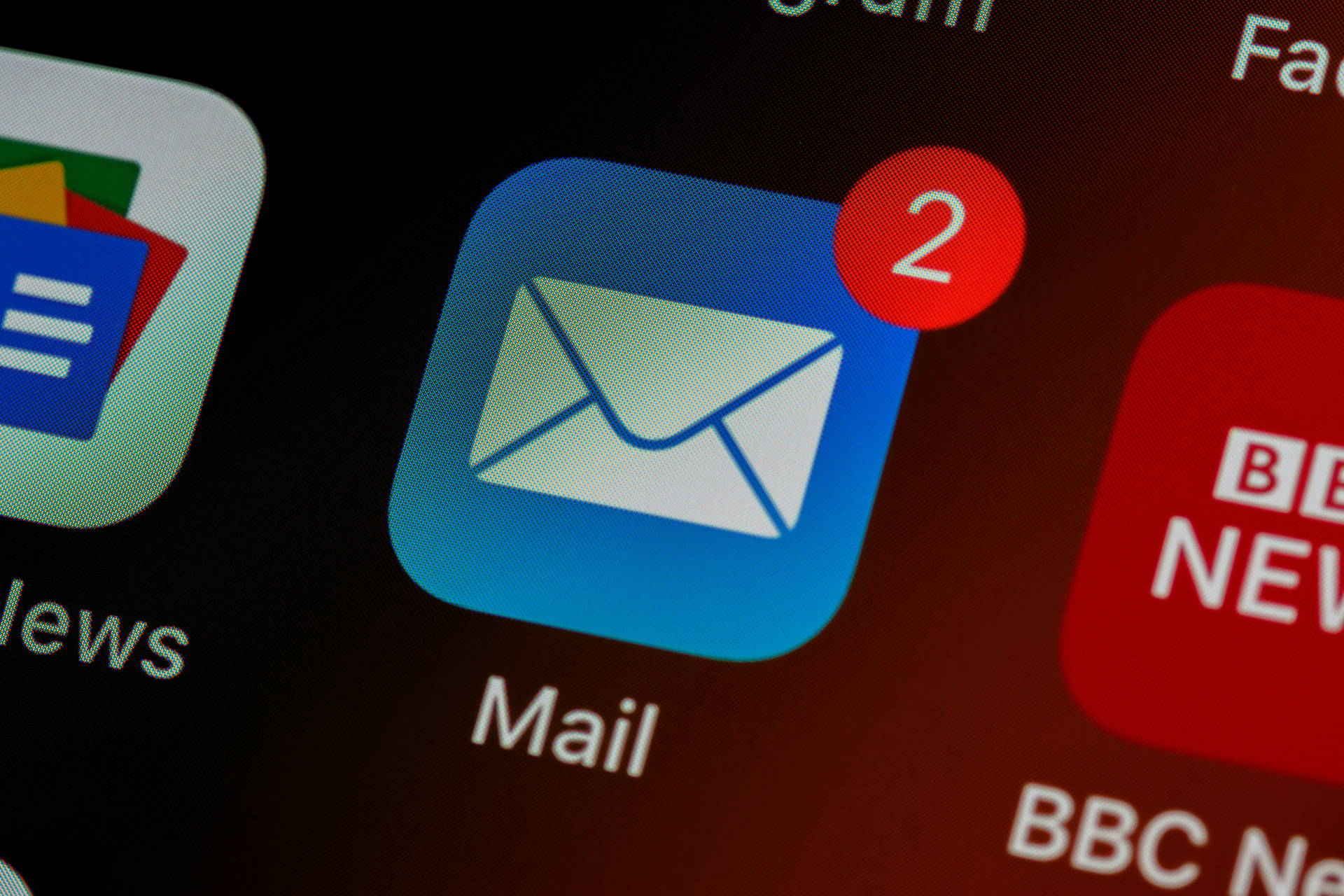 Benefits of Email Onboarding
Here are the two main benefits of email onboarding:
Keeps customers engaged
Did you know that 50% of SaaS users won't come back after the initial login?
New customers could have many reasons for not returning. They might have discovered another product that rivals yours. Maybe it's not clear to them why they should bother with your product or service. Or maybe they just don't want to make the effort to learn how to use your offerings.
Thankfully, an effective onboarding email is just the thing to help clarify your product's value and overcome customer objections.
A well-crafted onboarding email can help you:
Show new customers how your product or service can make their lives better.
Reassure new customers they've made the right choice.
Show them the next steps to take to benefit from your product or service.
Persuade new customers to send referrals.
The goal of an onboarding email is to keep new customers engaged and well-informed enough to want to keep doing business with you. By showing them what you're about and how you can help, new customers are more likely to take that next step in their customer journey.
Increases customer lifetime value
Sending an effective welcome email gives your new customers a good reason to keep giving you their hard-earned money in return for your products and services.
In fact, a good onboarding process can help boost customer lifetime value by 500%. This is not surprising considering that 88% of people say they're more likely to stay loyal to a business that invests in onboarding content that welcomes and educates them.
Besides, considering how customer acquisition costs are getting higher, an onboarding email campaign is a low-cost investment that can reap high returns in the long run.
How to Write An Onboarding Email
Now that you're more familiar with how onboarding emails can benefit your brand, how do you write an onboarding email that maximizes those benefits?
Here are 5 tips for crafting great onboarding emails that will keep your subscribers interested to keep buying and using your offerings.
Give them a warm welcome
If you want a new customer to keep doing business with you, give them a warm welcome. First impressions last, right? As a business, it's your goal to form profitable and lasting relationships with your customers, and you're more likely to achieve that goal if you deliver great customer service via email.
You can start by showing your new customers that you appreciate their business. For one thing, research shows customer appreciation strategies have a positive effect on both customer loyalty and business productivity.
Protip: When it comes to making new customers feel more welcome, tone is everything. Use elements that lighten the mood or illustrate how happy you are to have them as a customer. Use images or GIFs if you have to. Show some human touch so they will be compelled to further their relationship with you.
Personalize 
Want to keep new customers interested enough to keep buying your product or service?
Personalize, personalize, personalize.
Personalizing your onboarding emails will do wonders for your business.
Want proof? 
According to a Hubspot research, more than 20% of marketers say personalization can increase email engagement.
An Epsilon study reports that 80% of consumers are more likely to make a purchase when brands deliver personalized experiences.
84% of customers say being treated like an individual, not an account number, is important to winning their business (Salesforce)
Calling them by their first name helps, but it's not enough. Craft your onboarding emails in a way that acknowledges them as individuals with feelings, needs, and dreams. Make them feel that they're not just another face in the crowd. Treat new customers the way you want to be treated.
When you sit down to craft your onboarding email, take the time to consider the customer's current circumstances and needs. By offering relevant and timely help, the new customer won't feel like a fish out of water and will feel more comfortable to take the next step.
Pro Tip: Segment your email lists according to geography, interests, position in the customer journey, etc. That way you'll find it easier to craft targeted and relevant emails.
Have a clear call to action
An effective onboarding email needs a clear call to action.
If you want new customers to stick around, a strong CTA makes it clear to them what steps they should take to benefit from your product or service and further their relationship with your brand.
What is it that you want your new customer to do? Schedule a meeting? Install an app? Ask them to send referrals? Sign up for more information to get them into your SaaS email list ?
Tell them!
But before you craft that CTA, set a clear goal for your onboarding email campaign and make sure that it matches the intent based on where your customers are in the customer journey.
Do mind that a clear call to action is not only about creating a button that stands out. You need to create content that supports what you want them to do next.
So make sure that the content is relevant, that it communicates the benefits (not just the features) they will receive if they proceed. Add relevant images so you can communicate your product's benefits clearly and in a way that leaves a lasting impression.
Subscribe to GrowSurf
Get our weekly newsletter for our latest referral marketing guides.
Error subscribing! Please try again.
Optimize for mobile
67% of all emails are opened on mobile. If you send an onboarding email right now, chances are more than half of your recipients will be reading it on their mobile devices.
Which begs the question: Is your onboarding email displaying correctly on mobile devices?
Because if it's not, your onboarding email campaign will suffer as a result. After all, studies show 68% to 79% of customers would delete an email that's not mobile-optimized.  
How are some tips for optimizing your emails for mobile:
Take it easy with the images. When it comes to design, less is more. Remove or alter elements that would cause clutter on small screen sizes or would slow up loading time.
Simplify. Mobile users' attention span is limited. Dispense with the long explanations and get straight to the point. Besides, long paragraphs don't render well on mobile screens.
Leave plenty of space around your CTA buttons. Give your CTA buttons room to breathe so recipients can find them easily. Having enough space around the CTA button also makes it easier for readers to click on it. No "fat finger syndrome" this time.
Use a responsive template. Using responsive design adjusts the page's elements automatically based on screen size.
Test your messages
Following the above best practices can go a long way in boosting your click-through rates and customer lifetime value.
But only up to a point.
Email copywriting, or any other marketing strategy, is an inexact science. While helpful, "best practices" can only do so much.
If you want to maximize the effectiveness of your onboarding emails, test them out on real customers.
In other words, do some split testing.
Why? Because as Eli Pariser once said, "a good headline can be the difference between 1,000 people and 1,000,000 people reading something."
Split testing is the process of sending multiple versions of your onboarding email to different segments of your subscriber list.
If that sounds daunting and difficult, don't fret. Split testing has become much easier these days, thanks to a ton of amazing split-testing tools on the market.
Email marketing platforms like ActiveCampaign, for example, allow you to test different versions of your email copy (subject line, email body, CTA, etc.) to different segments of your audience.
You'll be able to gather more data and insights as you continue to split test different versions of your onboarding email.  You can then use these insights to optimize your onboarding emails, giving your onboarding KPIs a steady incremental boost over time.
5 Onboarding Email Examples
Learning how to craft great onboarding emails is not easy if you don't see them in action. To give you ideas on how these best practices can be implemented, these 5 onboarding email examples should help.
1. Lano
This onboarding email from Lano wins points for personalization by addressing recipients by their first name (and highlighting the text in bold). It also sets things on the right foot by giving them a warm welcome (and then adding an equally warm emoji for good measure).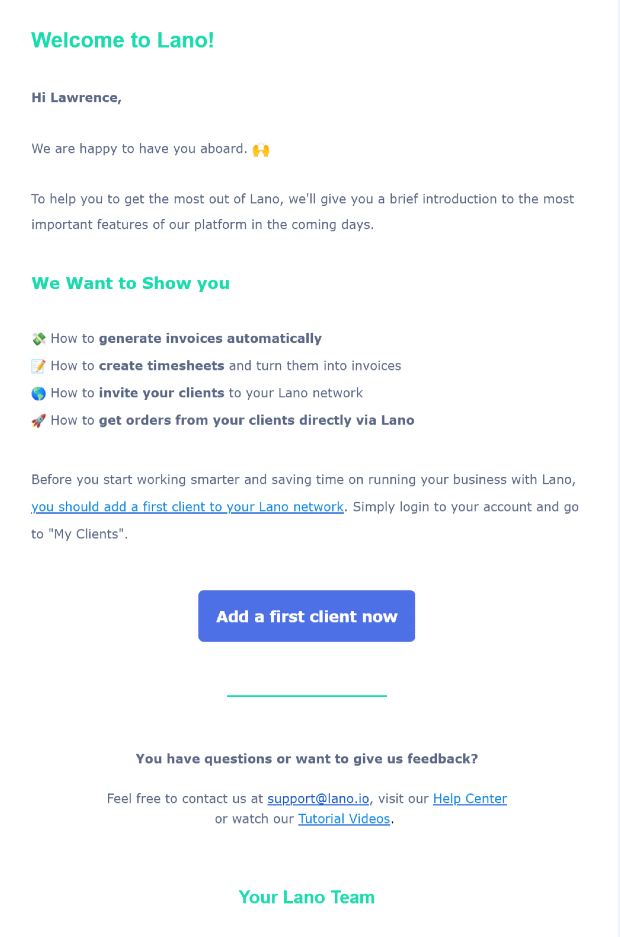 Lano then proceeds to telling the subscriber how the app can make their lives better. The font hierarchy and the icons made the process of reading the app's benefits all the more engaging.
Lastly, the email made it clear to recipients what their next step is ("Add a first client"). It's a powerful CTA that gets the ball rolling!
2. Shopify
I love how this onboarding email starts off with a catchy and engaging headline. The "Can't think of an idea? We've got you covered" opening line works because it brings up the recipient's struggles and makes it clear to them that the company has their back.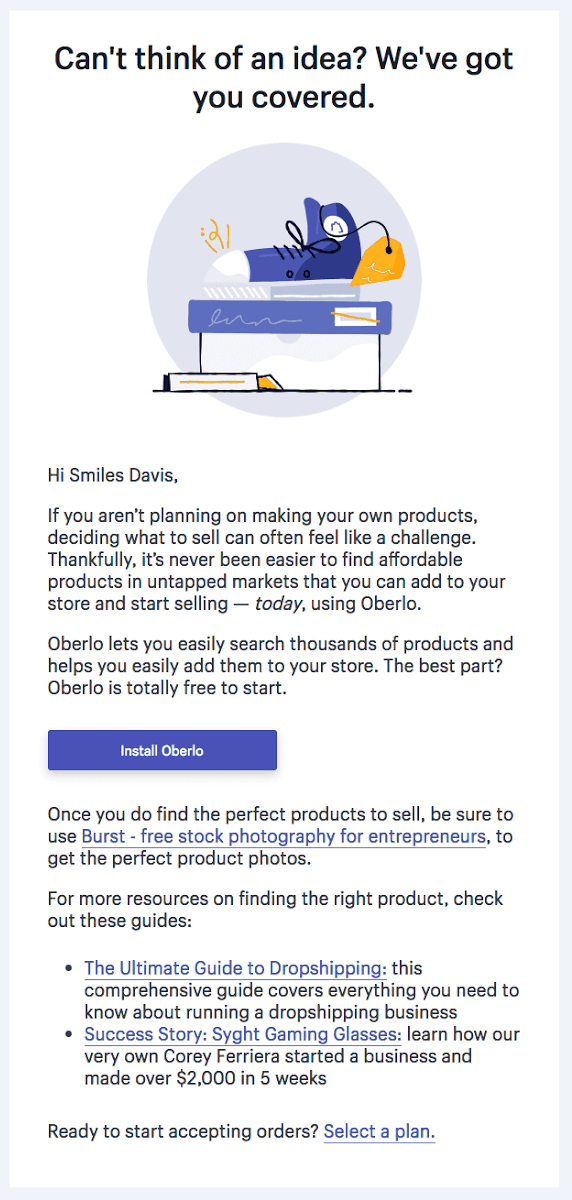 The email then makes it clear to recipients that they can deliver on their promise by showing them there's a solution (installing Oberlo) and then explaining clearly how that solution can help them decide what to sell. The email tops it off with a CTA button that's hard to miss.
Providing relevant and helpful resources is also a good call. After all, an effective onboarding email anticipates an audience's needs and addresses them by providing relevant content.
3. Truebill
First off, adding a cartoon image of two dudes high-fiving each other is not just inviting, but it gives the onboarding email a personable, engaging touch. This demonstrates how one powerful visual can set the right tone for your onboarding message.

Having the head of customer success send the email herself is a great move, as it gives the message a strong human touch. Lastly, the email lays out quite nicely the benefits of the service (adding an icon for each breaks up the text and contributes to an engaging read).
4. Just Eat
This onboarding email's headline ("You're now ready to tuck in") is short, sweet, and enticing. Just like the brand itself. And that's why it works.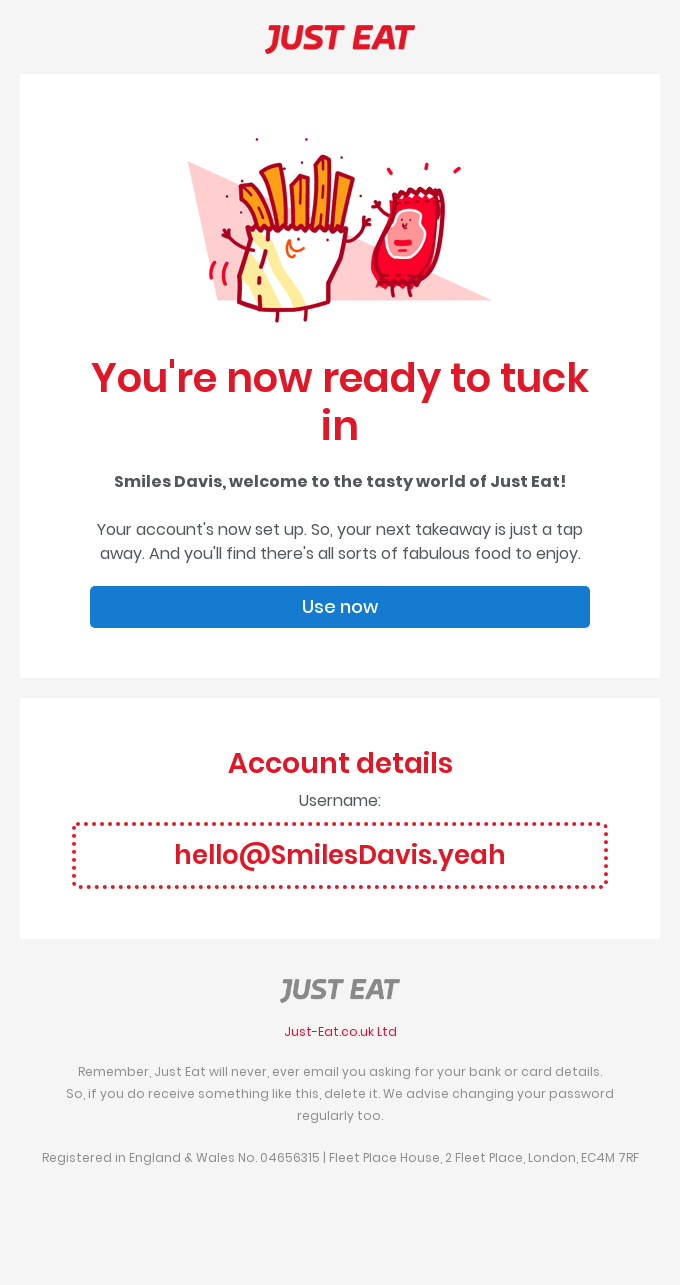 The main goal of the email is to give the subscriber a warm welcome and make them feel that good times are ahead. The email then rewards recipients by telling them exactly what they need to do next. Very straightforward--just the way we like it.
Just Eat also scores major points for personalization by providing the subscriber with account details and username.
5. Hubspot Academy
Signing up for an online course can be scary and exciting at the same time. That said, reading the words "Welcome to HubSpot Academy, [insert your name here]" is a nice way to take the edge off.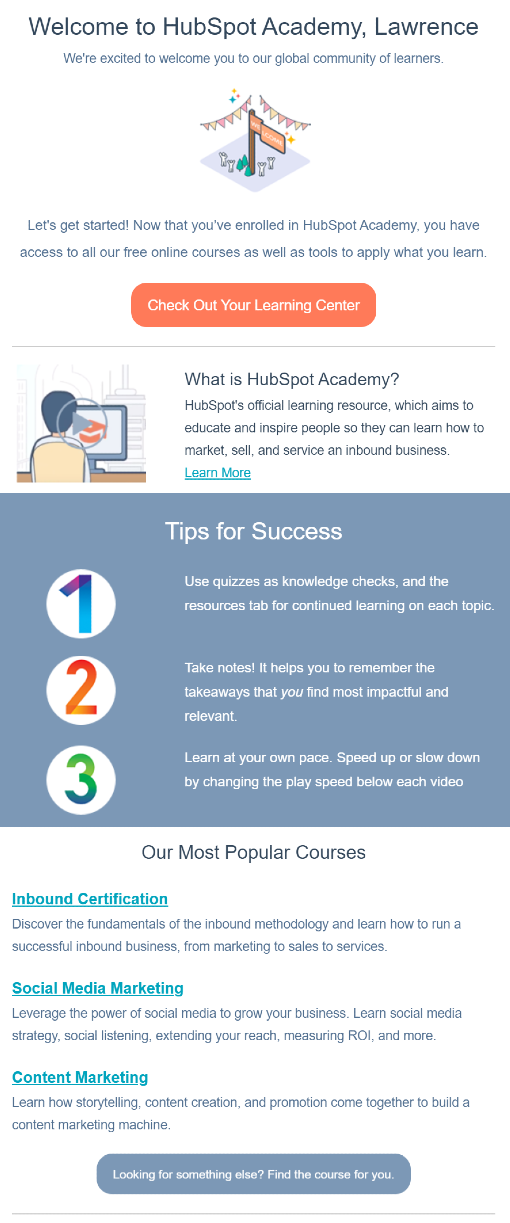 The best part, however, is how the onboarding email nails the essential principles of visual hierarchy. The contrasting colors, the leading lines, the use of negative space, etc. makes the entire copy super readable. The clearly laid out steps and the helpful tips also offer a ton of value and are highly relevant to the needs of recipients.
Onboarding Email Template
Knowing the best practices of crafting an onboarding email is one thing, but creating one is another. With that said, it can be helpful to have a basic onboarding email template to build upon. Remember, the template below is just barebones, so make changes and adjustments that you see fit. You can also add your own logo, signature, and other branding elements to give it more impact.
Hi (customer name),

Thank you for joining (product or service). We are happy to have you aboard!
We want to congratulate you for taking the first step to (main benefit of product or service). You are ready to start (customer's next steps to get benefits.)
In the meantime, here are a few materials or resources to get you started with <product or service name> and help you make the most out of it.
If you have any questions, feel free to reach out to us anytime at (contact information).
Cheers,
(name or company name)
Key Takeaways
An effective onboarding email is a great way to kickstart your customer relationships. While writing an onboarding email can get tricky, but the following best practices will help to ensure that new customers will want to keep doing business with you:
Give them a warm welcome.
Personalize.
Have a clear call to action.
Optimize for mobile
Test your email messages.
Lastly, we hope that our onboarding email template gives you a good head start and serves as an inspiration to write an onboarding email that will knock your customers' socks off.
Subscribe to GrowSurf
Get our weekly newsletter for our latest referral marketing guides.
Error subscribing! Please try again.