What Is a Referral Card?
One of the easiest ways businesses can generate word-of-mouth marketing is by incorporating referral cards at checkout or during events. Referral cards are printed cards or flyers that companies hand out to customers, usually with an incentive attached, to pass on to friends and family.
A successful referral will usually generate a reward for the participants, such as a discount or gift.  Still, there are plenty of excellent referral card ideas out there that won't cost an arm and a leg.
Referral cards are a great low-cost entry to referral marketing for digital and traditional businesses alike.
The Benefits of Referral Cards
Word-of-mouth recommendations may seem out of place in a world focused on the latest and greatest digital marketing tools and tricks, but they can be incredibly beneficial.
Suppose your goal is to build trust, increase brand loyalty or improve brand discovery among your target market. In that case, you may need word-of-mouth marketing more than you realize.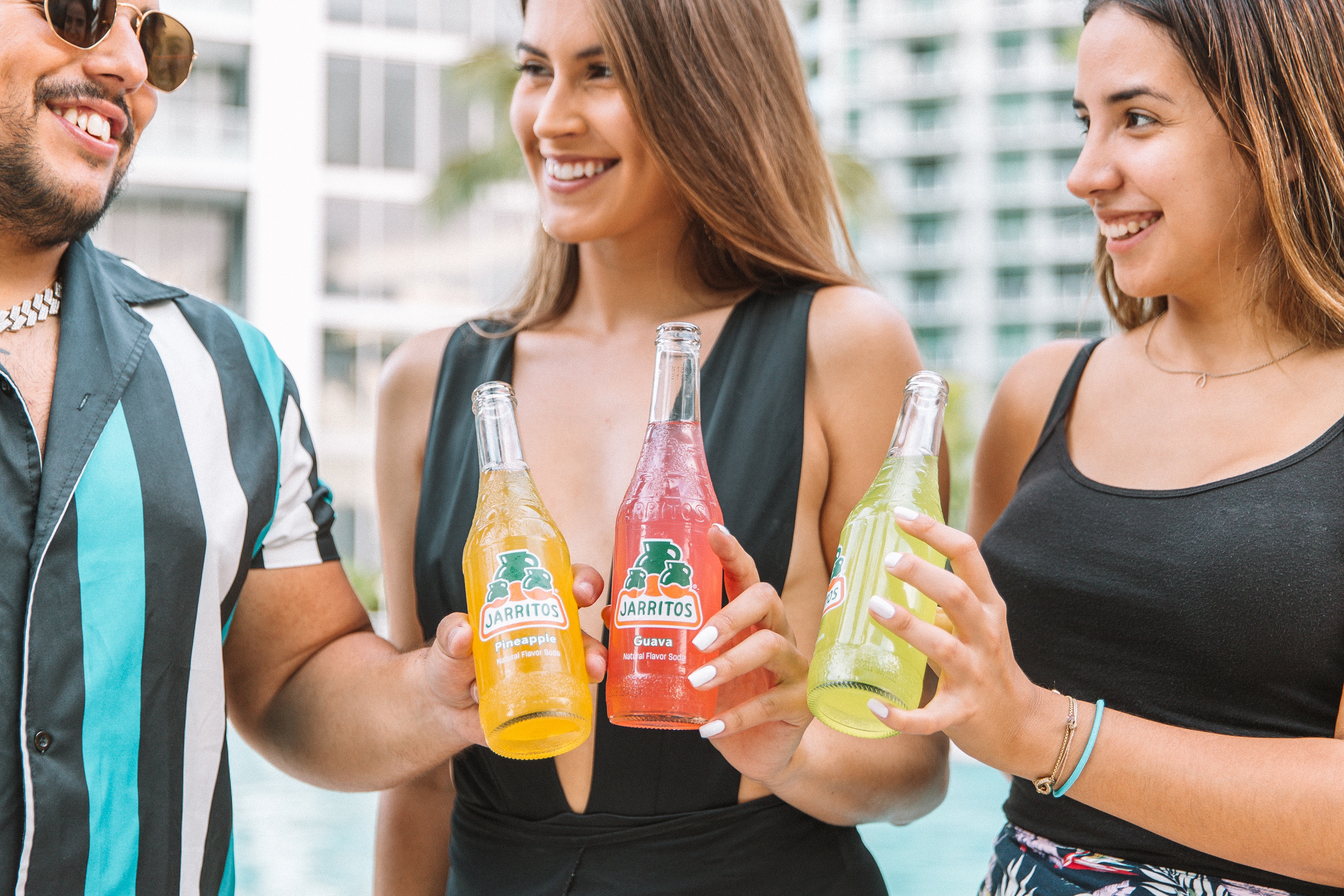 In fact, by taking your existing customers and turning them into brand advocates, you are essentially creating hundreds of compelling marketers for your business.
Of course, the most significant benefit is that they already know dozens of people likely to enjoy your products and services (who says you need social media to go viral?).
Referral cards (also known as refer-a-friend business cards or customer referral cards) are a cheap, quick, and easy way to spread the word about your business. Some of the many incredible benefits of using referral (or refer-a-friend) cards include:
Building Trust: According to Nielsen, 92% of people believe recommendations from friends and family above all other forms of advertising (everyone trusts friends and family, right?).

Retaining Customers: Customers who participate in referral programs are more likely to stay with your company in the long run, especially if you incentivize them to do so.
Getting Valuable Marketing Information: Customer referrals come with information that you can use to personalize your offer to new customers right off the bat.
Extending Your Reach: The beauty of referral cards is that they can reach anyone your customer interacts with face-to-face, including friends, family, and coworkers.  
Automation: We all know that in the wonderful world of marketing, time is priceless. Setting up an effective referral program can take a while. Still, once you've perfected it, your customers do the hard work for you. 
Gain Valuable Clients: Customers who have been referred to your business have already formed a favourable opinion of you before you've even interacted with them! As a result, they are more forgiving and more likely to stick around. 
Affordability: The ROI of referral cards is significant compared to the cost of traditional online advertising, especially if you consider the lifetime value of a referred client. 
Subscribe to GrowSurf
Get our weekly newsletter for our latest referral marketing guides.
Error subscribing! Please try again.
Six Types of Referral Cards
Now that you are sold on the idea and ready to launch your referral program, let's dig into a few referral card examples.
1. Referral Business Cards 
If you have a business, the chances are that you are super organized and that you've already had a few business cards printed up. Why not turn these nifty little contact cards into powerful referral marketing tools?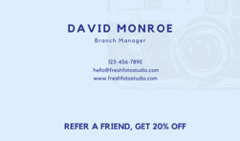 You can add an incentive to each card that you hand out. People are more likely to grab a card if it has some monetary value, and they are less likely to throw it away. Why?
Because your card does not only have your contact information printed on it, but it also contains a small gift (who doesn't like free stuff?).
Giving a physical cue to a customer also means they are more likely to remember you – and it makes it easy for them to pass it on to a friend.
Your card can include a simple link to a referral website or hotline, or it can serve as a redeemable gift card (e.g., "Show this card at the door and get a free dessert with your meal").
2. Employee Referral Cards
As a business owner, you get a free network with every employee you hire! Encourage or incentivize your employees to share their in-depth knowledge about the company with others when recruiting new customers or staff.
Many companies use referrals when headhunting, offering a cash bonus when you hire a referred candidate. Why not use it as a sales tactic? Offer employees a signing bonus if a client they refer signs on with your business.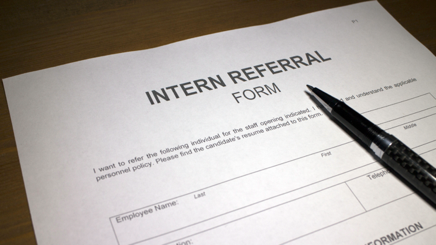 3. Referral Postcards
Postcards are a great way to get your message out there. They are attractive, affordable and it's pretty easy to add a personal touch to each one.
To make the postcards more personal, encourage your customers to write handwritten postcards to the people they are referring.
If you are feeling generous, you can even cover the postage costs so that they can mail them to their prospects.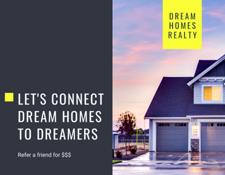 4. Referral Newsletters
Newsletters might sound a bit old-school, but they can be a highly effective form of communication. You can keep in touch with existing clients and provide valuable content that leads to extra sales. Use newsletters to encourage your customers to make constant referrals (you might be surprised by how eager a customer can be to spread the word!). And, of course, you should aim to make your newsletter informative and entertaining enough for your recipients to hit that forward button!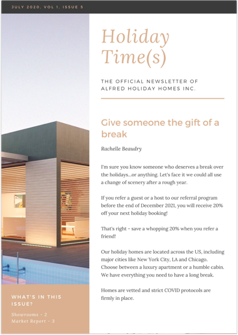 5. Community Referral Cards
Everyone loves to rally behind a cause. You can inspire customers to refer their friends and family by donating to a community cause or charity that's close to your heart, like disaster relief or a conservation project. It has the added benefit of generating goodwill towards your business – customers love companies that care!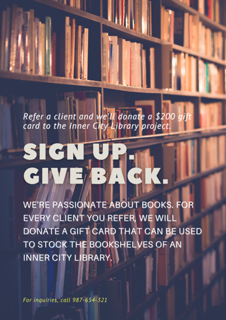 6. Partner Referral Cards
As a business, you work with dozens of vendors and suppliers that probably have similar clients to your target market. Why not ask them for referrals? After all, if you are doing more business, they will too! You could include a link to referral programs on your email signatures, invoices, and receipts to keep it top of mind.

How to Design an Effective Referral Card
Now that you've got the basics and you're overflowing with fantastic referral card ideas, it's vital to establish the fundamentals of an effective referral card design.
The Right Template Is Key
Before you do anything else, you need to establish a suitable template for your referral program.
No matter the design of your referral card or the method you use, you must collect enough customer information. This will help close the sales loop and maximize the value of the leads you've generated.
Each referral card has to collect at least three key elements:
Business Info: This includes the name, address, and contact information (email, phone number) of the referred person.
Referral Info: Such as the person making the referral and the referred person. A qualifying reason for referring them is always a great piece of information to have, e.g., "I'm recommending Joe because he is in the market for a new car." 
Referral Program Info: You should clearly state the incentives associated with the referral, as well as any terms and conditions or limitations. For example, if you are the proud owner of a frozen yogurt store and offer a free soft serve to anyone presenting a completed referral card, you should limit it to one per customer!
Be Unmissable! 
The physical design of your referral card matters — opt for an eye-catching font, shape, and colors. Print them and display them in places where they will get noticed the most.
You might also consider adding posters or point of sale materials to your reception or checkout area to drive the point home.
Choose the Right Incentive 
We've already alluded to a few incentives you can add to your referral programs, such as donations, freebies, bonuses, and discounts. Choosing the best incentive for your referral programcan be daunting, but there are a few tricks of the trade you can apply.
Using Discounts
Let's face it! Who is not a big fan of discounts? They are extremely popular with clients – and they benefit your business too!

Existing clients will seize the opportunity to receive their favorite wish list item at a reduced price, and new customers will have a great excuse to visit your store or website, which can ultimately help you boost sales.
Discounts work well for items with a shorter lifespan, such as clothing, meals, or anything service-based. Still, they don't work well for things like furniture that will remain in use for years.
Cash Bonuses
It's safe to say everyone loves cash. Still, you probably don't want the headache of paying $20 to every customer making a referral. Online baby shop Pupsik offers points instead of cash payouts for referrals.
The points can be used for freebies and discounts when you're shopping on the site. If you refer a friend, you receive 250 points when they make their first purchase, and they also get 100 points.
Cash works like a charm for companies that earn more from a referral than the average retailer. Real estate agents, second-hand car dealers, and insurance brokers are more than happy to fork out hefty cash referral fees because they will generate a lot of profit as a result.
Store Credit
Incentivizing your customers with store credit has similar benefits to discounts. The popular online sneaker shop GREATS gives each referring customer and the person they refer a $10 credit when they make a purchase with a unique link. They are actively targeting millennials, altruistic by nature, so giving credit to both parties has natural appeal.
Store credit works well if you are a pay-per-use company, which is why Uber, UberEATS, and Airbnb promote opportunities for their customers to earn credit in most of their marketing communications.
Swag, Events and Free Subscriptions
Needless to say that freebies are a great way to generate referrals! Many direct marketing companies (including Avon and Tupperware) send gifts to referred clients. The key is to pick an item that clients would use often and will also appreciate a lot. In addition to bringing in new clients, branded swag can serve as a visual reminder of your business.
One of the best ways to get referrals is, of course, by offering access to unique (and impossible to get into) events. Tesla gives clients who refer more than ten customers exclusive access to their (star-studded) launch events.  
If your company operates on a subscription basis, you could build free subscription credits into your referral program. Amazon Prime quickly acquired 150 million subscribers by offering referral credit.
Swag comes in many forms, like free product boxes in subscription-based companies like Blue Apron or HelloFresh.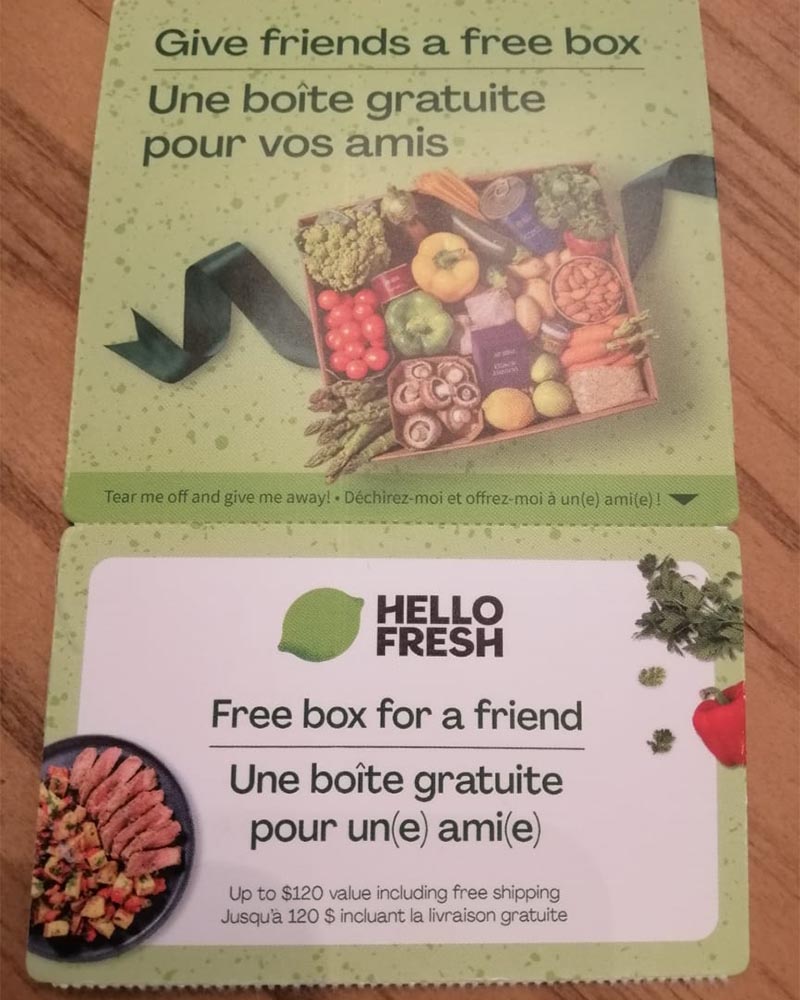 Referral Card Best Practices
You are almost set! You've got your template, your unmissable design, and your incentive. Now you need to execute your campaign. Here are some of the best practices to apply when you launch your referral card program.
Be Direct
There's no harm in asking your clients or vendors for referrals! If you've provided excellent service, most of them will be happy to refer people to you. Still, they won't know that you are actively looking for business unless you tell them.
Tell all of your client-facing employees to highlight the referral program at the appropriate time (e.g., checkout).
Acknowledge Your Referrers
It seems simple, but showing your deep appreciation to your referrers can go a long way! Send a short message of thanks, a gift card, a photo of their friend enjoying their incentive, or a shout-out on social media. It will encourage your referrers to keep referring and inspire others to do the same!
Make Referrals Part of Your DNA
The companies that enjoy the best uptake of their referrals create many recommendation opportunities at every point of the customer journey.

Dedicate space to referrals on your website, build it into your checkout process, equip your sales staff with flyers and refer-a-friend business cards.

Whatever you do, make sure that every interaction with a client becomes a referral opportunity.
It's important to remember that any referral has exponential value. Airbnb generated tens of thousands of bookings when a single influencer with two million followers tweeted their referral link. You never know how far your referral card can go!
In this article, we've explored: 
What Referral Cards Are
The Benefits of Referral Cards
The Different Types of Referral Cards
How to Design an Effective Referral Card
Referral Card Best Practices 
Now that you have all the tips and tricks of the trade at your disposal, you can launch your campaign. Referral cards are a cost-effective and easy way to generate the buzz (and trust) you need via word-of-mouth marketing.
Start small, start simple, but most importantly – start as soon as possible. Every client that leaves the business without a referral card represents a missed opportunity.
Subscribe to GrowSurf
Get our weekly newsletter for our latest referral marketing guides.
Error subscribing! Please try again.